August 10 , 2020 .
Indonesia , Sinabung :
VOLCANO OBSERVATORY NOTICE FOR AVIATION – VONA.
Issued : August 10 , 2020
Volcano : Sinabung (261080)
Current Aviation Colour Code : RED
Previous Aviation Colour Code : orange
Source : Sinabung Volcano Observatory
Notice Number : 2020SIN03
Volcano Location : N 03 deg 10 min 12 sec E 98 deg 23 min 31 sec
Area : North Sumatra, IndVonesia
Summit Elevation : 7872 FT (2460 M)
Volcanic Activity Summary :
Eruption with volcanic ash cloud at 03h16 UTC (10h16 local). Eruption and ash emission is continuing.
Volcanic Cloud Height :
Best estimate of ash-cloud top is around 23872 FT (7460 M) above sea level, may be higher than what can be observed clearly. Source of height data: ground observer.
Other Volcanic Cloud Information :
Ash-cloud moving to east – southeast.
Remarks :
Seismic activity is characterized by continuous volcanic tremor
MEDAN, Indonesia (AP) – The rumble of Mount Sinabung in Indonesia sounded on Monday, sending a column of volcanic material up to 5,000 meters (16,400 feet) high into the sky and depositing ash on villages.
The ashfall has accumulated up to 5 centimeters (2 inches) in already abandoned villages on the slopes of the volcano, said Armen Putra, an official at the Sinabung monitoring station on the island of Sumatra.
Further afield, in Berastagi, a tourist town in the North Sumatra province, about 20 kilometers (12.4 miles) from the crater, motorists turned on headlights in daylight to see through the ash.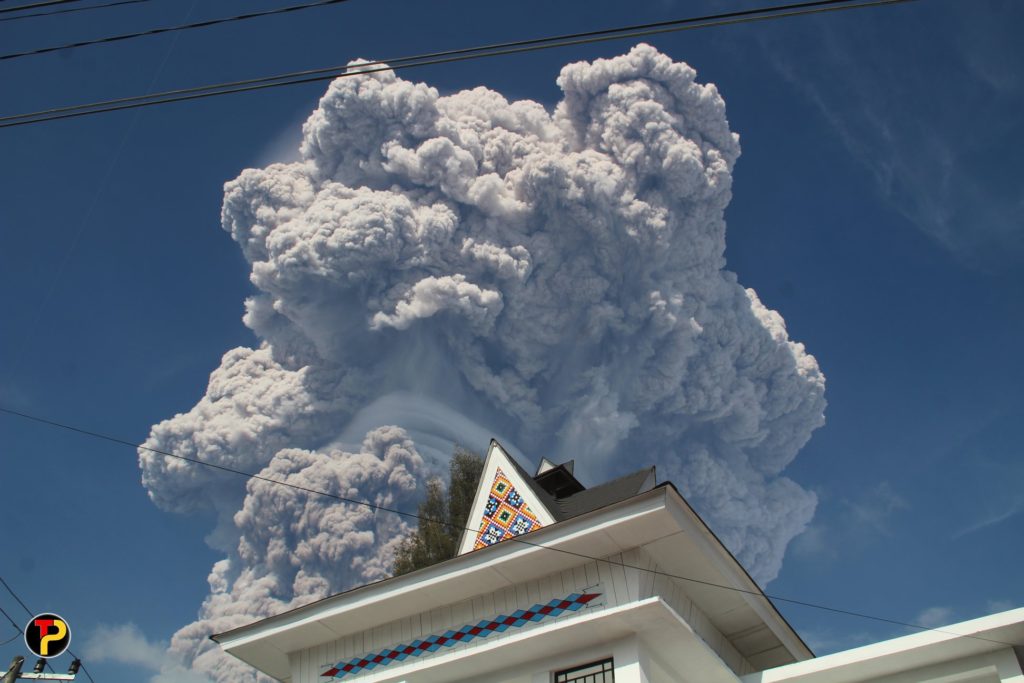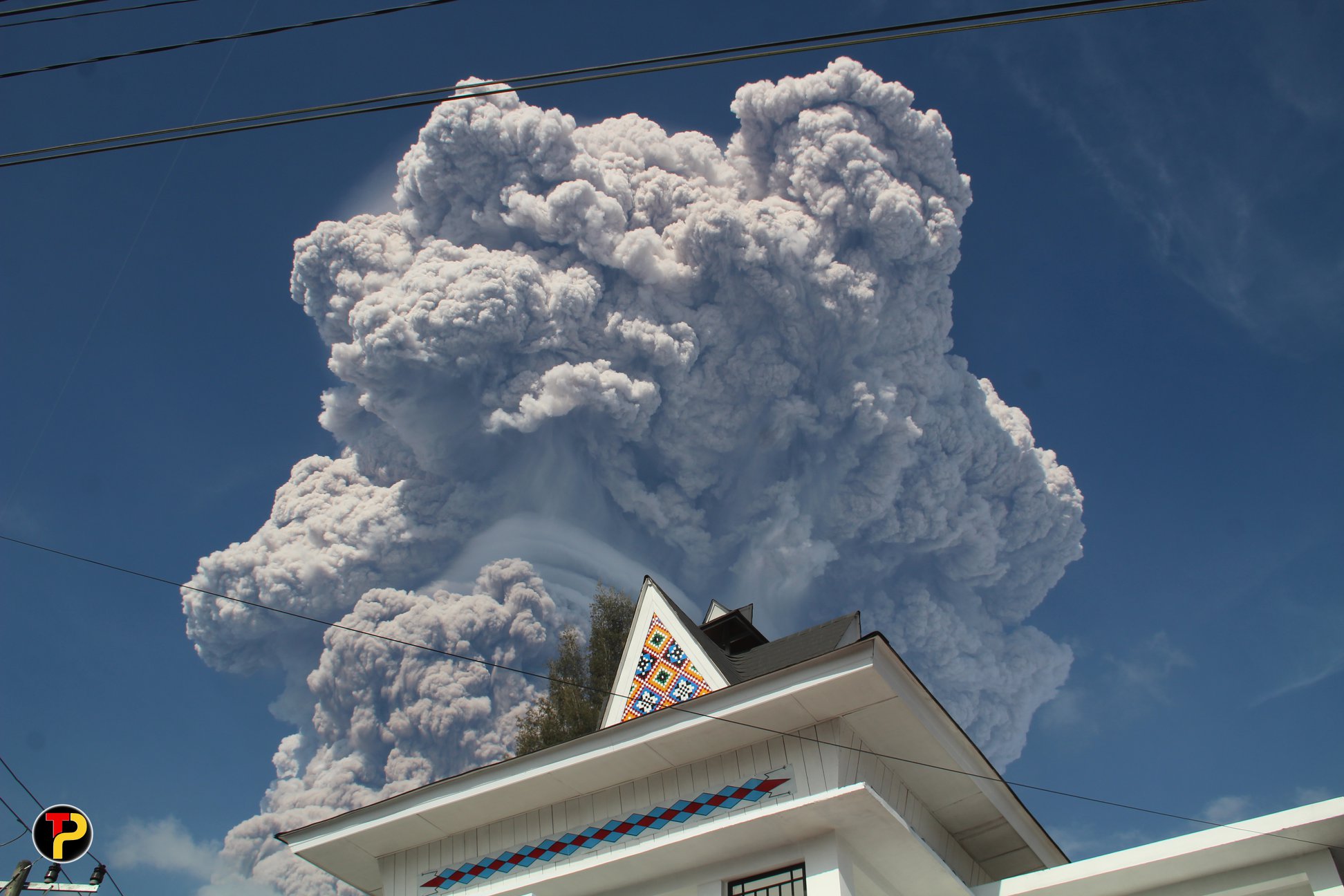 The eruption was neither fatal nor injured, the Indonesian Center for Volcanology and Geological Hazard Mitigation said.
Villagers are urged to stay 5 kilometers (3.1 miles) from the mouth of the crater and should be aware of the danger, the agency said. Air transport has so far not been affected by the ash, the transport ministry said.
Some 30,000 people have been forced from their homes around the Sinabung in recent years.
Source : Magma Indonésia. AP news .
Video : Twitter
Photo : Archive IP
Alaska , Makushin :
53°53'24 » N 166°55'30 » W,
Summit Elevation 5906 ft (1800 m)
Current Volcano Alert Level: ADVISORY
Current Aviation Color Code: YELLOW
A sequence of small earthquakes centered southeast of the summit that began on June 15 continues. No activity was detected in cloudy satellite and web camera views over the past day.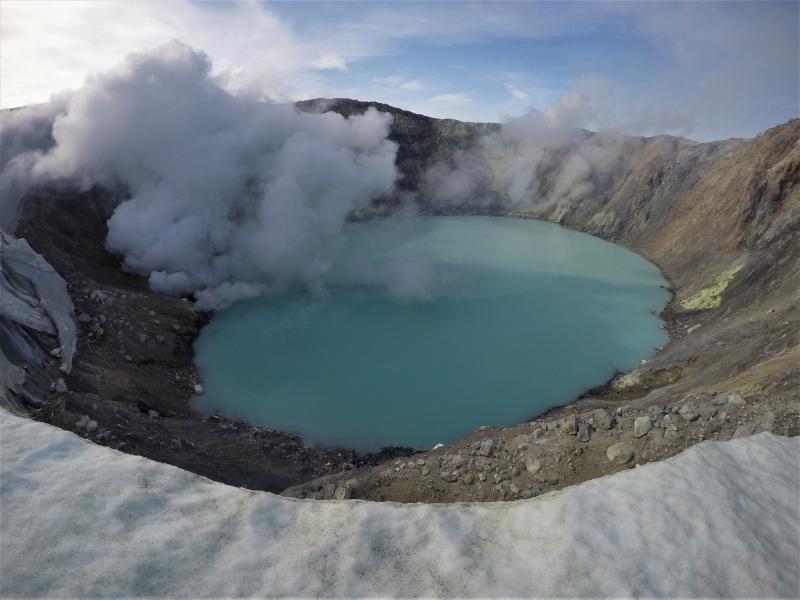 The earthquake sequence may be associated with volcanic unrest, but there have been no signs of deformation or surface activity noted in other monitoring data. It is likely that we would see additional signs of unrest prior to an eruption, should it occur. The volcano is monitored with a network of seismic and GPS instruments, a web camera, satellite data, and regional infrasound and lightning detection instruments.
If an eruption were to occur, the main hazard would likely be from airborne ash and ash fall.
Source : AVO.
Photo : Whitaker, Jacob.
Argentina / Chile , Nevados of Chillan :
The seismicity parameters associated with both the fracturing processes of rigid materials (type VT) and fluid dynamics within the volcanic complex (type LP and TR) or with surface activity (type EX) have remained unchanged. levels similar to those of recent periods.
The highest energy VT event, with a local magnitude (ML) of 3.7, was located 2.6 km West-North-West (ONO) of the active crater and at a depth of 3.9 km.
The images provided by the surveillance cameras made it possible to observe a dynamic of effusive and explosive activity during this fortnight. The effusive activity is characterized by the extrusion of lava from the active crater, which has accumulated inside until it exceeds its edge, generating a flow which to date reaches 520 m in a north direction. of it. The explosive activity exhibited column heights less than 1100 m, with a moderate content of particulate matter and a higher content of volcanic gases.
According to data obtained from the network of GNSS stations and inclinometers installed on the volcano, a continuity is observed in the process of deformation of the volcanic complex, with cycles of ascent / descent in the vertical, although with a decrease in amplitude compared to previous reports. The deformation in the horizontal direction shows minor variations with a maximum of 0.1 cm / month.
10 thermal alerts were recorded in the area with a maximum value of 6 MW, a value considered low.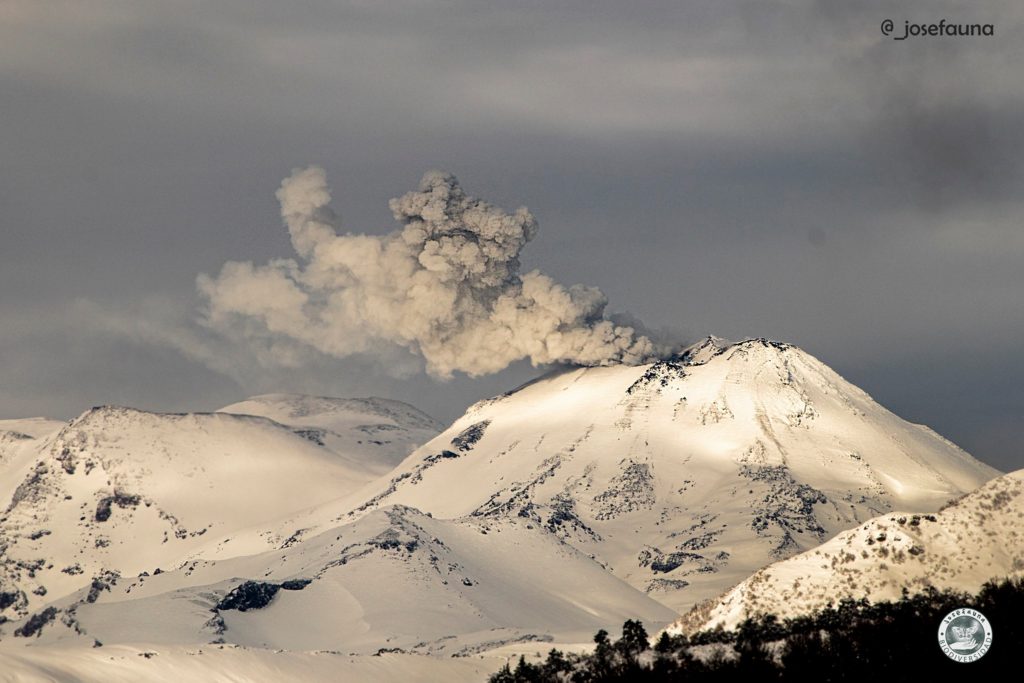 The affected area considered is the closest to the crater with a radius of 5 km.
Stay informed of the activity level of the volcano.
Receive information only from official media.
It is suggested to find out about preventive measures from the civil protection authorities in towns near the volcano, in Argentinian territory.
The yellow technical alert level implies the occurrence of changes in the behavior of the volcano's activity.
Source : OAVV.
Photo : Josefauna.
Philippines , Kanlaon :
KANLAON VOLCANO BULLETIN 10 August 2020 08:00 A.M.
Kanlaon Volcano's monitoring network recorded four (4) volcanic earthquakes during the 24-hour observation period. Moderate emission of white steam-laden plumes that rose 300 meters before drifting northwest was observed. Sulfur dioxide (SO2) emission was measured at an average of 1012 tonnes/day on 02 August 2020. Ground deformation data from continuous GPS measurements indicate a slight inflation of the lower and mid slopes since May 2020, while short-term electronic tilt monitoring on the southeastern flanks recorded inflation on the lower to mid slopes that began on June 21, 2020. These parameters may indicate hydrothermal or magmatic processes occurring beneath the edifice.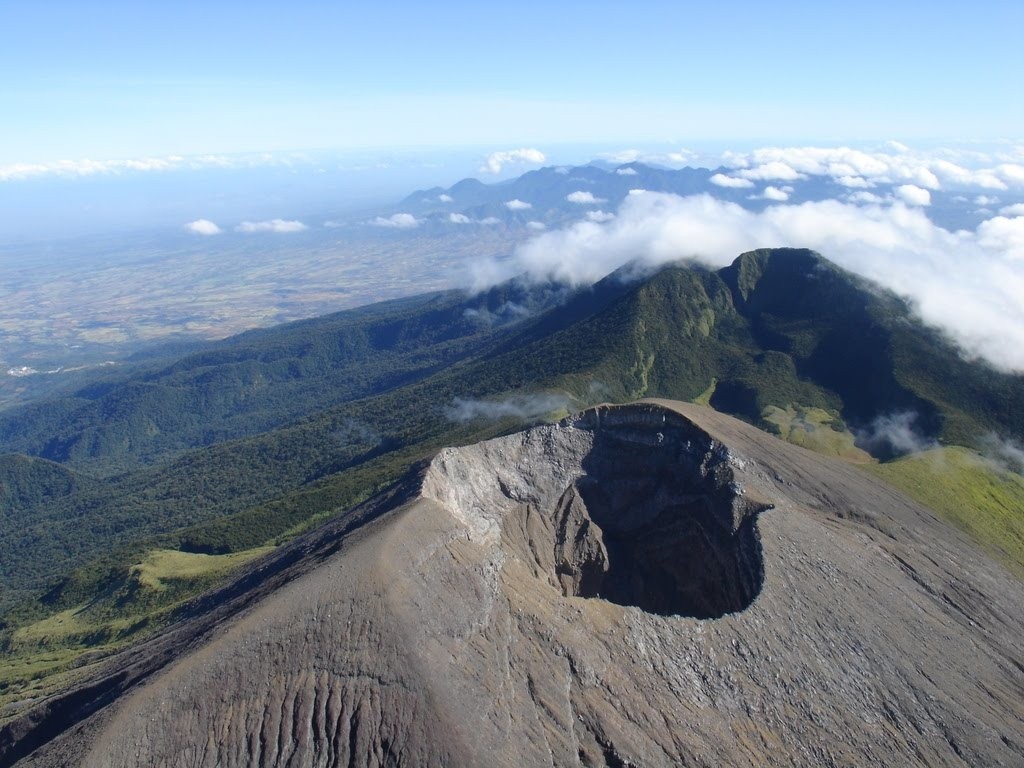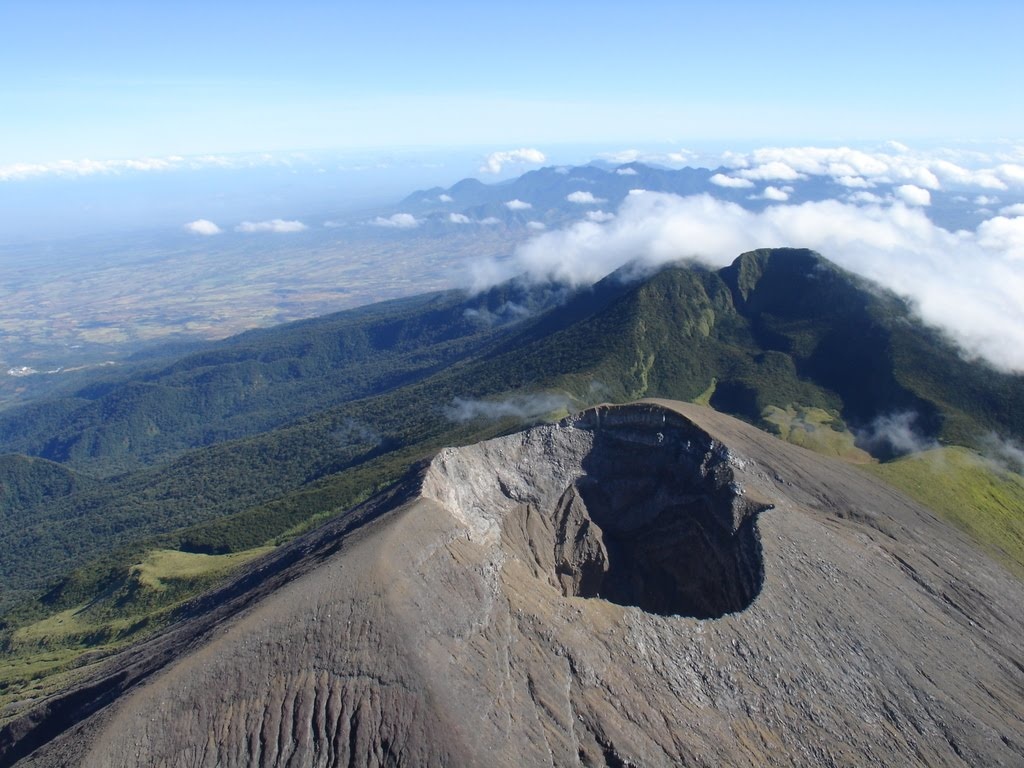 DOST-PHIVOLCS would like to remind the public that Kanlaon Volcano is at Alert Level 1, which means that it is at an abnormal condition and has entered a period of unrest. The local government units and the public are strongly reminded that entry into the 4-kilometer radius Permanent Danger Zone (PDZ) must be strictly prohibited due to the further possibilities of sudden and hazardous steam-driven or phreatic eruptions. Civil aviation authorities must also advise pilots to avoid flying close to the volcano's summit as ejecta from any sudden phreatic eruption can be hazardous to aircraft.
DOST-PHIVOLCS is closely monitoring Kanlaon Volcano's activity and any new development will be relayed to all concerned.
Source : Phivolcs.
Photo : Sunstar .