August 23 , 2021.
Italy , Stromboli :
During this break, very welcome in the activity of Etna, the Stromboli continues to do its usual activity, which consists of small ′ ′ strombolian explosions, punctuated by pauses ranging from a few seconds to tens of minutes (rarely hours), These explosions launch scraps of incandescent lava up to a few tens of meters, sometimes even 100-200 m high. This is the normal classical activity of Stromboli which can go through more and less intense phases with a number active mouths that can vary from 3-4 to more than 10. The mouths are concentrated in two large areas on the ′ ′ Terrace of the craters, the North crater area and the Center-South area.
After two stronger explosions on July 14 and 28, 2021, Stromboli activity is currently at a fairly modest level, and what we see in this video is not as significant as it might seem. We see a ′ ′ hornito ′ ′ which, at the start of the explosion, launches the cooling crust formed on the magma into its conduit before the magma itself begins to decompress and splash in the air, throwing shreds of washes fluids up to about 70 m high. It was the morning of August 19, 2021, I was 290 m above sea level on the north side of the Sciara del Fuoco.
Source et vidéo : Boris Behncke.
Russia / Northern Kurils , Chirinkotan :
VOLCANO OBSERVATORY NOTICE FOR AVIATION (VONA)
Issued: August 23 , 2021
Volcano: Chirinkotan (CAVW #290260)
Current aviation colour code: ORANGE
Previous aviation colour code: orange
Source: KVERT
Notice Number: 2021-100
Volcano Location: N 48 deg 58 min E 153 deg 28 min
Area: Northern Kuriles, Russia
Summit Elevation: 724 m (2374.72 ft)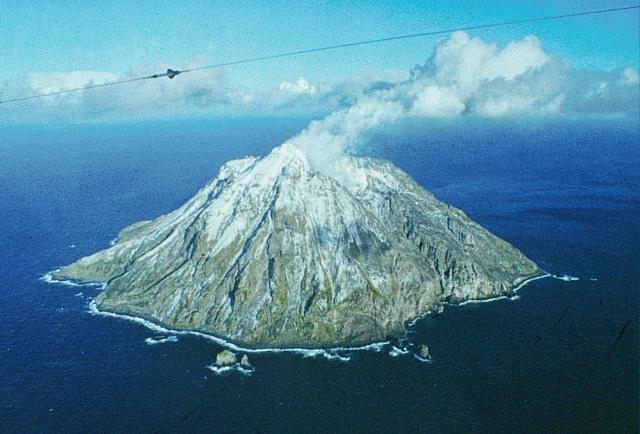 Volcanic Activity Summary:
The moderate ash emission from the volcano continues. Satellite data show an ash plume is extending for 126 km to the west of the volcano.
This activity continues. Ash explosions up to 10-15 km (32,800-49,200 ft) a.s.l. could occur at any time. Ongoing activity could affect international and low-flying aircraft.
Volcanic cloud height:
1200-1500 m (3936-4920 ft) AMSL Time and method of ash plume/cloud height determination: 20210823/0420Z – Himawari-8
Other volcanic cloud information:
Distance of ash plume/cloud of the volcano: 126 km (78 mi)
Direction of drift of ash plume/cloud of the volcano: W / azimuth 261 deg
Time and method of ash plume/cloud determination: 20210823/0420Z – Himawari-8
Start time of explosion and how determined: 20210822/2235Z – Satellite data
Source et photo : Kvert.
Indonesia , Ili Lewotolok :
VOLCANO OBSERVATORY NOTICE FOR AVIATION – VONA
Issued : August 22 , 2021
Volcano : Ili Lewotolok (264230)
Current Aviation Colour Code : ORANGE
Previous Aviation Colour Code : orange
Source : Ili Lewotolok Volcano Observatory
Notice Number : 2021LEW35
Volcano Location : S 08 deg 16 min 19 sec E 123 deg 30 min 18 sec
Area : East Nusa Tenggara, Indonesia
Summit Elevation : 4554 FT (1423 M)
Volcanic Activity Summary :
Eruption with volcanic ash cloud at 04h44 UTC (12h44 local). Eruption and ash emission is not continuing.
Volcanic Cloud Height :
Best estimate of ash-cloud top is around 9354 FT (2923 M) above sea level, may be higher than what can be observed clearly. Source of height data: ground observer.
Other Volcanic Cloud Information :
Ash-cloud moving to West
Remarks :
Seismic activity is characterized by continuous volcanic tectonic Earthquake.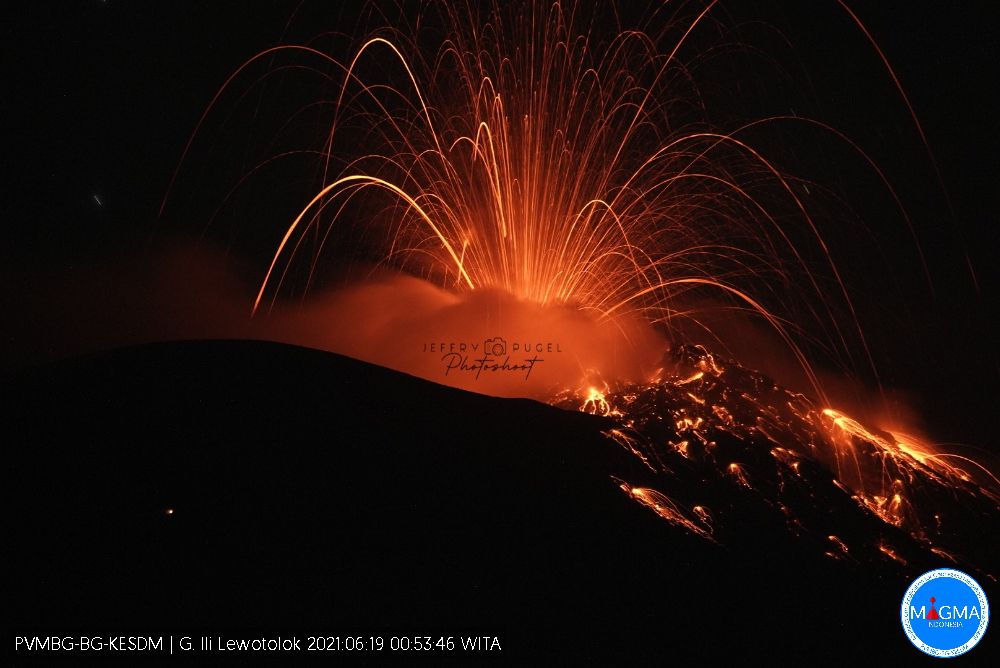 Level III activity level (Siaga) since November 29, 2020 at 1:00 p.m. WITA. This increase in status was motivated by an eruption on November 27, 2020 at 05:57 a.m. WITA with a height of gray / black ash columns observed at 500 m above the peak (1,923 m altitude) with a strong intensity, oriented to the west. This eruption was recorded on a seismogram with a maximum amplitude of 34 mm. Eruptions still occur today.
The volcano was clearly visible until it was covered in fog. The smoke from the crater is white, gray / black with moderate to strong intensity, about 50-1500 meters above the summit. The weather is sunny to cloudy, the wind is weak to the West and North-West. The air temperature is approximately 21.5 to 32.1 ° C. Humidity 59.7-77.4%. An eruption earthquake was recorded, but visually the height of the eruption and the color of the ash was not observed.
According to the seismographs of August 22, 2021, it was recorded:
An eruption earthquake
15 earthquakes of emissions
6 harmonic tremors
1 non-harmonic tremor
1 local tectonic earthquake
1 distant tectonic earthquake
Source : PVMBG.
Photo : Jeffry Pugel /PVMBG – Magma Indonesia.
Ecuador , Reventador :
DAILY REPORT OF THE STATE OF THE REVENTADOR VOLCANO, Sunday August 22, 2021.
Information Geophysical Institute – EPN.
Surface activity level: High, Surface trend: No change.
Internal activity level: Moderate, Internal trend: No change.
Seismicity: From August 21, 2021, 11: 00h to August 22, 2021, 11: 00h:
Explosions (EXP): 45 events
Long period type events (LP): 38
Tremors of emissions (TREMI): 4.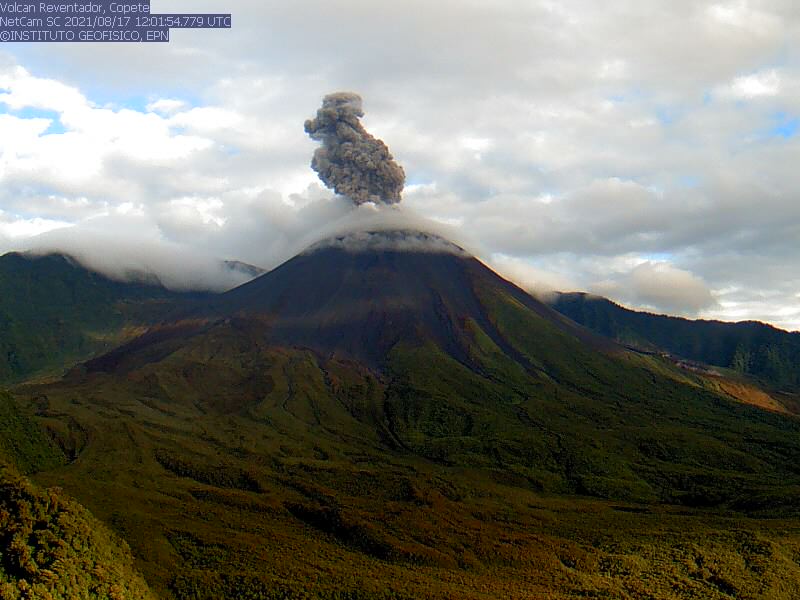 Rains / lahars: No rains were recorded in the area.
Emission / ash column: Yesterday afternoon, several ash emissions were observed, the most important exceeding 1000 m, oriented in a north-west direction. The Washington VAAC reported 2 ash emissions that reached 988 m with a West and Northwest direction
Other monitoring parameters: Neither FIRMS nor MIROVA have recorded any thermal anomalies on the Reventador during the last 24 hours.
Observations: During the night so far most of the time the area has remained cloudy.
Alert level: Orange.
Source et photo : IG-EPN
Indonesia , Lokon-Empung :
Mount Lokon is off limits to tourists due to a potential eruption.
The Regional Disaster Mitigation Agency (BPBD) in the town of Tomohon, North Sulawesi, has closed climbing activities on Mount Lokon which is still on Level II or Waspada alert.
« The city government will certainly follow through on the recommendations of the volcano lookout post by stepping up security at the entrance gates to Mount Lokon, » Tomohon Regional Secretary Edwin Roring said on Sunday (August 22nd).
The Volcanic and Geological Risk Mitigation Center (PVMBG) has called on the public and tourists to stay away from the crater following an increase in shallow earthquakes that could trigger eruptions.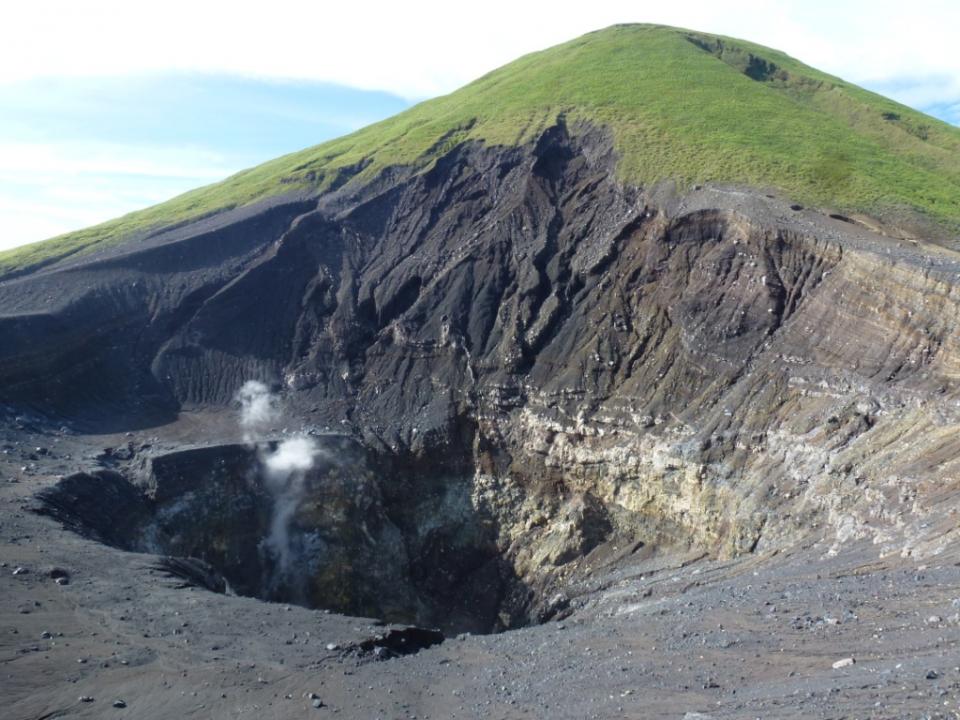 The twin volcanoes Lokon and Empung, rising about 800 m above the plain of Tondano, are among the most active volcanoes of Sulawesi. Lokon, the higher of the two peaks (whose summits are only 2 km apart), has a flat, craterless top. The morphologically younger Empung volcano to the NE has a 400-m-wide, 150-m-deep crater that erupted last in the 18th century, but all subsequent eruptions have originated from Tompaluan, a 150 x 250 m wide double crater situated in the saddle between the two peaks. Historical eruptions have primarily produced small-to-moderate ash plumes that have occasionally damaged croplands and houses, but lava-dome growth and pyroclastic flows have also occurred. A ridge extending WNW from Lokon includes Tatawiran and Tetempangan peak, 3 km away.
Sources : TEMPO.CO / Tomohon , GVP.
Photo : WIkimapia .
Costa Rica , Turrialba / Poas :
Turrialba volcano
No eruption is reported.
Seismic activity is similar, compared to yesterday.
At the time of this report, the winds are blowing north.
Passive degassing is maintained without eruptive activity.
Frequent volcanic earthquakes of low frequency and amplitudes between low and medium are observed.
The SO2 concentration measured by the MultiGAS station was stable.
There was a slight decrease in the CO2 / SO2 ratio, from ~ 20 in the previous days to ~ 17 in the last measurement on August 19.
No significant deformation of the volcanic building is observed.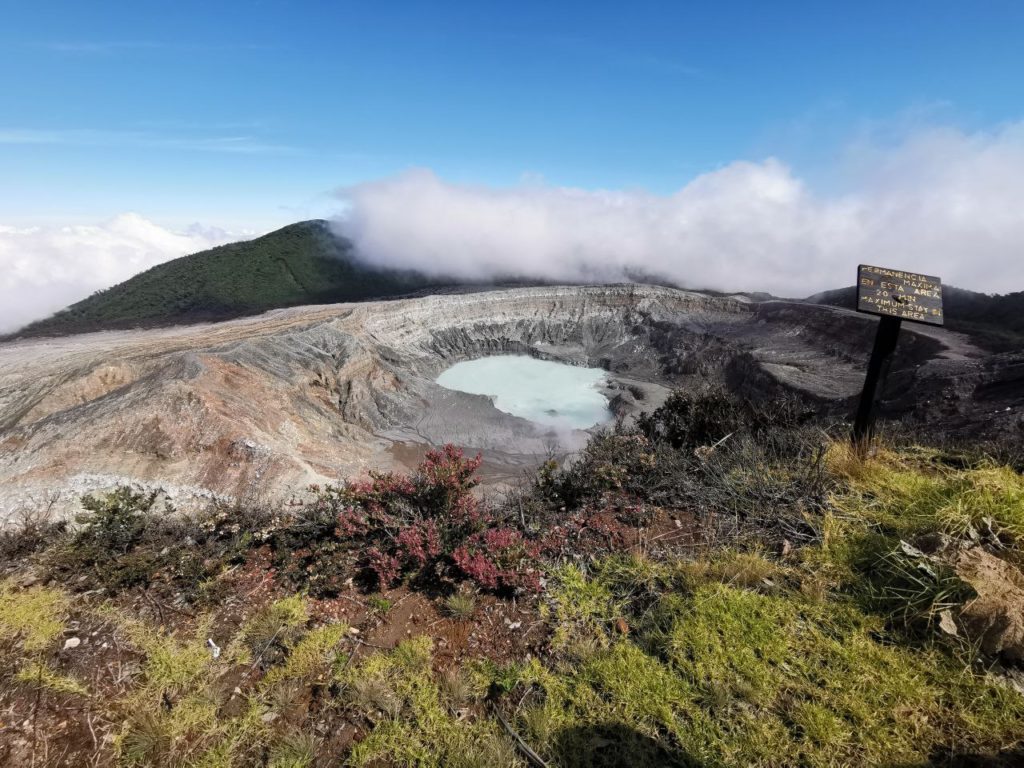 Poas volcano
No eruption is reported.
Seismic activity is similar, compared to yesterday.
At the time of this report, the winds are blowing from the west.
A fumarolic activity is recorded on the eastern wall of the active crater.
Passive degassing and thermal convection (bubbles associated with underwater fumaroles) are maintained to the south of the lake, without eruptive activity.
Low frequency and low amplitude volcanic earthquakes are recorded.
The CO2 / SO2 ratio shows a small increase to ~ 4 values on August 19.
No significant deformation of the volcanic building is observed.
Source : Ovsicori.
Photo : Poas , RSN, Jean Paul Calvo.