January 31 , 2018.
Mayon , Philippines :
MAYON VOLCANO BULLETIN 31 January 2018 08:00 A.M.
At 11:51 AM yesterday, one (1) lava-collapse fed pyroclastic density current or PDC event on Miisi Gully occurred that produced a 1250 meter-high ash cloud that drifted southwest. This was succeeded by two (2) more PDC events on the Basud Gully that lasted until 12:09 PM and produced ash clouds that drifted southwest. Low whitish to light-gray plumes were continuously emitted from the crater throughout the day, and sporadic ashing began at 5:11 PM. This was followed by continuous and sluggish lava effusion in the evening and early morning that continually fed lava flows on the Miisi and Bonga Gullies. Intermittent short-lived lava fountaining to 200m heights occurred throughout the night.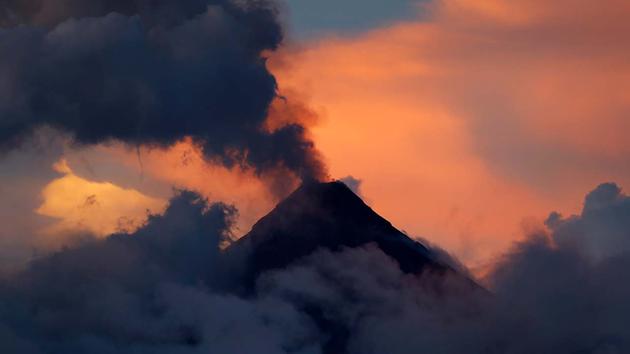 A total of two hundred ninety-eight (298) volcanic earthquakes, four (4) distinct episodes of PDC generation from lava collapse, and fifty-two (52) rockfall events were recorded by Mayon's seismic monitoring network. Rockfall events were generated by the collapsing lava front and margins of the advancing lava flows on the Bonga and Miisi Gullies. Sulfur dioxide gas emission was measured at an average of 3,428 tonnes/day on 30 January 2018. Electronic tilt and continuous GPS measurements indicate a sustained swelling or inflation of the edifice since November and October 2017, consistent with pressurization by magmatic intrusion.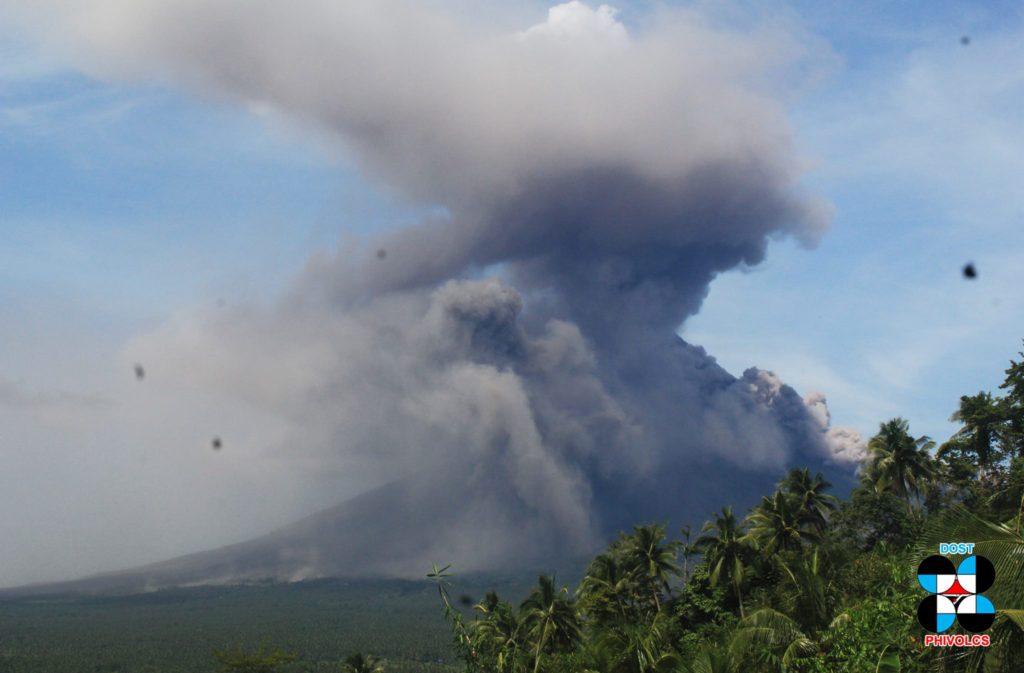 Alert Level 4 remains in effect over Mayon Volcano. The public is strongly advised to be vigilant and desist from entering the eight (8) kilometer-radius danger zone, and to be additionally vigilant against pyroclastic density currents, lahars and sediment-laden stream flows along channels draining the edifice. Civil aviation authorities must also advise pilots to avoid flying close to the volcano's summit as ash from any sudden eruption can be hazardous to aircraft.
DOST-PHIVOLCS maintains close monitoring of Mayon Volcano and any new development will be communicated to all concerned stakeholders.
Source : Phivolcs.
Photo : Czar Dancel/Manila Bulletin . Phivolcs
Zao , Japan :
Warning level raised on another Japanese volcano a week after fatal eruption.
The Meteorological Agency raised the warning level on another volcano Tuesday, exactly a week after a dramatic eruption at another peak killed one man, injured nearly a dozen others and stranded scores of skiers for several hours.
The agency elevated the warning on Mount Zao, a cluster of volcanoes on the border of Yamagata and Miyagi prefectures whose highest point is 1,841 meters (6,040 feet), to 2 from 1, meaning people should avoid going near the crater.
"There is a possibility of a small-scale eruption," the agency said in a statement, noting that a number of small earth movements were detected Tuesday, along with a slight bulging of the ground in one area.
It.
It also warned of the possibility that volcanic rocks could be jettisoned as far as 1.2 km in an eruption.
According to the agency, volcanic tremors, caused by movements of hot subterranean water and volcanic gas, were observed over a period of 31 minutes from 2:18 p.m. on Tuesday and were larger than those recorded on Sunday and early Tuesday morning.
The Yamagata Municipal Government has issued an evacuation advisory for the areas around the crater and also advised a nearby ski resort to stay on alert.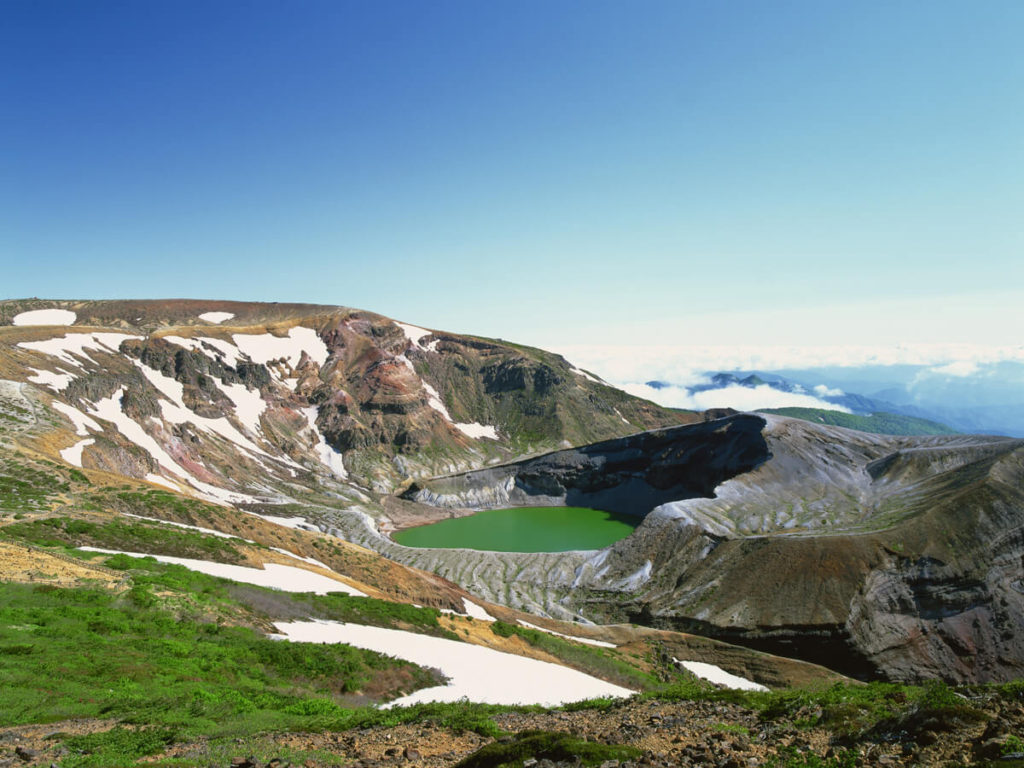 The Zaozan volcano group, the most active of northern Honshu, consists of a complex cluster of stratovolcanoes straddling the Pacific Ocean-Japan Sea divide. The Pleistocene Ryuzan volcano forms the western group (Nishi-Zao), and Byobu and Fubo volcanoes form the southern group (Minami-Zao). The complex was constructed over granitic basement rocks as high as 1500 m and thus has a relatively small volume. The 7 cu km Zaozan volcano proper forms the central group (Chuo-Zao), a volcanic complex topped by several lava domes and the Goshikidake tuff cone, aligned along a NW-SE trend. Several episodes of edifice collapse produced debris avalanches during the Pleistocene. Goshikidake contains the active Okama crater, filled with a colorful, strongly acidic crater lake (pH 1.3). It has been the source of most of the frequent historical eruptions, which date back to the 8th century CE.
Source : Reuters, Kyodo , GVP.
Photos : Reuters , Tohoku & Tokyo
Popocatépetl , Mexico :
January 30, 11:00 am (January 30, 17:00 GMT)
In the last 24 hours, according to the monitoring systems of the Popocatépetl volcano, 48 low-intensity exhalations have been identified, accompanied by water vapor, gas and light amounts of ash, plus four explosions yesterday afternoon. at 12h56, 15h18, 17h16 and 17h48 h. In addition, 211 minutes of low-amplitude seismic tremors and four volcano-tectonic events were recorded, two recorded yesterday at 23:07 and 23:08, with respective amplitudes of M1,9 and M2,6, the remaining two being are produced today at 04:09 and 07:05 h with magnitudes of M1.7 and M1.1, respectively.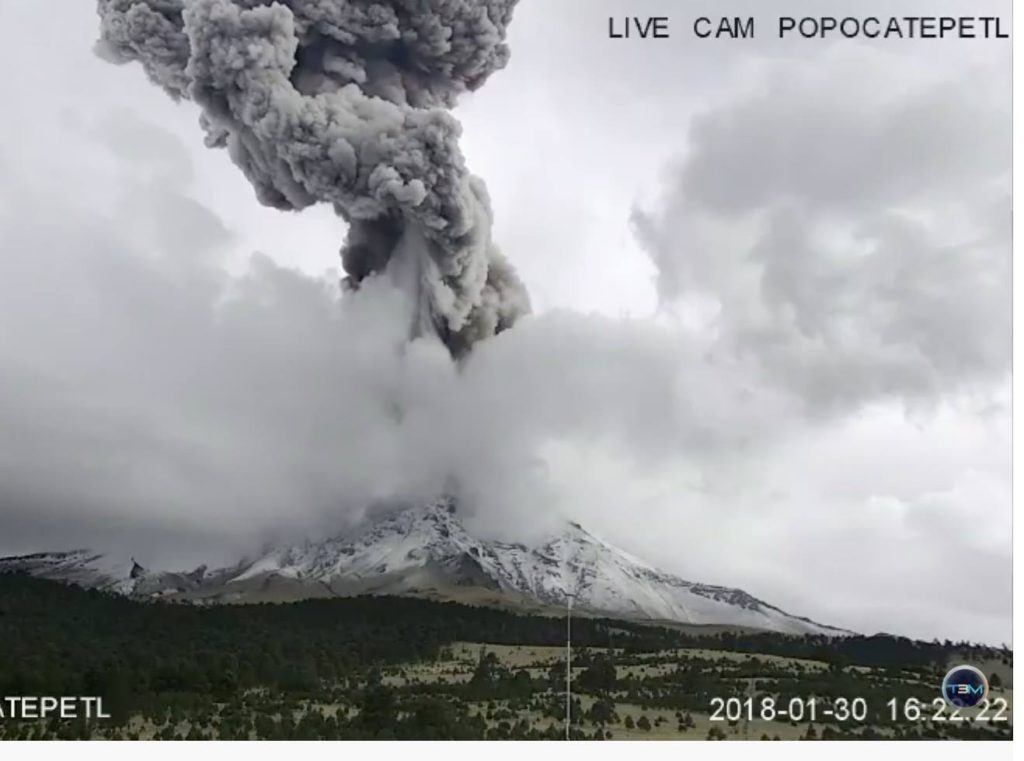 UPDATE OF THE REPORT OF JANUARY 30, January 30, 4:45 pm (January 30, 22:45 GMT)
At 16h21 there was an explosion on the volcano Popocatépetl which produced a column of more than 3 km high with high ash content that winds dispersed to the northwest. The possible fall of ashes on the populations of the North-West sector is expected. This activity is considered in the scenarios of the Yellow Phase 2 Volcanic Warning Light.
Popocatépetl volcano is continuously monitored 24 hours a day. Any change in activity will be reported in a timely manner.
At the time of this report, there is partial cloud visibility in the area; However, the seismic activity remains until now without major changes.
CENAPRED asked not to approach the volcano and in particular the crater, because of the risk of falling of projectiles, and in case of heavy rain to stay away from ravine bottoms because of the risk of landslides and sunflows. mud.
The volcanic warning light of the Popocatepetl volcano is located at Amarillo Phase 2.
Source : Cenapred
Galeras , Colombia :
Subject: Weekly activity bulletin of the Galeras volcano.
The level of activity of the volcano continues at the level:
YELLOW LEVEL ■ (III): CHANGES IN THE CONDUCT OF VOLCANIC ACTIVITY.
On the activity of the Galeras volcano, the COLOMBIAN GEOLOGICAL SERVICE informs that:
For the period January 23 to 29, 2018, low levels of seismicity are maintained, with a total of 15 events associated with rock fractures. Localized earthquakes showed local amplitudes below M3.4 on the Richter scale and depths less than 15 km from the volcanic peak (reference level of 4200 meters above sea level).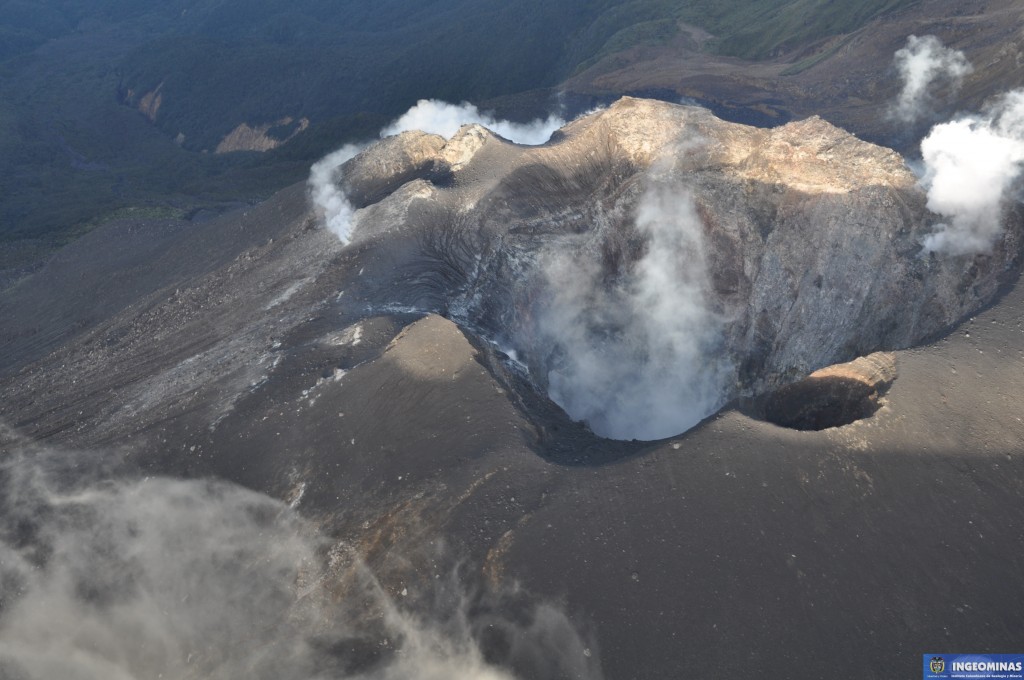 Earthquakes were recorded on January 28 at 19:44 and 19:45, of magnitude M3,4 and M3,2 respectively, located 14 km south-west of the active cone, the first of which was reported as felt by the inhabitants of the municipalities of Pasto, Nariño, Túquerres, Consacá, Guaitarilla, Ipiales, Aldana, Funes, La Florida, Tangua, Imués, Ancuya, Pedregal, Yacuanquer and Puerres (Nariño).
Due to the prevailing weather conditions in the area on January 23rd, 24th, 28th and 29th, it was possible to observe crater emission, with columns of low height and varying direction of dispersion by the action of the crater. wind.
The COLOMBIAN GEOLOGICAL SERVICE is attentive to the evolution of the volcanic phenomenon and will continue to inform in a timely manner of the observed changes.
Source : SGC
Ile de Gaua , Vanuatu :
GAUA VOLCANO ALERT BULLETIN No1 issued by the Vanuatu Meteorology and Geohazards Department (VMGD) on 31st January 2018 at 11:06AM:
Volcanic Activity at Gaua shows signs of imminent increase. Its Volcanic Alert Level has moved from Level 1 to Level 2.
Volcano activity at Gaua is in the level of major unrest state and its Alert Level is now at Level 2. Danger is restricted to visitors approaching the volcanic cone; Risk is around the volcanic cone.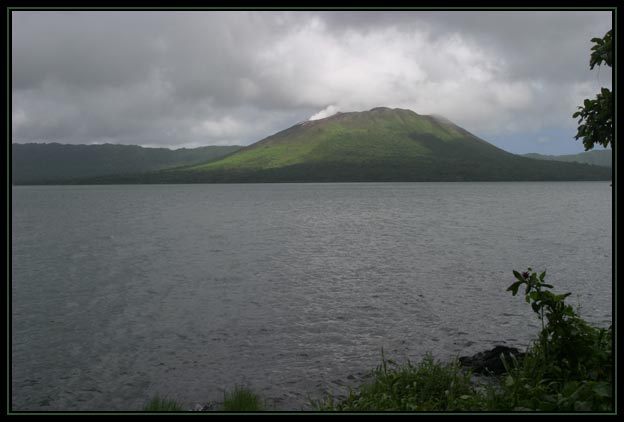 Latest observations done from December 2017 to January 2018 confirm that the activity consists of ongoing volcanic steam cloud which may content volcanic gases. These observations and seismic analysis confirms that the volcano activity has increased to the major unrest state. Visitors approaching the volcan may smell volcanic gases.
Alert Level for Gaua volcano was at Level 1 since 21st December 2010. Based on its slight increased seismic activity and observation of ongoing volcanic gas emission and steam plumes in December 2017 and January 2018, the Volcanic Alert Level (VAL) was raised to Level 2. The current observations are consistent with the Alert Level 2 activity. Level 2 indicates 'Major Unrest'; Danger is around the crater rim and specific area, considerable possibility of eruption and also chance of flank eruption.
Source : Geohazard