August 15, 2020. EN . Italy / Sicily : Etna , Indonesia : Sinabung , Mexico : Popocatepetl , Alaska : Cleveland .
August 15 , 2020.
Italy / Sicily , Etna :
ETNA COMMUNICATION [UPDATE n. 63]
The National Institute of Geophysics and Volcanology, Ossservatorio Etneo, announces that on the morning of August 14, an increase in Strombolian activity is observed at the New Southeast Crater (saddle cone) which feeds an emission of ash that generates a dark ash plume dispersed by the wind in a South-South-East direction and with light ash falls in the region of Pedara, Trecastagni and Viagrande. INGV-OE personnel in the field report the fallout of coarse pyroclastic material on the sides of the cone of the New Southeast Crater. This explosive activity is characterized by persistence and fluctuation in intensity and is accompanied by modest ash emissions.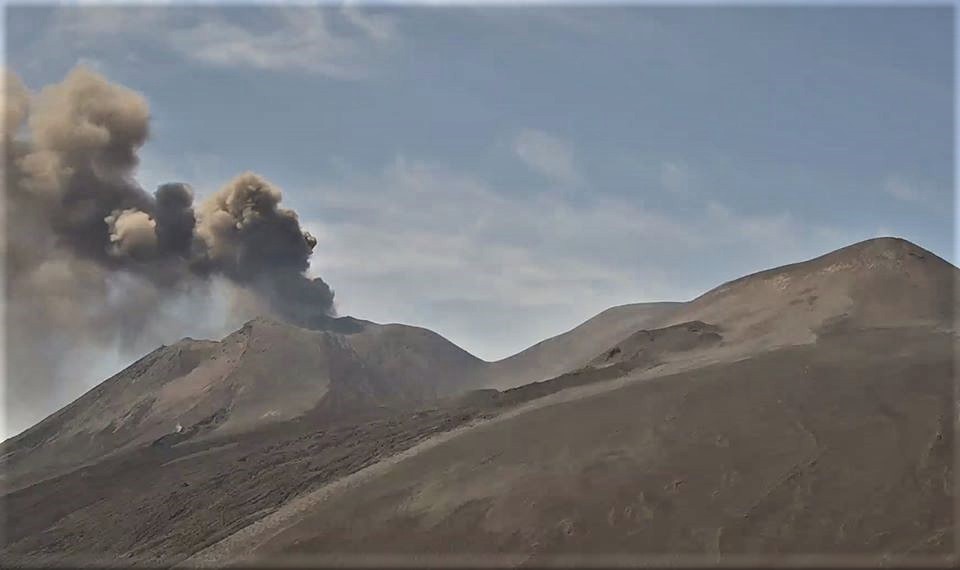 From the seismic point of view, the amplitude of the tremor shows variations in the range of average values ​​and, sometimes, in that of high values. The location of the source of the tremor is confined to the New Southeast Crater area, at an altitude of 2900-3000 m above sea level. From an infrasound point of view, no significant activity is reported. .
From the observation of the parameters relating to the deformations of the ground, no significant variation is detected.
ETNA COMMUNICATION [UPDATE n. 64]
The National Institute of Geophysics and Volcanology, Ossservatorio Etneo, announces that the emission of ash from the New Southeast Crater, reported in the previous press release, has ceased. Sporadic and weak Strombolian explosions continue in the same crater.
From the seismic point of view, the amplitude of the volcanic tremor shows a stationary image with fluctuations around medium-high values ​​and a source located between 2900 and 3000 m above sea level, in correspondence with the New South Crater. Is. From the infrasound point of view, there are no significant changes.
Further updates will be communicated shortly
Source : INGV.
Indonesia , Sinabung :
VOLCANO OBSERVATORY NOTICE FOR AVIATION – VONA.
Issued : August 14 ,2020
Volcano : Sinabung (261080)
Current Aviation Colour Code : RED
Previous Aviation Colour Code : orange
Source : Sinabung Volcano Observatory
Notice Number : 2020SIN14
Volcano Location : N 03 deg 10 min 12 sec E 98 deg 23 min 31 sec
Area : North Sumatra, Indonesia
Summit Elevation : 7872 FT (2460 M)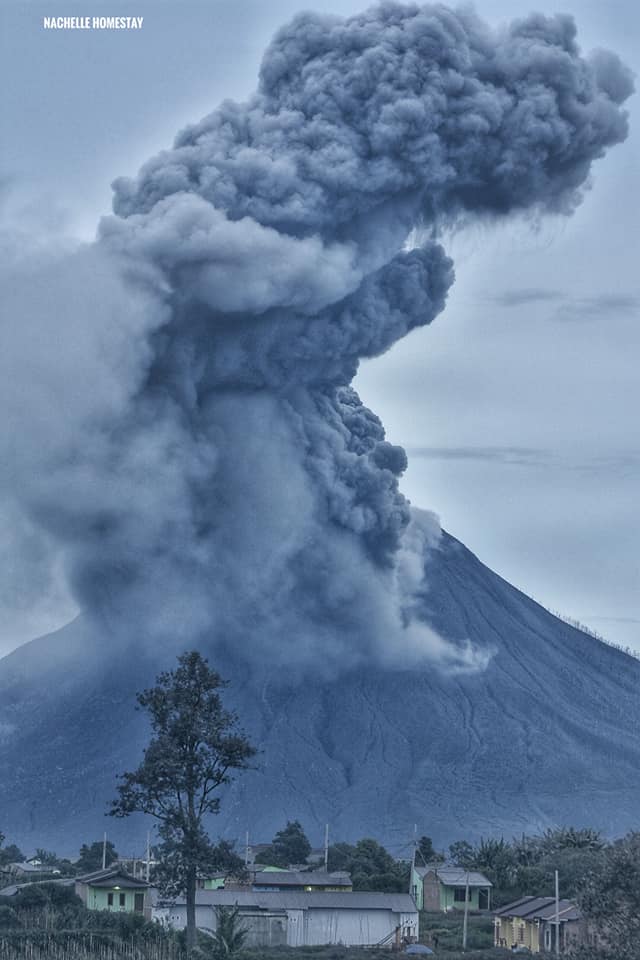 Volcanic Activity Summary :
Eruption with volcanic ash cloud at 09:h56 UTC (16h56 local). Eruption and ash emission is continuing.
Volcanic Cloud Height :
Best estimate of ash-cloud top is around 21312 FT (6660 M) above sea level, may be higher than what can be observed clearly. Source of height data: ground observer.
Other Volcanic Cloud Information :
Ash-cloud moving to east
Remarks :
Seismic activity is characterized by continuous volcanic tremor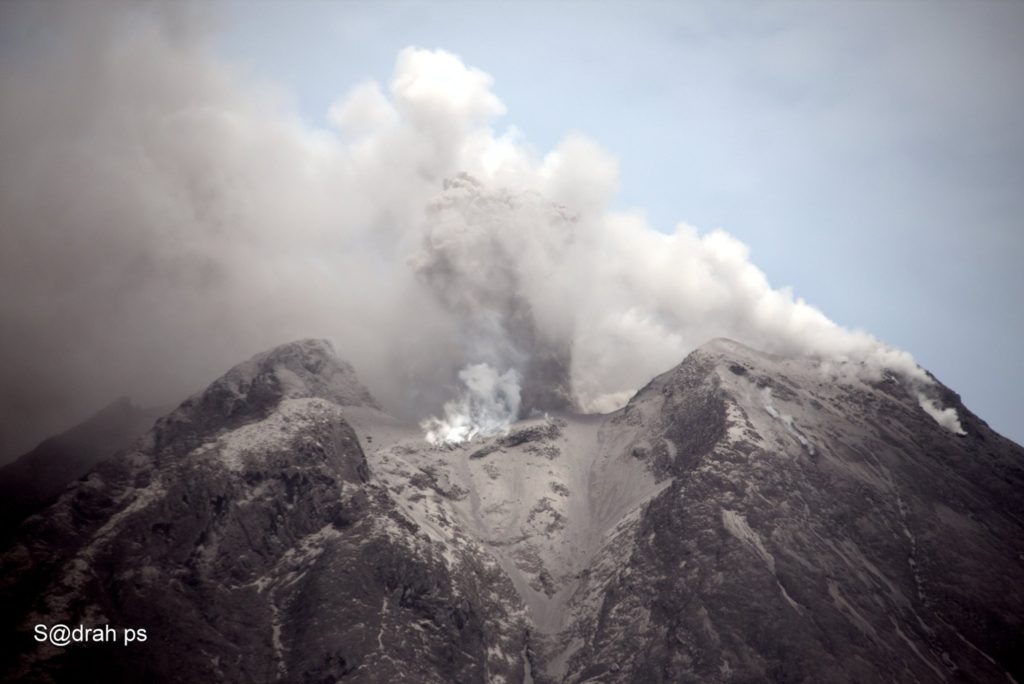 The level of activity since May 20, 2019 at 10:00 a.m. WIB is at level III (SIAGA). Mount Sinabung (2460m above sea level) has been erupting since 2013. The last fairly large eruption occurred on August 14, 2020 at 11:00 PM WIB, resulting in an eruption column rising 1000 meters above the summit . The color of the eruption column was observed to be gray with a thick intensity leaning towards the south and southwest
The volcano was clearly visible until it was covered in fog. The main smoke from the crater was observed to be gray and brown with moderate to thick intensity, about 200-1000 meters from the peak. Sunny to cloudy weather, light to moderate winds to the east and southwest.
According to the seismographs of August 14, 2020, it was recorded:
3 emission earthquakes / Eruption
1 avalanche hot cloud earthquake
1 Continuous tremor of amplitude 2 to 45 mm, dominant value of 20 mm
Recommendation:
Communities and visitors / tourists should not conduct activities in villages that have been relocated, as well as within a radial radius of 3 km around the summit of G. Sinabung, and within a sector radius of 5 km for the sector. South-East and 4 km for the East-North sector.
In the event of ash rain, people are advised to wear masks when leaving the house to reduce the health effects of volcanic ash. Secure drinking water facilities and clean house roofs from dense volcanic ash so that it does not collapse.
People who live near the rivers flowing from Mount Sinabung should be aware of the dangers of lahars.
Source : Magma Indonésie. PVMBG.
Photo : Nachelle Homestay Tour & Travel , Sadrah Peranginangin .
Mexico , Popocatepetl :
August 14, 11:00 a.m. (August 14, 4:00 p.m. GMT)
During the last 24 hours, according to the monitoring systems of the Popocatépetl volcano, 36 exhalations have been identified, some accompanied by volcanic gases and sometimes small amounts of ash. In addition, 189 minutes of low amplitude tremor were recorded, mostly due to an episode of tremor which began today (the 14th) at 7:25 am, accompanied by an emission of ash from a height of 600 m above the crater which at the time of this report continues.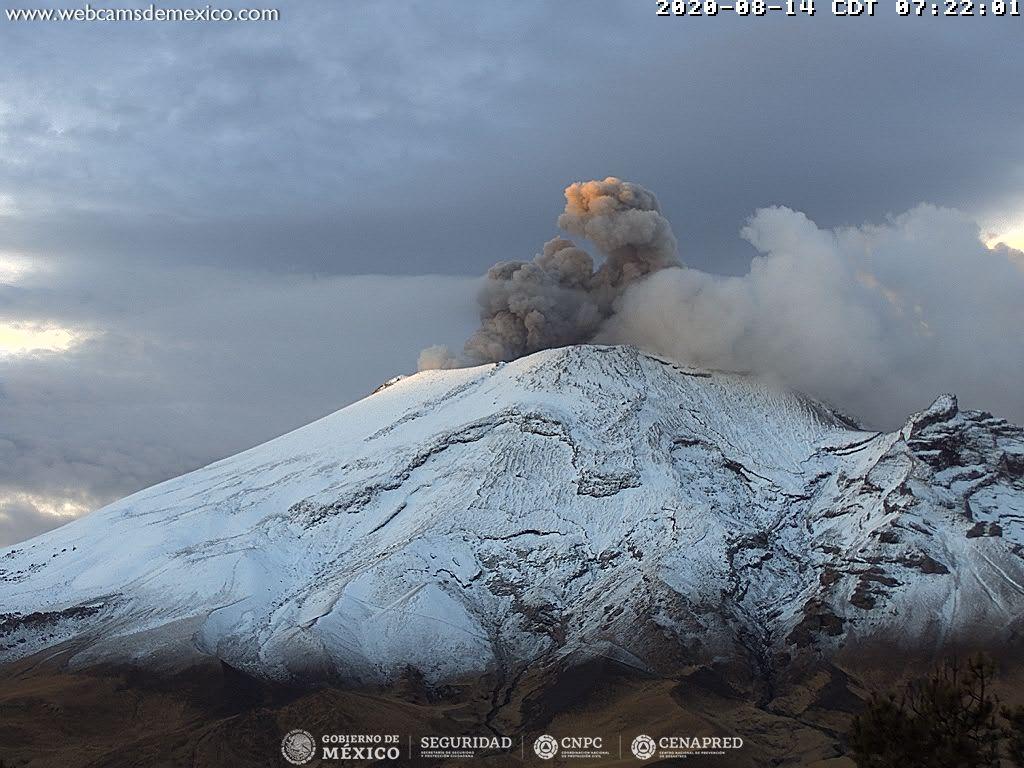 During the night, the volcano was partially visible, however, a constant emission of volcanic gases and an incandescence above the crater could be observed.
At this moment, a westward emission of steam, gas and ash is observed.
CENAPRED urges not to go near the volcano and in particular the crater, because of the danger posed by the fall of ballistic fragments, and in case of heavy rains, to stay away from the bottom of the ravines because of the danger mudslides and debris.
The Popocatépetl volcanic alert semaphore is in YELLOW PHASE 2.
Source : Cenapred .
Photo : Webcamdemexico.
Alaska , Cleveland :
52°49'20 » N 169°56'42 » W,
Summit Elevation 5676 ft (1730 m)
Current Volcano Alert Level: ADVISORY
Current Aviation Color Code: YELLOW
The local seismic, infrasound and web camera network on the flanks of the volcano stopped transmitting data on 10 August. AVO network engineers continue to investigate the outage and there is no estimate of when the data flow will be restored. Satellite images were mostly obscured by clouds but no signs of significant activity were observed during brief periods of clear weather or detected on regional geophysical networks over the past week.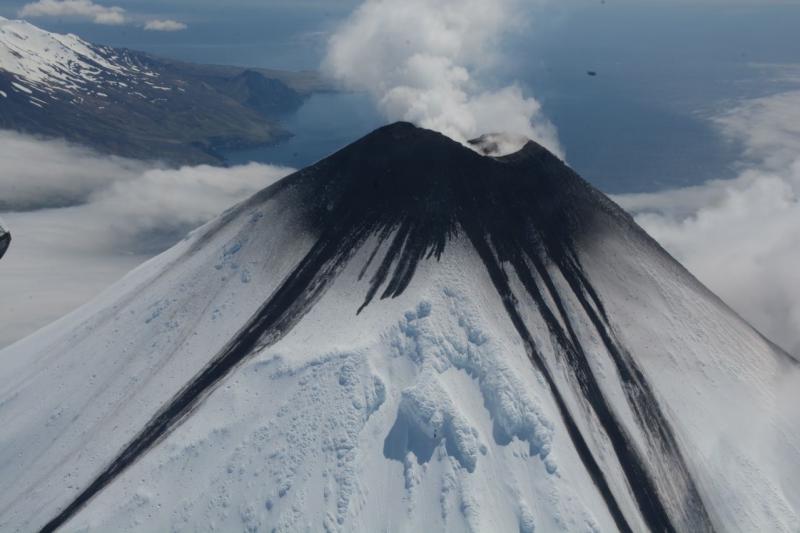 Episodes of lava effusion and explosions can occur without advance warning. Explosions from Cleveland are normally short duration and only present a hazard to aviation in the immediate vicinity of the volcano. Larger explosions that present a more widespread hazard to aviation are possible, but are less likely and occur less frequently.
Cleveland volcano is monitored by only two seismic stations, which restricts AVO's ability to detect precursory unrest that may lead to an explosive eruption. Rapid detection of an ash-producing eruption may be possible using a combination of seismic, infrasound, lightning, and satellite data.
Source : AVO.
Photo : Mees, Burke , Juin 2020.