September 26, 2020. EN . Italy / Sicily : Etna , Chile : Villarica , Indonesia : Semeru , Philippines : Taal , Iceland : Seismicity .
September 26 , 2020.
Italy / Sicily , Etna :
ETNA PRESS RELEASE [UPDATE n. 76], September 25, 2020.
The National Institute of Geophysics and Volcanology, Osservatorio Etneo, announces that from around 13:30 GMT a slight increase in the intensity of explosive activity at the New Southeast Crater is observed. The Strombolian-type activity produces the launch of lava shards above the crater rim and a light, discontinuous emission of scattered ash into the atmosphere.
At the same time, a sudden increase in the amplitude of the tremor is observed. This change takes place against a backdrop of large short-term fluctuations.
From the point of view of infrasound activity, no significant change is reported.
The signals from the GPS network and the INGV OE tilt-meter network do not show any significant variations.
ETNA PRESS RELEASE [UPDATE n. 77]
The National Institute of Geophysics and Volcanology, Osservatorio Etneo, reports that as of around 4.30 p.m. GMT, there is a marked decrease in explosive activity at the New Southeast Crater. Light and sporadic ash emissions remain which rapidly disperse into the atmosphere. .
At the same time, we observe a decrease in the amplitude of the volcanic tremor which returns to average levels.
Further updates will be communicated shortly.
Source : INGV.
Photo : Gio Giusa.
Chile , Villarica :
Special Report on Volcanic Activity (REAV), La Araucanía and Los Ríos region, Villarrica volcano, September 25, 2020, 19:20 local time (Continental Chile).
The National Service of Geology and Mines of Chile (Sernageomin) publishes the following PRELIMINARY information, obtained thanks to the monitoring equipment of the National Volcanic Monitoring Network (RNVV), processed and analyzed in the Volcanological Observatory of the Andes of the South (Ovdas):
On Friday, September 25 at 6:29 p.m. local time (9:29 p.m. UTC), the monitoring stations installed near the Villarrica volcano recorded a long-period earthquake (type LP) associated with a moderate explosion at the level of the active crater, with reduced displacement ( DR) equal to 11.9 cm2.
The characteristics of the earthquake after its analysis are as follows:
ORIGINAL TIME: 18:29 local time (21:29 UTC)
REDUCED DISPLACEMENT: 11.9 (cm * cm)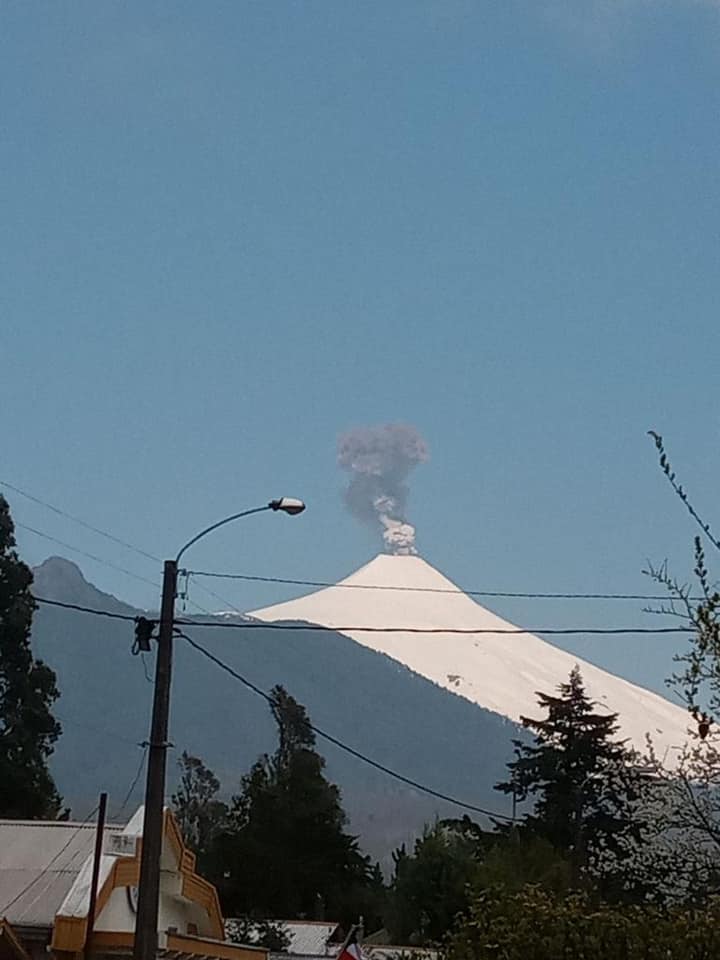 In addition, the characteristics of the associated surface activity are as follows:
MAXIMUM COLUMN HEIGHT: exceeds the maximum frame of the camera (450 m)
DISPERSAL DIRECTION: East-North-East (ENE)
OBSERVATIONS:
First, a greyish column with input of particles is observed. The column exceeds the maximum frame of the camera located northeast of the volcano (450 m), however, the current cloudiness does not allow the top of the volcano to be seen from the cameras located to the northwest of the volcano. At the time of publication of this report, no significant changes in seismic activity are recorded, it continues at levels similar to those observed prior to the reported event.
Previously, at 13:50 local time (16:50 UTC), another long-period earthquake (type LP) associated with a moderate explosion at the level of the active crater had taken place, with a reduced displacement (DR) equal to 15.9 cm2.
Source : Sernageomin.
Photo : Povi via Sandra Piel Muñoz.
Indonesia , Semeru :
VOLCANO OBSERVATORY NOTICE FOR AVIATION – VONA .
Issued : September 26 , 2020
Volcano : Semeru (263300)
Current Aviation Colour Code : ORANGE
Previous Aviation Colour Code : orange
Source : Semeru Volcano Observatory
Notice Number : 2020SMR98
Volcano Location : S 08 deg 06 min 29 sec E 112 deg 55 min 12 sec
Area : East java, Indonesia
Summit Elevation : 11763 FT (3676 M)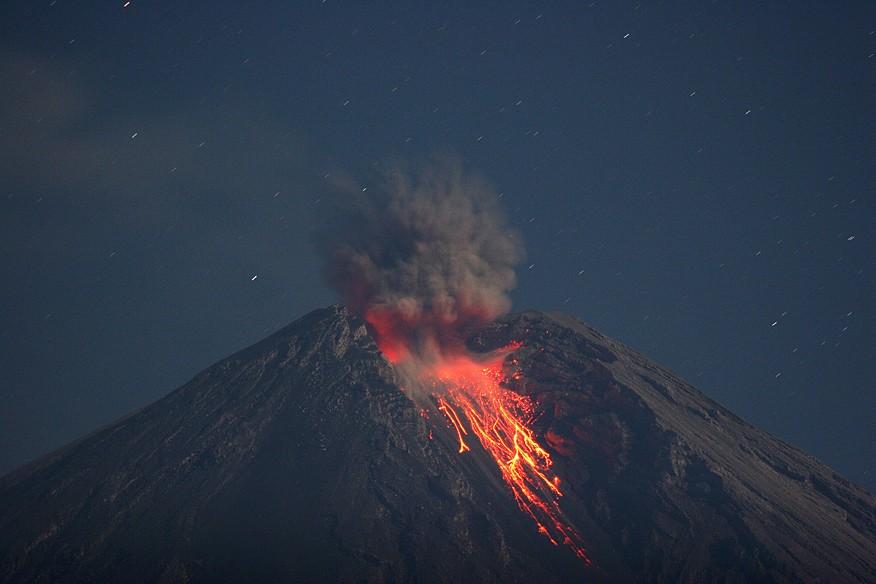 Volcanic Activity Summary :
éruption with volcanic ash cloud at 01h09 UTC (08h09 local).
Volcanic Cloud Height :
Best estimate of ash-cloud top is around 12403 FT (3876 M) above sea level, may be higher than what can be observed clearly. Source of height data: ground observer.
Other Volcanic Cloud Information :
Ash cloud moving to southwest
Remarks :
Seismic activity is characterized by eruption, avalanche and gas emission earthquakes
Source : Magma Indonésie .
Photo : M. Rietze , wikipedia , licence creative common .
Philippines , Taal :
TAAL VOLCANO BULLETIN 26 September 2020 08:00 A.M.
In the past 24-hour period, the Taal Volcano Network recorded four (4) volcanic earthquakes. One of these earthquakes that occurred at 11:58 PM yesterday was felt at Intensity II in Calaca and at Intensity I in Brgy. Banyaga, Agoncillo, Laurel, and Lemery, Batangas. Weak steaming or fumarolic activity rising 20 meters high before drifting southwest and northeast was observed from vents on the Main Crater and fissure vents along the Daang Kastila Trail.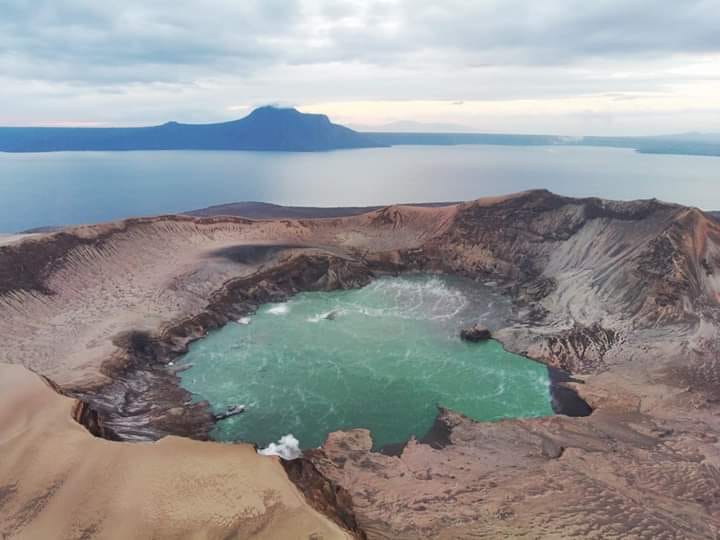 Alert Level 1 (Abnormal) is maintained over Taal Volcano. DOST-PHIVOLCS reminds the public that at Alert Level 1, sudden steam-driven or phreatic explosions, volcanic earthquakes, minor ashfall, and lethal accumulations or expulsions of volcanic gas can occur and threaten areas within the Taal Volcano Island (TVI). DOST-PHIVOLCS strongly recommends that entry into TVI, Taal's Permanent Danger Zone or PDZ, especially the vicinities of the Main Crater and the Daang Kastila fissure, must remain strictly prohibited. Local government units are advised to continuously assess previously evacuated barangays around Taal Lake for damages and road accessibilities and to strengthen preparedness, contingency, and communication measures in case of renewed unrest. People are also advised to observe precautions due to ground displacement across fissures, possible ashfall, and minor earthquakes. Civil aviation authorities must advise pilots to avoid flying close to the volcano as airborne ash and ballistic fragments from sudden explosions and wind-remobilized ash may pose hazards to aircraft.
DOST-PHIVOLCS is closely monitoring Taal Volcano's activity and any new significant development will be immediately communicated to all stakeholders.
Source : Phivolcs
Photo : Tomasz Lepich
Iceland , Seismicity :
An earthquake swarm is ongoing 12 km NE of Grímsey. Yesterday an M3.7 earthquake occurred there and around 3 am the activity increased when an M4.3 earthquake was detected. Around 3:30 AM two earthquakes above M4 were measured with few minutes in between. The earthquakes were felt widely in Northern-Iceland. Numerous smaller aftershocks are being measured in the area.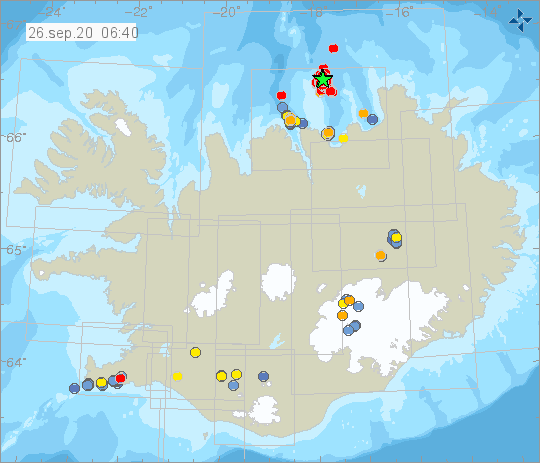 IMO's SIL-Seismic Network located automatically around 1500 earthquakes this week, that is considerably more than the week before when they were around 830. One thousand earthquakes have been manually reviewed, but the five hundred that have not yet been reviewed are minor earthquakes that are a part of seismic swarms offshore N-Iceland. The biggest difference between weeks was that the seismic activity offshore N-Iceland increased considerably 15th to 17th of September. Then the focus of the seismic activity shifted over to the eastern part of the Húsavík-Flatey Fault. The largest earthquakes of the week were located there on 15th of September and were M4.6 and M4.0. These earthquakes were felt widely around N-Iceland. Two more earthquakes above M3.0 were measured this week. Around noon on 14th of September an M3.4 earthquake occurred offshore N-Iceland and on 15th of September M3.1 earthquake occurred near the Skaftá cauldrons in western Vatnajökull Ice-Cap. Eight earthquakes were measured in and around Grímsvötn volcano and two in Hekla volcano.
Source : IMO.