September 17 , 2020.
Kamchatka , Bezymianny :
55.972°N, 160.595°E
Elevation 2882 m
KVERT reported that a new lava dome began growing in the summit crater of Bezymianny around 26 August. A thermal anomaly over the summit was visible during 28-31 August and on 4, 8, and 10 September. Weather clouds sometimes obscured views of the volcano. The Aviation Color Code remained at Yellow (the second lowest level on a four-color scale).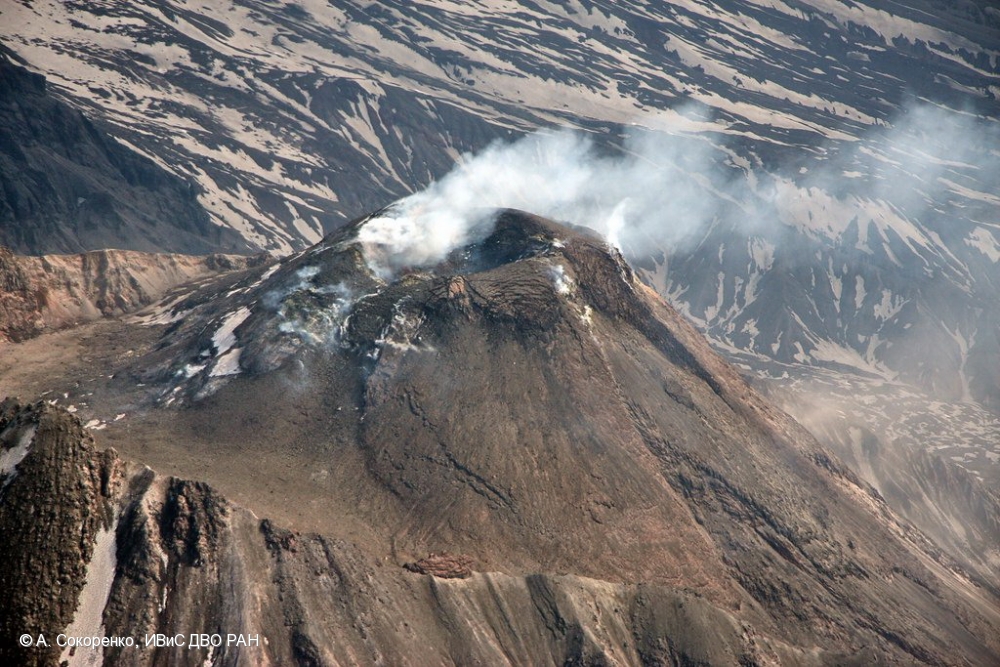 Prior to its noted 1955-56 eruption, Bezymianny had been considered extinct. The modern volcano, much smaller in size than its massive neighbors Kamen and Kliuchevskoi, was formed about 4700 years ago over a late-Pleistocene lava-dome complex and an ancestral edifice built about 11,000-7000 years ago. Three periods of intensified activity have occurred during the past 3000 years. The latest period, which was preceded by a 1000-year quiescence, began with the dramatic 1955-56 eruption. This eruption, similar to that of St. Helens in 1980, produced a large horseshoe-shaped crater that was formed by collapse of the summit and an associated lateral blast. Subsequent episodic but ongoing lava-dome growth, accompanied by intermittent explosive activity and pyroclastic flows, has largely filled the 1956 crater.
Source : GVP , Kvert .
Photo : A. Sokorenko, IVS FEB RAS.
Japan , Satsuma Iwo-jima :
30.793°N, 130.305°E
Elevation 704 m
JMA reported that during 7-14 September white plumes from Satsuma Iwo-jima, a subaerial part of Kikai's NW caldera rim, rose as high as 1 km above the Iodake crater rim. Incandescence from the crater was visible at night. The Alert Level remained at 2 (on a 5-level scale).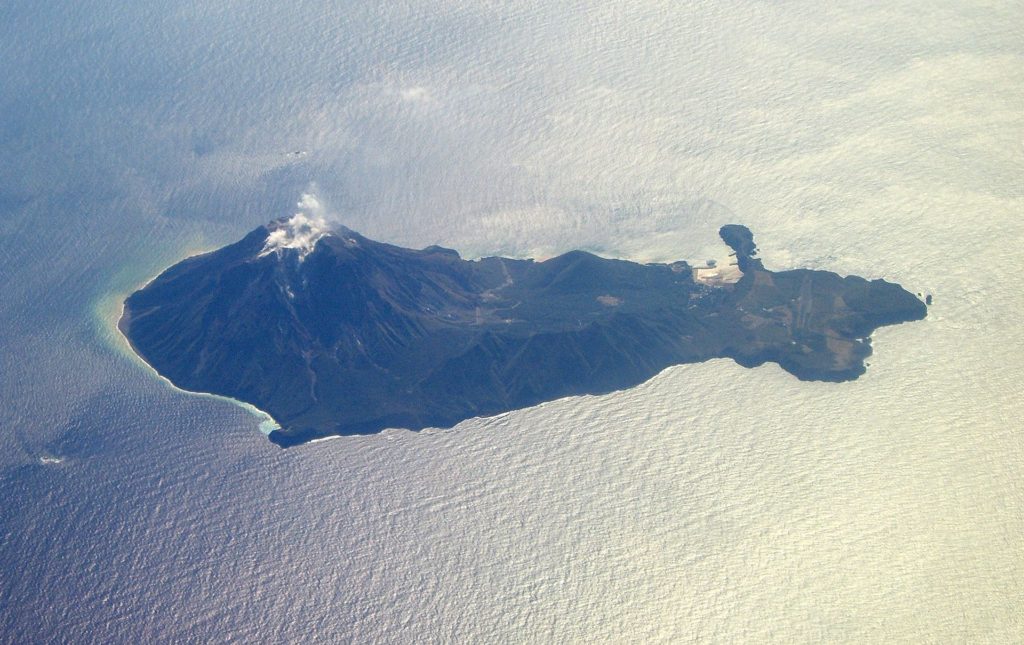 Kikai is a mostly submerged, 19-km-wide caldera near the northern end of the Ryukyu Islands south of Kyushu. It was the source of one of the world's largest Holocene eruptions about 6,300 years ago when rhyolitic pyroclastic flows traveled across the sea for a total distance of 100 km to southern Kyushu, and ashfall reached the northern Japanese island of Hokkaido. The eruption devastated southern and central Kyushu, which remained uninhabited for several centuries. Post-caldera eruptions formed Iodake lava dome and Inamuradake scoria cone, as well as submarine lava domes.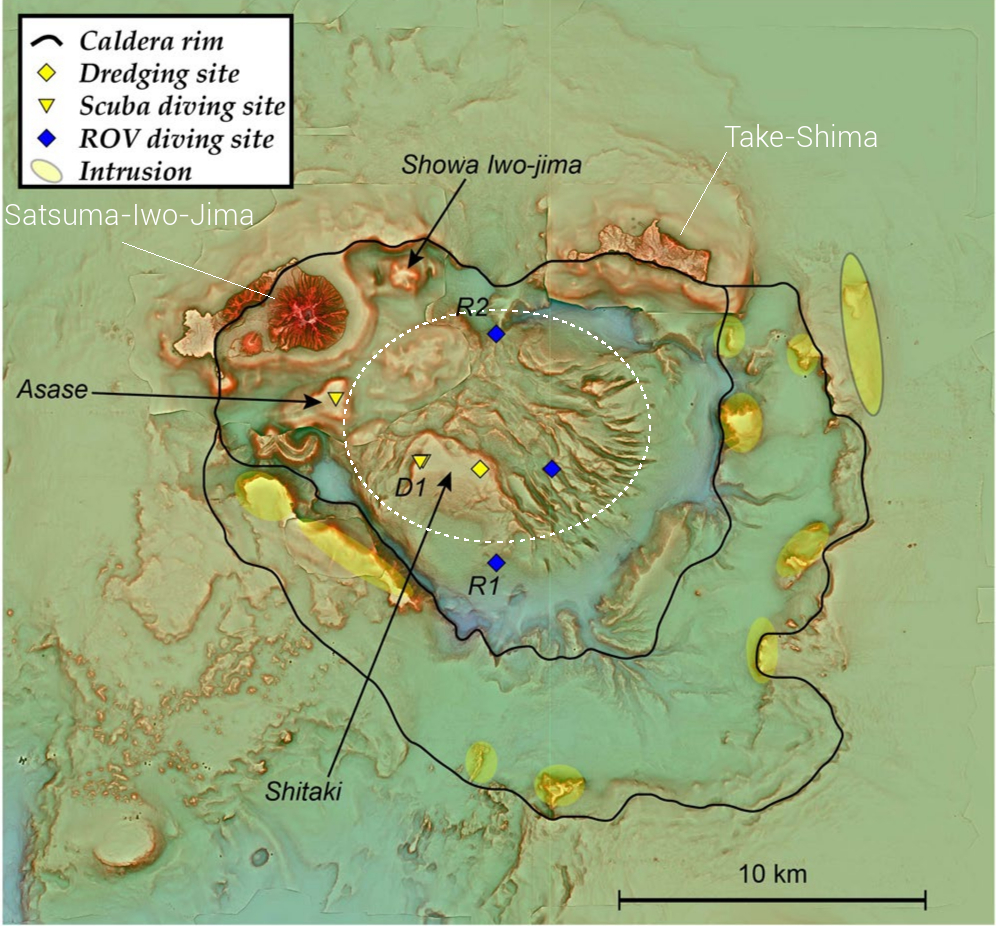 Historical eruptions have occurred at or near Satsuma-Iojima (also known as Tokara-Iojima), a small 3 x 6 km island forming part of the NW caldera rim. Showa-Iojima lava dome (also known as Iojima-Shinto), a small island 2 km E of Tokara-Iojima, was formed during submarine eruptions in 1934 and 1935. Mild-to-moderate explosive eruptions have occurred during the past few decades from Iodake, a rhyolitic lava dome at the eastern end of Tokara-Iojima.

Source : JMA , GVP.
Photo et carte : Ray go – Own work, commons.wikimedia.org , Yoshiyuki Tatsumi et al 2018.
Ecuador , Sangay :
The Geophysical Institute of the National Polytechnic School reports that:
On the afternoon of September 16, GOES-16 satellite images show an ash cloud from the Sangay volcano moving south, which could generate light ash falls in localities south of the volcano, in the province of Morona Santiago. This phenomenon has been persistent during the current eruptive period which began in May 2019.
The Geophysical Institute of the National Polytechnic School is keeping an eye on the activity of the volcano and will report on any changes that may be recorded.
DAILY REPORT ON THE STATE OF SANGAY VOLCANO, Wednesday September 16, 2020.
Surface activity level: High, Surface trend: No change.
Internal activity level: High, Internal trend: Increasing.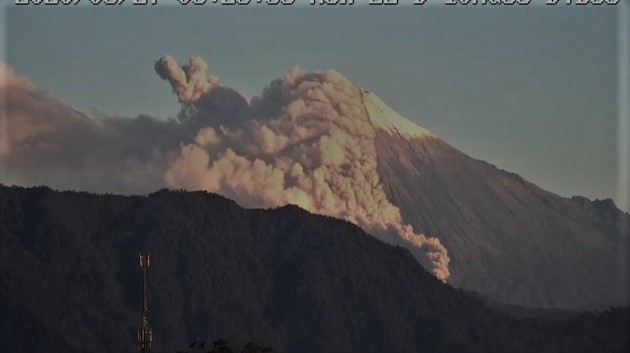 Seismicity: From September 15, 2020, 11:00 a.m. to September 16, 2020, 11:00 a.m.
Long period type events: 20
Explosions: 158
Emission tremor: 6
Rains / lahars:
Last night, rains were recorded in the area without generating any signals associated with secondary lahars.
** In case of heavy rains, lahars can be generated in the Volcán, Upano rivers and other tributaries **
Emission / ash column: Today in the morning on images shared by ECU911 and by the network of volcanic observers, gas and ash emissions were observed which rose 700 m above the crater level looking west. The VAAC recorded 1 ash emission alert, the direction of dispersion was towards the North-East and reached a height of 900 meters above the level of the crater.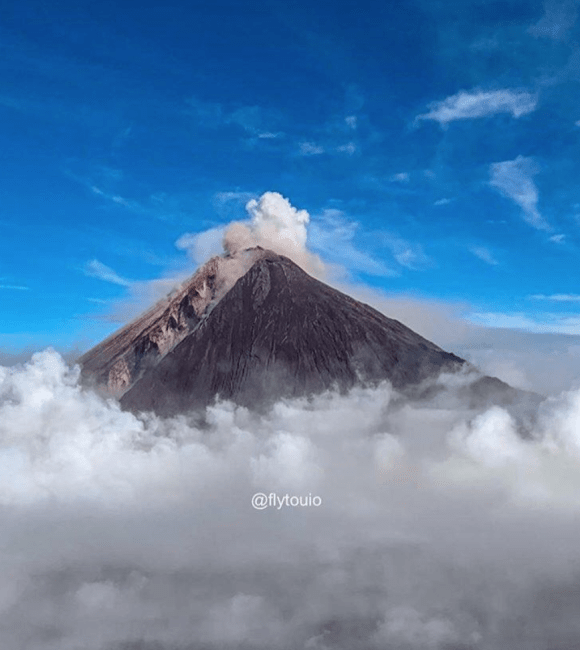 Other monitoring parameters: FIRMS recorded 27 thermal alerts on the Sangay in the last 24 hours.
MIROVA recorded 1 moderate thermal alert and 1 high thermal alert on the Sangay during the last 24 hours.
Observations: In the afternoon and night yesterday, the volcano was cloudy. As of this morning, the volcano was mostly clear, the emissions described above and the descent of pyroclastic flows along the south-eastern flank of the volcano were observed. Until the close of this bulletin, there are no reports of ash fall.
Alert level: yellow.
Source : IGEPN.
Photos : IGEPN , flytouio.
Philippines , Bulusan :
BULUSAN VOLCANO BULLETIN 17 September 2020 08:00 A.M.
Bulusan Volcano's monitoring network recorded one (1) volcanic earthquake during the 24-hour observation period. Ground deformation data from continuous GPS measurements indicate slight inflation on the edifice since July 2020, while the long-term trend since May 2019 denotes that the edifice is still deflated. These parameters indicate that volcanic processes are underway beneath the edifice that may be caused by deep-seated degassing or hydrothermal activity or magmatic intrusion.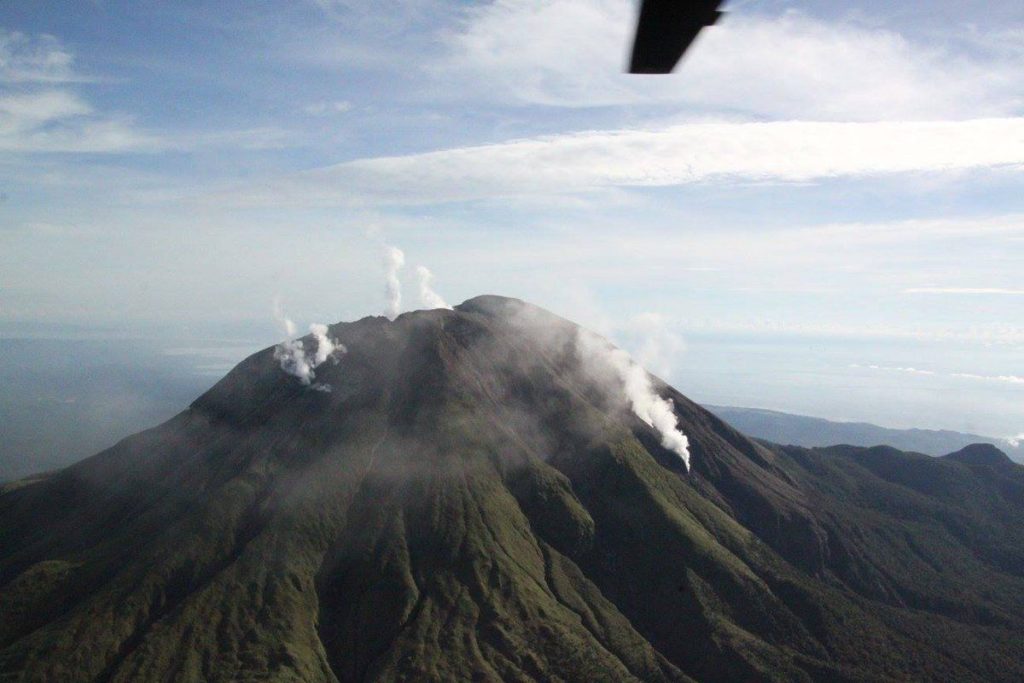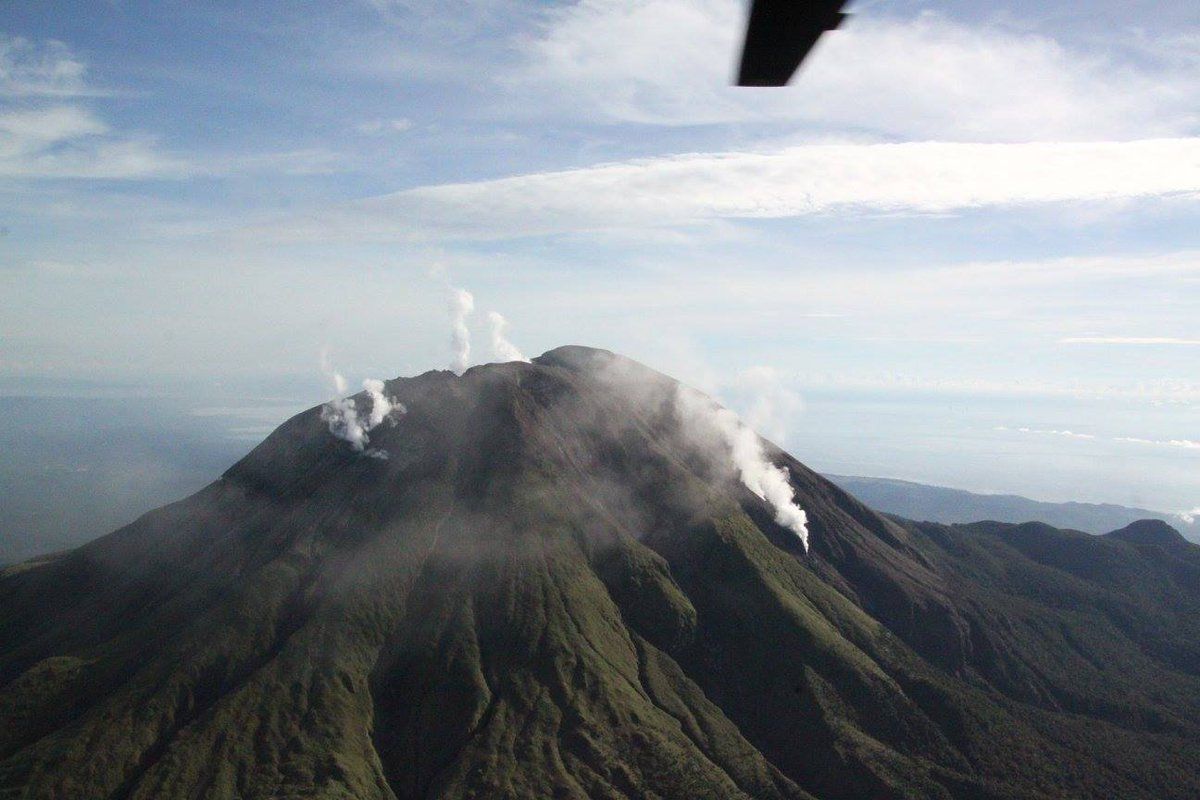 Alert Level 1 (Abnormal) status prevails over Bulusan Volcano, which means that it is currently in an abnormal condition. Local government units and the public are reminded that entry into the four-kilometer radius Permanent Danger Zone (PDZ) is strictly prohibited and that vigilance within the two-kilometer Extended Danger Zone (EDZ) on the southeastern sector must be exercised due to the increased possibilities of sudden and hazardous phreatic eruptions. Civil aviation authorities must also advise pilots to avoid flying close to the volcano's summit as ash from any sudden phreatic eruption can be hazardous to aircraft. Furthermore, people living within valleys and along river/stream channels especially on the southeast, southwest, and northwest sector of the edifice should be vigilant against sediment-laden stream flows and lahars in the event of heavy and prolonged rainfall.
DOST-PHIVOLCS is closely monitoring Bulusan Volcano's condition and any new development will be communicated to all concerned stakeholders.
Source et photo : Phivolcs .