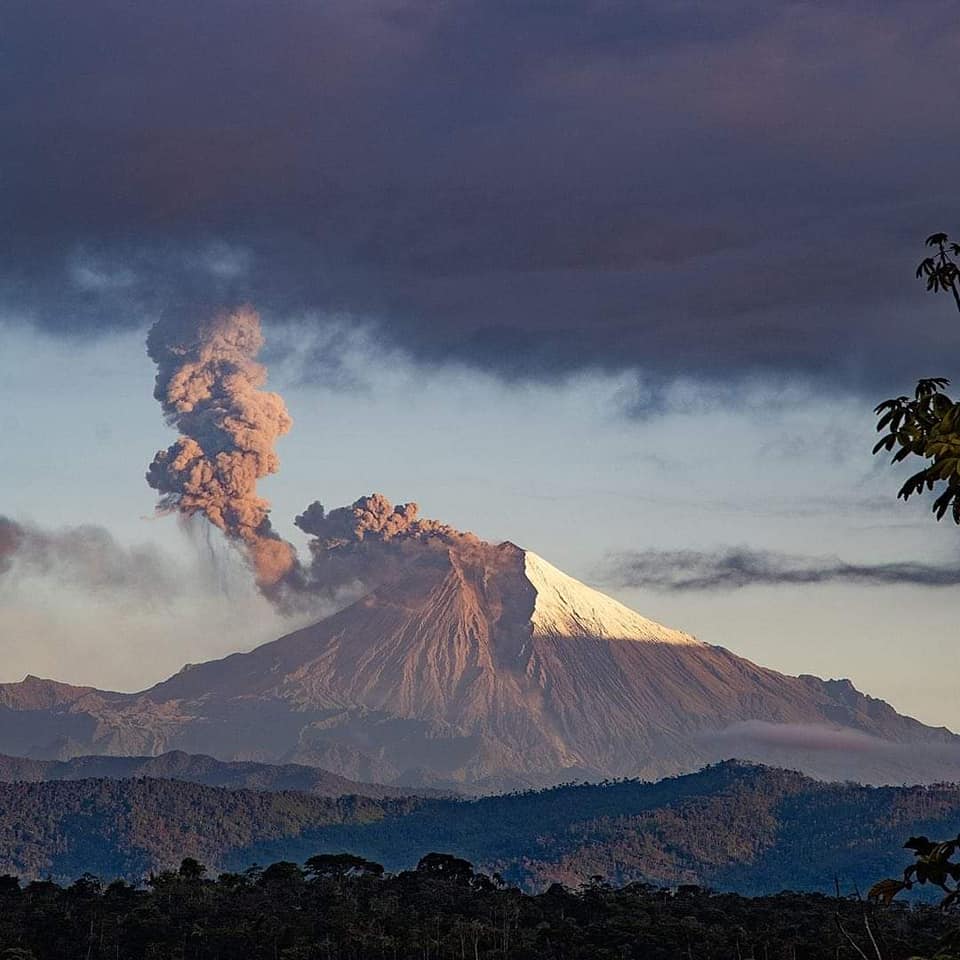 May 29 , 2023.
Ecuador , Sangay :
DAILY REPORT OF THE STATE OF SANGAY VOLCANO, Saturday May 27, 2023.
Information Geophysical Institute – EPN.
Surface Activity Level: High, Surface Trend: Ascending
Internal activity level: High, Internal trend: No change
Seismicity: From May 26, 2023, 11:00 a.m. to May 27, 2023, 11:00 a.m.:
Below is the count of seismic events recorded by the SAG1 station over the past 24 hours.
Explosion Event (EXP): 389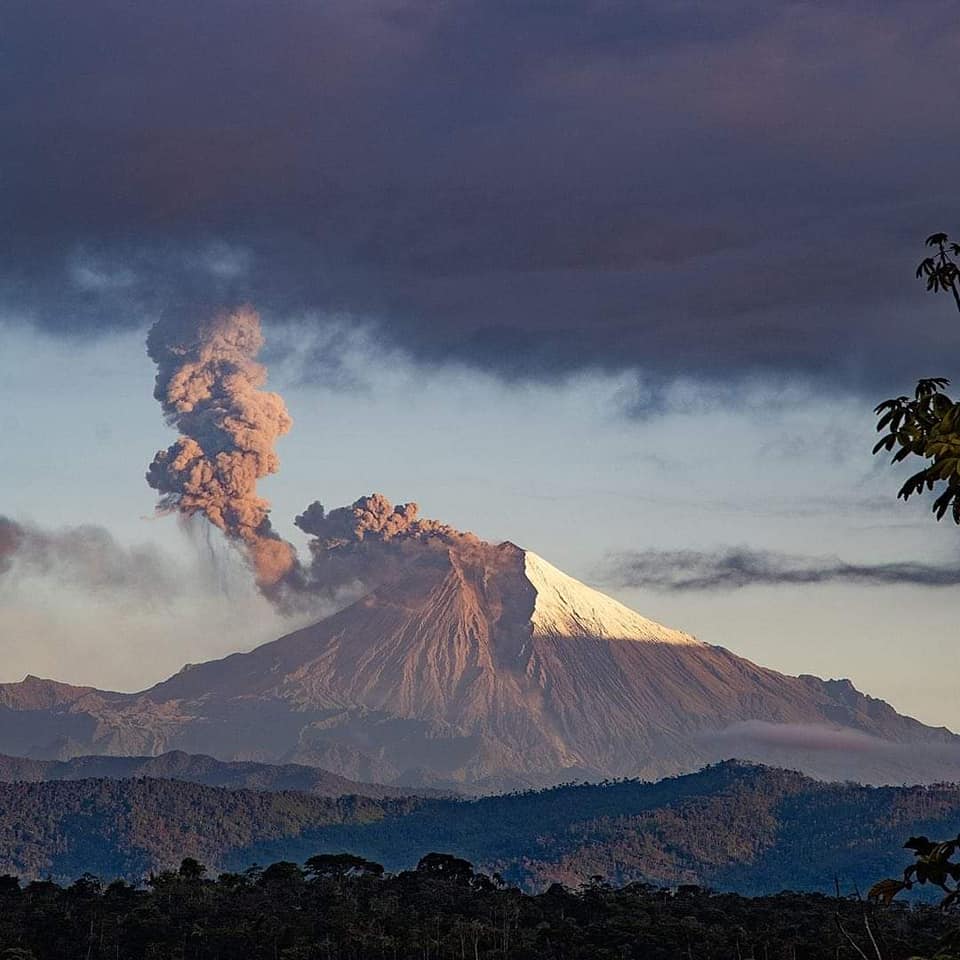 Rains / Lahars:
There are no reports of rain. "In the event of heavy rains, these could remobilize the accumulated materials, generating mudslides and debris that would descend the flanks of the volcano and pour into the adjacent rivers, in particular the Volcán and Upano rivers.
Emission / Ash Column:
The volcano remained cloudy most of the time. The Washington VAAC reported 1 ash emission alert at an altitude of 800 meters in a northwesterly direction.
Gas:
The MOUNTS system detected 1308 tons of sulfur dioxide (SO2), measured on 05/26/2023 at 2:13 p.m. TL.
Other Monitoring Parameters:
MIROVA-SENTINEL records 1 moderate thermal alert, MIROVA-VIIRS records 1 moderate thermal alert and 1 low thermal alert, MIROVA-MODIS records 2 moderate thermal alerts and 1 high thermal alert (662 MW), and FIRMS records 7 thermal alerts during the last 24 hours.
Observation:
During the night, an incandescence was observed in the crater. Since the morning, the volcano remains cloudy.
Alert level: Orange.
Source : IGEPN.
Photo :  Volcan Sangay FB.
Indonesia , Ili Lewotolok :
An eruption of G. Ili Lewotolok occurred on Sunday, May 28, 2023 at 5:44 p.m. WITA with the height of the ash column observed at ± 600 m above the summit (± 2023 m above sea level) . The ash column was observed to be gray with a thick intensity, oriented northeast and east. At the time of writing this report, the eruption was still ongoing.
VOLCANO OBSERVATORY NOTICE FOR AVIATION – VONA
Issued : May 28 , 2023
Volcano : Ili Lewotolok (264230)
Current Aviation Colour Code : ORANGE
Previous Aviation Colour Code : orange
Source : Ili Lewotolok Volcano Observatory
Notice Number : 2023LEW032
Volcano Location : S 08 deg 16 min 19 sec E 123 deg 30 min 18 sec
Area : East Nusa Tenggara, Indonesia
Summit Elevation : 4554 FT (1423 M)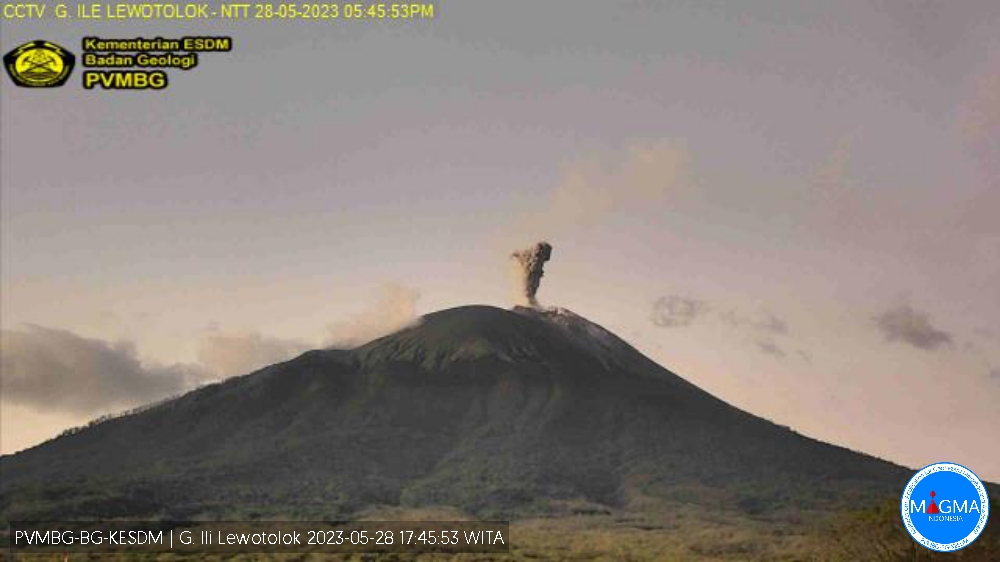 Volcanic Activity Summary :
Eruption with volcanic ash cloud at 09h44 UTC (17h44 local).
Volcanic Cloud Height :
Best estimate of ash-cloud top is around 6474 FT (2023 M) above sea level or 1920 FT (600 M) above summit. May be higher than what can be observed clearly. Source of height data: ground observer.
Other Volcanic Cloud Information :
Ash cloud moving from northeast to east. Volcanic ash is observed to be gray. The intensity of volcanic ash is observed to be thick.
Source et photo : Magma Indonésie.
Hawaii , Kilauea :
Sunday, May 28, 2023, 8:43 AM HST (Sunday, May 28, 2023, 18:43 UTC)
19°25'16 » N 155°17'13 » W,
Summit Elevation 4091 ft (1247 m)
Current Volcano Alert Level: ADVISORY
Current Aviation Color Code: YELLOW
Activity Summary:
Kīlauea volcano is not erupting. Kīlauea summit is currently exhibiting signs of heightened unrest. Summit seismicity remains elevated. No unusual activity has been noted along Kīlauea's East Rift Zone or Southwest Rift Zone.
Halemaʻumaʻu Lava Lake Observations:
No active lava has been observed over the past day.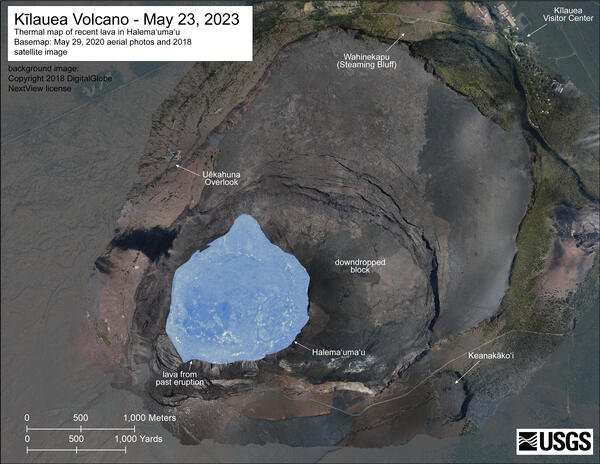 A helicopter overflight on May 23, 2023 collected aerial visual and thermal images of Halema'uma'u crater at Kīlauea's summit. No active lava was present in the crater, with only hot spots scattered across the crater floor. The heat map scale runs from blue to red, with blue colors indicating cooler temperatures and red colors indicating warmer temperatures.
Summit Observations:
Inflationary tilt and elevated seismicity continue at Kīlauea's summit. Daily rates have been somewhat variable, but over the past several months, both deformation and seismicity rates have been elevated beyond those observed preceding the January 5, 2023 summit eruption. Earthquake rates remain elevated mostly beneath Kīlauea summit and Nāmakanipaio, with over 120 recorded in the past day. Most of the earthquakes have been smaller than magnitude-2 and not reported felt. The most recent sulfur dioxide (SO2) emission rate of approximately 120 tonnes per day was measured on May 26, 2023.
Rift Zone Observations:
No unusual activity has been noted along the East Rift Zone or Southwest Rift Zone; steady rates of ground deformation and seismicity continue along both. Measurements from continuous gas monitoring stations in the middle East Rift Zone—the site of 1983–2018 eruptive activity—remain below detection limits for SO2.
Source et photo : HVO
Mexico , Popocatepetl :
May 28, 11:00 a.m. (May 28, 5:00 p.m. GMT)
During the last 24 hours, according to the monitoring systems of the Popocatépetl volcano, 8 exhalations accompanied by water vapor, other volcanic gases and ash have been detected.
1,417 minutes of high frequency tremors of low to medium amplitude were recorded, associated with the continuous emission of gas, water vapor and ash, as well as, on occasion, the expulsion of fragments glowing a short distance from the crater.
Yesterday, ash falls were recorded in the municipalities of: Jonacatepec de Leandro Valle, Tepalcingo, Yecapixtla, Zacualpan de Amilpas, Hueyapan and Jantetelco in the state of Morelos, as well as in the municipalities of Ecatzingo and Tenango del Aire in the State of Mexico.
At the time of publication of this report, an emission of water vapor, volcanic gases and slight amounts of ash is observed in a South-South-East direction.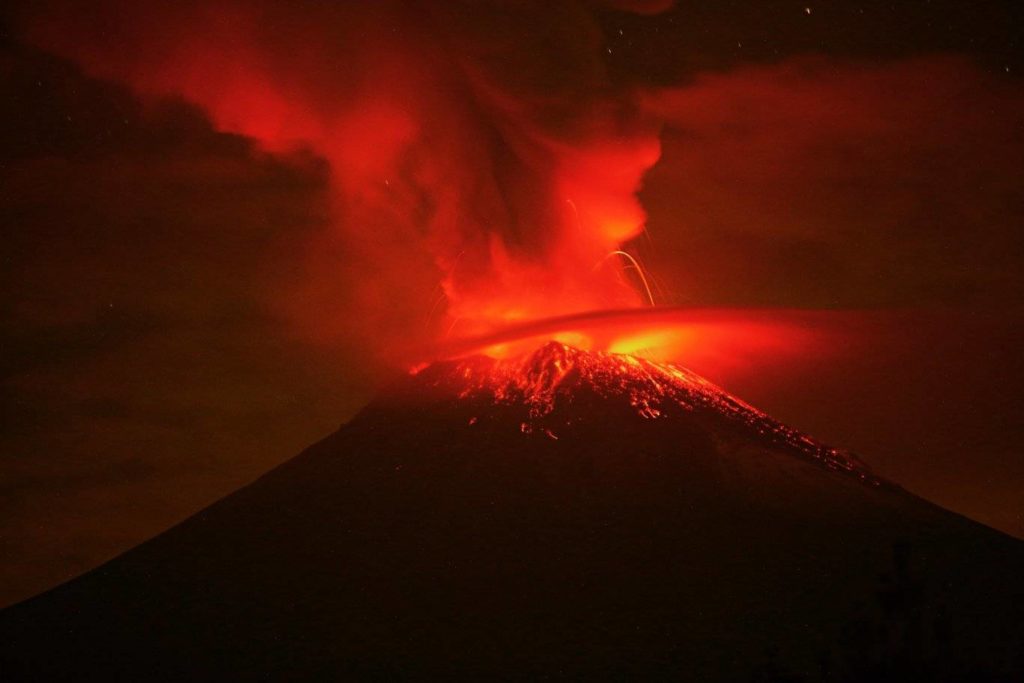 According to the analysis of the images taken during an overflight of the Popocatépetl volcano by the Secretary of the Navy carried out on the morning of May 26, the presence of a lava dome was not observed, but it was appreciated that the main crater has been significantly filled by emitted fragmented magmatic material. Similarly, activity over the past four days has consisted of the emission of ash and incandescent fragments associated with the record tremor of fluctuating duration and amplitude.
May 28, 7:00 p.m. (May 29, 01:00 GMT)
For the moment, the high frequency tremor signal continues, keeping a low amplitude. The amplitude increases were observed in periods that vary between one and two hours. This tremor signal is associated with the emission of ash and the expulsion of incandescent fragments.
At 11 a.m. today, visibility was partial, due to dense cloud. However, on some occasions it has been possible to observe ash production.
The volcanic alert traffic light remains YELLOW PHASE 3
Source : Cenapred
Photo : Leafar Narud
Alaska , Great Sitkin :
52°4'35 » N 176°6'39 » W,
Summit Elevation 5709 ft (1740 m)
Current Volcano Alert Level: WATCH
Current Aviation Color Code: ORANGE
Slow eruption of lava is continuing at Great Sitkin Volcano, producing a thick lava flow within the summit crater. No earthquakes were detected over the last day. Satellite radar and webcam images showed no changes in eruptive behavior.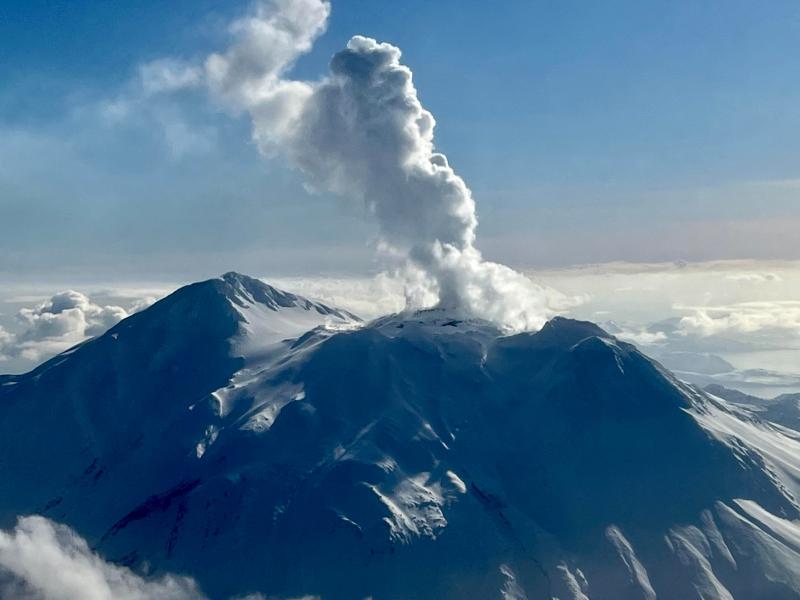 An eruption of lava began at Great Sitkin Volcano in July 2021 and has continued to slowly erupt since, but no explosive events have occurred. An explosive event occurred in May 2021, before the current eruption of lava. The volcano is monitored by local seismic and infrasound sensors, satellite data, webcams, and regional infrasound and lightning networks.
Source : AVO
Photo : Skeehan, Steven