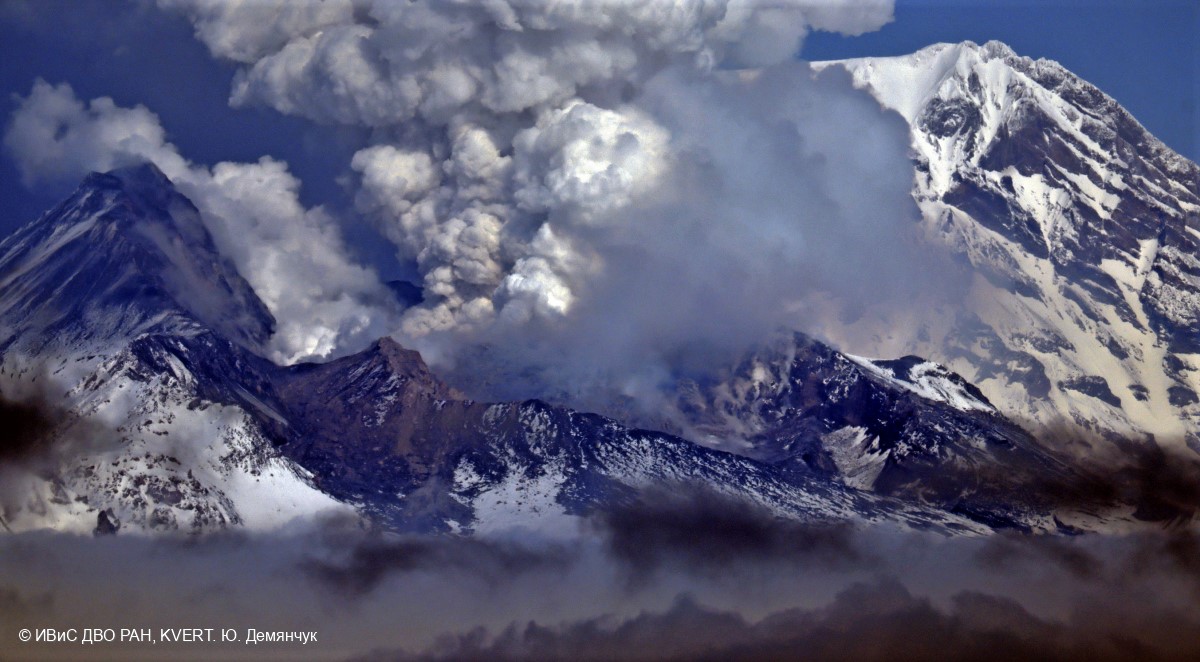 May 09 , 2023.
Kamchatka , Sheveluch :
VOLCANO OBSERVATORY NOTICE FOR AVIATION (VONA)
Issued: May 09 ,2023
Volcano: Sheveluch (CAVW #300270)
Current aviation colour code: ORANGE
Previous aviation colour code: orange
Source: KVERT
Notice Number: 2023-67
Volcano Location: N 56 deg 38 min E 161 deg 18 min
Area: Kamchatka, Russia
Summit Elevation: 3283 m (10768.24 ft), the dome elevation ~2500 m (8200 ft)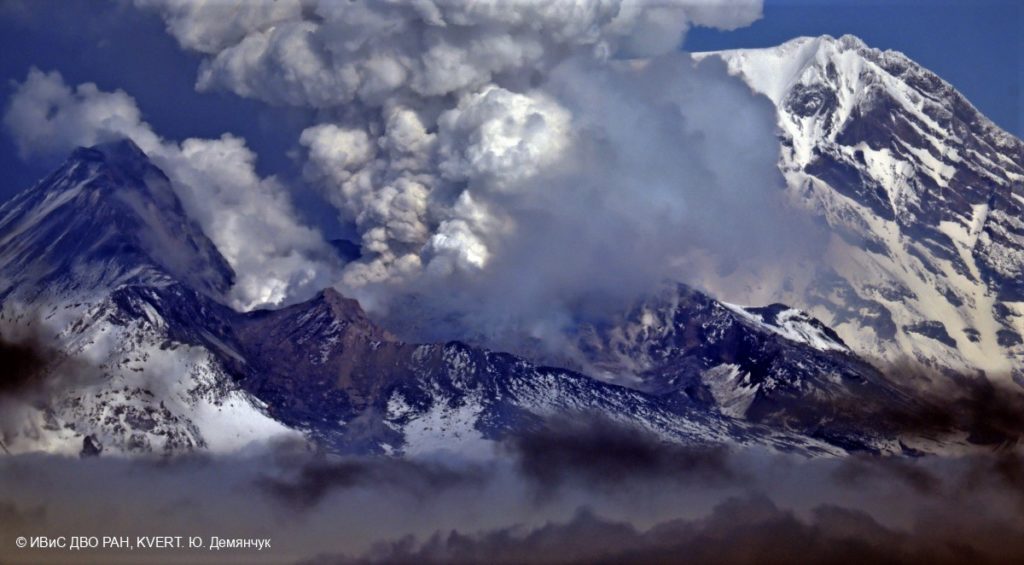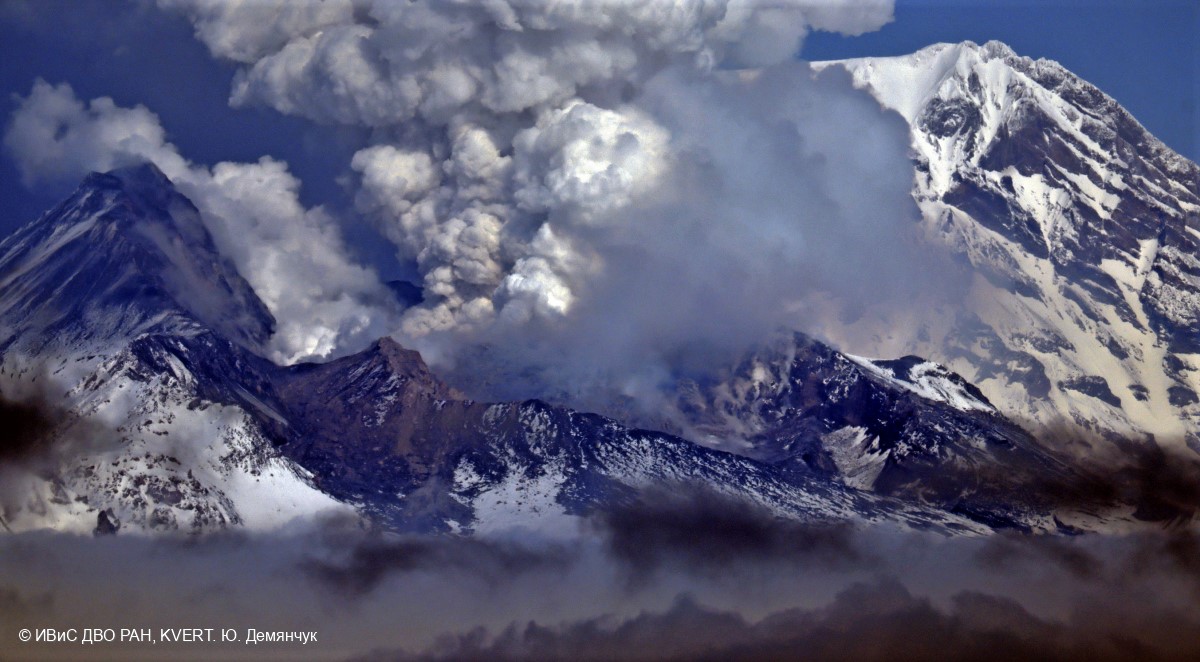 Volcanic Activity Summary:
Video and satellite data by KVERT shows a strong wind lifts ash from the southeastern slopes of Sheveluch volcano, and a plume of resuspended ash extends 54 km to the west of the volcano. A growth of the lava dome continues, a strong fumarolic activity, an incandescence of the lava dome, and hot avalanches accompanies this process.
An extrusive eruption of the volcano continues. A danger of ash explosions up to 10 km (32,800 ft) a.s.l. is remains. Ongoing activity could affect international and low-flying aircraft.
Volcanic cloud height:
3000 m (9840 ft) AMSL Time and method of ash plume/cloud height determination: 20230509/0215Z – Video data
Other volcanic cloud information:
Distance of ash plume/cloud of the volcano: 54 km (34 mi)
Direction of drift of ash plume/cloud of the volcano: W / azimuth 277 deg
Time and method of ash plume/cloud determination: 20230509/0140Z – Himawari-9 14m15
Remarks:
plumes of resuspended ash
Source : Kvert
Photo : Yu. Demyanchuk, IVS FEB RAS, KVERT
Italy , Campi Flegrei :
The seismic monitoring networks of the National Institute of Geophysics and Volcanology – Osservatorio of Vesuvius recorded today May 08, 2023, at 04:28 local time, an earthquake of magnitude Md 3.4 +/- 0.3 located in the Campi Flegrei, in the Solfatara area, 2.7 km deep.
This is the sixth earthquake of magnitude greater than or equal to 3 since the resurgence of bradyseism in 2005: the previous ones in December 2019, Md 3.1; April 2020, Md 3.3; March 2022, Md 3.5 and Md 3.6; February 2023, MD 3.0.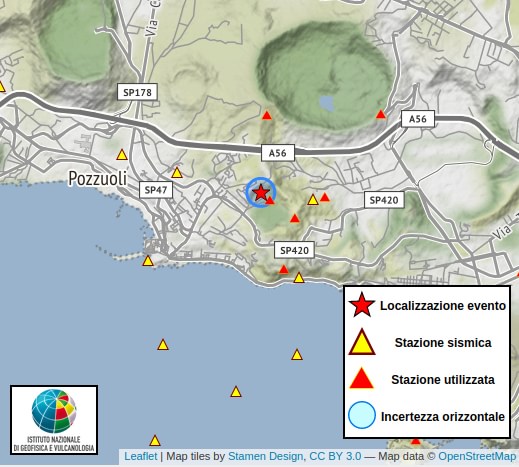 Today's earthquake is part of the recent seismicity of the Campi Flegrei linked to the phenomenon of bradyseism, which is characterized by earthquakes of magnitude mostly less than 1 and which sometimes occurs in swarms. This seismic activity is mainly located between Pozzuoli, Solfatara and Agnano-Pisciarelli. The INGV – Osservatorio Vesuviano constantly monitors seismicity as well as other potential parameters indicating a possible change in the state of the volcano.
Source et photo : INGV.
Philippines , Bulusan :
BULUSAN VOLCANO ADVISORY 09 May 2023 01:00 P.M.
Since 7 May 2023, the Bulusan Volcano Network (BVN) has recorded a total of seventeen (17) volcanic earthquakes that occurred at depths of 0 to 5.2 kilometers beneath the eastern sector of Bulusan. These consisted of eleven (11) volcano-tectonic earthquakes that are associated with rock-fracturing and six (6) tornillo events associated with movement of volcanic gas, which altogether indicate volcanic gas activity is taking place beneath the edifice. Currently, very weak to weak emission of white steam-laden plumes transpires at active vents on the crater and summit area. However, volcanic gas activity within the edifice may potentially trigger steam-driven or phreatic eruption from any of the active vents.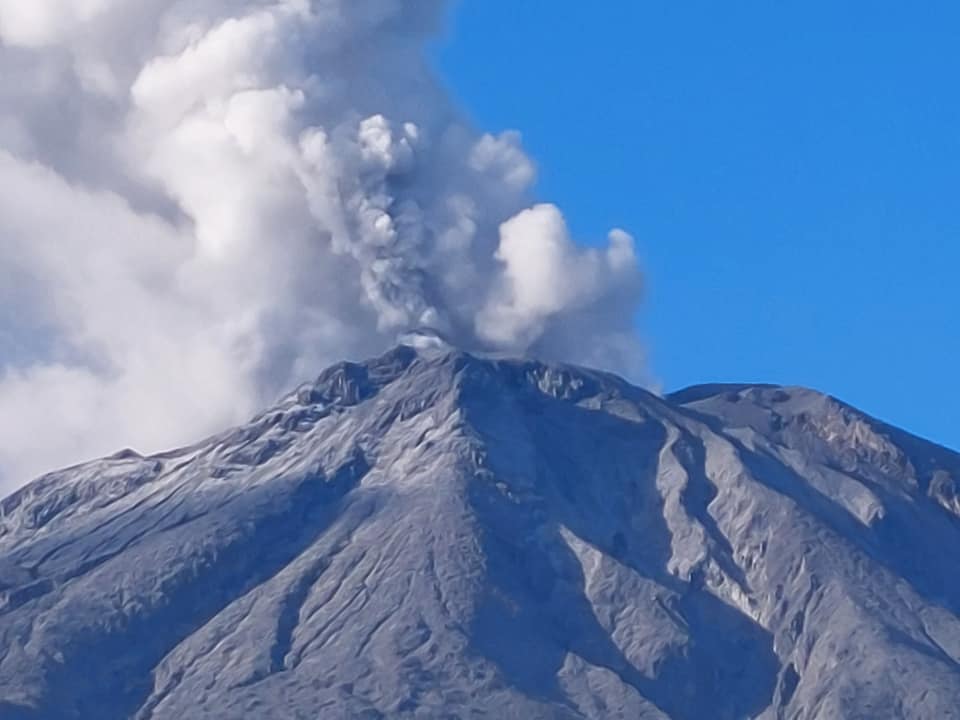 Alert Level 0 (Normal) is maintained over Bulusan Volcano but there are chances of steam-driven or phreatic eruptions occurring from the crater or summit area. Local government units and the public, however, are reminded that entry into the 4-kilometer radius Permanent Danger Zone (PDZ) particularly near the vents on the south-southeastern slopes, should be avoided due to the possibility of sudden and hazardous steam-driven or phreatic eruption, rockfall and landslide. Civil aviation authorities must also advise pilots to avoid flying close to the volcano's summit as ash from any sudden phreatic eruption can be hazardous to aircraft. Furthermore, people living within valleys and along river/stream channels should be vigilant against sediment-laden stream flows and lahars in the event of heavy and prolonged rainfall.
DOST-PHIVOLCS is closely monitoring Bulusan Volcano's condition and any new development will be relayed to all concerned.
Source : Phivolcs
Photo: Sorsogon news.
Indonesia , Ili Lewotolok :
An eruption of G. Ili Lewotolok occurred on Tuesday, May 09, 2023 at 05:19 WITA with the height of the ash column observed at ± 500 m above the summit (± 1923 m above sea level) . The ash column was observed to be gray with thick intensity, oriented to the west. This eruption was recorded on a seismograph with a maximum amplitude of 33.1 mm and a duration of 38 seconds.
VOLCANO OBSERVATORY NOTICE FOR AVIATION – VONA
Issued : May 08 , 2023
Volcano : Ili Lewotolok (264230)
Current Aviation Colour Code : ORANGE
Previous Aviation Colour Code : orange
Source : Ili Lewotolok Volcano Observatory
Notice Number : 2023LEW022
Volcano Location : S 08 deg 16 min 19 sec E 123 deg 30 min 18 sec
Area : East Nusa Tenggara, Indonesia
Summit Elevation : 4554 FT (1423 M)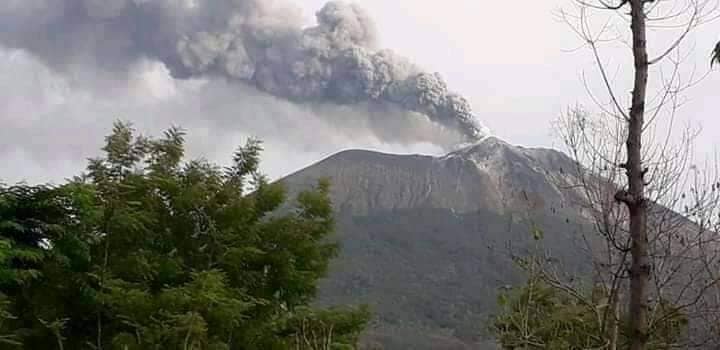 Volcanic Activity Summary :
Eruption with volcanic ash cloud at 21h19 UTC (05h19 local).
Volcanic Cloud Height :
Best estimate of ash-cloud top is around 6154 FT (1923 M) above sea level or 1600 FT (500 M) above summit. May be higher than what can be observed clearly. Source of height data: ground observer.
Other Volcanic Cloud Information :
Ash cloud moving to west. Volcanic ash is observed to be gray. The intensity of volcanic ash is observed to be thick.
Remarks :
Eruption recorded on seismogram with maximum amplitude 33.1 mm and maximum duration 38 second.
Source : Magma Indonésie.
Photo : Kodi Setiawan ( archive)
Peru , Sabancaya :
Analysis period: from May 01, 2023 to May 07, 2023, Arequipa, May 08, 2023.
Alert level: ORANGE
The Geophysical Institute of Peru (IGP) reports that the eruptive activity of the Sabancaya volcano remains at moderate levels, that is to say with the recording of an average of 23 daily explosions, with columns of ash and gas up to 2.0 km altitude above the summit of the volcano and their consequent dispersion. Therefore, for the following days, no significant change is expected in eruptive activity.
The IGP recorded and analyzed the occurrence of 316 earthquakes of volcanic origin, associated with the circulation of magmatic fluids inside the Sabancaya volcano. An average of 23 explosions was recorded daily, in addition to recording Volcano-Tectonic (VT) type events associated with rock fracturing inside the Sabancaya volcano.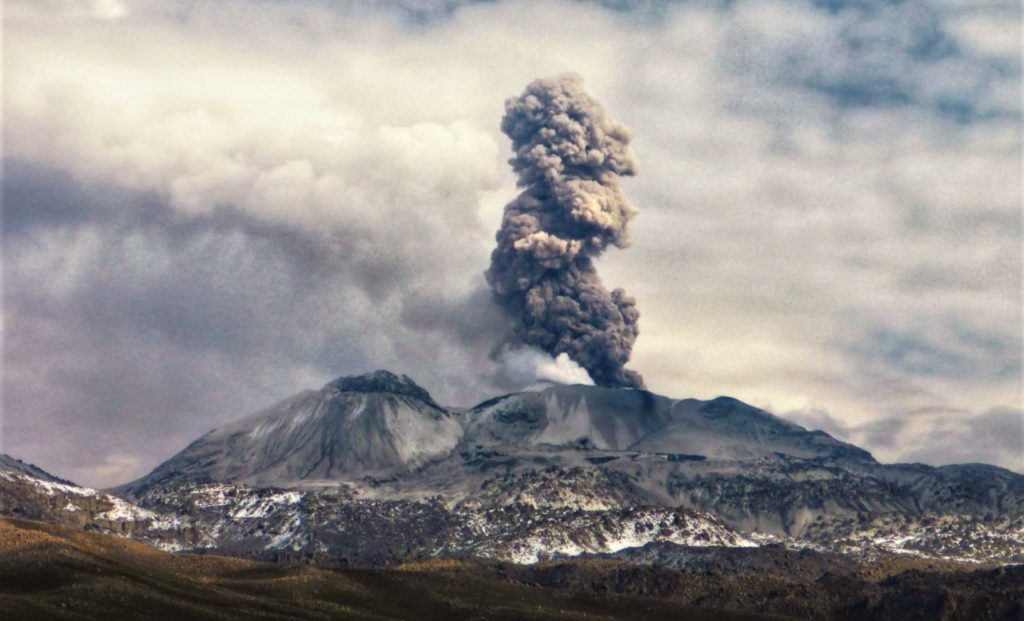 Monitoring the deformation of the volcanic structure using GNSS techniques (processed with fast orbits) does not show any significant anomalies. Visual surveillance identified columns of gas and ash up to 2.0 km above the summit of the volcano, which were dispersed towards the eastern, southeast and northern sectors of Sabancaya. Satellite recordings have identified the presence of 3 thermal anomalies, with a maximum value of 6 MW, associated with the presence of a lava body on the surface of the crater of the volcano.
RECOMMENDATIONS
• Keep the volcanic alert level orange.
• Do not approach within a radius of less than 12 km from the crater.
Source : Cenvul.
Photo : Andina.