May 08 , 2023. EN . Indonesia : Semeru , Ecuador : Cotopaxi , Italy : Campi Flegrei , Costa Rica : Turrialba / Poas / Rincon de la Vieja , Alaska : Trident .
May 08 ,  2023. 
Indonesia , Semeru :
VOLCANO OBSERVATORY NOTICE FOR AVIATION – VONA
Issued : May 08 , 2023
Volcano : Semeru (263300)
Current Aviation Colour Code : ORANGE
Previous Aviation Colour Code : orange
Source : Semeru Volcano Observatory
Notice Number : 2023SMR170
Volcano Location : S 08 deg 06 min 29 sec E 112 deg 55 min 12 sec
Area : East java, Indonesia
Summit Elevation : 11763 FT (3676 M)
Volcanic Activity Summary :
Eruption with volcanic ash cloud at 02h22 UTC (09h22 local).
Volcanic Cloud Height :
Best estimate of ash-cloud top is around 13683 FT (4276 M) above sea level or 1920 FT (600 M) above summit. May be higher than what can be observed clearly. Source of height data: ground observer.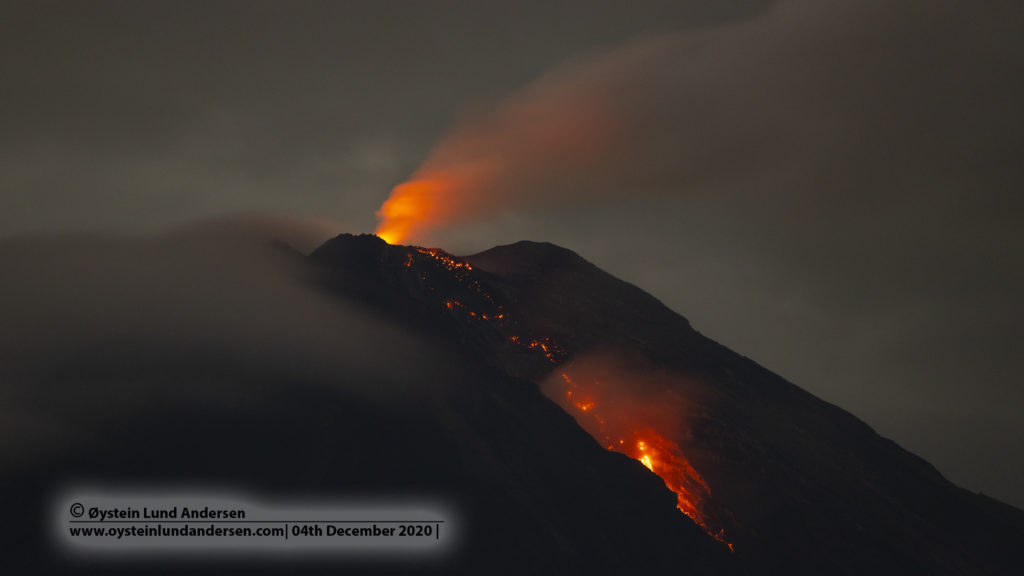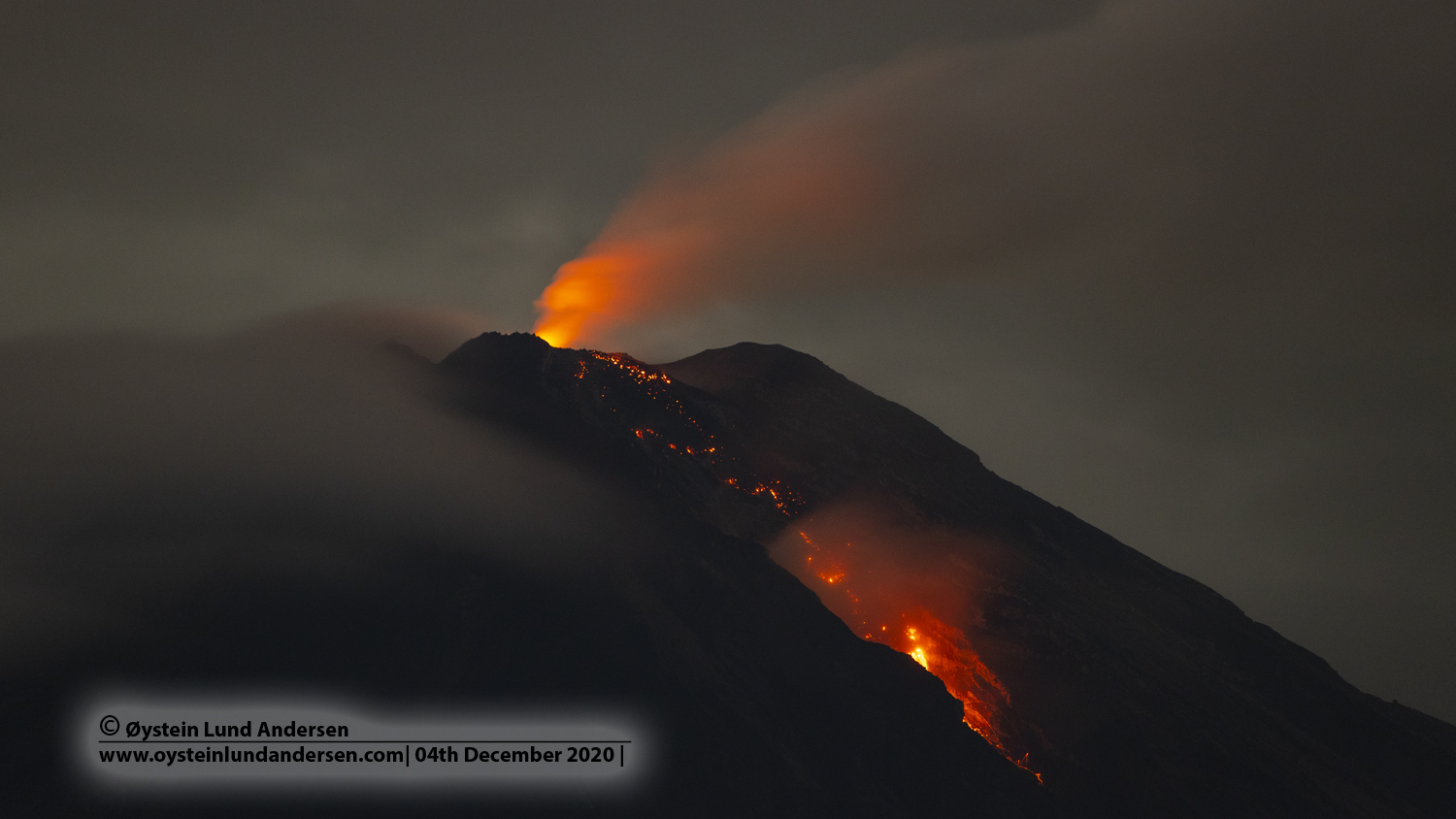 Other Volcanic Cloud Information :
Ash cloud moving to south. Volcanic ash is observed to be white to gray. The intensity of volcanic ash is observed to be medium.
Remarks :
Eruption recorded on seismogram with maximum amplitude 22 mm and maximum duration 98 second.
SEISMICITY OBSERVATION
16 earthquakes of eruptions/explosions with an amplitude of 13 to 22 mm and a duration of 60 to 105 seconds.
1 emission earthquake with an amplitude of 8 mm, and a duration of 40 seconds.
RECOMMENDATION
Do not carry out any activity in the Southeast sector along Besuk Kobokan, up to 13 km from the summit (the center of the eruption). Outside of this distance, the community does not carry out activities within 500 meters of the bank (river edge) along Besuk Kobokan as it has the potential to be affected by cloud expansion. hot and lahar flows up to a distance of 17 km from the summit.
Source : Magma Indonésie.
Photo : Oystein lund Andersen .
Ecuador , Cotopaxi :
DAILY REPORT OF THE STATE OF COTOPAXI VOLCANO, Sunday May 07, 2023.
Information Geophysical Institute – EPN.
Surface Activity Level: Moderate, Surface Trend: Unchanged.
Internal activity level: Moderate, Internal trend: No change.
Seismicity: From May 06, 2023 2023, 11:00 a.m. to May 07, 2023, 11:00 a.m.:
An increase in the number of LP type earthquakes is noted compared to the past days.
Emission Tremor (TREMI) 3
Long Period (LP): 72
Gas:
Mounts reports 131.9 tons of SO2
Emission / Ash Column:
This morning an emission of gas and ash between 500 and 1100 m was recorded, which was directed towards the West and the South-West. Until the closing of this report, there were reports of a slight ash fall at Mulaló. Today's emissions are lower in intensity and magnitude than those recorded in January and February.
Rains / Lahars:
There are no reports.
Alert level: Yellow.
Source : IGEPN
Photo : Cris Carrillo
Italy , Campi Flegrei :
CAMPI FLEGREI monitoring bulletin, APRIL 2023.
SEISMOLOGY
The Campi Flegrei permanent seismic network consists of 26 land and sea stations. The permanent marine infrastructure for experimental multi-parameter monitoring and research that operates in the Gulf of Pozzuoli, called MEDUSA, consists of 4 geodetic buoys (CFBA, CFBB, CFBC and CFSB) and as many underwater modules equipped geophysical and oceanographic devices and multi-parameter instruments. Currently, the CFSB station is not functional.
During the month of April 2023, 675 earthquakes were recorded in the Campi Flegrei (Mdmax=2.9±0.3; event of 04/10/2023 at 03:54 UTC).
46 of the recorded events occurred during 4 earthquake swarms:
● the first, from 05:54 UTC on 04/15/2023 composed of 21 earthquakes with -0.3≤Md≤2.7 (±0.3), which occurred in the Bagnoli region;
● the second, from 23:59 UTC on 04/17/2023, consisting of 7 earthquakes of 0.1≤Md≤2.2 (±0.3), occurring in the Gulf of Pozzuoli;
● the third, from 17:58 UTC on 04/19/2023 consisting of 11 earthquakes of -0.1≤Md≤2.2 (±0.3), which occurred in the Solfatara area;
● the fourth, from 02:37 UTC on 04/26/2023 composed of 7 earthquakes with -0.3≤Md≤2.3 (±0.3), which occurred in the Agnano region -Pisciarelli.
There are no significant changes in the seismological parameters.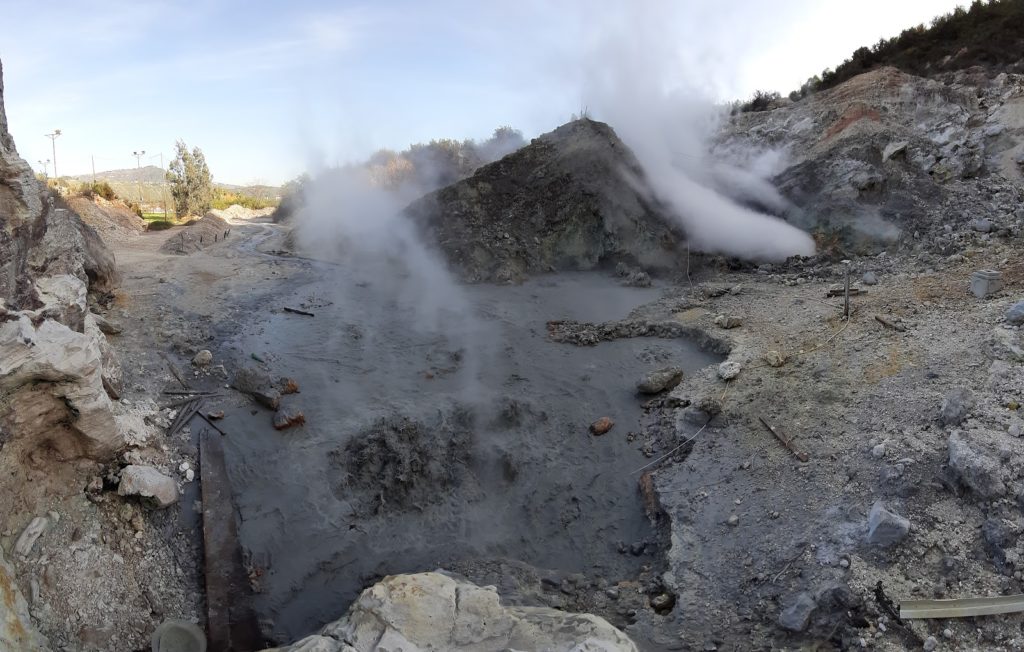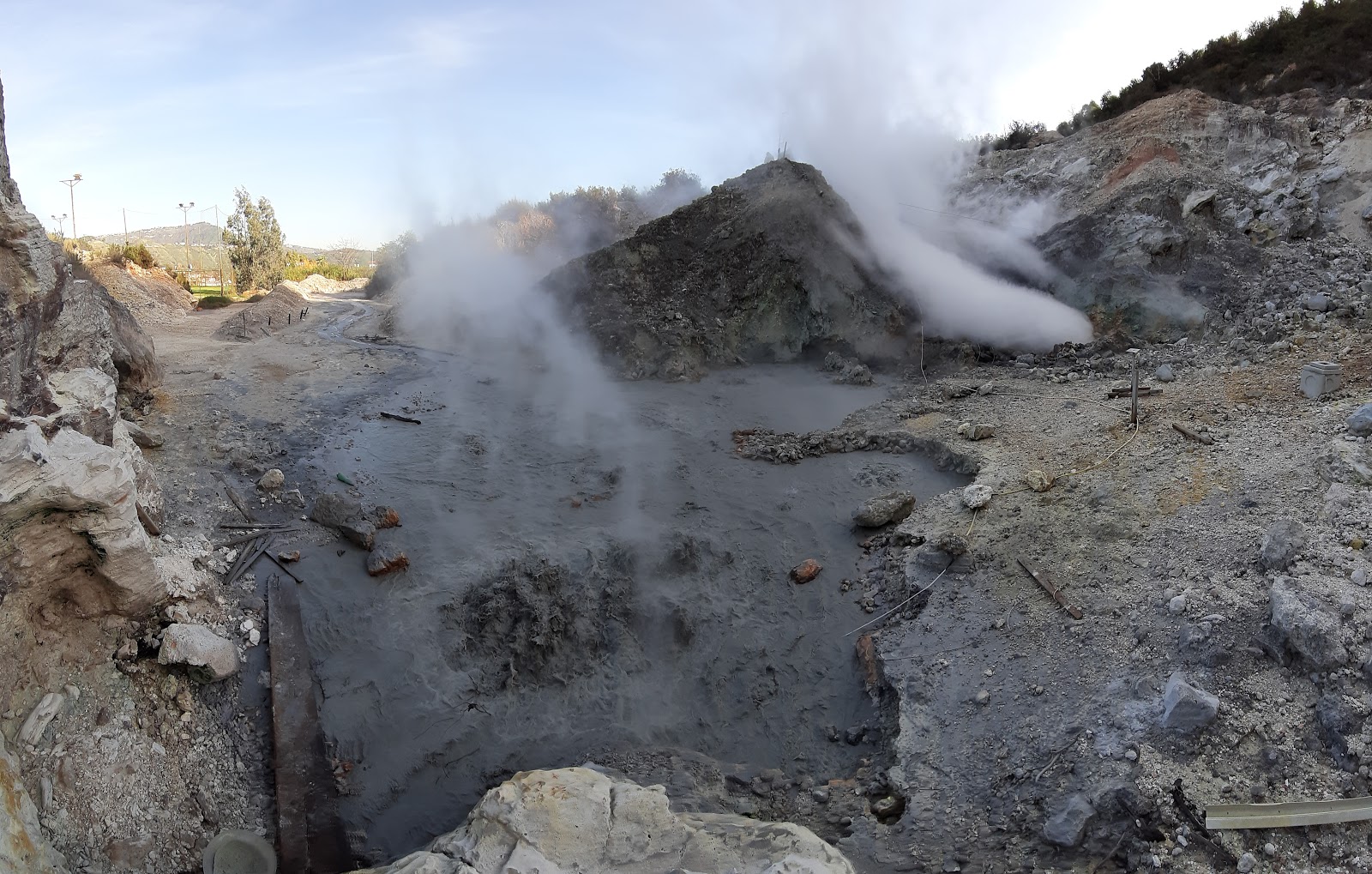 GROUND DEFORMATIONS
GPS
In November 2022, in conjunction with greater seismic activity in the region, there was an increase in the rate of deformation. The average value of lifting speed
in the maximum deformation zone was about 15 ± 3 mm/month, followed by a reduction in the month of December 2022 and a new uplift trend from the beginning of January 2023. The average trend returns to the values recorded in the previous month of November 2022 (15±3 mm/month).
The total uplift recorded at the RITE GNSS station has been approximately 108 cm since November 2005, the start of the current unrest phase. From January 2016 to present, the uplift in the zone of maximum deformation is about 74.5 cm.
The vertical deformations of the Phlegrean Caldera seabed recorded by the MEDUSA system from April 2016 to April 2023 show, at the CFBA station, a total uplift of about 53 cm.
THERMOGRAPHY:
The maximum values of the surface temperature IR time series of the Pisciarelli zone are substantially stable. The Solfatara area shows a slight drop in temperature values. The Via Antiniana area shows a noticeably stable trend in values.
Measurements with mobile thermal cameras carried out at different points in the Campi Flegrei show stable trends.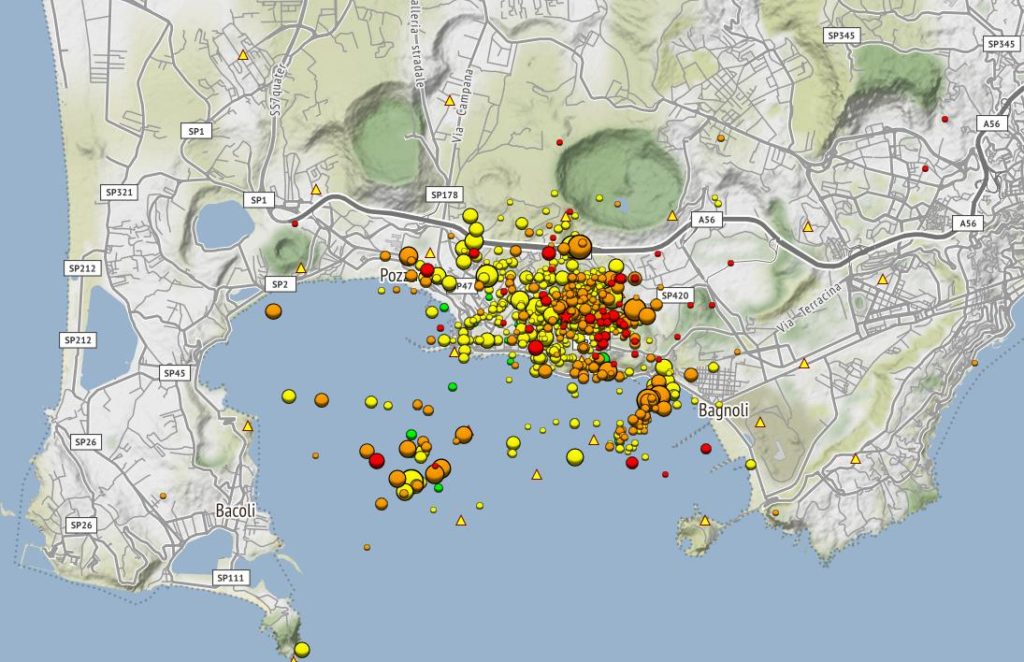 GEOCHEMISTRY:
The composition of the fumaroles and the parameters monitored indicate the persistence of the multi-year heating and pressurization trends of the hydrothermal system which peaked in July 2020 and then reversed until the first months of 2022, when a new trend in the rise began in September 2022. Samples from recent months do not show a well-defined trend. The more reducing character of the gaseous emissions, observed in recent months, is probably due to the processes of condensation of the steam in response to the rise in pressure of the hydrothermal system. The CO2/CH4 ratio shows a slight increase in values compared to previous periods, suggesting the start of a new upward trend. The estimated flux of CO2 released from the ground for the entire Solfatara area is around 3000 t/d.
Source : INGV.
Photos : Pisciarelli / Tullio Ricci, dicembre 2019 , INGV.
Costa Rica , Turrialba / Poas / Rincon de la Vieja :
Turrialba Volcano
Latitude: 10,025
Longitude: -83,767
Height: 3,325m
Observed activity:
There are no eruptions or seismic signs of volcanic tremors. Volcanic monitoring instruments at the top of the volcano are out of service due to telecommunication issues. From the instruments far from the summit, we observe a seismicity dominated by low frequency volcanic earthquakes of low to moderate amplitude of the LP type associated with fumarolic degassing. The fumaroles in the West Crater show little vigor with low steam and gas flow. The average SO2 concentration around the West Crater is 3 parts per million, while the average CO2/SO2 gas ratio is 10. The GPS network shows no significant crustal deformation of the volcanic edifice.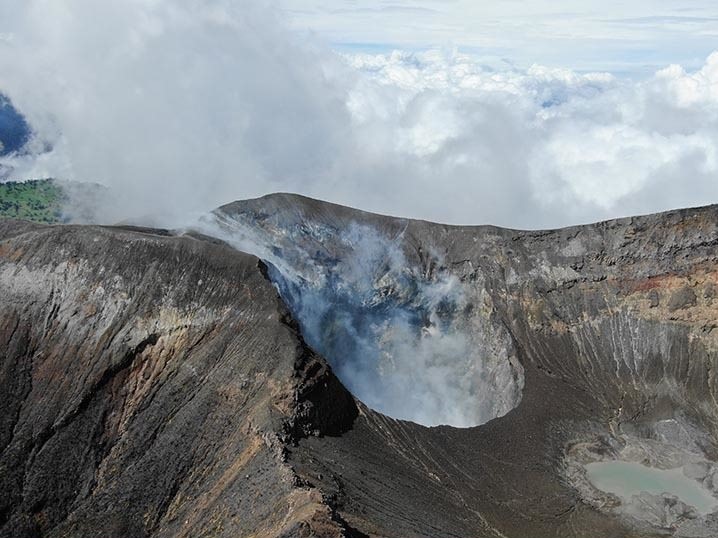 Environmental conditions:
The winds at the summit of Turrialba blow towards the Southwest and the summit is cloudy.
Activity Level: Warning (2)
Poas Volcano
Latitude: 10.2
Longitude: -84233
Height: 2687m
Observed activity:
There are no eruptions and the background volcanic tremor is maintained with a broad frequency spectrum (2 to 10 Hz) and low amplitude. Fumarolic activity is weak on the eastern walls of the main crater and across the hyperacidic lake. The lake has a milky green color and recorded a temperature of 42.7 degrees Celsius in its southern sector on May 2, 2023. The concentration of SO2 gas at the lookout, measured with the ExpoGAS volcanic gas detection system, was lower than 1 part per million. The gases measured with the MultiGAS system located west of the active crater give average SO2 concentration values of 5 parts per million, and the CO2/SO2 ratio=1.2. No appreciable deformation of the crust of the volcanic edifice is recorded.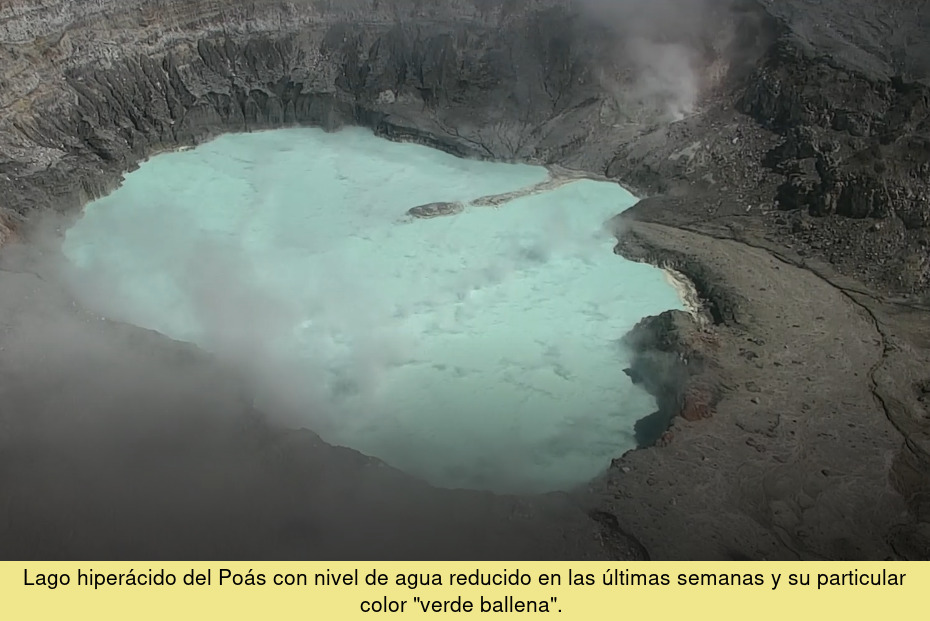 Environmental conditions:
Poás summit winds blow southwesterly and the summit clears from time to time.
Activity Level: Warning (2)
Rincon de la Vieja Volcano
Latitude: 10.83
Longitude: -85.324
Height: 1916m
Observed activity:
A small phreatic eruption was recorded on Friday May 5, 2023 at 6:47 p.m. using seismographs and the infrasound system. The meteorological conditions did not make it possible to determine the height of the eruptive plume. The volcanic tremor appears fragmented or intermittent with dominant frequencies between 1 and 2 Hz. Several low frequency volcanic earthquakes associated with the movement of fluids (steam, gas) within the volcano are also recorded. The summit of the volcano undergoes a slight subsidence or deflation.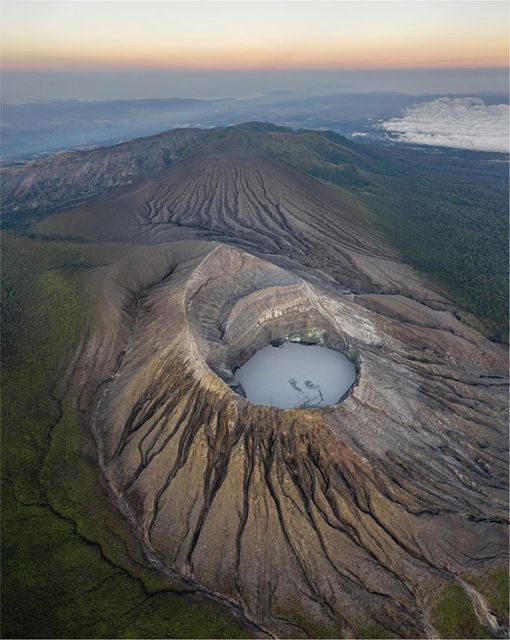 Environmental conditions:
Winds at Rincón's summit are westerly and weather at the summit is changeable, sometimes cloudy other times clear.
Activity Level: Warning (2)
Source : Ovsicori
Photos : G. Avard / Ovsicori , Ovsicori , Soy Tico .
Alaska , Trident :
58°14'3″ N 155°6'9″ W,
Summit Elevation 3599 ft (1097 m)
Current Volcano Alert Level: ADVISORY
Current Aviation Color Code: YELLOW
Elevated earthquake activity continued in the vicinity of Trident Volcano over the last 24 hours. No volcanic activity was observed in cloudy satellite and webcam data.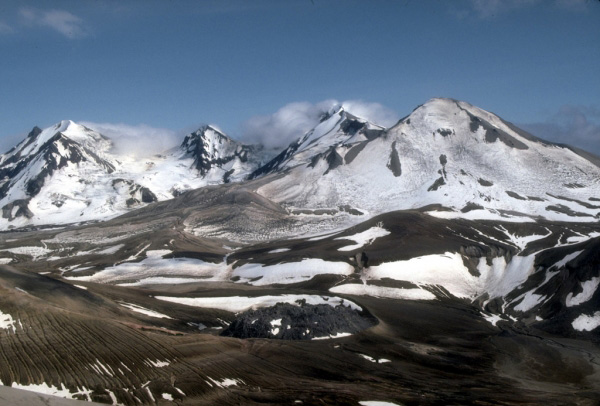 The current period of seismic unrest began on August 24, 2022. Increases in seismic activity have been detected previously at Trident Volcano and other similar volcanoes, with no subsequent eruptions. We expect additional shallow seismicity and other signs of unrest, such as gas emissions, elevated surface temperatures, and surface deformation, to precede any future eruption if one were to occur.
AVO monitors Trident Volcano with a local network of seismometers, a webcam, remote sensing data, and regional infrasound and lightning networks.
Source : AVO
Photo : McGimsey, R. G./ Alaska Volcano Observatory/U.S. Geological Survey