November 16 , 2020.
Kamchatka , Klyuchevskoy :
VOLCANO OBSERVATORY NOTICE FOR AVIATION (VONA).
Issued: November 16 ,2020 .
Volcano: Klyuchevskoy (CAVW #300260)
Current aviation colour code: ORANGE
Previous aviation colour code: orange
Source: KVERT
Notice Number: 2020-211
Volcano Location: N 56 deg 3 min E 160 deg 38 min
Area: Kamchatka, Russia
Summit Elevation: 15580 ft (4750 m)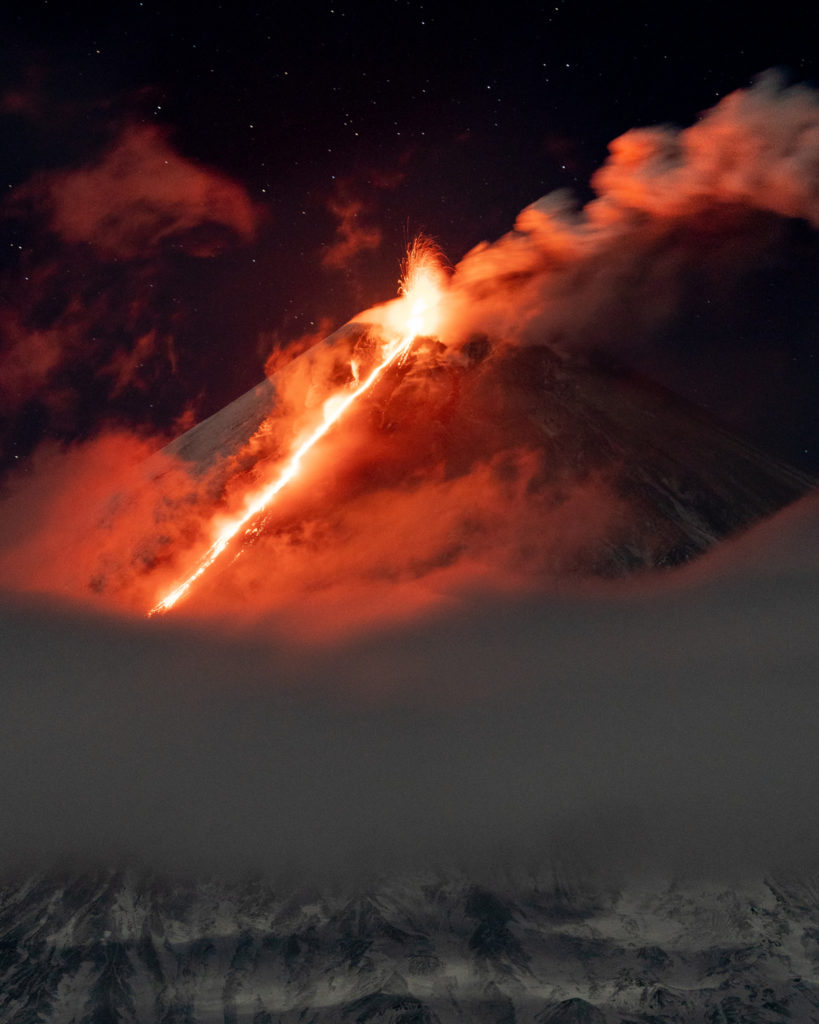 Volcanic Activity Summary:
A moderate explosive-effusive eruption of the volcano continues. According to video and satellite data, gas-steam plume with some amount of ash extended for 105 km to the eastnortheast of the volcano.
This eruption of the volcano continues. Ash explosions up to 19,700-23,000 ft (6-7 km) a.s.l. could occur at any time. Ongoing activity could affect low-flying aircraft.
Volcanic cloud height:
16400 ft (5000 m) AMSL Time and method of ash plume/cloud height determination: 20201116/0500Z – Himawari-8
Other volcanic cloud information:
Distance of ash plume/cloud of the volcano: 65 mi (105 km)
Direction of drift of ash plume/cloud of the volcano: ENE / azimuth 66 deg
Time and method of ash plume/cloud determination: 20201116/0500Z – Himawari-8
Source : Kvert.
Photo : Александр Панферов , 10 novembre, 07:10 ·
Guatemala , Pacaya :
Information bulletin n ° 504-2020
The scientific entity of the National Coordination System for Disaster Prevention –CONRED-, the Institute of Seismology, Volcanology, Meteorology and Hydrology –INSIVUMEH-, reported through special volcanological bulletins of the increase in the activity of the Pacaya volcano.
INSIVUMEH reports that the Pacaya volcano has increased its effusive activity in recent hours, mainly on the southwest flank. The avalanches increased their course to 500 meters, causing ash to rise. Accompanying this activity, a degassing column is recorded at an altitude of 3000 meters (9843 feet) in white and blue tones.
Likewise, moderate to strong explosions are recorded which reject materials up to 300 meters high above the crater, these explosions launch ballistic projections in a radius of about 100 meters.
Given the increase in the activity of the Pacaya volcano, the Volcano Prevention Unit -UPV-, of CONRED, continues with the verification of the conditions in the communities surrounding the volcano, when it is covered with cloudiness, there is therefore no visibility. Constant communication is maintained with the authorities of the local and municipal coordinators.
It is recommended that the population be attentive to the information shared by their local authorities, as well as have their Family Response Plan, a 72 hour backpack for each family member and promote the principle of self-evacuation, in case they feel their life is in danger.
Source : Conred.
Photo : Prensa libre depuis vidéo.
Indonesia , Merapi :
Level of activity level III (SIAGA) since November 5, 2020 at 12:00 WIB. The Merapi volcano (2968 m above sea level) is continuously erupting. The last eruption took place on June 21, 2020 with the height of the eruption column at 6000 m above the summit. It was observed that the color of the ash column was gray.
The volcano was clearly visible until it was covered in fog. Smoke from the crater was not observed. The weather is sunny to cloudy, with weak to strong winds to the southwest and west. There was an avalanche sound on the western slope of G. Merapi 2 times (weak – moderate), 3 times the sound of avalanches (weak to strong) from the PGA in Babadan, 2 times (weak) avalanches from Pos Babadan, 2 times the avalanche sound (weak) to moderate) from the PGA Babadan. The air temperature is around 14-30 ° C.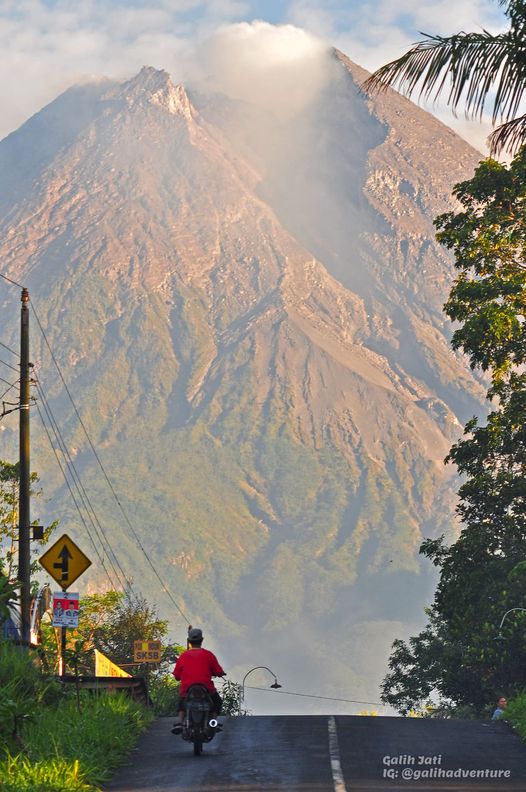 According to the seismographs of November 15, 2020, it was recorded:
91 avalanche earthquakes
49 emission earthquakes
1 low frequency earthquake
230 hybrid / multiphase earthquakes
36 shallow volcanic earthquakes
1 distant tectonic earthquake.
Source : PVMBG .
Photo : Yohannes Tyas Galih Jati.
Guadeloupe , La Soufrière :
Sequence of earthquakes in the La Soufrière area of Guadeloupe – Basse Terre
A sequence of volcanic earthquakes began on Thursday, November 12, 2020 at 10:53 p.m. local time (Friday, November 13, 2020 2:53 a.m. UT *) in the area of the La Soufrière volcano, and ended on Saturday, November 14 at 03:46 local time (07:46 am UTC *).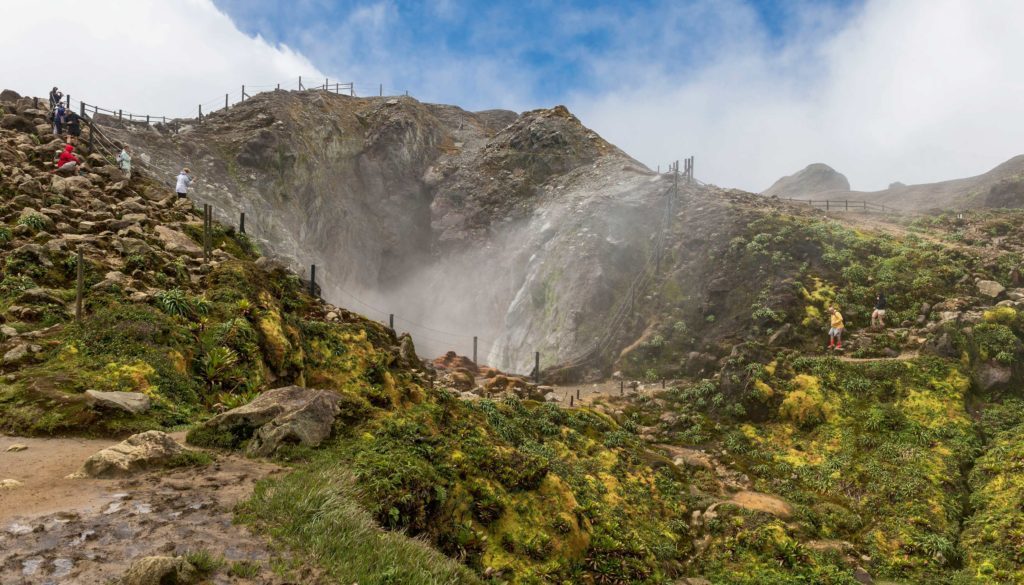 During this sequence, the OVSG-IPGP networks recorded 166 very low magnitude earthquakes (M <1). No earthquakes were reported felt. The events are located at
a depth of <2.5 km below the top of the dome of La Soufrière.
The alert level remains: yellow, vigilance.
Source : Direction de l'OVSG-IPGP.
Photo : goquidearth.com