November 19 , 2020.
Kamchatka , Klyuchevskoy :
VOLCANO OBSERVATORY NOTICE FOR AVIATION (VONA).
Issued: November 18 , 2020
Volcano: Klyuchevskoy (CAVW #300260)
Current aviation colour code: ORANGE
Previous aviation colour code: orange
Source: KVERT
Notice Number: 2020-213
Volcano Location: N 56 deg 3 min E 160 deg 38 min
Area: Kamchatka, Russia
Summit Elevation: 15580 ft (4750 m)
Volcanic Activity Summary:
The emission of ash from the volcano continues. A big ash cloud 65×70 km in size is observing over Klyuchevskoy group of volcanoes. The main direction of ash plume at now – the south-southeast of the volcano-.
A moderate explosive-effusive eruption of the volcano continues. Ash explosions up to 19,700-26,240 ft (6-8 km) a.s.l. could occur at any time. Ongoing activity could affect low-flying aircraft.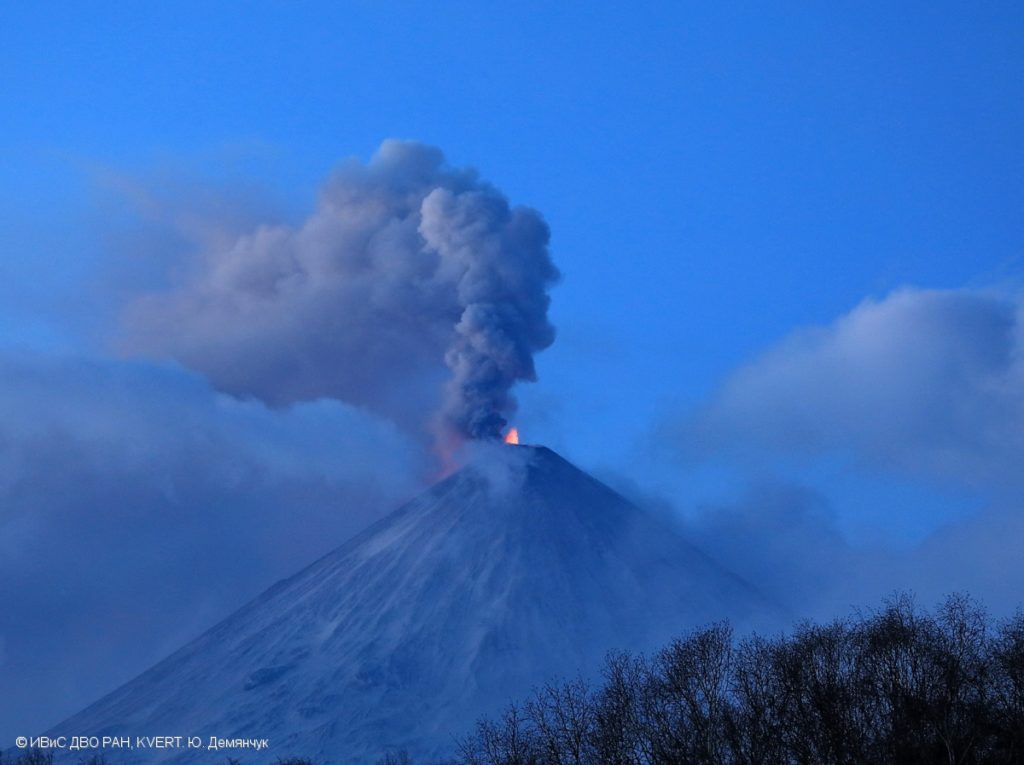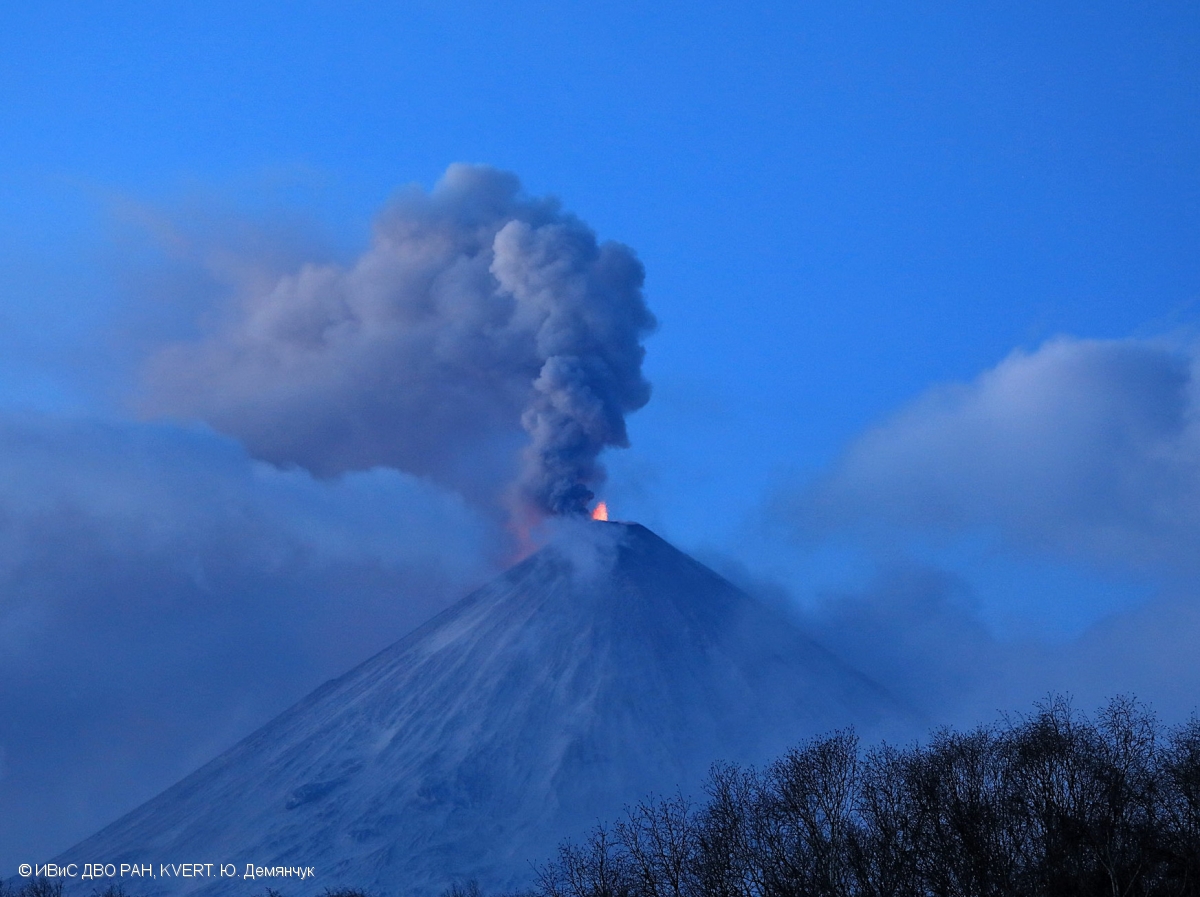 The explosive eruption of Klyuchevskoy volcano continues: Strombolian and Vulcanian activity on 18 November, 2020.
Volcanic cloud height:
22960-24600 ft (7000-7500 m) AMSL Time and method of ash plume/cloud height determination: 20201118/2135Z – Video data
Other volcanic cloud information:
Distance of ash plume/cloud of the volcano: 31 mi (50 km)
Direction of drift of ash plume/cloud of the volcano: S / azimuth 180 deg
Time and method of ash plume/cloud determination: 20201118/2100Z – Himawari-8.
KVERT reported that Strombolian activity at Klyuchevskoy continued during 6-13 November and lava advanced down the Apakhonchich drainage on the SE flank. Gas-and-steam emissions contained some ash and during 7-9 November drifted 85 km E. A large bright thermal anomaly was identified daily in satellite images. The Aviation Color Code was raised to Orange (the second highest level on a four-color scale) on 8 October.
Source : Kvert , GVP .
Photo : Yu. Demyanchuk. IVS FEB RAS, KVERT.
Indonesia , Merapi :
BPPTKG reported that during 6-12 November sometimes dense white emissions from Merapi rose as high as 250 m above the summit. The report noted that the lava-dome volume was an estimated 200,000 cubic meters based on analyses of drone images captured on 3 November. Avalanches of material traveled 3 km down the WSW flank in the Putih/Sat drainage at 1450 on 8 November. Photos from 11 November showed no changed to the morphology of the lava dome in the summit crater. Electronic Distance Measurement (EDM) data continued to detect shortening between points in the NW at a deformation rate of 10 cm per day. Seismicity was higher than the previous week.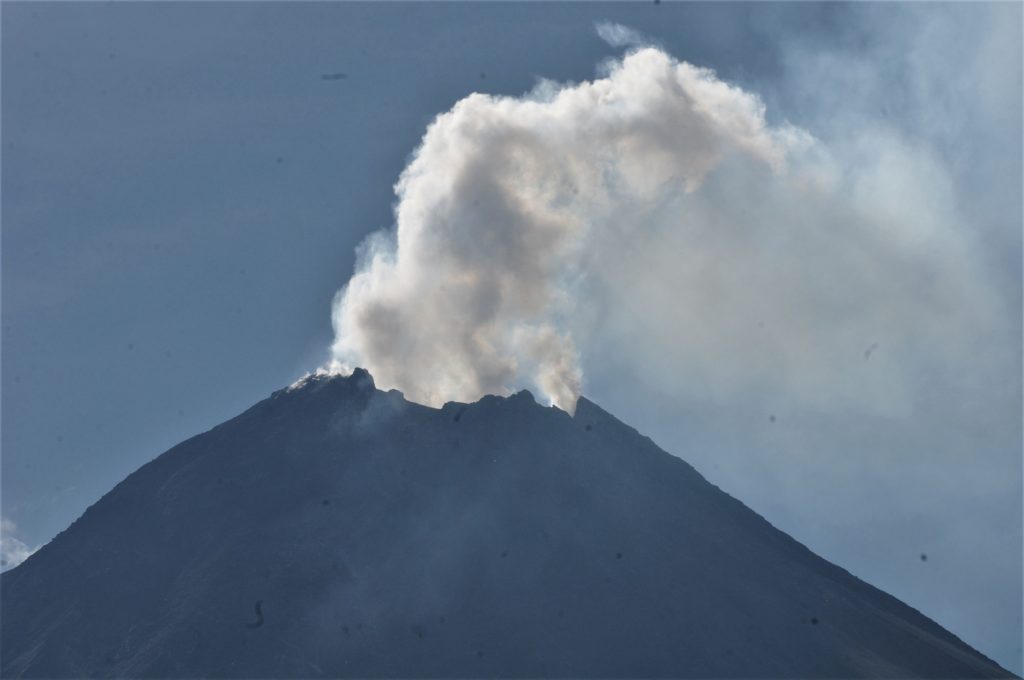 White smoke emitting activity from Mount Merapi can be seen in Tlogolele, Selo, Boyolali, Central Java, Monday (11/16/2020).
On 13 November BPPTKG noted that avalanches had been traveling 1-3 km down the N and NW flanks, indicating summit instability. Authorities recommended no activities within 5 km of the summit. BNPB reported that as of 15 November more than 1,800 residents from the surrounding districts of Boyolali, Magelang, Klaten, and Sleman had been relocated to shelters. Livestock was also being relocated, particularly from three villages within 7 km of the summit. PVMBG noted that less than a dozen rock avalanches were heard at observations posts during 15-17 November. The Alert Level remained at 3 (on a scale of 1-4).
Level of activity at level III (SIAGA) since November 5, 2020 at 12:00 WIB. The Merapi volcano (2968 m above sea level) is continuously erupting. The last eruption took place on June 21, 2020 with the height of the eruption column at 6000 m above the summit. It was observed that the color of the ash column was gray.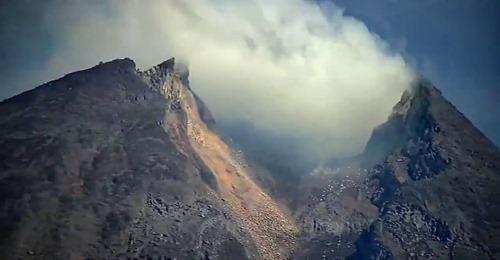 The volcano was clearly visible until it was covered in fog. The main crater emits white smoke, moderate to thick, with a height of about 20 to 50 meters above the summit. The weather is sunny to cloudy, with weak to strong winds to the west and northwest. The sound of avalanches was heard 3 times, from moderate to quite loud at 4:45 WIB from Babdan, Jrakah, Kaliurang, 1 time from Babadan, The temperature is around 15 to 31 ° C.
According to the seismographs of November 18, 2020, it was recorded:
68 avalanche earthquakes
39 emissions earthquakes.
1 low frequency earthquake
242 hybrid / multiphase earthquakes
31 shallow volcanic earthquakes
2 distant tectonic earthquakes
Sources : GVP , PVMBG.
Photos : Aloysius Jarot Nugroho/hp. /Aloysius Jarot Nugroho/ANTARA FOTO , Frekom .
Vidéo : Frekom .
Japan , Suwanosejima :
JMA reported nighttime incandescence and intermittent eruptive activity at Suwanosejima's Ontake Crater during 6-13 November. A total of 35 explosions were recorded, ejecting bombs up to 700 m from the crater and producing gray-and-white plumes that rose 1.8 km above the crater rim. Ashfall was periodically reported in Toshima village (4 km SSW). The Alert Level remained at 2 (on a 5-level scale).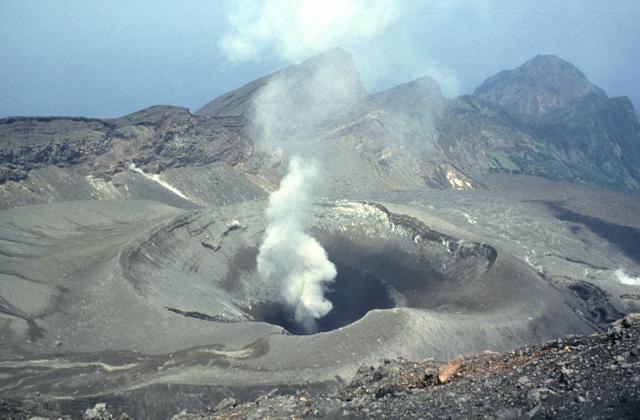 The 8-km-long, spindle-shaped island of Suwanosejima in the northern Ryukyu Islands consists of an andesitic stratovolcano with two historically active summit craters. The summit is truncated by a large breached crater extending to the sea on the east flank that was formed by edifice collapse. Suwanosejima, one of Japan's most frequently active volcanoes, was in a state of intermittent strombolian activity from Otake, the NE summit crater, that began in 1949 and lasted until 1996, after which periods of inactivity lengthened. The largest historical eruption took place in 1813-14, when thick scoria deposits blanketed residential areas, and the SW crater produced two lava flows that reached the western coast. At the end of the eruption the summit of Otake collapsed forming a large debris avalanche and creating the horseshoe-shaped Sakuchi caldera, which extends to the eastern coast. The island remained uninhabited for about 70 years after the 1813-1814 eruption. Lava flows reached the eastern coast of the island in 1884. Only about 50 people live on the island.
Sources : GVP , JMA.
Photo : Yukio Hayakawa, 1998 (Gunma University).
Guatemala , Pacaya :
Type of activity: Strombolian.
Morphology: composite stratovolcano
Geographical location: 14 ° 22'50˝ Latitude N; 90 ° 36'00˝ West longitude.
Height: 2,552 msnm.
Atmospheric conditions: Cloudy
Wind: strong north
Precipitation: 2.28 mm.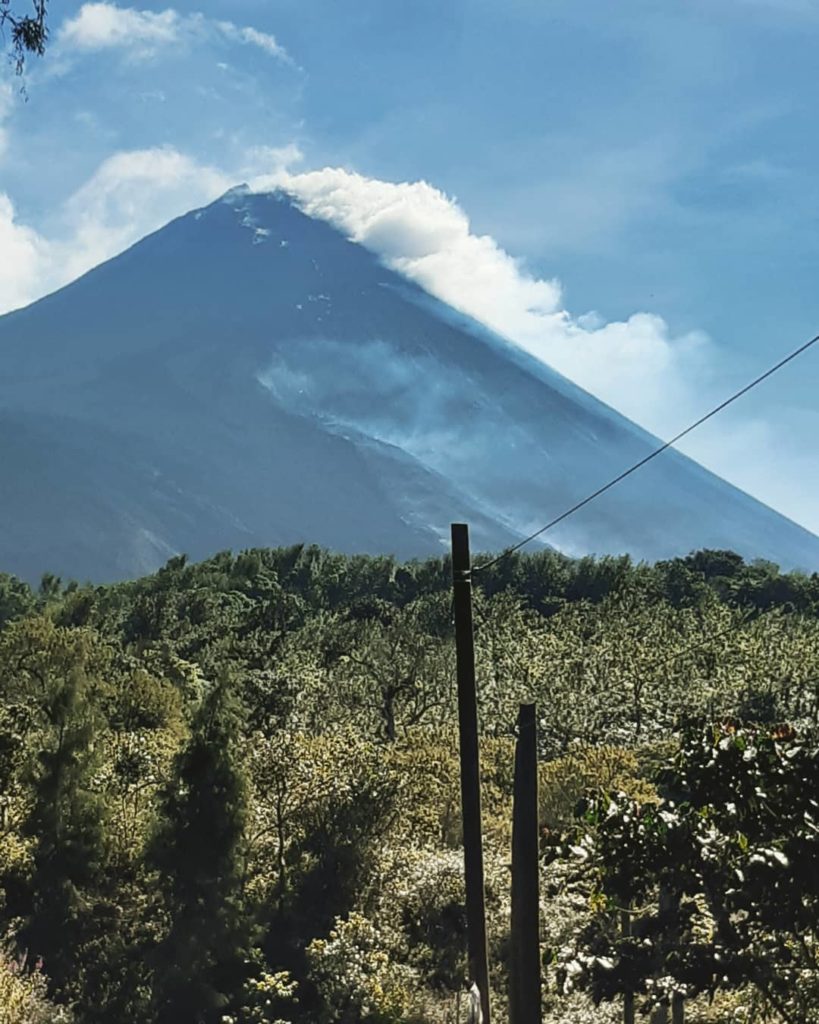 Activity:
The OVPAC reports that effusive activity continues in the last hours from the Mackenney crater, accompanied by Strombolian explosions showing degassing with the presence of ash, reaching a height of between 25 and 75 meters in the south direction. The PCG and PCG5 seismic stations record tremors (internal vibrations) associated with the rise of magma and the expulsion of gases. The fissure on the southwest flank through which lava flows have emerged since October, continues to be likely to generate new avalanches and ash columns due to the collapse of the flows. A lava flow is observed on the southwest flank with a length of about 525 meters. (The recommendations of the special bulletin 116-2020 of the Pacaya volcano remain in force).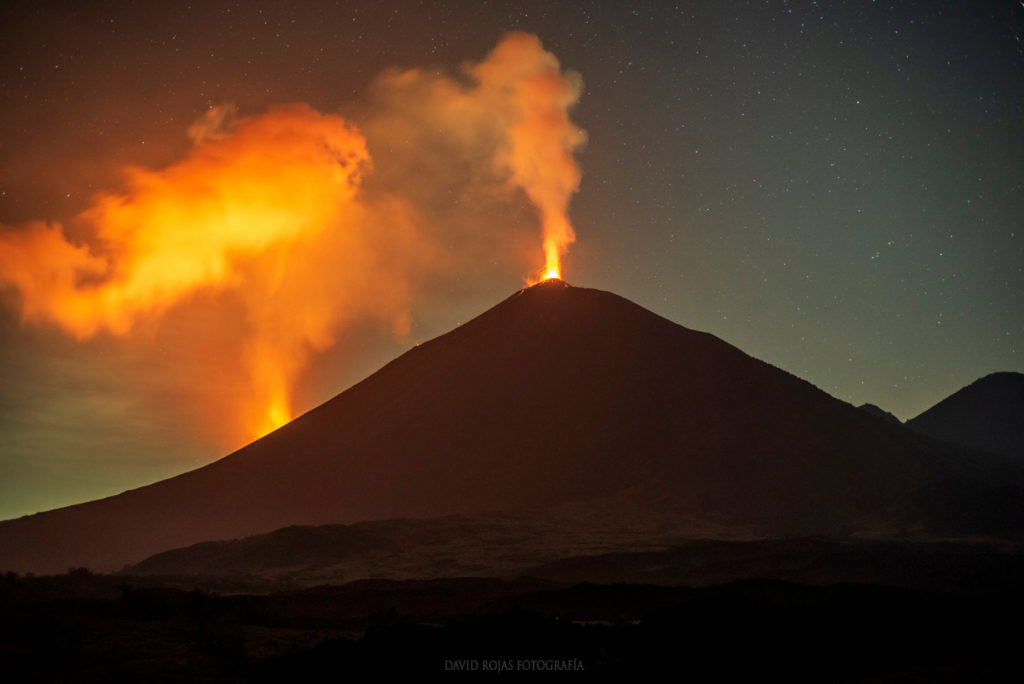 INSIVUMEH reported that Strombolian activity and lava effusion continued at Pacaya during 10-17 November. Explosions from the cone in Mackenney Crater ejected material as high as 300 m above the vent. Lava flows on the SW flank varied in length between 800 and 1,200 m during 11-13 November. Visual observations overnight during 13-14 November revealed a new lava flow from a vent higher up on the SW flank. In a special report issued on 15 November CONRED and INSIVUMEH stated that lava effusion had increased on the SW flank. Avalanches of material traveled as far as 500 m and generated plumes of ash; a white-and-blue gas plume rose 450 m above the summit. Strong explosions at the summit crater ejected material 300 m high. The two parallel flows, 300-1,000 m long, were active through 17 November.
Source : Insivumeh , GVP.
Photos : Alex Rodas , Davis Rojas .