November 24 , 2020.
Russia / Kurile Islands, Ebeko :
VOLCANO OBSERVATORY NOTICE FOR AVIATION (VONA).
Issued: November 24 , 2020
Volcano: Ebeko (CAVW #290380)
Current aviation colour code: ORANGE
Previous aviation colour code: orange
Source: KVERT
Notice Number: 2020-216
Volcano Location: N 50 deg 41 min E 156 deg 0 min
Area: Northern Kuriles, Russia
Summit Elevation: 3791.68 ft (1156 m)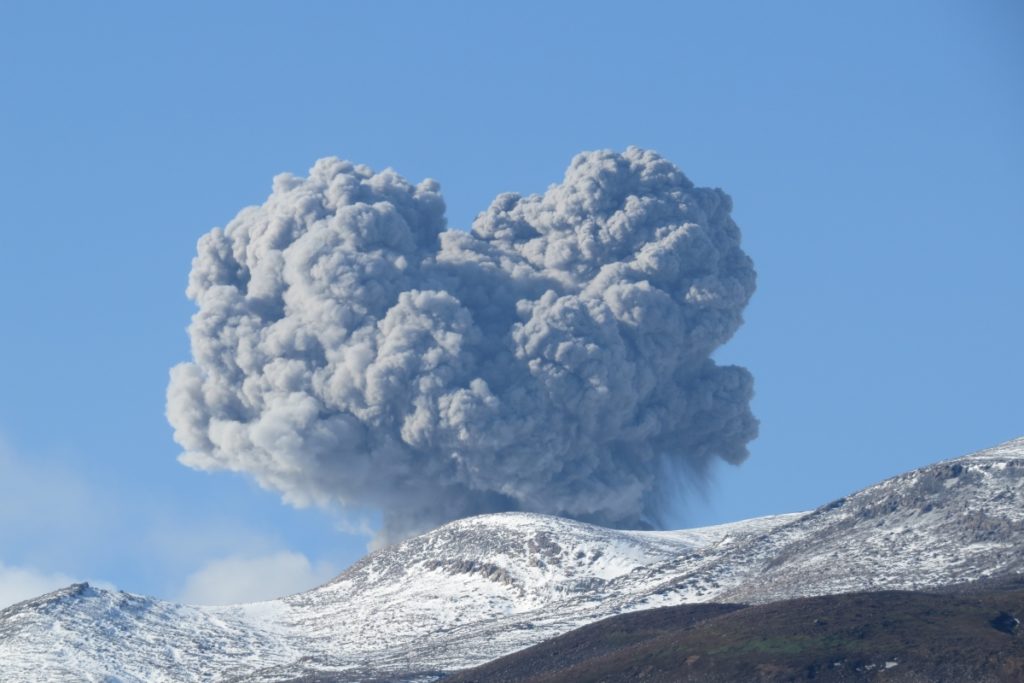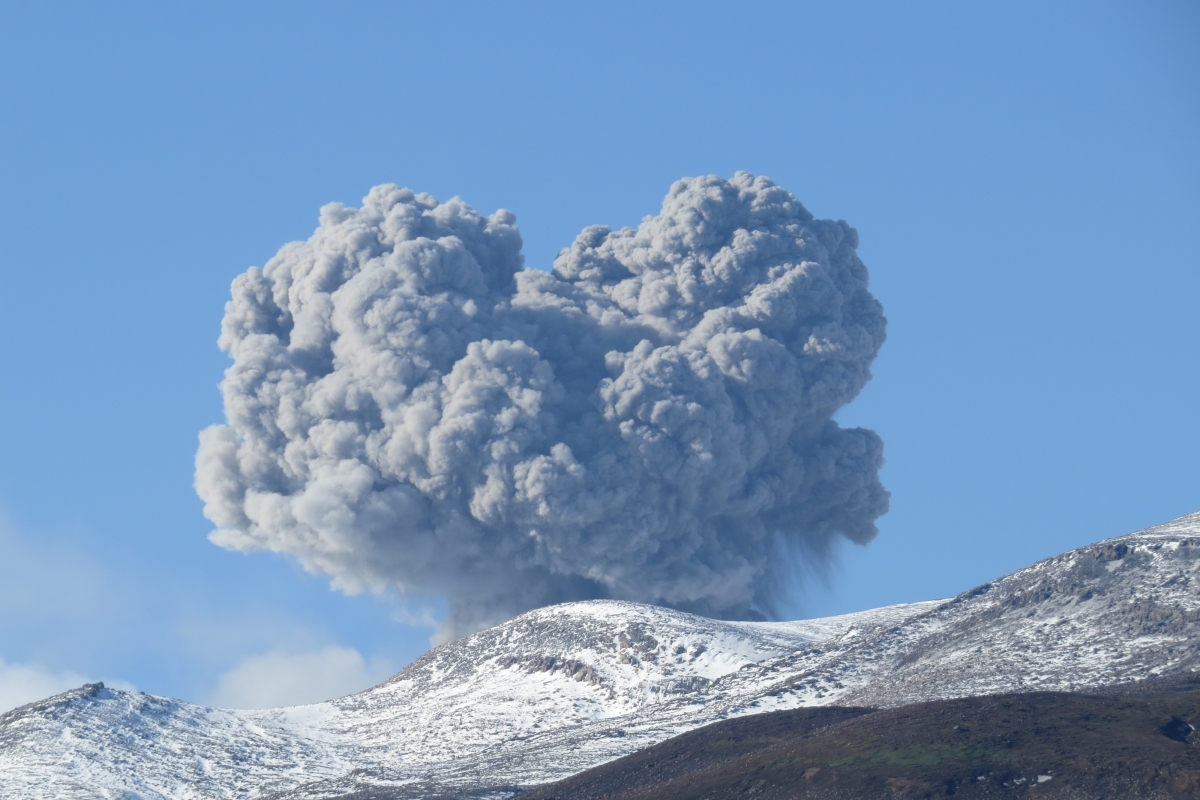 The explosive event of Ebeko volcano on 28 October, 2020.
Volcanic Activity Summary:
A moderate eruptive activity of the volcano continues. According to visual data by volcanologists from Severo-Kurilsk, explosion sent ash up to 3.0 km a.s.l., an ash cloud is drifting to the east of the volcano.
This activity of the volcano continues. Ash explosions up to 19,700 ft (6 km) a.s.l. could occur at any time. Ongoing activity could affect low-flying aircraft and airport of Severo-Kurilsk.
Volcanic cloud height:
9840 ft (3000 m) AMSL Time and method of ash plume/cloud height determination: 20201124/0549Z – Visual data
Other volcanic cloud information:
Distance of ash plume/cloud of the volcano: 3 mi (5 km)
Direction of drift of ash plume/cloud of the volcano: E / azimuth 85 deg
Time and method of ash plume/cloud determination: 20201124/0549Z – Visual data
Source : Kvert.
Photo : S. Lakomov
Peru , Sabancaya :
Analysis period: November 16 to 22, 2020, Arequipa, November 23, 2020.
Alert level: ORANGE
The Geophysical Institute of Peru (IGP) reports that the eruptive activity of the Sabancaya volcano remains at moderate levels, that is, with the continuous recording of explosions with columns of ash and gas up to 3.5 km altitude above the summit of the volcano and their subsequent dispersion. Therefore, for the following days, no significant change is expected in the eruptive activity.
The IGP recorded and analyzed the occurrence of 2245 earthquakes of volcanic origin, associated with the circulation of magmatic fluids inside the Sabancaya volcano. An average of 49 explosions were recorded daily of low to medium intensity. During this period, Volcano-Tectonic (VT) earthquakes were located mainly in the North-East of Sabancaya and presented magnitudes between M1.8 and M3.2. The most representative earthquake (M3.2) was recorded on November 19 at 12:27 p.m., 10 km northeast of Sabancaya and 13 km deep.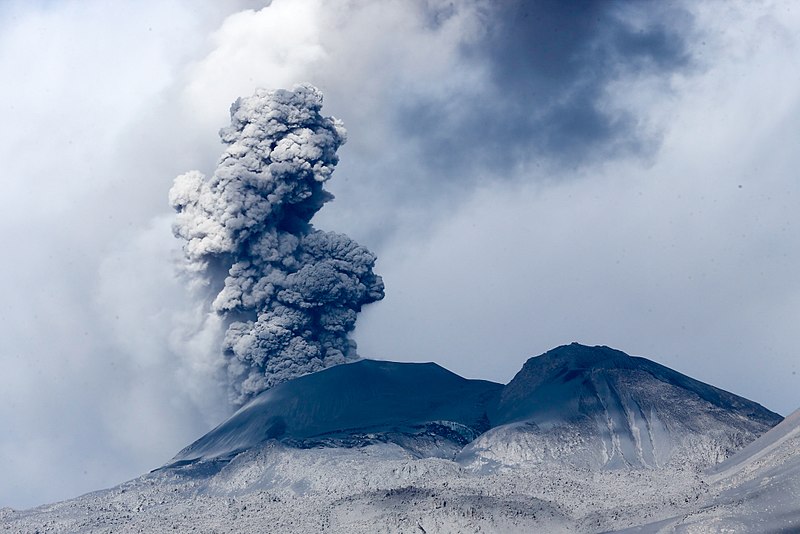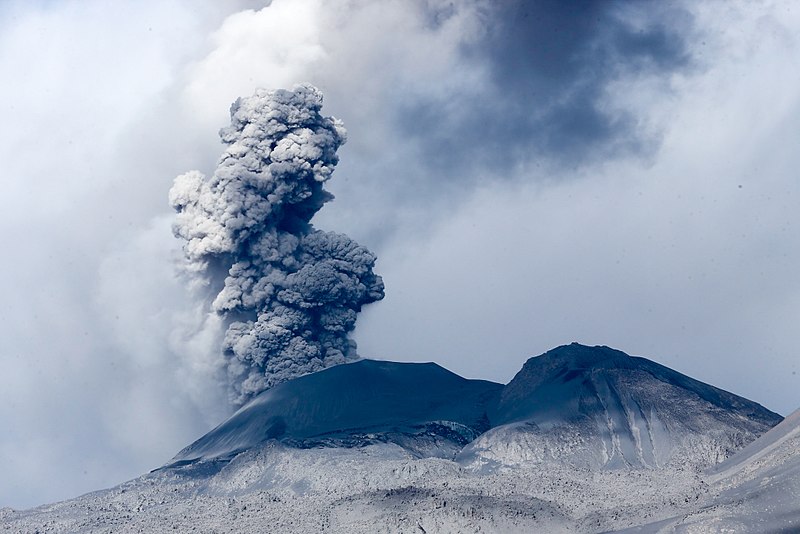 The monitoring of the deformation of the volcanic structure using GNSS techniques (processed with fast orbits) does not present any significant anomalies. However, in general, an inflation process has been observed in the south-eastern sector of Sabancaya and the north sector (Hualca Hualca volcano). Visual surveillance made it possible to identify columns of gas and ash up to 3.5 km altitude above the summit of the volcano, which were scattered towards the North, North-East, East, South-East and Southwest of Sabancaya. Satellite monitoring has identified the presence of 13 thermal anomalies with values between 6 MW and 36 MW, associated with the presence of a lava body on the surface of the volcano's crater.
RECOMMENDATIONS
• Keep the volcanic alert level in orange.
• Do not approach within a radius of less than 12 km from the crater.
Source : IGP.
Photo : Galeria del Ministerio de Defensa del Perú
Indonesia , Dukono :
VOLCANO OBSERVATORY NOTICE FOR AVIATION – VONA.
Issued : November 22 , 2020
Volcano : Dukono (268010)
Current Aviation Colour Code : ORANGE
Previous Aviation Colour Code : orange
Source : Dukono Volcano Observatory
Notice Number : 2020DUK101
Volcano Location : N 01 deg 41 min 35 sec E 127 deg 53 min 38 sec
Area : North Maluku, Indonesia
Summit Elevation : 3933 FT (1229 M)
Volcanic Activity Summary :
Eruption with volcanic ash cloud at 21h46 UTC (06h46 local).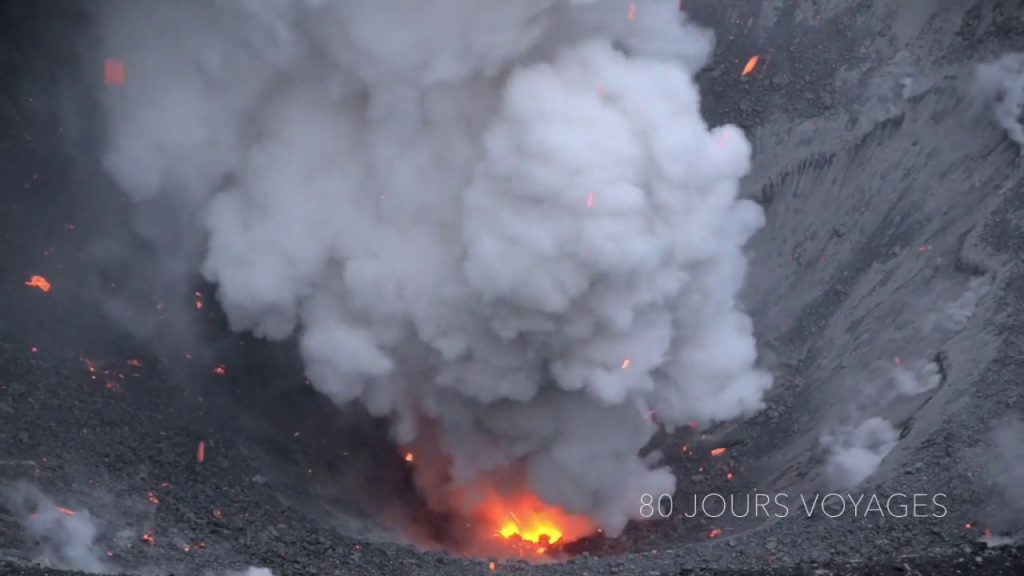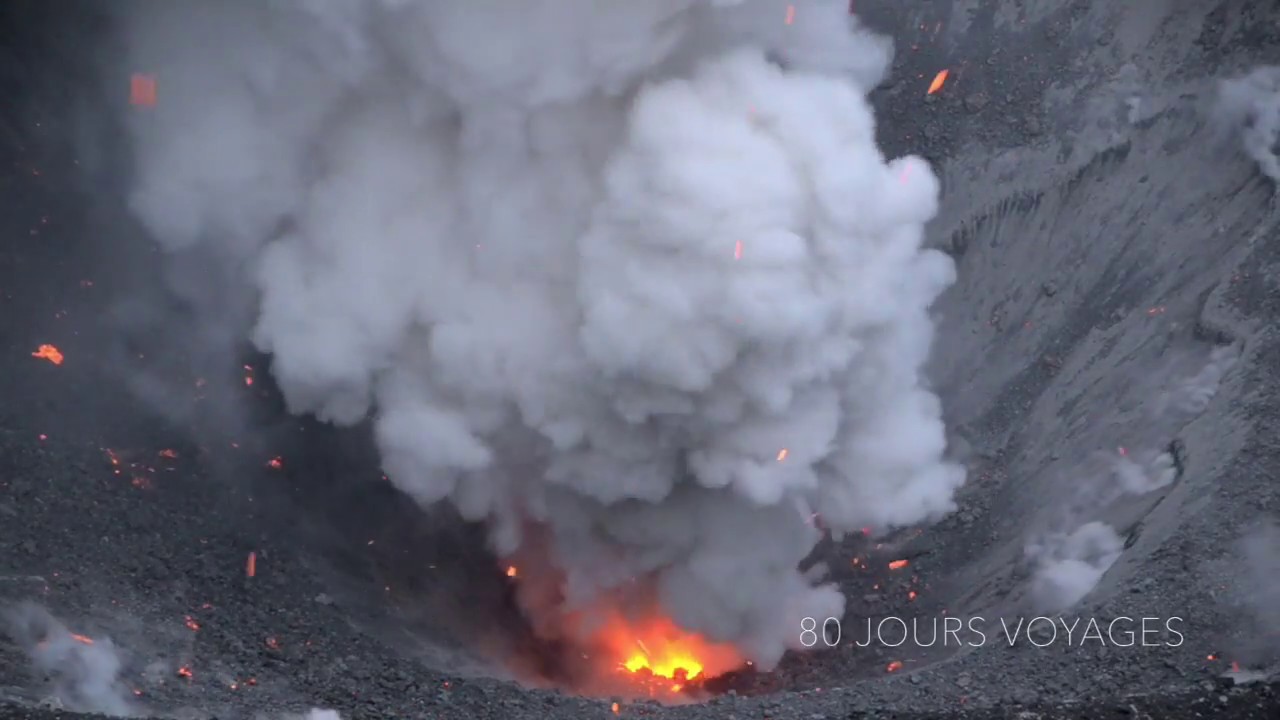 Volcanic Cloud Height :
Best estimate of ash-cloud top is around 6493 FT (2029 M) above sea level, may be higher than what can be observed clearly. Source of height data: ground observer.
Other Volcanic Cloud Information :
Ash-cloud moving to southwest
Remarks :
Eruption and ash emission is continuing.
Level of activity level II (WASPADA). The Dukono (1229 m above sea level) is continuously erupting. The last eruption occurred on November 4, 2020, resulting in a column height of 400 m. The color of the ash column ranged from white to gray.
The volcano was clearly visible until it was covered in fog. It was observed that the smoke from the crater was white / gray with a strong thickness, rising about 200 to 800 meters above the summit. The weather is cloudy to rainy, with weak to moderate winds to the south and southwest. The air temperature is around 20 to 40 ° C.
According to the seismographs of November 23, 2020, it was recorded:
1 distant tectonic earthquake
Continuous tremor, amplitude 0.5-8 mm (dominant value 2 mm)
Recommendation: People around G. Dukono and visitors / tourists should not be active, climb and approach Malupang Warirang crater within a radius of 2 km.
Sources : Magma Indonésie , PVMBG.
Photo : 80 Jours voyages / Sylvain Chermette .
Ecuador , Sangay / Reventador :
Sangay volcano:
MONDAY 23 NOVEMBER 2020
The Geophysical Institute of the National Polytechnic School reports that:
At 12:00 (TL) on November 23, the SAGA seismic station recorded signals corresponding to the descent of mudslides and debris (lahars) on the Sangay volcano. This phenomenon has been recurrent since the start of the activity in May 2019 and is due to the fact that the rains on the volcano remobilize the abundant volcanic material accumulated in recent weeks.
As a precaution, it is recommended not to enter the channels of the Volcán and Upano rivers.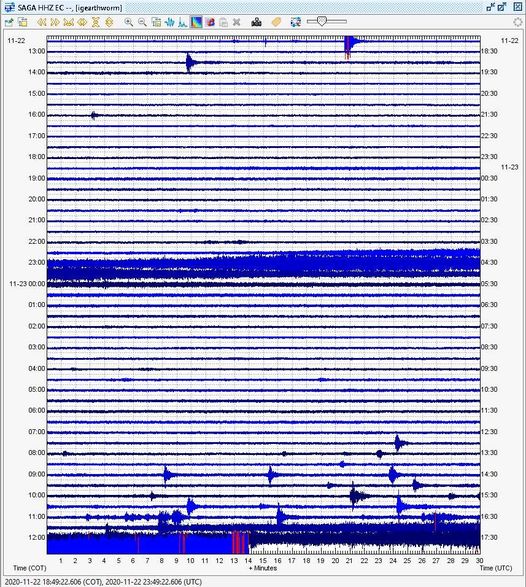 The Geophysical Institute of the National Polytechnic School is keeping an eye on the activity of the volcano and will report on any changes that may be recorded.
DAILY REPORT OF THE STATE OF THE REVENTADOR VOLCANO, Monday 23 November 2020.
Information Geophysical Institute – EPN.
Surface activity level: High, Surface trend: Increasing.
Internal activity level: High, Internal trend: No change.
Seismicity: From November 22, 2020, 11:00 a.m. to November 22, 2020, 11:00 a.m.
Volcano-tectonic (VT) type events: 1
Explosions (EXP): 76 events
Long period type events (LP): 74
Emissions tremor (TR): 14
Harmonic tremor (TR): 2
In recent months, the activity of the El Reventador volcano has been characterized by the generation, on the one hand, of columns of gas and ash of different heights and, on the other hand, of a lava flow towards the flank. Northeast of the volcano. On this thermal image, these two volcanic phenomena can be well observed, with reddish-whitish tones for the highest temperatures while the lower ones are represented by blue tones.
Rains / lahars: Several episodes of rains were recorded in the area without generating episodes of lahars.
Emission / Ash Column: No emissions were seen through the cameras, however, the Washington VAAC reported 1 alert that was approximately 1,000 meters above crater level and was heading towards West.
Other monitoring parameters: FIRMS has logged 20 thermal alerts on the Reventador in the last 24 hours.
Observations: For the past 24 hours, the volcano has remained cloudy and no surface activity has been observed. This information is corroborated by the Guardian del Reventador (SOTE).
Alert level: Orange.
Source : IGEPN.