November 06 , 2020.
Hawaii , Kilauea :
19°25'16 » N 155°17'13 » W,
Summit Elevation 4091 ft (1247 m)
Current Volcano Alert Level: NORMAL
Current Aviation Color Code: GREEN
Activity Summary:
Kīlauea Volcano is not erupting. Monitoring data for the month of October show variable but typical rates of seismicity and ground deformation, low rates of sulfur dioxide emissions, and only minor geologic changes since the end of eruptive activity in September 2018.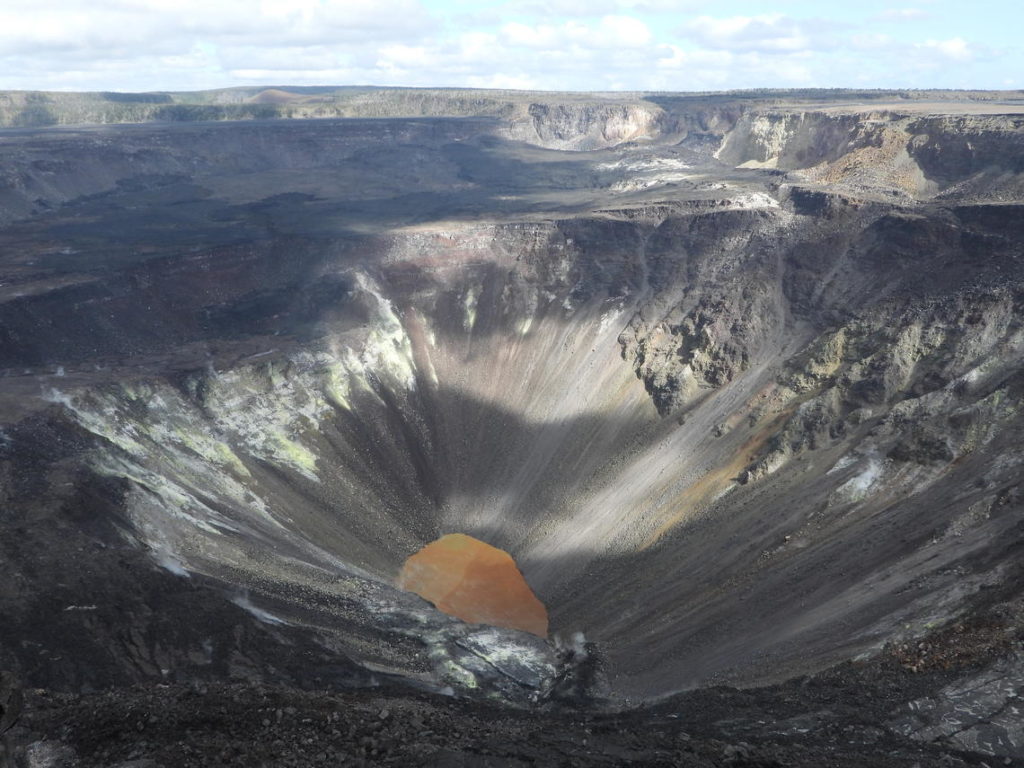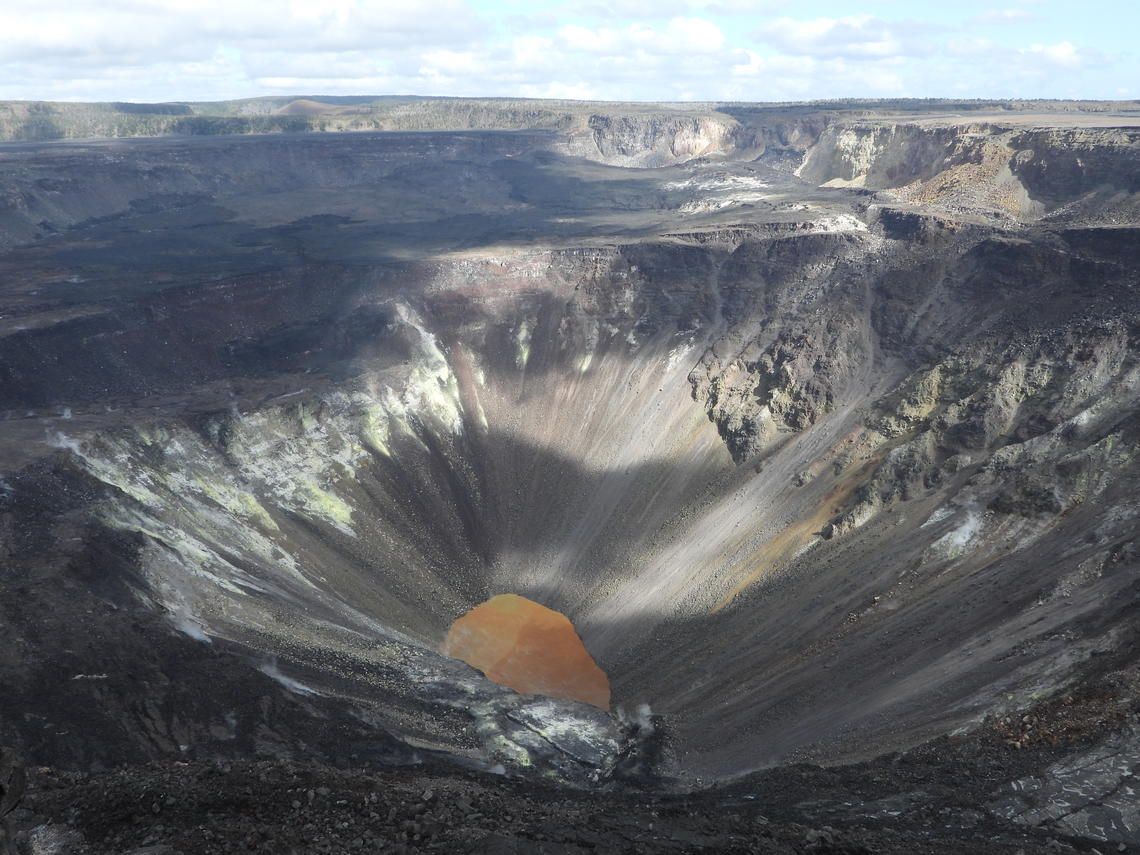 Observations:
There were approximately 2100 earthquakes during the month of October at Kīlauea, an increase of roughly 50% from the number of earthquakes recorded in September. The increase was mainly due to a swarm northwest of the summit, in the area of the Nāmakanipaio campground, with most of these events occurring during October 23-25.
Over the past month, summit tiltmeters recorded 2 deflation-inflation events. The long-term trend of deformation at Kilauea's summit and middle East Rift Zone continue to show inflation, consistent with magma supply to the volcano's shallow storage system. GPS stations on Kīlauea's south flank continue to show elevated rates of seaward motion. HVO continues to carefully monitor all data streams along the Kīlauea East Rift Zone and south flank for important changes.
Sulfur dioxide emission rates are low at the summit, consistent with no significant shallowing of magma. Some amount of sulfur dioxide is being dissolved into shallow groundwater and the crater lake at the bottom of Halema'uma'u; work continues to try and quantify this process. As of November 3rd, the lake depth was approximately 48 meters or 157 feet.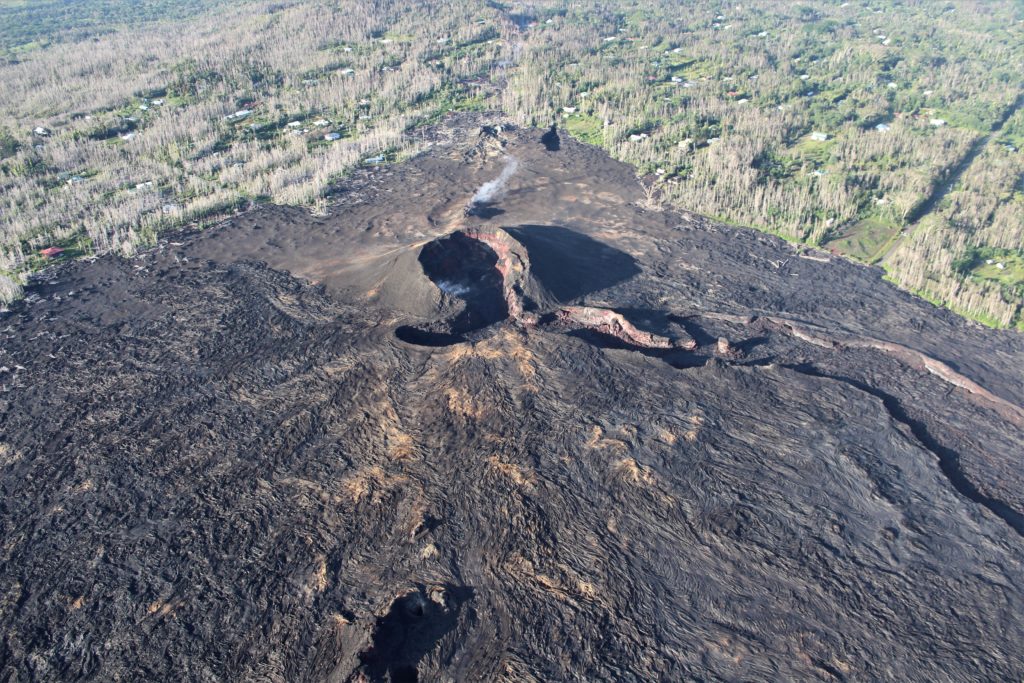 Sulfur dioxide emission rates are below detection limits at Puʻu ʻŌʻō and the lower East Rift Zone.
Although not currently erupting, areas of persistently elevated ground temperatures and minor release of gases are still found in the vicinity of the 2018 lower East Rift Zone fissures. These include steam (water), very small amounts of hydrogen sulfide, and carbon dioxide. These conditions are expected to be long-term. Similar conditions following the 1955 eruption continued for years to decades.
Hazards: Hazards remain in the lower East Rift Zone eruption area and at the Kīlauea summit. Residents and visitors near the 2018 fissures, lava flows, and summit collapse area should heed Hawaii County Civil Defense and National Park warnings. Lava flows and features created by the 2018 eruption are primarily on private property and persons are asked to be respectful and not enter or park on private property.
Source : HVO.
Photos : M Patrick , USGS.
Indonesia , Sinabung :
VOLCANO OBSERVATORY NOTICE FOR AVIATION – VONA.
Issued : November 04 , 2020
Volcano : Sinabung (261080)
Current Aviation Colour Code : ORANGE
Previous Aviation Colour Code : orange
Source : Sinabung Volcano Observatory
Notice Number : 2020SIN28
Volcano Location : N 03 deg 10 min 12 sec E 98 deg 23 min 31 sec
Area : North Sumatra, Indonesia
Summit Elevation : 7872 FT (2460 M)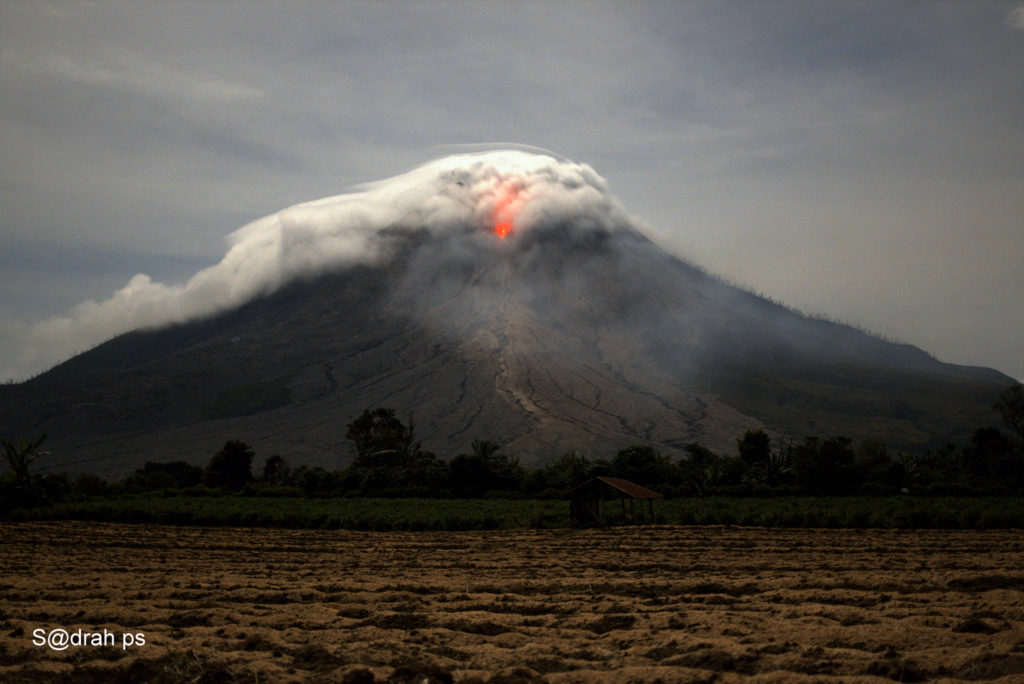 Volcanic Activity Summary :
Eruption with volcanic ash cloud at 13h20 UTC (20h20 local). Eruption and ash emission 117 second
Volcanic Cloud Height :
Ash-cloud is not visible
Other Volcanic Cloud Information :
visibility is unavailable
Remarks :
Seismic activity is characterized by eruption
The activity level has been at level III (SIAGA) since May 20, 2019 at 10:00 a.m. WIB. The Sinabung volcano (2460 m altitude) has been erupting since 2013.
The volcano was clear until it was covered in fog. The main crater emits white smoke with a strong thickness, about 50 to 300 m above the summit. Sunny to rainy weather, weak to moderate winds to the east and southeast. The air temperature is around 16-27 ° C. Hot avalanche clouds have been observed with a sliding distance of 2000-2500 m from the summit to the east and southeast, and avalanches with a sliding distance of 1000 m from the summit to the east and south-east. There was an eruption with an unobserved column height.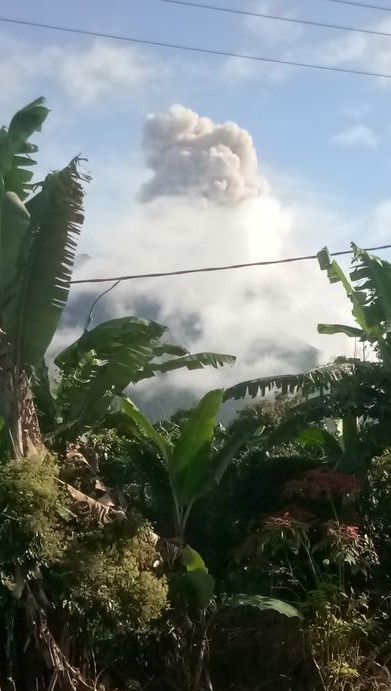 According to the seismographs of November 5, 2020, it was recorded:
1 eruption earthquake.
4 hot cloud avalanche earthquakes
61 avalanche earthquake
6 emissions earthquakes.
14 low frequency earthquakes
50 hybrid / multiphase earthquakes
1 local tectonic earthquake
3 distant tectonic earthquakes
Recommendation:
The public and visitors / tourists should not carry out activities in the villages that have been relocated, as well as within a radial radius of 3 km around the summit of G. Sinabung, with a sector radius of 5 km for the southern sector -East and 4 km for the Northeast sector.
Sources : Magma Indonésie , PVMBG.
Photos :Sadrah Peranginangin
Chile / Argentina , Villarica :
Special Volcanic Activity Report (REAV), La Auracania and Los Rios region, Villarica volcano, November 05, 2020 at 3:10 p.m. local time (mainland Chile).
The National Service of Geology and Mines of Chile (Sernageomin) discloses the following PRELIMINARY information, obtained through the monitoring equipment of the National Volcanic Monitoring Network (RNVV), processed and analyzed at the Volcanological Observatory of the South Andes (OVDAS ):
On Thursday, October 20, 2020 at 2:42 p.m. local time (5:42 p.m. UTC), the monitoring stations installed near the Villarica volcano recorded a pulse of particulate materials, with no associated seismic signal.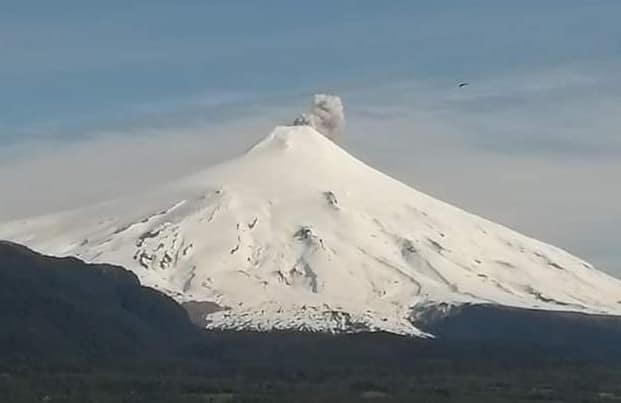 The characteristics of the associated surface activity are as follows:
MAXIMUM HEIGHT OF THE COLUMN: 100 meters with emission of particulate matter. .
DIRECTION OF DISPERSAL: North-East.
The volcanic technical alert is maintained at the YELLOW level.
Source : Sernageomin .
Photo : Archive Segemar.
Kamchatka , Karymsky :
54.05 N, 159.44 E;
Elevation 4874 ft (1486 m)
Aviation Colour Code is ORANGE
A moderate eruptive activity of the volcano continues. Ash explosions up to 19,700-23,000 ft (6-7 km) a.s.l. could occur at any time. Ongoing activity could affect low-flying aircrafts.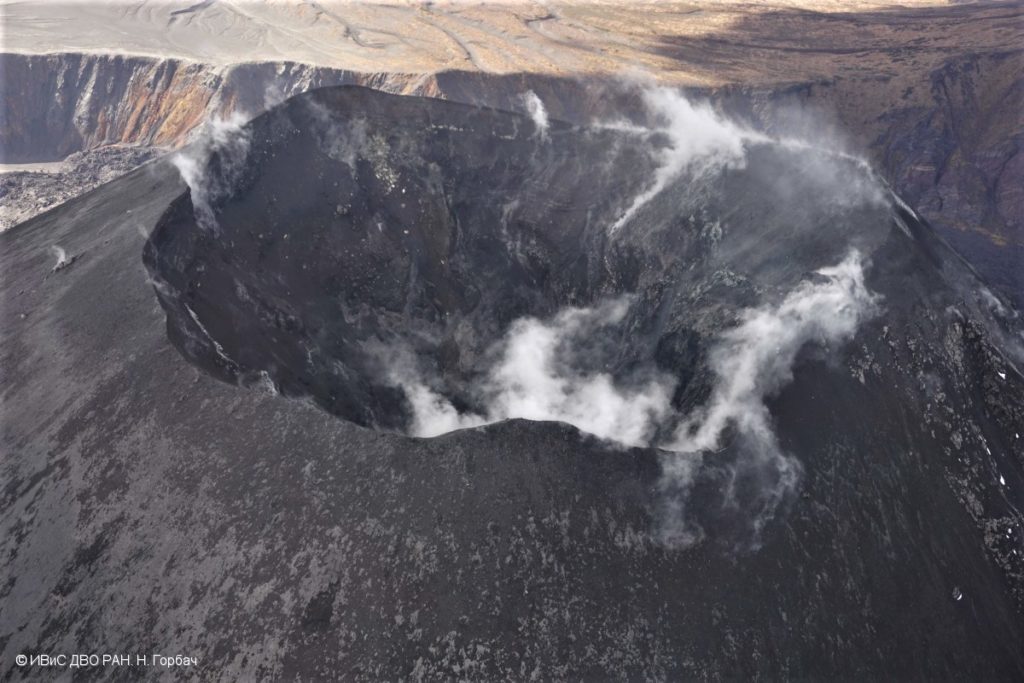 A moderate eruptive activity of the volcano continues. According to satellite data by KVERT, explosions sent ash up to 6.5 km a.s.l. on 30 October, and 01-02 November; ash clouds drifted for 60 km to the southwest and northeast of the volcano. A thermal anomaly over the volcano was noted on 30 October, and 01-02 and 04 November.
Source : Kvert.
Photo : N. Gorbach, IVS FEB RAS