March 11, 2021. EN . Nicaragua : San Cristobal , Italy : Stromboli , Kamchatka : Klyuchevskoy , Philippines : Taal , Indonesia : Sinabung .
March 11 , 2021 .
Nicaragua , San Cristobal :
Tuesday 09 March 2021
Between 1:06 am and 1:32 am today, the San Cristóbal volcano showed a series of five (05) explosions of low to moderate intensity.
The strongest explosion occurred at 1:25 p.m., raising ash to a height of approximately 800 meters above the crater. Under the effect of the wind, a layer of ash was transported, falling with a thickness of about 2 millimeters in the towns of El Viejo, Chinandega and Chichigalapa, also depositing ash in the communities located in this direction. (Las Grecias, La Mora 1, 2, 3, la Bolsa).
At the time of the blasts, the real-time seismic amplitude (RSAM) reached a maximum value of 528 units, and is currently between 90 and 130 units.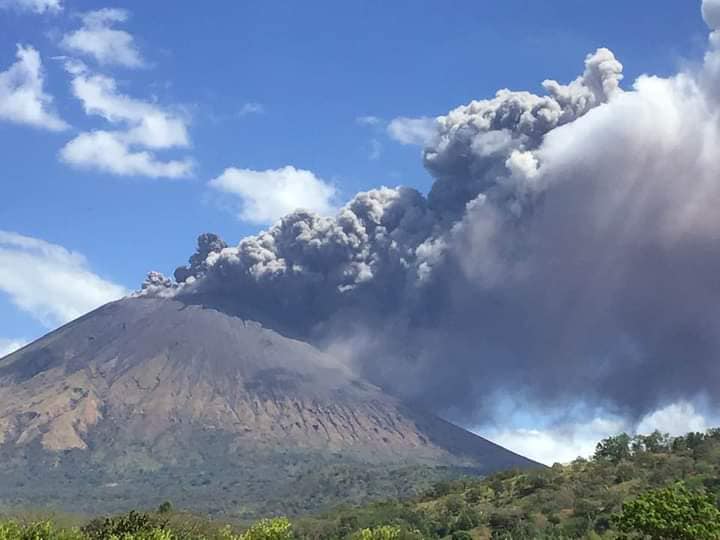 At the moment, this activity is of low energy, and it is probable that new explosions will occur in the next hours or days with a tendency to be weaker than the previous ones, and without representing a greater danger for the population. However, certain measures are generally recommended:
1.- If possible, try not to leave your homes while the ash cloud is clearing.
2.- Use masks (preferably wet) to avoid respiratory illnesses.
3.- Cover the water tanks.
4.- Once the ash cloud disappears, the roofs of the houses must be cleaned to prevent the accumulation of ash.
INETER is closely following this activity.
Source : Ineter .
Italy , Stromboli :
Weekly bulletin, from March 01, 2021 to March 07, 2021. (issue date March 09, 2021)
SUMMARY OF THE STATE OF ACTIVITY
In the light of surveillance data, it is highlighted:
1) VOLCANOLOGICAL OBSERVATIONS: Normal explosive volcanic activity of Strombolian type interrupted by a major explosion on March 1 located in the area of ​​the North crater. The total frequency of events showed values ​​ranging from medium-low levels (9 events / h) to medium levels (13 events / h). The intensity of the explosions was mainly medium in the North crater area and medium-high in the Center-South area.
2) SEISMOLOGY: The monitored seismological parameters do not show significant variations, with the exception of the explosive sequence recorded on 03/01/2021.
3) DEFORMATIONS: The island's soil deformation monitoring networks did not show any significant changes during the period under review.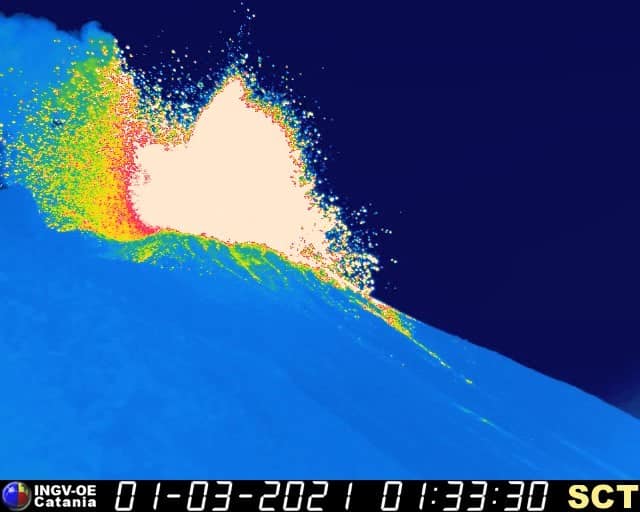 4) GEOCHEMISTRY: The flow of SO2 is at a medium-low level
C / S ratio: the values ​​reach very high levels (C / S = 21.05 measurements of 7/03/2021).
Helium isotope ratio: the values ​​of the last sample (02/24/2021) are against the trend, fixing on average values ​​(R / Ra = 4.36).
5) SATELLITE OBSERVATIONS: The thermal activity in the summit area is at a low level.
VOLCANOLOGICAL OBSERVATIONS
In the period under observation, the eruptive activity of Stromboli was characterized by the analysis of the images recorded by the surveillance cameras INGV-OE located at an altitude of 190 m, Punta Corvi and an altitude of 400 m.
Chronology of the explosive event of March 1, 2021:
On March 1 at 01:32:46 UTC begins an explosive sequence, located in the area of ​​the North crater at the mouth named N2 and consisting of a series of explosions divided into two phases. In detail, in the first phase, three pulses occurred, the first being energetically more intense than usual, then followed by explosions of less intensity until 01:33:24 UTC. The second phase begins at 01:33:30 and produces a larger explosion, in which the products emitted exceeded 350 m in height and their radial distribution fell copiously along the upper part of the Sciara in a westerly direction and overtaking the Pizzo towards ballast. At 01:35:58 two simultaneous explosions at the level of the Center-South zone and at the mouth of the N1 crater, with a total duration of 22 s, ended the explosive episode. The total duration of the sequence was approximately 3 min and 30 s.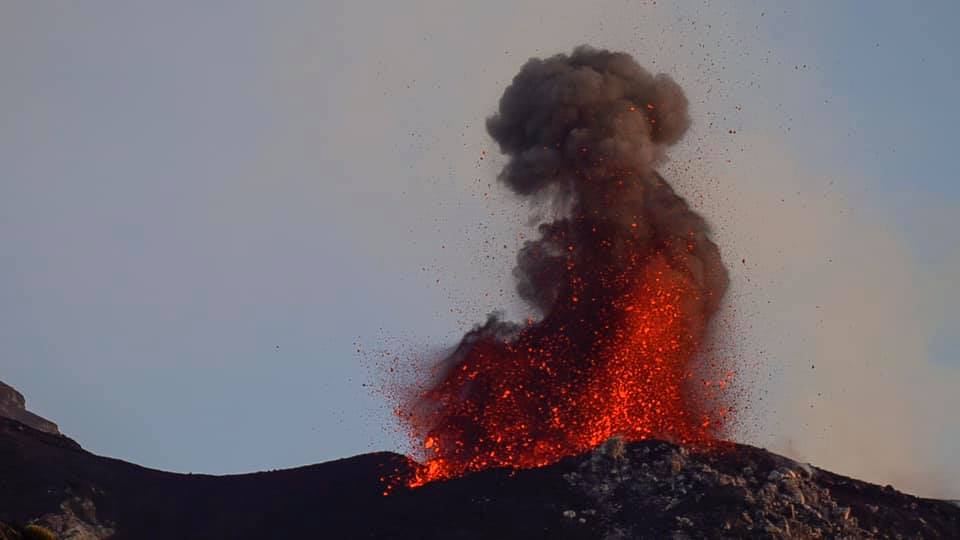 In the area of the North crater, the N1 crater, with two emission points, produced explosions of low intensity (less than 80 m high) to medium-high intensity (sometimes the products reached 250 m high) emitting explosions. coarse materials (lapilli and bombs). The N2 muzzle, at four emission points, showed mainly low intensity explosive activity emitting coarse materials mixed for purposes. The average frequency of explosions was almost constant between 5 and 6 events / h.
In the Center-South zone, the explosions emitted coarse materials mixed with ash, with an average and sometimes high intensity (the products exceeded 250 m in height). The explosive activity showed average hourly frequency values ranging from 4 to 8 events / h.
Source : INGV.
Photos : INGV , Webcam.
Kamchatka , Klyuchevskoy :
KVERT reported that the eruption from vents on Klyuchevskoy's lower NW flank continued during 26 February-5 March. A large, bright thermal anomaly over the vents was identified daily in satellite images.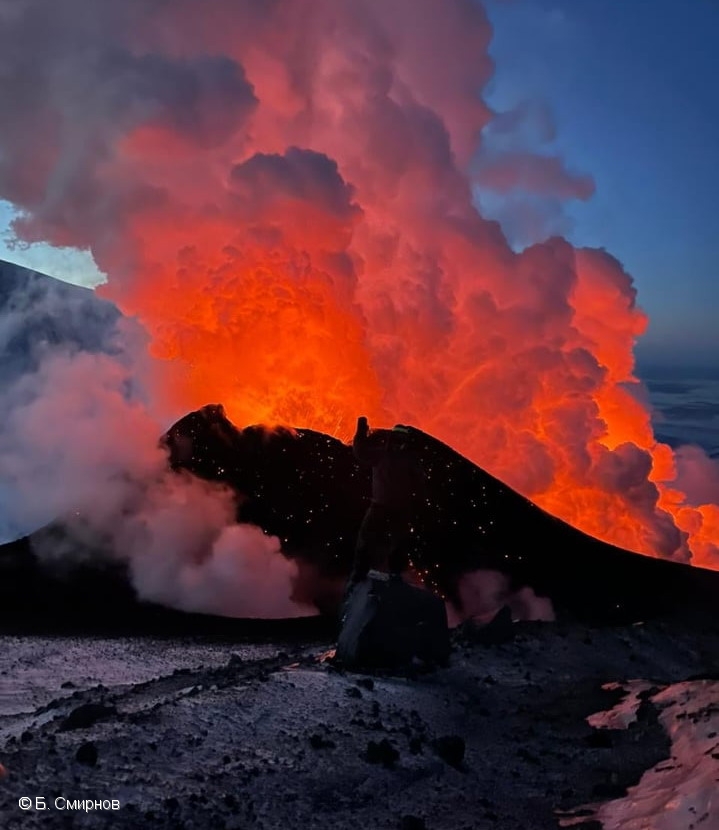 Cinder cone of Corr.-Member USSR Academy of Sciences G.S. Gorshkov lateral break on 08 March, 2021.
IVS FEB RAS volcanologists visited the field site on 2 March during good weather conditions. They estimated that the cinder cone was 54 m high and 101 m wide at the base. Lava effused from the cone and traveled downslope, melting ice and snow that formed muddy streams. The Aviation Color Code remained at Orange (the second highest level on a four-color scale).
Source : GVP
Photo : B. Smirnov
Philippines , Taal :
PHIVOLCS raised the Alert Level for Taal to 2 (on a scale of 0-5) on 9 March based on increased activity recorded since 13 February. During 8-9 March the seismic network recorded a total of 28 volcanic tremor events, four low-frequency volcanic earthquakes, and one hybrid event at depths of less than 1.5 km. These events added to the totals of 866 volcanic tremor events and 141 low-frequency volcanic earthquakes recorded during 13 February-9 March. Overall, seismicity over the past month indicated increased magmatic and hydrothermal activity at shallow depths beneath Taal Volcano Island (TVI).
Over the past month minor deformation centered at a source beneath the SE part of TVI was evident in monitoring data, including integrated real-time ground tilt and continuous GPS, daily Electronic Distance Measurement (EDM) monitoring, and InSAR. The data also showed slow and steady inflation across the Taal region after the 2020 eruption.
Geochemical data collected from Taal's Main Crater lake indicated a continuous acidification of the water from pH 2.79 to 1.59 between January 2020 and mid-February 2021. Microgravity data was consistent with magma migration. PHIVOLCS strongly recommended no entry onto the island, and access to the Main Crater and Daang Kastila fissure (along the walking trail) was strictly prohibited.
TAAL VOLCANO BULLETIN 11 March 2021 08:00 A.M.
In the past 24-hour period, the Taal Volcano Network recorded forty-two (42) episodes of volcanic tremor having durations of one (1) to seven (7) minutes and low-level background volcanic tremor that began at 6:37 PM on 10 March 2021 and lasted approximately four and a half (4.5) hours. Activity at the Main Crater consisted of weak emission of steam-laden plumes from fumarolic vents that rose 5 meters high. Significant sulfur dioxide (SO2) emission that averaged 1,327 tonnes/day was measured yesterday, 10 March 2021. Temperature highs of 71.8°C and pH of 1.59 were last measured from the Main Crater Lake respectively on 04 March and 12 February 2021.
Source : GVP , Phivolcs .
Photo : Quezon Trending News
Indonesia , Sinabung :
The activity level has been at level III (SIAGA) since May 20, 2019 at 10:00 a.m. WIB. Mount Sinabung (2,460 m above sea level) has been erupting since 2013.
The volcano is clearly visible until it is covered in fog. We observe that the crater emits white smoke with a strong thickness, about 50-500 meters above the summit. The weather is sunny to cloudy, light to moderate winds to the southwest, west and northwest. The air temperature is around 14 to 27 ° C. Avalanches have been observed with a sliding distance of 500 to 1,500 m to the east, south-east and south.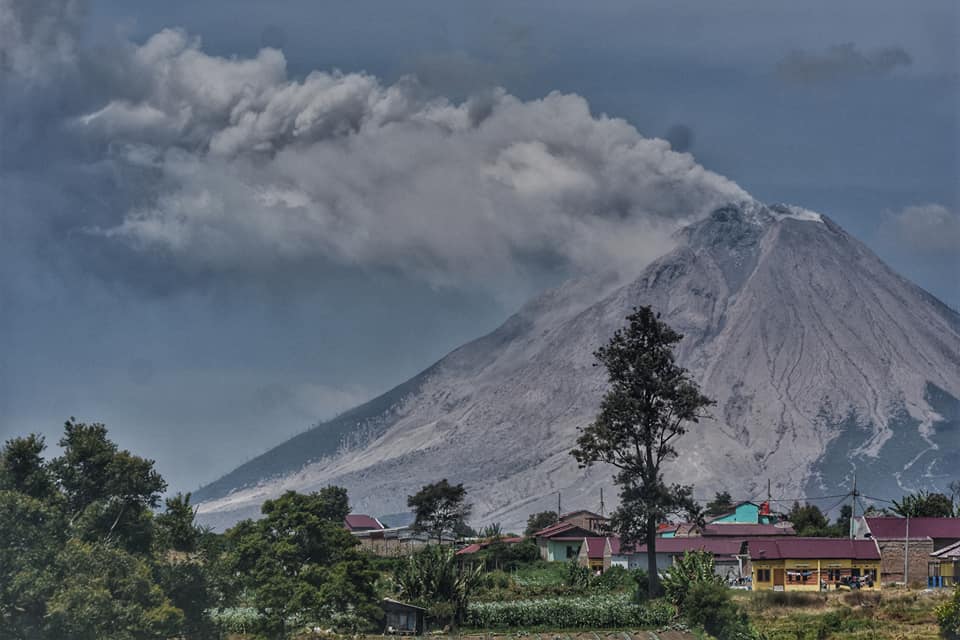 According to the seismographs of March 10, 2021, it was recorded:
3 eruption / explosion earthquakes
52 avalanche earthquake
10 earthquakes of emissions
1 non-harmonic tremor
6 low frequency earthquakes
22 hybrid / multi-phase earthquakes.
VOLCANO OBSERVATORY NOTICE FOR AVIATION – VONA
Issued : March 11 , 2021
Volcano : Sinabung (261080)
Current Aviation Colour Code : ORANGE
Previous Aviation Colour Code : orange
Source : Sinabung Volcano Observatory
Notice Number : 2021SIN16
Volcano Location : N 03 deg 10 min 12 sec E 98 deg 23 min 31 sec
Area : North Sumatra, Indonesia
Summit Elevation : 7872 FT (2460 M)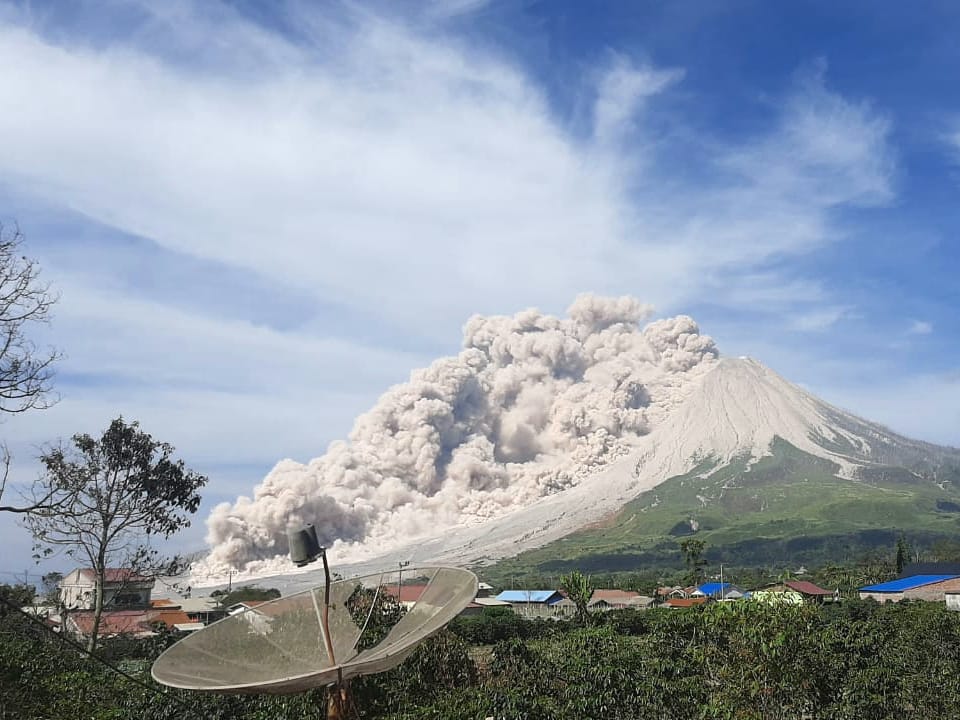 Volcanic Activity Summary :
Hot could avalanches with ash clouds at 00:24 UTC (09:29 local time). The eruption lasted for 173 seconds.
Volcanic Cloud Height :
Best estimate of ash-cloud top is around 9472 FT (2960 M) above sea level, may be higher than what can be observed clearly. Source of height data: ground observer.
Other Volcanic Cloud Information :
Ash cloud is moving to W – SW
Remarks :
Seismic activity is characterized by the Deep Volcanic Earthquake, Low Frequency Earthquake, and Hybrid Earthquake. Pyroclastic flow is observed through the East-Southeast slope and reaches a distance of 2000 meters from the summit.
Source : PVMBG, Magma Indonésie .
Photos : Nachelle Homestay , Alin dari Naman Teran via Sadrah Peranginangin .