December 05 , 2020. EN . La Réunion : Piton de la Fournaise , Indonesia : Merapi , Kamchatka : Klyuchevskoy , Guatemala : Pacaya , La Martinique : Montagne Pelée .
December 05 , 2020.
La Réunion , Piton de la Fournaise :
Activity bulletin from Friday December 4 at 3:00 p.m. (local time)
Alert level: Alert 1
Following the seismic crisis which took place today from 5:10 am to 5:54 am local time, the number of earthquakes has sharply decreased from 101 volcano-tectonic earthquakes (located above sea level directly above the summit (center and northern edge of the Dolomieu crater; Figure 1) between 5 a.m. and 6 a.m., at 14 earthquakes between 6 a.m. and 2 p.m.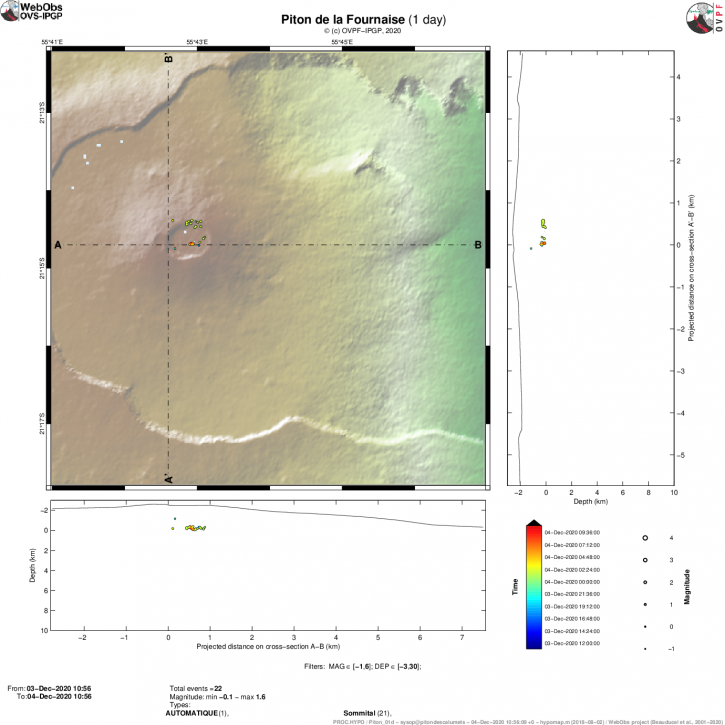 Figure 1: Location map (epicenters) and North-South and East-West sections (showing the location in depth, hypocenters) of the earthquakes recorded and located by the OVPF-IPGP during the day of 4/12/2020 ( 12 a.m. to 3 p.m. local time) under the Piton de la Fournaise massif. Only localizable earthquakes have been shown on the map. The observatory records seismic events not shown on this map because they cannot be located, due to their too low magnitude (© OVPF-IPGP).
Given the weakening of the environment during the last intrusive episodes and the persistence of seismicity, a rapid resumption of activity in the medium term is still possible.
Source : OVPF.
Read the article : http://www.ipgp.fr/fr/ovpf/bulletin-dactivite-vendredi-4-decembre-a-1500-heure-locale.
Indonesia , Merapi :
Mount Merapi Activity Report, November 27 to December 3, 2020
I. OBSERVATION RESULTS
Visual
The weather around Mount Merapi is generally sunny in the morning, while the afternoon until evening is foggy. The smoke from the crater is white, thin to thick with low to moderate pressure. A maximum smoke height of 600 m is observed from the Mount Merapi observation post in Selo on November 27, 2020 at 5:50 a.m. WIB. A number of avalanches were heard with slip distance not observed as the prevailing images were hazy.
Morphological analysis of the peak area based on photos of the Southeast sector from November 26 to November 29, 2020 showed no change in the morphology of the peak area. In the northwest sector, the topographic profile of the peaks, in particular around Lava1948 and Lava1888, has changed slightly due to avalanche activity.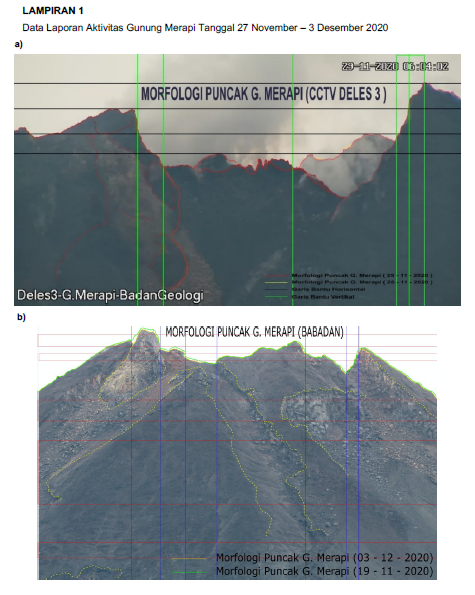 Seismicity
This week, the seismicity of Mount Merapi recorded:
236 times shallow volcanic earthquakes (VTB),
2,128 multi-phase earthquakes (MP),
3 low frequency earthquakes (LF),
289 avalanche earthquakes (RF),
330 emission earthquakes (DG)
11 tectonic earthquakes (TT).
The seismic intensity this week is lower than last week.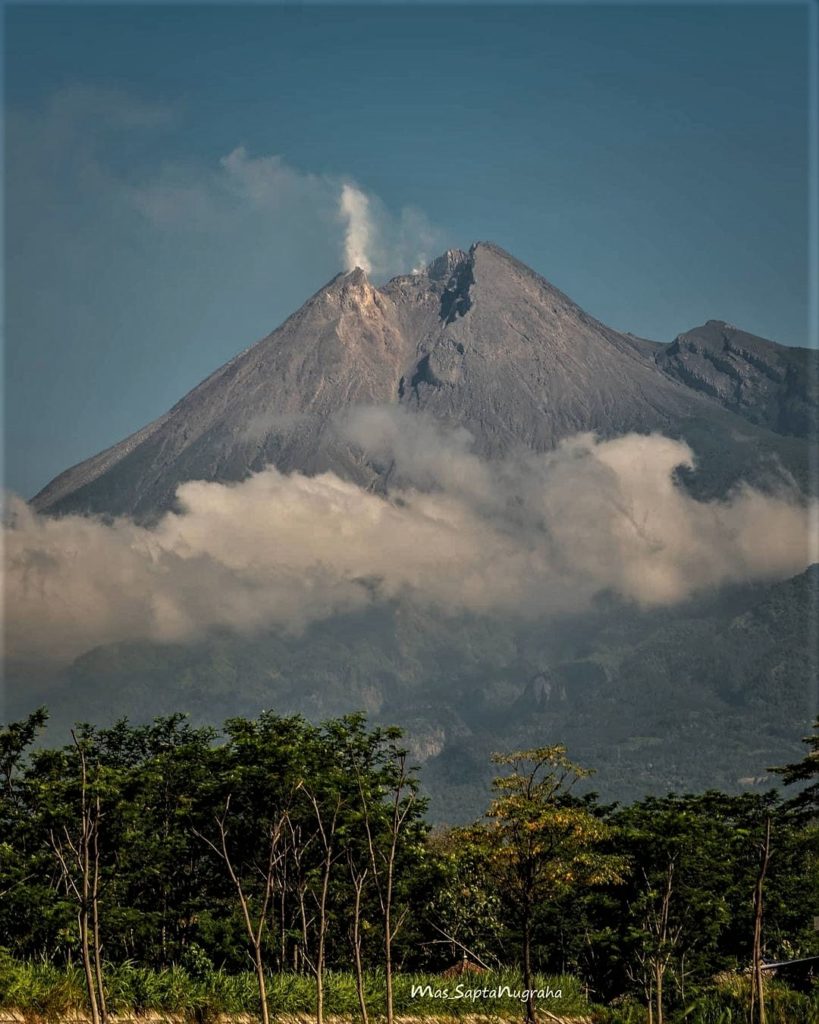 Deformation
The deformation of Mount Merapi which was monitored using EDM this week showed a shortening rate of 11 cm / day.
Rain and lahars
This week, there was rain at Mount Merapi Observation Post with the highest rainfall intensity of 65mm / hour for 60 minutes at Kaliurang Post on December 3, 2020. There was no report lahars or additional flow in the rivers that descend from the Merapi.
Conclusion
Based on the results of visual and instrumental observations, it is concluded that:
1. There is an increase in volcanic activity on Mount Merapi, so the activity status is set in the activity level « SIAGA ».
2. The current potential dangers are in the form of lava avalanches, ejection of volcanic material in the event of an explosive eruption and a maximum slide distance of 5 km for hot cloud avalanches.
Source : BPPTKG.
Photos : BPPTKG , Mas Sapta Nugraha
Kamchatka , Klyuchevskoy :
VOLCANO OBSERVATORY NOTICE FOR AVIATION (VONA).
Issued: November 05 , 2020
Volcano: Klyuchevskoy (CAVW #300260)
Current aviation colour code: ORANGE
Previous aviation colour code: orange
Source: KVERT
Notice Number: 2020-229
Volcano Location: N 56 deg 3 min E 160 deg 38 min
Area: Kamchatka, Russia
Summit Elevation: 15580 ft (4750 m)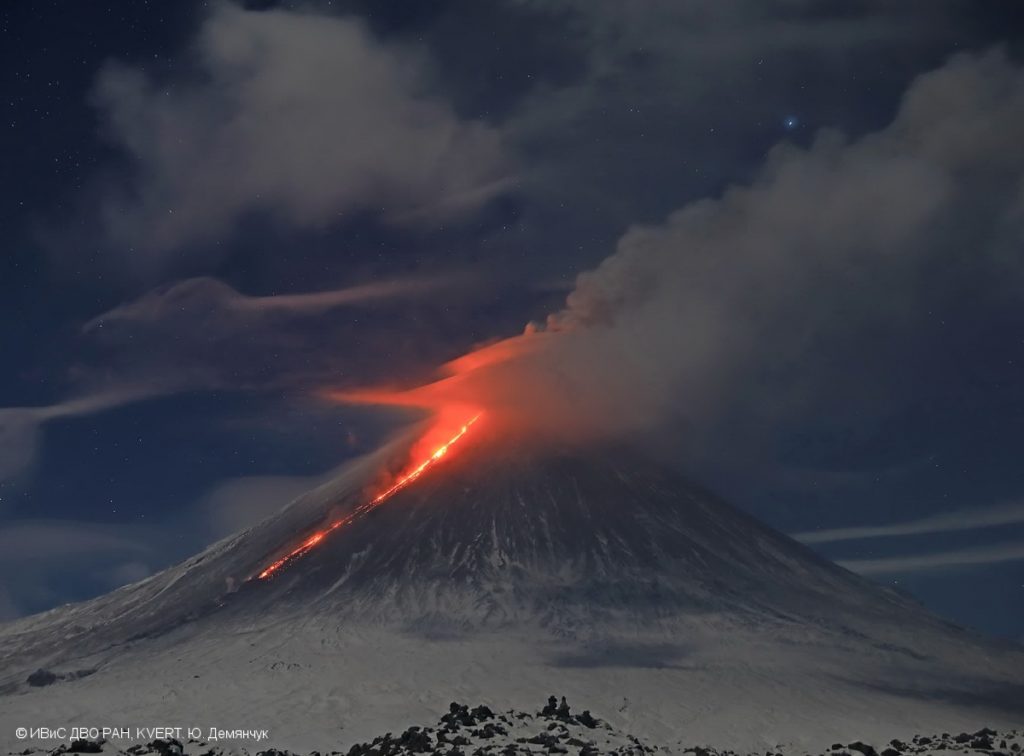 A moderate explosive-effusive eruption of the volcano continues. The Strombolian and gas-steam activity with some amount of ash is observing. The lava flow continues to move along Apakhonchich chute on the southeastern volcanic flank.
Volcanic Activity Summary:
A moderate explosive-effusive eruption of the volcano continues. According to video and satellite data, a gas-steam plume with some amount of ash is extending for 90 km to the north-east of the volcano.
This eruption of the volcano continues. Ash explosions up to 23,000-26,200 ft (7-8 km) a.s.l. could occur at any time. Ongoing activity could affect low-flying aircraft.
Volcanic cloud height:
21320-22960 ft (6500-7000 m) AMSL Time and method of ash plume/cloud height determination: 20201205/0210Z – Video data
Other volcanic cloud information:
Distance of ash plume/cloud of the volcano: 56 mi (90 km)
Direction of drift of ash plume/cloud of the volcano: NE / azimuth 46 deg
Time and method of ash plume/cloud determination: 20201205/0140Z – Himawari-8
Source : Kvert .
Photo : Yu. Demyanchuk. IVS FEB RAS, KVERT.
Guatemala , Pacaya :
Type of activity: Strombolian.
Morphology: composite stratovolcano
Geographical location: 14 ° 22'50˝ Latitude N; 90 ° 36'00˝ Longitude W.
Height: 2,552 msnm.
Weather conditions: cloudy
Wind: north
Precipitation: 0.0 mm.
Activity:
During the night and early in the morning, the atmospheric conditions did not allow a direct observation of the crater. The activity of the lava flows continues on the southwest flank. The length of the lava flow is about 500 meters and moves in a west-southwest direction. The appearance of more lava flows on other flanks or the generation of degassing columns with abundant ash is not excluded. INSIVUMEH seismic stations constantly record tremors, associated with the rise of magma, as well as permanent degassing in the crater. The recommendations of the special BEPAC bulletin n ° 116-2020 remain valid.
Source : Insivumeh .
La Martinique , Montagne Pelée :
Yellow vigilance at Montagne Pelée: « there is no warning sign of an eruption »
Since this Friday (December 4, 2020), surveillance around Mount Pelée has increased. The yellow vigilance level has been activated. However, the risk of eruption is absolutely not on the agenda.
Operation transparency around the situation of Mount Pelée. Since November 2019, seismic activity has been increasing under the volcano.
« We detected a reactivation of Mount Pelee. This is normal. On the other hand, we have absolutely no precursor sign of an eruption but it could occur on the scale of a few years or perhaps less. It has more. lucky to arrive with a volcano which is reactivating, « warns Marc Chaussidon, director of the Institut de Physique du Globe de Paris.
"From 1985 to 1986, there was a seismic crisis and a certain type of earthquake was recorded. Today, we find in our recordings, this type of oscillation. It is therefore a phenomenon that we already have observed in 1976 and 1986 « , explains Fabrice Fontaine, director of the volcanological and seismological observatory.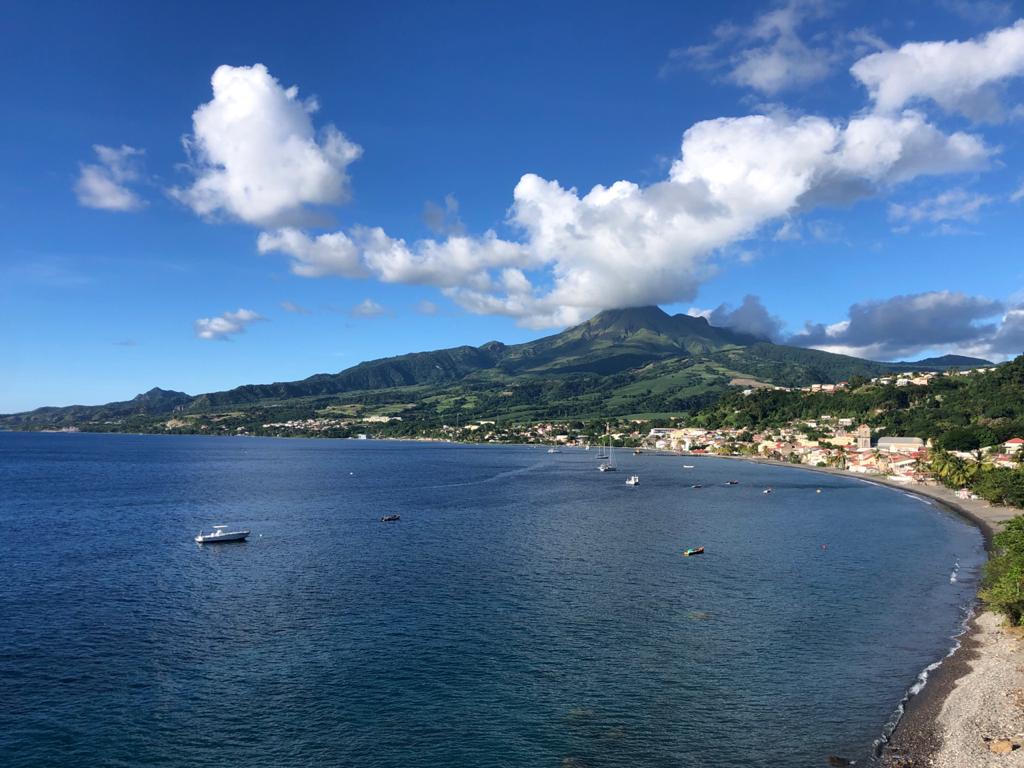 At that time, around ten such earthquakes had been observed against 94 in April 2020.
« What we notice is that it has increased since April 2019 beyond a base level established on more than 20 years of data. And it has increased even more since November 2019 », adds the director of the OVSM. « It is a first sign of change at the level of Mount Pelée ».
The source of the earthquakes observed for nearly a year is said to be deeper than in previous seismic crises according to the readings of the sensors placed on the volcanic edifice. According to scientists, the origin of these tremors not felt on the surface would be located 13 kilometers below sea level.
Possible gas migrations
« On November 8 and 9, 2020, difficult to observe seismic signals were recorded. They result from the migration of gas within the volcanic duct of the hydrothermal system »,
Scientists are working on the hypothesis of the influence of heavy November precipitation on these gas movements. « This means in any case that the hydrothermal system of the mountain is active », specifies Philippe Fontaine.
The increase in seismicity could have several origins. It could be linked to the increase in seismicity in the region in relation to the movement of tectonic plates or to the arrival in depth of magmatic fluid or to the modification of the hydrothermal system.
Source : rci.fm / Karl Lorand 04/12/2020 – 16:37.
Read the article : https://www.rci.fm/martinique/infos/Risques-naturels/Vigilance-jaune-la-Pelee-il-ny-aucun-signe-precurseur-dune-eruption?fbclid=IwAR2NSLK4iv-_hSDRYoHNu8q-TJva7OHsCoMhUUUZVE4dwvYKYTTYgscfXJE