June 20, 2019. EN. Hawaii : Kilauea , Indonesia : Anak Krakatau , Colombia : Chiles / Cerro Negro , New Zealand : Whakaari / White Island , Chile : Nevados of Chillan .
June 20 , 2019.
Hawai , Kilauea :
19°25'16 » N 155°17'13 » W,
Summit Elevation 4091 ft (1247 m)
Current Volcano Alert Level: NORMAL
Current Aviation Color Code: GREEN
Activity Summary:
Kīlauea Volcano is not erupting. Monitoring data from the past nine months have shown steady rates of seismicity, deformation, and low rates of sulfur dioxide emissions at the summit and East Rift Zone, including the area of the 2018 eruption.
As of June 18, Kīlauea Volcano is at NORMAL/GREEN.
Despite this classification, Kīlauea remains an active volcano, and it will erupt again. Although we expect clear signs prior to a return to eruption, the time frame of warning may be short.
Observations:
Monitoring data have shown no significant changes in volcanic activity over the past week. Rates of seismicity across the volcano remain low. The two largest recorded earthquakes were a M2.4 at the summit on June 15, at a depth of 2 km (1.2 miles), and a M3.4 in the Upper East Rift Zone on June 13, at a depth of 6 km (3.7 miles). One felt report was submitted for the M3.4 earthquake. Real-time sulfur dioxide emission rates from the summit remain low. Sulfur Dioxide emission rates at Puʻu ʻŌʻō remain below detection limits when last measured on May 23.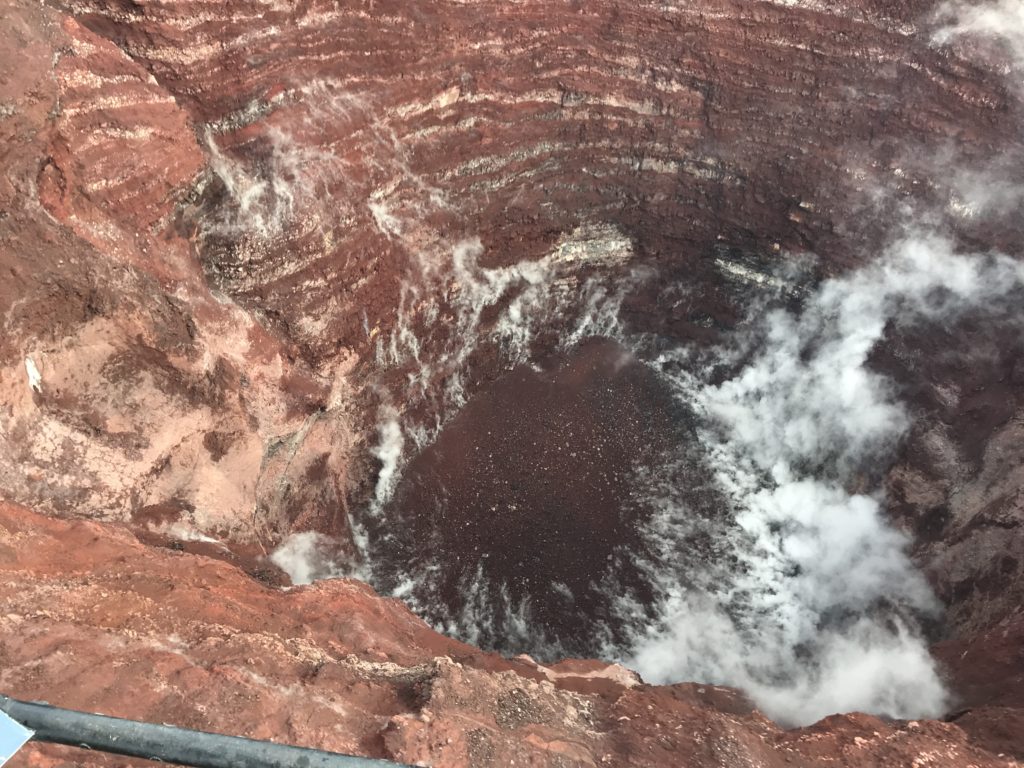 A view into the center of Pu'u 'Ō'ō. Collapses on the crater walls have enlarged sections of the crater and filled the bottom of the crater with rockfall debris. The deepest portion of the crater is about 286 m (938 ft) below the crater floor that existed prior to the collapse on April 30, 2018. Steam rises from the loose rock on the crater floor. USGS image by F. Younger.
Since early March, GPS stations and tiltmeters at the Kīlauea summit have recorded deformation consistent with slow magma accumulation within the shallow portion of the Kīlauea summit magma system (1-2 km or approximately 1 mile below ground level). However, gas measurements have yet to indicate significant shallowing of large volumes of melt. HVO continues to carefully monitor gas output at the Kīlauea summit and East Rift Zone for important changes.
Further east, GPS stations and tiltmeters continue to show motions consistent with refilling of the deep East Rift Zone magmatic reservoir in the broad region between Puʻu ʻŌʻō and Highway 130. This trend has been observed since the end of the 2018 eruption, however there is an indication on tiltmeters that this motion has been slowing down over recent weeks. While the significance of this pattern is unclear, monitoring data do not suggest any imminent change in volcanic hazard for this area.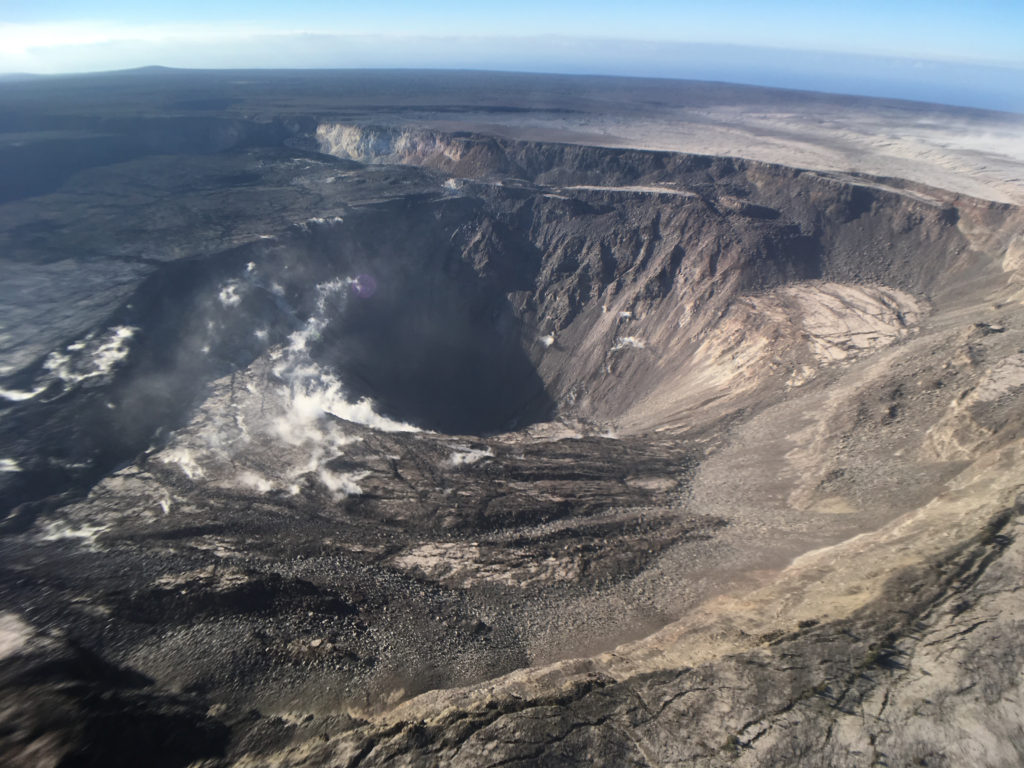 Hazards remain in the lower East Rift Zone eruption area and at the Kīlauea summit. Residents and visitors near the 2018 fissures, lava flows, and summit collapse area should heed Hawaii County Civil Defense and National Park warnings. Hawaii County Civil Defense advises that lava flows and features created by the 2018 eruption are primarily on private property and persons are asked to be respectful and not enter or park on private property.
The Hawaiian Volcano Observatory (HVO) continues to closely monitor seismicity, deformation, and gas emissions for any sign of increased activity at Kīlauea. HVO maintains visual surveillance of the volcano with web cameras and occasional field visits. HVO will continue to issue a weekly update (every Tuesday) until further notice, and will issue additional messages as warranted by changing activity.
Source : HVO.
Indonesia , Anak Krakatau :
Level of activity at level II (Waspada), since March 25, 2019. G. Anak Krakatau (157 m altitude) has increased its volcanic activity since June 18, 2018 and this was followed by a series of Eruptions from September 2018 to February 2019. Since May 2019, eruptions have continued but decreasing intensity.
Since yesterday and until this morning, the volcano was covered with fog. The smoke from the crater is not observed.
The seismographs, on June 18, 2019, recorded:
15 emission earthquakes
1 shallow volcanic earthquake
1 deep volcanic earthquake
Tremor continuous amplitude 1-10 mm, dominant value 2 mm.
Recommendation: People / tourists are not allowed to approach the crater within 2 km of the crater.
VONA: The last ORANGE color code was published on June 12, 2019 at 07:19 WIB and concerned an eruption recorded on seismograms with a maximum amplitude of 5 mm and a quake duration of 90 seconds.
Source : PVMBG
Video : Volcanodiscovery.
Colombia , Chiles / Cerro Negro :
Weekly activity bulletin of Chiles and Cerro Negro volcanoes
The activity level of volcanoes continues at the level: YELLOW LEVEL ■ (III): CHANGES IN THE BEHAVIOR OF THE VOLCANIC ACTIVITY.
Following the activity of the CHILE and CERRO NEGRO volcanoes , the COLOMBIAN GEOLOGICAL SERVICE (SGC) reports that:
For the period from 11 to 17 June 2019, seismic occurrence levels similar to those reported in previous periods were maintained, with a total for this week of 1907 events, all cataloged as being of the volcano-tectonic type, associated with a fracturing of the rock in the volcanic building. The earthquakes near the Chiles volcano were located in the southern sector, at depths less than 6 km from the summit (4700 m altitude), the farthest and deepest southeast of the volcano. The maximum local magnitude reached was 2.6 on the Richter scale for an earthquake on June 14, 2019, reported to be felt by residents of Chiles Indian Reserve, Cumbal Municipality (Nariño).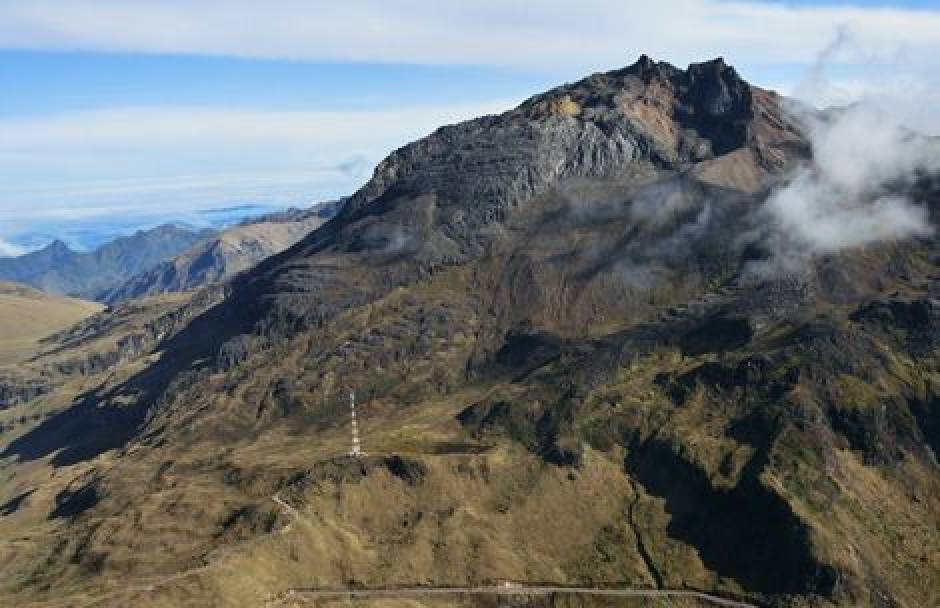 Other geophysical and geochemical parameters of volcanic monitoring did not show significant variations.
The COLOMBIAN GEOLOGICAL SERVICE is attentive to the evolution of the volcanic phenomenon and will continue to inform in a timely manner of the observed changes.
Source : SGC
New Zealand , Whakaari / White Island :
New earthquake swarm at Whakaari/White Island . Thu Jun 20 2019 2:20 PM
Volcanic Alert BulletinWI – 2019/04
Volcanic Alert Level remains at 1
Aviation Colour Code remains at Green
Another earthquake swarm started near Whakaari/White Island at around 4 am Thursday morning, 20 June 2019.
The three largest events are magnitude 4.2, 4.0, 3.7 and were felt at Whakatane. So far, we have located over 95 earthquakes. The location of these earthquakes is the same as the May swarm, that we reported in previous Volcanic Alert Bulletins .
Our analysis of this new swarm confirms its similarity to the May sequence, which was interpreted as fault movement. We are treating today's swarm as a reactivation of the May swarm. Based on the May swarm we expect this morning's activity to continue for a few days.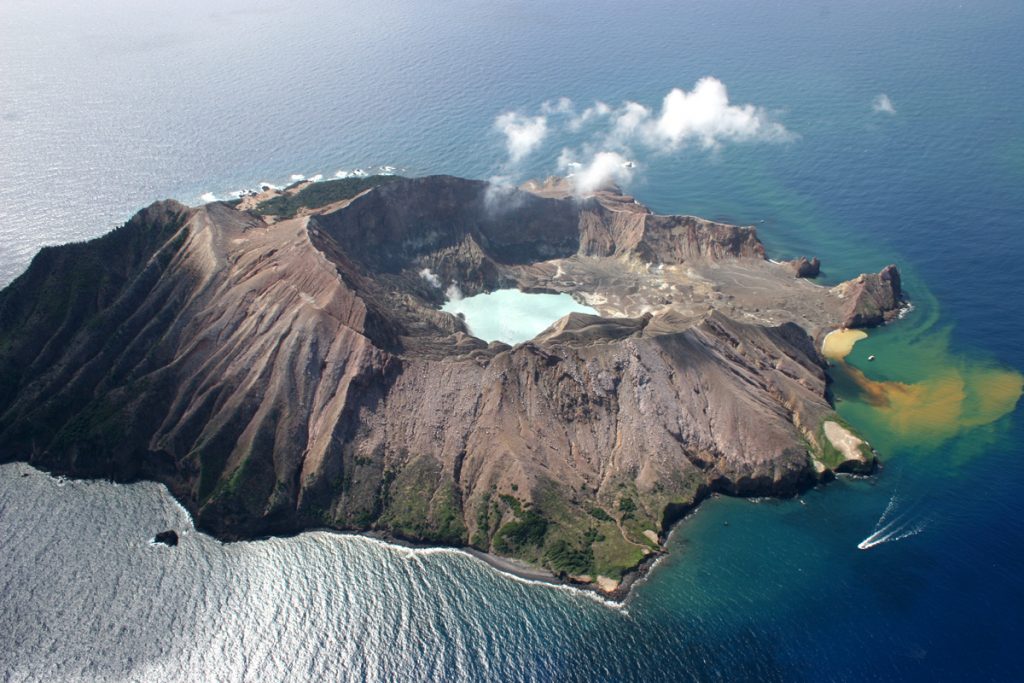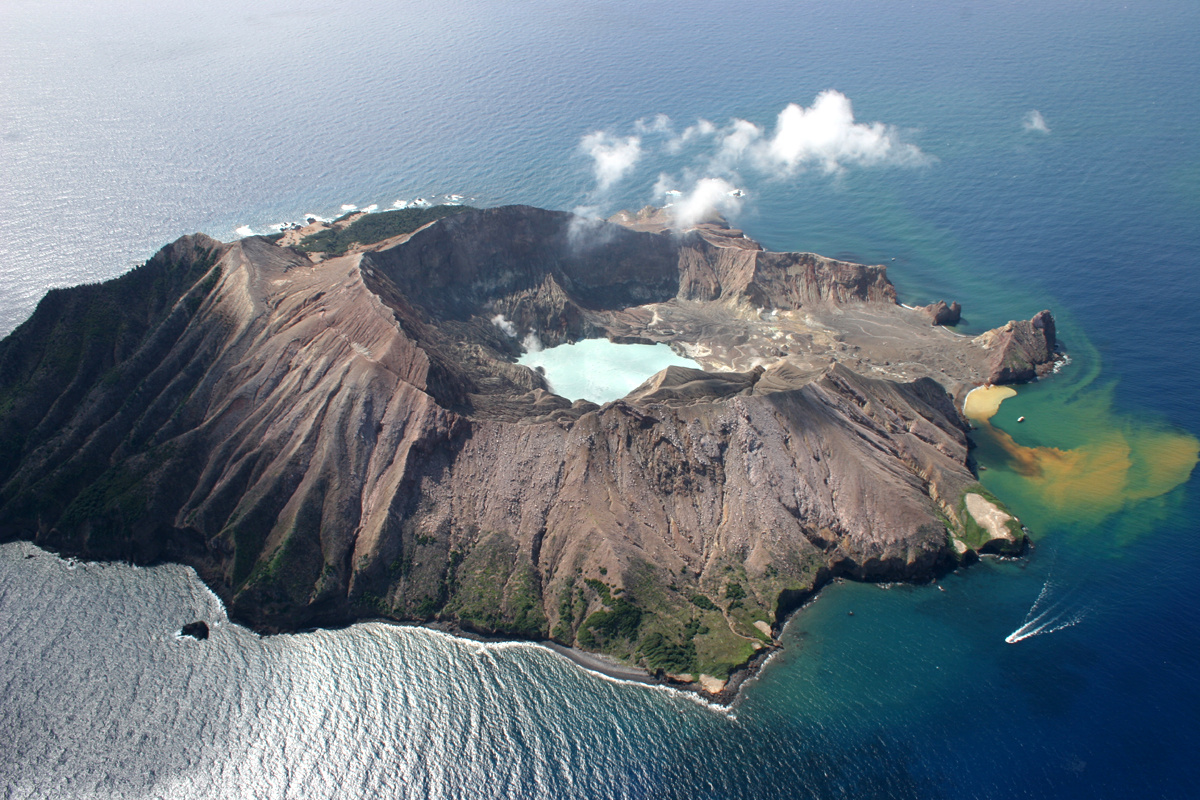 There have been no changes in recorded parameters, and no unusual volcanic activity has been observed at Whakaari/White Island since the May swarm. No unusual volcanic activity has been detected this morning. The National Geohazards Monitoring Centre is keeping a close eye on the earthquakes and for any signs of volcanic unrest.
As with the May swarm there is a heightened likelihood of landslides occurring on the island as the earthquakes are shallow, local, and volcanic rock is relatively weak. Landslides are also more likely during prolonged periods of heavy rain. No landslides have been observed at Whakaari/White Island since the May swarm.
There are no changes in volcano monitoring parameters or the level of volcanic activity at Whakaari/White Island. Our observations are consistent with minor volcanic unrest and the Volcanic Alert Level remains at 1 while the Aviation Colour Code stays at Green.
While Volcano Alert Level 1 is mostly associated with environmental hazards such as volcanic gas, eruptions can still occur with little or no warning. GNS Science continues to closely monitor Whakaari/White Island and our other active volcanoes.
Source : Geonet / Craig Miller ,Volcanologue de service
Photo : rfleming , 08/2017.
Chile , Nevados of Chillan :
The Nevados volcano of Chillán presented during the day of Wednesday an intense eruptive pulse
The localities of Pinto, Coihueco and San Fabián remain on yellow alert before a possible volcanic eruption.
Various recordings on the social networks account for the situation prevailing in the Cordillera massif, located at the Orange alert level.
According to Sernageomin, these types of events and explosions correspond to the current alert level in the region.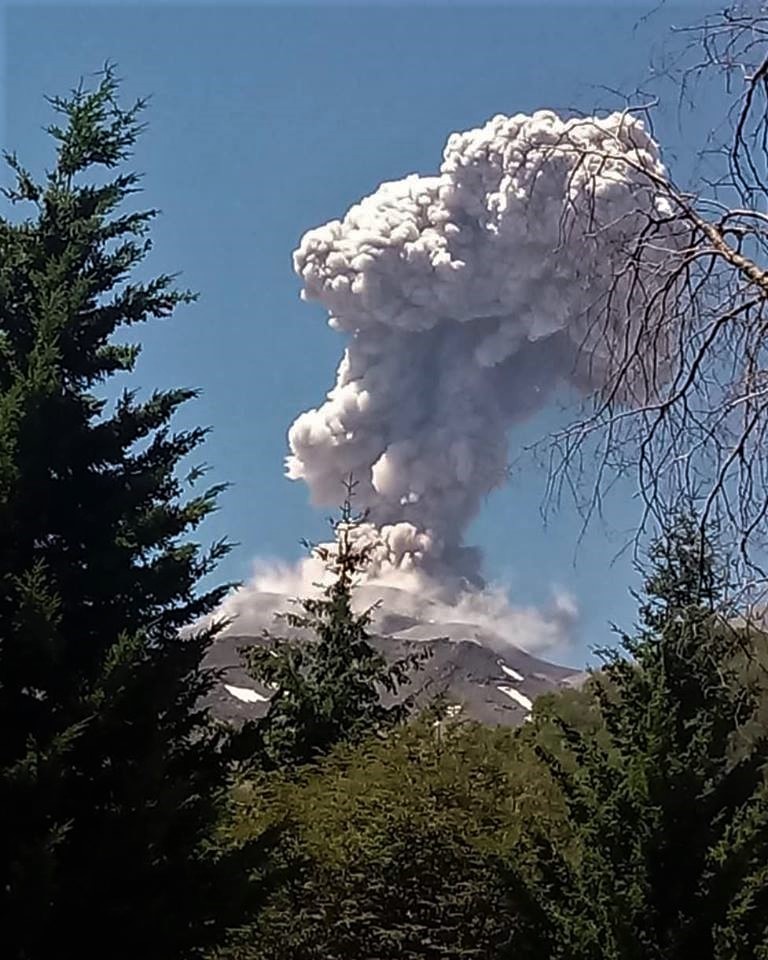 Sernageomin maintains yellow alert level in municipalities located in the risk zone
It should be noted that the civil protection system is maintained at the Yellow alert level for the municipalities of Pinto, Coihueco and San Fabián, because of the risk to which they are exposed for a possible volcanic eruption.
Source : ahoranoticias.cl
Photo : Ovdas