June 30 , 2019.
Kamchatka , Ebeko:
VOLCANO OBSERVATORY NOTICE FOR AVIATION (VONA).
Issued: June 30 , 2019
Volcano:Ebeko (CAVW #290380)
Current aviation colour code:ORANGE
Previous aviation colour code:orange
Source:KVERT
Notice Number:2019-109
Volcano Location:N 50 deg 41 min E 156 deg 0 min
Area:Northern Kuriles, Russia
Summit Elevation:3791.68 ft (1156 m)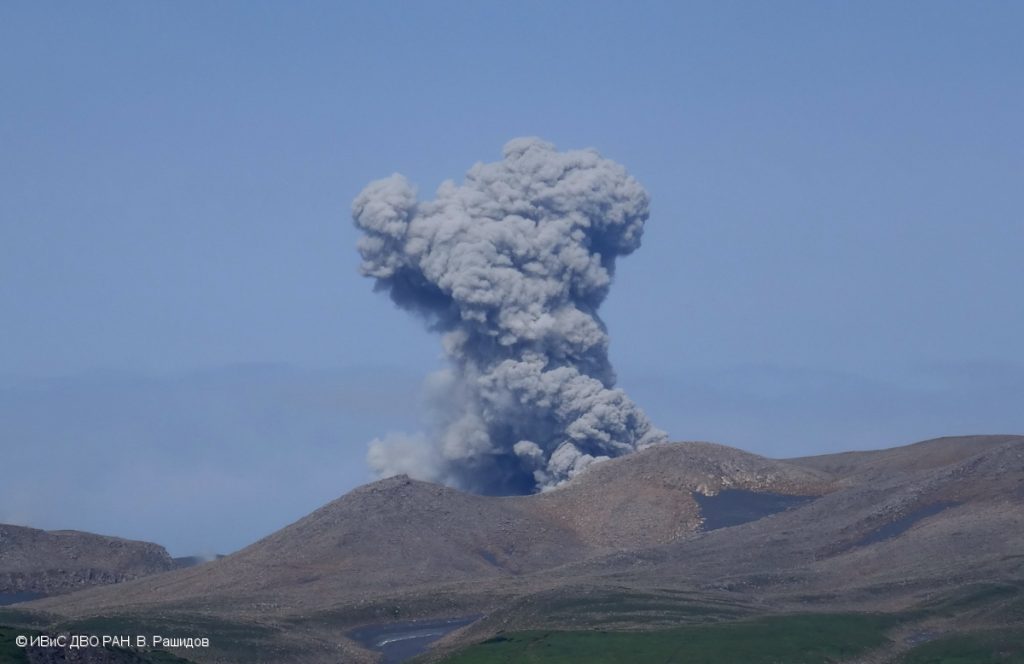 Volcanic Activity Summary:
A moderate explosive activity of the volcano continues. Visual data from Severo-Kurilsk showed an explosion sent ash up to 2.0-2.5 km a.s.l., an ash cloud is drifting to the west-northwest from the volcano.
A moderate eruptive activity of the volcano continues. Ash explosions up to 19,700 ft (6 km) a.s.l. could occur at any time. Ongoing activity could affect low-flying aircraft and airport of Severo-Kurilsk.
Volcanic cloud height:
6560-8200 ft (2000-2500 m) AMSL Time and method of ash plume/cloud height determination: 20190630/0110Z – Visual data
Other volcanic cloud information:
Distance of ash plume/cloud of the volcano: 3 mi (5 km)
Direction of drift of ash plume/cloud of the volcano: WNW
Time and method of ash plume/cloud determination: 20190630/0110Z – Visual data
Source : Kvert.
Photo : V. Rashidov, IVS FEB RAS.
Philippines , Taal :
TAAL VOLCANO BULLETIN 29 June 2019 08:00 A.M.
Taal Volcano's seismic monitoring network recorded thirty-three (33) volcanic earthquakes during the 24-hour observation period. Field measurements on 27 June 2019 at the western sector of the Main Crater Lake yielded a decrease in water temperature from 33.8°C to 32.2°C, a decrease in water level from 0.11 meter to 0.10 meter and a decrease in acidity from a pH of 2.80 to 2.86. Ground deformation measurements through precise leveling surveys from 15 – 24 June 2019 indicated slight inflation of the edifice consistent with recent results from continuous GPS data.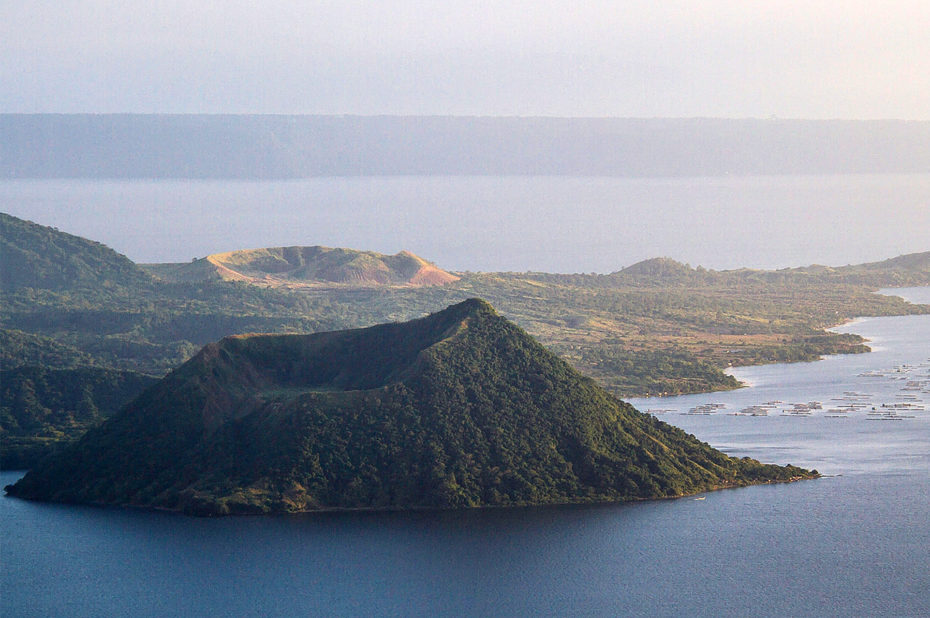 Alert Level 1 remains in effect over Taal Volcano. This means that hazardous eruption is not imminent. The public, however, is reminded that the Main Crater should be strictly off-limits because sudden steam explosions may occur and high concentrations of toxic gases may accumulate. The northern portion of the Main Crater rim, in the vicinity of Daang Kastila Trail, may also become hazardous when steam emission along existing fissures suddenly increases. Furthermore, the public is also reminded that the entire Volcano Island is a Permanent Danger Zone (PDZ), and permanent settlement in the island is strongly not recommended.
Source : Phivolcs
Photo : Topexpos Voyages.
Guatemala , Pacaya :
Type of activity: Strombolian
Morphology: Composite Stratovolcano.
Location: 14 ° 22'50˝ Latitude N; 90 ° 36'00˝Longitude W.
Height: 2,552 meters above sea level.
Weather conditions: partly cloudy.
Wind: Northeast.
Precipitation: 0.0 mm.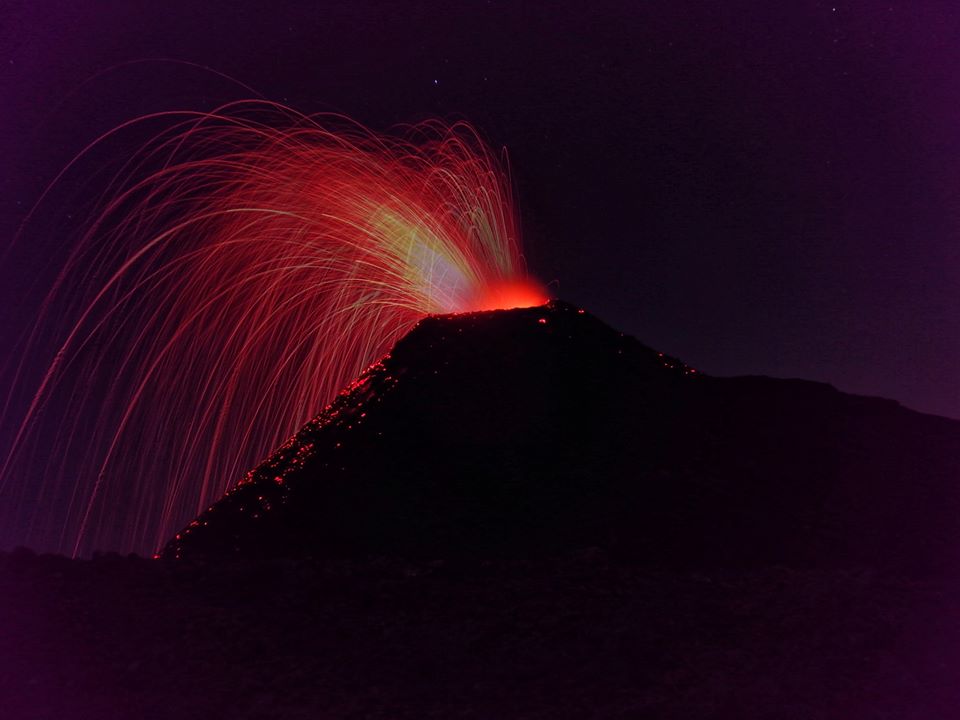 Activity:
The crater is observed with white and blue fumaroles scattering in a west and southwest direction. The intra-crater cone is observed with strombolian explosions 25 and 35 meters high, with some ballistic emissions from the crater Mackenney. We note the persistence of a lava flow of 250 m in the lower part of the volcanic structure on its northern flank. The PCG seismic station records tremors (internal vibrations) associated with the rise of the magma and the movements generated by the lava flow.
Source : Insivumeh
Photo : Henry Salguero
Indonesia , Dukono :
Level of activity at Level II (WASPADA). The Dukono volcano (1229 m above sea level) has continuous eruptions.
Since yesterday and until this morning, the volcanic peak was clear until it was covered with fog. Smoke from the main crater is white / gray, thick, rising 400 meters above the summit. The wind was weak in the north.
The seismographs of June 29, 2019 recorded:
1 eruption earthquake
4 distant tectonic earthquakes
Continuous Tremor amplitude 0.5 – 4 mm, dominant value of 2 mm
Recommendation: People around G. Dukono and visitors / tourists should not climb or approach the crater of Malupang Warirang within 2 km.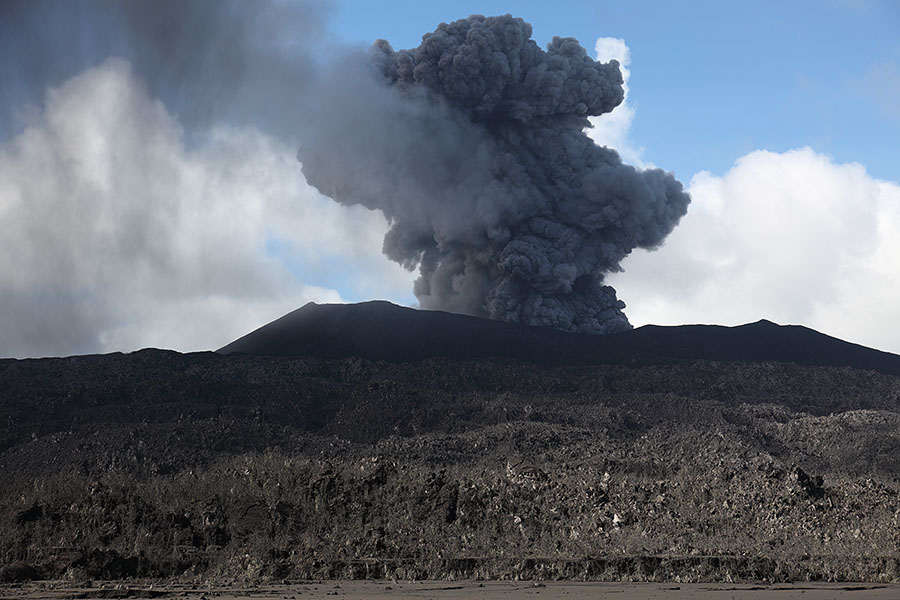 VOLCANO OBSERVATORY NOTICE FOR AVIATION – VONA
Issued: June 28 , 2019
Volcano: Dukono (268010)
Current Aviation Colour Code: ORANGE
Previous Aviation Colour Code: orange
Source: Dukono Volcano Observatory
Notice Number: 2019DUK41
Volcano Location: N 01 deg 41 min 35 sec E 127 deg 53 min 38 sec
Area: North Maluku, Indonesia
Summit Elevation: 3933 FT (1229 M)
Volcanic Activity Summary:
Eruption with volcanic ash cloud at 2h238 UTC (07h38 local)
Volcanic Cloud Height:
Best estimate of ash-cloud top is around 5213 FT (1629 M) above sea level, may be higher than what can be observed clearly. Source of height data: ground observer.
Other Volcanic Cloud Information:
Ash cloud moving to north
Remarks:
Eruption and ash emission is continuing
Source : PVMBG , Magma Indonésie .
Photo : Auteur Inconnu.
Mexico , Popocatepetl :
June 29, 11:00 am (June 29, 16:00 GMT).
During the last 24 hours, 141 exhalations were identified using the surveillance systems of the Popocatépetl volcano, accompanied by water vapor, gas and light amounts of ash. Yesterday (28th), an explosion occurred at 23:46; the column was about 1.5 km in height to the southwest. The explosion projected incandescent fragments on the slopes up to 1 km. After the explosion, a continuous emission of volcanic gases, steam and sometimes low ash occurred. As a result of this activity, a slight ash drop was reported in the municipalities of Tetela del Volcán, Ocuituco and Jiutepec, belonging to the state of Morelos. In addition, a volcano-tectonic earthquake was recorded today at 6:37 am, with a preliminary magnitude of 2.3, as well as 382 minutes of tremor.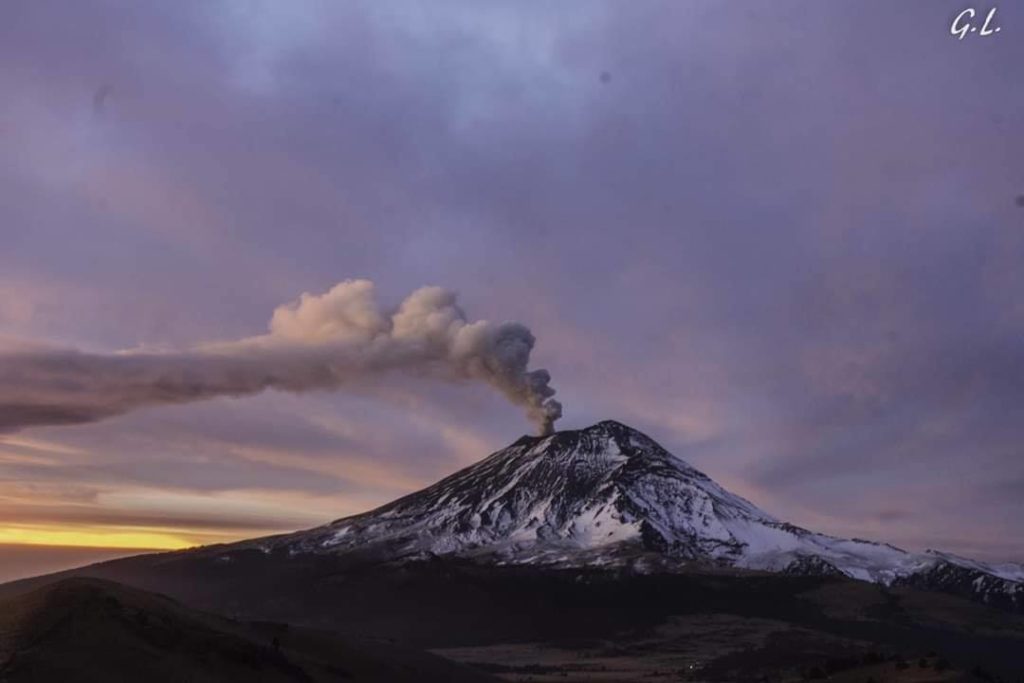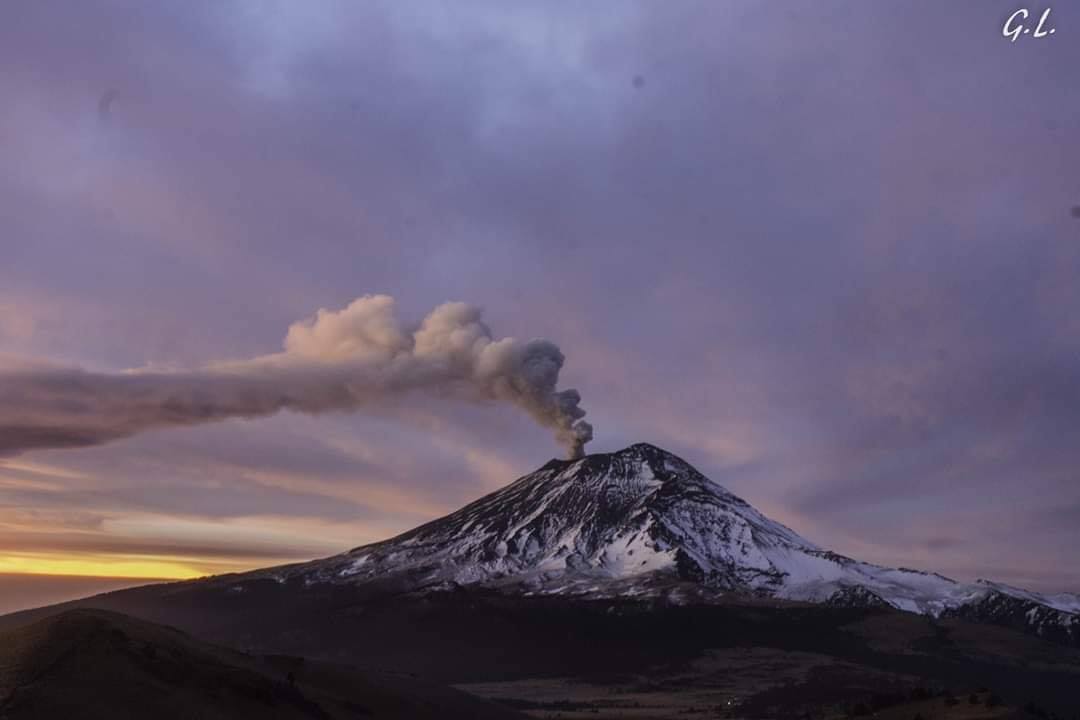 At the time of writing, the volcano was maintained with constant emission of water vapor and gas in a preferential west-southwest direction.
The monitoring system of the Popocatepetl volcano operates 24 hours a day. CENAPRED closely monitors any event. Any changes to the monitoring parameters will be reported promptly.
CENAPRED urges NOT to APPROACH the volcano and in particular the crater, for the danger of falling ballistic fragments, and in case of heavy rains to stay away from ravine bottoms because of the danger of mudslides and debris.
The Popocatepetl warning light is located at YELLOW PHASE 2.
Source : Cenapred
Photo : Gl /Volcan Popocatepetl .