May 28 , 2019.
Indonesia , Sinabung :
Information on Mount Sinabung eruption, May 27, 2019
An eruption of Mount Sinabung, North Sumatra, occurred on May 27, 2019 at 06:29, with a height of the ash column observed at ± 2,500 m above the summit (± 4,960 m above sea level). of the sea). The column of ash was gray in color, thick in intensity and inclined southward. This eruption was recorded on a seismogram of maximum amplitude of 41 mm and a duration of ± 6 minutes 24 seconds.
Currently, G. Sinabung is at Level III (SIAGA) with recommendations:
1. Communities and visitors / tourists must refrain from any activity in the evacuated villages, as well as in areas within 3 km radius of the summit of Mount Sinabung, as well as within a sectoral radius of 5 km the South-East sector and 4 km for the East-North-East sector.
2. In the event of ash rains, people are encouraged to wear a mask during their outings in order to reduce the health effects of volcanic ash, to secure drinking water installations and to clean the roofs of volcanic ash so that they do not collapse.
3. People living near the rivers descending from Mount Sinabung must remain alert to the danger of lahars.
Jakarta – The Mount Sinabung observation post in Karo, North Sumatra recorded the volcano's eruption on Monday morning, May 27, around 06:30 a.m. The ash column observed reached a height of 2,500 meters above the summit or 4,960 meters above sea level.
The eruption spewed thick volcanic dust that « heads towards the south, » post observer officer Armen Putra told Tempo on Monday.
Armen said that Mount Sinabung's status is currently al Level 3 or 'SIAGA'.
Source : PVMBG , TEMPO.CO.
Photo :Pulu Batumbelang / Teger Tiganderket.
Russia , North Kuriles, Ebeko :
VOLCANO OBSERVATORY NOTICE FOR AVIATION (VONA).
Issued: May 28 , 2019 .
Volcano:Ebeko (CAVW #290380)
Current aviation colour code:ORANGE
Previous aviation colour code:orange
Source:KVERT
Notice Number:2019-93
Volcano Location:N 50 deg 41 min E 156 deg 0 min
Area:Northern Kuriles, Russia
Summit Elevation:3791.68 ft (1156 m)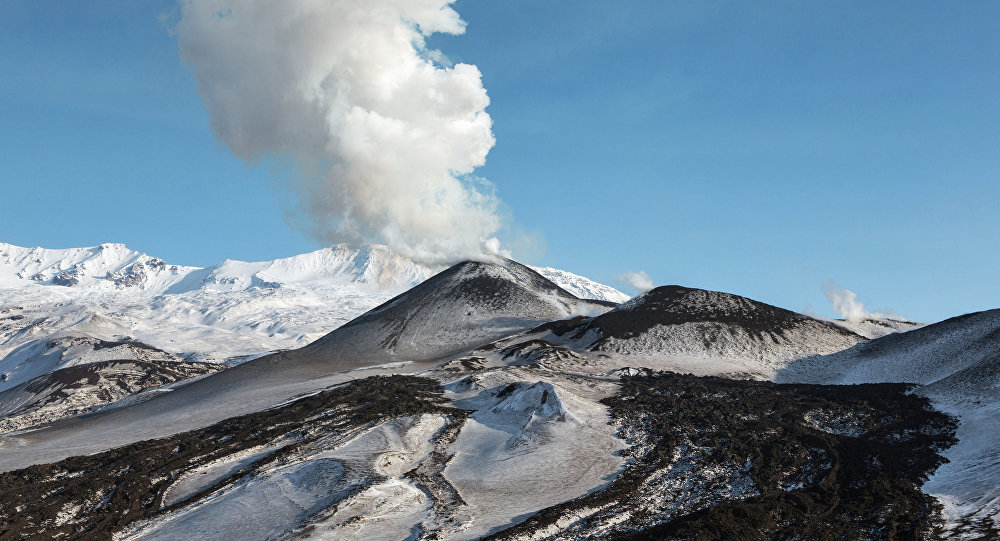 Volcanic Activity Summary:
A moderate explosive activity of the volcano continues. Visual data from Severo-Kurilsk showed an explosion sent ash up to 3.0 km a.s.l., an ash cloud is drifting to the north-east of the volcano.
A moderate eruptive activity of the volcano continues. Ash explosions up to 19,700 ft (6 km) a.s.l. could occur at any time. Ongoing activity could affect low-flying aircraft and airport of Severo-Kurilsk.
Volcanic cloud height:
9840 ft (3000 m) AMSL Time and method of ash plume/cloud height determination: 20190528/0315Z – Visual data
Other volcanic cloud information:
Distance of ash plume/cloud of the volcano: 6 mi (10 km)
Direction of drift of ash plume/cloud of the volcano: ENE / azimuth 75 deg
Time and method of ash plume/cloud determination: 20190528/0315Z – Visual data
Source : Kvert .
Photo : Sputnik . Alexandre Peraguis.
Vanuatu , Ambrym :
AMBRYM VOLCANO ALERT BULLETIN No5 issued by the Vanuatu Meteorology and Geohazards Department on 27th May 2019 at 10:10AM:
Ambrym volcano is continuing in the major unrest state. The Volcanic Alert Level remains at Level 2.
The volcanic activity at Ambrym is continuing at the level of major unrest. New scientific analyses suggest that the volcano activity is likely to continue at this level. The Danger Zones at the caldera remains at 1 km around Benbow and 2 km around Marum craters including Maben-Mbwelesu, Niri-Mbwelesu and Mbwelesu . The Danger Zone for life safety remains limited at the Permanent Exclusion Zone at Benbow and Danger Zone A at Marum. An additional Danger Zone at the South-East of Ambrym remains within 1 km from major cracks .
The new face of Benbow volcano!
Open cracks in the South-East Ambrym area during the December eruption 2018 may continue to open due to erosion. Major seismicity could continue to affect these cracks and weak layers or areas around the actives craters.
Current observations and analysis of seismic data recorded from the monitoring station confirm an ongoing seismic activity at the vicinity of the volcano with emissions of steam. Lava lakes that used to appear in Benbow and Marum craters have disappeared since 16th December 2018. People from Ambrym and neighbouring islands may no longer see the volcanic glow at night for the next few weeks/months.
Source : Geohazard Vanuatu.
Photo : Haos Blong Volkeno , 27/05/2019.
Mexique , Popocatepetl :
May 27, 11:00 am (May 27, 16:00 GMT).
In the last 24 hours, thanks to the surveillance systems of the Popocatépetl volcano, 28 exhalations of low intensity have been identified, mainly accompanied by the emission of water vapor, gas and light amounts of ash. In addition, 315 minutes of tremor were recorded.
During the night, a slight glow was observed. In addition, the constant output of water vapor could be appreciated.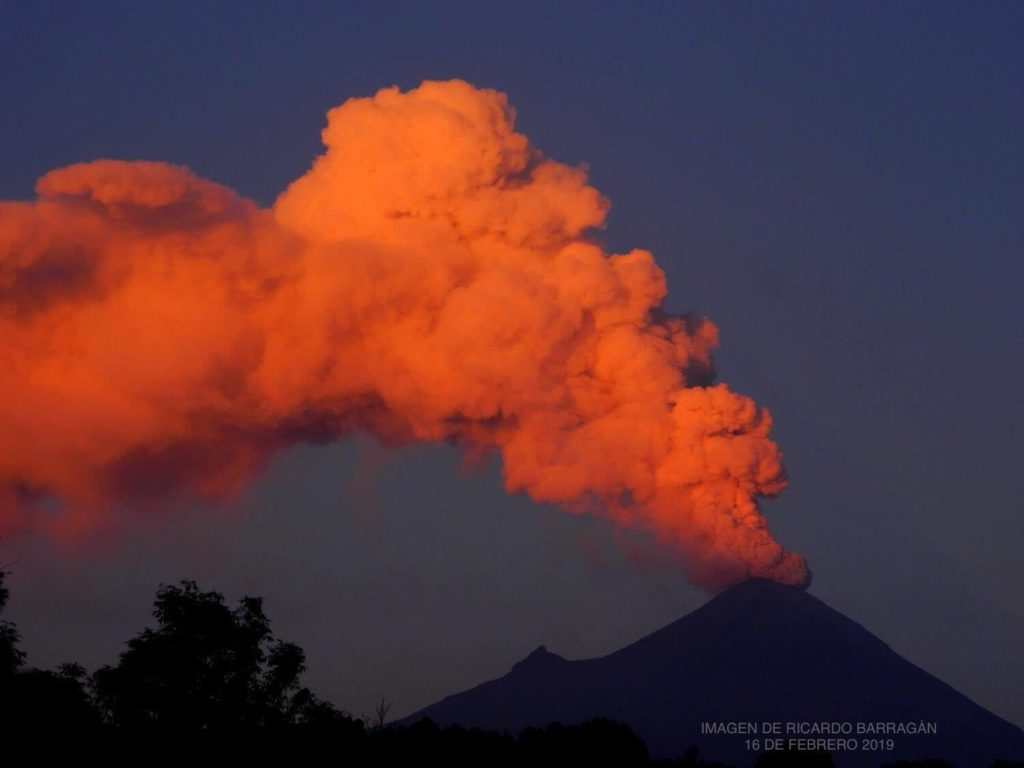 As of this morning and at the time of this report, we can see a slight emission of gas that is dispersing to the southwest.
The monitoring system of the Popocatepetl volcano operates 24 hours a day. CENAPRED closely monitors any event. Any changes to the monitoring parameters will be reported promptly.
CENAPRED urges NOT to APPROACH the volcano and especially the crater, because of the risk of falling ballistic fragments and in case of heavy rains, to stay far from the bottom of the ravines because of the risk of mudslides and debris.
The Popocatepetl warning light is located at YELLOW PHASE 2.
Source : Cenapred .
Photo : ricardo barragan