August 19, 2021. EN. Japan : Fukutoku-Okanoba , Japan : Nishinoshima , Iceland : Geldingadalur / Fagradalsfjall , Kamchatka : Karymsky , La Martinique : Montagne Pelée .
August 19 , 2021.
Japan , Fukutoku-Okanoba :
JMA reported that a large eruption at Fukutoku-Oka-no-Ba commenced around 06h20 on 13 August based on satellite data. Ash plumes rose as high as 16 km (54,000 ft) a.s.l. and drifted W. The eruption was also confirmed during an overflight later that day. Video showed Surtseyan explosions ejecting black material above the ocean's surface, and ash plumes drifted W. Ash plumes identified in satellite images rose 12.2-16 km (40,000-54,000 ft) a.s.l. during 13-15 August; the height of the plume decreased afterwards though the eruption intermittently continued.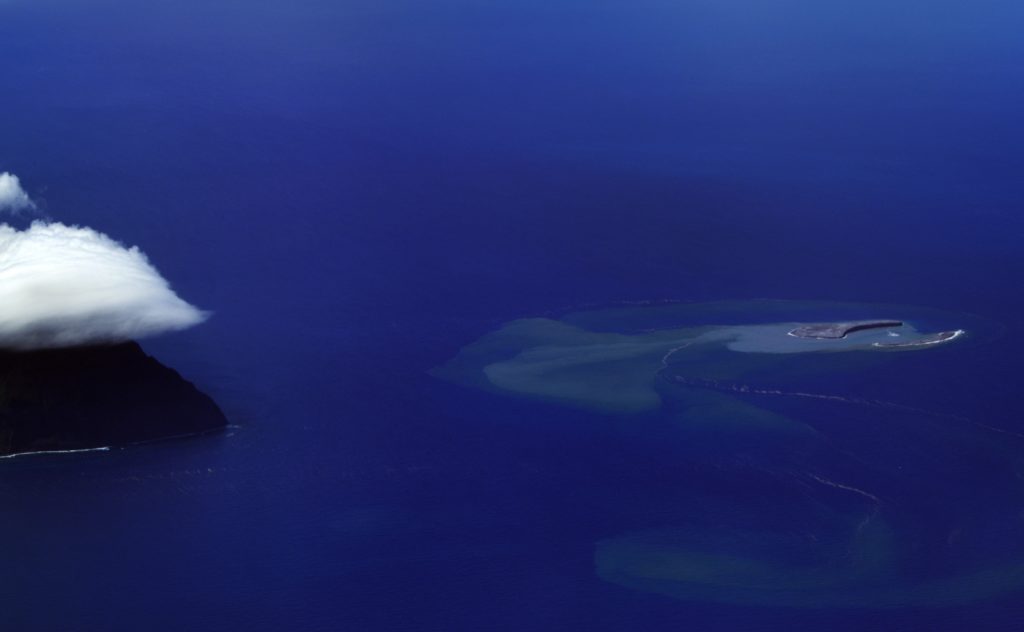 The Japan Coast Guard observed a new horseshoe-shaped island that was about 1 km in diameter during an overflight on 15 August. They also observed and photographed a notable pumice raft swirling with the currents as far as 60 km NW. JMA noted that the volcano last erupted in 2010 and frequent episodes of discolored seawater had been observed since then.
Volcanic activity in Fukutoku-Okanoba (observed August 16)
Eruption situation:
On August 16, observations were made by an aircraft belonging to Haneda Air Base of the 3rd Regional Coast Guard Headquarters. No eruption was observed during the sighting, and the shape of the island observed at Fukutoku-Okanoba on August 15 has been partially changed. We also confirmed the presence of floating substances such as pumice stones that sprang up nearby.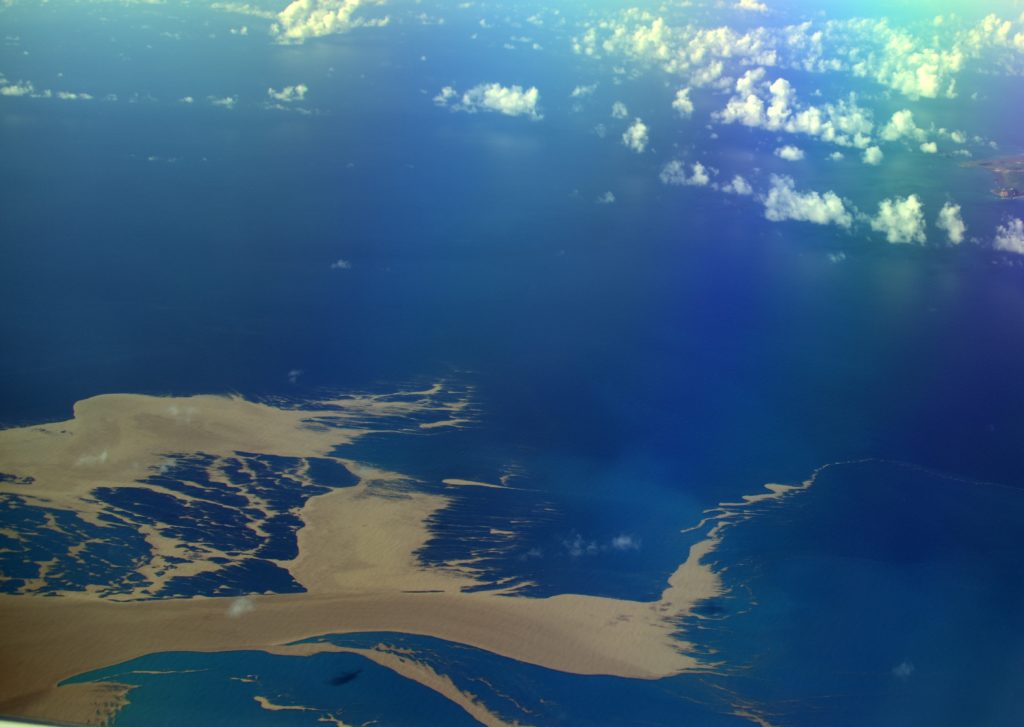 The main results of the observations are as follows:
-The shape changed to a parenthesis shape () with a diameter of about 1 km.
Activity:
No eruption was observed during observation. On the other hand, a fumarolic activity was observed in the center of the island.
Floating matter:
Winding, it reached about 100 km (maximum width of about 13 km) intermittently in the West-North-West direction.
-The rich area of brownish discoloration is still largely present, indicating that active hydrothermal activity is continuing. Most of the island is believed to be a deposit of pumice stone and volcanic ash, and is likely to shrink due to waves. The central part, where the fumarolic activity is active, can reach sea level.
Source : GVP , kaiho.mlit.go.jp.
Photos : kaiho.mlit.go.jp.
Japan , Nishinoshima :
JMA reported that ash plumes from Nishinoshima were visible in satellite images on 14 August rising about 1.9 km and drifting N. The Japan Coast Guard conducted an overflight the next day and did not observe eruptive activity or new deposits from the day before. The Tokyo VAAC noted that a period of continuous ash emissions was visible in satellite data on 15 August.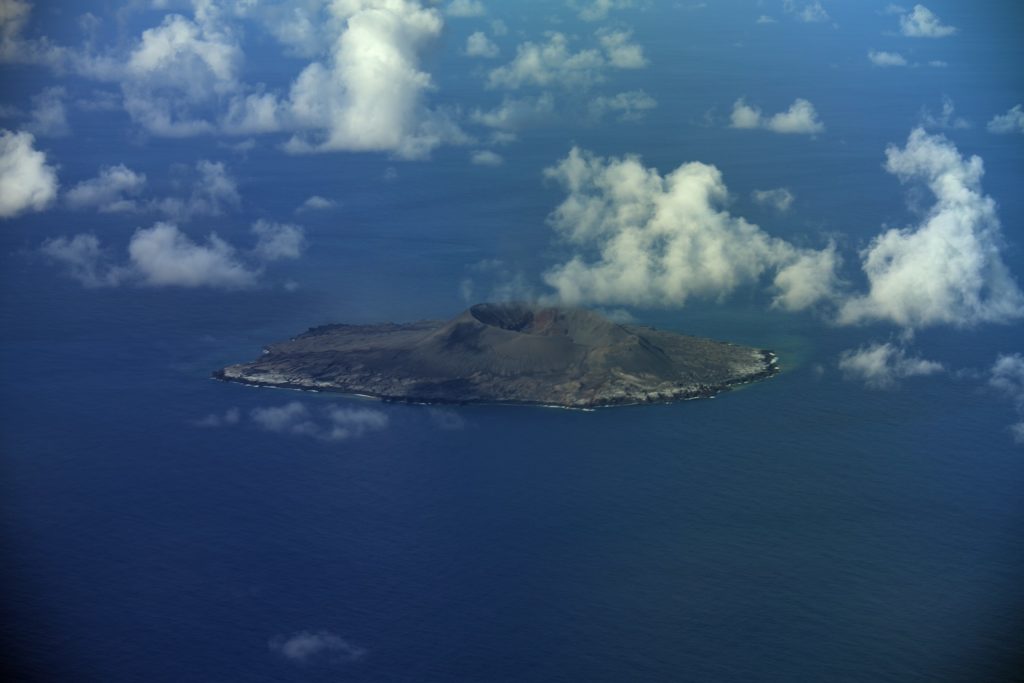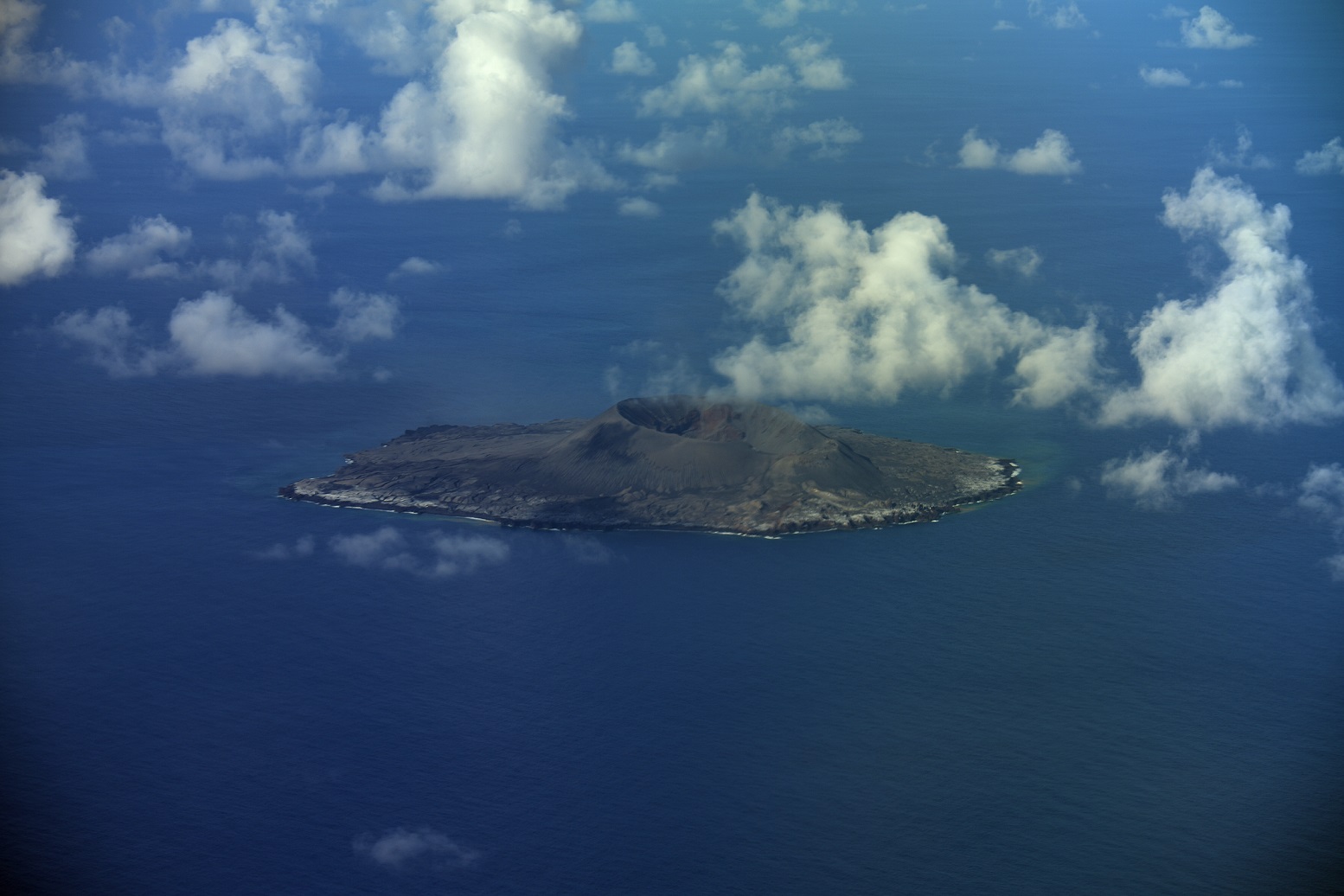 The small island of Nishinoshima was enlarged when several new islands coalesced during an eruption in 1973-74. Another eruption that began offshore in 2013 completely covered the previous exposed surface and enlarged the island again. Water discoloration has been observed on several occasions since. The island is the summit of a massive submarine volcano that has prominent satellitic peaks to the S, W, and NE. The summit of the southern cone rises to within 214 m of the sea surface 9 km SSE.
Source : GVP
Photo : kaiho.mlit.go.jp.
Iceland , Geldingadalur / Fagradalsfjall :
The fissure eruption in the W part of the Krýsuvík-Trölladyngja volcanic system, close to Fagradalsfjall on the Reykjanes Peninsula, continued during 11-17 August. According to the Institute of Earth Sciences photographs of the flow field captured on 8 August suggested that the lava effusion rate averaged 9.3 cubic meters per second over the previous 12 days. The area of the flow field had grown to 4.4 square kilometers, and the total volume erupted was 119 million cubic meters. New ground cracks were observed in Gónhóll, a hill S of the main crater (the fifth vent) that was a former vantage point but is now surrounded by lava, though they had likely formed sometime in the previous two weeks and may not have been caused by rising magma.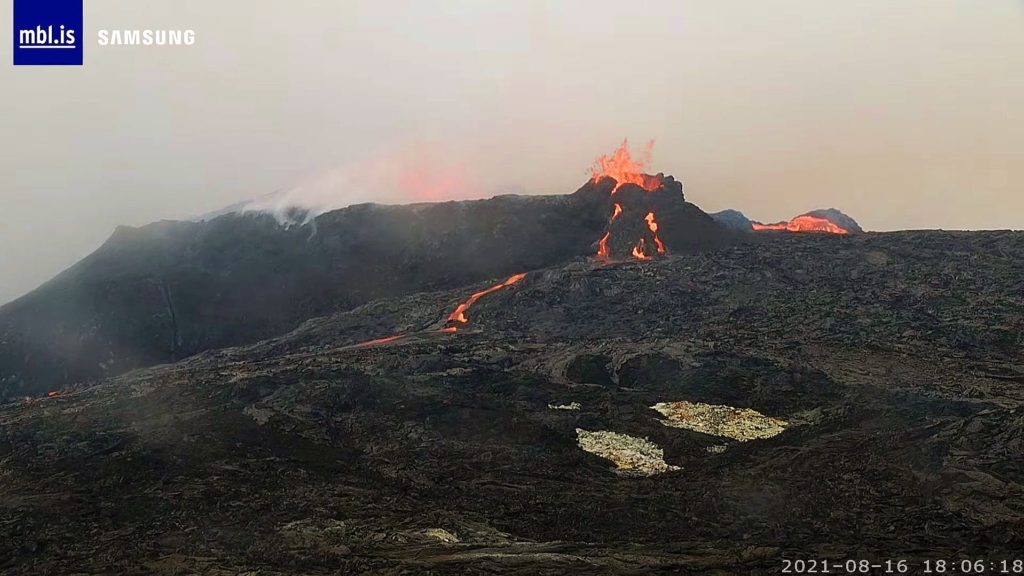 A new vent that opened on 9 August was not confirmed to be separate from the nearby main vent until about a week later. The new cone quickly grew from intense spattering and by 17 August was around the same height as the main crater. Spattering from the new vent was at times ejected higher than spatter from the main vent. The Aviation Color Code remained at Orange due to the lack of ash and tephra emissions, though IMO warned of the potential for lapilli and scoria fallout within a 650 m radius of the active vent. Authorities also warned of gas emissions hazards.
Source : GVP
Photo : Mbl.is.
Kamchatka , Karymsky :
VOLCANO OBSERVATORY NOTICE FOR AVIATION (VONA).
Issued: August 19 , 2021
Volcano: Karymsky (CAVW #300130)
Current aviation colour code: ORANGE
Previous aviation colour code: orange
Source: KVERT
Notice Number: 2021-97
Volcano Location: N 54 deg 2 min E 159 deg 26 min
Area: Kamchatka, Russia
Summit Elevation: 1486 m (4874.08 ft)
Volcanic Activity Summary:
A moderate eruptive activity of the volcano continues. According to satellite data, an ash plume is extending for 60 km to the east-southeast of the volcano.
This activity continues. Ash explosions up to 19,700-23,000 ft (6-7 km) a.s.l. could occur at any time. Ongoing activity could affect low-flying aircrafts.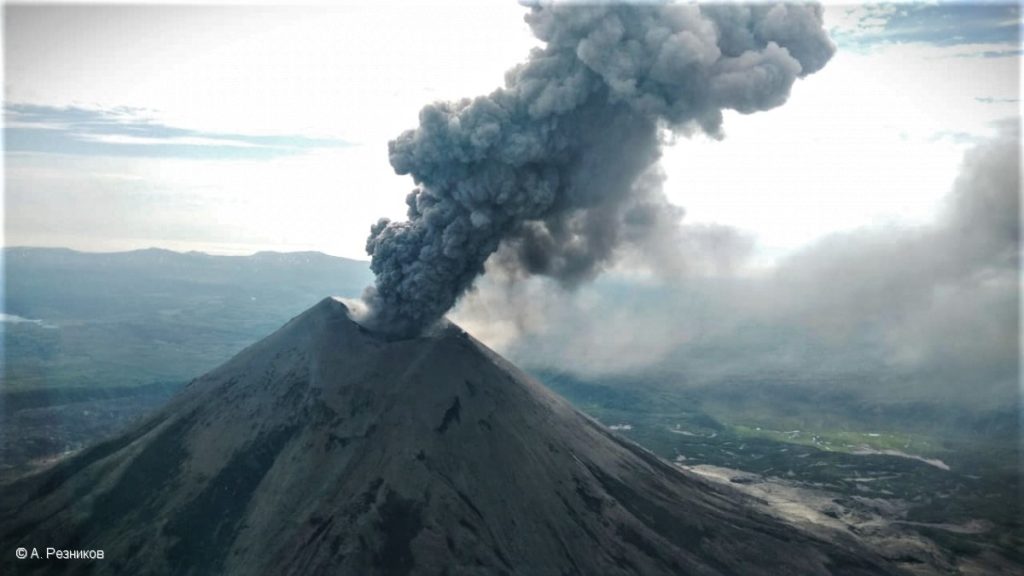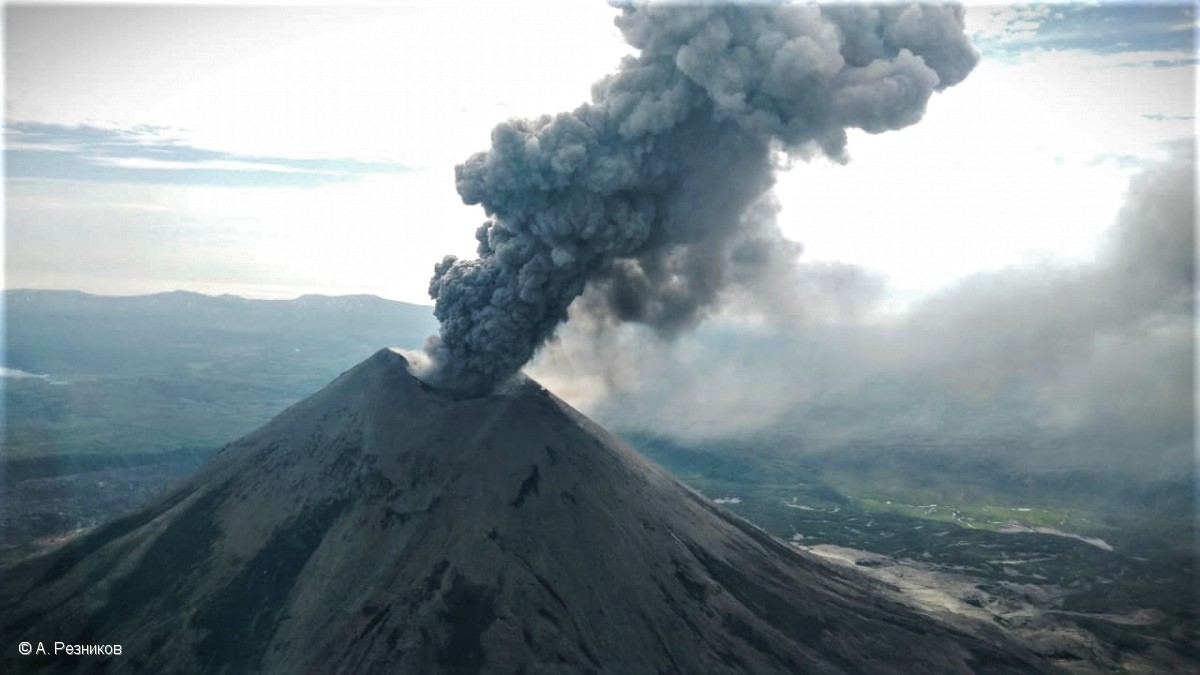 Volcanic cloud height:
2000-2500 m (6560-8200 ft) AMSL Time and method of ash plume/cloud height determination: 20210818/2330Z – Himawari-8
Other volcanic cloud information:
Distance of ash plume/cloud of the volcano: 60 km (37 mi)
Direction of drift of ash plume/cloud of the volcano: ESE / azimuth 121 deg
Time and method of ash plume/cloud determination: 20210818/2330Z – Himawari-8.
KVERT reported that explosions at Karymsky during 6-13 August produced ash plumes that rose as high as 2.5 km (8,200 ft) a.s.l. Gas-and-steam plumes containing some ash drifted over 60 km SE and SE. A thermal anomaly was identified in satellite images during 7-8 August. The Aviation Color Code remained at Orange (the second highest level on a four-color scale).
Source : Kvert , GVP.
Photo : A. Reznikov / Kvert
La Martinique , Montagne Pelée :
Weekly report on the activity of Mount Pelée for the period from July 16 to July 23, 2021
Repair work on computer systems damaged by lightning on the night of June 29 to 30, 2021 at the old observatory building is continuing. To date, 82% of the Montagne Pelée seismological station network and 86% of the volcano's deformation detection network are operational again. The OVSM IPGP team is taking advantage of this hazard to accelerate the modernization of the network of seismological stations on Mount Pelée, by replacing analog stations with digital stations, thereby improving data transmission to the new observatory.
Between August 6, 2021 at 4 p.m. (UTC) and August 13, 2021 at 4 p.m. (UTC), OVSM recorded at least 29 volcano-tectonic earthquakes of magnitude less than or equal to 0.2. These earthquakes were located inside the volcanic edifice between 0.3 km above sea level and the surface. None of these earthquakes were felt by the population. This volcano-tectonic-type superficial seismicity is associated with the formation of micro-fractures in the volcanic edifice.
During phases of volcanic reactivation, periods of higher seismic activity often alternate with phases of weaker seismicity. Seismicity above the level
base is always saved. No other changes were noted in the activity of Mount Pelée.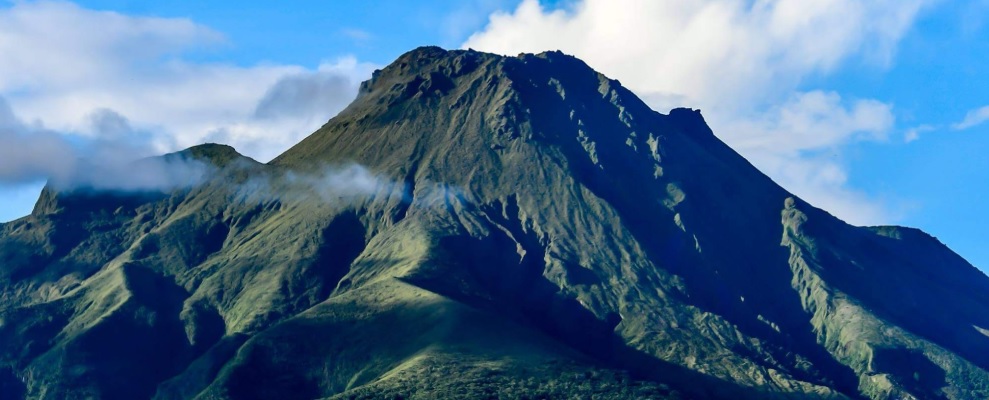 A degassing zone at sea was detected at shallow depth (between St Pierre and le Prêcheur). The IGP is currently setting up experiments to map this gas emanation zone, carry out physicochemical measurements of the fluids and samples of these fluids in order to understand the origin of this degassing and to assess its possible relationship. with the hydrothermal system of Mount Pelée. This kind of manifestation is frequent on active or not active underwater volcanic sites. The analyzes underway by the OVSM-IPGP will make it possible to determine the possible relationship of this underwater degassing with the activity of Mount Pelée recorded by the OVSM since 2019.
A main area of ​​heavily degraded vegetation is still observed on the southwest flank of Mount Pelée, between the upper Claire River and the Chaude River.
These observations reflect the variable dynamics of the processes of magmatic and hydrothermal origin at Mount Pelée in line with its renewed activity since April 2019.
Source : OVSM-IPGP
Photo : ville-saintemarie