August 16 , 2021.
Alaska , Semisopochnoi :
51°55'44 » N 179°35'52 » E,
Summit Elevation 2625 ft (800 m)
Current Volcano Alert Level: WATCH
Current Aviation Color Code: ORANGE
Activity at the north crater of Mount Cerberus on Semisopochnoi Island continues. Over the past day, several explosions and occasionally strong seismic tremor have characterized the seismicity. Low-level ash emissions were observed in satellite and web camera images over the past day. Ash fall is likely occurring on parts of Semisopochnoi Island.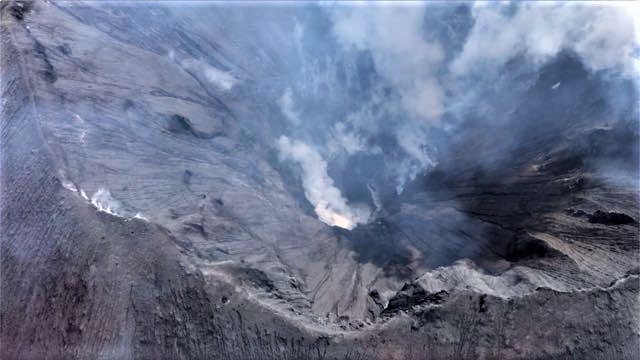 North Cerberus Crater, June 6, 2021. Taken by Ellie Boyce on a helicopter flight back to Steadfast from CERB. « There was less vapor in the crater than on Hannah's FLIR flight last week and we were able to see all the way to the bottom where there still appears to be a small lake on one side (in the attached photo , just to the right of the brightest spot of vapor). « 
Small eruptions producing minor ash deposits within the vicinity of the active north crater of Mount Cerberus and ash clouds under 10,000 feet above sea level have characterized the recent activity and show no signs of abating. Small explosions may continue and could be difficult to detect especially during poor weather conditions.
Semisopochnoi is monitored by local seismic and infrasound sensors, satellite data, web cameras, and remote infrasound and lightning networks.
Source : AVO.
Photo : Boyce, Ellie / Alaska Volcano Observatory / University of Alaska Fairbanks, Geophysical Institute.
Philippines , Taal :
TAAL VOLCANO BULLETIN 16 August 2021 8:00 AM
In the past 24-hour period, the Taal Volcano Network recorded seventy-four (74) volcanic tremor events having durations of one (1) to twenty (20) minutes and low-level background tremor that has persisted since 07 July 2021. Activity at the Main Crater was dominated by upwelling of hot volcanic fluids in its lake which generated plumes 1,800 meters tall that drifted south-southwest and northeast.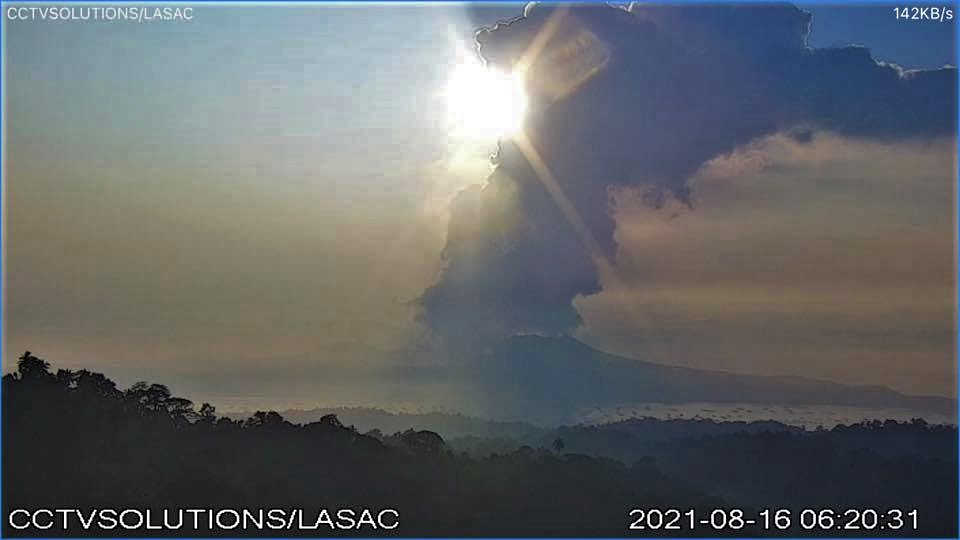 Sulfur dioxide (SO2) emission averaged 5,675 tonnes/day on 15 August 2021. In addition, vog was observed over Taal Volcano and vicinity. Based on ground deformation parameters from electronic tilt, continuous GPS and InSAR monitoring, Taal Volcano Island has begun deflating in April 2021 while the Taal region continues to undergo very slow extension since 2020.
Source : Phivolcs.
Indonesia , Merapi :
VOLCANO OBSERVATORY NOTICE FOR AVIATION – VONA
Issued : August 15 , 2021
Volcano : Merapi (263250)
Current Aviation Colour Code : ORANGE
Previous Aviation Colour Code : orange
Source : Merapi Volcano Observatory
Notice Number : 2021MER06
Volcano Location : S 07 deg 32 min 31 sec E 110 deg 26 min 31 sec
Area : Special Region of Yogyakarta, Indonesia
Summit Elevation : 9498 FT (2968 M)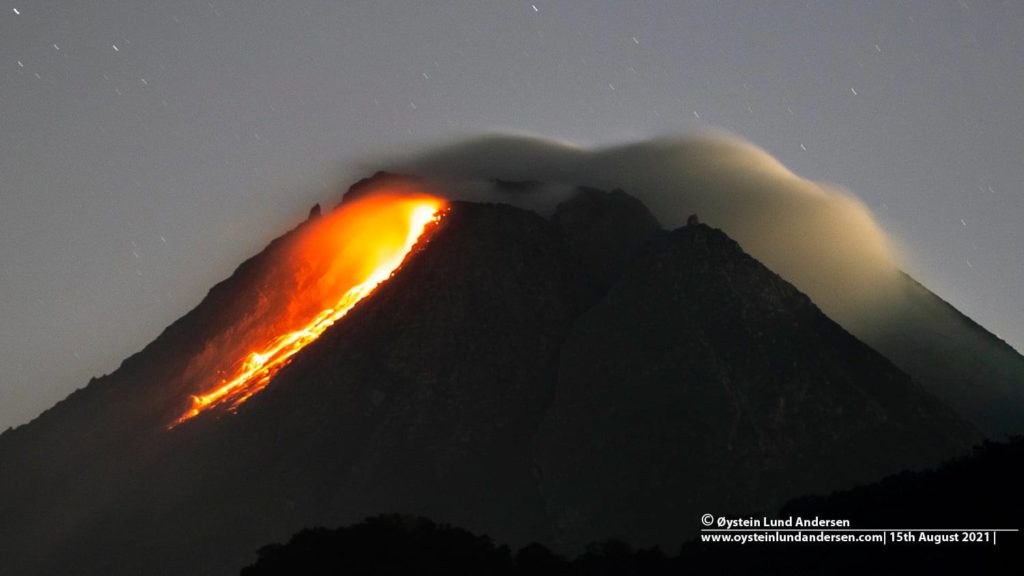 Volcanic Activity Summary :
Eruption with volcanic ash cloud at 22h53 UTC (05h53 local). Eruption and ash emission has stopped.
Volcanic Cloud Height :
Best estimate of ash-cloud top is around 11418 FT (3568 M) above sea level, may be higher than what can be observed clearly. Source of height data: ground observer.
Other Volcanic Cloud Information :
Ash-cloud generated by pyroclastic density current moving to the west.
Remarks :
PDC was recorded on a seismogram with a maximum amplitude of 66 mm and 289 seconds duration. Run out distance 3.500 km to southwest.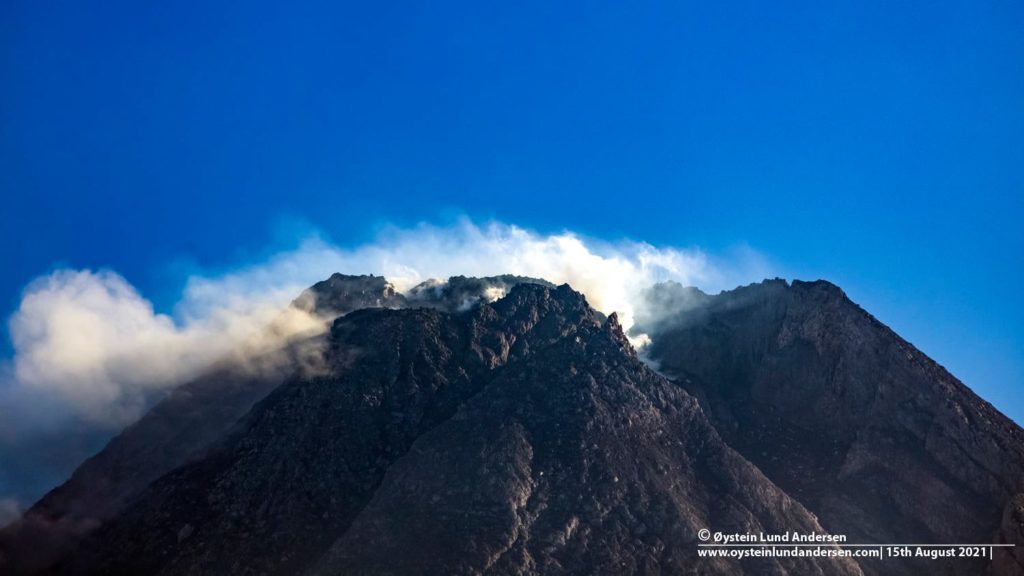 Level of activity at level III (SIAGA) since November 5, 2020 at 12 p.m. WIB. The Merapi volcano (2,968 m above sea level) erupts intermittently.
The volcano is clearly visible until it is covered in fog. The smoke observable from the main crater is white with a fine to moderate intensity about 50 meters from the summit. The weather is sunny to cloudy, winds are light to moderate in the southwest, west and northwest. The air temperature is around 11-29 ° C. Humidity 41-87%. Atmospheric pressure 617-946 mmHg. There was a hot avalanche cloud with a sliding distance of 2000 m to the southwest. Avalanches of incandescent lava were observed with a maximum slide distance of 1,500 m to the southwest.
According to the seismographs of August 15, 2021, it was recorded:
1 Avalanche hot cloud earthquake
231 avalanche earthquakes
12 emissions earthquake
2 low frequency earthquakes
68 hybrid / multi-phase earthquakes
10 shallow volcanic earthquakes.
Source : Magma Indonésie , PVMBG.
Photos : Øystein Lund Andersen .
Russia / Northern Kurils , Chirinkotan :
VOLCANO OBSERVATORY NOTICE FOR AVIATION (VONA)
Issued: August 16 , 2021
Volcano: Chirinkotan (CAVW #290260)
Current aviation colour code: ORANGE
Previous aviation colour code: orange
Source: KVERT
Notice Number: 2021-92
Volcano Location: N 48 deg 58 min E 153 deg 28 min
Area: Northern Kuriles, Russia
Summit Elevation: 724 m (2374.72 ft)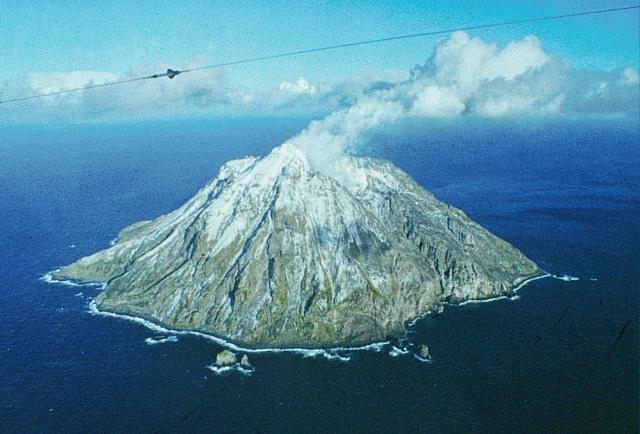 Volcanic Activity Summary:
The moderate eruptive activity of the volcano continues. The explosive event of the volcano began at 23:10 UTC on 15 August. Ash cloud is drifting about 23 km to the east from the volcano.
The moderate eruptive activity of the volcano continues. Ash explosions up to 10-15 km (32,800-49,200 ft) a.s.l. could occur at any time. Ongoing activity could affect international and low-flying aircraft.
Volcanic cloud height:
3500-4500 m (11480-14760 ft) AMSL Time and method of ash plume/cloud height determination: 20210816/0030Z – Himawari-8
Other volcanic cloud information:
Distance of ash plume/cloud of the volcano: 23 km (14 mi)
Direction of drift of ash plume/cloud of the volcano: E / azimuth 82 deg
Time and method of ash plume/cloud determination: 20210816/0030Z – Himawari-8
Start time of explosion and how determined: 20210815/2310Z – Satellite data
Source et photo : Kvert.
Chile , Nevados de Chillan :
Special Report on Volcanic Activity (REAV), Ñuble Region, Nevados de Chillán Volcanic Complex, August 15, 2021, 17:20 local time (Continental Chile).
The National Service of Geology and Mines of Chile (Sernageomin) publishes the following PRELIMINARY information, obtained thanks to the monitoring equipment of the National Volcanic Surveillance Network (RNVV), processed and analyzed at the Volcanological Observatory of the Southern Andes (Ovdas) :
On Sunday August 15 at 4.30 p.m. local time (8.30 p.m. UTC), monitoring stations installed in the vicinity of the Nevados de Chillán volcanic complex recorded an earthquake associated with fluid dynamics inside the volcanic system (Long type Period).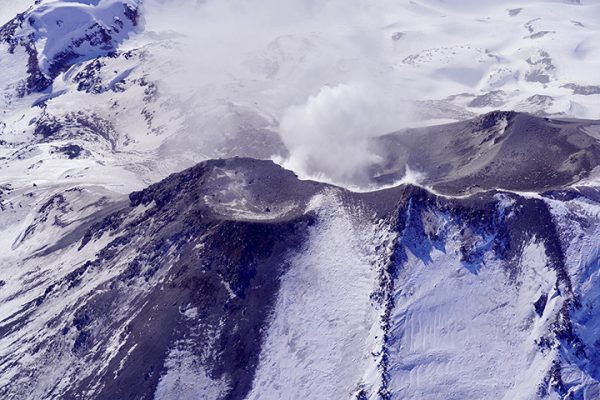 The characteristics of the earthquake after its analysis are as follows:
TIME OF ORIGIN: 4:30 p.m. local time (8:30 p.m. UTC)
LATITUDE: 36.862 ° S
LONGITUDE: 71.381 ° W
DEPTH: 0.2 km
REDUCED DISPLACEMENT: 523 (cm * cm)
OBSERVATIONS:
No surface activity is observed due to weather conditions.
The volcanic technical alert remains at the Yellow level.
Source : Sernageomin.
Photo : Ingemmet.