August 20 , 2021.
Alaska , Semisopochnoi :
51°55'44 » N 179°35'52 » E,
Summit Elevation 2625 ft (800 m)
Current Volcano Alert Level: WATCH
Current Aviation Color Code: ORANGE
Activity at the north crater of Mount Cerberus on Semisopochnoi Island continues. Over the past day, several explosions and seismic tremor have characterized the seismicity. Low-level ash emissions were observed in satellite data overnight. Ash fall is likely occurring on parts of Semisopochnoi Island following these explosions.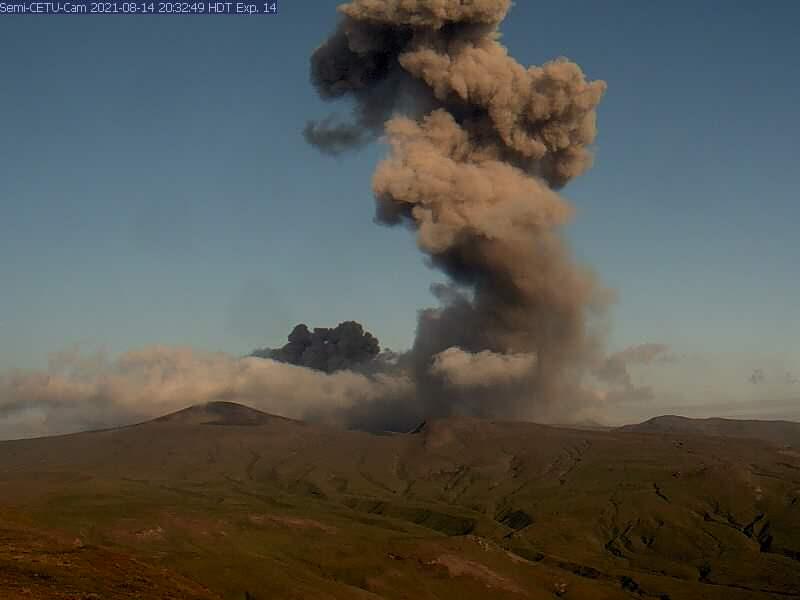 Ashy plume from Semisopochnoi's North Cerberus vent, caught on CETU webcam August 15th, 2021.
Small eruptions producing minor ash deposits within the vicinity of the active north crater of Mount Cerberus and ash clouds under 10,000 feet above sea level have characterized the recent activity and show no signs of abating. Small explosions may continue and could be difficult to detect especially during poor weather conditions.
Semisopochnoi is monitored by local seismic and infrasound sensors, satellite data, web cameras, and remote infrasound and lightning networks.
Source : AVO.
Photo : AVO/USGS.
Philippines , Taal :
TAAL VOLCANO BULLETIN 20 August 2021 8:00 AM (UPDATED)
In the past 24-hour period, the Taal Volcano Network recorded sixty-four (64) volcanic earthquakes, including fifty (50) volcanic tremor events having durations of two (2) to twenty-four (24) minutes, fourteen (14) low-frequency volcanic earthquakes, and low-level background tremor that has persisted since 07 July 2021. Activity at the Main Crater was dominated by upwelling of hot volcanic fluids in its lake which generated plumes 1,500 meters tall that drifted southwest. Sulfur dioxide (SO2) emission averaged* 12,257 tonnes/day on 19 August 2021.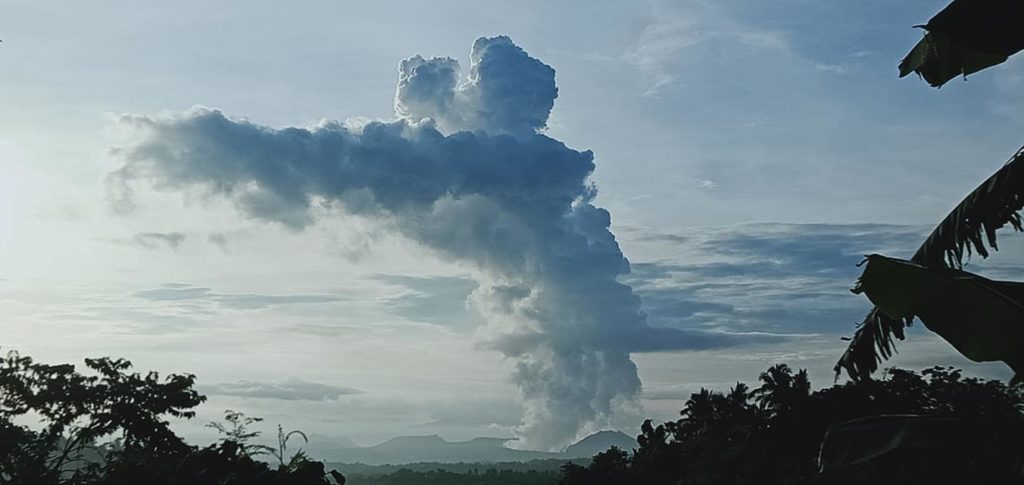 In addition, vog was observed over Taal Volcano and vicinity. Reports of adverse effects on some residents of Talisay and Brgy. Barigon, Agoncillo have been received by DOST-PHIVOLCS; hazy conditions were also observed over Taal Lake and municipalities surrounding Taal Lake. Based on ground deformation parameters from electronic tilt, continuous GPS and InSAR monitoring, Taal Volcano Island has begun deflating in April 2021 while the Taal region continues to undergo very slow extension since 2020.
volcs .
Photo : JhuLia Mendoza
Hawaii , Kilauea :
19°25'16 » N 155°17'13 » W,
Summit Elevation 4091 ft (1247 m)
Current Volcano Alert Level: ADVISORY
Current Aviation Color Code: YELLOW
Activity Summary:
Kīlauea volcano is not currently erupting. No surface activity has been observed by field crews or in webcam images since May 23, 2021. Low rates of ground deformation and modest rates of seismicity continue across the volcano. Sulfur dioxide (SO2) emission rates are close to the low levels associated with the non-eruptive period from late 2018 to late 2020. It is possible that the Halema'uma'u vent could resume eruption or that Kīlauea is entering a longer period of quiescence prior to the next eruption.
Summit Observations:
The latest field visit to Halema'uma'u and Kīlauea caldera in the past week confirmed continued fumarole degassing and no changes to the crater floor. SO2 emission rates remain low, consistent with a return to the non-eruptive period from late 2018 to late 2020 (30–35 t/d) and are well below emission rates from mid-February to mid-April (~800 t/d). Summit tiltmeters recorded minimal change over the past week, with a small deflation-inflation event over the weekend. Summit GPS instruments continue to show inflation. The slight increase in the rates of seismicity around the summit and upper East Rift Zone early last week has not persisted, and has since decreased.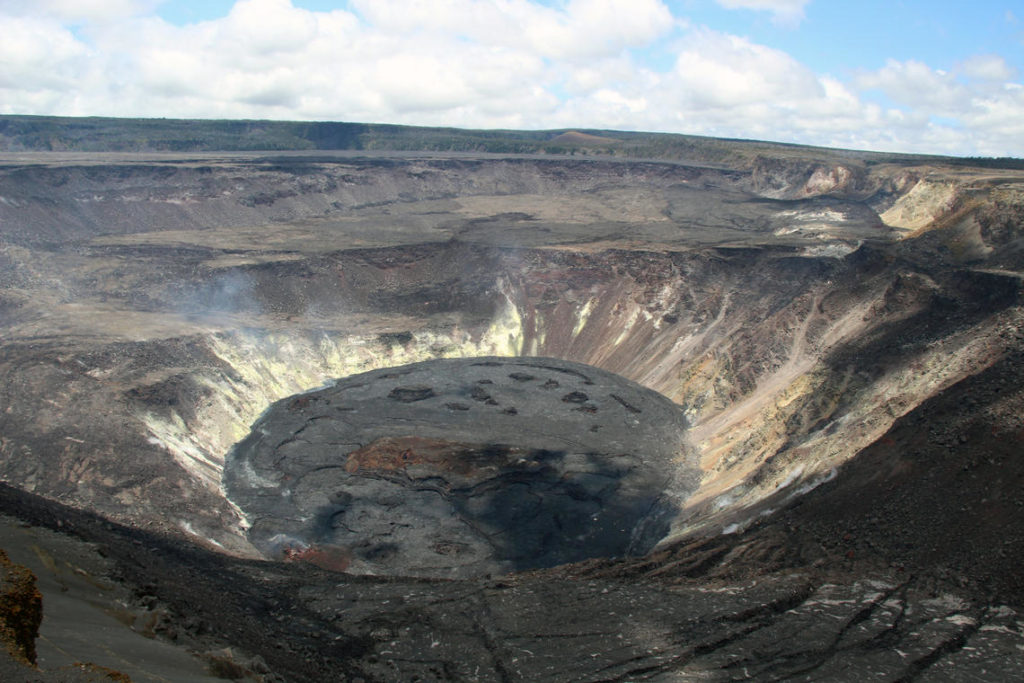 Halemaʻumaʻu Lava Lake Observations:
The lake's surface is completely covered by solidified lava crust and no surface activity has been observed over the past week.
East Rift Zone Observations:
Seismicity persisted along the upper East Rift Zone this past week. Together with the geodetic monitoring, the observations suggest that the summit and upper East Rift Zone continue to be replenished with magma. By contrast, the lower East Rift Zone was mostly quiet.
Source : HVO
Photo : D. Downs
Japan , Suwanosejima :
JMA reported that 10 explosions at Suwanosejima's Ontake Crater produced eruption plumes that rose as high as 2.2 km above the crater rim during 6-13 August. Large volcanic bombs were ejected 400 m from the crater. Crater incandescence was visible nightly and ashfall was occasionally reported in Toshima village (4 km SSW). The Alert Level remained at 2 and the public was warned to stay 1 km away from the crater.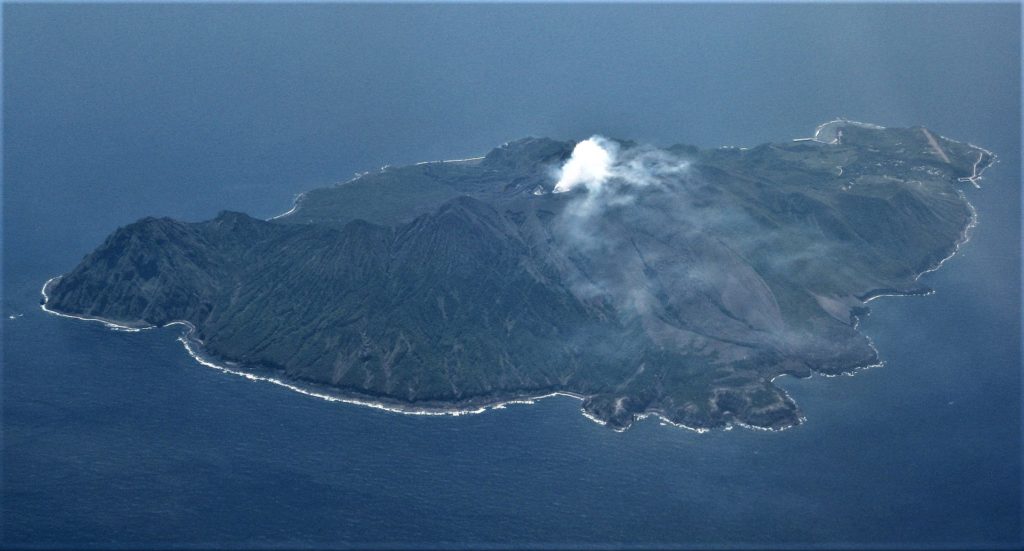 The 8-km-long, spindle-shaped island of Suwanosejima in the northern Ryukyu Islands consists of an andesitic stratovolcano with two historically active summit craters. The summit is truncated by a large breached crater extending to the sea on the east flank that was formed by edifice collapse. Suwanosejima, one of Japan's most frequently active volcanoes, was in a state of intermittent strombolian activity from Otake, the NE summit crater, that began in 1949 and lasted until 1996, after which periods of inactivity lengthened. The largest historical eruption took place in 1813-14, when thick scoria deposits blanketed residential areas, and the SW crater produced two lava flows that reached the western coast. At the end of the eruption the summit of Otake collapsed forming a large debris avalanche and creating the horseshoe-shaped Sakuchi caldera, which extends to the eastern coast. The island remained uninhabited for about 70 years after the 1813-1814 eruption. Lava flows reached the eastern coast of the island in 1884. Only about 50 people live on the island.
Source : GVP.
Photo : Ray Go.
Iceland , Geldingadalur / Fagradalsfjall :
Update on the eruption in Fagradalsfjall mountain on 19-August-2021
This is a short update on the five month eruption day in the Fagradalsfjall mountain that is part of Krýsuvík-Trölladyngja volcano system.
The eruption continues its strange cycle of not erupting for few hours and erupting for few hours.
The consequence of this type of eruption is that the lava doesn't flow that far from the crater. It just piles up next to the crater making the structure ever higher. I am currently estimating (this is a guess and might be wrong) the crater at 200 meters high (-+ 50 meters).
The eruption has now been going on for five months. Holuhraun eruption in Bárðarbunga volcano in 2014 to 2015 lasted for six months.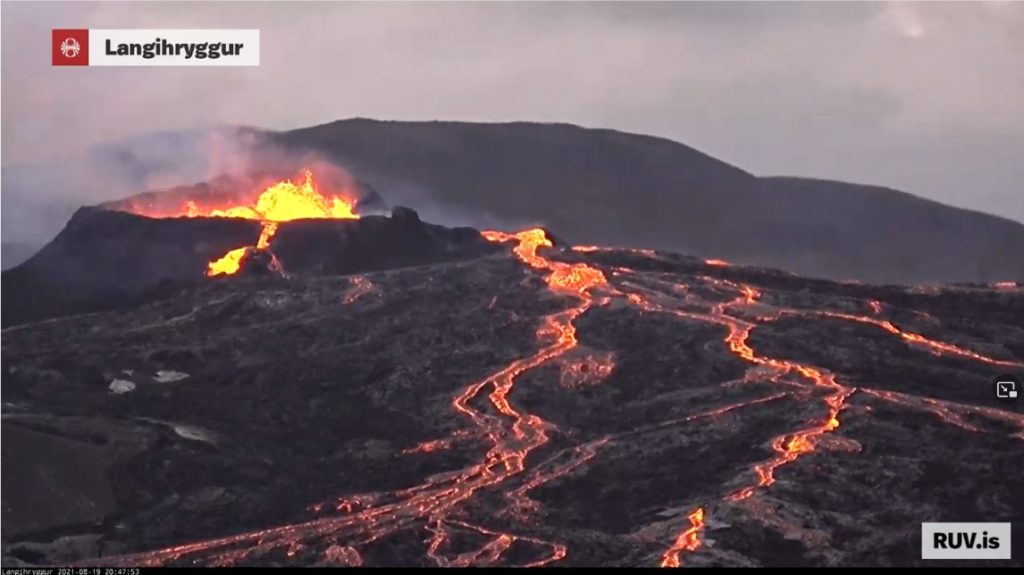 At the writing of this article there are no new craters open but it doesn't rule out that new crater might have opened but are hidden under the amount of lava that is around the main crater. As there are some extreme large caves in this lava field. Allowing for a lot of space for new crater to form and start erupting unnoticed.
There are no more updates of the eruption at the writing of this article. That might change without warning but I don't know if that is going to happen.
Source : icelandgeology.net.
Photo : RUV.