August 29 , 2021.
Alaska , Atka Volcanic Complex :
AVO/USGS Volcanic Activity Notice
Current Volcano Alert Level: NORMAL
Previous Volcano Alert Level: ADVISORY
Current Aviation Color Code: GREEN
Previous Aviation Color Code: YELLOW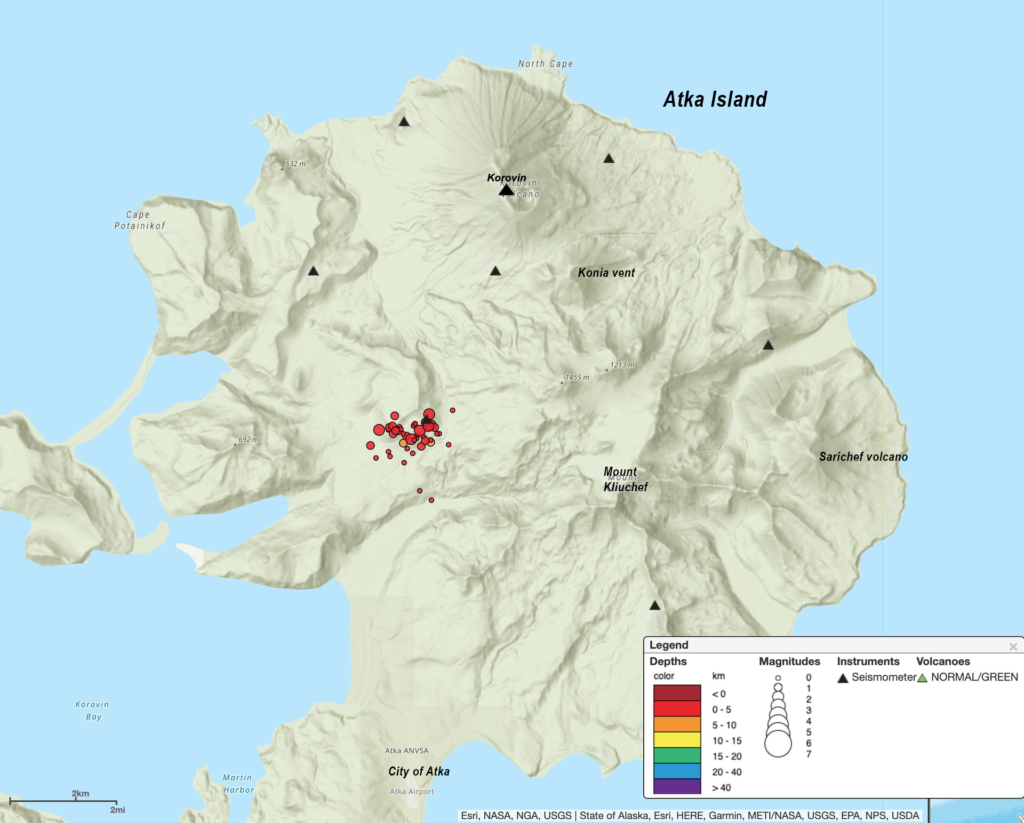 Recent earthquake hypocenters at Atka volcanic complex, August 11, 2021 (M. Loewen, AVO/USGS)
Issued: Friday, August 27, 2021, 9:24 AM AKDT
Source: Alaska Volcano Observatory
Notice Number: 2021/A710
Location: N 52 deg 19 min W 174 deg 8 min
Elevation: 5030 ft (1533 m)
Area: Aleutians
Volcanic Activity Summary:
The Alaska Volcano Observatory is lowering the Aviation Color Code and Alert Level at the Atka volcanic complex to GREEN/NORMAL. On August 10, AVO detected an increase in small earthquakes, located between 6 and 2 km (4 and 1 miles) below sea level, about 5 km (3 miles) west of Kliuchef volcano within the Atka volcanic complex.. After several days of increased seismicity, the earthquake rate began to drop, and has subsequently returned to background levels.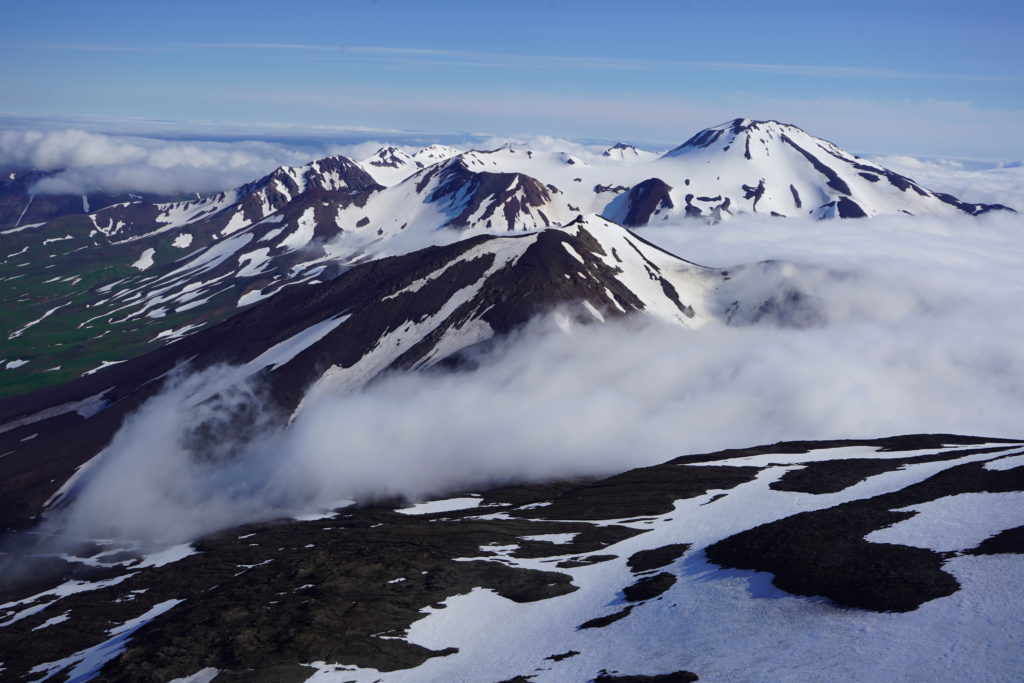 Previous alerts by the Alaska Volcano Observatory for unrest at the Atka volcanic complex have been for Korovin Volcano, the site of the most recent historical eruptions. The location of earthquakes, however, is not specific to Korovin and could be related to several other volcanic vents that are part of the Atka volcanic complex, including Mount Kliuchef.
The Alaska Volcano Observatory will continue to monitor the Atka volcanic complex for signs of volcanic activity. The area is monitored by local seismic and infrasound sensors, satellite data, and regional lightning detection instruments.
Source : AVO.
Photos : M. Loewen / AVO-USGS , T. Lopez, AVO/UAF.
Alaska , Katmai :
58°16'44 » N 154°57'12 » W,
Summit Elevation 6716 ft (2047 m)
Current Volcano Alert Level: NORMAL
Current Aviation Color Code: GREEN
Strong northwesterly winds in the vicinity of Katmai and the Valley of Ten Thousand Smokes have picked up loose volcanic ash erupted during the 1912 Novarupta-Katmai eruption and carried it to the southeast toward Kodiak Island today. The National Weather Service has issued a SIGMET for this low-level event and suggests that the maximum cloud height is 6,000 ft above sea level.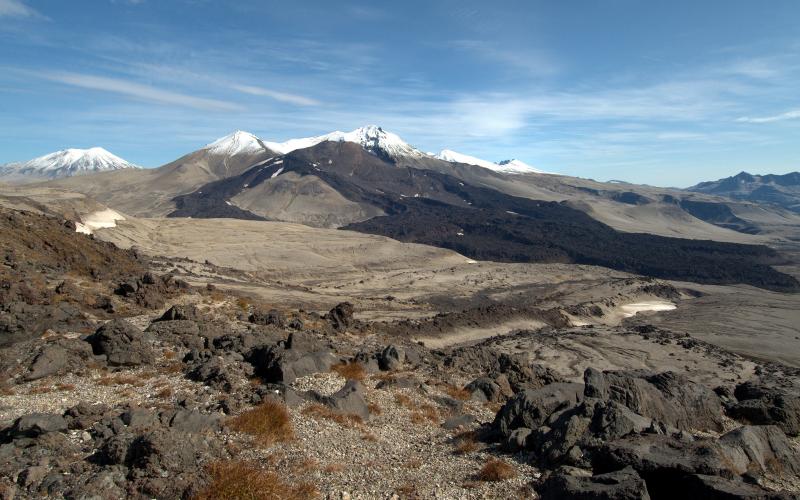 This phenomenon is not the result of recent volcanic activity and occurs during times of high winds and dry snow-free conditions in the Katmai area and other young volcanic areas of Alaska. No eruption is in progress. All of the volcanoes of the Katmai area (Snowy, Griggs, Katmai, Novarupta, Trident, Mageik, Martin) remain at color code GREEN.
Resuspended volcanic ash should be considered hazardous and could be damaging to aircraft and health.
Source : AVO.
Photo : Cyrus Read.
Kamchatka , Sheveluch :
VOLCANO OBSERVATORY NOTICE FOR AVIATION (VONA).
Issued: August 28 , 2021
Volcano: Sheveluch (CAVW #300270)
Current aviation colour code: ORANGE
Previous aviation colour code: orange
Source: KVERT
Notice Number: 2021-105
Volcano Location: N 56 deg 38 min E 161 deg 18 min
Area: Kamchatka, Russia
Summit Elevation: 3283 m (10768.24 ft), the dome elevation ~2500 m (8200 ft)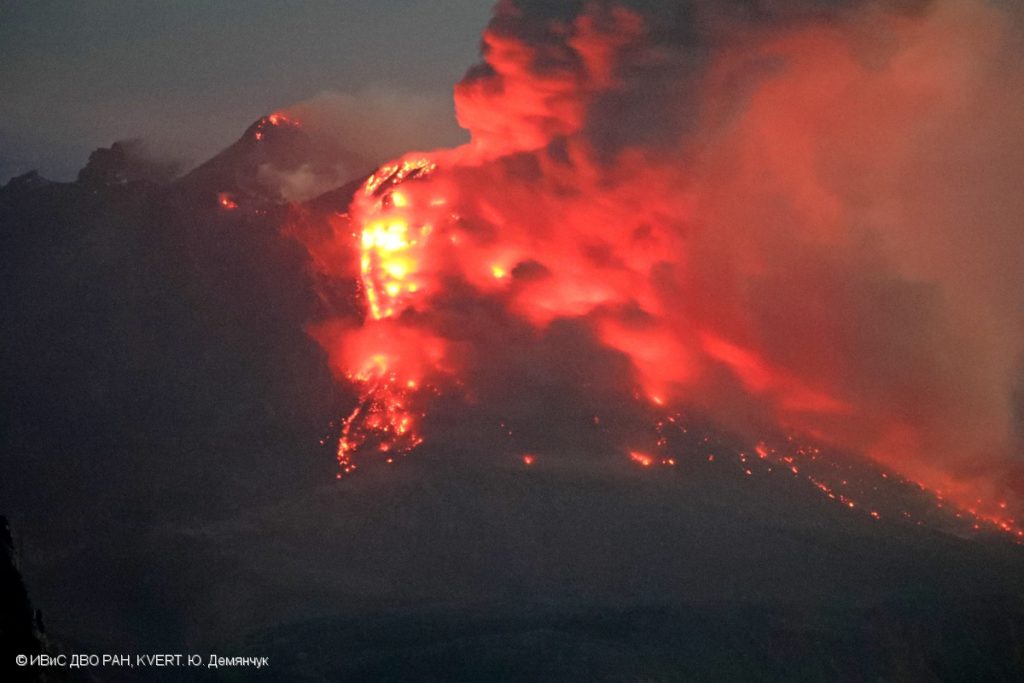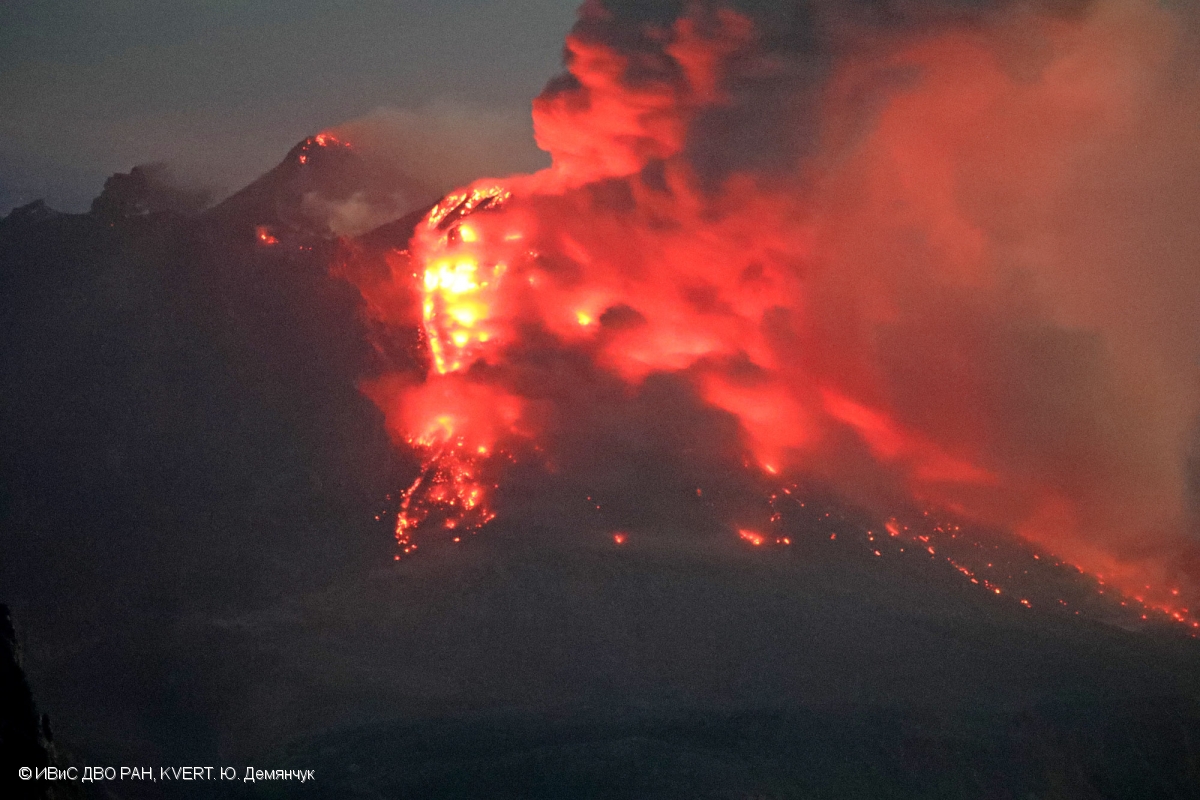 Volcanic Activity Summary:
The growth of the lava dome continues, a strong fumarolic activity , an incandescence of the lava dome and hot avalanches accompanies this process. Satellite data showed an ash cloud 14×15 km in size is extending for 30 km to the west-northwest of the volcano.
This extrusive eruption of the volcano continues. Ash explosions up to 10-15 km (32,800-49,200 ft) a.s.l. could occur at any time. Ongoing activity could affect international and low-flying aircraft.
Volcanic cloud height:
2500-3000 m (8200-9840 ft) AMSL Time and method of ash plume/cloud height determination: 20210828/2300Z – Himawari-8
Other volcanic cloud information:
Distance of ash plume/cloud of the volcano: 30 km (19 mi)
Direction of drift of ash plume/cloud of the volcano: WNW / azimuth 301 deg
Time and method of ash plume/cloud determination: 20210828/2300Z – Himawari-8
Start time of explosion and how determined: 20210828/2200Z – Satellite data
Source : Kvert.
Photo : Yu. Demyanchuk, IVS FEB RAS, KVERT ( 26 Aout 2021 ).
Hawaii , Kilauea :
19°25'16 » N 155°17'13 » W,
Summit Elevation 4091 ft (1247 m)
Current Volcano Alert Level: ADVISORY
Current Aviation Color Code: YELLOW
Activity Summary:
Kīlauea volcano is not erupting. However, intrusive activity that began on August 23 continues south of Kīlauea caldera. Starting on the evening of August 26, ground deformation in Kīlauea's south summit region resumed at the higher rates seen in the first intrusive pulse spanning August 23-25. In contrast, current earthquake activity remains low compared to the earlier pulses of this intrusive activity. The East Rift Zone remains quiet.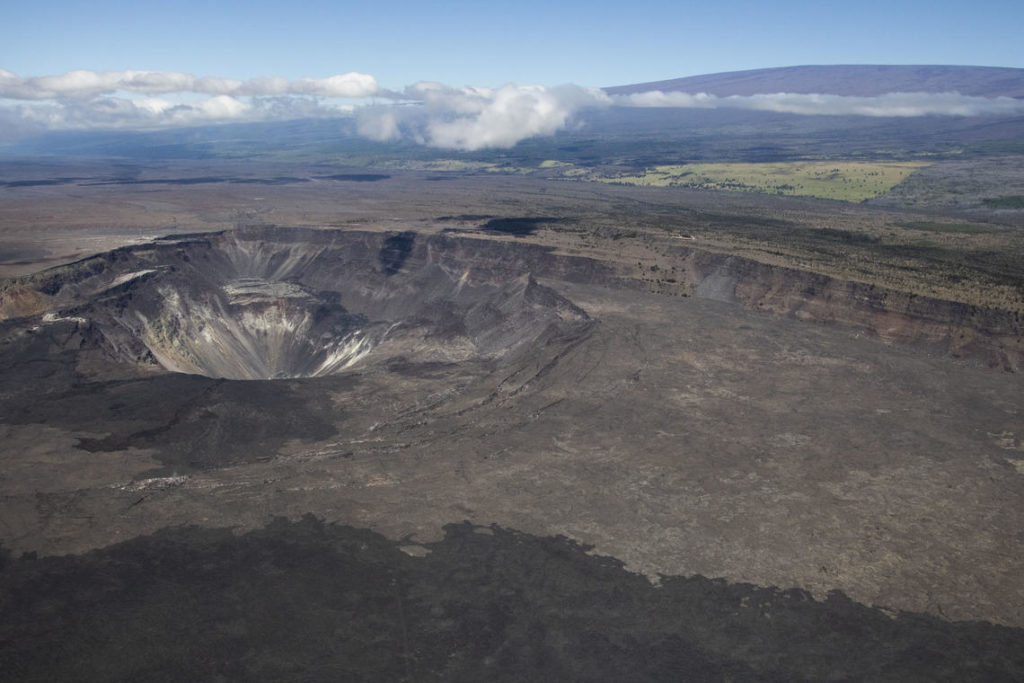 Nice weather allowed for clear views of Kīlauea Caldera and this photo, looking west, shows the collapse area that formed during 2018, as well as the summit of Mauna Loa in the background. Lava flows that erupted in 1971 and 1974 (darker colored relative to other lava flows on Kīlauea Caldera floor) border the foreground in this image.
Observations:
The rate of ground deformation beneath the south part of Kīlauea summit region, within Hawaiʻi Volcanoes National Park, began increasing again on the evening of August 26 and continues at this time. These observations suggest that magma is continuing to be supplied to the ongoing intrusion.
Over the past 24 hours, approximately 80 earthquakes were recorded at Kīlauea summit and south of Kīlauea caldera. Most of the earthquakes were less than magnitude 2 and occurred approximately 1-4 km (0.6-2.5 mi) below the surface. These small earthquakes have occurred at up to 7 detected earthquakes per hour. These earthquake rates are significantly lower than the rates observed earlier this week.
At the time of this statement, activity continues but there is no indication of upward migration of earthquakes toward the surface or change in deformation that would indicate shallowing of the source intrusive activity. Accordingly, Kīlauea's Volcano Alert Level and Aviation Color Code remain at ADVISORY/YELLOW.
The Hawaiian Volcano Observatory (HVO) continues to closely monitor Kīlauea for changes in activity. HVO will continue to issue Kīlauea status reports and additional messages as needed.
Source and photo : HVO
Italy / Sicily , Etna :
For the past few days, Etna has been on a volcanic break.
The tremor is desperately flat, he who had accustomed us to many mood swings since the beginning of the year.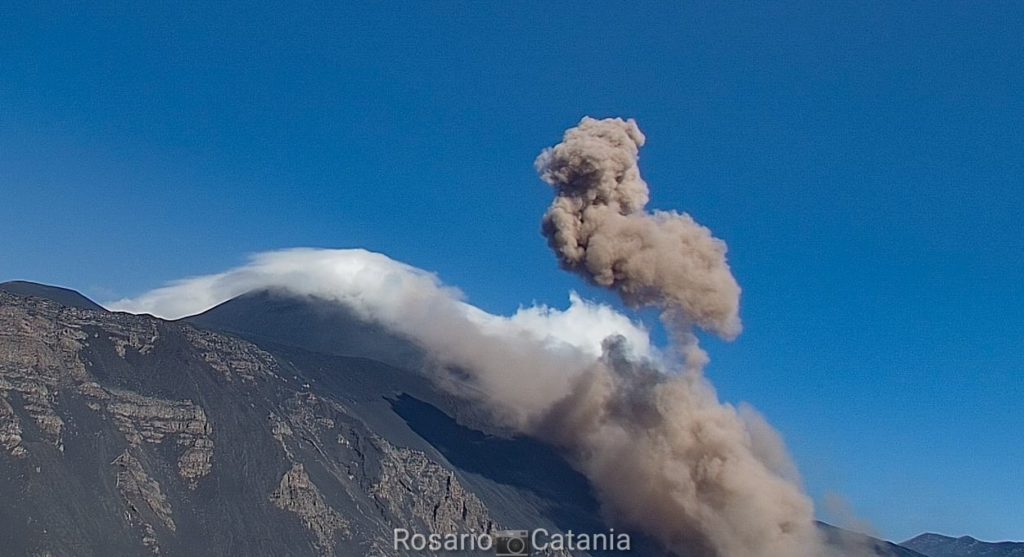 Since August 28, we have noticed many irregularities on the RMS route. This one blooming with the high level of amplitude since yesterday. The ingv has not yet commented, which will soon be. These will of course be communicated on the site.
Source : Tremor INGV.
Photo : Rosario Catania. 28.08.2021 10:14 .