January 25 , 2018 .
Mayon , Philippines :
MAYON VOLCANO BULLETIN 25 January 2018 8:00 AM
Between 06:02 AM yesterday to 03:00 AM this morning, six (6) episodes of intense but sporadic lava fountaining from the summit crater lasting nine (9) minutes to fifty-eight (58) minutes occurred. The lava fountains reached 400 meters to 500 meters high and generated ash plumes that reached 3 kilometers to 5 kilometers above the crater. The events fed lava flows on the Mi-isi and Bonga Gullies, sprayed near-vent lava spatter, and fed incandescent rockfall on the summit area. Pyroclastic density currents or PDCs on gullies heading the Mi-isi, Lidong/Basud, and Buyuan Channels were also observed. The runout of PDCs on the Buyuan Channel is now exceeding 5 kilometers from the summit crater.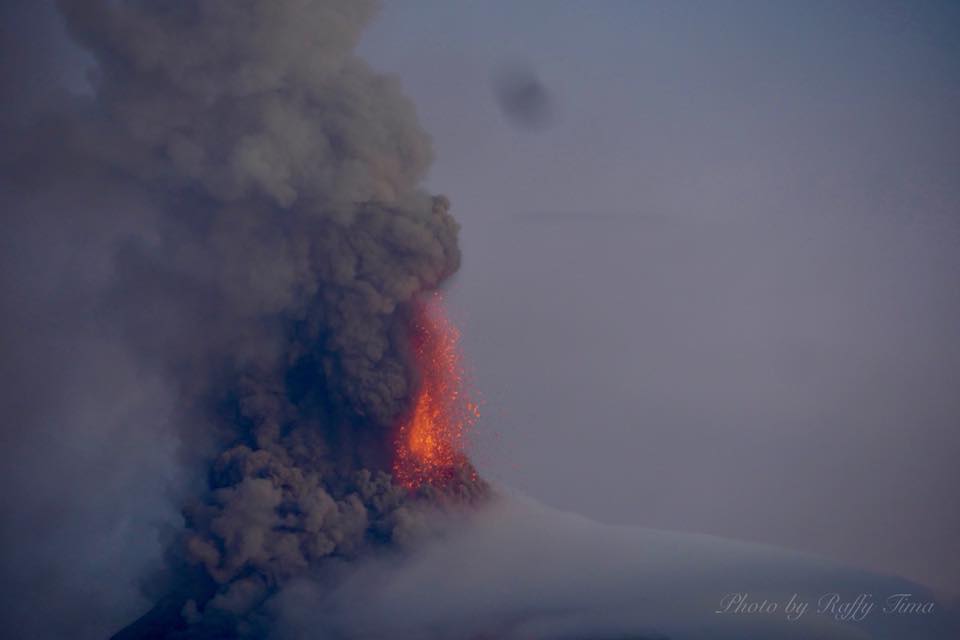 A total of thirteen (13) tremor events, six (6) of which correspond to the lava fountaining events, two (2) episodes of pyroclastic density current or PDC generation from lava collapse, and numerous rockfall events were recorded by Mayon's seismic monitoring network. Rockfall events were generated by the collapsing lava front and margins of the advancing lava flow on the Mi-isi Gully and by shedding from the summit dome onto the Bonga Gully. Currently, the Mi-isi and Buyuan lava flows have advanced to three (3) kilometers and one (1) kilometer, respectively, from the summit crater. Sulfur dioxide gas emission was measured at an average of 1252 tonnes/day on 24 January 2018. Electronic tilt and continuous GPS measurements indicate a sustained swelling or inflation of the edifice since November and October 2017, consistent with pressurization by magmatic intrusion.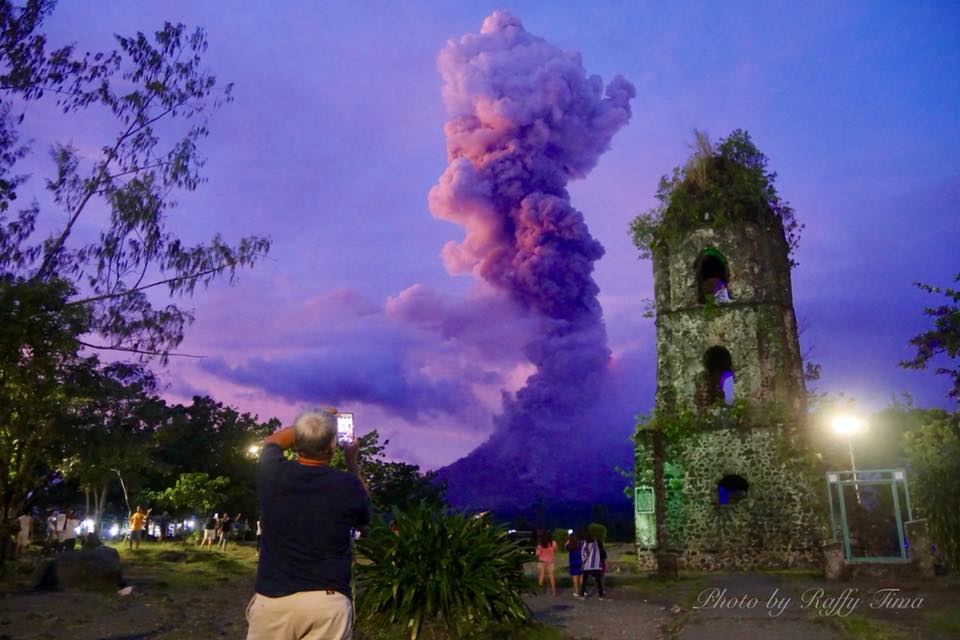 Alert Level 4 remains in effect over Mayon Volcano. The public is strongly advised to be vigilant and desist from entering the eight (8) kilometer-radius danger zone, and to be additionally vigilant against pyroclastic density currents, lahars and sediment-laden streamflows along channels draining the edifice. Civil aviation authorities must also advise pilots to avoid flying close to the volcano's summit as ash from any sudden eruption can be hazardous to aircraft.
DOST-PHIVOLCS maintains close monitoring of Mayon Volcano and any new development will be communicated to all concerned stakeholders.
Source : Phivolcs
Photos : Raffy Tima
Kusatsu-Shiranesan , Honshu , Japan :
36.618°N, 138.528°E
Elevation 2165 m
JMA reported that at 09h59 on 23 January an eruption began at Kusatsu-Shiranesan coincident with the onset of volcanic tremor; there were no indications of an impending eruption. The Alert Level was raised to 3 (on a scale of 1-5). Skiers at the popular ski resort Kusatsu Kokusai took video showing a plume of tephra and ejected bombs rising from a vent on the Motoshiranesan edifice, about 2 km SSE of Yagama Crater on Shiranesan (where all previous historical activity has been). The eruption also caused what appeared to be an avalanche. Photos and video posted in news articles showed tephra drifting E and blanketing the nearby hillside.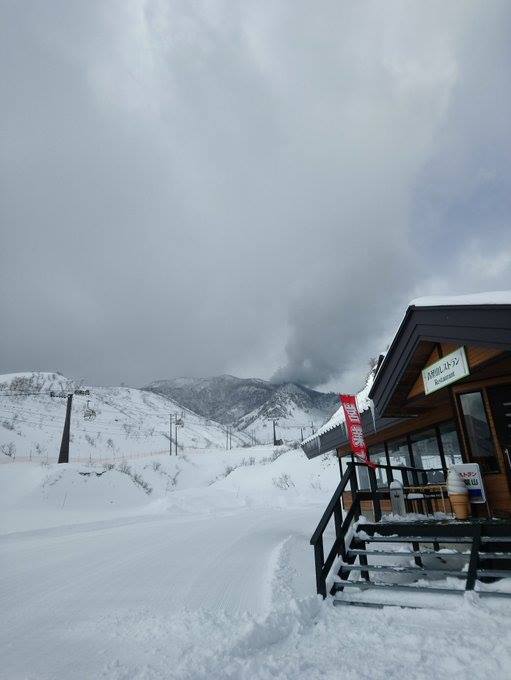 JMA noted ashfall in Nakanojo-machi, in the Gunma Prefecture. Tephra hit a gondola, shattering glass and injuring four skiers. Material crashed through the roof of a lodge, where about 100 people had already been evacuated. Ground Self-Defense Force troops were engaging in ski training at the time of the event; one member died and seven others were injured. Emergency responders gathered at the Sanroku Station to assist. On 24 January JMA noted that volcanic earthquakes were numerous but decreasing in number, and two 2-3-minute-long periods of volcanic tremor were detected at 10h15 and 10h49.
Sources: Agence météorologique japonaise (JMA), The Japan Times.
Photo : Via Shérine France.
Agung , Indonesia :
On the basis of the results of the visual and instrumental data analysis and considering the potential threats of danger, on November 27, 2017 at 06:00, the status of G. Agung was raised from Level III (SIAGA) to Level IV (AWAS) . Since yesterday and until today visually the volcano is generally observed until the appearance of fog. The emission of white to gray smoke, of low intensity and low pressure, reaches a height of about 200 to 1000 m above the summit. The wind blows towards the East and the Northeast.
The seismograph recordings dated January 24, 2018 noted:
14 earthquakes of emission
2 shallow volcanic earthquakes (VB)
6 deep volcanic earthquakes (VA)
1 local tectonic earthquake (TL)
4 Far Tectonic Earthquakes (TJ)
1 earthquake of eruption.
A continuous tremor with an amplitude of 1 to 8 mm and a dominant value of 2 mm.
As of January 25, 2018 (00:00 to 18:00) it has been registered:
4 eruption earthquakes
1 shallow volcanic earthquakes (VB)
1 deep volcanic earthquakes (VA)
1 local tectonic earthquake (TL)
1 Far Tectonic Earthquakes (TJ)
A continuous tremor with an amplitude of 1 to 10 mm and a dominant value of 1 mm.
Recommendations:
The communities around G. Agung and mountaineers / visitors / tourists should not climb, climb or do any activity in the danger zone around the G. Agung crater area and in all areas within 6 km from the crater of G. Agung. The estimated area risks are dynamic and continuously assessed and can be modified at any time based on the most recent observational data from G. Agung.
Level IV (AWAS) is only valid for a 6 km radius as mentioned above. Outside the activity area, everything can work like NORMAL and always SAFE.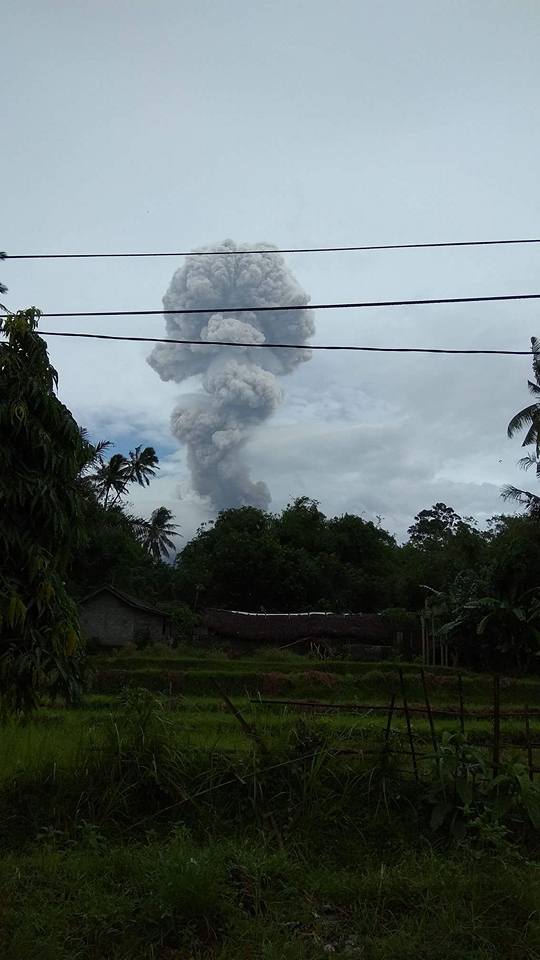 VOLCANO OBSERVATORY NOTICE FOR AVIATION – VONA.
Issued: January 24 , 2018.
Volcano: Agung (264020)
Current Aviation Colour Code: ORANGE
Previous Aviation Colour Code: orange
Source: Agung Volcano Observatory
Notice Number: 2018AGU12
Volcano Location: S 08 deg 20 min 31 sec E 115 deg 30 min 29 sec
Area: Bali, Indonesia
Summit Elevation: 10054 FT (3142 M)
Volcanic Activity Summary:
Eruption with volcanic ash cloud at 14h37 UTC ( 22h37 local) , January 24 , 2018. Eruption and ash emission is not continuing.
Volcanic Cloud Height:
Best estimate of ash-cloud top is around 13254 FT (4142 M) above sea level, may be higher than what can be observed clearly. Source of height data: ground observer.
Other Volcanic Cloud Information:
Ash-cloud is moving East-North East
Remarks:
Seismic activity is dominated by high-frequency volcanic earthquakes.
Sources : VSI , Magma .
Fuego , Guatemala :
Type of activity: Vulcanian
Morphology: Composite Stratovolcan
Location: 14 ° 28'54˝ Latitude N; 90 ° 52'54˝ Longitude W.
Height: 3,763msnm.
Weather conditions: Claires
Wind: North East 4 km / h
Precipitation: 0
Activity:
Presence of white degassing fumarole at a height of 4300 m , dispersed to the south and southwest. 5 to 8 weak to moderate explosions per hour are reported with columns of gray ash expelled at an approximate height of 4400 to 4600 m (14435-15090 ft) which have been dispersed over 10 km to the south and South -West . Incandescent pulses were emitted at 100-150 m in height which generated weak to moderate avalanches on the crater contour, the explosions being accompanied by low to moderate rumblings causing weak shock waves.
Source : Insivumeh.