January 23, 2023 . EN. Italy : Stromboli , Indonesia : Merapi , Kamchatka : Sheveluch , Indonesia : Anak Krakatau , Chile : Villarica , Hawaii : Kilauea .
January 23 , 2023 .
Italy , Stromboli :
Statement on Stromboli activity, January 20, 2023, 09:11 (08:11 UTC).
The National Institute of Geophysics and Volcanology, Osservatorio Etneo, communicates that from the analysis of the images of the surveillance cameras, it can be observed that during the day yesterday, the supply of the flow of lava described in previous press releases has gradually diminished and at the moment the flow is cooling.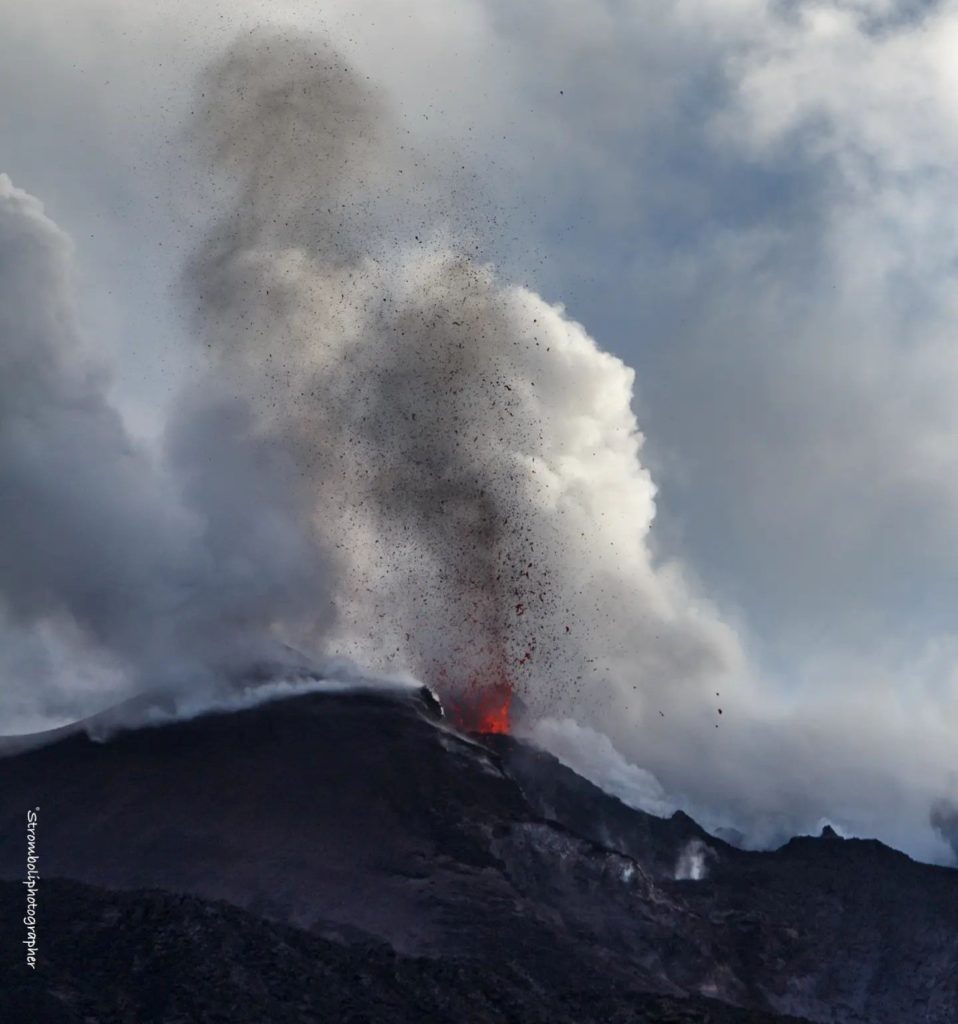 Strombolian and spatter activity continues in the northern area of the crater and, very sporadically, in the central-southern area. During the last 24 hours, the average amplitude of the volcanic tremor has not shown significant variations and remains in the range of medium-low values. The signals from the GNSS networks and inclinometers do not show any significant deformations of the ground.
Further updates will be communicated soon.
Source : INGV.
Photo : Stromboli Stati d'animo.
Indonesia , Merapi :
Report on the activity of Mount Merapi from January 13, 2023 to January 19, 2023, Published on January 20, 2023
RESULTS OF OBSERVATIONS
Visual
The weather around Mount Merapi is usually sunny in the morning and afternoon, while the evening is foggy. White smoke, thin to medium thickness, low pressure and 100 m high was observed from the Mount Merapi observation post of Pos Babadan on January 14, 2023 at 05:40 WIB.
This week there were 15 southwestward lava avalanches (first to Kali Bebeng and then Kali Sat/Putih) with a maximum slip distance of 2000m. The sound of avalanches was heard from Pos Babadan and Kaliurang 15 times with low to medium intensity
Both the central dome and the southwest dome are observed with changes, i.e. the decrease in the volume of the dome. The volume of the Southwest dome was measured at 1,598,700 m3, while for the Central dome it was 2,267,400 m3.
Seismicity
This week, the seismicity of Mount Merapi showed:
10 deep volcanic earthquakes (VTB)
743 deep volcanic earthquakes (VTA),
365 avalanche earthquakes (RF),
4 emission earthquakes (DG),
11 tectonic earthquakes (TT).
52 multi-phase (MP) earthquakes
The intensity of this week's seismicity is still quite high.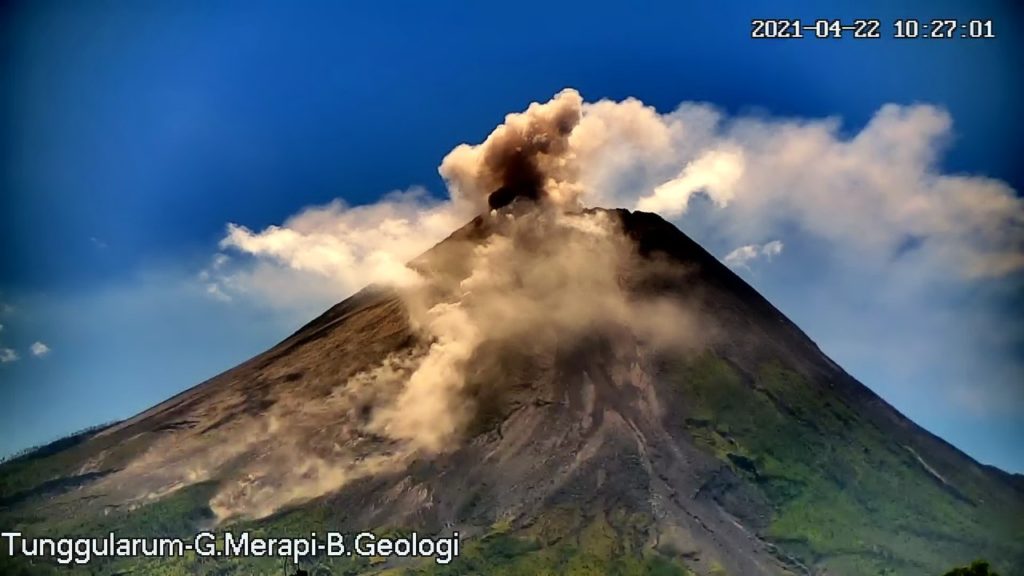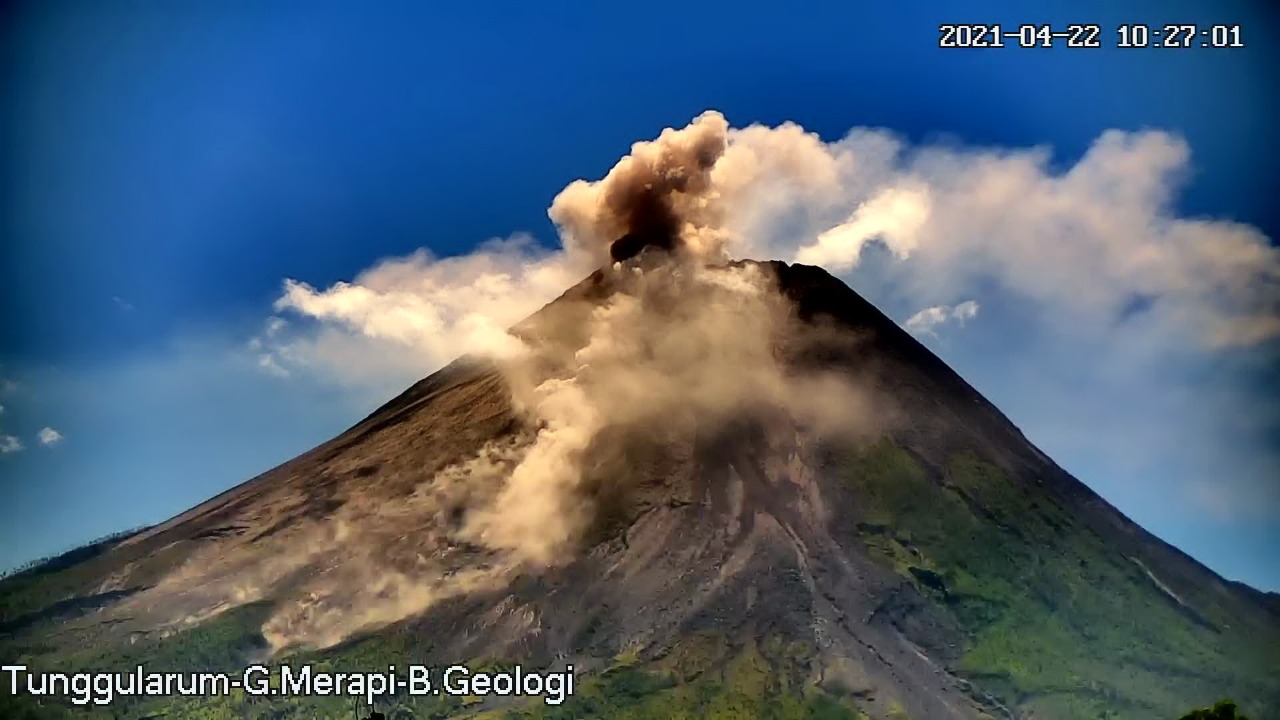 Deformation
The Mount Merapi deformation that was monitored using EDM and GPS this week showed a shortening rate of 0.6 cm/day.
Rain and lahars:
This week, there was rain with a rain intensity of 41 mm/h for 160 minutes in Pos Babadan on January 14, 2023, and an increase in flow was reported in Kali Gendol.
Conclusion
Based on the results of visual and instrumental observations, it is concluded that:
-The volcanic activity of Mount Merapi is still quite high in the form of effusive eruption activity. The state of the activity is defined at the « SIAGA » level.
Source : BPPTKG
Photo : BPPTKG
Kamchatka , Sheveluch :
VOLCANO OBSERVATORY NOTICE FOR AVIATION (VONA)
Issued: January 22 , 2023
Volcano: Sheveluch (CAVW #300270)
Current aviation colour code: ORANGE
Previous aviation colour code: orange
Source: KVERT
Notice Number: 2023-12
Volcano Location: N 56 deg 38 min E 161 deg 18 min
Area: Kamchatka, Russia
Summit Elevation: 3283 m (10768.24 ft), the dome elevation ~2500 m (8200 ft)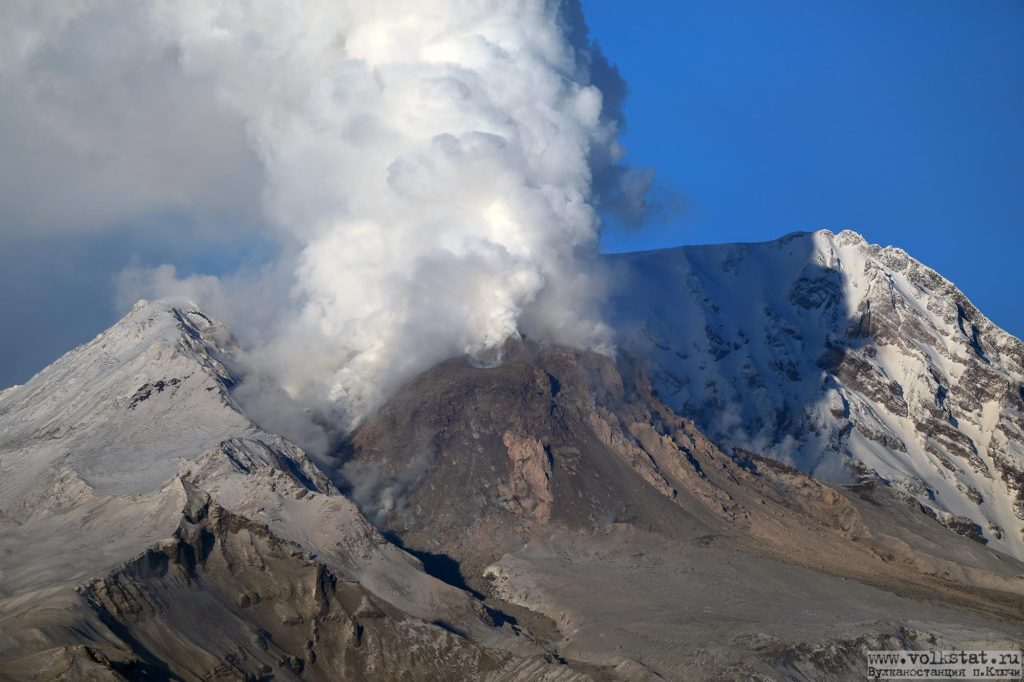 Volcanic Activity Summary:
The growth of the lava dome continues, a strong fumarole activity, an incandescence of the lava dome, explosions, and hot avalanches accompanies this process. Satellite data by KVERT showed an ash plume is moving for 25 km to the northeast of the volcano.
The extrusive eruption of the volcano continues. Ash explosions up to 10-15 km (32,800-49,200 ft) a.s.l. could occur at any time. Ongoing activity could affect international and low-flying aircraft.
Volcanic cloud height:
5000 m (16400 ft) AMSL Time and method of ash plume/cloud height determination: 20230122/0250Z – Himawari-9 14m15
Other volcanic cloud information:
Distance of ash plume/cloud of the volcano: 25 km (16 mi)
Direction of drift of ash plume/cloud of the volcano: NE / azimuth 34 deg
Time and method of ash plume/cloud determination: 20230122/0250Z – Himawari-9 14m15
Source : Kvert.
Photo : Y. Demyanchuk
Indonesia , Anak Krakatau :
An eruption of Mount Anak Krakatau occurred on Monday January 23, 2023 at 07:59, with an ash column height observed at ± 500 m above the summit (± 657 m above sea level). The ash column was observed to be grey/black with a thick intensity, oriented towards the Southeast. This eruption was recorded on a seismograph with a maximum amplitude of 60 mm and a duration of 143 seconds.
VOLCANO OBSERVATORY NOTICE FOR AVIATION – VONA
Issued : January 23 , 2023
Volcano : Anak Krakatau (262000)
Current Aviation Colour Code : ORANGE
Previous Aviation Colour Code : orange
Source : Anak Krakatau Volcano Observatory
Notice Number : 2023KRA018
Volcano Location : S 06 deg 06 min 07 sec E 105 deg 25 min 23 sec
Area : Lampung, Indonesia
Summit Elevation : 502 FT (157 M)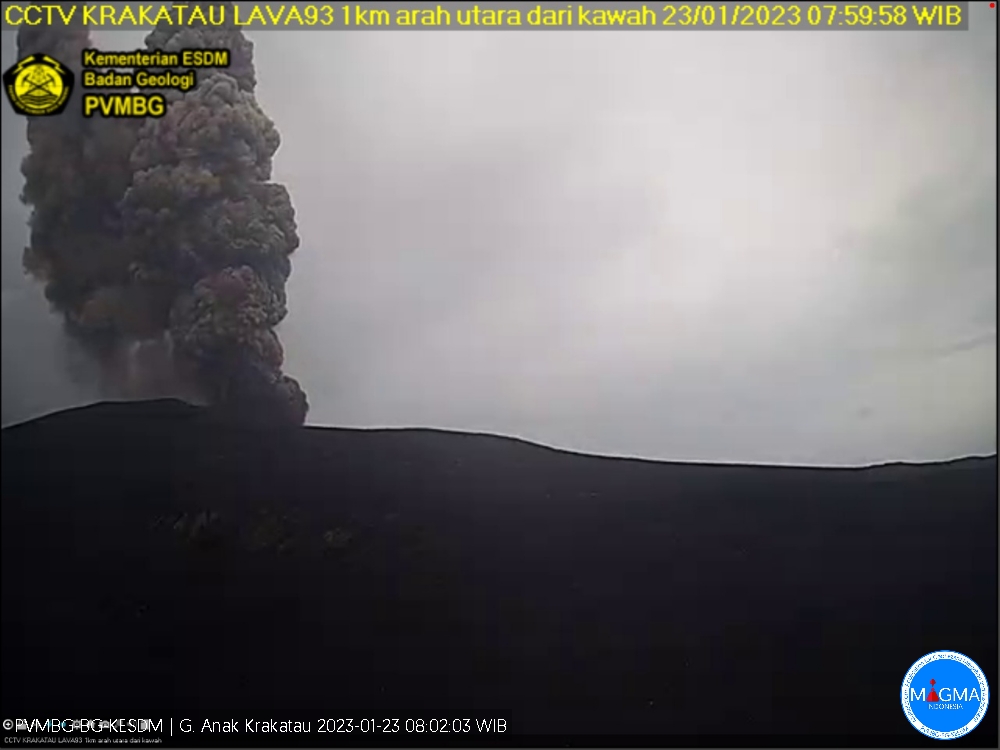 Volcanic Activity Summary :
Eruption with volcanic ash cloud at 00h59 UTC (07h59 local).
Volcanic Cloud Height :
Best estimate of ash-cloud top is around 2102 FT (657 M) above sea level or 1600 FT (500 M) above summit. May be higher than what can be observed clearly. Source of height data: ground observer.
Other Volcanic Cloud Information :
Ash cloud moving to southeast. Volcanic ash is observed to be gray to dark. The intensity of volcanic ash is observed to be thick.
Remarks :
Eruption recorded on seismogram with maximum amplitude 60 mm and maximum duration 143 second
Source et photo : Magma Indonésie .
Chile , Villarica :
Special Report on Volcanic Activity (REAV), La Araucanía and Los Ríos regions, Villarrica volcano, January 23, 2023, 01:10 a.m. local time (mainland Chile)
The National Geology and Mining Service of Chile (Sernageomin) announces the following PRELIMINARY information, obtained through the monitoring equipment of the National Volcanic Monitoring Network (RNVV), processed and analyzed at the Observatory of Volcanoes of the Southern Andes (Ovdas):
On Monday, January 23, 2023, at 00:09 local time (03:09 UTC), monitoring stations installed near the Villarrica volcano recorded an earthquake associated with fluid dynamics within the volcanic system. (type LP).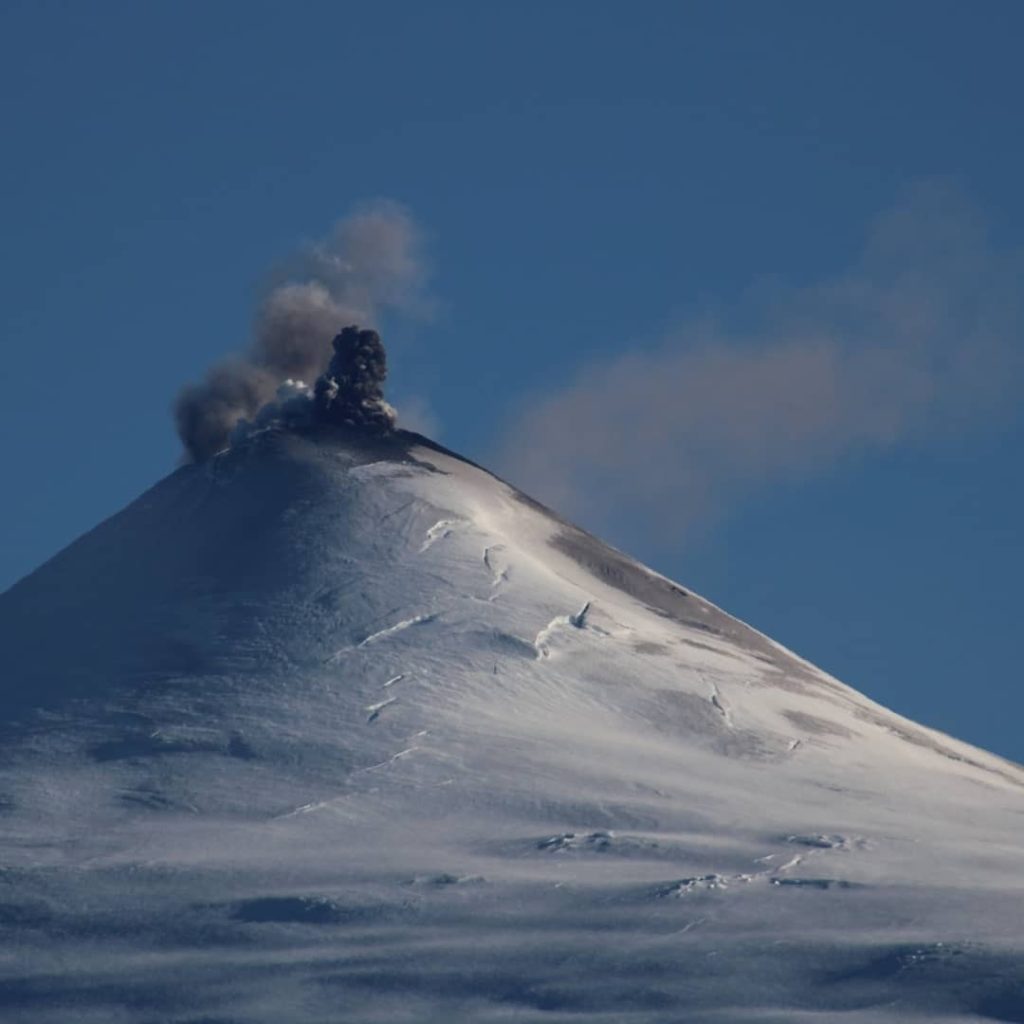 The characteristics of the earthquake, after its analysis, are as follows:
ORIGINAL TIME: 00:09 local time (03:09 UTC)
REDUCED TRAVEL: 99.4 (cm*cm)
ACOUSTIC SIGNAL: 3.1 Pascals (Pa) reduced to 1 km
The characteristics of this activity are as follows:
MAXIMUM HEIGHT OF THE COLUMN: 60 meters above the point of emission
DIRECTION OF DISPERSION: Southeast (SE).
COMMENTS:
As previously reported, during the morning, Strombolian explosions were recorded at a height of around 100 m above the crater. The observed explosions are characterized by the emission of incandescent materials on the surroundings of the crater. In relation to seismic activity, the parameters recorded on previous days continue.
The volcanic technical alert is maintained at the Yellow level.
Source : Sernageomin.
Photo : Volcanologia en Chile
Hawaii , Kilauea :
Sunday, January 22, 2023, 9:03 AM HST (Sunday, January 22, 2023, 19:03 UTC)
19°25'16 » N 155°17'13 » W,
Summit Elevation 4091 ft (1247 m)
Current Volcano Alert Level: WATCH
Current Aviation Color Code: ORANGE
Activity Summary:
The summit eruption of Kīlauea Volcano, within Halemaʻumaʻu crater, continued over the past 24 hours. All recent eruptive activity has been confined to the crater. No significant changes have been observed at the summit or in either rift zone.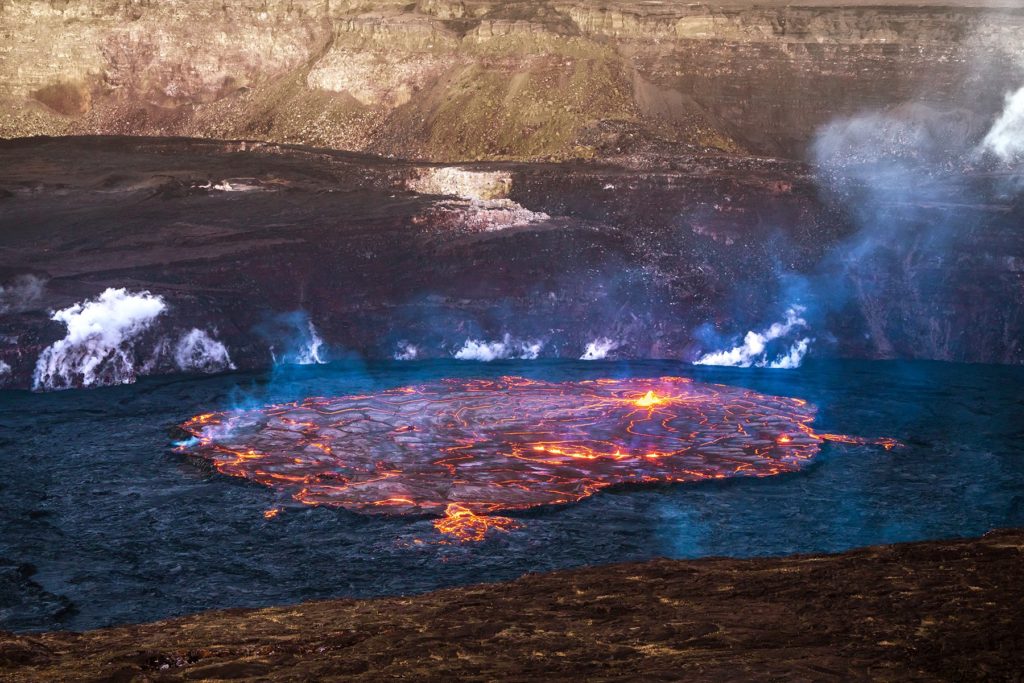 Halemaʻumaʻu crater Lava Lake Observations:
Eruption of lava in the eastern portion of Halemaʻumaʻu crater floor continued over the past 24 hours. Activity is concentrated in a large lava lake in the eastern half of the crater, as well as a smaller lake to the west, in the basin of the 2021–2022 lava lake. The eastern lava lake has one dominant fountain and an area of approximately 25 acres as of January 17. The surface area of the lake did not change over the past 24 hours, and overflow activity was minimal.
Summit Observations:
Summit tiltmeters recorded deflationary tilt throughout the day yesterday. Inflationary tilt began this morning, consistent with the switch from the deflation to inflation phase of a summit Deflation-Inflation (DI) event. Volcanic tremor remains above background levels. A sulfur dioxide (SO2) emission rate of approximately 3,000 tonnes per day (t/d) was measured on January 20, 2023.
Source : HVO.
Photo : Janice Wei.