January 05 , 2023 .
Kamchatka , Sheveluch :
VOLCANO OBSERVATORY NOTICE FOR AVIATION (VONA)
Issued: January 05 , 2023
Volcano: Sheveluch (CAVW #300270)
Current aviation colour code: ORANGE
Previous aviation colour code: orange
Source: KVERT
Notice Number: 2023-05
Volcano Location: N 56 deg 38 min E 161 deg 18 min
Area: Kamchatka, Russia
Summit Elevation: 3283 m (10768.24 ft), the dome elevation ~2500 m (8200 ft)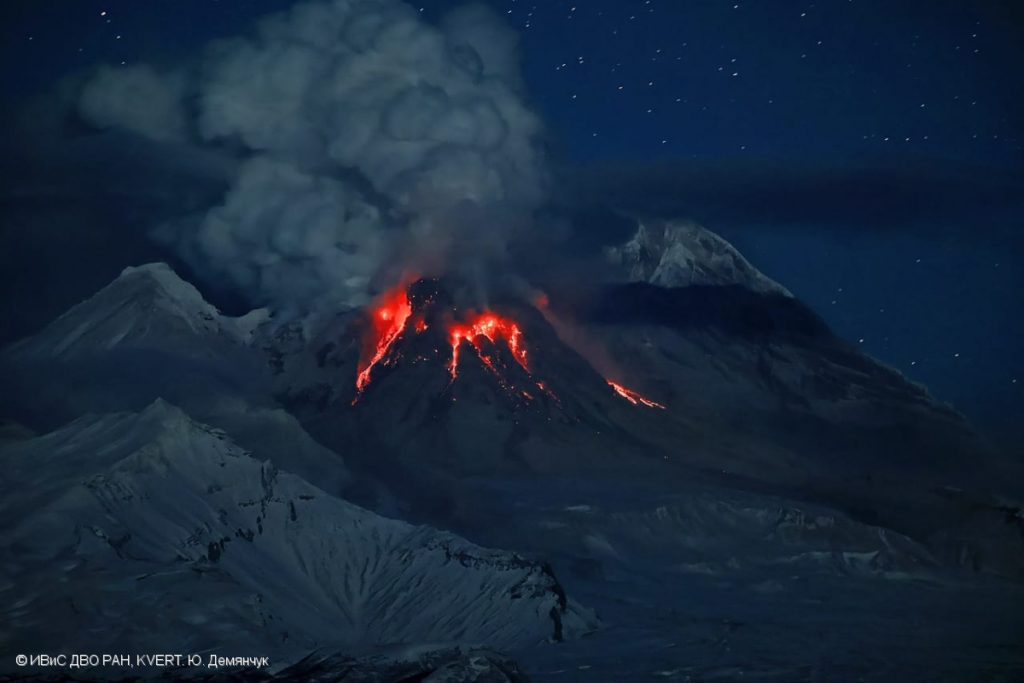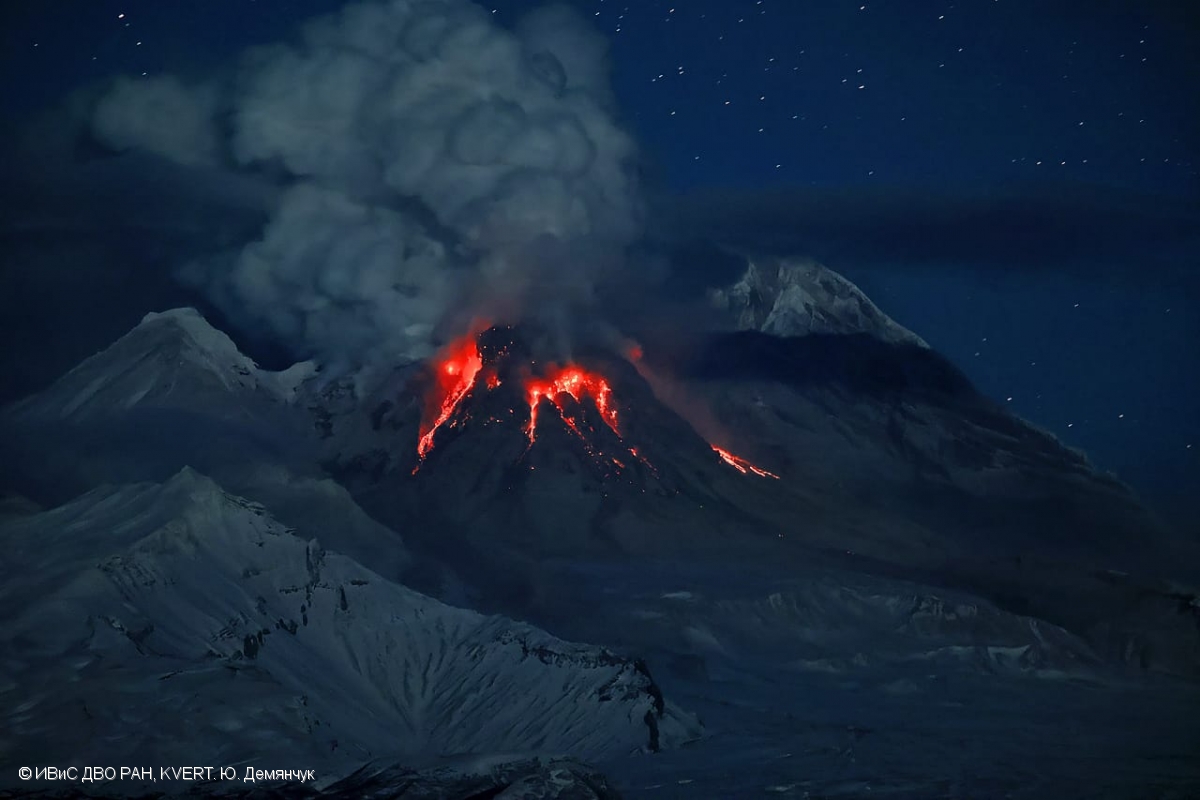 Volcanic Activity Summary:
A growth of the lava dome continues, a strong fumarole activity, an incandescence of the lava dome, explosions, and hot avalanches accompanies this process. Video and satellite data by KVERT shows an ash plume associated with hot avalanches collapse from lava dome is exending for 15 km to the south-west of the volcano.
An extrusive eruption of the volcano continues. Ash explosions up to 10-15 km (32,800-49,200 ft) a.s.l. could occur at any time. Ongoing activity could affect international and low-flying aircraft.
Volcanic cloud height:
7000-7500 m (22960-24600 ft) AMSL Time and method of ash plume/cloud height determination: 20230105/0007Z – Video data
Other volcanic cloud information:
Distance of ash plume/cloud of the volcano: 15 km (9 mi)
Direction of drift of ash plume/cloud of the volcano: SW / azimuth 236 deg
Time and method of ash plume/cloud determination: 20230105/0020Z – Himawari-9 14m15
Start time of explosion and how determined: 20230105/0003Z – Video data
Source : Kvert
Photo : Yu. Demyanchuk, IVS FEB RAS, KVERT
Italy , Vulcano :
WEEKLY BULLETIN, from December 26, 2022 to January 01, 2023
(issue date 03/01/2023)
ACTIVITY STATUS SUMMARY
In the light of the monitoring data, it is highlighted:
1) Temperature of the crater fumaroles: The temperatures of the fumaroles placed at the edge of the crater are always stable at high values.
2) CO2 flux in the crater area: The CO2 flux in the crater area remains at high values.
3) SO2 flux in the crater area: On a moderately medium-high level.
4) Geochemistry of fumarolic gases: There are no updates.
5) CO2 fluxes at the base of the La Fossa cone and in the Vulcano Porto area: In the C. Sicilia and Rimessa sites, the CO2 fluxes present values higher than the background levels but slightly decreasing; on the P4max site, the values show a clear decrease, while on the Faraglione site, the recorded values are constant and always close to the background level.
6) Geochemistry of thermal aquifers: slightly decreasing but still high temperature values are recorded in the well of Camping Sicilia; in the Bambara well, no significant variation in the monitored parameters is observed.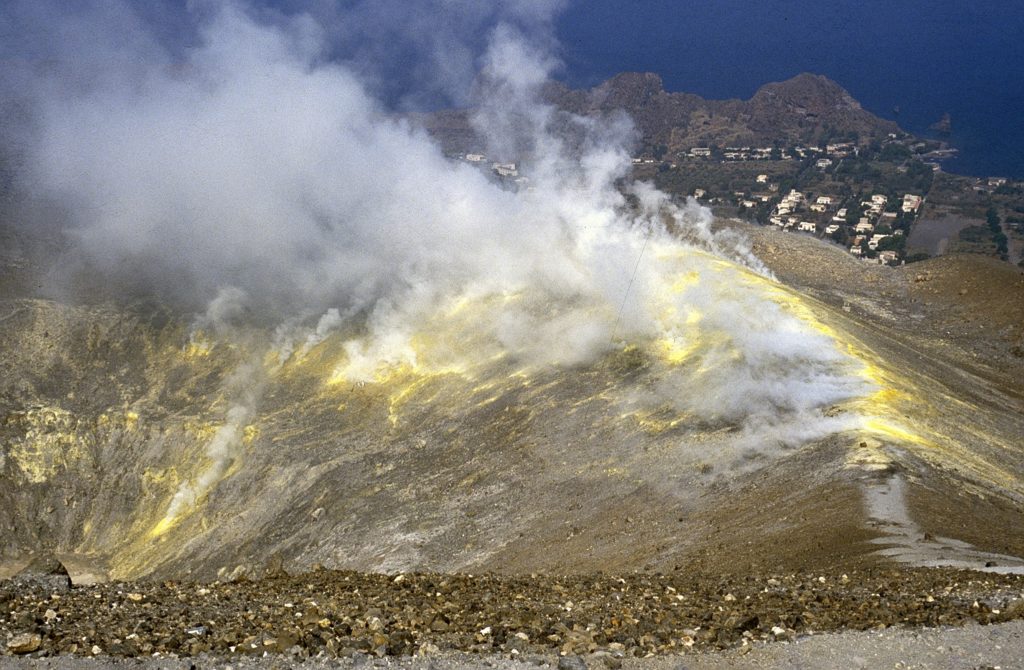 7) Local seismicity: very low occurrence rate for high frequency and low frequency (VLP) events
8) Regional seismicity: No regional seismic event.
9) Deformations – GNSS: The network of permanent GNSS stations has not recorded any significant variations
10) Deformations – Inclinometry: The inclinometric network did not record any significant variations
11) Gravimetry: No significant change was recorded.
CRATER FUMEROLES TEMPERATURE:
The fumarolic field has homogeneous emission temperatures along the summit fracture line, confirming a thermal anomaly maintained by a stable vapor flow. Along the summit cordon, the emission temperature presented an hourly maximum of 370°C (T1). The thermal signal from sensor FT3 (fumarole F5) remains interposed between the temperatures recorded in FT1 and FT2 (these 2 probes are located in fumarole F5AT). The hourly temperature range recorded on board remains between 330 and 370°C. The recorded temperature drop always affects only one sensor.
Source : INGV.
Read the article: https://www.ct.ingv.it/index.php/monitoraggio-e-sorveglianza/prodotti-del-monitoraggio/bollettini-settimanali-multidisciplinari/727-bollettino-Settimanale-sul-monitoraggio-vulcanico-geochimico-e-sismico-del-vulcano-Vulcano-del-2023-01-03/file
Photo : Boris Behncke.
Indonesia , Anak Krakatau :
An eruption of Anak Krakatau occurred on Thursday January 05, 2023 at 00:13 WIB. The height of the eruptive column was observed at ± 750 m above the summit (± 907 m above sea level). The ash column was observed to be gray with moderate to thick intensity oriented to the northeast. The eruption was recorded on a seismograph with a maximum amplitude of 40 mm and a duration of 1590 seconds.
Other explosions took place at 5:13 p.m., 7:10 a.m., 8:09 a.m.
VOLCANO OBSERVATORY NOTICE FOR AVIATION – VONA
Issued : January 04 , 2023.
Volcano : Anak Krakatau (262000)
Current Aviation Colour Code : ORANGE
Previous Aviation Colour Code : unassigned
Source : Anak Krakatau Volcano Observatory
Notice Number : 2023KRA002
Volcano Location : S 06 deg 06 min 07 sec E 105 deg 25 min 23 sec
Area : Lampung, Indonesia
Summit Elevation : 502 FT (157 M)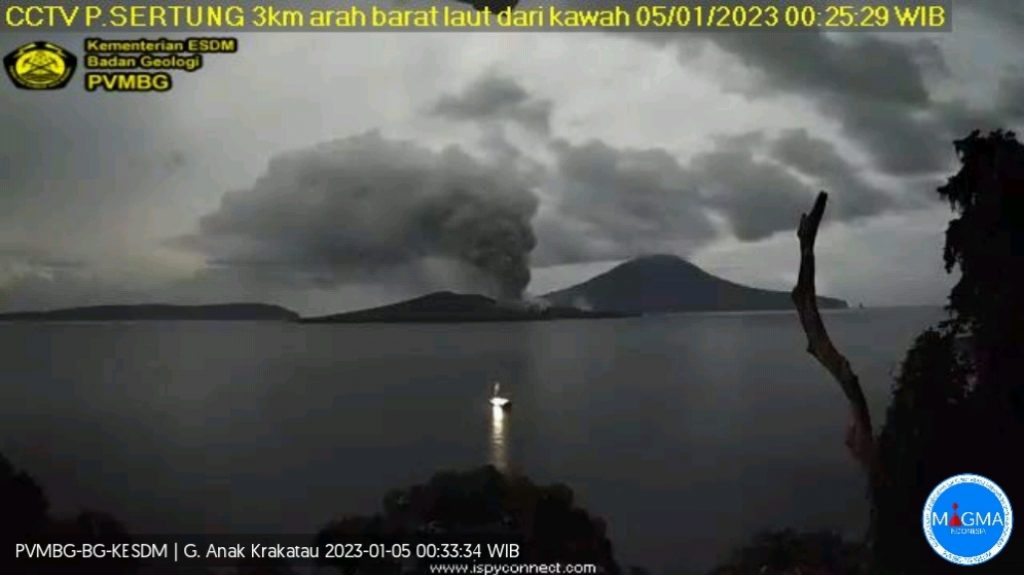 Volcanic Activity Summary :
Eruption with volcanic ash cloud at 08h09 UTC (15h09 local).
Volcanic Cloud Height :
Best estimate of ash-cloud top is around 10102 FT (3157 M) above sea level or 9600 FT (3000 M) above summit. May be higher than what can be observed clearly. Source of height data: ground observer.
Other Volcanic Cloud Information :
Ash cloud moving to east. Volcanic ash is observed to be gray to dark. The intensity of volcanic ash is observed to be thick.
Remarks :
Eruption and ash emission is continuing. Eruption recorded on seismogram with maximum amplitude 65 mm. Tremor recorded on seismogram with maximum amplitude 30 mm.
Source et photo: Magma Indonésie .
Ecuador , Cotopaxi :
DAILY REPORT OF THE STATE OF COTOPAXI VOLCANO, Wednesday January 04, 2023.
Information Geophysical Institute – EPN.
Surface activity level: Moderate, Surface trend: Ascending.
Internal activity level: Moderate, Internal trend: Ascending.
Seismicity: From January 03, 2023, 11:00 a.m. to January 04, 2023, 11:00 a.m.:
The volcano's seismic network has been operational for 24 hours.
Tremor (TRE) 8
Long Period (LP): 54
Rains / Lahars:
Light rain was recorded using the Windy app.
Emission / Ash Column:
During the night of yesterday and the morning of today, a continuous emission of steam and gas was observed with a height of up to 1000 meters above the level of the crater in a direction West and North- West. The Washington VAAC reported an ash emission at a height of 1,100 meters above the summit in a northwesterly direction. No ash fall report was received.
Other Monitoring Parameters:
No thermal anomalies were recorded in the satellite systems in the past 24 hours.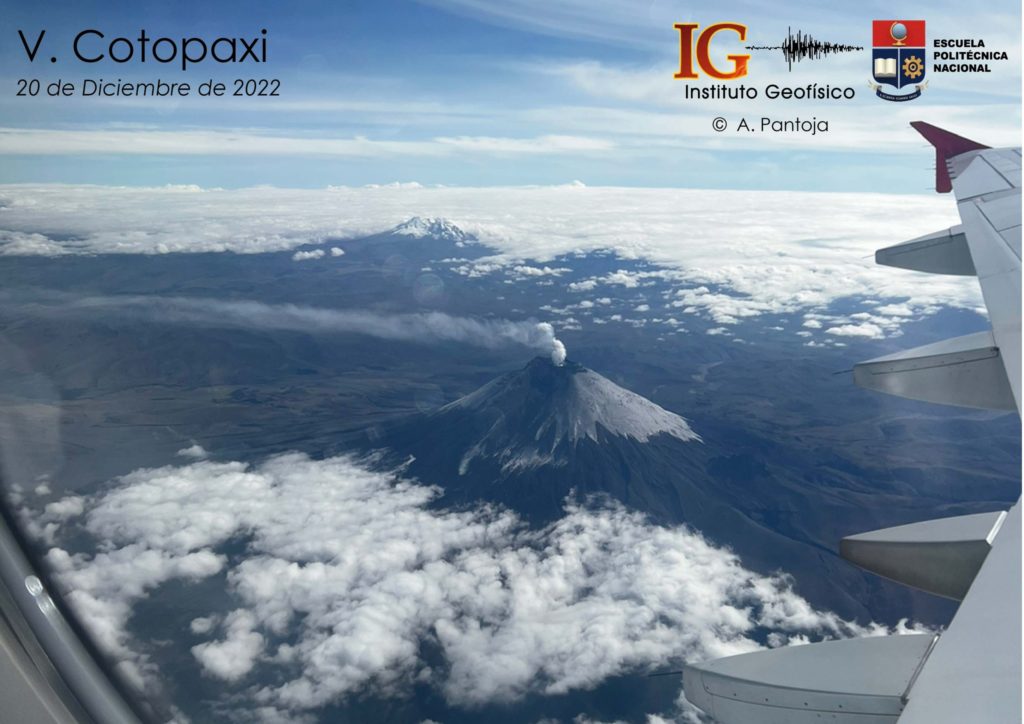 Gas:
The MOUNTS system reported 2155 tons of sulfur dioxide (SO2), measured on 03/01/2023 at 13:53 TL.
Observation:
Thanks to the network of surveillance cameras, in the morning of today, the column of gas described above was seen. There are no reports of ash fall. At the moment the area is cloudy
Alert level: Yellow.
IG reported that the low-level eruption at Cotopaxi continued during 28 December 2022-3 January 2023, characterized by daily steam-and-gas emissions with occasional low ash content. Several gas-and-steam emissions with low ash content were visible on 28 December rising 600-900 m above the summit and drifting W. Sulfur dioxide emissions were 1,314-2,550 tons per day during 27-28 December based on satellite data. Only gas emissions were visible during 29 December-2 January, though weather clouds often prevented webcam and satellite observations. At 1740 on 3 January a diffuse ash plume rose 1 km above the summit and drifted W, based on a satellite image. Minor ashfall was possible in areas to the W. Servicio Nacional de Gestión de Riesgos y Emergencias (SNGRE) maintained the Alert Level at Yellow (the second lowest level on a four-color scale).
Sources : IGEPN. GVP.
Photo : Andrea Pantoja.
Japan , Sakurajima :
JMA reported ongoing eruptive activity at Minamidake Crater (at Aira Caldera's Sakurajima volcano) during 26 December 2022-2 January 2023. Crater incandescence was visible nightly. Sulfur dioxide emissions were slightly elevated at 1,700 tons per day on 27 December. Two explosions, on 27 and 29 December, produced ash plumes that rose as high as 1.7 km above the crater rim and ejected blocks as far as 900 m from the vent. An explosion at 14h23 on 2 January produced an ash plume that rose 1.5 km above the crater rim. The Alert Level remained at 3 (on a 5-level scale), and residents were warned to stay 2 km away from the crater.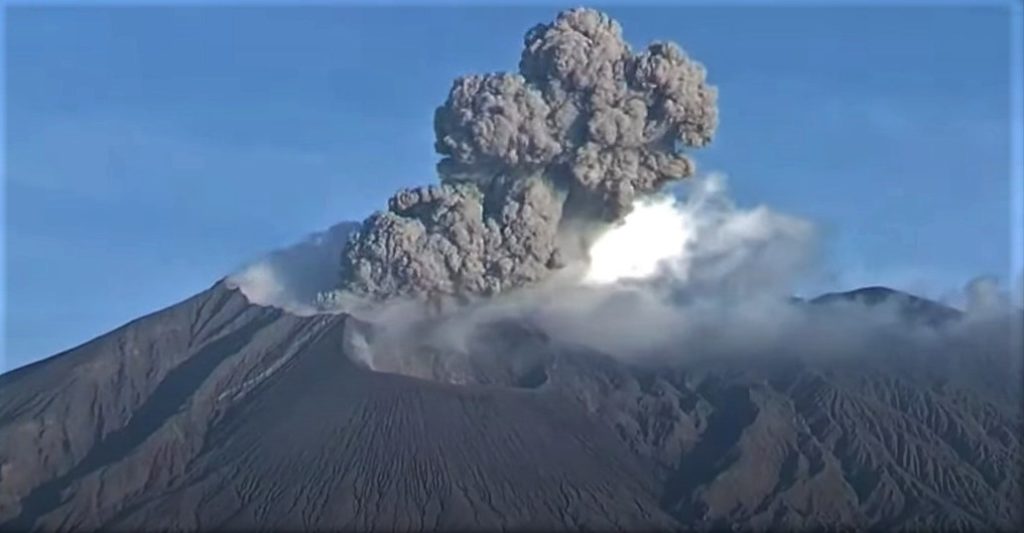 The Aira caldera in the northern half of Kagoshima Bay contains the post-caldera Sakurajima volcano, one of Japan's most active. Eruption of the voluminous Ito pyroclastic flow accompanied formation of the 17 x 23 km caldera about 22,000 years ago. The smaller Wakamiko caldera was formed during the early Holocene in the NE corner of the Aira caldera, along with several post-caldera cones. The construction of Sakurajima began about 13,000 years ago on the southern rim of Aira caldera and built an island that was finally joined to the Osumi Peninsula during the major explosive and effusive eruption of 1914. Activity at the Kitadake summit cone ended about 4850 years ago, after which eruptions took place at Minamidake. Frequent historical eruptions, recorded since the 8th century, have deposited ash on Kagoshima, one of Kyushu's largest cities, located across Kagoshima Bay only 8 km from the summit. The largest historical eruption took place during 1471-76.
Sources and photo: Japan Meteorological Agency (JMA) , GVP