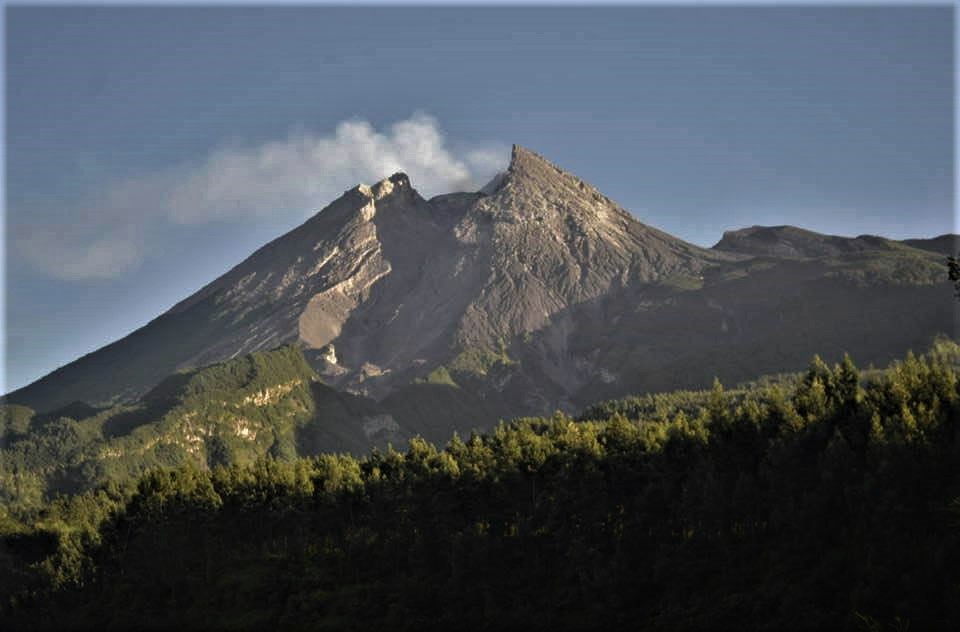 November 26 , 2022.
Indonesia , Merapi :
Report on the activity of Mount Merapi from November 18, 2022 to November 24, 2022, Published on November 25, 2022
RESULTS OF OBSERVATIONS
Visual
The weather around Mount Merapi is usually sunny in the morning and afternoon, while the evening is foggy. White smoke, thin to medium thickness, low pressure and 50 m high was observed from the Mount Merapi observation post of Kaliurang on November 23, 2022 at 06:40 WIB.
This week, there were 13 southwestward (Kali Bebeng) lava avalanches with a slip distance of 1,600 m. The noise of the descent was heard 3 times from Babadan Post with medium intensity.
– There is no significant morphological change in the South-West dome and the central dome. The volume of the South-West dome is calculated fixed, i.e. 1,616,500 m3, while for the middle dome it is 2,772,000 m3.
Seismicity
This week, the seismicity of Mount Merapi showed:
3 deep volcanic earthquakes (VTB)
318 deep volcanic earthquakes (VTA),
54 multi-phase earthquakes (MP),
262 avalanche earthquakes (RF),
9 emission earthquakes (DG),
15 tectonic earthquakes (TT).
The intensity of this week's seismicity is still quite high.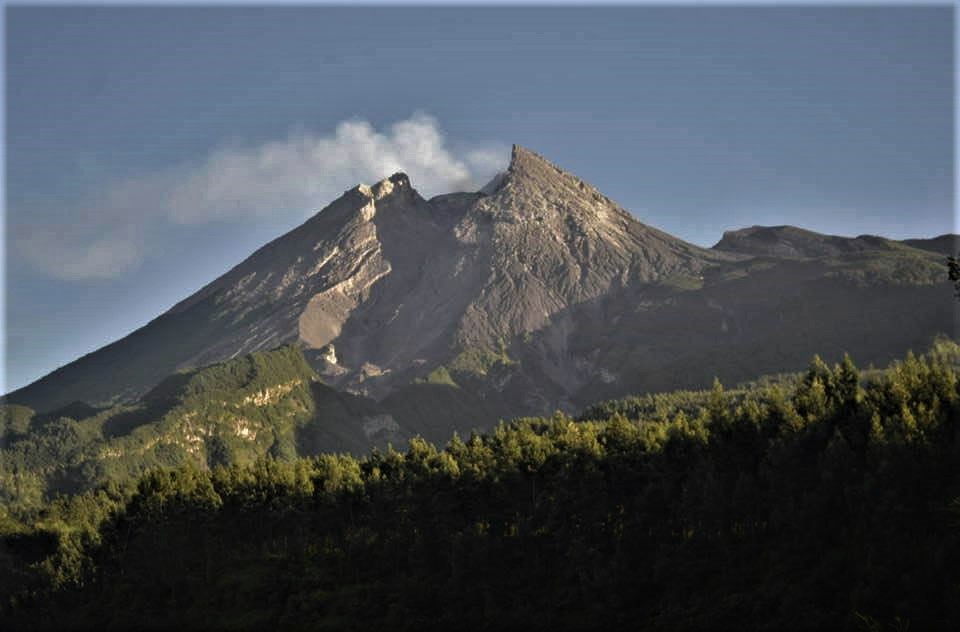 Deformation
The deformation of Mount Merapi that was monitored using EDM and GPS this week shows no significant changes.
Rain and lahars:
This week, there was rain at Kaliurang observation post with a rain intensity of 24 mm/h for 100 minutes on November 22, 2022. It is reported that there was an increase in flow in the Gendok and Kuning rivers.
Conclusion
Based on the results of visual and instrumental observations, it is concluded that:
-The volcanic activity of Mount Merapi is still quite high in the form of effusive eruption activity. The state of the activity is defined at the « SIAGA » level.
-The current potential dangers are lava avalanches and hot clouds in the South-South-West sector including the Boyong River up to 5 km, the Bedog, Krasak, Bebeng Rivers up to 7 km. In the South-East sector, they cover the Woro River with a maximum of 3 km and the Gendol River for 5 km. While the ejection of volcanic materials during an explosive eruption can reach a radius of 3 km around the summit.
Source : BPPTKG.
Photo : via Anette Selau
Chile , Nevados de Chillan :
Seismology
The seismological activity of the period was characterized by the recording of:
47 volcano-tectonic (VT) earthquakes associated with brittle rupture processes; the most energetic earthquake had a local magnitude (ML) equal to 2.5, the location of which was estimated at a depth of 4.0 km and an epicentral distance of 2.7 km east-south -Is relative to the active crater.
Long-period (LP), explosion (EX) and tremor (TR) seismicities continued to be recorded, associated with fluid dynamics within the volcanic system. 152 LP-type earthquakes were classified, none of which were associated with surface-level explosions due to the presence of acoustic waves and/or gaseous emissions. The size of the largest LP earthquake estimated from the reduced displacement parameter (DR) reached a value equal to 19.4 cm2. Regarding TR type seismicity, only 1 event was identified,
which achieved a DR of 1.7 cm2. Seismic fluid energy showed fluctuations that remain at very low levels, which is consistent with a system with no apparent new magmatic contributions to the surface.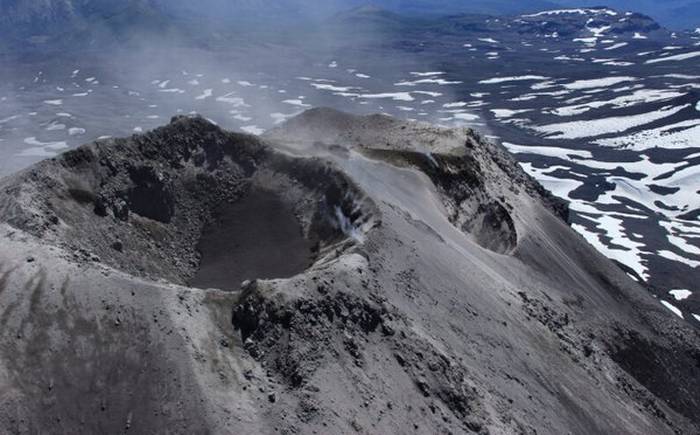 Fluid Geochemistry
Data on sulfur dioxide (SO2) emissions obtained by optical differential absorption spectroscopy (DOAS) equipment, corresponding to the Philippi and Chillán stations, installed 1.5 km to the South-South-East ( SSE) and 2.7 km east-southeast (ESE) of the active crater respectively, presented an average value of 114 ± 87 t / d, which is lower than the anomalous limit established for this volcano. The maximum daily value was 631 t/d, recorded on 6 November. The number of valid measurements recorded by the DOAS equipment averaged 3.1 ± 0.4 per day, which is consistent with the low SO2 flow recorded for this period.
Geodesy
According to the data provided by the geodetic monitoring network (GNSS and inclinometers), the most important aspects related to volcanic deformation have been characterized by:
– A small change in the last period in the vertical components of all stations, this change is of small magnitude, but a change can be observed in the trend which was previously deflation, now becoming observed inflation, highlighting a change in the deformation which has been projected from December 2021, the maximum rates reach 0.36 cm / month in the stations closest to the source of deformation (sector west of the active crater).
– Regarding the line lengths, the changes highlighted are slight and, like the vertical components, a change can be observed for the last period but of lesser magnitude and tending to inflation, but which is not still observed as a clear trend.
– Minimal variations of electronic inclinometers, attributable to changes in the operating temperature of the equipment, with inclinations reaching approximately 8 microradians.
Geodetic data suggest the action of a source of surface deformation, but the inflation observed in recent days could indicate a process of deeper origin linked to a new intrusion of material.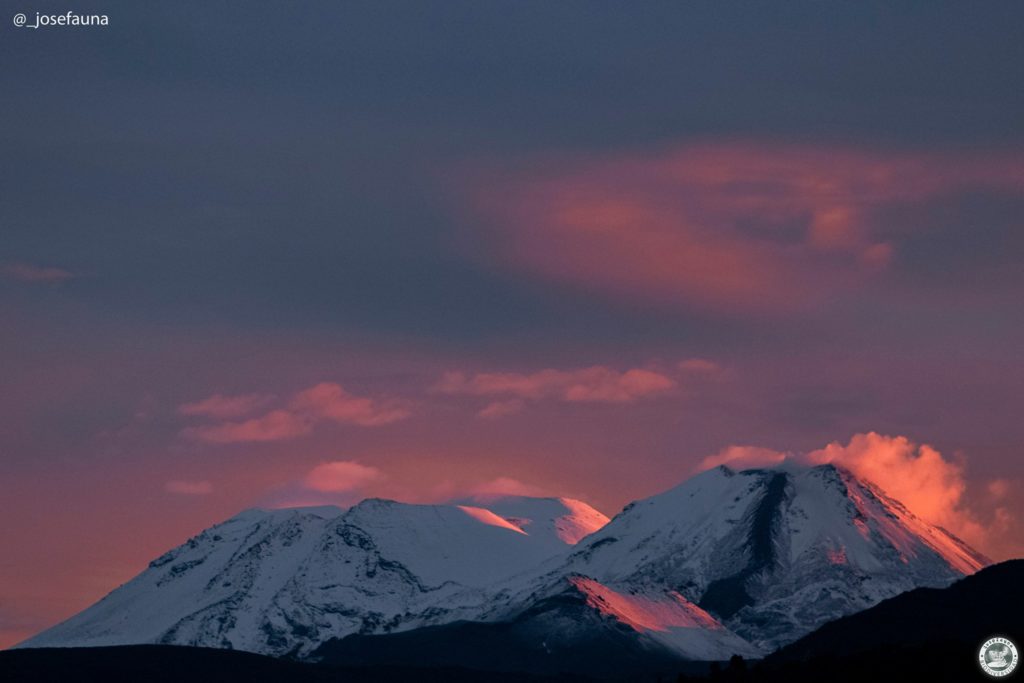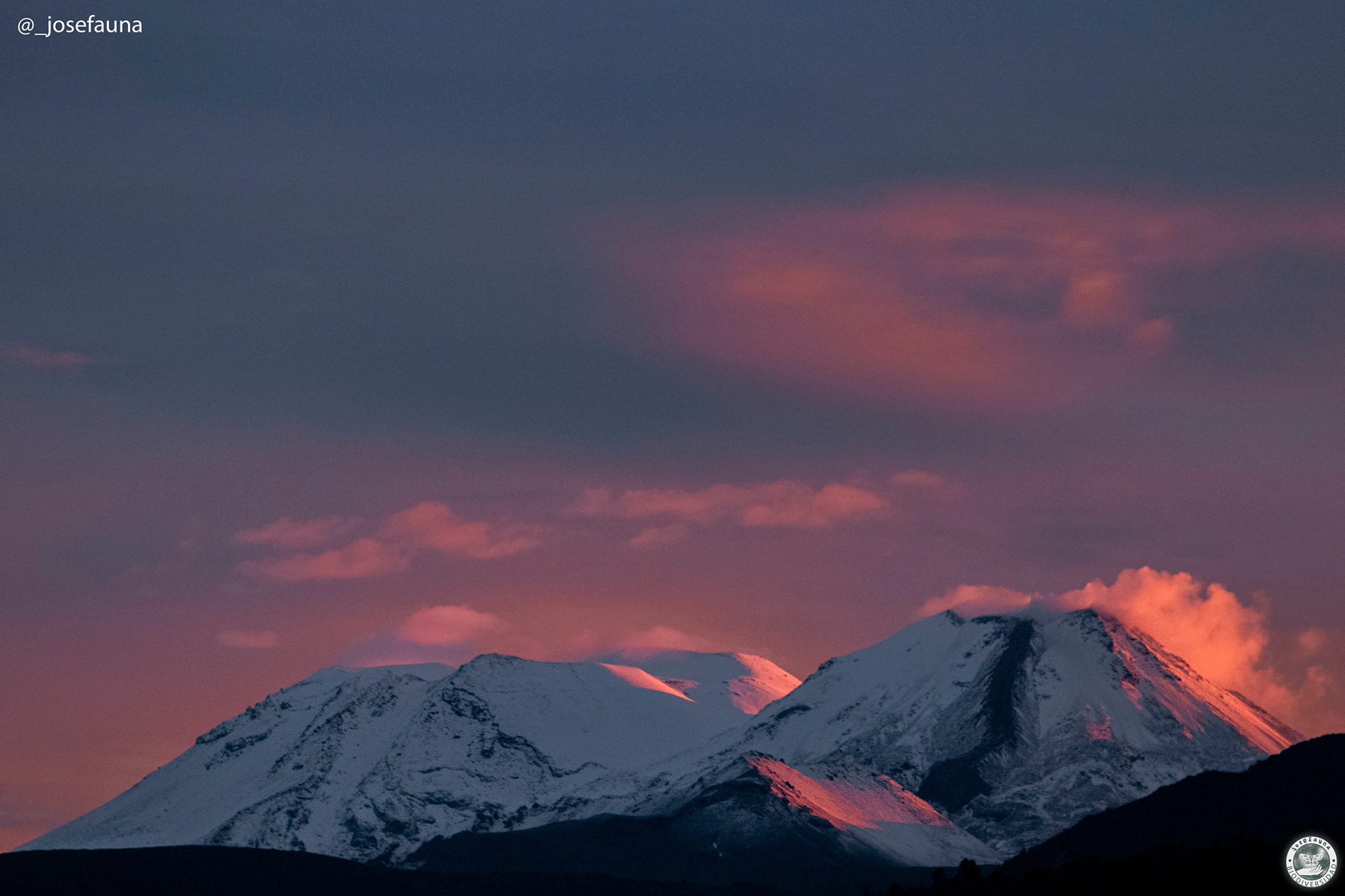 Surveillance cameras
The period evaluated is characterized by the rare appearance of white columns of passive degassing, without pyroclasts or associated incandescence. Maximum heights reached 80 m above crater level on November 1 and 10.
Satellite geomorphological analysis
Planet Scope and Sentinel 2-L2A satellite images show the presence of a possible fissure within the active crater with a North-West / South-East orientation which remained unchanged during the evaluated period. No variations of the crater rims or the presence of recent volcanic deposits have been identified.
The Nevados de Chillán volcanic complex remains in a very low energy phase where the occurrence and size of seismic signals have decreased considerably compared to the phases of greater activity. On the other hand, the absence of TR seismic signals indicates a higher level of sealing of the surface system and/or a depletion of magmatic processes. Other monitoring parameters such as deformation, SO2 emissions and thermal anomalies remain low and stable. There is a decrease in surface manifestations with occasional emissions of very low degassing power. Despite the above, the volcanic system continues with lower seismicity, which could suggest, as has happened on other occasions, a reactivation of surface processes. Due to the above, a possible assignment area is maintained with a radius of 2 km around the active crater.
YELLOW TECHNICAL ALERT: Changes in volcanic activity behavior
Source : Sernageomin
Photos : Radio universidad de chile, Josefauna.
Alaska , Takawangha :
51°52'1″ N 178°1'37 » W,
Summit Elevation 4754 ft (1449 m)
Current Volcano Alert Level: ADVISORY
Current Aviation Color Code: YELLOW
The number of small earthquakes detected near Takawangha volcano has increased over the past 10 days and intensified during November 17th and 18th. The earthquakes, the largest with magnitudes between 2 and 3, have preliminary depths of about 2 to 7 miles (3 to 11 km) below sea level. This activity may be due to the movement of magma beneath the volcano and marks a departure from background activity and therefore AVO raised the Aviation Color Code to YELLOW and Alert Level to ADVISORY for Takawangha volcano on November 18th.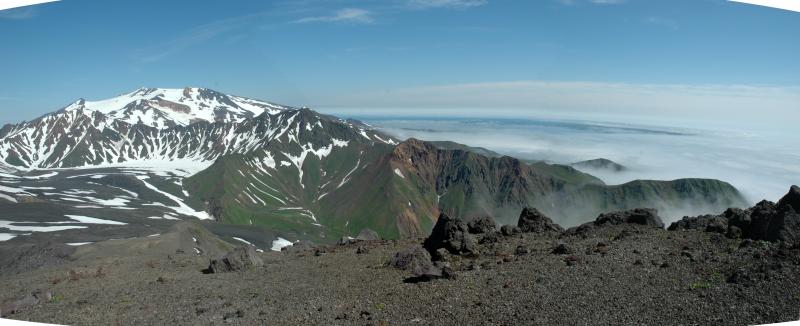 Earthquake activity has waxed and waned in the week since, and continues at a somewhat reduced rate.
No eruptive activity has been detected in satellite or other monitoring data.
Takawangha is monitored with a local seismic network, a single local infrasound sensor, regional infrasound and lightning sensors, and satellite imagery.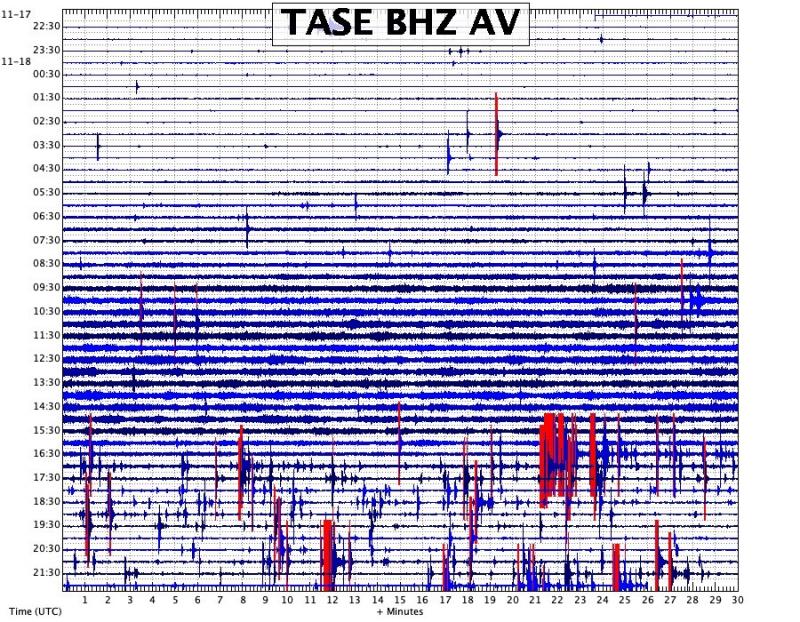 Takawangha is a remote, 1,449 m (4,754 ft)-high stratovolcano located on the northeast portion of Tanaga Island, roughly 95 km (59 miles) west of Adak in the Andreanof Islands. Takawangha's summit is mostly ice-covered, except for four young craters that have erupted ash and lava flows in the last few thousand years. Parts of Takawangha's edifice are hydrothermally altered and may be unstable, possibly leading to localized debris avalanches from its flanks. Takawangha lies across a saddle from historically active Tanaga volcano to the west. No historical eruptions are known from Takawangha; however, field work shows that recent eruptions have occurred and it is possible that historic eruptions attributed to Tanaga may instead have come from Takawangha.
Source : AVO.
Photos : Coombs, Michelle.
Russia / Kuril Islands , Alaid :
VOLCANO OBSERVATORY NOTICE FOR AVIATION (VONA)
Issued: November 26 , 2022
Volcano: Alaid (CAVW #290390)
Current aviation colour code: ORANGE
Previous aviation colour code: orange
Source: KVERT
Notice Number: 2022-183
Volcano Location: N 50 deg 51 min E 155 deg 33 min
Area: Northern Kuriles, Russia
Summit Elevation: 2339 m (7671.92 ft)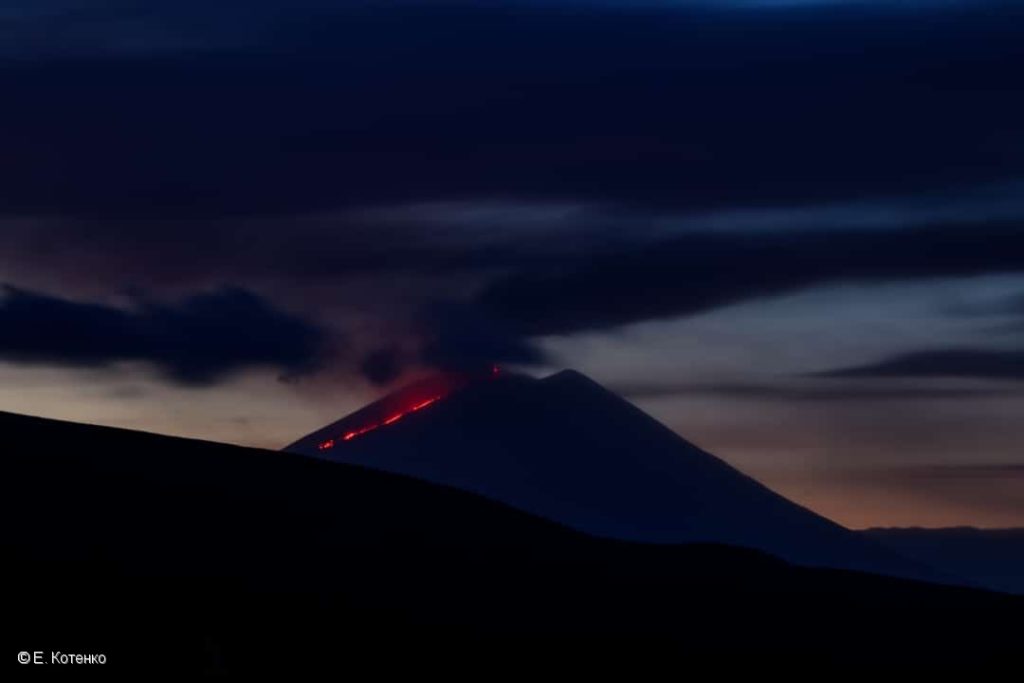 Volcanic Activity Summary:
An explosive activity of the volcano continues. Satellite data by KVERT showed an ash plume extended about 220 km to the south-east of the volcano.
A moderate eruptive activity of the volcano continues. Ash explosions up to 6 km (20,000 ft) a.s.l. could occur at any time. Ongoing activity could affect international and low-flying aircraft.
Volcanic cloud height:
3500 m (11480 ft) AMSL Time and method of ash plume/cloud height determination: 20221126/0321Z – JPSS-1 15m16
Other volcanic cloud information:
Distance of ash plume/cloud of the volcano: 220 km (137 mi)
Direction of drift of ash plume/cloud of the volcano: SE / azimuth 133 deg
Time and method of ash plume/cloud determination: 20221126/0321Z – JPSS-1 15m16
Source : Kvert.
Photo : E. Kotenko ( 10 /2022).
Ecuador , Cotopaxi :
Information on the activity of the COTOPAXI volcano, Quito, Friday, November 25, 2022.
From 6:48 p.m. TL, the seismic stations of the Cotopaxi volcano record a tremor signal associated with an emission of gas and ash visible on the GOES-16 satellite and directed north northwest. So far, no ash fall has been reported. The amplitude of the signal is low compared to the activity of the volcano in 2015. The volcano remains cloudy, visual observations cannot be made.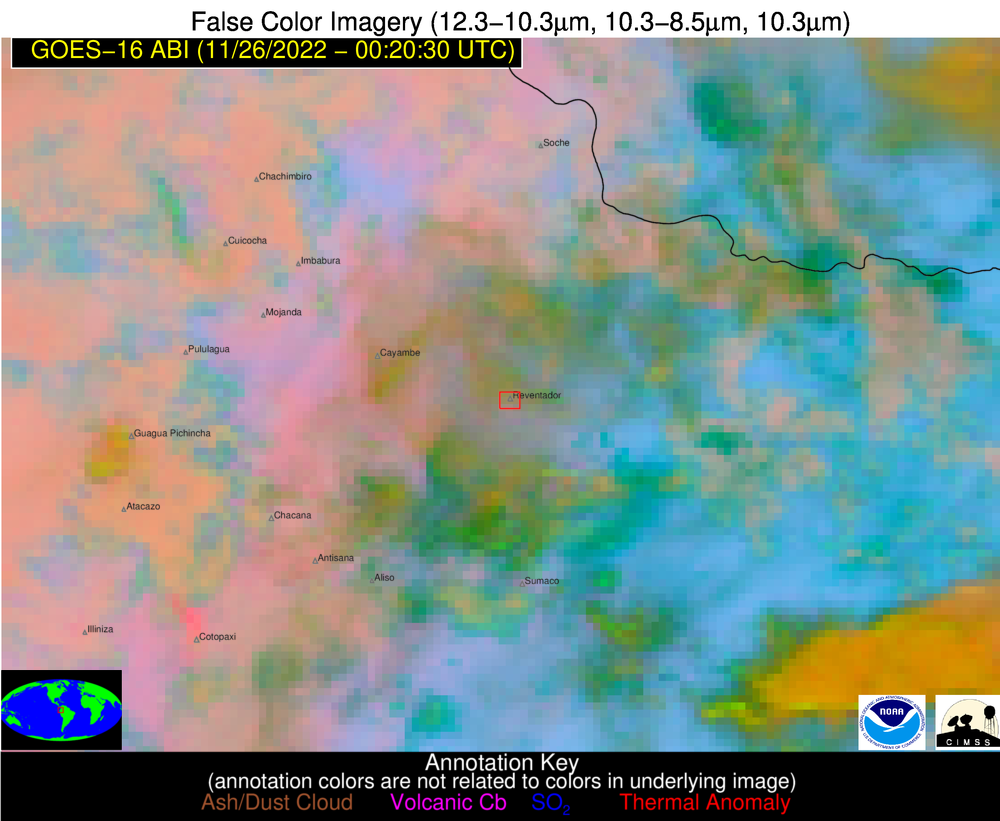 GOES-16 satellite image.
The IG-EPN continues to monitor the event and will inform in a timely manner if any changes in the seismic signals are detected. It is recommended to take appropriate measures and receive information from official sources.
The Geophysical Institute is monitoring and any news will be reported.
Source et photo : IGEPN.