August 24, 2021. EN. New Zealand : White Island , Peru : Sabancaya , Alaska : Great Sitkin , Kamchatka : Sheveluch , Philippines : Taal , Chile : Tupungatito .
August 24 , 2021.
New Zealand , White Island :
Minor, short-lived ash emission from Whakaari/White Island. Volcanic Alert Level remains at 2. Published: Tue Aug 24 2021 2:00 PM
At about 7:40 AM on Sunday 22 August 2021, a period of minor ash emission was observed from the active vent area at Whakaari/White Island. Based on webcam observations, the ash emission persisted for about two minutes. It was not visible in camera images from Whakatane. Based on the short duration of the activity, it is unlikely to have produced a plume large enough to create any ashfall, even on the island.
At 7:00 PM on Thursday 19 August 2021, a notable volcanic earthquake was recorded at Whakaari/White Island. The earthquake continued for about 10 minutes, but it was not accompanied by any eruptive activity that could be observed, either by webcam images, or by air pressure sensors. No relationship has been established between the volcanic earthquake and the minor ash emission three days later. Other seismic activity at the volcano has been minor.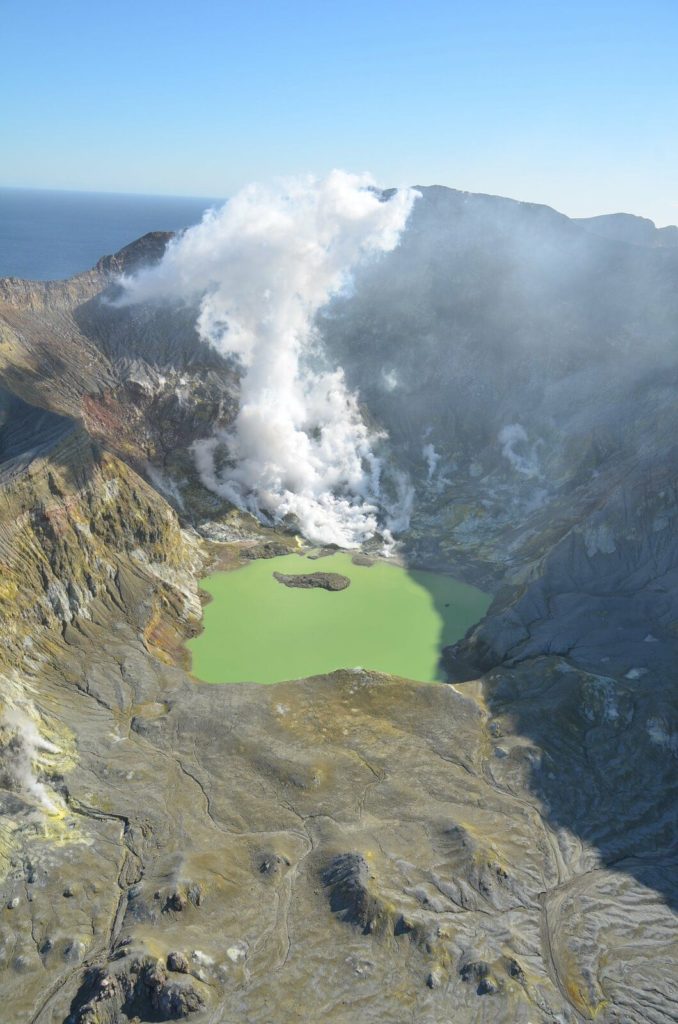 Webcam images continue to show night glow, suggesting that temperatures in the active vent area probably remain around 500-600°C, like recent observations.
Satellite radar data continue to show small amounts of ground deformation around the active vent and lake area.
These observations do not change recent interpretations that a fresh magma intrusion to shallow levels has occurred since June 2021. The ash emission observed on Sunday may be related to shallow magma beneath the active vents, but its short duration suggests that unstable material falling into the active vent, subsequently to be fragmented and then ejected by gas pressure, may be a more likely explanation. This type of activity has occurred many times in the past, including since the December 2019 eruption .
Equipment that provides real-time monitoring on the island is currently degraded and we are continuing to work on restoration options.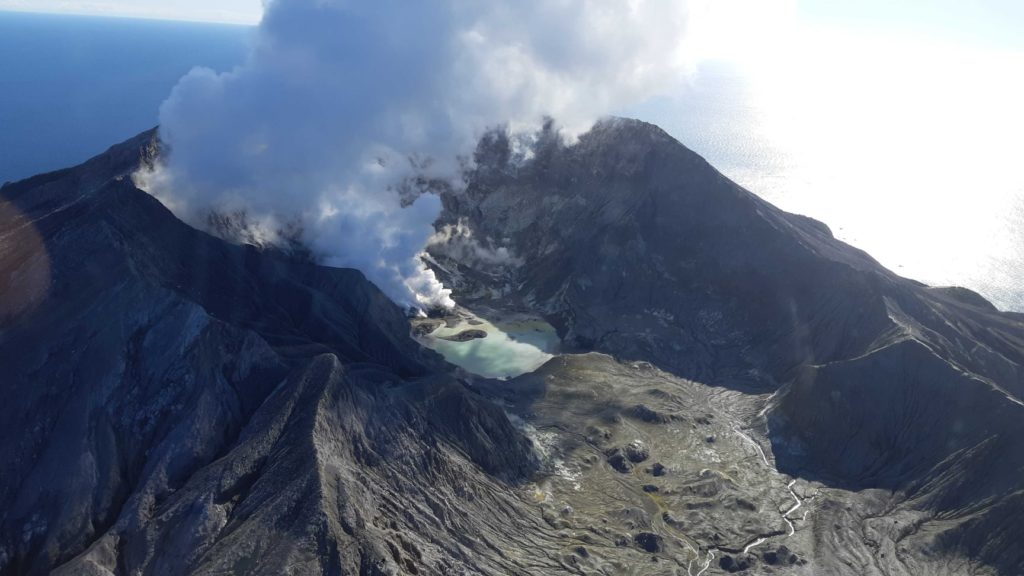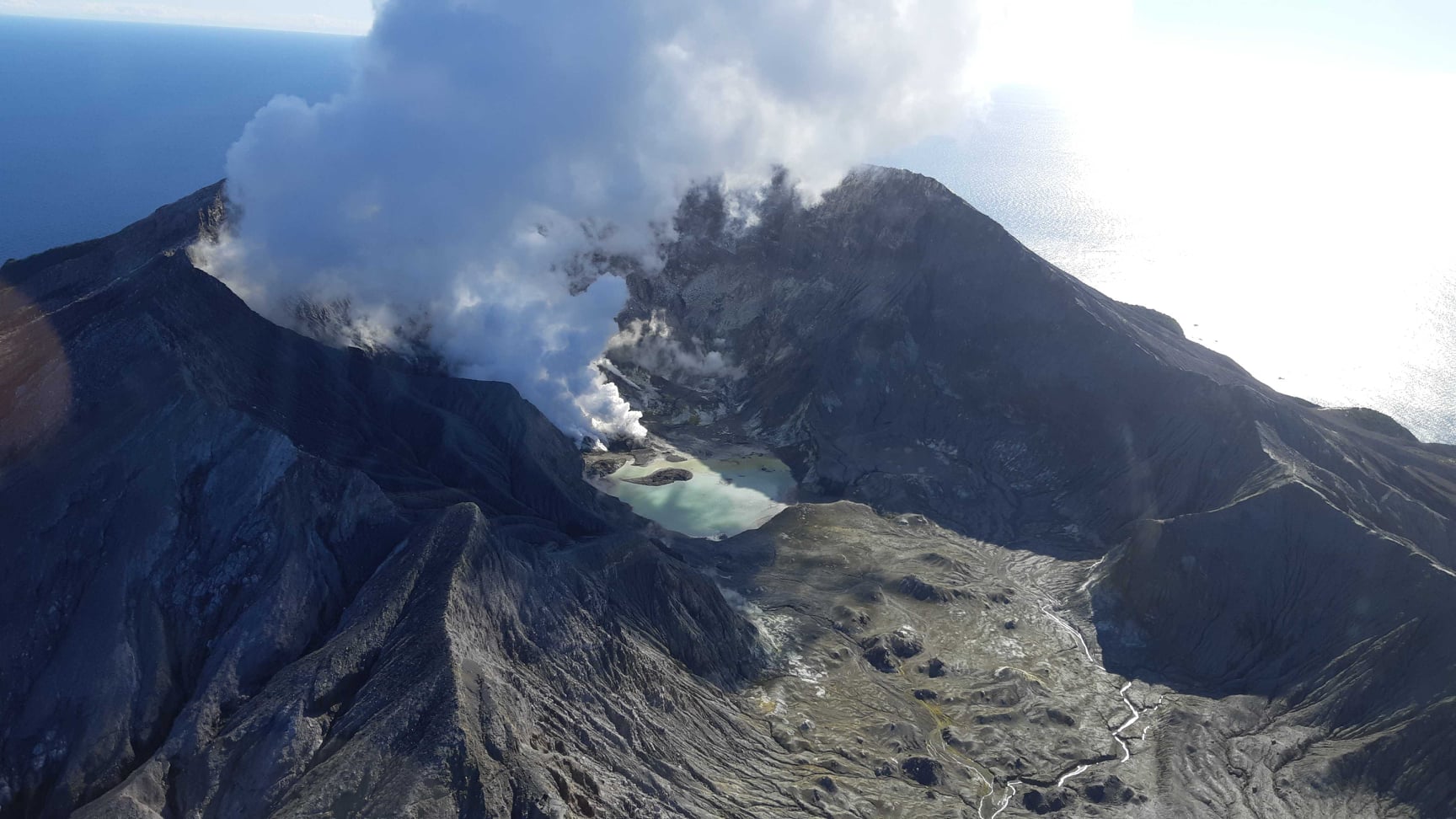 The current level of activity is consistent with moderate levels of unrest. As such the Volcanic Alert Level remains at 2 and the Aviation Colour Code remains at Yellow.
The Volcanic Alert Level reflects the current level of volcanic unrest or activity and is not a forecast of future activity. While Volcanic Alert Level 2 is mostly associated with volcanic unrest hazards (including discharge of steam and hot volcanic gases, earthquakes, landslides and hydrothermal activity), potential for eruption hazards also exists and eruptions can still occur with little or no warning.
Source : Geonet / Steven Sherburn – Duty Volcanologist.

Photos : Brad Scott , Geonet .
Peru , Sabancaya :
Analysis period: August 16, 2021 to August 22, 2021, Arequipa, August 23, 2021.
Alert level: ORANGE
The Geophysical Institute of Peru (IGP) reports that the eruptive activity of the Sabancaya volcano remains at moderate levels, that is to say with the recording of an average of 33 daily explosions, with columns of ash and gas up to 2.9 km altitude above the summit of the volcano and their consequent dispersion. Therefore, for the following days, no significant change is expected in eruptive activity.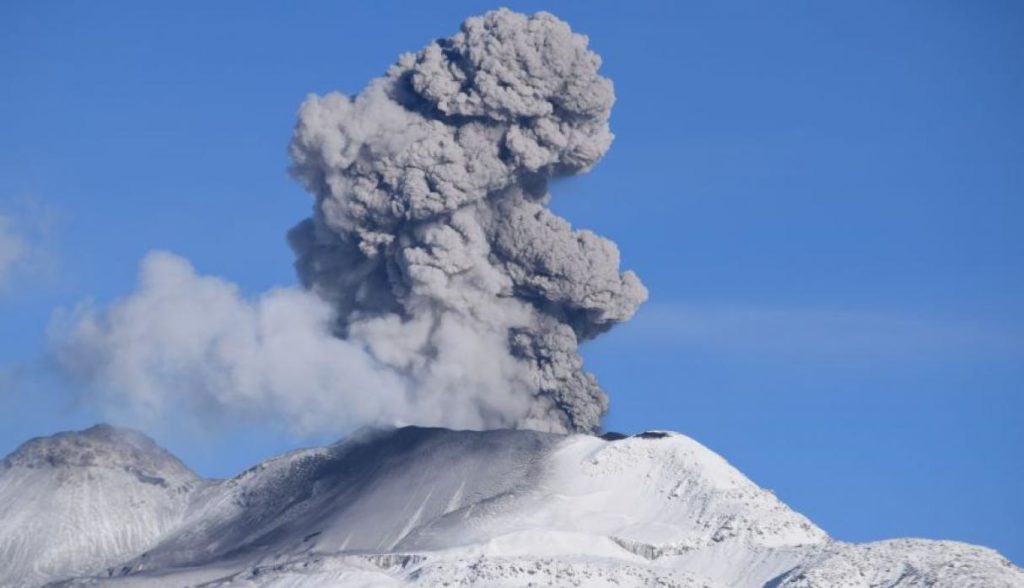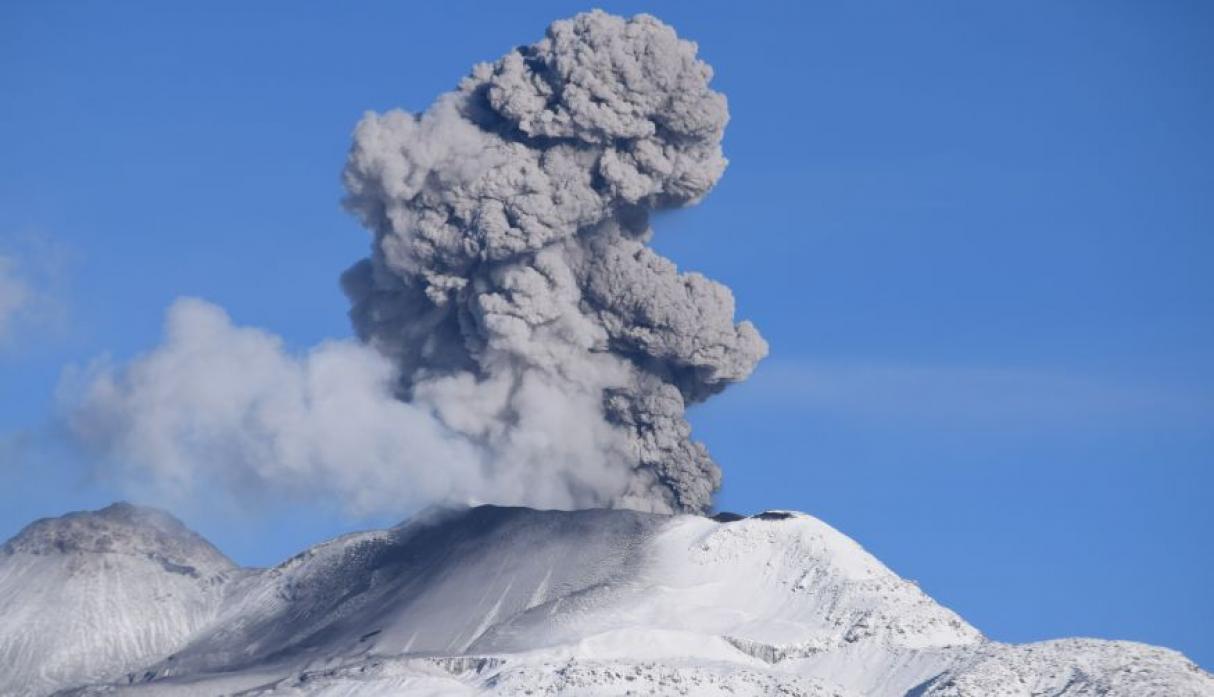 The IGP recorded and analyzed the occurrence of 822 earthquakes of volcanic origin, associated with the circulation of magmatic fluids within the Sabancaya volcano. An average of 33 explosions was recorded daily. During this period, Volcano-Tectonic (VT) earthquakes associated with rock fractures were located mainly in the North, North-East, North-West of Sabancaya and presented magnitudes between M2, 5 and M3.3.
The monitoring of the deformation of the volcanic structure using GNSS techniques (processed with fast orbits) does not show any significant anomalies. However, in general, an inflation process was observed in the northern sector (around the Hualca Hualca volcano). Visual surveillance made it possible to identify columns of gas and ash up to 2.9 km altitude above the summit of the volcano, which were scattered towards the South, South-West, North, East, West and South sectors. North-East of Sabancaya. Satellite recordings identified the presence of 6 thermal anomalies (maximum value of 9 MW) associated with the presence of a lava body on the surface of the volcano's crater.
RECOMMENDATIONS
• Keep the volcanic alert level in orange.
• Do not approach within a radius of 12 km from the crater.
Source : IGP.
Photo :Ingemmet.
Alaska , Great Sitkin :
52°4'35 » N 176°6'39 » W,
Summit Elevation 5709 ft (1740 m)
Current Volcano Alert Level: WATCH
Current Aviation Color Code: ORANGE
Elevated surface temperatures and small earthquakes were detected over the past day at Great Sitkin Volcano consistent with continued growth of a lava dome. Satellite imagery from two days ago shows the lava dome has a diameter of ~860 m (~2800 ft). No explosions or ash emissions were detected in geophysical or satellite data, although elevated surface temperatures were observed in satellite imagery.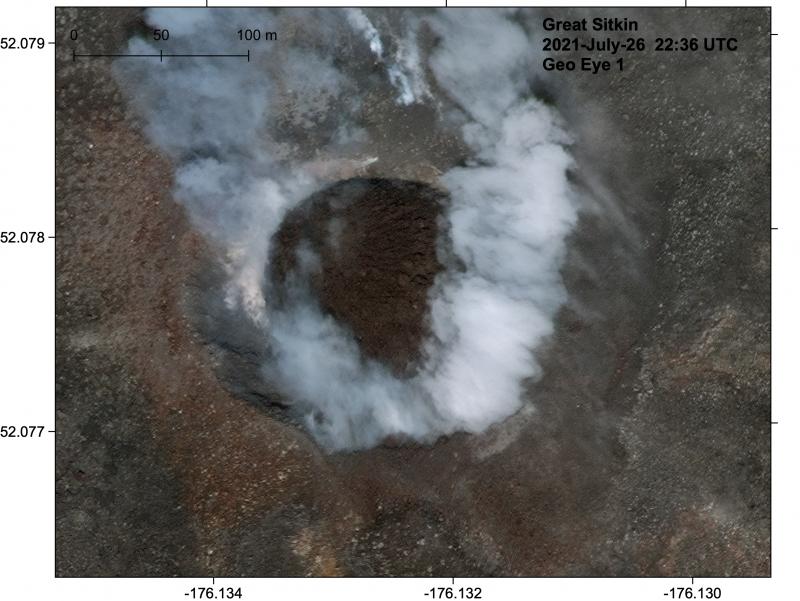 Great Sitkin crater with the new circular lava dome, imaged on July 26, 2021. Dome was about 130 m diameter.
There is no indication of how long lava effusion will continue during the current eruption, and it is possible that explosive activity could occur with little or no warning. Great Sitkin Volcano is monitored by local seismic and infrasound sensors, satellite data, web cameras, and remote infrasound and lightning networks.
Source : AVO.
Photo : Loewen, Matt.
Kamchatka , Sheveluch :
VOLCANO OBSERVATORY NOTICE FOR AVIATION (VONA)
Issued: August 24 , 2021
Volcano: Sheveluch (CAVW #300270)
Current aviation colour code: ORANGE
Previous aviation colour code: orange
Source: KVERT
Notice Number: 2021-101
Volcano Location: N 56 deg 38 min E 161 deg 18 min
Area: Kamchatka, Russia
Summit Elevation: 3283 m (10768.24 ft), the dome elevation ~2500 m (8200 ft)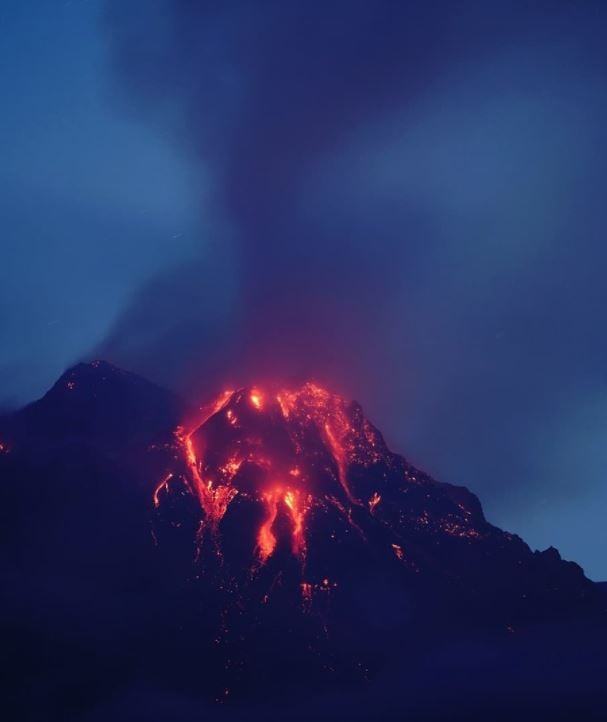 Volcanic Activity Summary:
The growth of the lava dome continues, a strong fumarolic activity, and an incandescence of the lava dome and hot avalanches accompanies this process. Satellite data showed a gas-steam plume containing some amount of ash extending 95 km to the east-south-east from the volcano.
The extrusive eruption of the volcano continues. Ash explosions up to 10-15 km (32,800-49,200 ft) a.s.l. could occur at any time. Ongoing activity could affect international and low-flying aircraft.
Volcanic cloud height:
3000-3500 m (9840-11480 ft) AMSL Time and method of ash plume/cloud height determination: 20210824/0040Z – Himawari-8
Other volcanic cloud information:
Distance of ash plume/cloud of the volcano: 95 km (59 mi)
Direction of drift of ash plume/cloud of the volcano: ESE / azimuth 113 deg
Time and method of ash plume/cloud determination: 20210824/0040Z – Himawari-8
Source : KVERT
Photo : alexvush via Alicja Szojer
Philippines , Taal :
TAAL VOLCANO BULLETIN 24 August 2021 8:00 AM
In the past 24-hour period, the Taal Volcano Network recorded forty-two (42) volcanic earthquakes, including six (6) volcanic tremor events having durations of two (2) minutes, thirty-six (36) low-frequency volcanic earthquakes, and low-level background tremor that has persisted since 07 July 2021. Activity at the Main Crater was dominated by upwelling of hot volcanic fluids in its lake which generated plumes 3,000 meters tall that drifted southwest.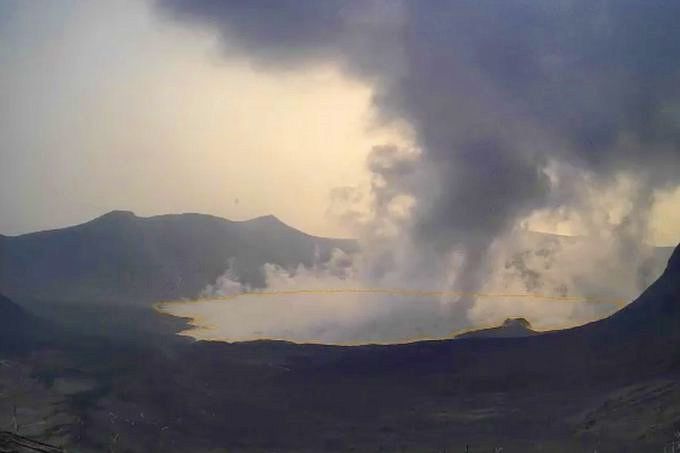 Sulfur dioxide (SO2) emission averaged 8,577 tonnes/day on 23 August 2021. In addition, vog was observed over Taal Volcano and vicinity. Based on ground deformation parameters from electronic tilt, continuous GPS and InSAR monitoring, Taal Volcano Island has begun deflating in April 2021 while the Taal region continues to undergo very slow extension since 2020.
Source: Phivolcs
Photo : Phivolcs via B. Duyck.
Chile , Tupungatito :
Special Report on Volcanic Activity (REAV), Santiago Metropolitan Region, Tupungatito Volcano, August 22, 2021, 12:40 p.m. local time (Continental Chile).
The National Service of Geology and Mines of Chile (Sernageomin) publishes the following PRELIMINARY information, obtained thanks to the monitoring equipment of the National Volcanic Monitoring Network (RNVV), processed and analyzed at the Volcanological Observatory of the Southern Andes (Ovdas) :
On Sunday August 22 at 11:47 a.m. local time (3:47 p.m. UTC), the monitoring stations installed near the Tupungatito volcano recorded an earthquake associated with the fracturing of the rock (Volcano – Tectonic type).
The characteristics of the earthquake after its analysis are as follows:
TIME OF ORIGIN: 11:47 a.m. local time (3:47 p.m. UTC)
LATITUDE: 33,259 ° S
LONGITUDE: 69.793 ° W
DEPTH: 4.3 km
LOCAL MAGNITUDE: 3.3 (ML)
The volcanic technical alert remains at Green level.
The Sernageomin conducts online monitoring and timely reports any changes in volcanic activity.
Tupungatito volcano, the northernmost historically active volcano of the central Chilean Andes, is located along the Chile-Argentina border about 90 km E of Santiago and immediately SW of the Pleistocene Tupungato volcano. Tupungatito consists of a group of 12 Holocene andesitic and basaltic andesite craters and a pyroclastic cone at the NW end of the 4-km-wide, Pleistocene dacitic Nevado Sin Nombre caldera, which is filled by glaciers at its southern end and is breached to the NW. Lava flows from the northernmost vent have traveled down the NW flank breach. Tupungatito has produced frequent mild explosive eruptions during the 19th and 20th centuries.
Source : Sernageomin , GVP.
Photo : WeHaKa / wikimedia