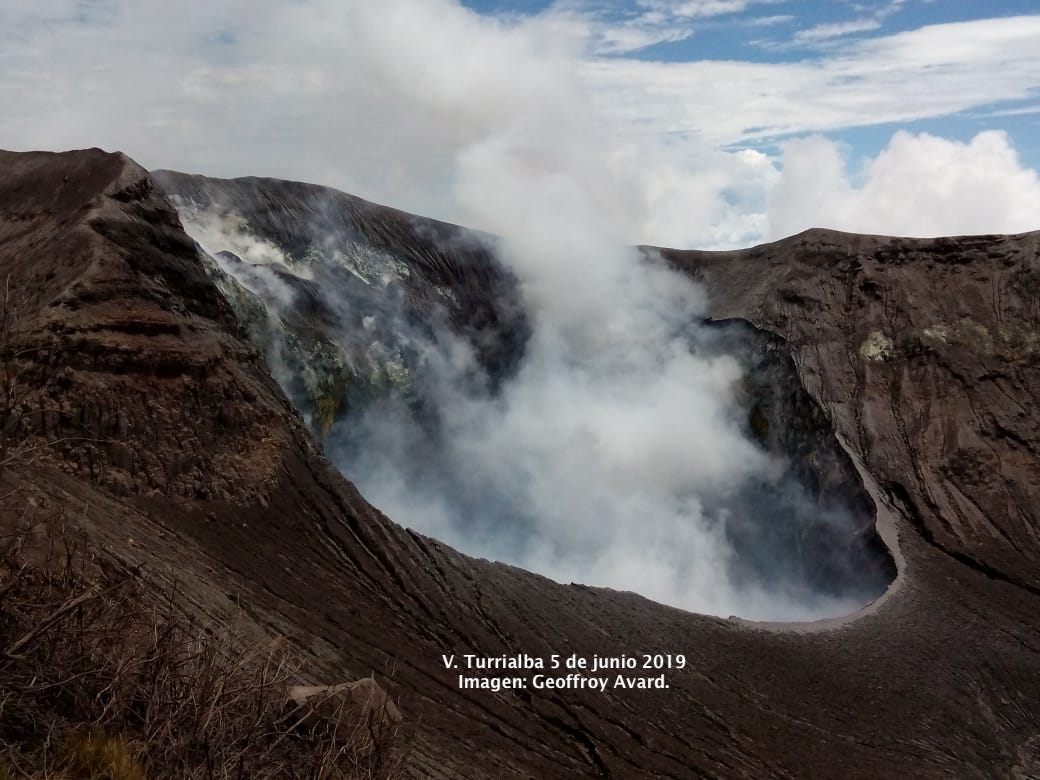 June 28, 2019. EN. Indonesia : Anak Krakatau , Philippines : Taal , Costa Rica : Turrialba / Poas / Rincon de la Vieja , Guadeloupe : La Soufriere , El Salvador : San Miguel (Chaparrastique) .
June 28 , 2019.
Indonesia , Anak Krakatau :
Level of activity at level II (Waspada), since March 25, 2019. G. Anak Krakatau (157 m altitude) has increased its volcanic activity since June 18, 2018, which was followed by a series of eruptions from September 2018 to February 2019. In May 2019, eruptions still occur but decreasing intensity.
Since yesterday and until this morning, the volcano was covered with fog. The smoke from the crater is not observed. The wind was weak in the northeast and northwest.
The seismographs, dated June 27, 2019 recorded:
3 shallow volcanic earthquakes
1 deep volcanic earthquake
Tremor continuous amplitude 1 – 20 mm, dominant value 13 mm
Recommendation:
People / tourists are not allowed to approach the crater within 2 km.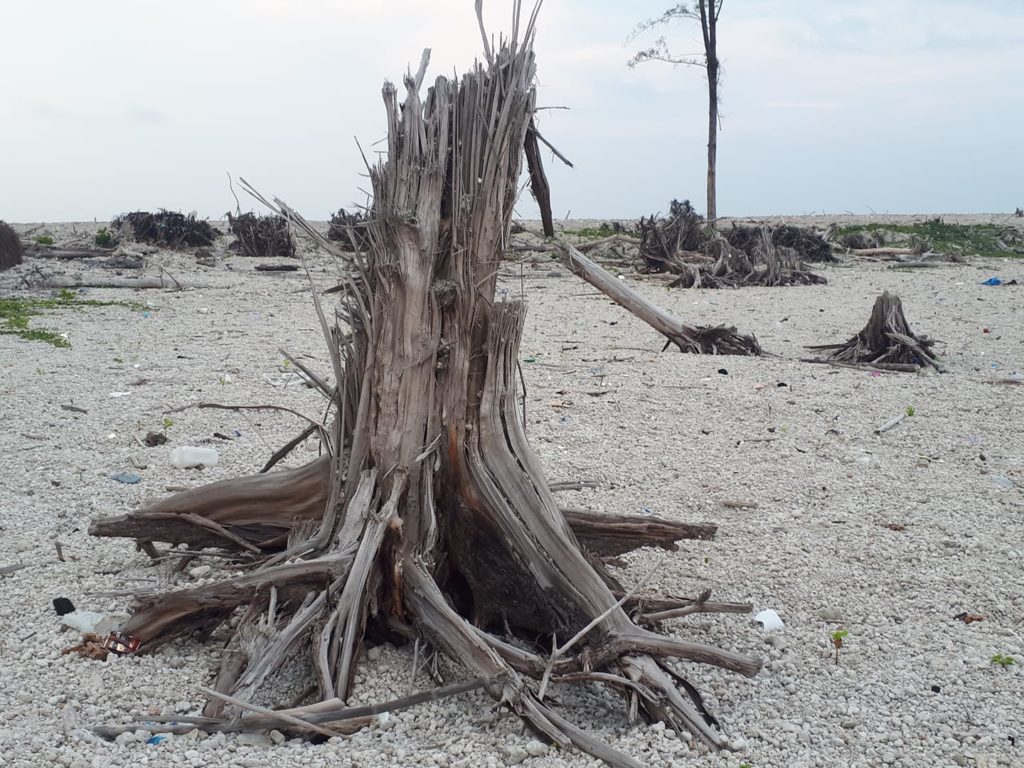 Many part of the trees in sertung island 3 km from anak krakatau was scorched and damaged during massive eruption which made its body collapsed and trigered tsunami in 22nd Dec 2018. Probably the tress caused by the pyroclastic surge flow and followed by tsunami after that.
Beach become wider and longer in Sertung island because the wall which contain pumice deposited from 1883 was collapsed and the tsunami destroyed the forest become flat now. It's dramatic changes after tsunami occured.
VONA:
An ORANGE color code, issued on June 26, 2019 at 0627 WIB, was last issued, referring to an eruption recorded on a seismogram of a maximum amplitude of 45 mm and a seismic duration of 52 seconds .
Source : PVMBG
Photo : Andi – Volcano Discovery.
Video : CCTV from Volcano observatory of Krakatau.
Philippines , Taal :
TAAL VOLCANO BULLETIN 28 June 2019 8:00 A.M.
Taal Volcano's seismic monitoring network recorded seventeen (17) volcanic earthquakes during the 24-hour observation period. Field measurements on 27 June 2019 at the western sector of the Main Crater Lake yielded a decrease in water temperature from 33.8°C to 32.2°C, a decrease in water level from 0.11 meter to 0.10 meter and a decrease in acidity from a pH of 2.80 to 2.86. Ground deformation measurements through precise leveling surveys from 15 – 24 June 2019 indicated slight inflation of the edifice consistent with recent results from continuous GPS data.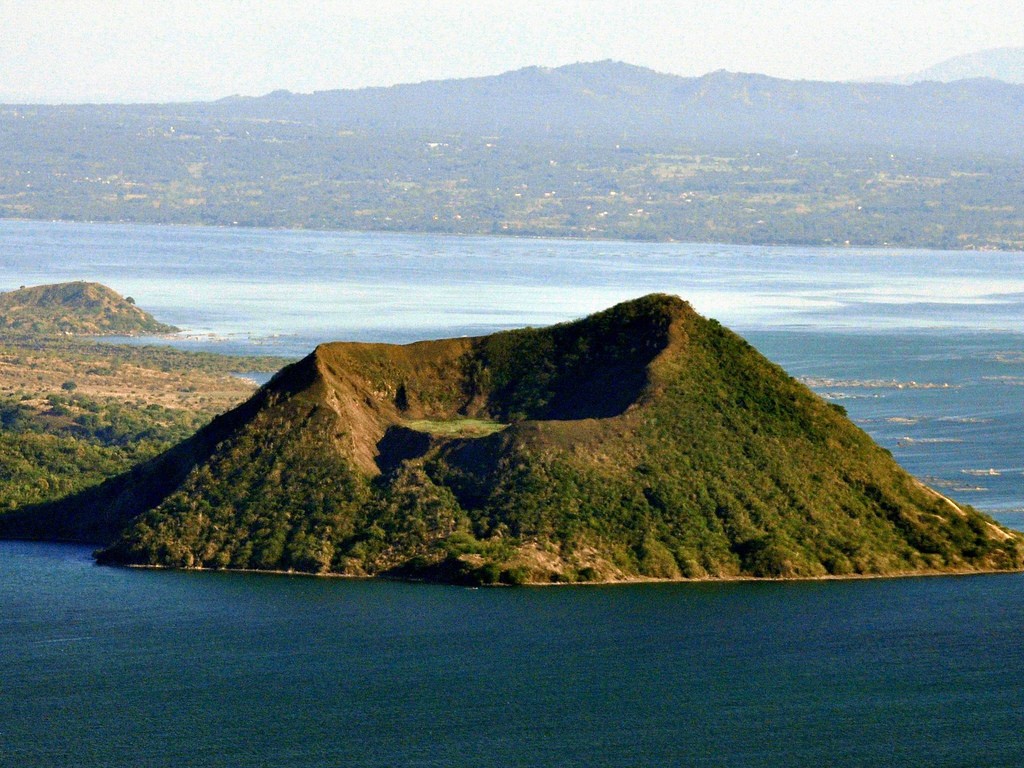 Alert Level 1 remains in effect over Taal Volcano. This means that hazardous eruption is not imminent. The public, however, is reminded that the Main Crater should be strictly off-limits because sudden steam explosions may occur and high concentrations of toxic gases may accumulate. The northern portion of the Main Crater rim, in the vicinity of Daang Kastila Trail, may also become hazardous when steam emission along existing fissures suddenly increases. Furthermore, the public is also reminded that the entire Volcano Island is a Permanent Danger Zone (PDZ), and permanent settlement in the island is strongly not recommended.
Source : Phivolcs
Photo : Wikipédia.
Costa Rica , Turrialba / Poas / Rincon de la Vieja :
Daily report of the state of volcanoes. OVSICORI-UNA, Date: June 27, 2019, Last update: 10:57:00.
Turrialba Volcano :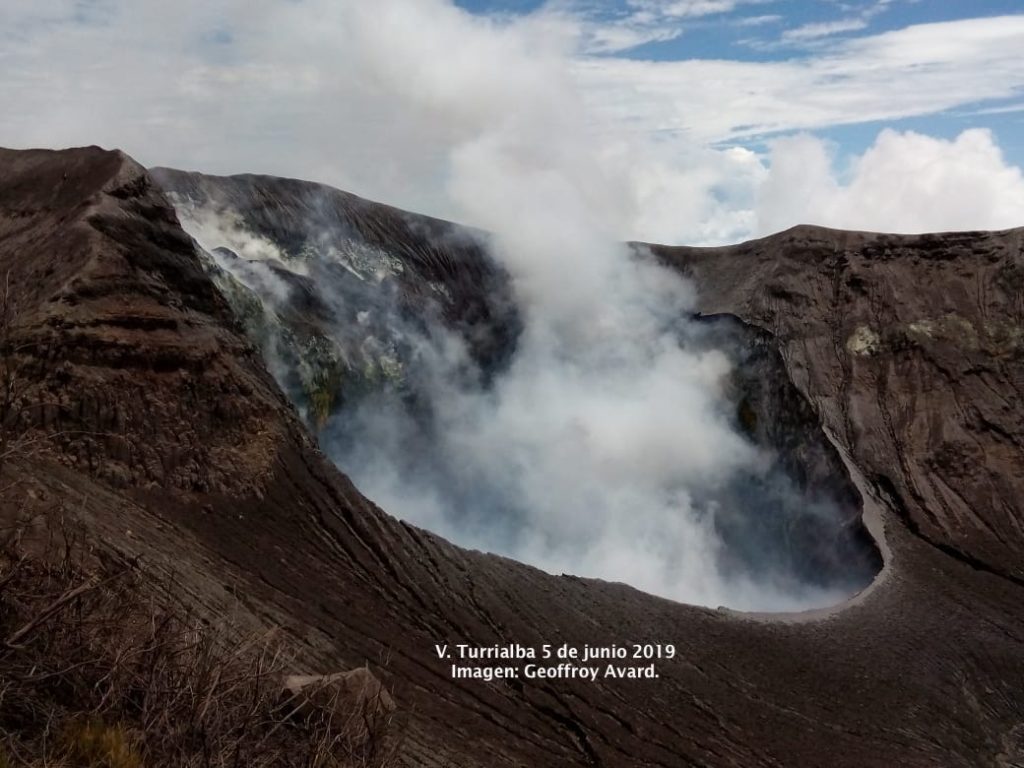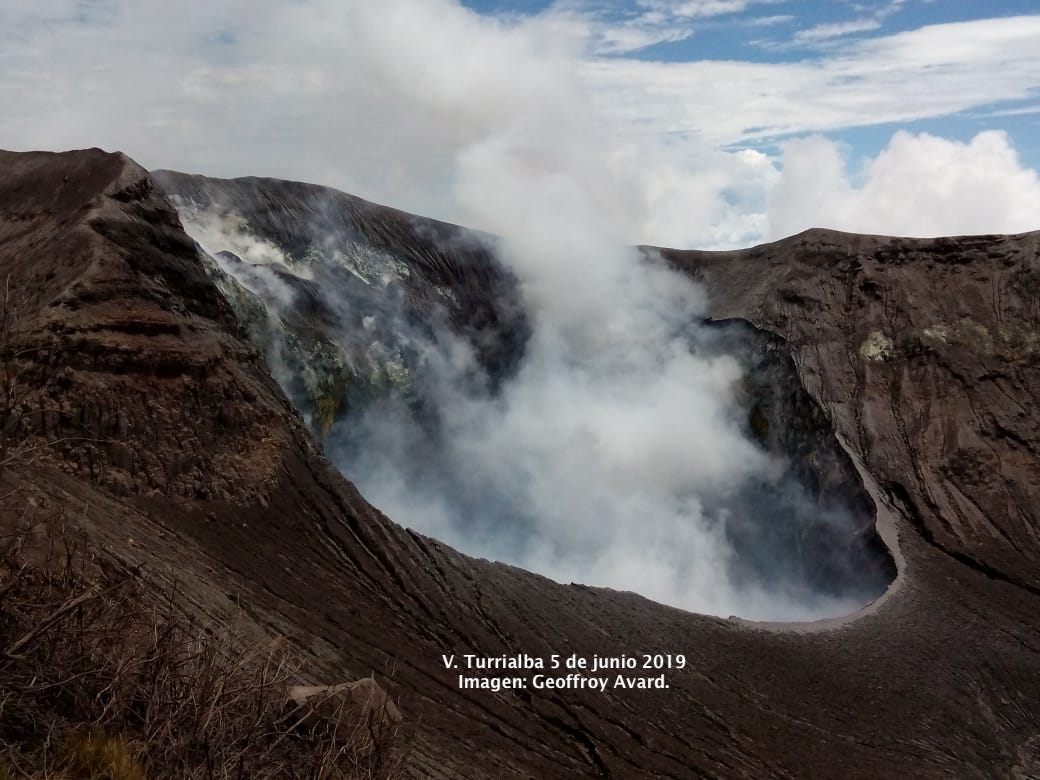 No eruption is reported.
The seismic activity is similar to that of yesterday.
At the time of this report, the winds are blowing west.
The CO2 / SO2 ratio follows its slow decrease.
Poas Volcano:
0.2 ° N, 84.233 ° W
Altitude 2708 m
No eruption is reported.
The seismic activity is similar to that of yesterday.
At the time of writing, winds are blowing from the Southwest.
On 21 June OVSICORI-UNA reported that small, frequent phreatic eruptions from vent A (Boca Roja) were visible during good viewing conditions at Poás ejecting material less than 10 m high.
Rincon de la Vieja Volcano:
No eruption is reported.
The seismic activity is similar to that of yesterday.
The wind direction is unknown at the moment.
Source : Ovsicori . GVP ( Poas) .
La Guadeloupe , La Soufrière :
Thursday, June 27, 2019 at 7:15 pm
Sequence of earthquakes in La Soufrière area of Guadeloupe – Basse Terre
The sequence of volcanic earthquakes that began on Saturday, June 22, 2019 at 20:00 local time (June 23, 2019 00:00 universal time TU *) in the La Soufrière volcano area, continues with the registration of 230 earthquakes since its Inception.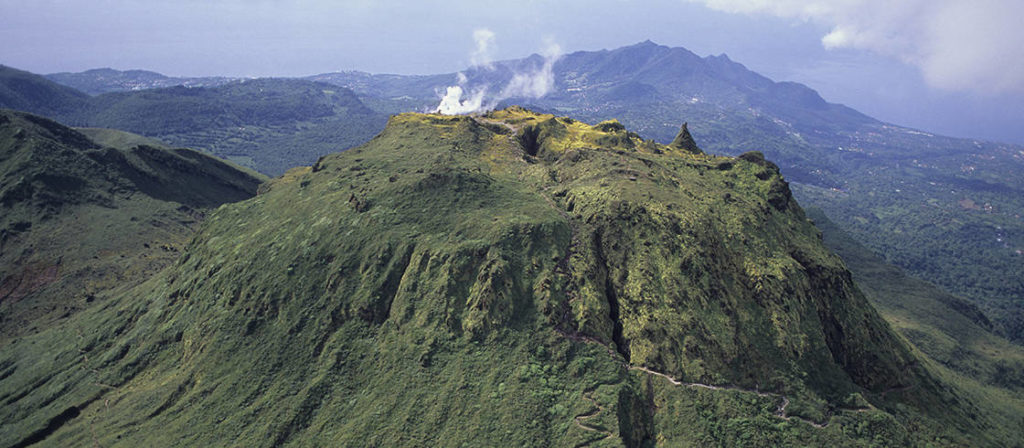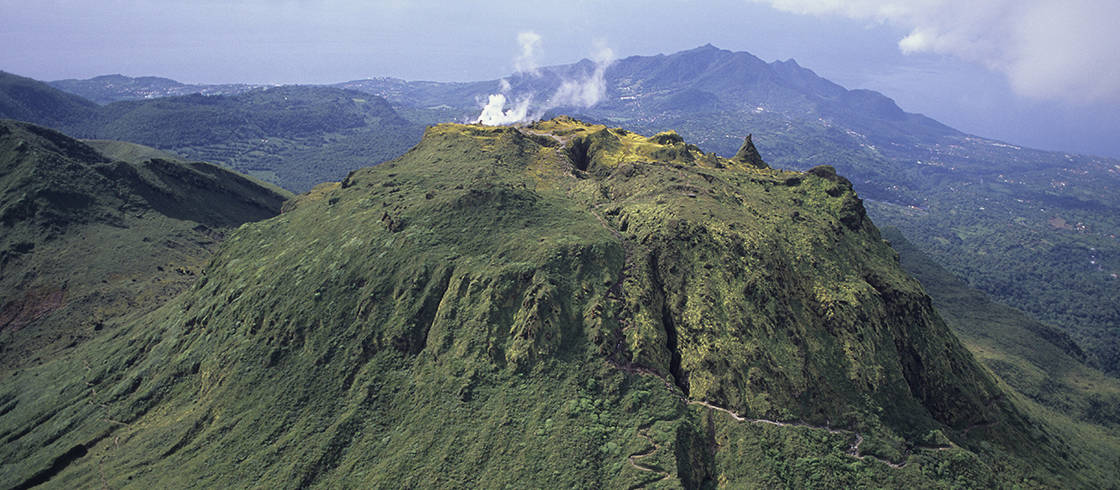 Earthquakes are of very small magnitude (M <1). No earthquakes were reported. The events are located at a depth of <2.5 km under the summit of the dome of La Soufrière.
The alert level remains: yellow, vigilance.
Source : Direction de l'OVSG-IPGP
Photo : P Giraud / ctig
El Salvador , San Miguel ( Chaparrastique ) :
Special Report 2. Changes in the activity of the Chaparrastique volcano persist.
The activity of the Chaparrastique volcano continues to change periodically. The appearance of discrete microseisms associated with seismic vibrations (tremors) persists.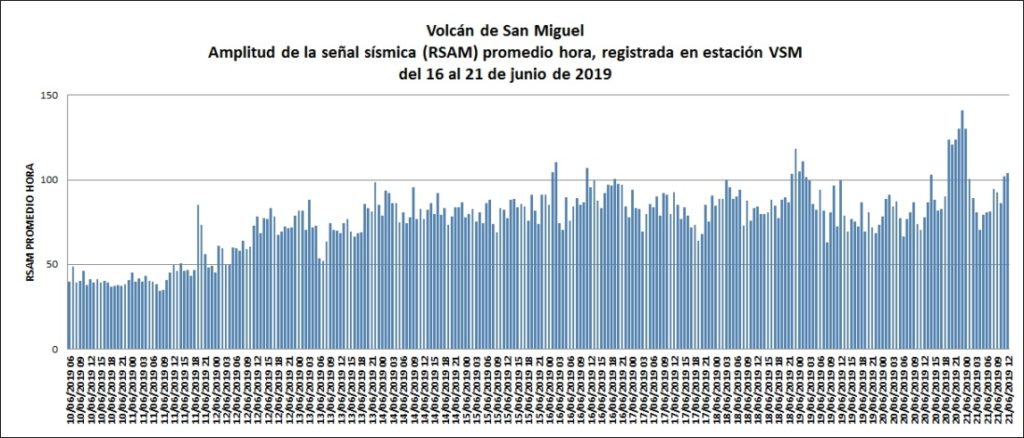 Slight changes in the seismic vibration of the volcano, around the established threshold of 150 RSAM units per hour on average.
In the last 24 hours, the seismic vibration of the San Miguel volcano has fluctuated between 100 and 171 RSAM units per hour on average, while the average is 150 hourly units.
Until the publication of this report, the seismicity of the volcano is characterized by its high frequency and, without observing gas escape from its crater.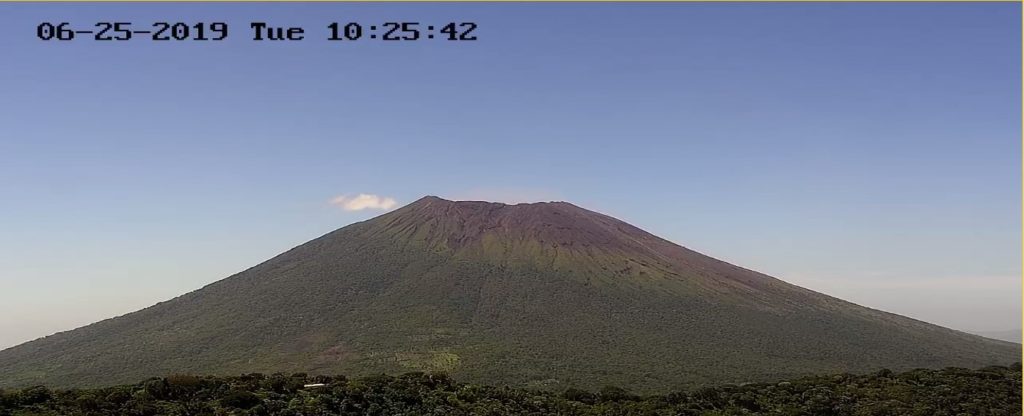 Panoramic view of the volcano taken with the camera of Cerro Pacayal.
Analysis of the results obtained.
From the data analysis, it can be concluded that the volcanic channel is partially obstructed by rocks and sediments and, therefore, under pressure.
As a result, the volcano is prone to suddenly experience periods of more intense activity consisting of small gas and ash emissions, as it has done in previous situations. If this scenario occurs, the gases and ashes would be transported to the south and west flanks of the crater, following the wind direction.
The Ministry of Environment and Natural Resources (MARN) continues the systematic monitoring of the volcano and maintains close communication with the Directorate General of Civil Protection and local observers.
In addition, he calls on the general population to stay away from the upper part of the volcano, as sudden changes in behavior often occur.
If the activity does not evolve, the next report will be published on Thursday, June 27, 2019.
Source : Marn.