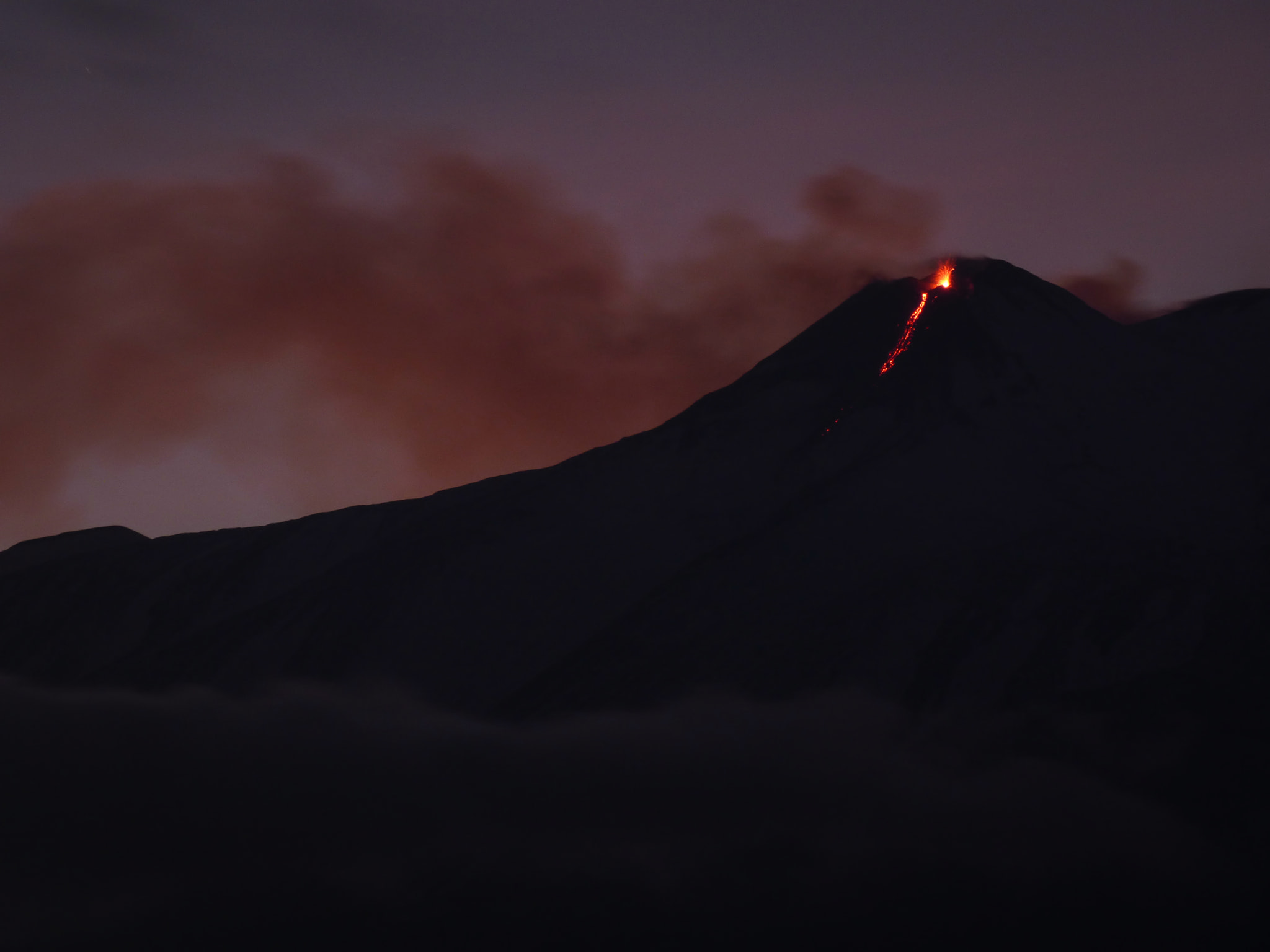 Decembre 13 , 2018 . EN. Papua New Guinea : Manam , Alaska : Cleveland , Italy / Sicily : Etna , Guadeloupe : La Soufrière , Indonesia : Ibu .
Decembre 13 , 2018 .
Papua New Guinea , Manam :
4.08°S, 145.037°E
Elevation 1807 m
The Darwin VAAC reported that on 6 December ash plumes from Manam were identified in satellite images rising to an altitude of 5.2 km (17,000 ft) a.s.l. and drifting SE. RVO noted that at 1215 on 8 December seismicity increased and indicated an eruption had begun, according to a news article. The eruption was characterized by forceful ash emissions, explosions that ejected lava fragments above the crater, and rumbling and roaring noises. Around 1300, based on pilot observations, information from RVO, and satellite images, large ash plumes rose as high as 15.2 km (50,000 ft) a.s.l and drifted E.
Island reports noted that ejections of material ceased around 1900; audible noises ended around 1930. Satellite data indicated that ash from the high-altitude plume had begun to dissipate by 2020, and that on-going ash emissions rose to 8.2 km (27,000 ft) a.s.l. Island residents described heavy ashfall and that the sun was blocked by airborne ash, based on second-hand social media posts. News reports indicated that residents in Bokure and Kolang (NE and ENE flanks, respectively) had evacuated. Seismicity had declined by the end of the day. Dark ash plumes continued to be visible the next day, rising as high as 7.6 km (25,000 ft) a.s.l. and drifting E, though were less frequent.
Sources: GVP , Darwin Volcanic Ash Advisory Centre (VAAC), ReliefWeb, Loop.
Alaska , Cleveland :
AVO/USGS Volcanic Activity Notice
Current Volcano Alert Level: WATCH
Previous Volcano Alert Level: ADVISORY
Current Aviation Color Code: ORANGE
Previous Aviation Color Code: YELLOW
Issued: Wednesday, December 12, 2018, 12:21 PM AKST
Source: Alaska Volcano Observatory
Notice Number:
Location: N 52 deg 49 min W 169 deg 56 min
Elevation: 5676 ft (1730 m)
Area: Aleutians
Volcanic Activity Summary:
Local seismic sensors recorded a small explosion today at 20:53 UTC (11:53 AKST). No ash cloud has yet been detected in satellite imagery. No other significant activity was detected.
The color code and alert level were raised to Orange/Watch.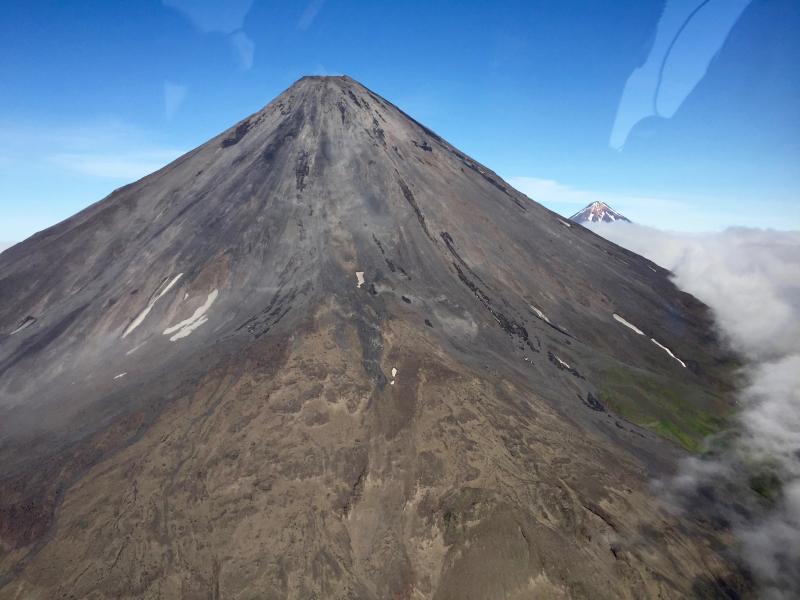 The east flank of Mount Cleveland with the summit of Carlisle Volcano in the background.
Explosions from Cleveland typically produce relatively small volcanic ash clouds that dissipate within hours; however, more significant ash emissions are possible.
Cleveland volcano is monitored with a limited real-time seismic network, which inhibits AVO's ability to detect precursory unrest that may lead to an explosive eruption. Rapid detection of an ash-producing eruption may be possible using a combination of seismic, infrasound, lightning, and satellite data.
Recent Observations:
[Volcanic cloud height] Not known
[Other volcanic cloud information] n/a
Source : AVO
Photo : Lyons, John.
Italy / Sicily , Etna :
37.748°N, 14.999°E
Elevation 3295 m
INGV reported that during 3-9 December activity at Etna was characterized by gas emissions at the summit craters, with periodic Strombolian activity from vents in Bocca Nuova, Northeast Crater (NEC), and New Southeast Crater (NSEC). Strombolian explosions at the cone in NSEC became more frequent on 4 December. In addition, lava effusion became continuous with small overlapping flows traveling about 500 m down the E flank of the cone.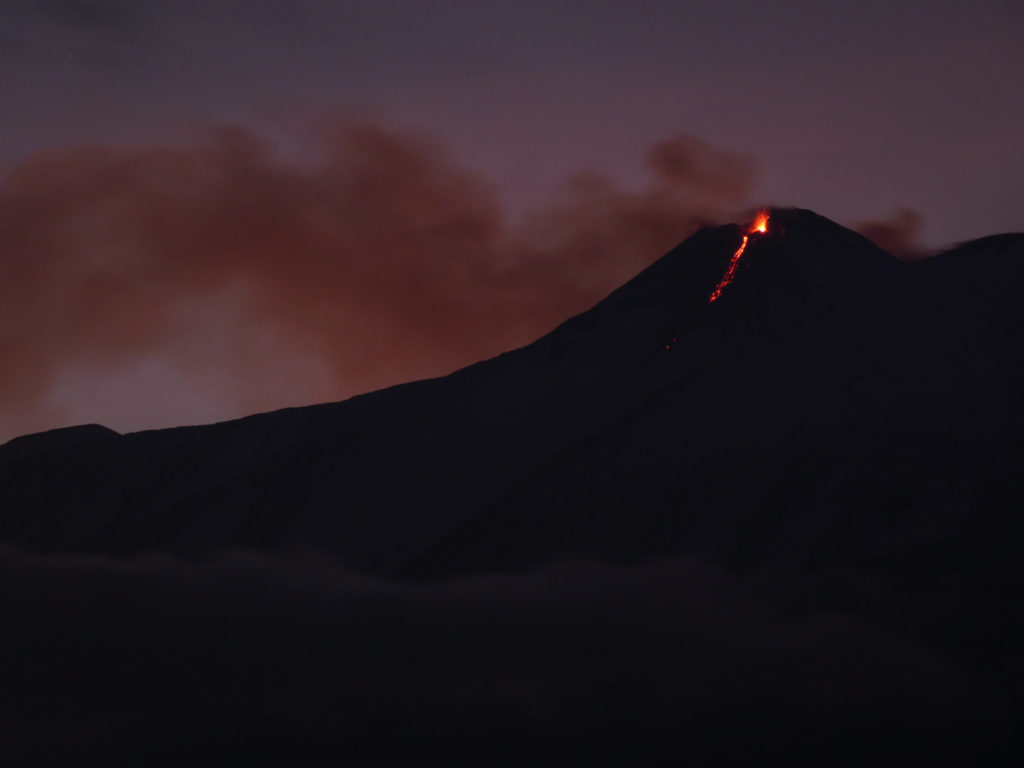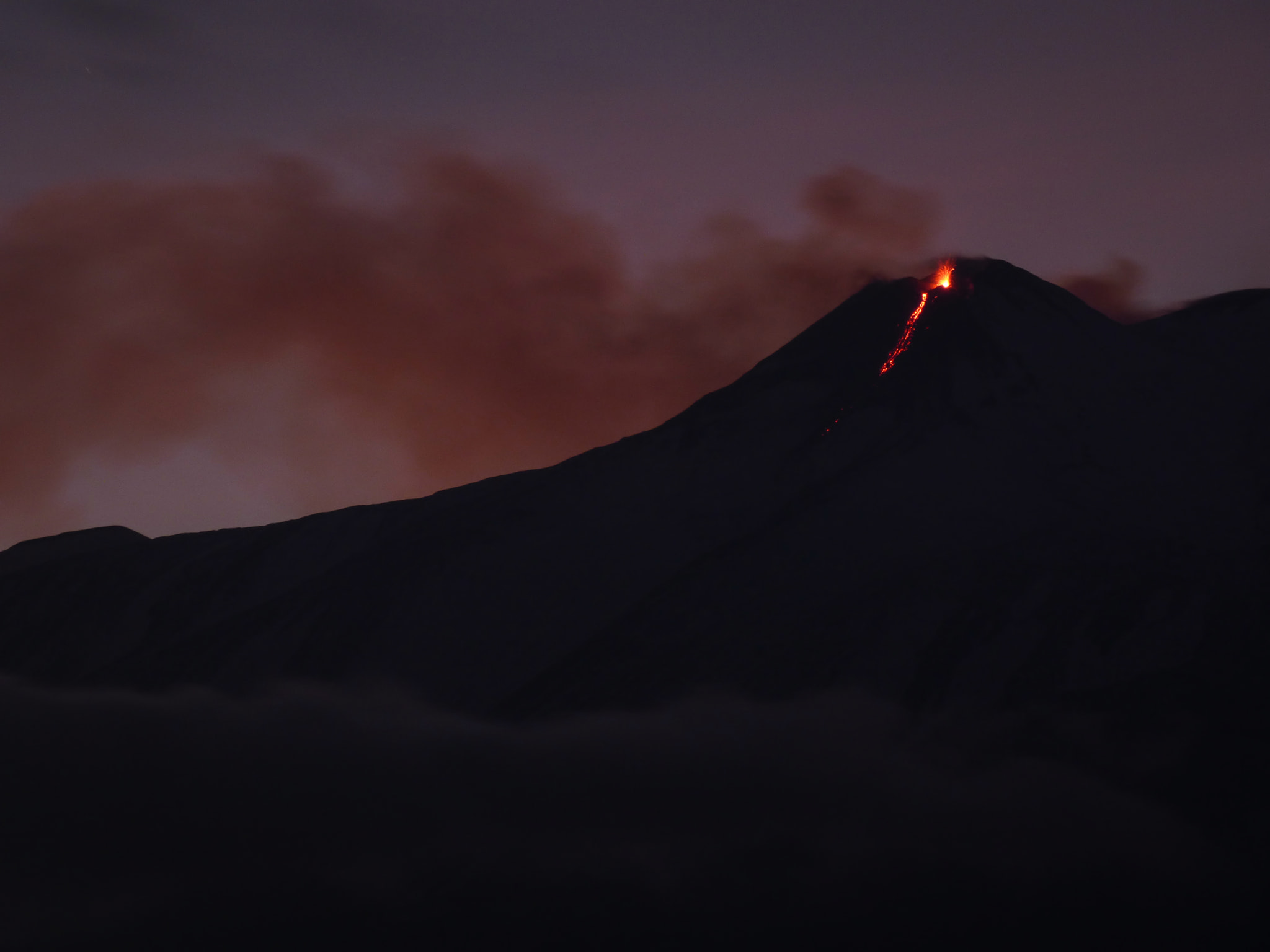 Incandescent blocks generated by the lava flows rolled to the base of the cone, and occasional small collapses produced minor ash plumes. Strombolian activity and occasional ash emissions were characteristic of vents in the W part of Bocca Nuova's (BN-1) crater floor. Gas emissions at Voragine Crater continued from a vent on the E rim of the crater, and Strombolian explosions were evident at NEC.
Source: GVP , Section de Catane – Osservatorio Etneo (INGV).
Photo : Gio Giusa.
Guadeloupe , La Soufrière :
Wednesday, December 12, 2018 at 18:15.
Sequence of earthquakes in La Soufrière area of Guadeloupe – Basse Terre
The sequence of volcanic earthquakes that began in the La Soufrière volcano area on 9 December at 09:46 local time (9 December 13h46 Universal Time *, UT) ended on Wednesday 12 December at 01h10 (Universal Time *, UT). During this sequence, 140 earthquakes were recorded.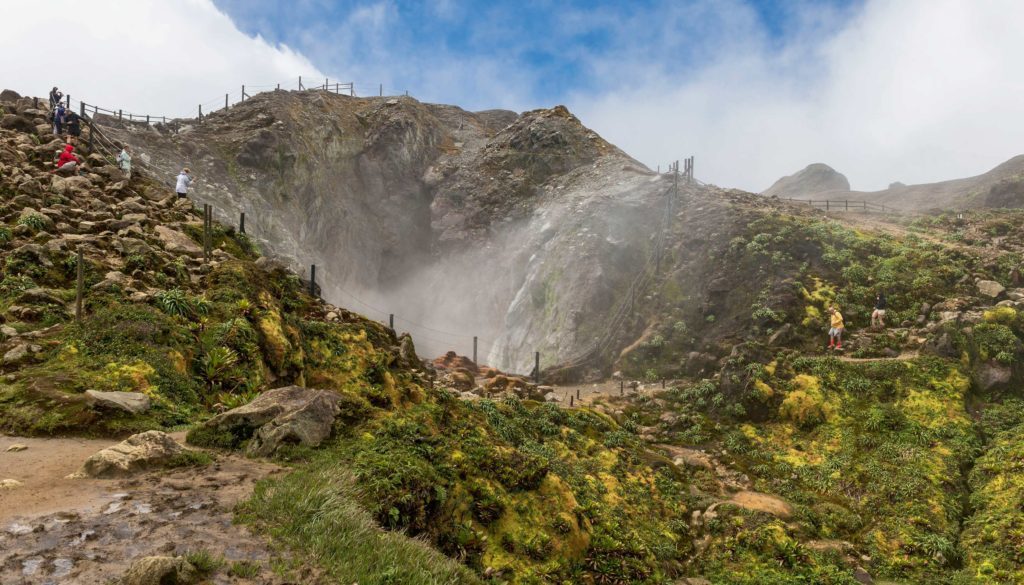 The earthquakes were of very small magnitude (M <1). The events are located at a depth of <2.5 km under the summit of the dome of La Soufrière. No earthquakes were reported felt by the population.
The alert level remains: yellow, vigilance.
Source : Direction de l'OVSG-IPGP .
Photo : goquidearth.com
Indonesia , Ibu :
Level II Activity Level (WASPADA). The Ibu volcano (1340 m altitude) has been continuously erupting since 2008.
Since yesterday until this morning, the vision of the volcanic peak was clear until it was covered with fog. The smoke from the crater was observed to be white / gray, with low / medium pressure and low to moderate intensity, rising approximately 200 to 800 m above the peak. The wind was blowing slowly north and east.
Through the seismographs, on December 12, 2018, it was recorded:
86 earthquakes of eruption
73 emission earthquakes
35 avalanche earthquakes.
35 harmonic tremors with an amplitude of 5 – 36 mm
1 distant tectonic earthquake.
Recommendation:
Communities around G. Ibu and visitors / tourists should not have activities, climb and approach within 2 km. The sectoral expansion is 3.5 km towards the openings in the northern part of the active crater of G. Ibu.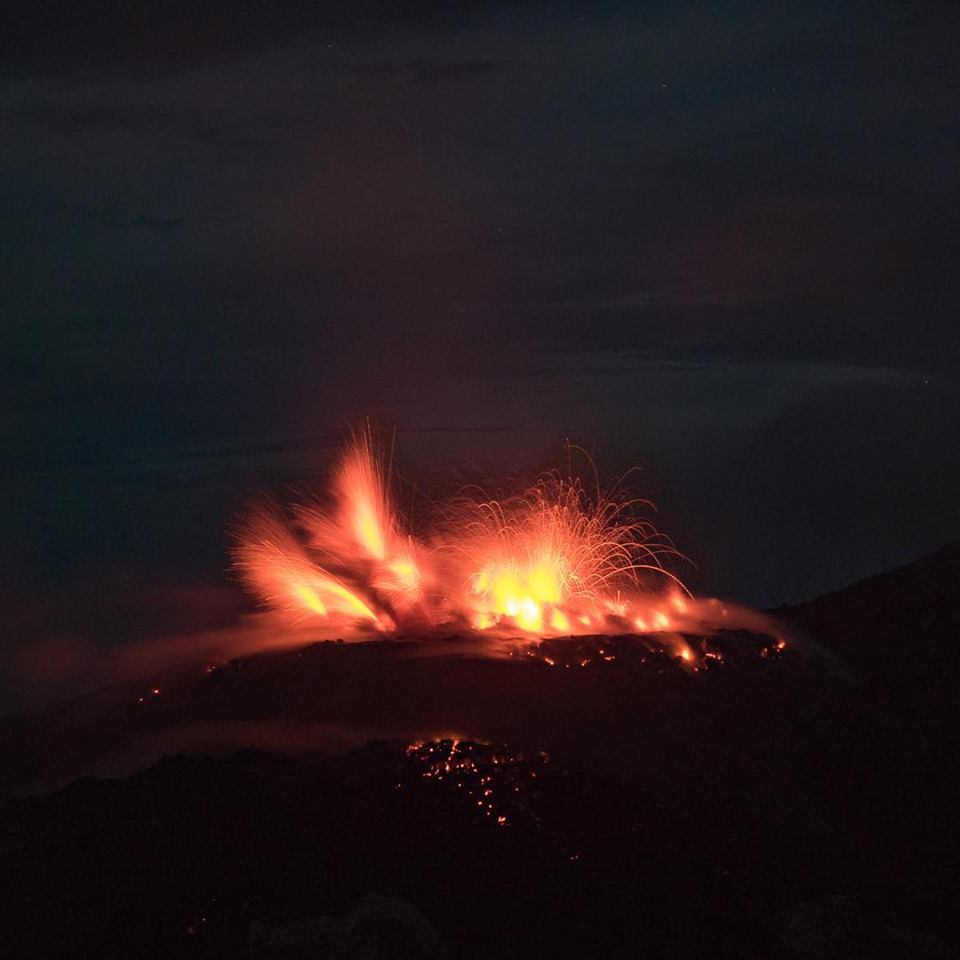 VONA:
VOLCANO OBSERVATORY NOTICE FOR AVIATION – VONA.
Issued: December 11 , 2018
Volcano: Ibu (268030)
Current Aviation Colour Code: ORANGE
Previous Aviation Colour Code: orange
Source: Ibu Volcano Observatory
Notice Number: 2018IBU18
Volcano Location: N 01 deg 29 min 17 sec E 127 deg 37 min 48 sec
Area: North Maluku, Indonesia
Summit Elevation: 4240 FT (1325 M)
Volcanic Activity Summary:
Eruption with volcanic ash cloud at 04h57 UTC (13h57 local).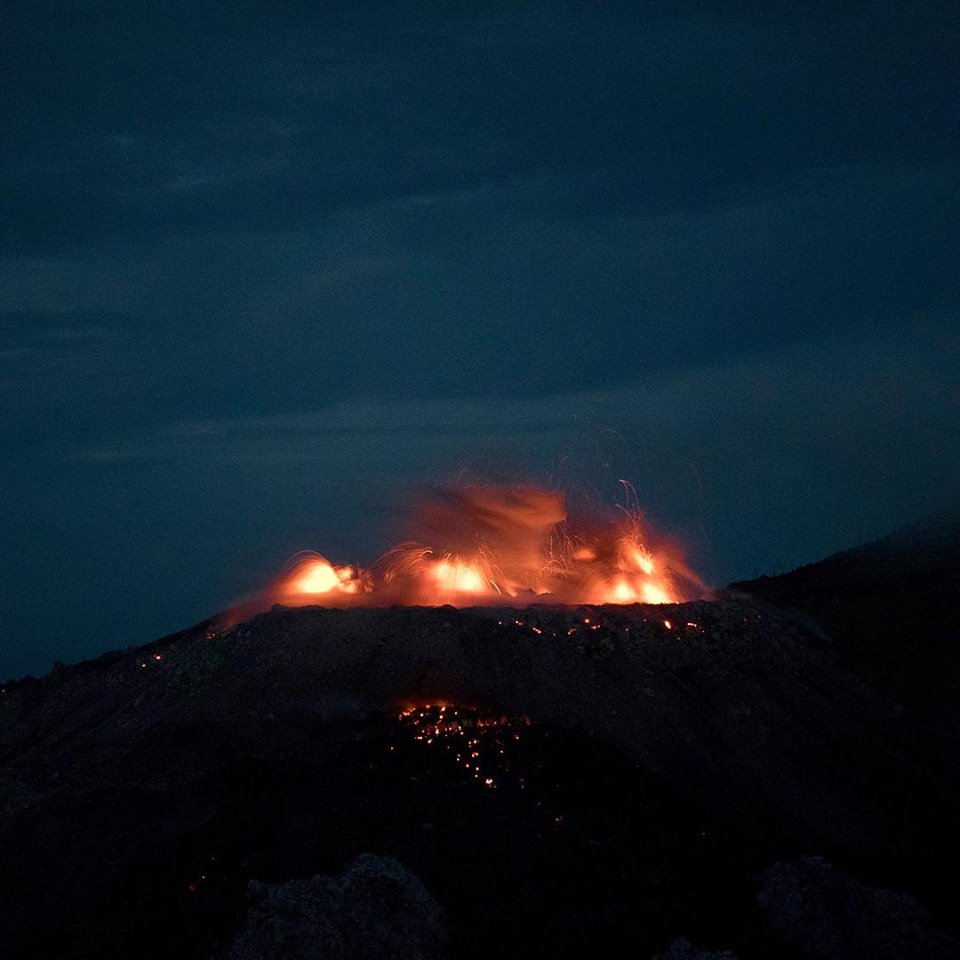 Volcanic Cloud Height:
Best estimate of ash-cloud top is around 5840 FT (1825 M) above sea level, may be higher than what can be observed clearly. Source of height data: ground observer.
Other Volcanic Cloud Information:
Ash cloud moving to South.
Remarks:
Seismic activity is characterized by explosion and gas emission earthquake.
Source : PVMBG , Magma Indonésie.
Photos : Malmo on the road