December 10 , 2018.
France / Guadeloupe , La Soufrière :
Sunday, December 9, 2018 at 18:15 date: 2018-12-09
Sequence of earthquakes in the Soufrière area of Guadeloupe – Basse Terre.
A sequence of volcanic earthquakes began on December 9, 2018 at 9:46 am, local time (December 9, 13h46 UTC time *) in the La Soufrière volcano area.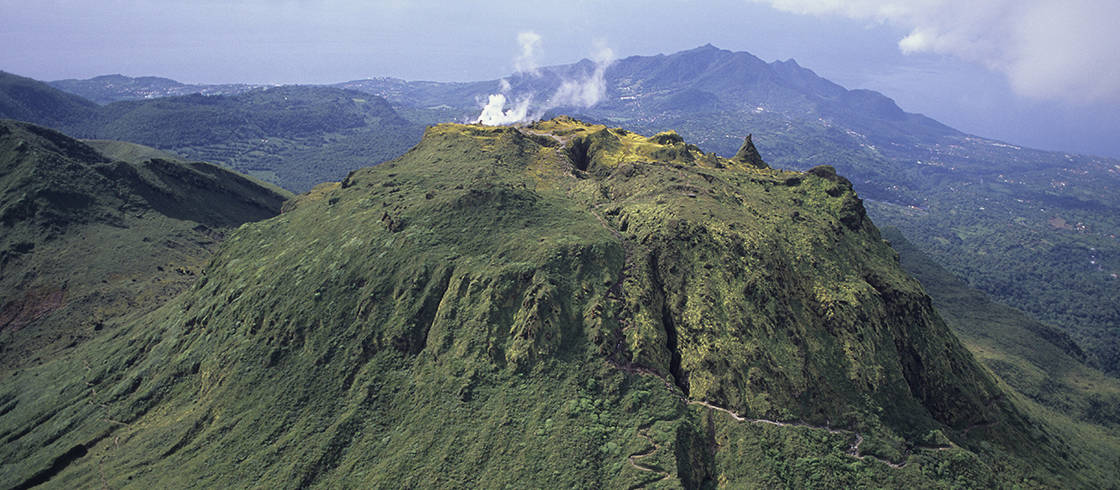 As of December 9, 2018 at 18:00 local time, the OVSG-IPGP networks recorded 93 earthquakes of very small magnitude (M <1). No earthquakes were reported. The events are located at a depth of <2.5 km under the summit of the dome of La Soufrière.
The alert level remains at: yellow, vigilance.
Source : Direction de l'OVSG-IPGP .
Photo : P Giraud / ctig
Chile , Lascar :
During the evaluated period, a total of 89 seismic events were recorded, of which 11 were classified as volcano-tectonic earthquakes (VT) in relation to rock fracturing processes inside the volcanic edifice. with local magnitudes less than M 2.6. The largest energy event was located 0.3 km north-northeast of the active crater at a depth of 0.5 km.
78 long-period (LP) earthquakes were also recorded in relation to fluid dynamics within the volcano with reduced displacement values (DRc) of less than 4.2 cm2.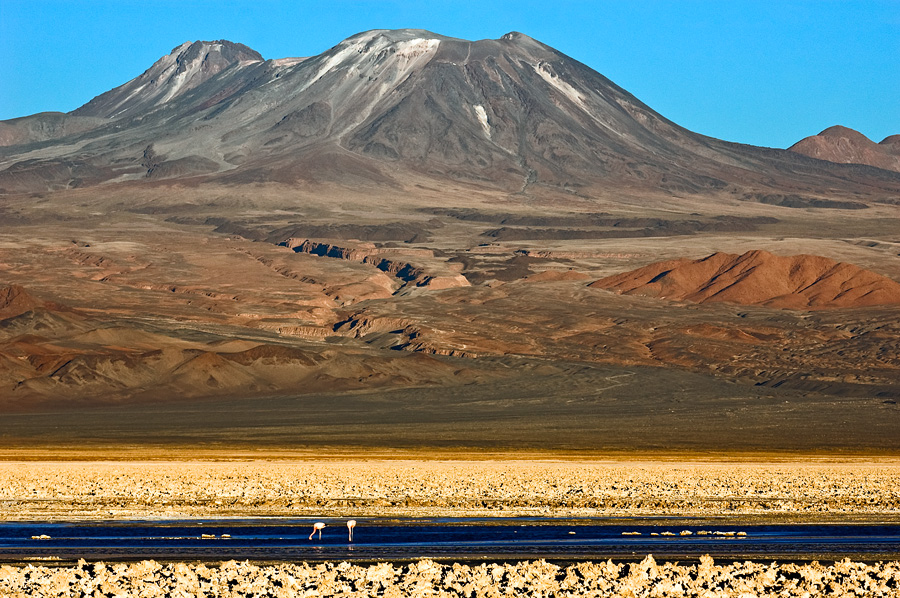 The images provided by the IP cameras installed around the volcano show a recurrent degassing from the main crater, reaching a maximum of 1100 m above the active crater. Through some images, there are periods of incandescence.
According to data provided by two GNSS stations, an extension of approximately 0.4 cm is observed from the line of surveillance that crosses the crater from north to south, recovering part of the shortening recorded in September. The other stations show stability in the vertical components.
The sulfur dioxide (SO2) emissions recorded by the Differential Absorption Spectrometry Equipment (DOAS) have a value for the evaluated period of 1033 +/- 127 T / day and a maximum value of 2246 t / d recorded on the November 30th. SO2 emissions are at moderate levels for this volcano.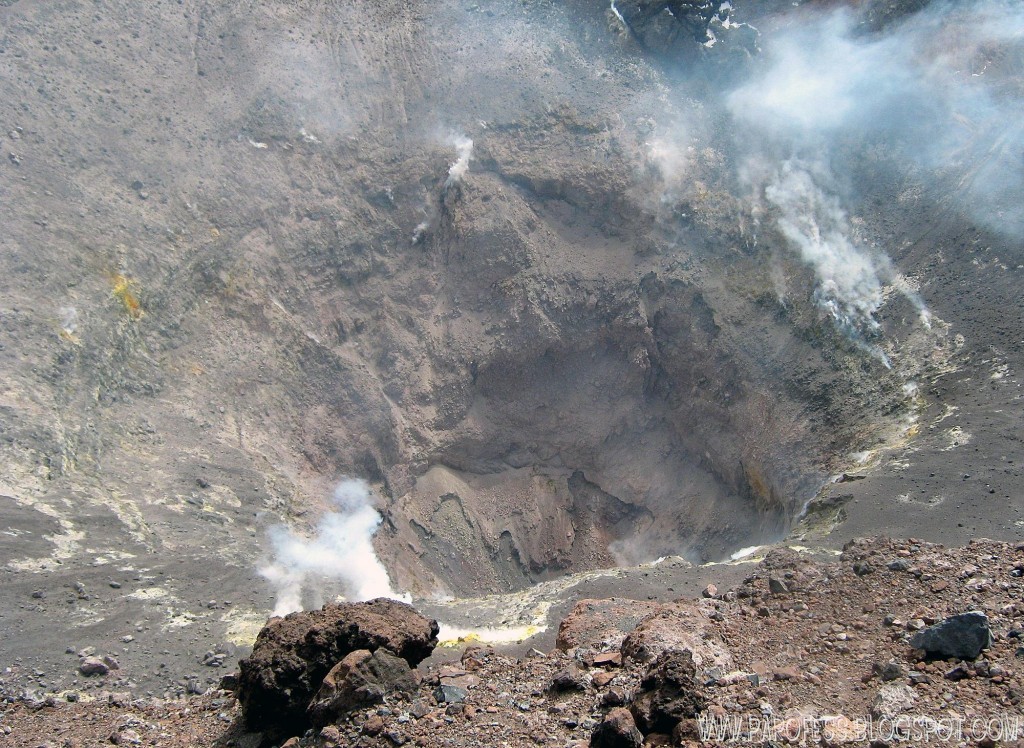 There have been 18 reports of thermal warnings in the area associated with the volcanic complex during the period, with a maximum observed MVP of 12 MW, values considered moderate, according to the data processed by the infrared observation of the Volcanic Activity (MIROVA) (http://www.mirovaweb.it/) and Temporal Thermal Monitoring of Global Hot Spots (MODVOLC) (http://modis.higp.hawaii.edu/).
The level of activity presented during the period under consideration indicates that the volcanic system maintains a state of equilibrium.
Because of the above, the volcanic warning is kept at the level:
GREEN LEVEL: Active volcano with stable behavior – Probable time for eruption: MONTH / YEARS.
Observation:
A zone of danger is considered as an area of 500 m around the crater.
Source : Sernageomin
Photo : Gerard Prins, Pap.Ofess.
Philippines , Mayon :
MAYON VOLCANO BULLETIN 10 December 2018 08:00 A.M.
Mayon Volcano's seismic monitoring network recorded one (1) volcanic earthquake during the past 24 hours. An ash emission event related to this generated a grayish-brown ash plume starting at 12:24 PM yesterday and lasted for four (4) minutes based on the seismic record before drifting west was observed. Moderate emission of white steam-laden plumes that crept downslope before drifting west and west-southwest was observed. Sulfur dioxide (SO2) emission was measured at an average of 1377 tonnes/day on 30 November 2018. Precise leveling data obtained on 22-31 October 2018 indicate inflation of the edifice in the southeast sector while the north sector indicate short-term deflation relative to 30 August to 3 September 2018. The volcano generally remains inflated relative to 2010 baselines. Electronic tilt data further show pronounced inflation of the mid-slopes beginning 25 June 2018, possibly due to aseismic magma intrusion deep beneath the edifice.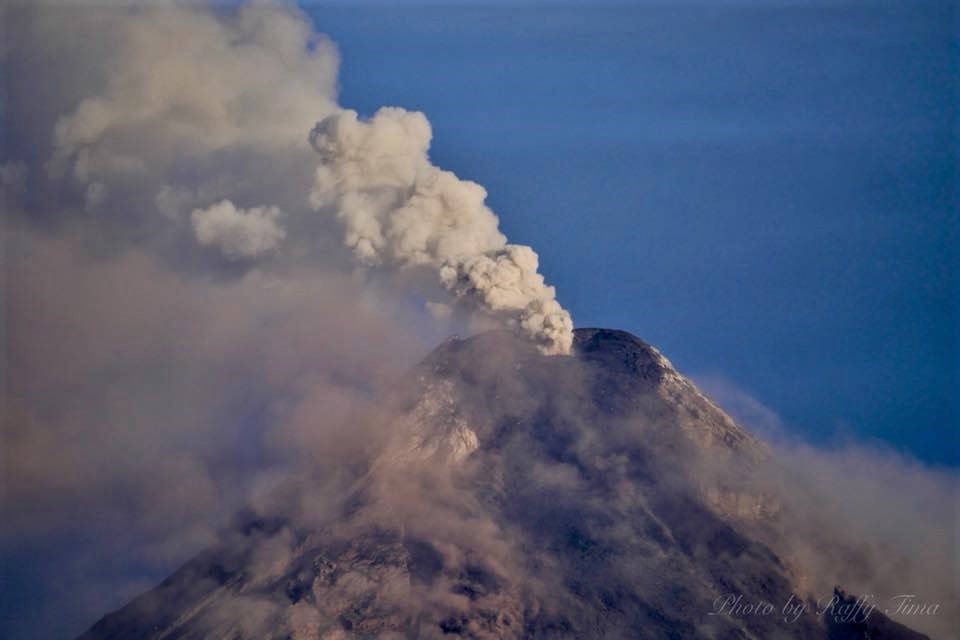 Alert Level 2 currently prevails over Mayon Volcano. This means that Mayon is at a moderate level of unrest. DOST-PHIVOLCS reminds the public that sudden explosions, lava collapses, pyroclastic density currents or PDCs and ashfall can still occur and threaten areas in the upper to middle slopes of Mayon. DOST-PHIVOLCS recommends that entry into the six kilometer-radius Permanent Danger Zone or PDZ and a precautionary seven kilometer-radius Extended Danger Zone or EDZ in the south-southwest to east-northeast sector, stretching from Anoling, Camalig to Sta. Misericordia, Sto. Domingo must be strictly prohibited. People residing close to these danger areas are also advised to observe precautions associated with rockfalls, PDCs and ashfall. Civil aviation authorities must advise pilots to avoid flying close to the volcano's summit as airborne ash and ballistic fragments from sudden explosions and PDCs may pose hazards to aircrafts.
Source : Phivolcs.
Photo : Raffy Tima.
Costa Rica , Poas / Rincon de la Vieja / Turrialba :
Daily report on the state of volcanoes. Date: 2018-12-09, Updated at: 10:24:00 AM.
Poás Volcano:
No eruptions are reported.
The seismic activity is similar to that of yesterday.
At the time of writing, winds are blowing from the southwest.
The Poás volcano, since yesterday and until today December 10, 2018 continues to present a slight degassing with fumaroles present at the bottom of the crater. At this time, weather conditions do not allow to observe precisely the active crater.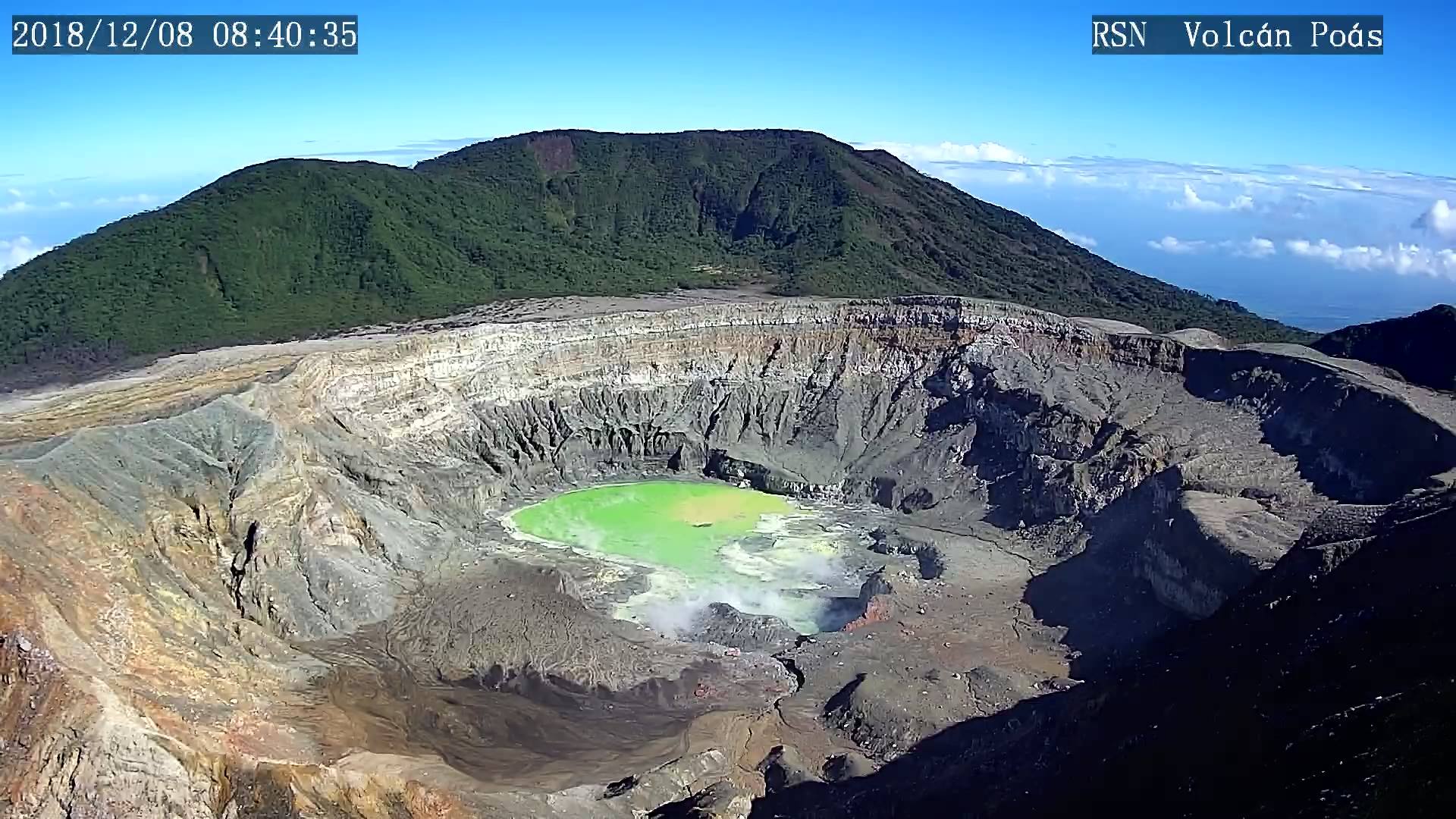 Thanks to the report of our fellow rangers yesterday, we observed a change of color in the lagoon of Poas volcano, which changed from a turquoise color to another shade of green color. It should be noted that this color is observed for the first time. « There is a very active fumarole under the water that injects a lot of sulfur dioxide, so that the visible blue light combines with the yellow sulfur and eventually generates this new color so special to Poás, » says our partner María Martínez (Geochemistry).
Rincón de la Vieja Volcano:
No eruptions are reported.
The seismic activity is similar to that of yesterday.
The wind direction is unknown at the moment.
A plume of diffuse gases and fumes of only a few dozen meters high can be observed from time to time rising from the main crater of Rincón de la Vieja. This plume is particularly visible in good weather, clear wind and reduced.
Turrialba Volcano:
On 09 December 2018 at 06:52 local time, there was an eruption on the Turrialba volcano, with a column that peaked at 1,000 meters above crater height and 3,440 meters above sea level. from the sea. (14235.2 ft).
Duration of the activity: in progress.
The seismic activity is similar to that of yesterday.
At the time of this report, the winds blow from the northwest.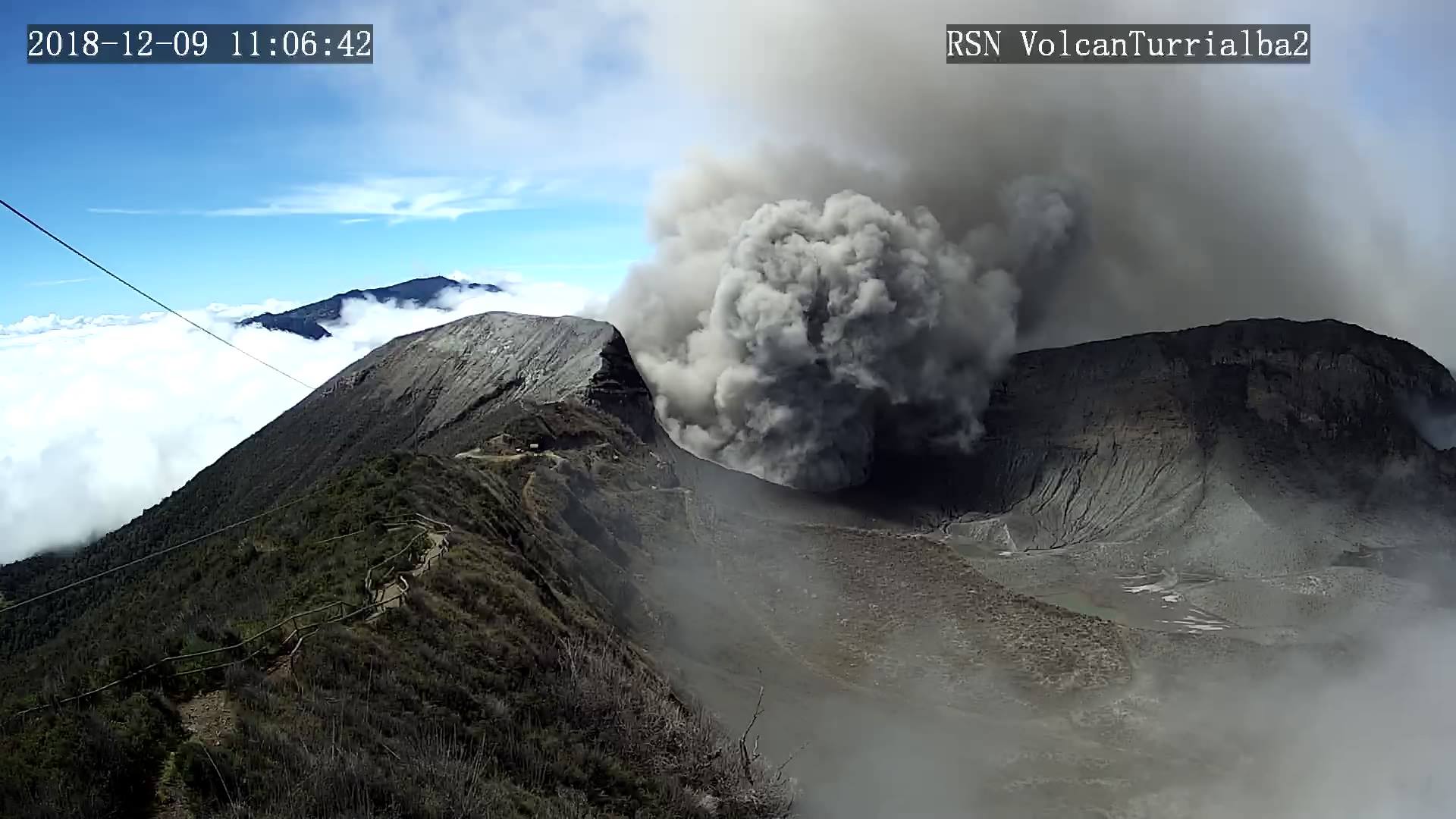 Yesterday, December 8, 2018, at 7:49, an eruption was recorded, generating a column of materials that rose about 800 meters at the top of the volcano. Today, eruptions of ash, steam and gas can be observed, emitting columns whose height varies between 100 m and 1000 m. Yesterday, the Turrialba volcano experienced jolts of less amplitude than those observed between October and November.
Emissions of ash could affect areas such as Turrialba Volcano Park, Coronado, San Jerónimo, Granadilla, Guadalupe, Ipís, Moravia, Tibás, San José, Pavas, Zapote, San Pedro, Sabanilla, Heredia, San Isidro, St. Santo Domingo, San Rafael, Santa Barbara, Barva, Alajuela, Central Finca, Finca Silvia, Finca San Bosco, Finca Lara, Echandi Finca, Finca Volio, Irazú Volcano National Park, Braulio Carrillo National Park.
Source : Ovsicori.
Photos : RSN.