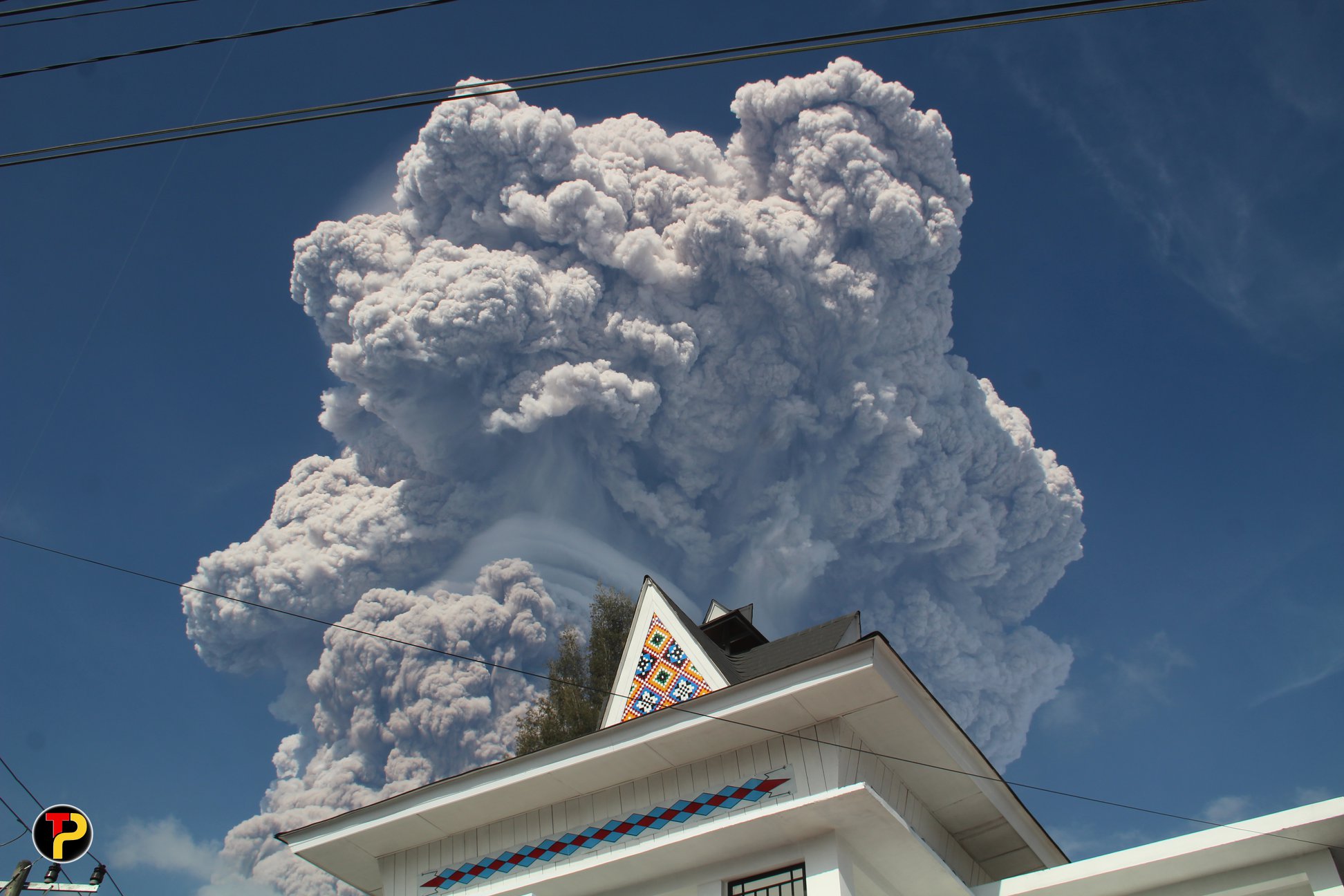 February 19 , 2018 . EN. Sinabung , Mayon , Cerro Machin , Sabancaya .
February 19 , 2018 .
Sinabung , Indonesia :
VOLCANO OBSERVATORY NOTICE FOR AVIATION – VONA.
Issued: February 19 , 2018.
Volcano:Sinabung (261080)
Current Aviation Colour Code: RED
Previous Aviation Colour Code: orange
Source: Sinabung Volcano Observatory
Notice Number: 2018SIN89
Volcano Location: N 03 deg 10 min 12 sec E 98 deg 23 min 31 sec
Area: North Sumatra, Indonesia
Summit Elevation: 7872 FT (2460 M)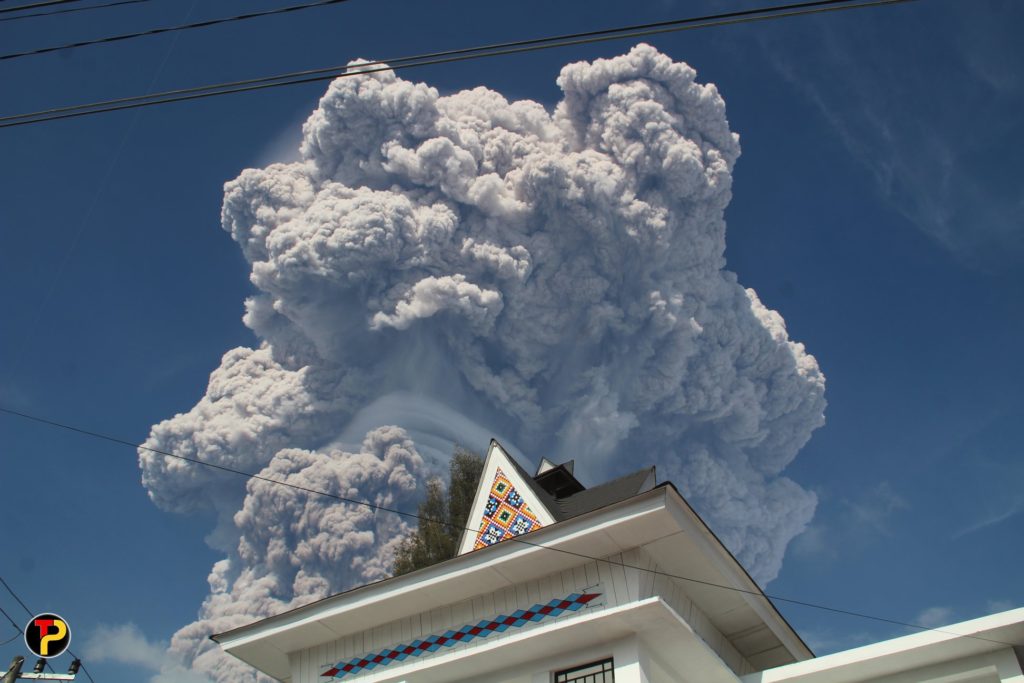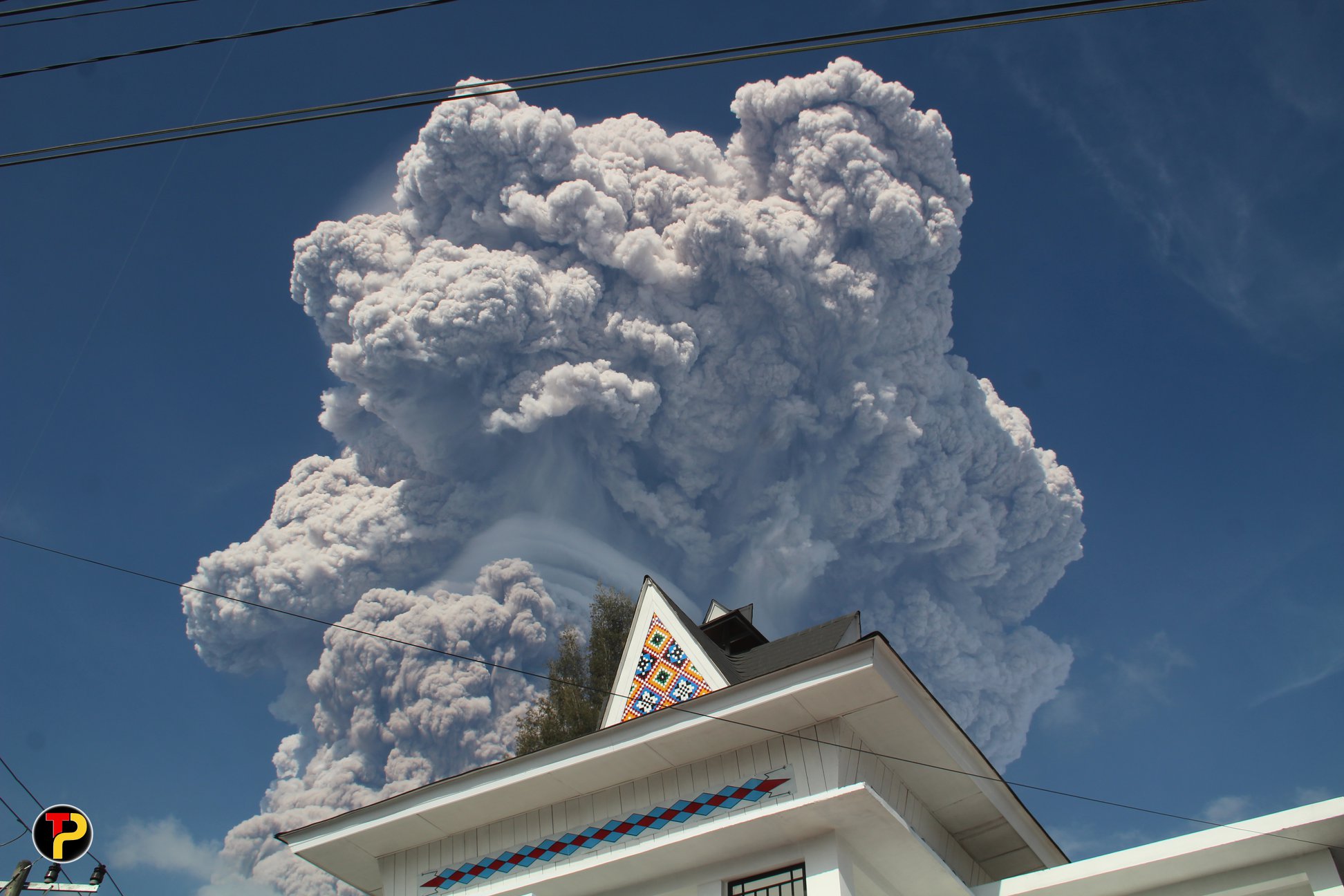 Volcanic Activity Summary:
Eruption with ash clouds at 01:53 UTC (08:53 local time). The eruption lasted for 291 seconds
Volcanic Cloud Height:
Best estimate of ash-cloud top is around 23872 FT (7460 M) above sea level, may be higher than what can be observed clearly. Source of height data: ground observer.
Other Volcanic Cloud Information:
Ash-cloud moving to southeast – east.
Remarks:
Seismic activity is characterized by the Deep Volcanic Earthquake, Low Frequency Earthquake, and Hybrid Earthquake. Hot clouds is observed through the East-Southeast slope and reaches a distance of 3500 meters from the summit and Hot clouds is observed through the south slope and reaches a distance of 4900 meters from the summit.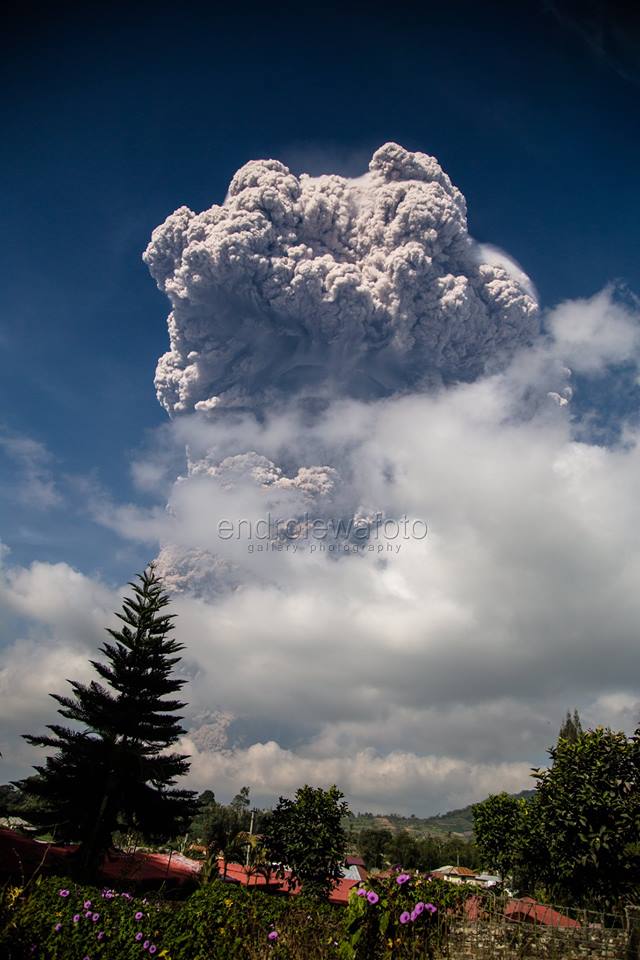 Level IV Activity Level (AWAS). The Sinabung (2460 m altitude) has been erupting constantly since 2013.
February 19, 2018 to 08; 53, an eruption with a column of ash that rose to more than 5000 m occurred.
The increase in seismicity of G. Sinabung has been observed since February 17, 2018, with volcanic earthquakes being recorded (VA and VB) (up to 17 events), low frequency earthquakes ( LF) 17 events, hybrid volcanic earthquakes, and avalanche earthquakes (9 incidents). On February 18, 2018, seismicity increased, especially the type of deep volcanic earthquake (VA) that reached 49 incidents.
On February 19, 2018 at 20:53, there was an explosive eruption with a height of the eruption column reaching 5000 meters above the summit of G. Sinabung. As a result of this eruption, a pyroclastic cloud occurred, followed by a series of hot cloud avalanches up to 10 events with a slip distance of 4.9 km in the South-South sector. -east and 3.5 km east-southeast. The duration of the shortest hot cloud was 195 seconds and the longest reached 792 seconds. The impacts of these clouds are observed in the recommended areas left vacant by the PVMBG. Volcanic ash extends to the South-South-West. The area affected by ashes until 24:00 is Tiganderket Village, Selandi Lama Village, New Selandi Village, Perbaji Village, to Munte Village, and the eastern sector of Kutarayat District. Until this report is made, there is no information about casualties due to the eruption. Field verification to determine the impact of the eruption is always done by the emergency response team.
Source : VSI , Magma
Photos : Teguh Potret , Endro Lewa .
Mayon , Philippines :
MAYON VOLCANO BULLETIN 19 February 2018 8:00 A.M.
DOST-PHIVOLCS Mayon's activity in the past 24 hours was characterized by sporadic and weak lava fountaining, lava flow and degassing from the summit crater. Six (6) discrete lava fountaining episodes that lasted ten (10) to twenty-three (23) minutes were recorded by the seismic network. These generated dirty white to brownish ash plumes that rose to two hundred fifty (250) meters above the summit crater before drifting southwest. Three (3) episodes of lava collapse pyroclastic density current (PDC) events were visually observed yesterday between 5:57 AM and 9:16 AM in the Basud and Bonga-Buyuan Gullies. Lava flow sustained at 3.3 kilometers, 4.5 kilometers and 900 meters on the Miisi, Bonga and Basud Gullies, respectively, from the summit crater. Pyroclastic density currents or PDCs remained confined within the farthest recorded reaches of 4.6, 4.5 and 4.2 kilometers on the Miisi, Bonga and Basud Gullies, respectively.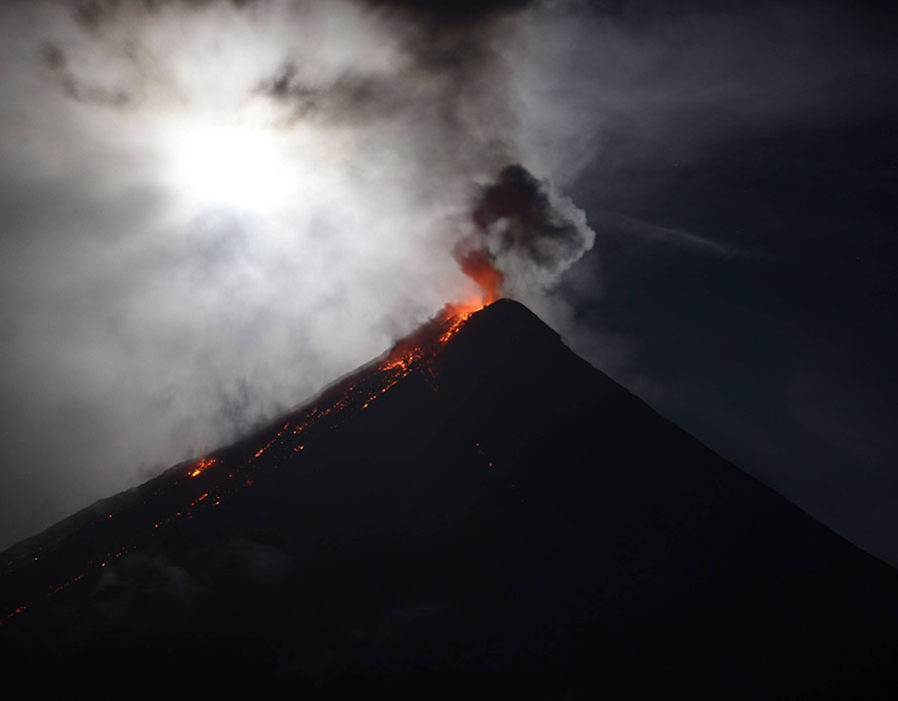 A total of fifty-four (54) volcanic earthquakes, most of which corresponded to lava fountaining events, and one (1) rockfall event was recorded by Mayon's seismic monitoring network. Sulfur dioxide (SO2) emission averaged 1,339 tonnes/day on 17 February 2018. Electronic tilt and continuous GPS still record sustained swelling or inflation of the edifice since November and October 2017, consistent with pressurization by magmatic intrusion.
Alert Level 4 remains in effect over Mayon Volcano. The public is strongly advised to be vigilant and desist from entering the eight (8) kilometer-radius danger zone, and to be additionally vigilant against pyroclastic density currents, lahars and sediment-laden stream flows along channels draining the edifice. Civil aviation authorities must also advise pilots to avoid flying close to the volcano's summit as ash from any sudden eruption can be hazardous to aircraft.
DOST-PHIVOLCS maintains close monitoring of Mayon Volcano and any new development will be communicated to all concerned stakeholders.
Source : Phivolcs
Photo : AFP
Cerro Machin , Colombia :
Subject: Cerro Machín Volcano Activity Bulletin. The level of yellow activity is maintained or (III): changes in the behavior of volcanic activity.
With regard to monitoring the activity of the Cerro Machín volcano, the COLOMBIAN GEOLOGICAL SERVICE informs:
Since today, February 17, 2018 at 09:47 (local time), there has been an increase in seismic activity of the volcano-tectonic type, associated with the fracturing of the rock inside the volcanic building. The most energetic earthquakes in this increase are 2.6 ML, 2.7 ML and an earthquake stands out at 10:29 (local time), with a maximum magnitude of 3.0 ML (Local Magnitude), located in the main dome at a depth of 3.9 km.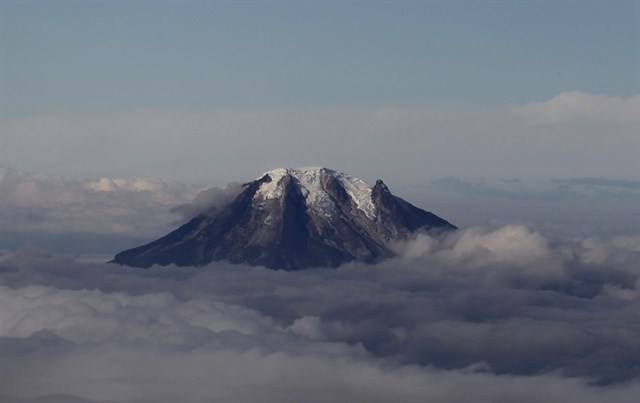 Cet événement a été signalé comme ressenti par les habitants dans la zone d'influence du volcan, ainsi que dans les municipalités de Cajamarca.
Il est recommandé que les autorités et la communauté restent attentives à tout changement pouvant survenir dans l'activité du volcan.
Le SERVICE GÉOLOGIQUE COLOMBIEN est attentif à l'évolution du phénomène volcanique et continuera à informer en temps opportun des changements qui peuvent survenir.
Source : SGC
Sabancaya , Peru :
Alert occurrence of lahars in gorges bordering Sabancaya volcano .
18 FEBRUARY 2018. The heavy rains registered in the high areas of the province of Caylloma, in the Arequipa region, are dragging the volcanic material (ash) accumulated during the present eruptive process of the Sabancaya volcano, forming lahars (huaico) that will descend the massif causing torrents in the nearby streams.
It was informed by the Geological, Mining and Metallurgical Institute (Ingemmet), through its Volcanological Observatory (OVI), recommending the neighboring populations to get away from the gorges near the Sabancaya volcano.
In previous years it has been reported the decrease of lahars by the gorges of Pinchollo and Sallalli, therefore, it is suggested to the inhabitants not to graze their animals near the torrents and to move away from them for their safety.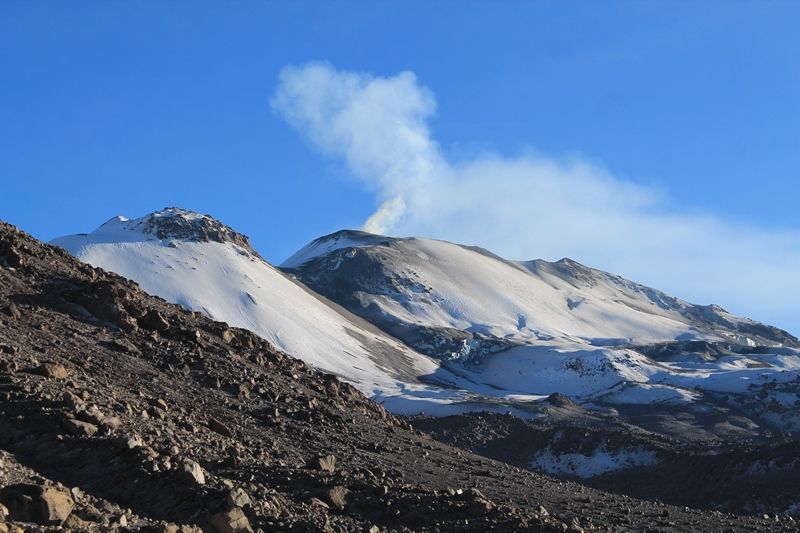 During the week, the specialists said, there have been small events whose duration lasted for more than an hour, but upon verification it was found that there were no major problems. Faced with this situation, the authorities are asked to take the necessary precautions.
In this regard, the Civil Defense Technical Secretary of the Provincial Municipality of Caylloma, Donato Mamani, announced that machinery of the municipality has been attending the effects of these phenomena so as not to cause problems to vehicular traffic to the tourist areas of the valley of Colca.
Also, the OVI said that in the coming days a field brigade will travel to the Sabancaya volcano to make measurements to confirm or rule out the presence of acid rain in the area.
Source : ANDINA