February 20 , 2018.
Mayon , Philippines :
MAYON VOLCANO BULLETIN 20 February 2018 08:00 A.M.
Mayon's activity in the past 24 hours was characterized by sporadic and weak lava fountaining, lava flow and degassing from the summit crater. As of 04:05 AM this morning, fifty-six (56) discrete lava fountaining episodes that lasted five (5) to sixty-two (62) minutes were recorded by the seismic network. One (1) lava collapse pyroclastic density current (PDC) event that generated white to dirty white plume was visually observed yesterday at 6:16 AM along the Basud Gully. Lava flow sustained at 3.3 kilometers, 4.5 kilometers and 900 meters on the Miisi, Bonga and Basud Gullies, respectively, from the summit crater. Pyroclastic density currents or PDCs remained confined within the farthest recorded reaches of 4.6, 5.2 and 4.2 kilometers on the Miisi, Bonga and Basud Gullies, respectively.
A total of seventy-two (72) volcanic earthquakes, corresponding to lava fountaining and tremor events, was recorded by Mayon's seismic monitoring network. Sulfur dioxide (SO2) emission averaged 2,148 tonnes/day on 19 February 2018. Electronic tilt and continuous GPS still record sustained swelling or inflation of the edifice since November and October 2017, consistent with pressurization by magmatic intrusion.
Alert Level 4 remains in effect over Mayon Volcano. The public is strongly advised to be vigilant and desist from entering the eight (8) kilometer-radius danger zone, and to be additionally vigilant against pyroclastic density currents, lahars and sediment-laden stream flows along channels draining the edifice. Civil aviation authorities must also advise pilots to avoid flying close to the volcano's summit as ash from any sudden eruption can be hazardous to aircraft.
DOST-PHIVOLCS maintains close monitoring of Mayon Volcano and any new development will be communicated to all concerned stakeholders.
Source : Phivolcs
Photo : Earl Recamunda
Grimsey , Iceland :
The earthquake swarm near Grimsey continues. Today, Feb. 19th at 01:03 an M3.3, at 02:24 an M3,7 and at 02:39 an M3.5 earthquake were detected near Grímsey. At 03:02 and 03:04 two M4.0 earthquake were detected. At 05:34 an M4.5 earthquake and at 05:38 an M5.2 was detected and at 06:32 one M4.0. Earthquakes have been widely felt in the north of Iceland.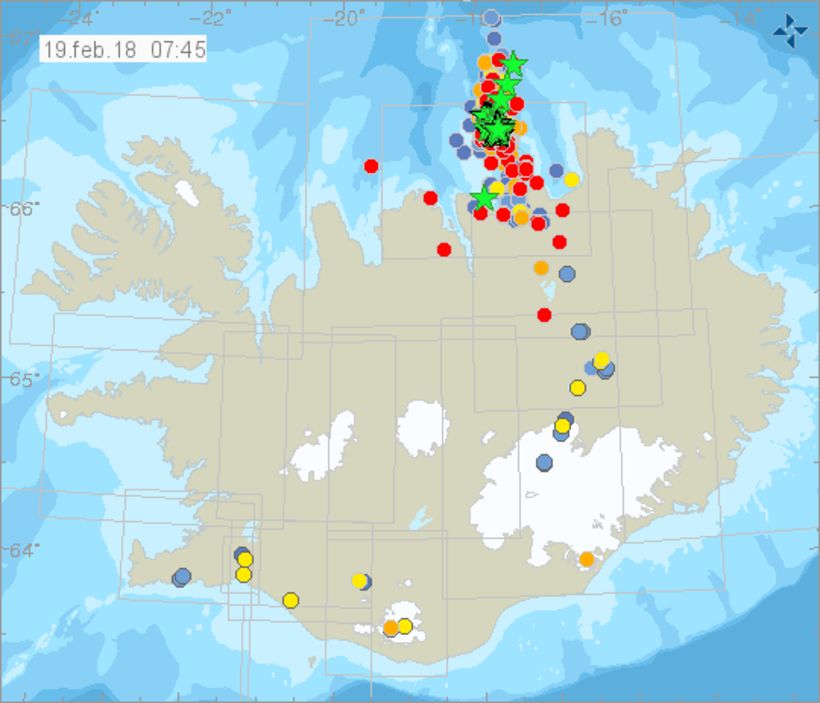 An earthquake of a magnitude of 5.2 was detected at Grímsey island at around 7 this morning. The powerful quake was felt in many parts of North Iceland and the department of Civil Protection and Emergency Management has declared a level of incertitude in North Iceland.
Grímsey island is located off the North coast of Iceland and marks Iceland's northernmost point. There are only just over 80 inhabitants in this remote island.
Many earthquakes occurred this morning between 6 and 7 pm with this one being the largest. According to the Iceland Met Office a number of Grímsey locals, who are used to the smaller earthquakes, called the office this morning a bit more worried as their coffee had been shaken out of their cups.
The Iceland Met Office says that many people in the island didn't sleep last night due to the numerous earthquakes. In the last 48 hours, 1.536 earthquakes have been detected.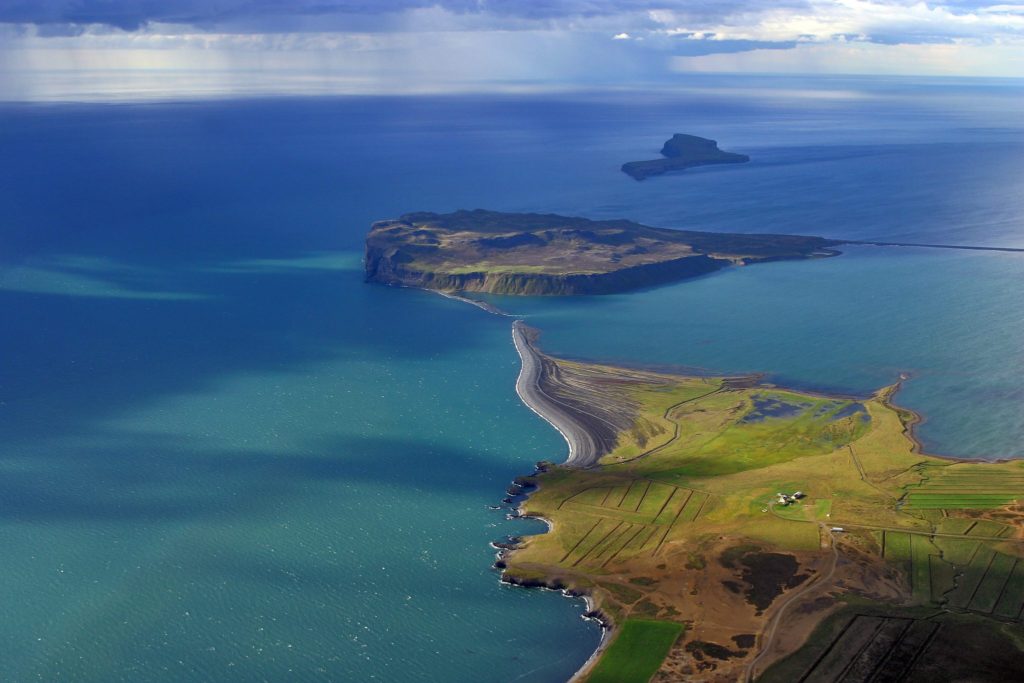 The Grímsey oblique rift zone hosts submarine volcanoes, so it is natural to wonder if this swarm is reflecting any volcanic activity. This seismic swarm is occurring within the submarine volcanic system called Nafir. The closest continuous GPS station located on Grímsey does not show any visible deformation that might indicate magmatic intrusion. This, together with the depth of the earthquakes, suggests that the current seismic activity is most likely related to tectonic processes at a divergent plate boundary, and not related to the movement or accumulation of magma.
Source : IMO , Icelandmonitor .
Photo : Friðþjófur Helgason
Sabancaya , Peru :
The explosive activity remains similar to that of the previous week, averaging 19 explosions per day. Events associated with fluid movement (long period type) and ash emissions (Tremor type) continue to predominate. Earthquakes associated with the rise of magma (type Hybrids) slightly increase in number. 
The eruptive columns of gas and ash remained similar to the previous week, reaching a maximum height of 2500 m above the crater. The dispersion of these materials occurred within a radius of about 30 km, mainly to the south, north-west and southwest. 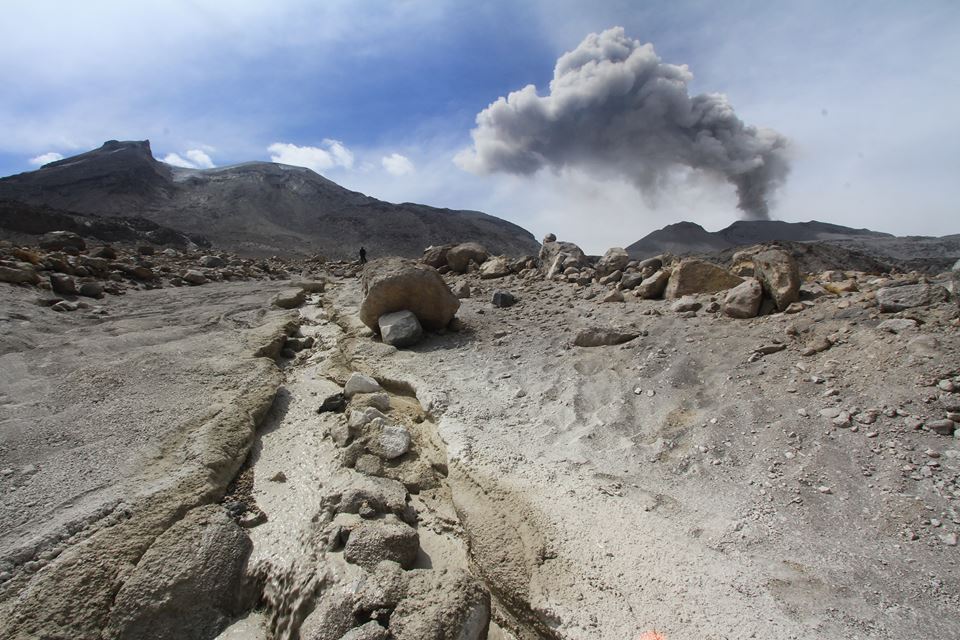 Deformation monitoring continues to show a process of deflation. 
The volcanic gas flow (SO2) recorded on February 15 has a maximum value of 9270 tons / day, considered large value. This reading is the highest recorded so far in this eruptive process. The presence of acid rain near the volcanic building is not excluded. 
A thermal anomaly was recorded according to the MIROVA system, with values of 1 MW VRP (Radiated Volcano Power).
In general, eruptive activity maintains moderate levels. Possible increase in activity in the coming days.
Source : IGP
Sinabung , Indonesia :
Activity Level at Level IV (AWAS). The Sinabung (2460 m altitude) has been erupting constantly since 2013.
Since yesterday until this morning the volcano has been observed until it is covered with fog. The smoke coming out of the crater could be observed up to 300 m above the summit. An explosive eruption was observed at 08:53, with high pressure, where the height of the thick gray ash columns, with a strong intensity were observed and reached at least 5000 m above the peak. The eruption was accompanied by hot cloud emission with sliding distances, by sectors, to the South-South-East up to 4900 m and to the South-East, up to 3500 m. The eruption lasted 607 seconds, with a noise that was heard from the Sinabung PGA Station (9 km from the southeastern tip of Mount Sinabung). The wind is blowing low to moderate in the South and West.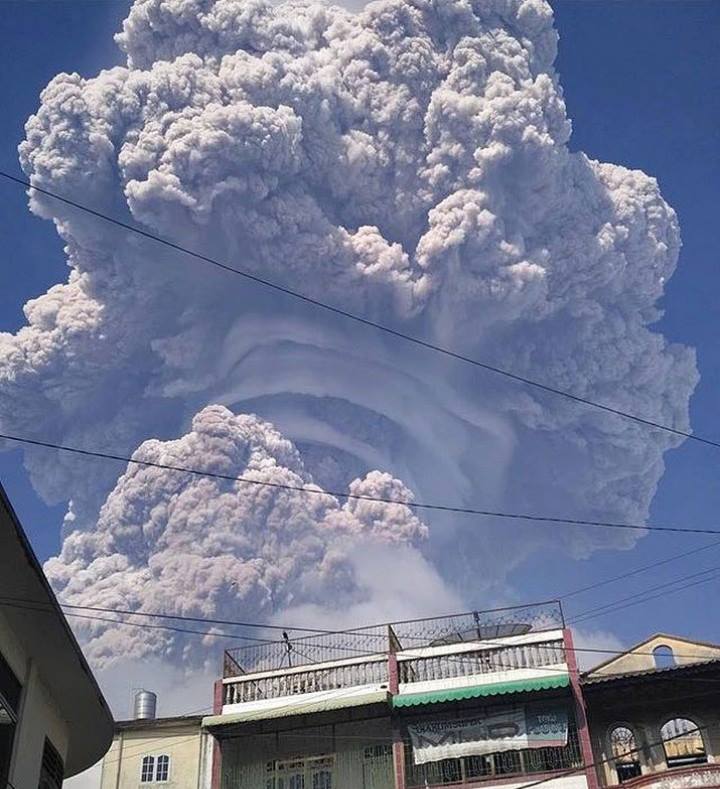 According to the seismographs , on February 19, 2018, it was recorded:
1 eruption earthquakes
1 hot cloud emission earthquakes.
10 avalanche earthquakes
60 emission earthquakes
1 non-harmonic tremor event
18 low frequency earthquakes
9 phase / hybrid earthquakes
1 shallow volcanic earthquake (VB)
40 deep volcanic earthquakes (VA)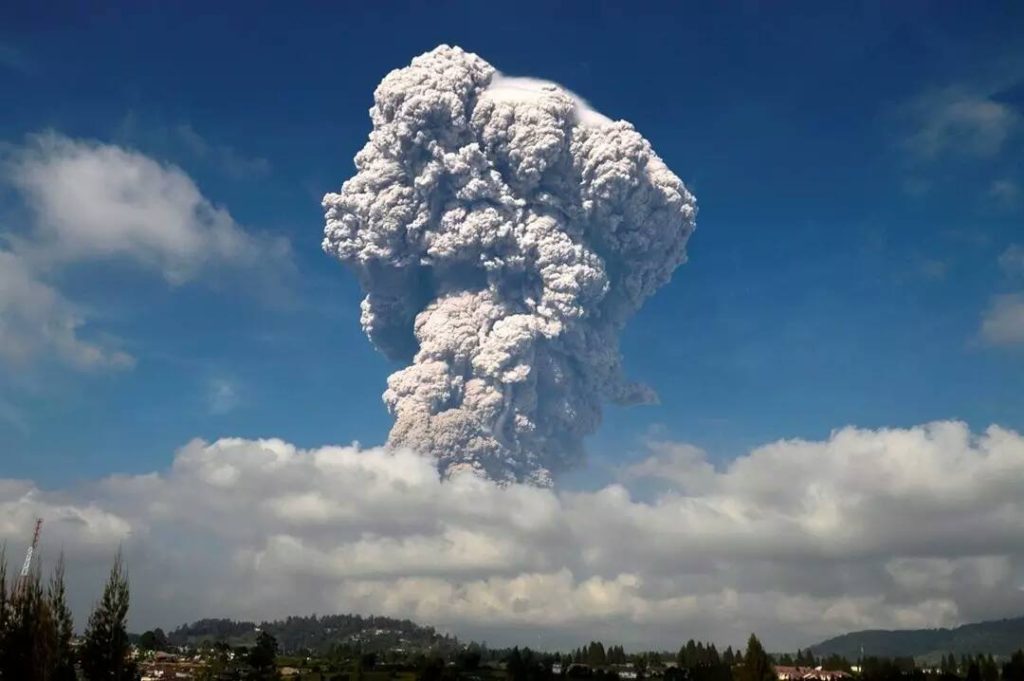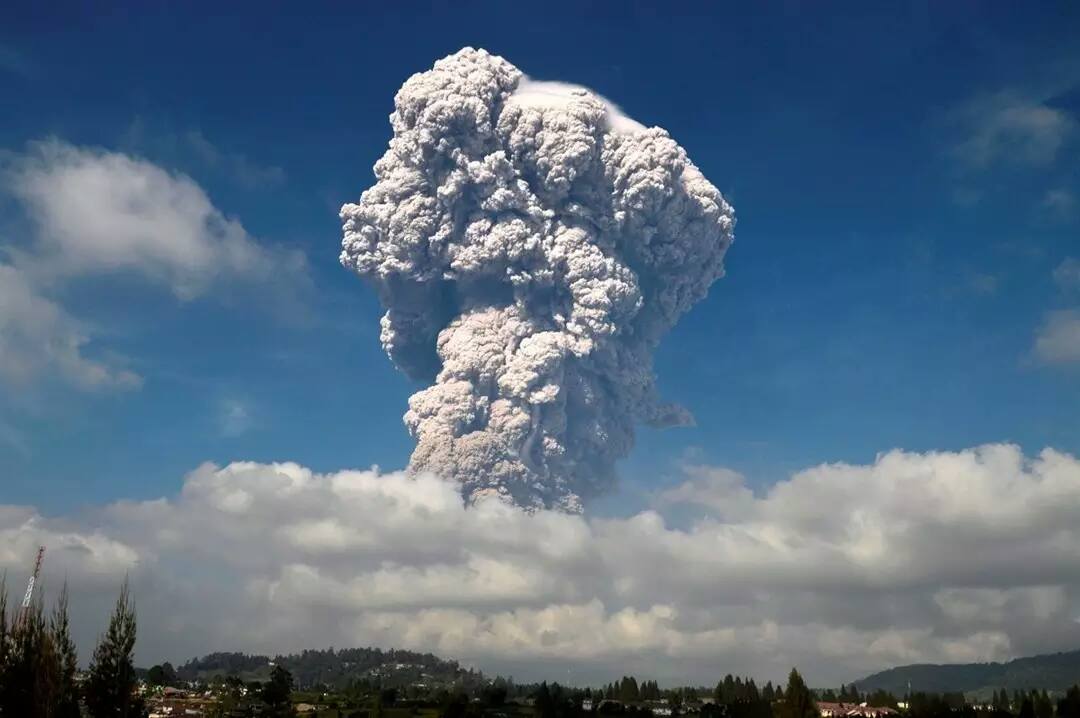 Recommendations:
Communities / visitors should not do activities within 3 km of the summit, and by sector, 7 km to the South-South-East, 6 km East-South-East and 4 km to the South-East. km northeast.
The deposits formed a dam upstream on the Laborus River. People living in downstream river basins and around the Laborus River need to be vigilant because these dams can collapse at any time and no longer retain water volume, resulting in downstream lahars / floods .
Source : VSI
Photos : Severe weather europe , Theresa Lopez Munoz.