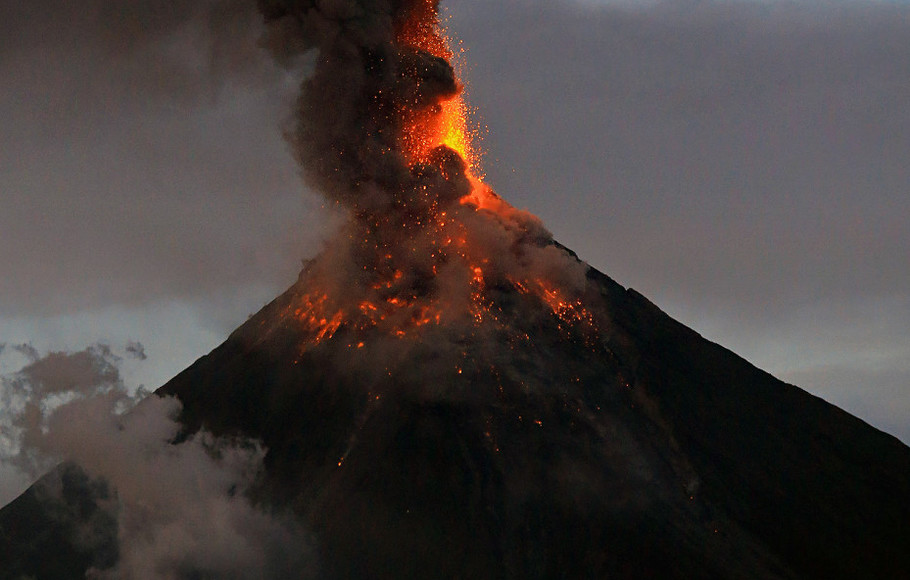 February 17 , 2018. EN. Grimsey , Mayon , Cleveland , Dukono .
February 17 , 2018.
Grimsey , Iceland :
Three earthquakes of magnitude of 3 in the space of half an hour.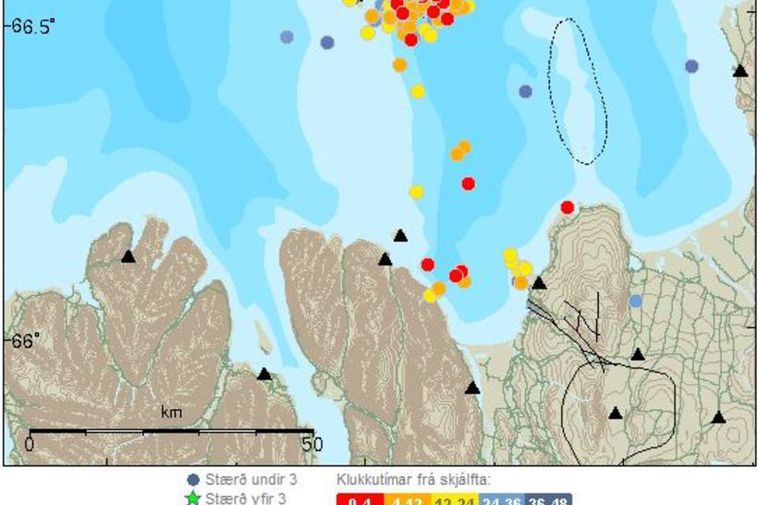 Grímsey is the northernmost point of Iceland. Here you can see the earthquakes occuring with the green stars signifying quakes over the magnitude of 3. Map/Iceland Met Office
There are still numerous earthquakes at Grímsey island in North Iceland and this morning three were measured at 3.5 to 3.6 on the Richter scale in the space of thirty minutes.
From midnight, five earthquakes were measured over 3 on the Richter scale. All occurred in a similar spot of origin and at a similar ocean depth. There are no signs of volcanic unrest on the Iceland Met Office's metres.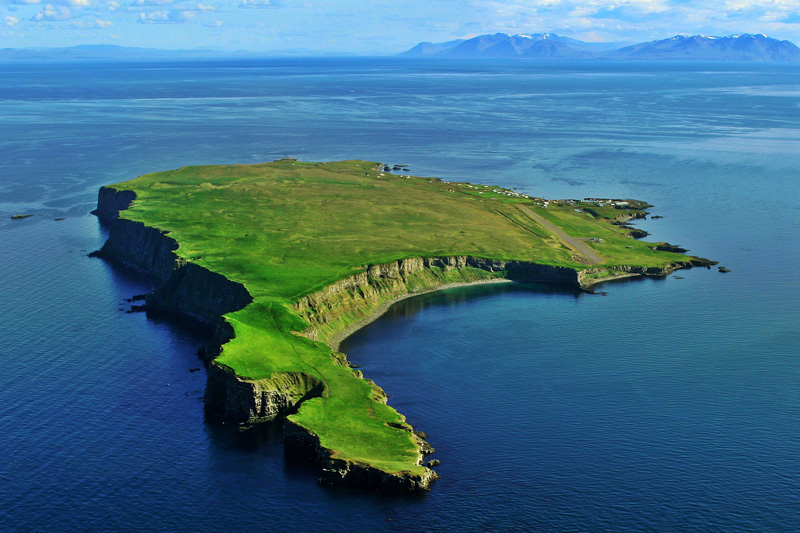 Grímsey earthquake swarm
16.2.2018
Earthquake swarms are happening frequently in the vicinity of Grímsey. An earthquake swarm about 10-12 km North-East of Grímsey started on February 14. As of noon on February 16, over 1000 earthquakes have been detected, with 10 over magnitude 3. As of this time, the intensity of the swarm is diminishing, however the activity could reinvigorate. The largest, with an estimated magnitude of 4.1, occurred at 19:27 on February 15. Some of the earthquakes have been felt in Grímsey. This is the most intense swarm in the area since 2013, when a magnitude 5.5 triggered a significant aftershock sequence.
The energy release associated with this swarm, until noon on February 16, is significantly less than the 2013 sequence, see older news, although this swarm is more steady. Continuous GPS measurements in Grímsey show no detectable deformation associated with the swarm, suggesting that the swarm is tectonic in nature although geothermal activity in the area may act as a trigger. There is no sign of magmatic activity.
This area is an active seismic zone and earthquake swarms like this one can potentially trigger much larger events.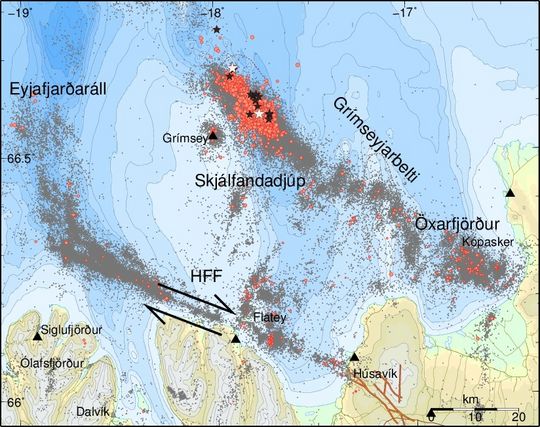 Earthquakes since the beginning of 2018 are seen as red dots. Earthquakes with a magnitude between 3-4 are indicated as black stars and earthquakes with a magnitude over 4 as white stars. Grey dots show earthquake activity in 1994-2017. Black triangles show the location of seismic stations and the black arrows show the movement across the Húsavík Flatey fault.
Source : Iceland monitor , IMO.
Mayon , Philippines :
MAYON VOLCANO BULLETIN 17 February 2018 08:00 A.M.
Mayon's activity in the past 24 hours was characterized by sporadic and weak lava fountaining, lava flow and degassing from the summit crater. Discrete episodes of lava fountaining that lasted three hours and fifty-nine (239) minutes were accompanied by rumbling sounds audible beyond 10 kilometers of the summit crater. Incandescent lava fountains generated steam-laden plumes that rose 500 meters from the summit before drifting southwest and northwest. This was followed by a period of lull beginning at 7:15 PM until the early morning, until lava fountaining resumed at 1:03 AM. Throughout the night, lava flows and consequent incandescent rockfalls were observed in the Miisi and Bonga-Buyuan channels. Effused volumes of incandescent lava flows have advanced to 3.3 kilometers, 4.5 kilometers and 900 meters down the Miisi, Bonga and Basud Gullies, respectively, from the summit crater. Pyroclastic density currents or PDCs have deposited to the 4.6, 4.5 and 4.2 kilometer reaches of the Miisi, Bonga and Basud Gullies, respectively.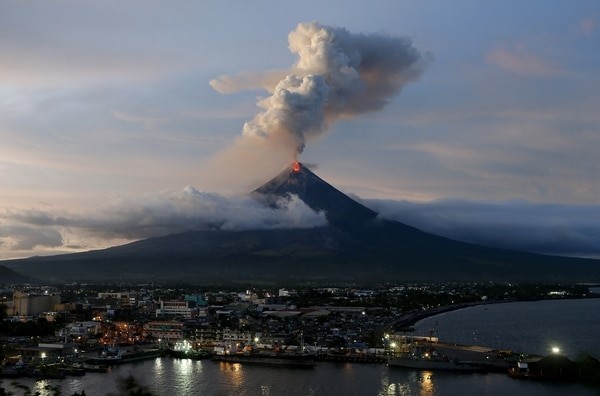 A total of sixty-seven (67) volcanic earthquakes, most of which corresponded to lava fountaining events, and one (1) rockfall event were recorded by Mayon's seismic monitoring network. Sulfur dioxide (SO2) emission was measured at an average of 1,922 tonnes/day on 16 February 2018. Electronic tilt and continuous GPS still record sustained swelling or inflation of the edifice since November and October 2017, consistent with pressurization by magmatic intrusion.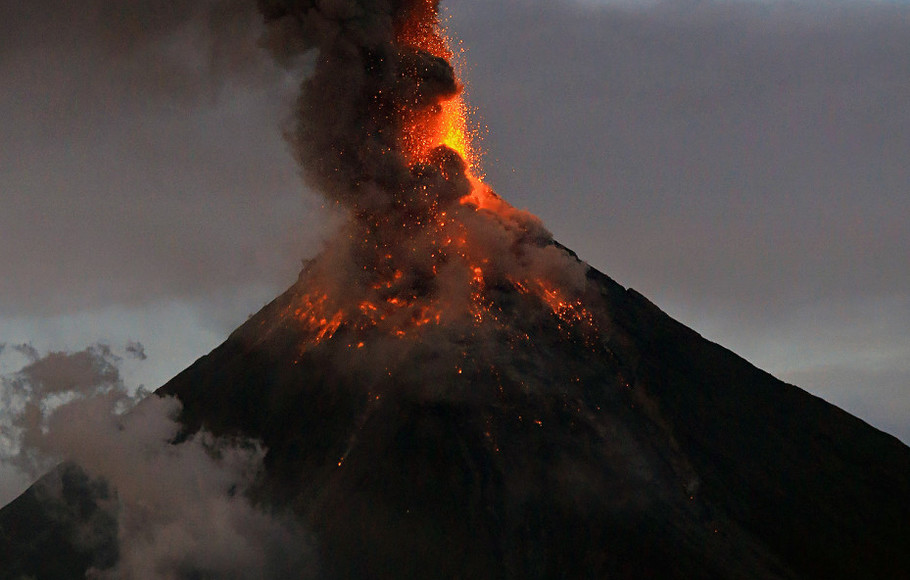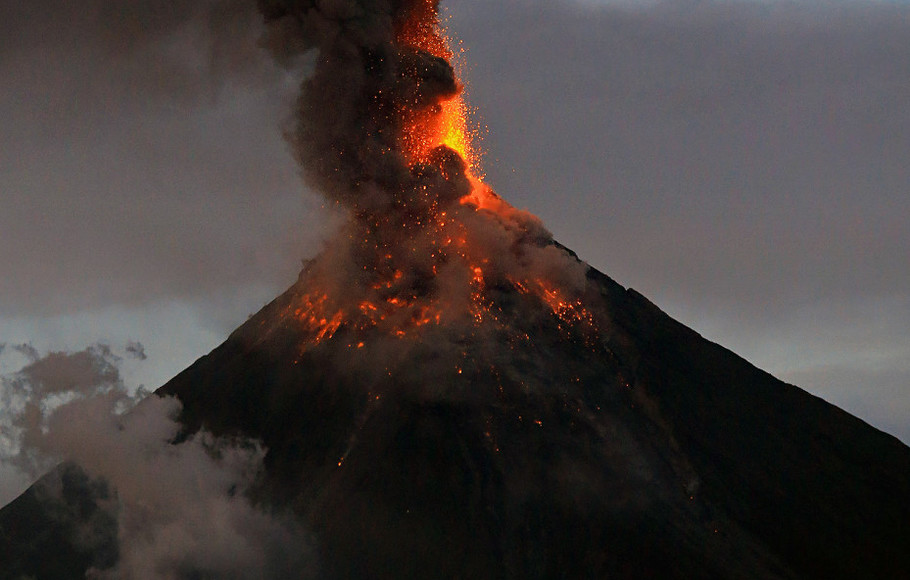 Alert Level 4 remains in effect over Mayon Volcano. The public is strongly advised to be vigilant and desist from entering the eight (8) kilometer-radius danger zone, and to be additionally vigilant against pyroclastic density currents, lahars and sediment-laden stream flows along channels draining the edifice. Civil aviation authorities must also advise pilots to avoid flying close to the volcano's summit as ash from any sudden eruption can be hazardous to aircraft.
DOST-PHIVOLCS maintains close monitoring of Mayon Volcano and any new development will be communicated to all concerned stakeholders.
Source : Phivolcs
Photo : Beritasu
Cleveland , Alaska :
52°49'20 » N 169°56'42 » W,
Summit Elevation 5676 ft (1730 m)
Current Volcano Alert Level: ADVISORY
Current Aviation Color Code: YELLOW
Low level unrest continues at Cleveland Volcano. No explosive activity was detected from Cleveland during the past week. Elevated surface temperatures were observed in satellite data on Thursday, Feb. 15 and today, Feb. 16. Seismic and infrasound stations located on Chuginadak Island are not currently transmitting data due to a telecommunication issue out of Nikolski. AVO might be able to detect explosive activity at Cleveland promptly, if it were to occur, on other nearby seismic and infrasound networks.
Future explosive activity is likely, and will occur without warning. Previous explosions have produced hazardous conditions primarily near the summit crater, but occasionally they have been large enough to produce a drifting ash cloud.
Volcanic gases rise from the crater of Mount Cleveland, with the snowy peaks of Tana Volcano in the background.
Cleveland volcano forms the western portion of Chuginadak Island, a remote and uninhabited island in the east central Aleutians. The volcano is located about 75 km (45 mi) west of the community of Nikolski, and 1500 km (940 mi) southwest of Anchorage. The most recent significant period of eruption began in February, 2001 and produced 3 explosive events that generated ash clouds as high as 39,000 ft above sea level. The 2001 eruption also produced a lava flow and hot avalanche that reached the sea. Since then, Cleveland has been intermittently active producing small lava flows, often followed by explosions that generate small ash clouds generally below 20,000 ft above sea level. These explosions also launch debris onto the slopes of the cone producing hot pyroclastic avalanches and lahars that sometimes reach the coastline.
Source : AVO
Photo : Power, John , Juillet 2016.
Dukono , Indonesia :
VOLCANO OBSERVATORY NOTICE FOR AVIATION – VONA.
Issued: February 16 , 2018.
Volcano: Dukono (268010)
Current Aviation Colour Code: ORANGE
Previous Aviation Colour Code: orange
Source: Dukono Volcano Observatory
Notice Number: 2018DUK20
Volcano Location: N 01 deg 41 min 35 sec E 127 deg 53 min 38 sec
Area: North Maluku, Indonesia
Summit Elevation: 3933 FT (1229 M)
Volcanic Activity Summary:
Eruption with volcanic ash cloud at 22h44 UTC (07h44 local) , February 16 , 2018. .
Volcanic Cloud Height:
Best estimate of ash-cloud top is around 4573 FT (1429 M) above sea level, may be higher than what can be observed clearly. Source of height data: ground observer.
Other Volcanic Cloud Information:
Ash cloud moving to East.
Remarks:
Eruption and ash emission is continuing.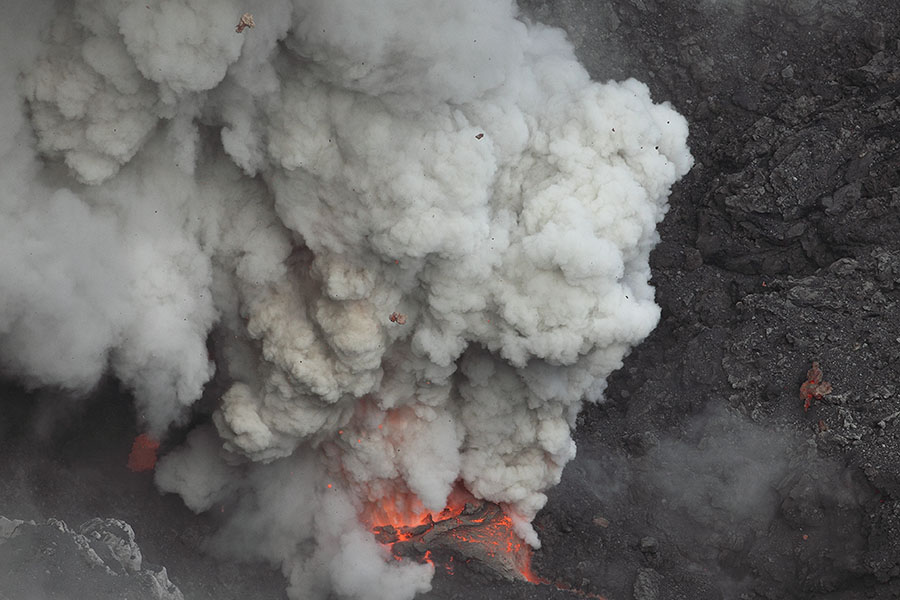 Activity Level at Level II (WASPADA). The Dukono (1229 m above sea level) has a continuous eruption.
Since yesterday until this morning visually the summit of the volcano could be observed. Emissions of smoke and ash in the main crater were observed gray / white, thick, with an altitude of 10 to 300 m above the volcano, dispersing to the east.
According to the seismographs, dated February 16, 2018, it was recorded:
Ash emissions associated with continuous trenches of 0.5 to 24 mm amplitude (with a dominant value of 2 mm).
2 Earthquakes of eruption.
There was no rumbling heard from the Dukono Post, 10 km north of the summit.
Recommendations: The communities around G. Dukono and visitors / tourists should not move, climb or approach the Malupang Warirang crater within 2 km.
Sources : Magma , VSI.
Photo : Photovolcanica.