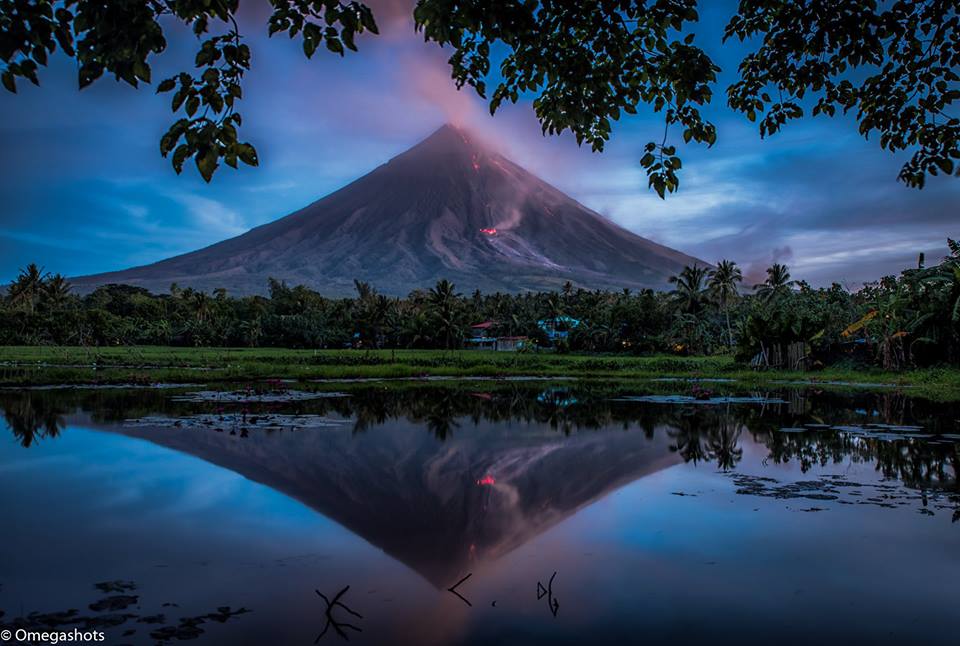 February 04 , 2018.
Mayon , Philippines :
MAYON VOLCANO BULLETIN 04 February 2018 08:00 A.M.
Sporadic and weak lava fountaining, lava flow and degassing from the summit crater characterized Mayon's activity yesterday. One event produced a 500-meter high ash plume and a low and weak lava fountain that lasted 37 seconds. Throughout the night, quiet lava effusion fed lava flows in the Miisi and Bonga-Buyuan channels and barrancos between these. The Miisi and Bonga-Buyuan lava flows have advanced to 3.2 kilometers and 4.3 kilometers, respectively, from the summit crater.
The Mayon was caught emitting lava and smoke by DEIMOS2 earlier on 02 February.
A total of fifty-five (55) volcanic earthquakes, most of which corresponded to sporadic and weak fountaining events, nine (9) rockfall events were recorded by Mayon's seismic monitoring network. Sulfur dioxide gas emission was measured at an average of 1,583 tonnes/day on 02 February 2018. Electronic tilt and continuous GPS measurements indicate a sustained swelling or inflation of the edifice since November and October 2017, consistent with pressurization by magmatic intrusion.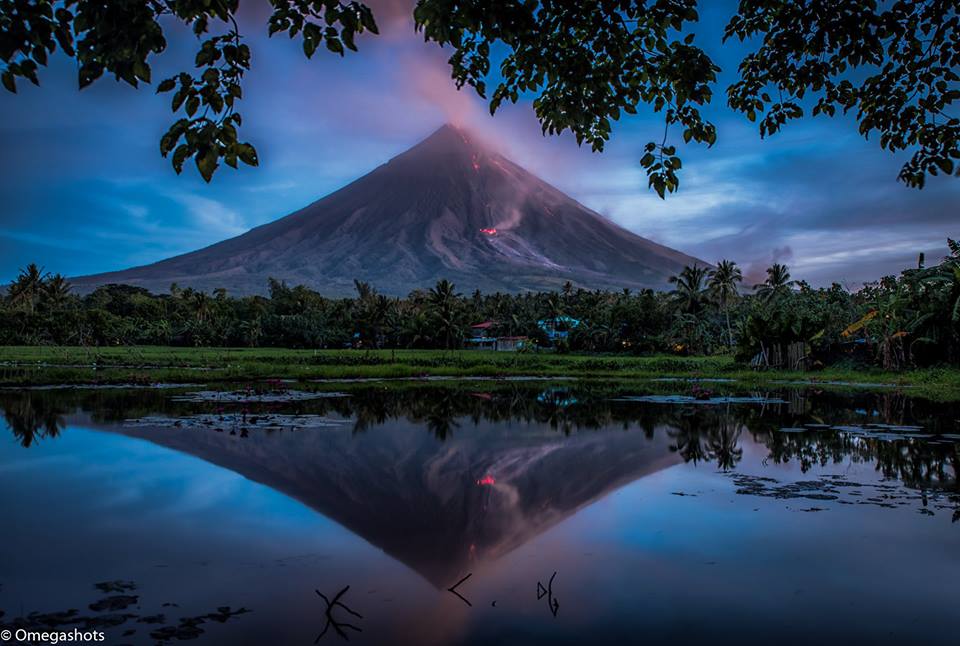 Alert Level 4 remains in effect over Mayon Volcano. The public is strongly advised to be vigilant and desist from entering the eight (8) kilometer-radius danger zone, and to be additionally vigilant against pyroclastic density currents, lahars and sediment-laden stream flows along channels draining the edifice. Civil aviation authorities must also advise pilots to avoid flying close to the volcano's summit as ash from any sudden eruption can be hazardous to aircraft. DOST-PHIVOLCS maintains close monitoring of Mayon Volcano and any new development will be communicated to all concerned stakeholders.
Source : Phivolcs
Nevados de Chillan , Chile :
Special Report on Volcanic Activity (REAV), Biobío Region. February 2, 2018, 16: 30 hours (local time).
The National Geological and Mining Service (Sernageomin) publishes the following information obtained from the monitoring equipment of the National Volcanic Monitoring Network, processed and analyzed at the Volcanological Observatory of the South Andes:
In the context of the volcanic activity taking place on the Nevados volcanic complex of Chillan, where an explosive activity is recorded recurrently, the occurrence of a higher energy explosion recorded today at 12:02 (local time) stands. A reduced displacement value (DRC) of 440 cm 2 was calculated using seismic recording. In addition, using a network of infrared microphones, a pressure of 14 Pa reduced to 1 km was measured.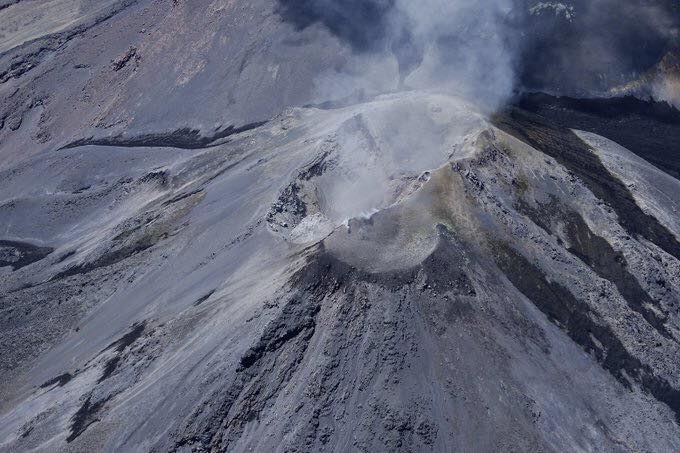 This event was accompanied by a column of gas and pyroclastic material (highlighted by whitish and gray staining) which, according to what had been captured by the station monitoring enclosures, reached a maximum height of about 2500 m. There is a high probability that a portion of the Gil-Cruz Dome located in the active crater (Nicanor) has been affected as a result of this event, which will be confirmed by a next flyby.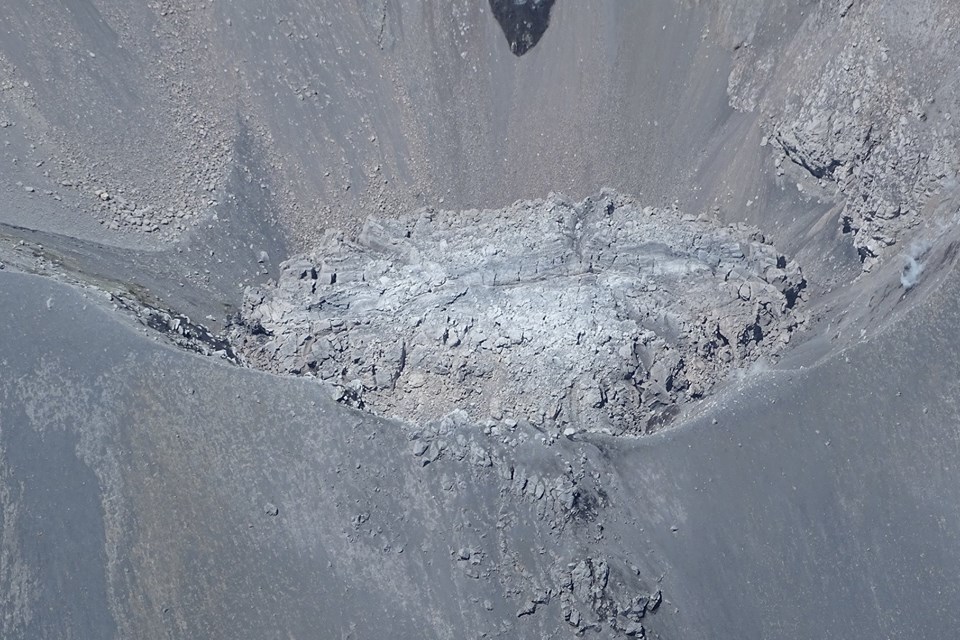 Finally, during the day, there were reports of vibrations associated with the noise of the explosion in the community of Las Trancas (10 km from the center of emission) and at the Grand Hotel Termas de Chillan (5 km from the center issue).
The development of instrumental parameters makes it possible to diagnose the evolution of this process permanently.
Due to the above, the volcanic technical alert remains at the level:
YELLOW alert level
Observation: The area of possible assignment in the current scenario corresponds to a radius of 4 km around the active crater, with particular attention to the area located to the east (E) of the crater.
Sernageomin maintains online monitoring and informs in a timely manner of any changes in volcanic activity in the region.
Source : Sernageomin
Sinabung , Indonesia :
Activity Level of Level IV (AWAS). The Sinabung (2460 m altitude) has been erupting constantly since 2013. Since yesterday until this morning was often covered with fog. The smoke rising from the crater could not be observed. The wind blows towards the South and the East. A column of ash eruption was observed rising 1000 m above the volcano, with a mean pressure and a color ranging from white to gray.
Incandescent materials were deposited with sliding distances of 500 to 1000 m southeast and east.
According to the recording of the seismographs of February 3rd, 2018, it was recorded:
2 eruption earthquakes
24 avalanche earthquakes
16 low frequency earthquakes
No shallow earthquake.
1 local tectonic earthquake (not felt).
No harmonic tremor event.
No earthquake emission
Recommendations:
Communities / visitors should not do activities within 3 km of the summit, and by sector, 7 km to the South-South-East, 6 km East-South-East and 4 km to the South-East. km northeast.
The deposits formed a dam upstream on the Laborus River. People living in downstream river basins and around the Laborus River need to be vigilant because these dams can collapse at any time and no longer retain water volume, resulting in downstream lahars / floods .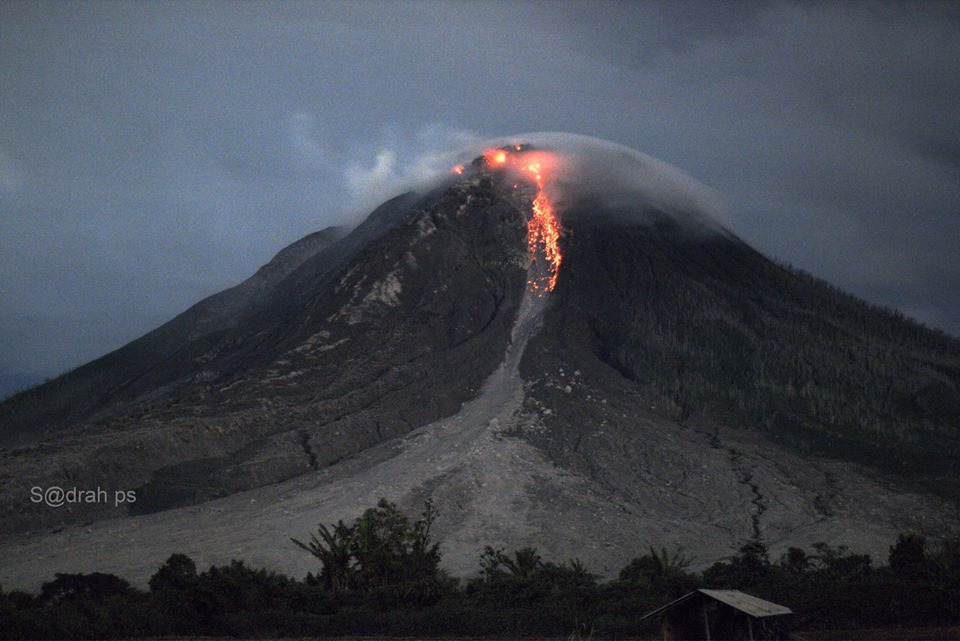 VOLCANO OBSERVATORY NOTICE FOR AVIATION – VONA .
Issued: February 03 , 2018.
Volcano:Sinabung (261080)
Current Aviation Colour Code: ORANGE
Previous Aviation Colour Code: orange
Source: Sinabung Volcano Observatory
Notice Number: 2018SIN82
Volcano Location: N 03 deg 10 min 12 sec E 98 deg 23 min 31 sec
Area: North Sumatra, Indonesia
Summit Elevation: 7872 FT (2460 M)
Volcanic Activity Summary:
Eruption with ash clouds at 10:30 UTC (17:30 local time). The eruption lasted for 345 seconds.
Volcanic Cloud Height:
Best estimate of ash-cloud top is around 11072 FT (3460 M) above sea level, may be higher than what can be observed clearly. Source of height data: ground observer.
Other Volcanic Cloud Information:
Ash cloud is moving to south.
Remarks:
Seismic activity is characterized by the Deep Volcanic Earthquake, Low Frequency Earthquake, and Hybrid Earthquake
Source : VSI , Magma.
Photo : Sadrah Peranginangin
Karangetang , Indonesia :
VOLCANO OBSERVATORY NOTICE FOR AVIATION – VONA.
Issued: February 2 , 2018.
Volcano: Karangetang (267020)
Current Aviation Colour Code: YELLOW
Previous Aviation Colour Code: unassigned
Source: Karangetang Volcano Observatory
Notice Number: 2018KAR01
Volcano Location: N 02 deg 46 min 48 sec E 125 deg 24 min 22 sec
Area: North Sulawesi, Indonesia
Summit Elevation: 5709 FT (1784 M)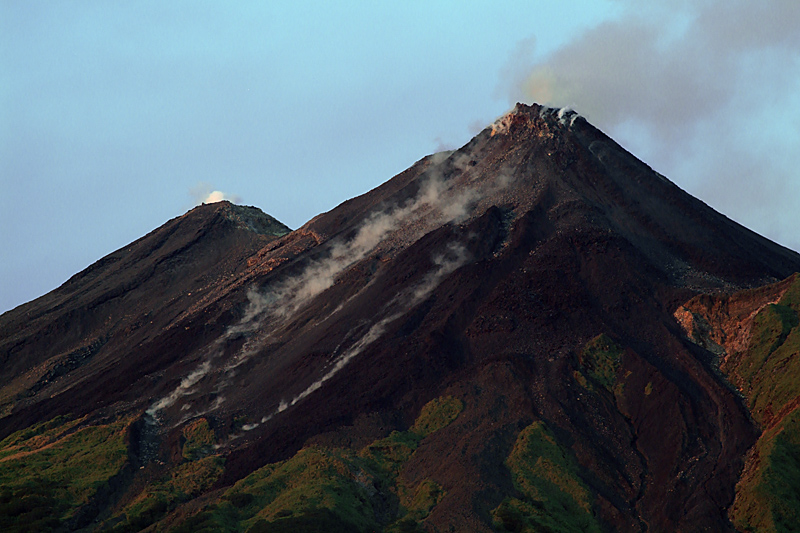 Volcanic Activity Summary:
incandescent and plume observed from the top of the mountain. Height of the plume is about 600 meter above the summit. Ash emission stil continuing.
Volcanic Cloud Height:
Ash cloud not visible.
Other Volcanic Cloud Information:
No eruption observed.
Source : Magma .
Ebeko , Kamchatka :
50.69 N, 156.01 E;
Elevation 3792 ft (1156 m)
Aviation Colour Code is ORANGE
A moderate gas-steam with some amount of ash activity of the volcano continues. Ash explosions up to 16,400 ft (5 km) a.s.l. could occur at any time. Ongoing activity could affect low-flying aircraft and airport of Severo-Kurilsk.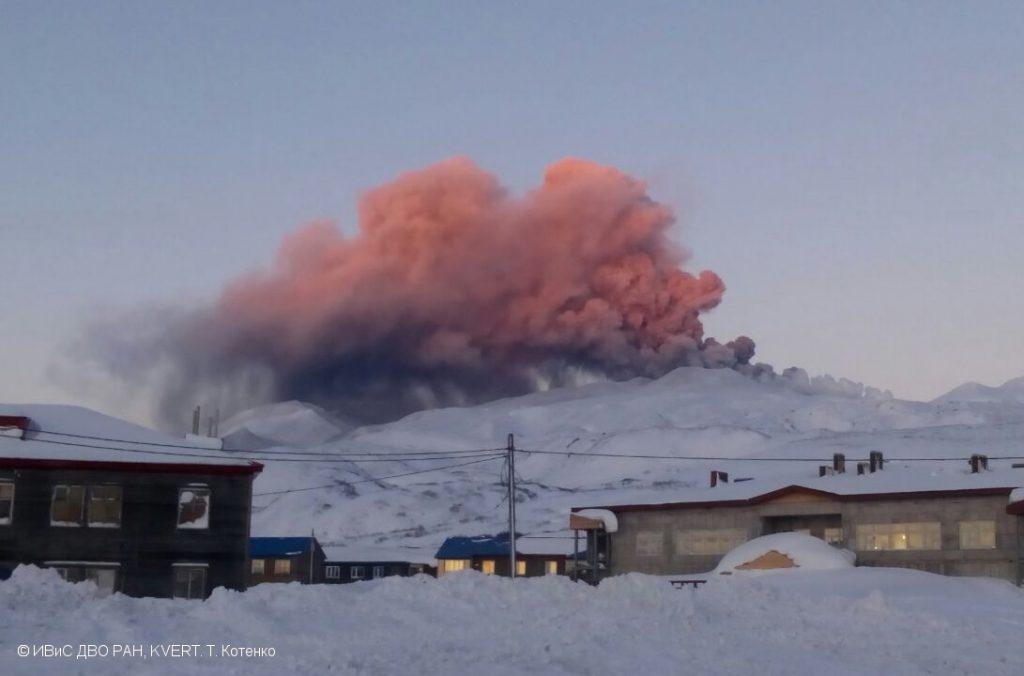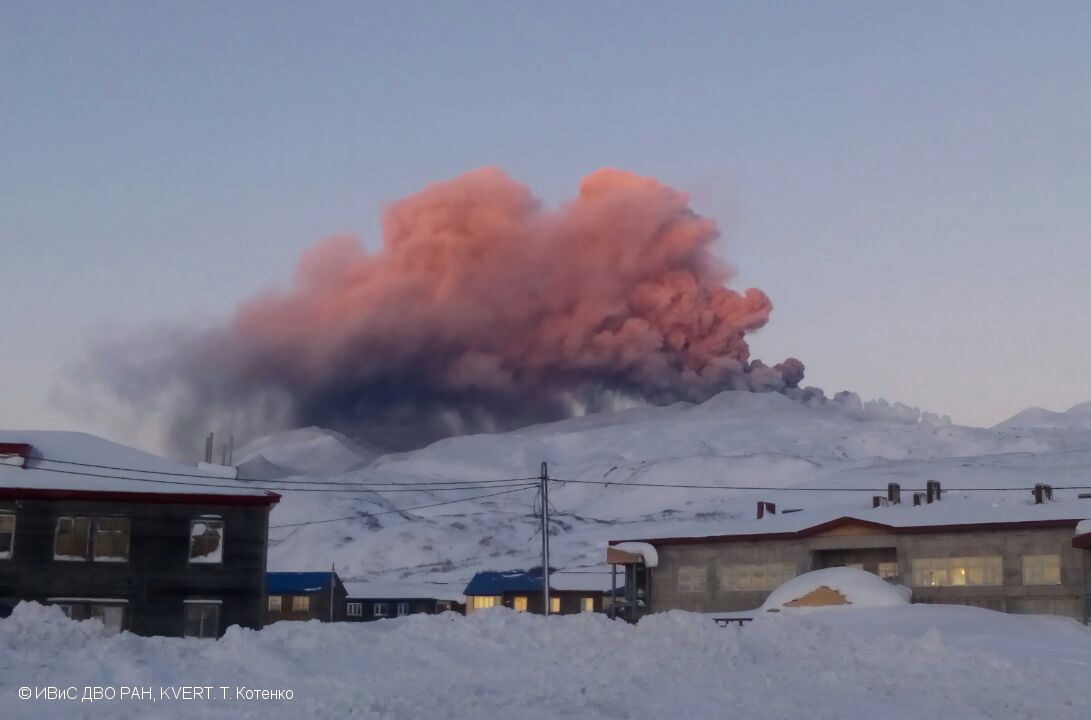 A moderate explosive activity of the volcano continues. According to visual data by volcanologists from Severo-Kurilsk, explosions sent ash up to 2.5 km a.s.l. on 26-27 and 29-31 January; ashfall was noting at Severo-Kurilsk on 29 January. Satellite data by KVERT showed the volcano was quiet or obscured by clouds.
Source : Kvert
Photo : T. Kotenko, IVS FEB RAS, KVERT , 19/1/2017