December 21, 2020. EN. New Zealand : Ruapehu , Kamchatka : Klyuchevskoy , Indonesia : Ili Lewotolok , Chile : Nevados of Chillan , Guatemala : Fuego .
December 21 , 2020.
New Zealand , Ruapehu :
Mt Ruapehu: Crater Lake heating to over 40°C , Published: Mon Dec 21 2020 12:15 PM
Volcanic Alert Level is raised to 2
Aviation Colour Code is raised to Yellow
Crater Lake (Te Wai ā-moe) continues heating and is now 43 °C. The heating has been accompanied by bursts of volcanic tremor and a marked increase in the amount of gas passing through the crater lake. The volcanic alert level has been raised to Level 2 and the Aviation Colour code changed to Yellow.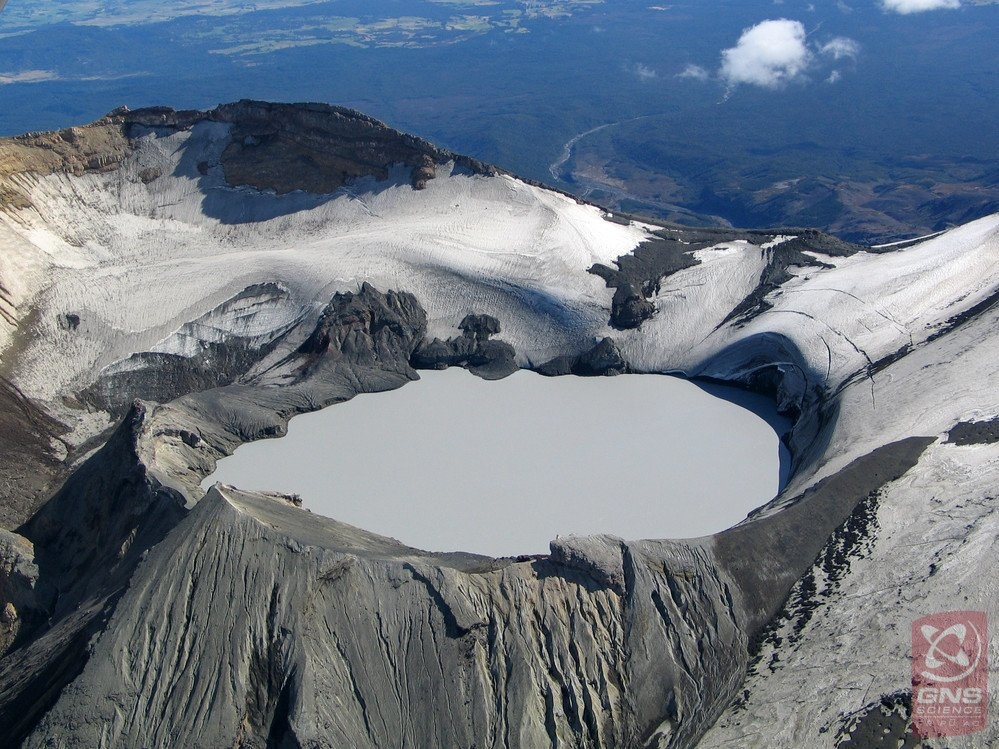 The Crater Lake (Te Wai ā-moe) temperature has been rising and is now 43ºC. During a gas flight last week, the lake was observed to be a uniform grey colour which shows it is well-mixed. There is some flow over the outlet. The gas output through the crater lake has also increased markedly in response to this heating cycle. The amounts of carbon dioxide (CO2) and sulphur gases (SO2 and H2S) in the plume are the largest measured in the past two decades. The continued flow of gases and hydrothermal fluids though the lake shows that the underlying vent area is open.
Volcanic tremor is being produced as short-lived pulses that coincide with increased gas passing through the crater lake and its plumbing system. Modelling of energy input into the lake has shown increase during the past month from around 200 MW to around 400 MW. Since 2007 Crater Lake temperature has exceeded 40 °C a number of times, without leading to an eruption. However. the combination of the increased lake temperature, volcanic tremor and gas output have motivated the Alert Level change.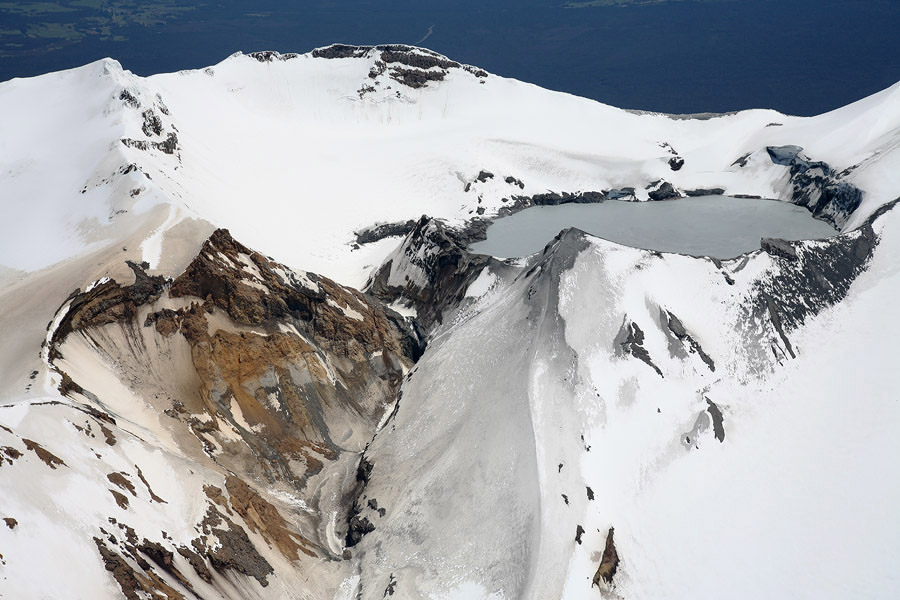 The Volcanic Alert Level has been raised to Level 2. The Volcanic Alert Level reflects the current level of volcanic activity. Mt Ruapehu is an active volcano and has the potential to erupt with little or no warning when in a state of volcanic unrest. The Aviation Colour Code is changed to Yellow.
The Volcanic Alert Level reflects the current level of volcanic unrest or activity and is not a forecast of future activity. Volcanic Alert Level 2 indicates the primary hazards are those expected during volcanic unrest; steam discharge, volcanic gas, earthquakes, landslides and hydrothermal activity. While Volcano Alert Level 2 is mostly associated with environmental hazards, eruptions can still occur with little or no warning.
GNS Science and the National Geohazards Monitoring Centre continue to closely monitor Mt Ruapehu for further signs of activity. GeoNet monitors Mt Ruapehu via a network of seismic and acoustic sensors, GPS receivers, sensors in the lake and visits to the lake area and gas flights.
Source : Geonet.
Read the article : https://www.geonet.org.nz/vabs/2eRQvDWg31q0luE4H2McoY
Photos : Brad Scott / GNS , Photovolcanica.
Kamchatka , Klyuchevskoy :
VOLCANO OBSERVATORY NOTICE FOR AVIATION (VONA).
Issued: december 21 , 2020
Volcano: Klyuchevskoy (CAVW #300260)
Current aviation colour code: ORANGE
Previous aviation colour code: orange
Source: KVERT
Notice Number: 2020-247
Volcano Location: N 56 deg 3 min E 160 deg 38 min
Area: Kamchatka, Russia
Summit Elevation: 15580 ft (4750 m)
.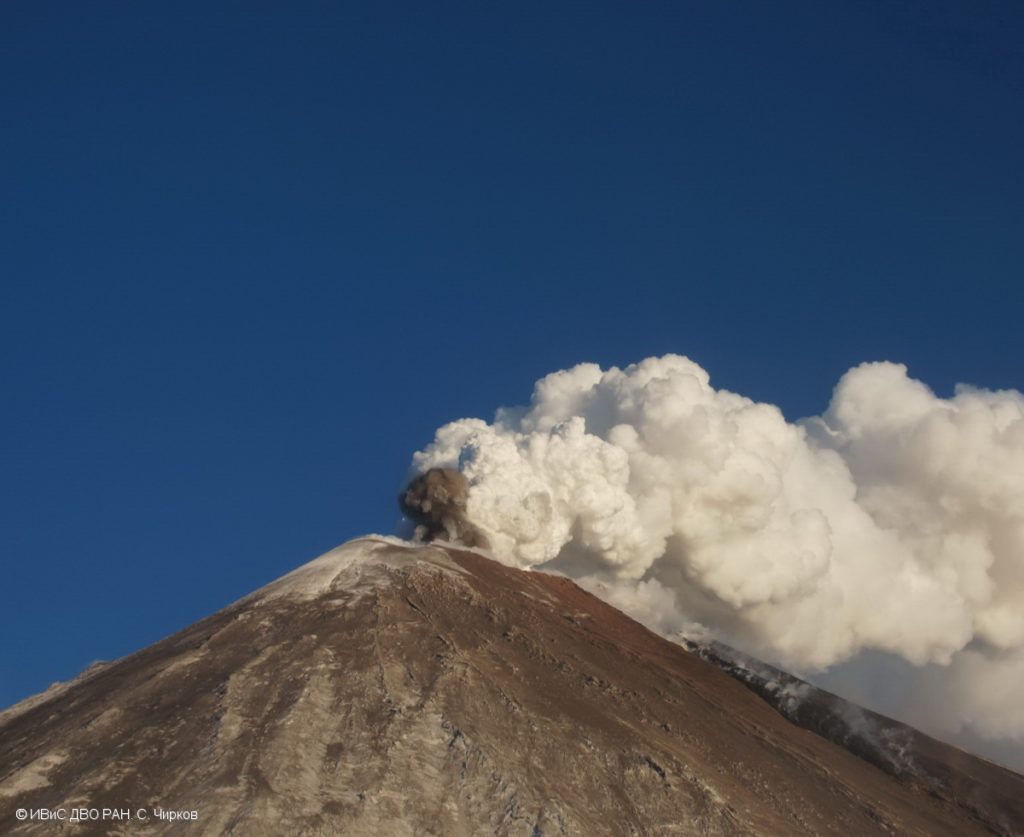 The explosive-effusive eruption of Klyuchevskoy volcano continues: there is notting its Strombolian and gas-steam activity, and the effusion of a lava flow along the southern slope. Date: 8/12/2020
Volcanic Activity Summary:
A moderate explosive-effusive eruption of the volcano continues. According to video and satellite data, a gas-steam plume containing some amount of ash is extending for 152 km to the north-west of the volcano.
This explosive-effusive eruption continues. Ash explosions up to 23,000-26,200 ft (7-8 km) a.s.l. could occur at any time. Ongoing activity could affect low-flying aircraft.
Volcanic cloud height:
19680-22960 ft (6000-7000 m) AMSL Time and method of ash plume/cloud height determination: 20201221/0400Z – Video data
Other volcanic cloud information:
Distance of ash plume/cloud of the volcano: 94 mi (152 km)
Direction of drift of ash plume/cloud of the volcano: NW / azimuth 307 deg
Time and method of ash plume/cloud determination: 20201221/0330Z – Himawari-8
Source : Kvert.
Photo : S. Chirkov, IVS FEB RAS.
Indonesia , Ili Lewotolok :
Level of activity at level III (SIAGA) since November 29, 2020 at 1:00 p.m. WITA. The increase in activity level was motivated by an eruption on November 27, 2020 at 05:57 WITA with an ash column height that had been observed gray / black, 500 m above the peak (± 1923 m at above sea level) with a thick intensity, oriented towards the West. This eruption was recorded on a seismogram with a maximum amplitude of 34 mm. The duration of the eruption was not clearly observed as it was followed by continuous tremors.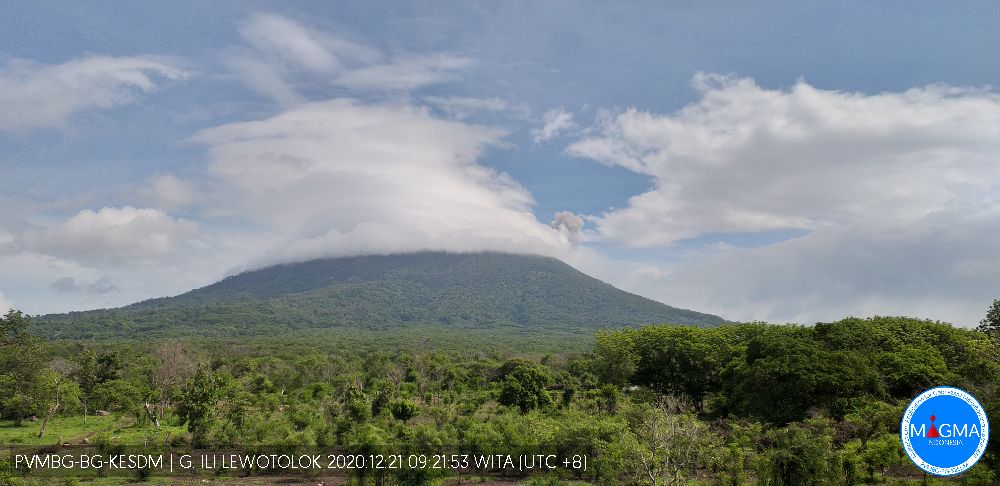 According to the results of the surveillance of the last day, the volcano was covered with fog. The smoke from the crater was observed to be white / gray with thick intensity and rising about 300 meters above the summit. The weather is sunny to rainy, the wind is weak, oriented to the east. It was noted that projections of incandescent lava were observed at an altitude of 100-200 m above the summit and there were roars accompanied by weak detonations.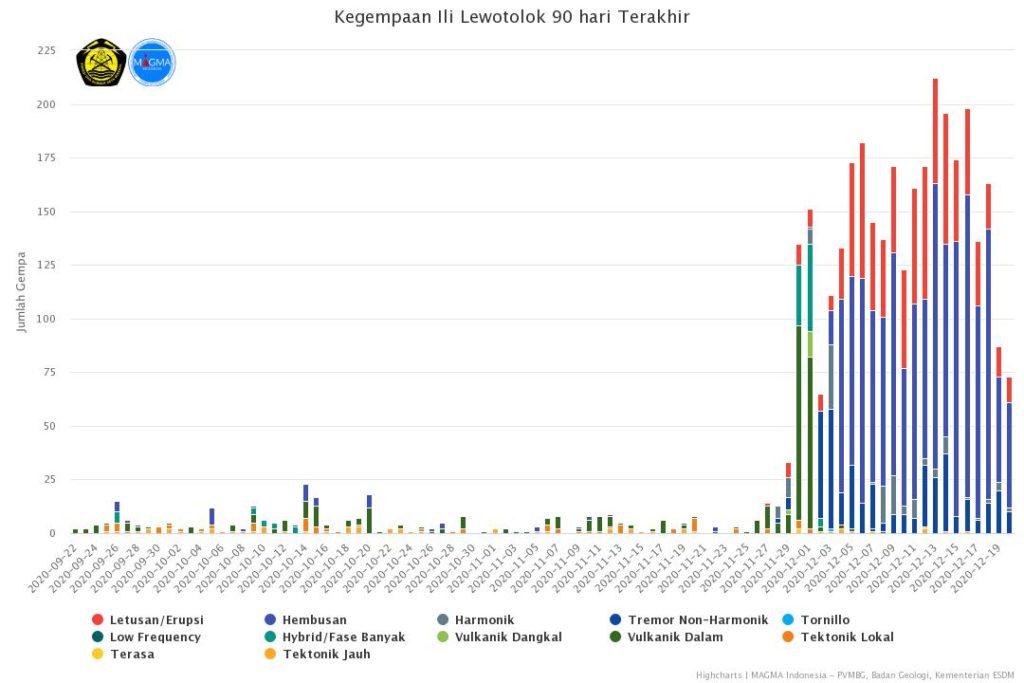 According to the seismographs of December 20, 2020, it was recorded:
● 12 eruption earthquake / explosions
● 49 earthquakes of emissions
● 2 harmonic tremors
● 10 non-harmonic tremors
● Continuous tremor with an amplitude of 0.5 to 3 mm (dominant value of 0.5 mm).
Source : PVMBG. Magma Indonésie .
Chile , Nevados of Chillan :
Special Report on Volcanic Activity (REAV), Ñuble region, Nevados de Chillán volcanic complex, December 20, 2020, 7:10 p.m. local time (mainland Chile).
The National Service of Geology and Mines of Chile (Sernageomin) publishes the following PRELIMINARY information, obtained thanks to the monitoring equipment of the National Volcanic Monitoring Network (RNVV), processed and analyzed in the Volcanological Observatory of the Andes of the South (Ovdas):
On Sunday, December 20 at 6:49 p.m. local time (9:49 p.m. UTC), monitoring stations installed near the Nevados de Chillán volcanic complex recorded an earthquake linked to rock fracturing (Volcano-Tectonic type).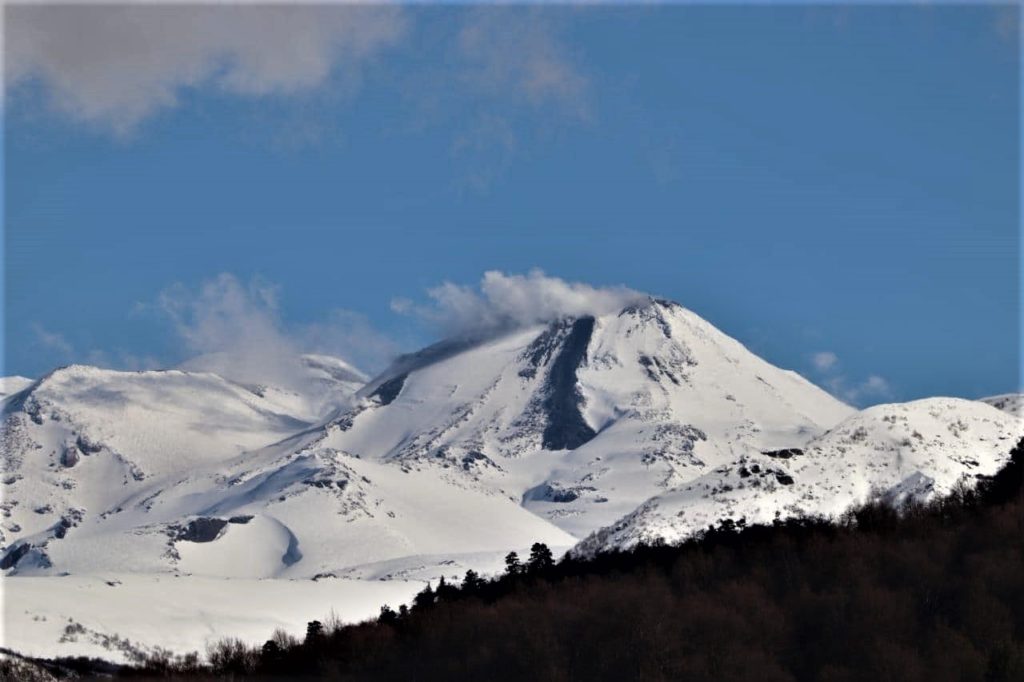 The characteristics of the earthquake after its analysis are as follows:
ORIGINAL TIME: 18:49 local time (21:49 UTC)
LATITUDE: 36.883 ° S
LONGITUDE: 71.347 ° W
DEPTH: 3.6 km
LOCAL MAGNITUDE: 3.4 (ML)
The volcanic technical alert remains at the Yellow level.
Source : Sernageomin .
Photo : REAV Servicio Nacional de Geología y Minería.
Guatemala , Fuego :
Activity type: Vulcanian
Morphology: composite stratovolcano
Geographical location: 14 ° 28'54˝ Latitude N; 90 ° 52'54˝ Longitude W
Height: 3763 meters above sea level.
Atmospheric conditions: Cloudy
Wind: from the north at 4 km / h.
Precipitation: 0.0 mm
Activity:
The Fuego Volcano Observatory reports a degassing fumarole with a height of 4500 m above sea level, explosions ranging from 7 to 11 per hour, accompanied by columns of gray ash, at a height of between 4500 and 4800 m of elevation (14,764 to 15,748 feet) which extend west and southwest. The explosions generated low, moderate and eight loud rumblings with weak to moderate shock waves that vibrate the roofs and windows of houses in villages near the volcano. There are block avalanches, weak, moderate and strong in the direction of the Ceniza, Trinidad, Taniluyá, Lajas Honda and Seca gullies, some of these blocks reach the edge of the vegetation. An incandescence was observed at night at a height of between 100 and 300 meters above the crater. Ash falls are recorded in Panimaché I and II, Santa Emilia, Sangre de Cristo, Palo Verde and others in this direction.
Source : Insivumeh
Video : Epcom Crelosa.