September 08, 2020. EN . Peru : Sabancaya , Peru : Ubinas , Guatemala : Fuego , Indonesia : Semeru , Philippines : Mayon .
September 08 , 2020 .
Peru , Sabancaya :
Analysis period: August 31 to September 6, 2020, Arequipa, September 7, 2020
Alert level: ORANGE
The Geophysical Institute of Peru (IGP) reports that the eruptive activity of the Sabancaya volcano has seen a slight increase since August 15. Over the past week, there have been an average of 43 daily explosions that generated columns of ash and gas up to 3.5 km high above the top of the volcano. Therefore, for the following days, minor changes regarding the eruptive activity are not excluded.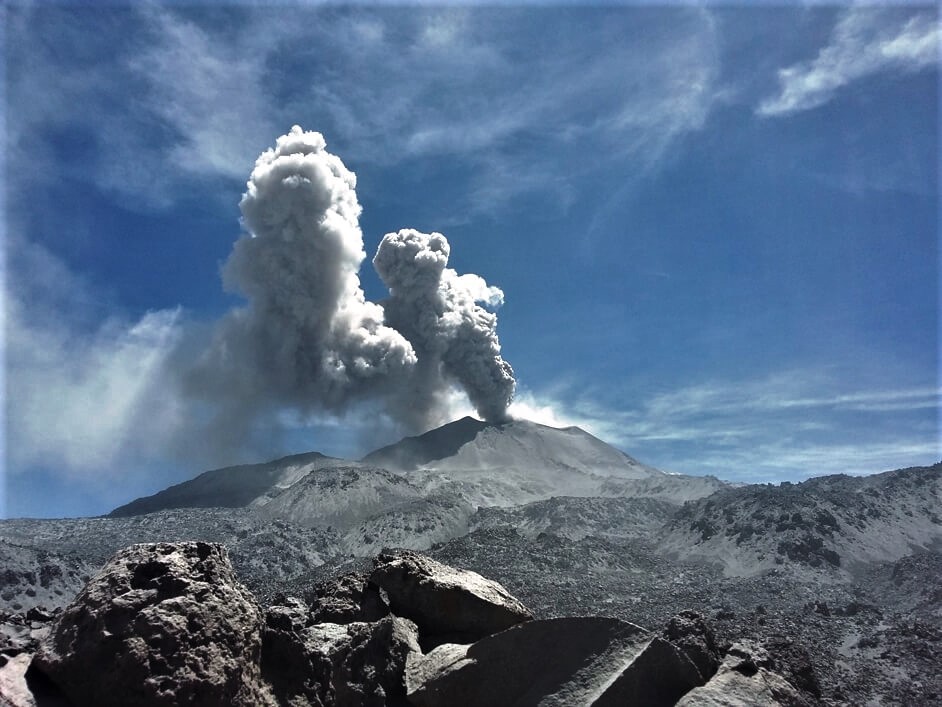 The IGP recorded and analyzed the occurrence of 2208 earthquakes of volcanic origin, associated with the circulation of magmatic fluids within the Sabancaya. An average of 43 daily explosions of low to medium intensity were recorded.
During this period, Volcano-Tectonic (VT) earthquakes, linked to rock breaking processes, were located mainly in the Northwest, North and Northeast of Sabancaya, and have presented magnitudes between M2.4 and M3.9. The representative earthquake (M3.9) was recorded on September 2 at 4:07 a.m., 19 km northwest of Sabancaya and 8 km deep.
Monitoring the deformation of the volcanic structure, using GNSS equipment (processed with fast orbits), recorded a slight inflation of the south-eastern flank of the Sabancaya volcano and of the northern sector of the Hualca Hualca volcano. Visual surveillance identified columns of gas and ash up to 3.5 km high above the summit of the volcano, which were scattered towards the South, South-East and East sectors of Sabancaya. Satellite monitoring has identified the presence of 10 thermal anomalies with values ​​between 3 MW and 48 MW, associated with the presence of a lava body (dome) on the surface of the volcano's crater.
RECOMMENDATIONS
• Maintain the orange volcanic alert level.
• Do not approach within a radius of less than 12 km around the crater. If ash falls, cover your nose and mouth with wet rags or masks. Keep doors and windows of houses closed.
Source : IGP.
Photo : Ingemmet.
Peru , Ubinas :
Analysis period: August 31 to September 6, 2020, Arequipa, September 7, 2020.
Alert level: YELLOW
The Geophysical Institute of Peru (IGP) reports that the Ubinas volcano (Moquegua region) continued to record a slight increase in its seismic activity during the analysis period; therefore, it is suggested that the authorities and the public pay attention to the bulletins published by the IGP.
During the analysis period, the occurrence of 54 volcano-tectonic (VT) earthquakes with magnitudes less than M1.7 were identified, associated with rock breaking processes that occur at the inside the volcano. On average, 8 earthquakes were recorded per day. Likewise, 16 seismic signals were recorded, associated with the movements of volcanic fluids (water vapor and gas), one of them of the « Tornillo » type.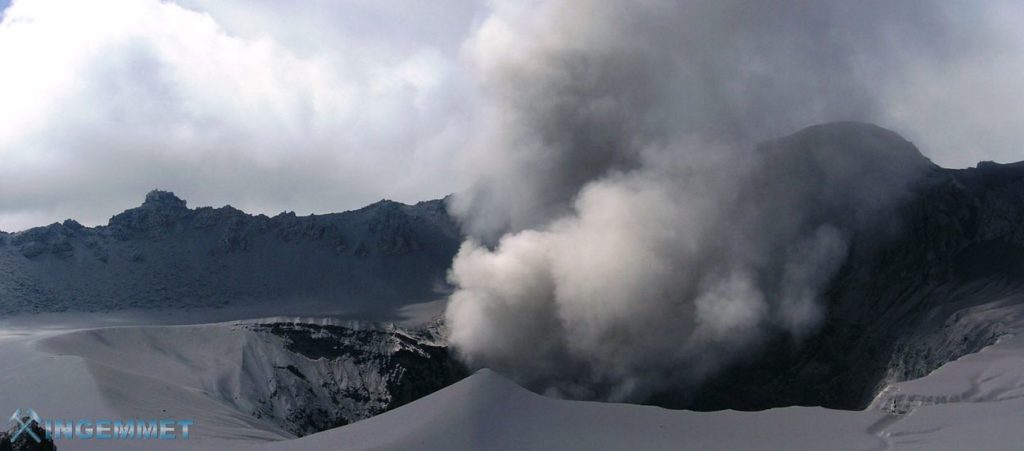 Surveillance cameras recorded columns of gas and water vapor that reached heights of up to 500 m above the summit of the volcano; these emissions dispersed towards the south-eastern sector of the volcano.
Monitoring the deformation of the volcanic structure, using GNSS equipment (processed with fast orbits), shows a slight inflation of the volcano's surface since the beginning of August. Satellite surveillance, carried out through the SENTINEL, OMI-NASA (SO2 gas) and MIROVA (thermal anomalies) systems, does not record any anomalies.
RECOMMENDATIONS
Do not approach within a radius of less than 4 km around the crater of the volcano
Source : IGP
Photo : ingemmet 2006
Guatemala , Fuego :
Activity type: Vulcanian
Morphology: composite stratovolcano
Geographical location: 14 ° 28'54˝ Latitude N; 90 ° 52'54˝ Longitude W.
Height: 3763 meters above sea level.
Atmospheric conditions: clear
Wind: North-east at 5 km / h.
Precipitation: 7.2 mm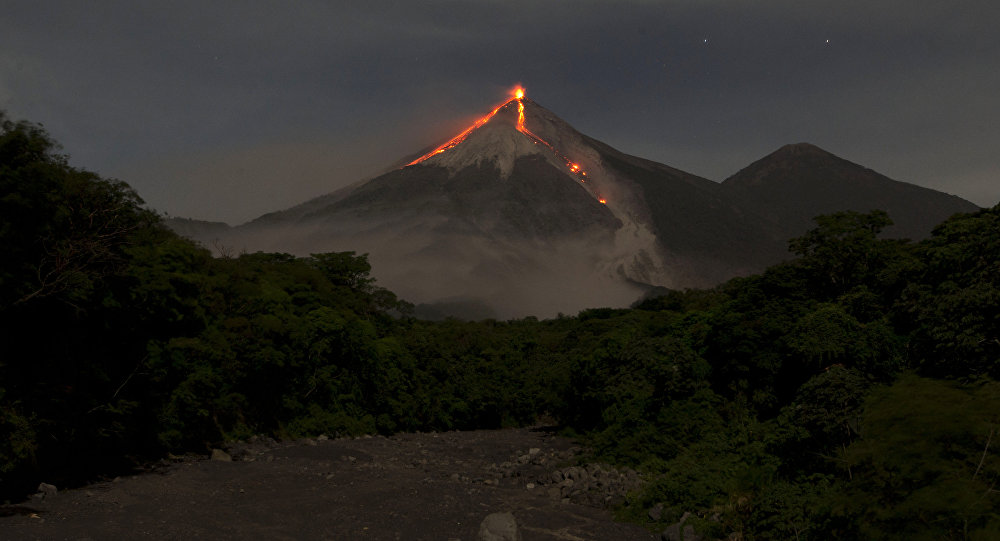 Activity:
The Fuego volcano observatory reports during the night and early in the morning white degassing fumaroles at a height of 4,500 meters above sea level (14,767 feet) and 6 to 8 weak to moderate Vulcanian explosions per hour which expelled gray columns of ash at a height of 4500 to 4700 meters above sea level (14,767-15,420 feet). These dispersed in a west and southwest direction up to about 10 kilometers, accompanied by incandescent pulses between 150 and 300 meters high above the crater. Weak, moderate and heavy avalanches are recorded channeled towards the ravines of Seca, Santa Teresa, Taniluyá, Ceniza, Trinidad, Las Lajas and Honda, some advancing to the vegetation limit. The lava flow towards the Ceniza canyon continues to be active with a length of about 200 meters, generating the boulder flow in the front. Low, moderate and loud rumblings were heard causing weak to moderate shock waves that vibrate the roofs and windows of houses near the volcano. Locomotive noises are heard for periods of approximately 1 to 3 minutes.
Source : Insivumeh .
Photo : Moises Castillo / Sputnik.
Indonesia , Semeru :
Level of activity at level II (WASPADA). The Semeru (3,676 m above sea level) is continuously erupting. There are explosive and effusive eruptions, causing lava flows towards the south and south-eastern slopes, as well as explosions of incandescent rocks around the summit crater. The last eruption occurred on September 4, 2020 with an unobserved eruption column height.
The volcano is covered in fog. Smoke from the crater was not observed. The weather is sunny / rainy, the winds weak to moderate, oriented to the West.
According to the seismographs of September 7, 2020, it was recorded:
33 eruption / emissions earthquakes
15 avalanche earthquakes.
Recommendations:
Communities must not have activities within a radius of 1 km and in an area of ​​up to 4 km in the South-South-East slope sector of the active crater which is the active opening area of ​​the crater of Mt. Semeru (Jongring Seloko) as hot cloud flow / slip.
Be aware of the presence of the lava dome in Jongring Seloko Crater.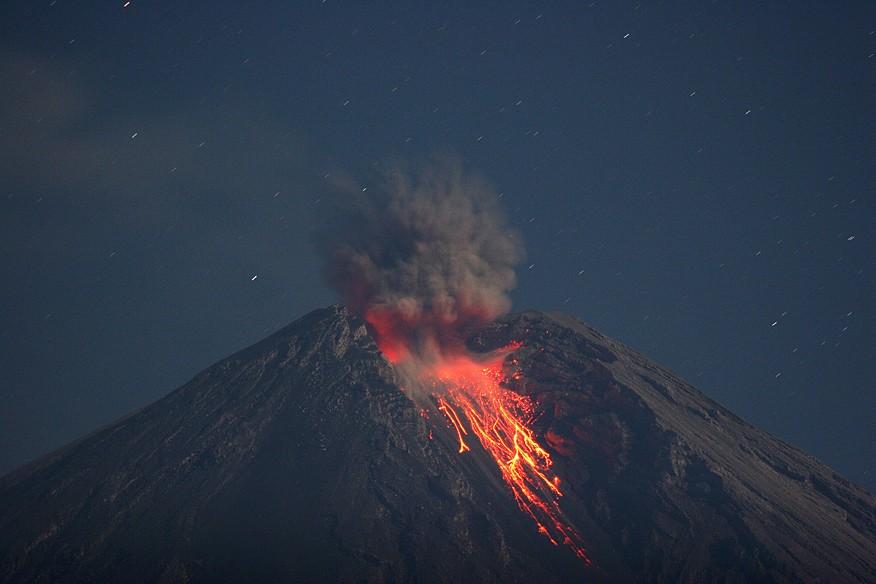 VOLCANO OBSERVATORY NOTICE FOR AVIATION – VONA.
Issued : September 07 , 2020
Volcano : Semeru (263300)
Current Aviation Colour Code : ORANGE
Previous Aviation Colour Code : orange
Source : Semeru Volcano Observatory
Notice Number : 2020SMR92
Volcano Location : S 08 deg 06 min 29 sec E 112 deg 55 min 12 sec
Area : East java, Indonesia
Summit Elevation : 11763 FT (3676 M)
Volcanic Activity Summary :
Eruption with volcanic ash cloud at 22h41 UTC (05h41 local)
Volcanic Cloud Height :
Best estimate of ash-cloud top is around 13043 FT (4076 M) above sea level, may be higher than what can be observed clearly. Source of height data: ground observer.
Other Volcanic Cloud Information :
Ash-cloud moving to south
Remarks :
Eruption recorded on seismogram with maximum amplitud 15 mm and duration 107 second
Source : PVMBG, Magma Indonésie .
Photo : M. Rietze https://de.wikipedia.org/wiki/Bild:5_Java_Vulkan_Semeru_n%C3%A4her_Lavafluss.JPG
Philippines , Mayon :
MAYON VOLCANO BULLETIN: 08 September 2020 08:00 A.M.
Mayon Volcano's monitoring network did not detect any volcanic earthquake during the 24-hour observation period. Moderate emission of white steam-laden plumes that rose 250 meters before drifting to northwest and west-southwest was observed. Sulfur dioxide (SO2) emission was last measured at an average of 182 tonnes/day on 25 August 2020. Ground deformation data from Precise Leveling surveys on 12–19 June 2020 indicated slight inflation of the edifice relative to the February 2020 survey. Electronic tilt data also indicated non-steady inflation of the middle to upper edifice that began in late 2019. This follows an inflationary trend that has been recorded by continuous GPS monitoring since the middle of 2019.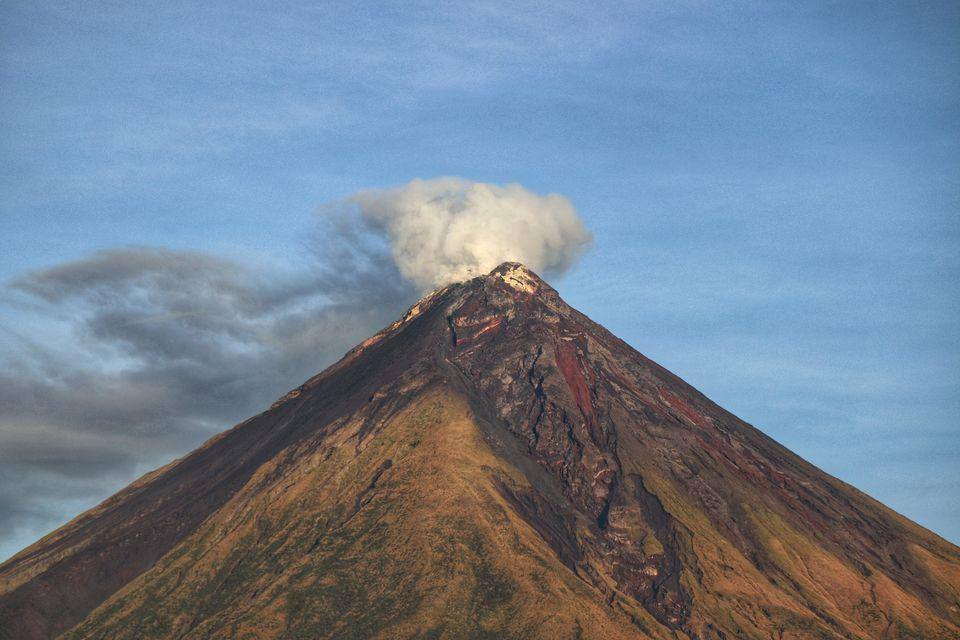 DOST-PHIVOLCS would like to remind the public that Mayon Volcano is at Alert Level 1, which means that it is at an abnormal condition. Although this means that presently no magmatic eruption is imminent, it is strongly advised that the public refrain from entering the 6-kilometer radius Permanent Danger Zone (PDZ) due to the perennial life-threatening dangers of rockfalls, landslides/avalanches at the middle to upper slope, sudden ash puffs and steam-driven or phreatic eruptions from the summit. Active stream/river channels and those identified as perennially lahar-prone areas on all sectors of the volcano should also be avoided especially during extreme weather conditions when there is heavy and prolonged rainfall.
DOST-PHIVOLCS maintains its close monitoring of Mayon Volcano and any new development will be communicated to all concerned stakeholders.
Source : Phivolcs .
Photo : Erickson Banzuela Balderama