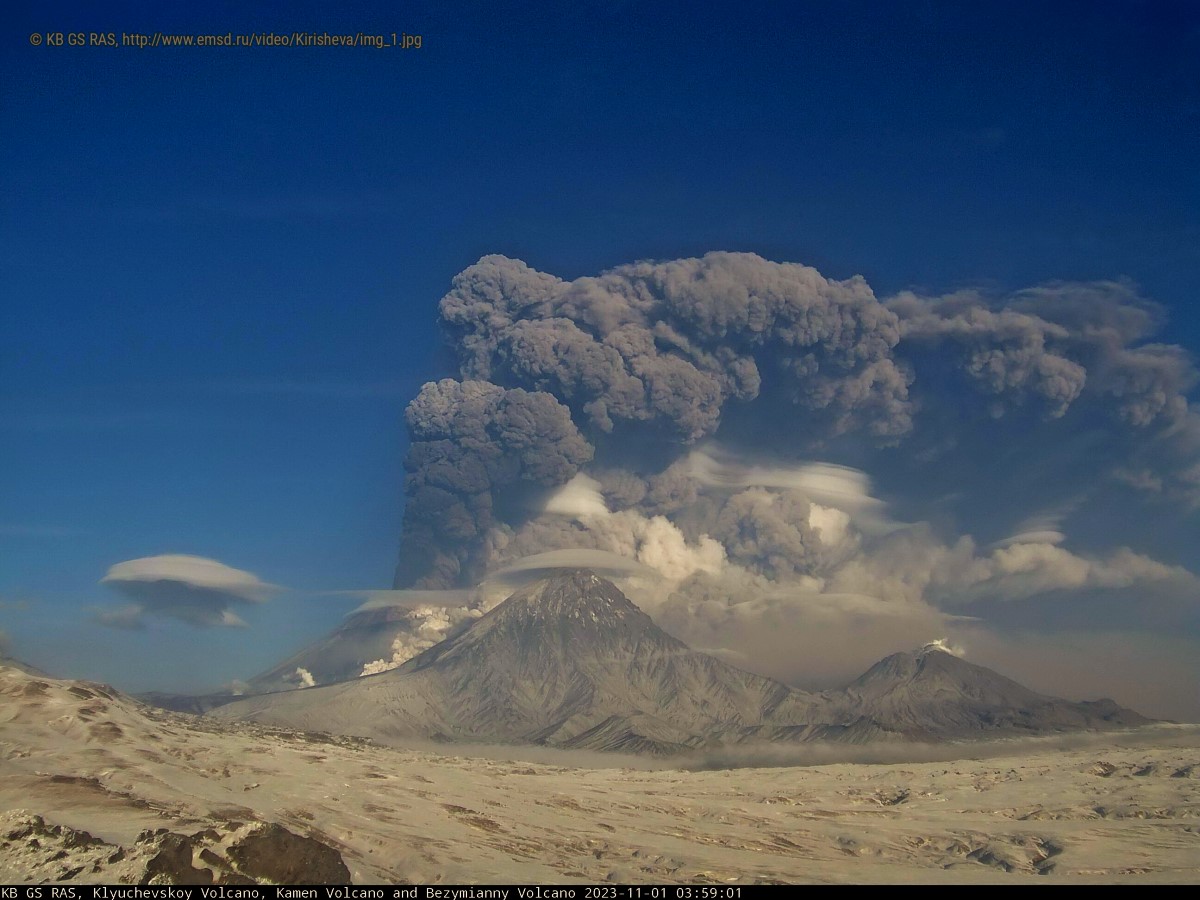 November 04 , 2023.
Iceland , Reykjanes Peninsula :
Volcanic unrest continues on the Reykjanes Peninsula . Around 800 earthquakes in the area yesterday . Updated 3. November at 3pm
An earthquake of magnitude 4.3 was detected at 1:14 pm, today between Þorbjörn and Sýlingarfell. Another earthquake of magnitude 3.5 was detected at 2:01 pm in Þorbjörn. These earthquakes are thought to be due to continuing stress in the crust from magma accumulation undir Þorbjörn mountain. No volcanic tremor has been detected and the area is still being closely monitored.
Updated 3. November at 1:50pm
According to measurements from 11:00 am today, the uplift centered northwest of Þorbjörn continues. The uplift is caused by a magma intrusion at a depth of about 4 km. Seismic activity continues on the Reykjanes peninsula due to crustal stress changes caused by the intrusion. An increase in earthquake activity was detected after midnight and into the morning. Since midnight, around 1.000 earthquakes have been recorded in the area, with two being above M3.0 and two above M4.0. The biggest earthquake of the current swarm was measured at 8:06 am and was 4.3 in size. The biggest earthquakes last night seem to line up in a north-south direction west of Þorbjörn. This is happening on previously known fissures, where tension has been accumulating associated with plate tectonics and may curl due to tension from intrusions.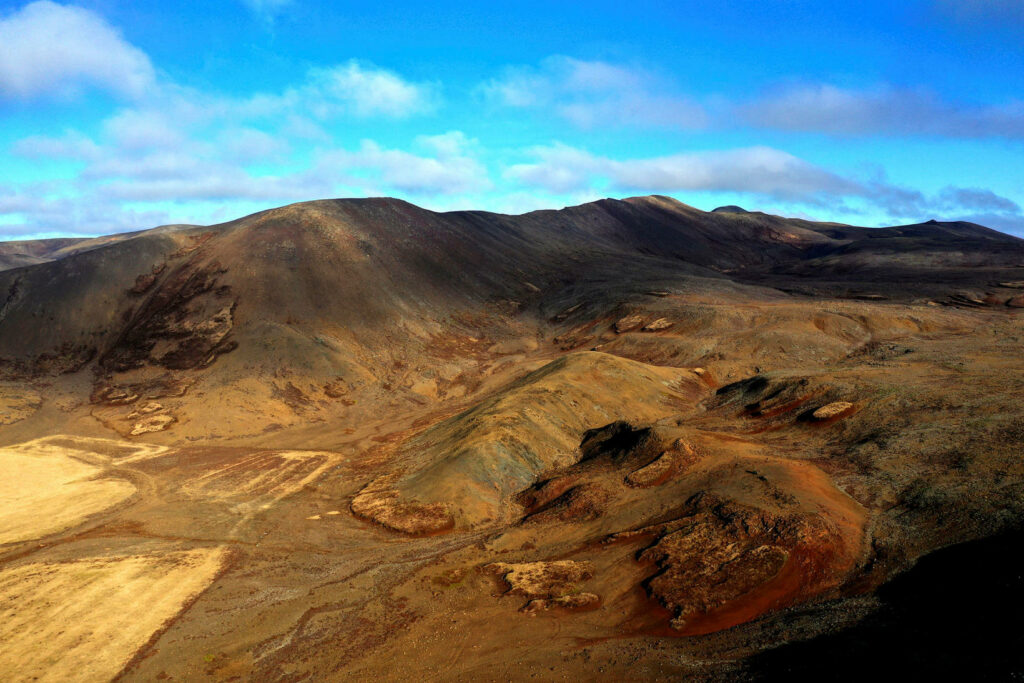 There are currently no clear signs of magma moving closer to the surface. Signs that magma is making its way to the surface would appear in shallower seismic activity and increasing tremor, which is a high frequency of small earthquakes. At the same time, sudden deformation of the surface should be measured with GPS measurements. The development of this event is closely monitored, as the course of events can change with very little notice.
Model calculations show that the intrusion is located northwest of Þorbjörn, as shown in the accompanying image. The most recent seismic activity has been over the intrusion itself. The earthquakes measured at Eldvörp and east of Grindavík road are due to tension from the magma intrusion by Þorbjörn, rather than signs of magma movements in those areas.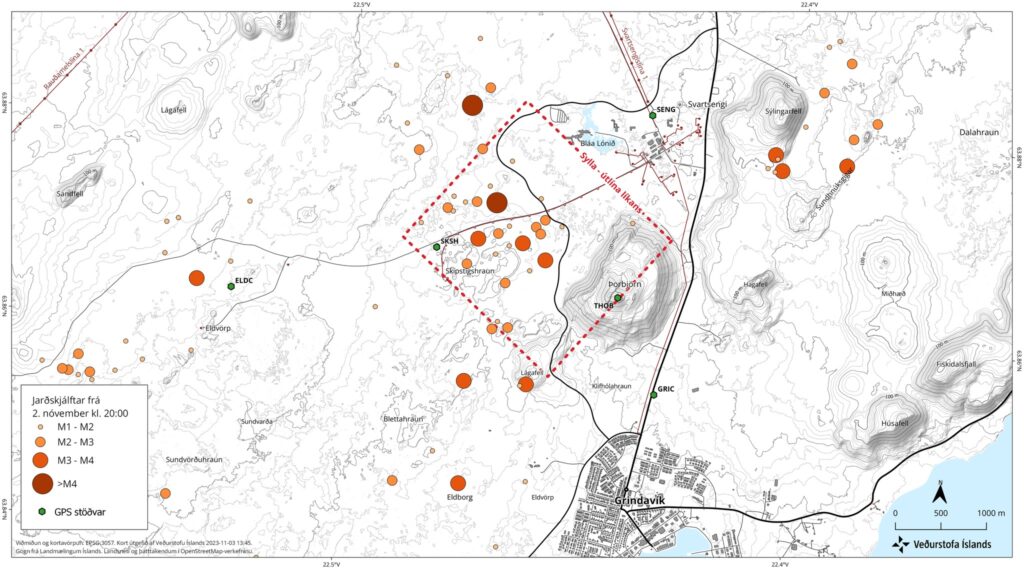 Approximate center of magma intrusion according to model calculations based on GPS and satellite images together with seismic activity from November 2nd at 8pm to November 3rd at 12pm larger that M1.0 in size. The model assumes a box-shaped intrusion, but its length and width are subject to quite a bit of uncertainty. The model will be frequently updated with the newest data once aquired, and the size and shape of the intrusion might change considerably, so there is quite some uncertainty to the model.
Source : IMO
Photos : mbl.is/Eggert Jóhannesson , IMO
Kamchatka , Klyuchevskoy :
VOLCANO OBSERVATORY NOTICE FOR AVIATION (VONA)
Issued: November 03 , 2023
Volcano: Klyuchevskoy (CAVW #300260)
Current aviation colour code: ORANGE
Previous aviation colour code: orange
Source: KVERT
Notice Number: 2023-150
Volcano Location: N 56 deg 3 min E 160 deg 38 min
Area: Kamchatka, Russia
Summit Elevation: 4750 m (15580 ft)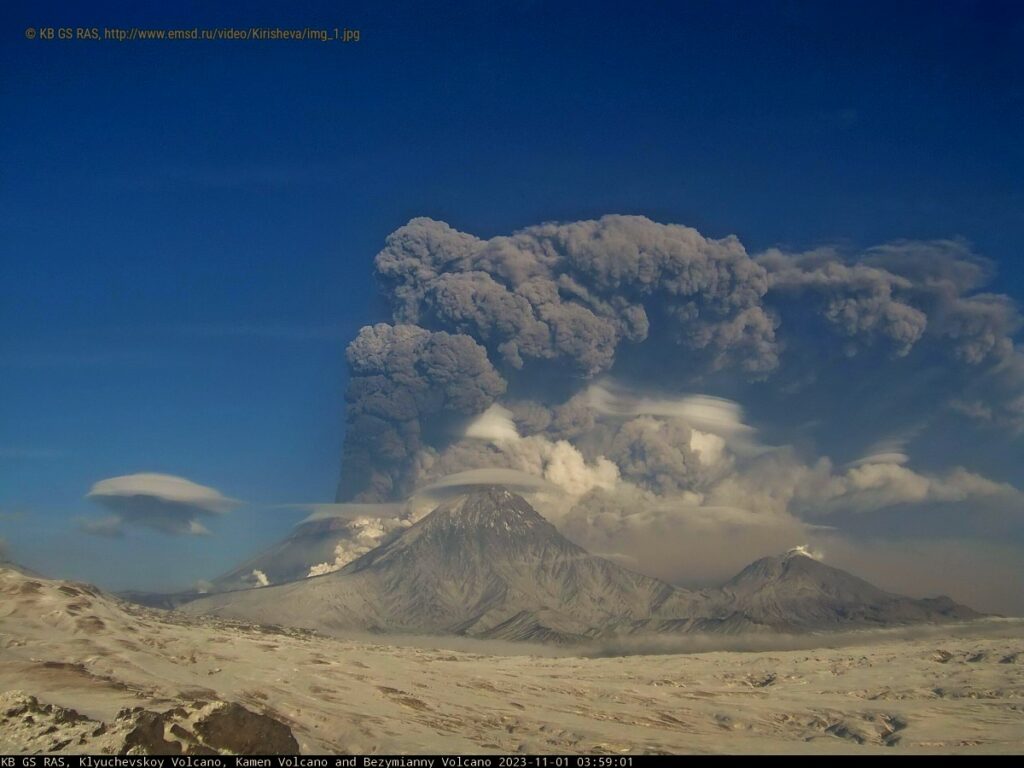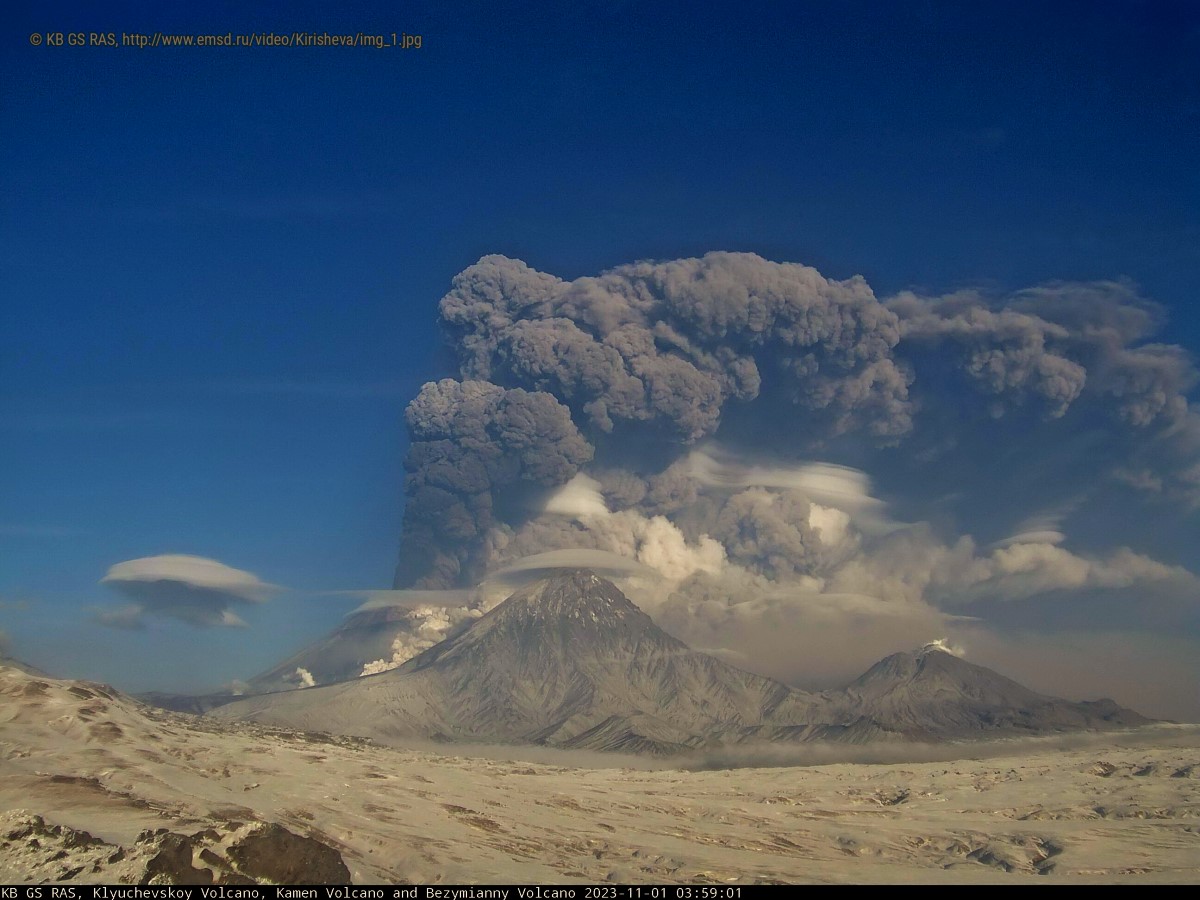 Volcanic Activity Summary:
The eruptive activity of Klyuchevskoy volcano continues, an ash plume is extending for 144 km to the east-northeast of the volcano.
The summit explosive-effusive eruption of the volcano continues. A danger of ash explosions up to 7-8 km (23,000-26,200 ft) a.s.l. remains. Ongoing activity could affect international and low-flying aircraft.
Volcanic cloud height:
6000-6500 m (19680-21320 ft) AMSL Time and method of ash plume/cloud height determination: 20231103/0430Z – Himawari-9 14m15
Other volcanic cloud information:
Distance of ash plume/cloud of the volcano: 144 km (89 mi)
Direction of drift of ash plume/cloud of the volcano: ENE / azimuth 71 deg
Time and method of ash plume/cloud determination: 20231103/0430Z – Himawari-9 14m15
Remarks:
An edge of ash cloud of the paroxysmal phase of the Klyuchevskoy eruption extended more than 3200 km to the east-southeast of the volcano.
Source : Kvert.
Photo : 1/11/2023 / KB GS RAS
Indonesia , Merapi :
Report on the activity of Mount Merapi from October 27, 2023 to November 2, Published on November 3, 2023.
OBSERVATION RESULTS
Visual
The weather around Mount Merapi is generally sunny in the morning and afternoon, while the evening is foggy. White smoke, fine to thick, low to medium pressure and 150 m high was observed from the observation post of Mount Merapi in Badaban on October 30, 2023 at 5:30 a.m.
This week, lava avalanches were observed 135 times towards the South and Southwest, including 16 times upstream of the Boyong River up to 1600 m and 119 times upstream of the Bebeng River up to a maximum of 1900 m. The sound of avalanches was heard 25 times from the Babadan post with low to moderate intensity.
Based on the analysis of aerial photos from September 28, 2023, the volume of the southwest dome was measured at 3,097,700 cubic meters and that of the central dome at 2,358,500 cubic meters.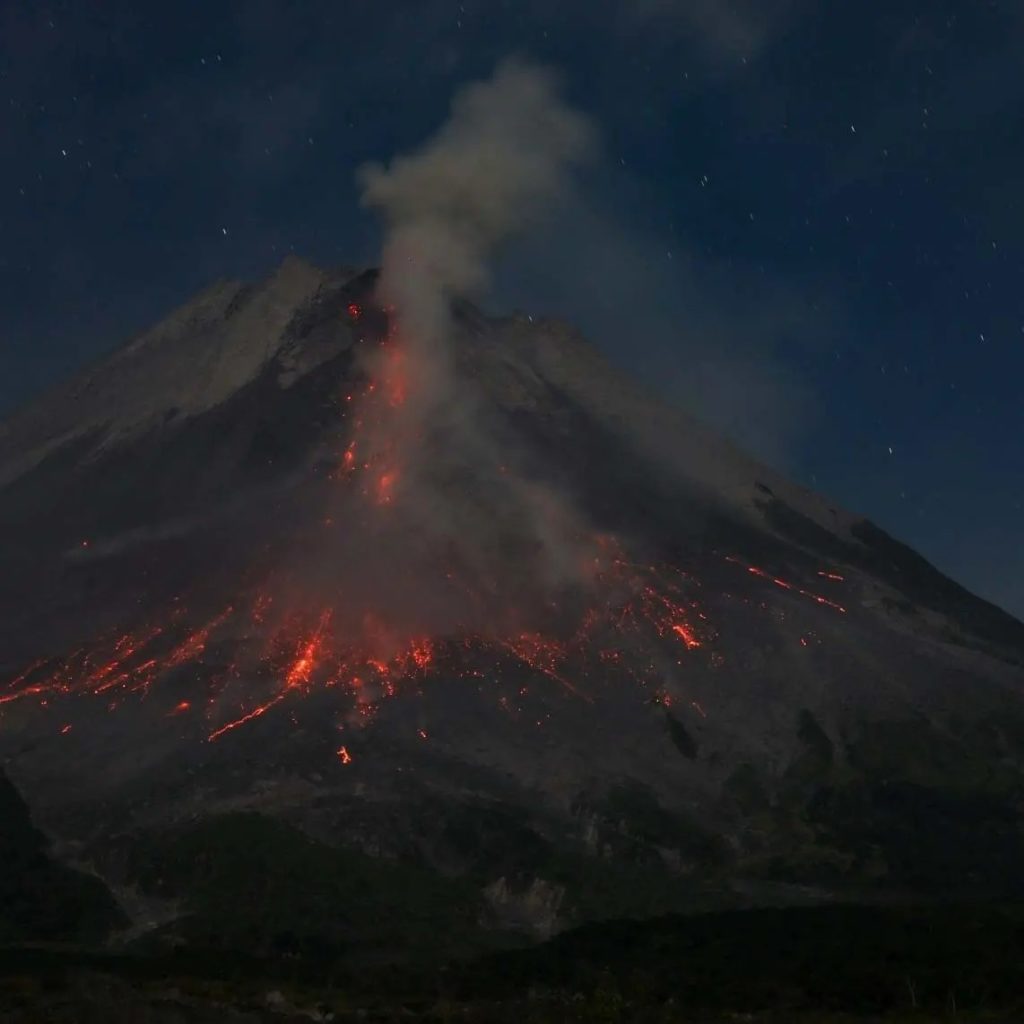 Seismicity
This week, the seismicity of Mount Merapi showed:
2172 multi-phase (MP) earthquakes,
727 avalanche earthquakes (RF)
12 tectonic earthquakes (TT).
The intensity of seismicity this week is lower than last week, but the number of earthquakes is still quite high.
Deformation
The deformation of Mount Merapi that was monitored using EDM this week showed a shortening of steepening distance of 0.1 cm/day.
Rain and lahars:
There was rain this week at Mount Merapi Badaban observation post with an intensity of 1 mm/hour for 25 mins on October 29, 2023. There were no reports of additional flows or lahars from of rivers that descend from Mount Merapi.
Conclusion
Based on the results of visual and instrumental observations, it is concluded that:
-Mount Merapi's volcanic activity is still quite high in the form of effusive eruption activity. The activity status is defined at the "SIAGA" level.
The current danger potential is in the form of lava avalanches and hot clouds in the South-South-West sector including the Boyong river for a maximum of 5 km, the Bedog, Krasak, Bebeng rivers for a maximum of 7 km. In the South-East sector, it includes the Woro river for a maximum of 3 km and the Gendol river for 5 km. While the ejection of volcanic material in the event of an explosive eruption can reach a radius of 3 km from the summit.
Source : BPPTKG
Photo : Andi volcanist
Colombia , Cumbal :
Weekly activity bulletin from the Cumbal Volcanic Complex
Regarding the monitoring of the activity of the CUMBAL VOLCANIC COMPLEX (CVC), the MINISTRY OF MINES AND ENERGY, through the COLOMBIAN GEOLOGICAL SERVICE (SGC), reports that:
Between October 24 and 30, 2023, compared to the previous week and at low levels, seismicity in the CVC showed fluctuations in both the number of earthquakes and the seismic energy released. Earthquakes associated with fracturing of rocks within the volcanic complex predominated. The earthquakes were located in several sectors of the two active cones of the CVC, La Plazuela in the Northeast and Mundo Nuevo in the Southwest, and had a maximum magnitude of 0.2.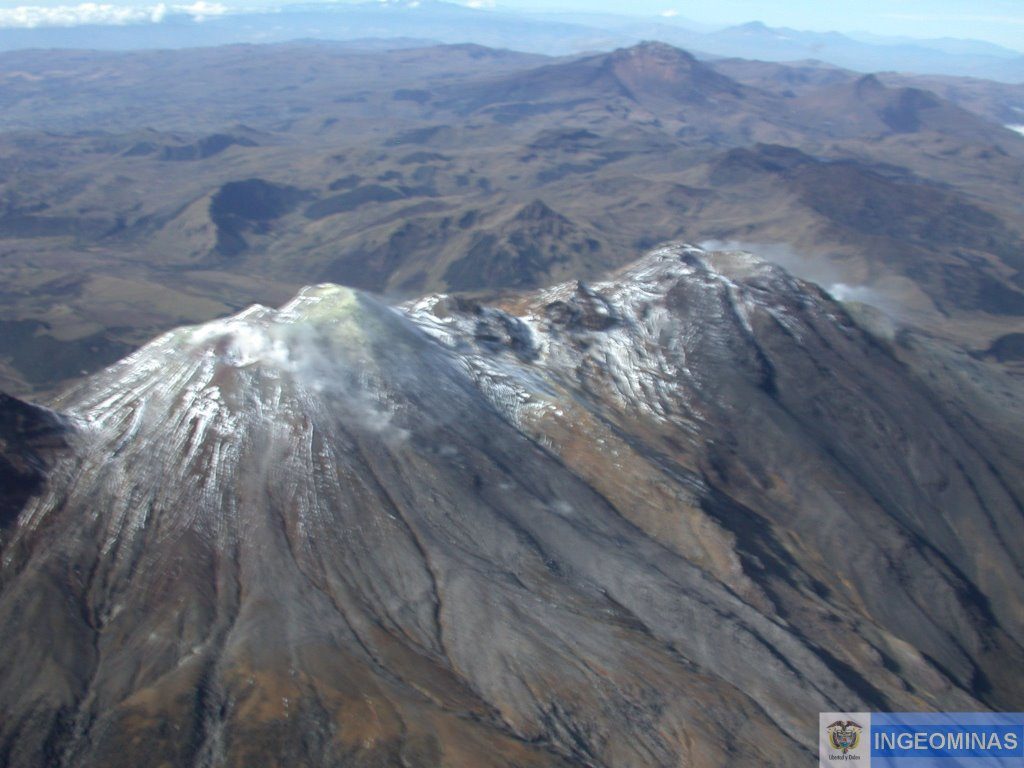 When atmospheric conditions permitted, gas emission columns were observed from the El Verde fumarole field, northeast of the CVC, and from the Los Rastrojos, Boca Vieja and Las Bandas fumarole fields, to the South-West of the CVC, with small white columns, which had variable heights and dispersion depending on the wind regime.
No significant variation was observed in the other geophysical and geochemical parameters of volcanic monitoring.
Volcanic activity remains on YELLOW ALERT Status: Active volcano with changes in base level behavior of monitored parameters and other manifestations.
Source : SGC
Photo : Ingeominas
Alaska , Shishaldin :
54°45'19 » N 163°58'16 » W,
Summit Elevation 9373 ft (2857 m)
Current Volcano Alert Level: WATCH
Current Aviation Color Code: ORANGE
Unrest continues at Shishaldin Volcano with an explosive eruption on November 3rd. The Aviation Color Code and Volcano Alert Level are currently at ORANGE/WATCH. Earlier in the week, the Color Code and Alert Level were lowered to Yellow/Advisory on Tuesday, October 31, following a decrease in activity in the previous weeks. An increase in seismic and infrasound tremor amplitudes began to be observed around 3:40 UTC (19:40 AKDT) on Thursday, November 2, indicating that an explosive eruption was likely and the Aviation Color Code and Volcano Alert Level were raised to ORANGE/WATCH. A sustained eruption cloud to about 20,000 ft above sea level was then observed in satellite data. As of this morning, low-level ash emissions are no longer visible in satellite imagery. Seismic and infrasound tremor have decreased and are elevated but near background levels.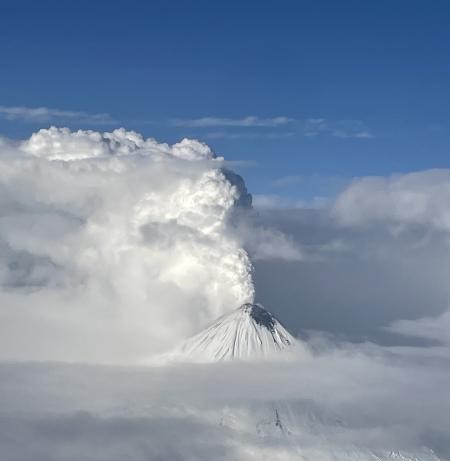 Thirteen significant explosive events have occurred at Shishaldin since July 12, 2023. These events have been preceded by increases in seismicity in the hours to days before they occur. It is unknown how long this period of ongoing activity will last. However, previous eruptions of Shishaldin Volcano have lasted weeks to months with repeated cycles of eruptive activity like those seen since July.
Local seismic and infrasound sensors, web cameras, and a geodetic network monitor Shishaldin Volcano. In addition to the local monitoring network, AVO uses nearby geophysical networks, regional infrasound and lightning data, and satellite observations to detect eruptions.
Source : AVO
Photo : Craig Walters.