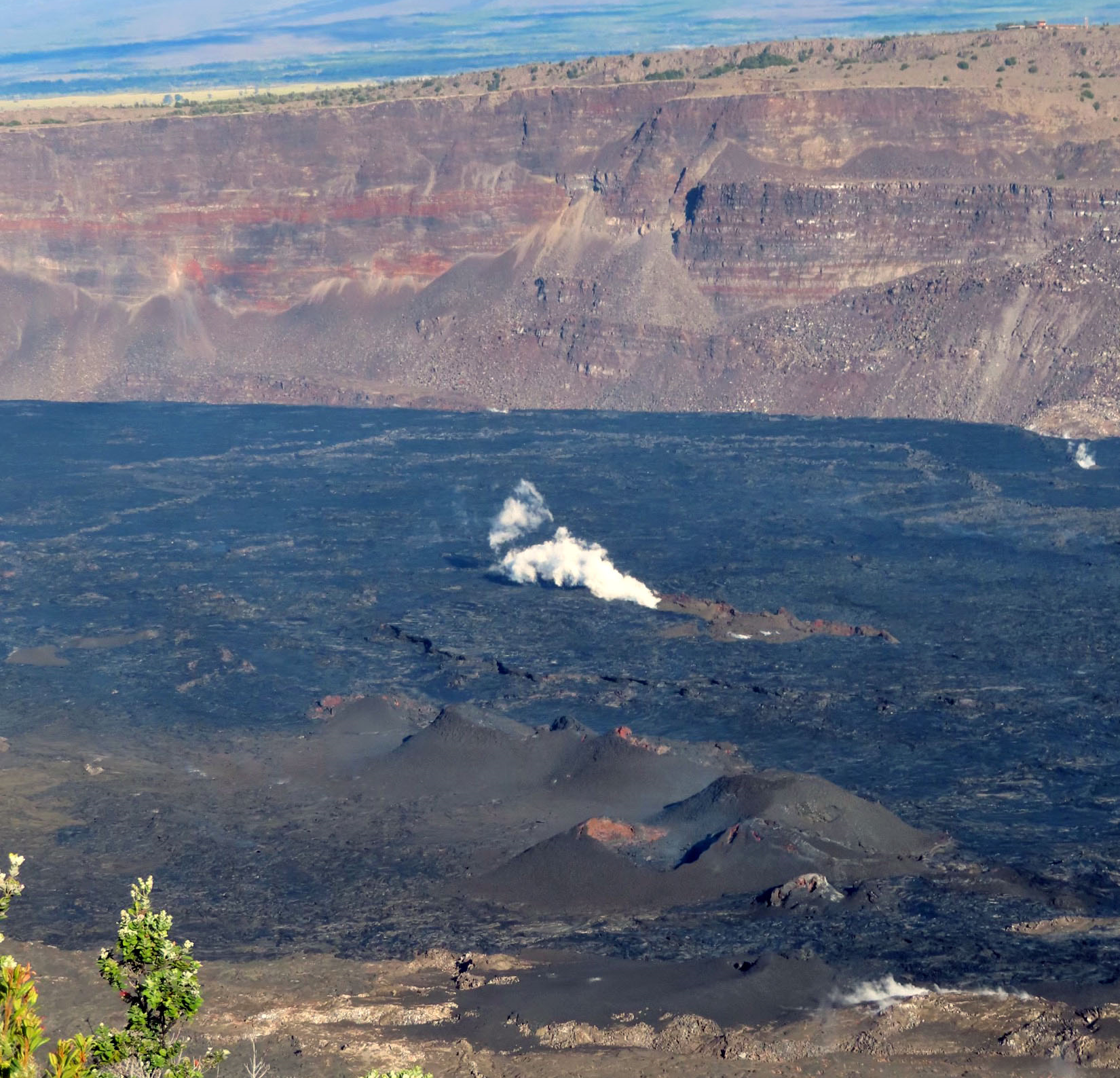 September 29 , 2023.
Hawaii , Kilauea :
Tuesday, September 26, 2023, 8:55 AM HST (Tuesday, September 26, 2023, 18:55 UTC)
19°25'16 » N 155°17'13 » W,
Summit Elevation 4091 ft (1247 m)
Current Volcano Alert Level: ADVISORY
Current Aviation Color Code: YELLOW
Activity Summary:
Kīlauea volcano is not erupting. No significant changes have been observed at the summit or in either rift zone since the summit eruption that began on September 10 ended on September 16. Future eruptions at Kīlauea's summit remain possible and HVO continues to monitor activity. HVO will issue weekly Kīlauea updates on Tuesdays until further notice.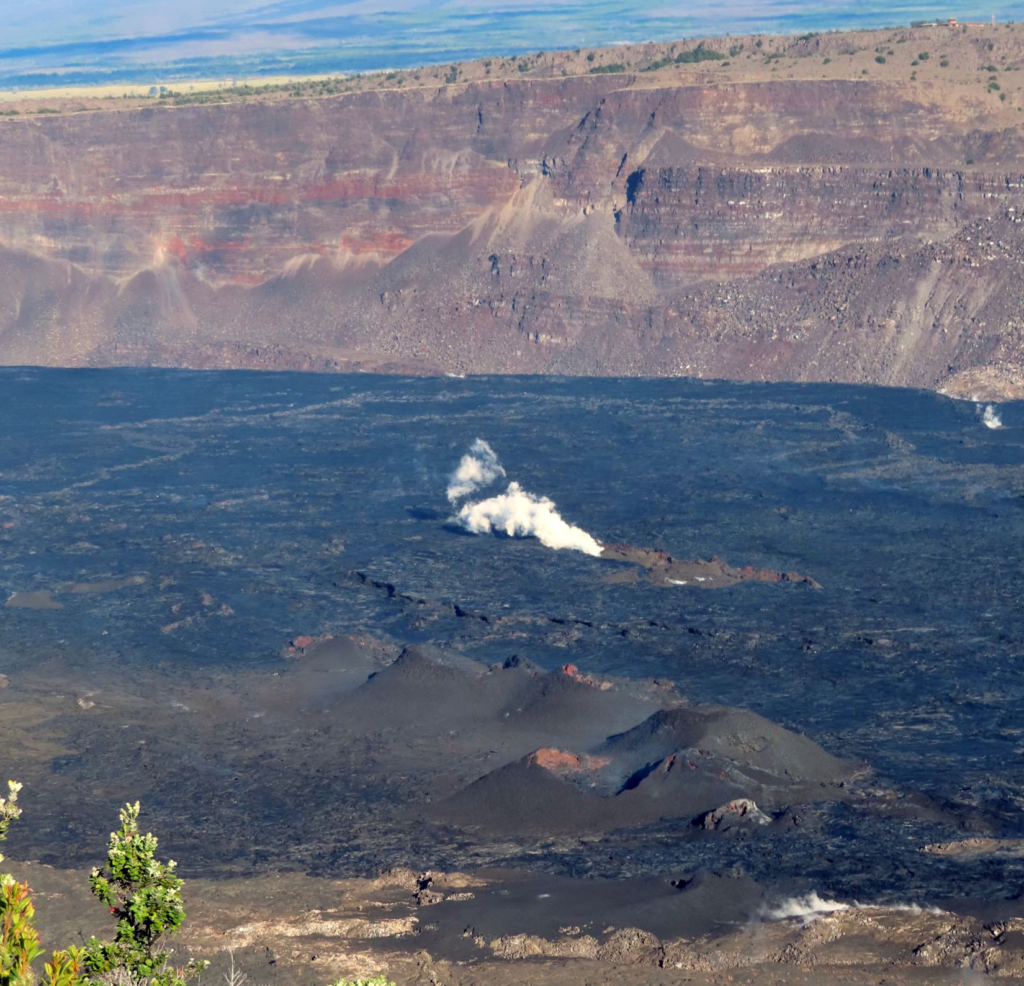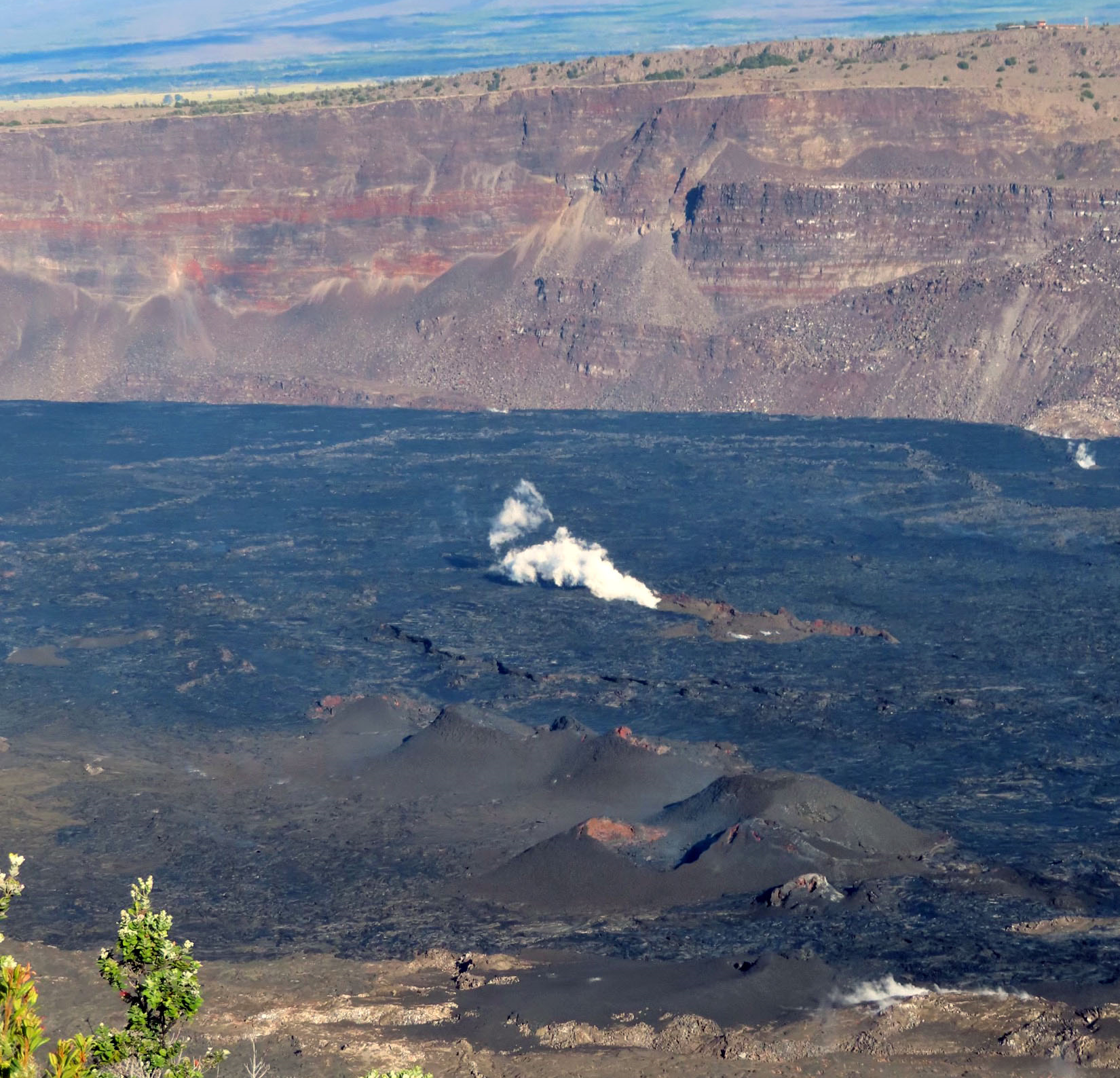 A view of inactive vents on the fallen block of Kīlauea's summit caldera, which erupted September 10–16, 2023.
Summit Observations:
Overnight webcam views showed sparse incandescent spots as lava erupted from September 10 to 16 continues to cool on the downdropped block and Halemaʻumaʻu in Kīlauea's summit caldera. It is unlikely that the recent eruption will resume based on the behavior of past, short-lived summit fissure eruptions at Kīlauea summit in 1982, 1975, 1974, and 1971, which all ended abruptly. Summit seismicity has remained low, with very few earthquakes over the past week, and tremor is at background levels. Summit tiltmeters recorded net inflation over the past week. Sulfur dioxide (SO2) emissions have decreased to near background levels and were measured at a rate of 150 tonnes per day on September 25.
Rift Zone Observations:
No unusual activity has been noted along the East Rift Zone or Southwest Rift Zone; steady rates of ground deformation and seismicity continue along both. Measurements from continuous gas monitoring stations on the middle East Rift Zone remain below detection limits for SO2.
Source : HVO
Photo :  USGS / J. Chang
Chile , Lascar :
Seismology
The seismological activity of the period was characterized by the recording of:
66 seismic events of type VT, associated with the fracturing of rocks (Volcano-Tectonics). The most energetic earthquake had a Local Magnitude (ML) value equal to 1.7, located 0.5 km East-South-East of the volcanic edifice, at a depth of 3.2 km relative to to the crater.
51 LP type seismic events, associated with fluid dynamics inside the volcanic system (Long Period). The size of the largest earthquake evaluated from the Reduced Displacement (RD) parameter was equal to 13 cm2.
3 TR type seismic events, associated with the dynamics maintained over time of fluids inside the volcanic system (TRemor). The size of the largest earthquake evaluated from the Reduced Displacement (RD) parameter was equal to 15 cm2.
Fluid geochemistry
The sulfur dioxide (SO2) emissions data obtained by the differential optical absorption spectroscopy (DOAS) equipment, corresponding to the Emú station, located 6 km in the East-South-East (ESE) direction from active crater, presented an average value of 652 ± 91 t/d, with a maximum daily value of 1129 t/d on September 12.
No anomalies have been reported in emissions of sulfur dioxide (SO2) into the atmosphere in the area near the volcano, according to data published by the Tropopheric Monitoring Instrument.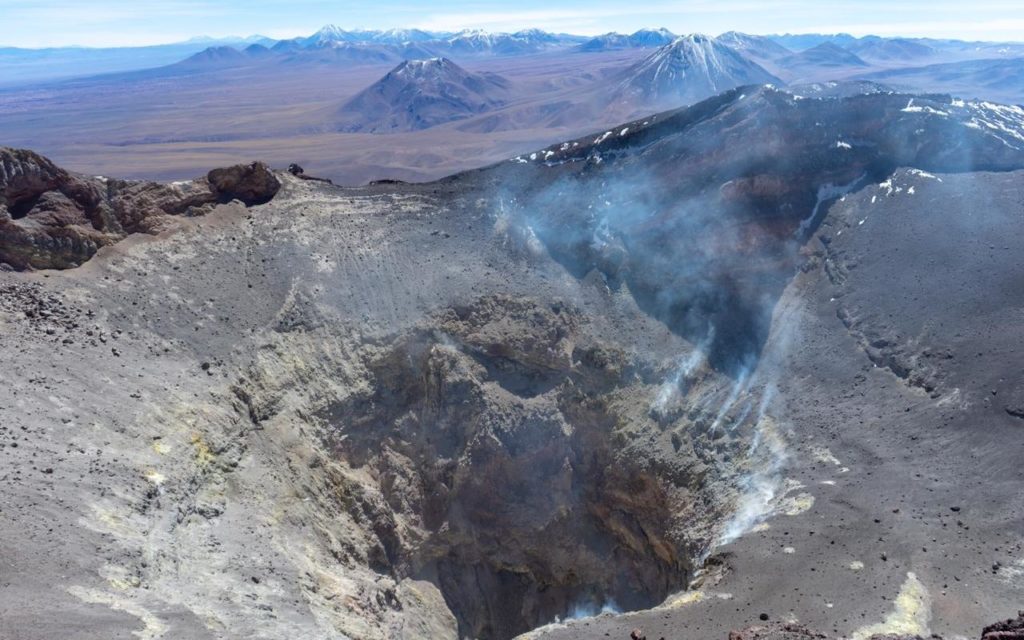 Geodesy
From the geodetic data obtained during the period, very small magnitude changes can be observed in the vertical displacements, not exceeding 0.2 cm/month in the station closest to the volcano.
Surveillance cameras
Surface activity was characterized by passive and low-energy degassing, with a maximum height of 440 m on September 15. Generally speaking, there is permanent degassing, with a slight increase towards the end of the fortnight.
Over the period, seismic activity associated with fluid dynamics continues to show dominance in terms of occurrence over fracture seismicity. Regarding surface activity, low and continuous degassing is maintained. No signs of processes associated with the deformation of the volcanic system were detected. Due to the above, the volcanic system is indicated to have evidence of near-surface processes that still have the potential to generate minor explosions. Therefore, its technical alert is maintained in yellow as well as a radius of probable impact by volcanic products of 3 km. relative to the center of the active crater.
YELLOW TECHNICAL ALERT: Changes in the behavior of volcanic activity
Source : Sernageomin
Photo : Vulcanopro.
Italy , Stromboli :
Press release on Stromboli activity, September 28, 2023, 9:07 p.m. (7:07 p.m. UTC).
The National Institute of Geophysics and Volcanology, Osservatorio Etneo, communicates that, during the afternoon, a gradual decrease in splash activity was observed in the northern area of the crater. The overflow of lava is no longer supplied and the flow cools. Explosive activity in the South-Central crater area remains unchanged compared to previous days.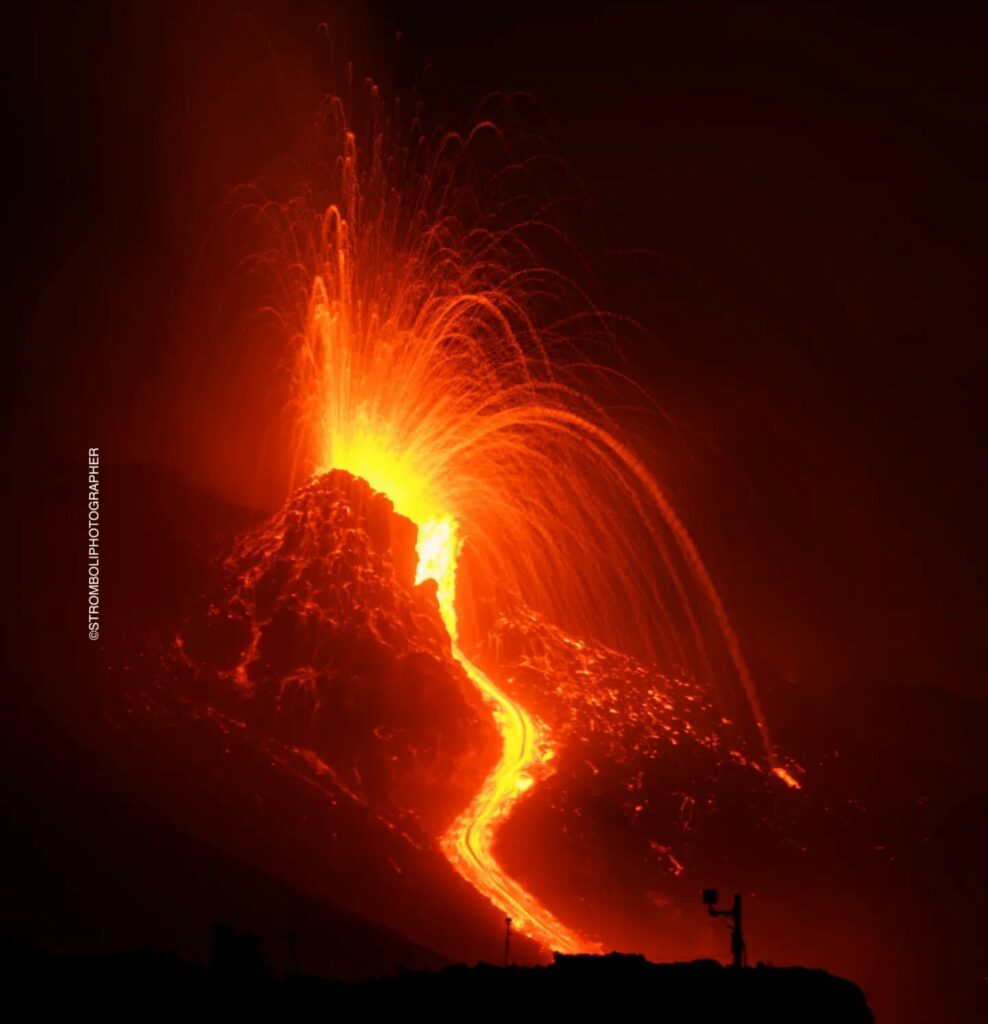 From a seismic point of view, during the last hours the average tremor amplitude showed oscillations between medium and high values. No change in the amplitude of explosion earthquakes was observed.
From the analysis of the available GNSS and inclinometer data series, no significant variation in ground deformations can be detected.
Further updates will be communicated shortly.
Source : INGV.
Photo : Stromboli stati d'animo / Sebastiano Cannavo.
Indonesia , Ili Lewotolok :
Mount Ili Lewotolok erupted on Friday, September 29, 2023, at 12:23 WITA. The height of the eruptive column was observed to be ± 600 m above the peak (± 2023 m above sea level). The ash column was observed to be white to gray in color with thick intensity, oriented towards the West. The eruption was recorded on a seismograph with a maximum amplitude of 37.7 mm and a duration of 68 seconds.
VOLCANO OBSERVATORY NOTICE FOR AVIATION – VONA
Issued : September 29 , 2023
Volcano : Ili Lewotolok (264230)
Current Aviation Colour Code : ORANGE
Previous Aviation Colour Code : orange
Source : Ili Lewotolok Volcano Observatory
Notice Number : 2023LEW061
Volcano Location : S 08 deg 16 min 19 sec E 123 deg 30 min 18 sec
Area : East Nusa Tenggara, Indonesia
Summit Elevation : 4554 FT (1423 M)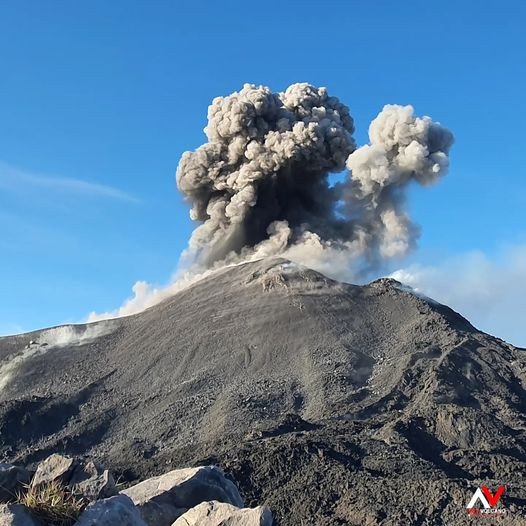 Volcanic Activity Summary :
Eruption with volcanic ash cloud at 04h23 UTC (12h23 local).
Volcanic Cloud Height :
Best estimate of ash-cloud top is around 6474 FT (2023 M) above sea level or 1920 FT (600 M) above summit. May be higher than what can be observed clearly. Source of height data: ground observer.
Other Volcanic Cloud Information :
Ash cloud moving to west. Volcanic ash is observed to be white to gray. The intensity of volcanic ash is observed to be thick.
Remarks :
Eruption recorded on seismogram with maximum amplitude 37.7 mm and maximum duration 68 second.
Source : Magma Indonésie .
Photo : Andi Volcanist
Colombia , Purace / Los Coconucos Volcanic Range. :
Weekly bulletin of the activity of the Puracé volcano – Los Coconucos volcanic chain.
From the monitoring of the activity of the PURACE VOLCANO – LOS COCONUCOS VOLCANIC CHAIN, the MINISTRY OF MINES AND ENERGY through the COLOMBIAN GEOLOGICAL SERVICE (SGC) reports that:
During the week of September 19 to 25, 2023, seismic activity showed a similar trend to that observed in previous weeks, maintaining the values above the line
historical activity base, both in terms of energy released and number of events recorded.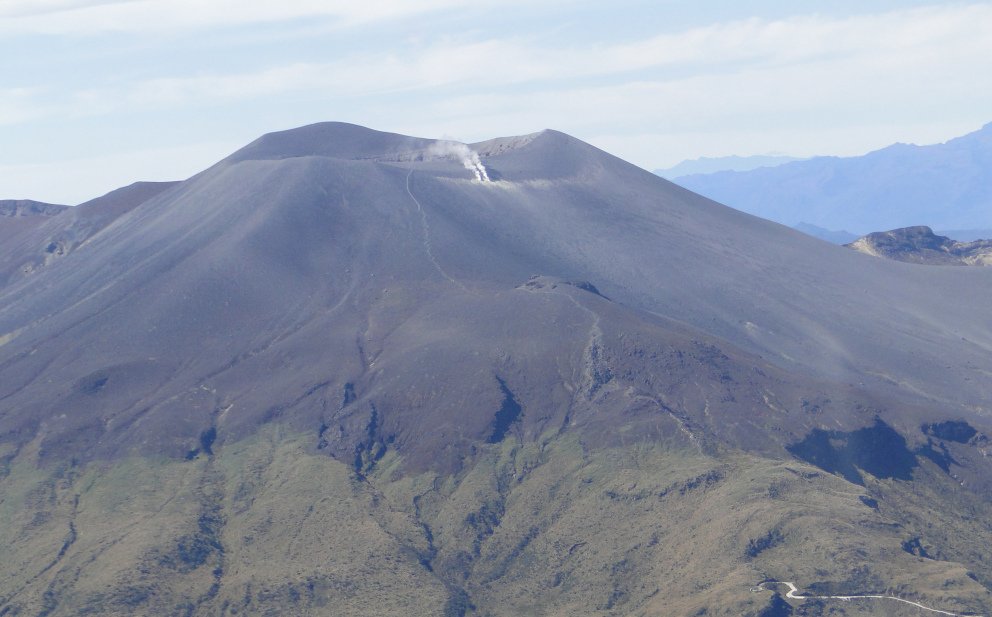 Seismic events linked to the movement of fluids in volcanic conduits predominated, located mainly under the crater of the Puracé volcano. This activity was accompanied by localized deformations in the upper part of the volcanic chain. In addition, stable values were recorded in the flow of sulfur dioxide (SO2) and high values in the concentration of carbon dioxide (CO2) compared to what was recorded in the second half of 2022.
The other parameters measured and used for the diagnosis of volcanic activity showed no notable changes during the period evaluated.
The alert status for volcanic activity remains at: YELLOW ALERT: ACTIVE VOLCANO WITH CHANGES IN THE BEHAVIOR OF THE BASE LEVEL OF MONITORED PARAMETERS AND OTHER MANIFESTATIONS
The COLOMBIAN GEOLOGICAL SERVICE will continue to monitor the evolution of the volcanic phenomenon and will inform in a timely manner of any changes that may occur.
Source et photo : SGC