September 25 , 2023.
Alaska , Shishaldin :
AVO/USGS Volcanic Activity Notice
Current Volcano Alert Level: WATCH
Current Aviation Color Code: ORANGE
Issued: Sunday, September 24, 2023, 12:25 AM AKDT
Source: Alaska Volcano Observatory
Notice Number: 2023/A1421
Location: N 54 deg 45 min W 163 deg 58 min
Elevation: 9373 ft (2857 m)
Area: Aleutians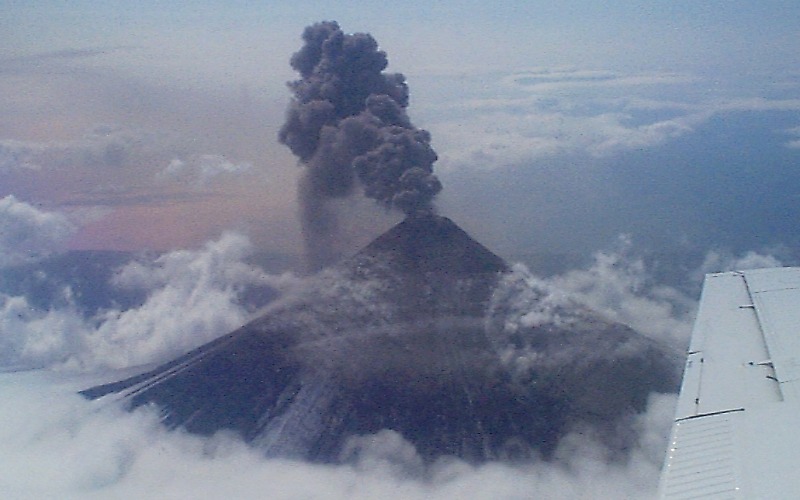 Volcanic Activity Summary:
Seismic tremor remains high at Shishaldin Volcano and nearly continuous small infrasound signals are being detected suggesting that low-level eruptive activity is likely occurring with the summit crater. Based on previous eruptive episodes, this activity may culminate in more significant lava fountaining and ash emissions within hours. However, no strongly elevated temperatures indicative of lava at the surface or ash emissions have accompanied the elevated geophysical data thus far. The volcano is mostly obscured by clouds between 10,000 and 15,000 ft above sea level, which preclude observations of possible low-level activity.
Issued: Sunday, September 24, 2023, 9:00 AM AKDT
Volcanic Activity Summary:
Geophysical and remote sensing data indicate that low-level eruption at Shishaldin Volcano continues but remains confined to the summit crater. Strongly elevated surface temperatures and some small-amplitude infrasound detections are occuring. Seismic tremor remains high but has started to slowly decline over the past eight hours. No ash emissions or deposits outside the crater have been observed in satellite or web camera imagery. Based on previous eruptive episodes, it remains possible that this activity may culminate in more significant lava fountaining and ash emissions.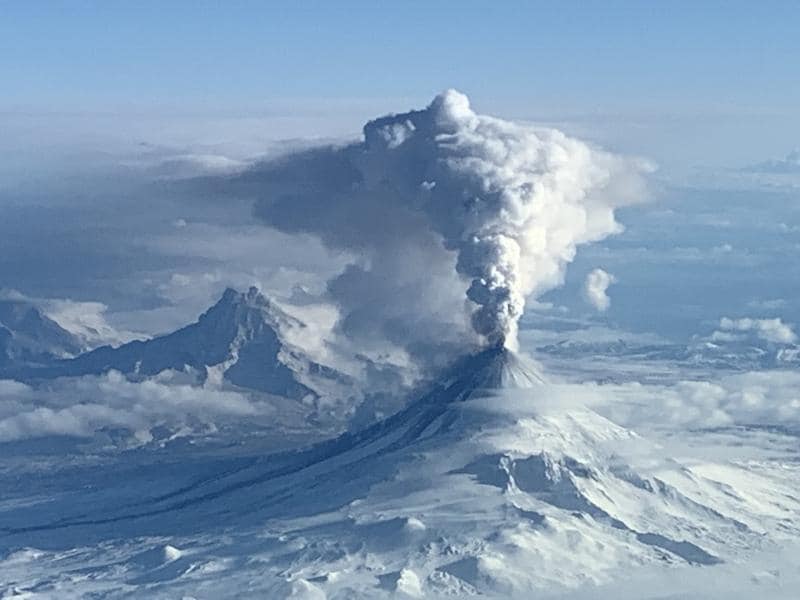 Issued: Sunday, September 24, 2023, 6:15 PM AKDT
Volcanic Activity Summary:
The level of activity has increased at Shishaldin Volcano. After a prolonged low-level eruption over the past day, a strong increase in seismic tremor over the past hour and continued high temperatures at the volcano observed in satellite data over the past 18 hours suggests that stronger explosive activity is likely imminent. Elevated surface temperatures consistent with lava erupting at the summit are evident in the latest satellite data, but no significant ash emissions have been observed. Based on previous eruption cycles, ash emissions are likely to occur and may increase in the next several hours.
Recent significant ash events during the current eruption resulted in ash clouds with heights up to 40,000 ft (12 km) above sea level. These events can occur with little warning. It is also possible that ash emissions may occur at a lower-level, steady state and be sustained for many hours. AVO is monitoring the volcano closely and will issue additional Volcanic Activity Notice's to provide notice of significant changes in activity as they occur.
Shishaldin Volcano is monitored by local seismic and infrasound sensors, web cameras, and a telemetered geodetic network. In addition to the local monitoring network, AVO uses nearby geophysical networks, regional infrasound and lighting data, and satellite images to detect eruptions.
Source : AVO
Photos : R. McGimsey ,  Setiavan ( Archives) .
Philippines , Mayon :
MAYON VOLCANO BULLETIN 25 September 2023 8:00 AM
In the past 24-hour period, the Mayon Volcano Network recorded four (4) volcanic earthquakes, one hundred twenty-eight (128) rockfall events, and one (1) pyroclastic density current event. The lava flows have maintained their advances to approximately 3.4 kilometers in Bonga (southeastern), 2.8 kilometers in Mi-isi (south), and 1.1 kilometers in Basud (eastern) gullies. Rockfalls and PDCs generated by collapses of the lava flow margins as well as of the summit dome deposited debris still within four (4) kilometers of the crater.
.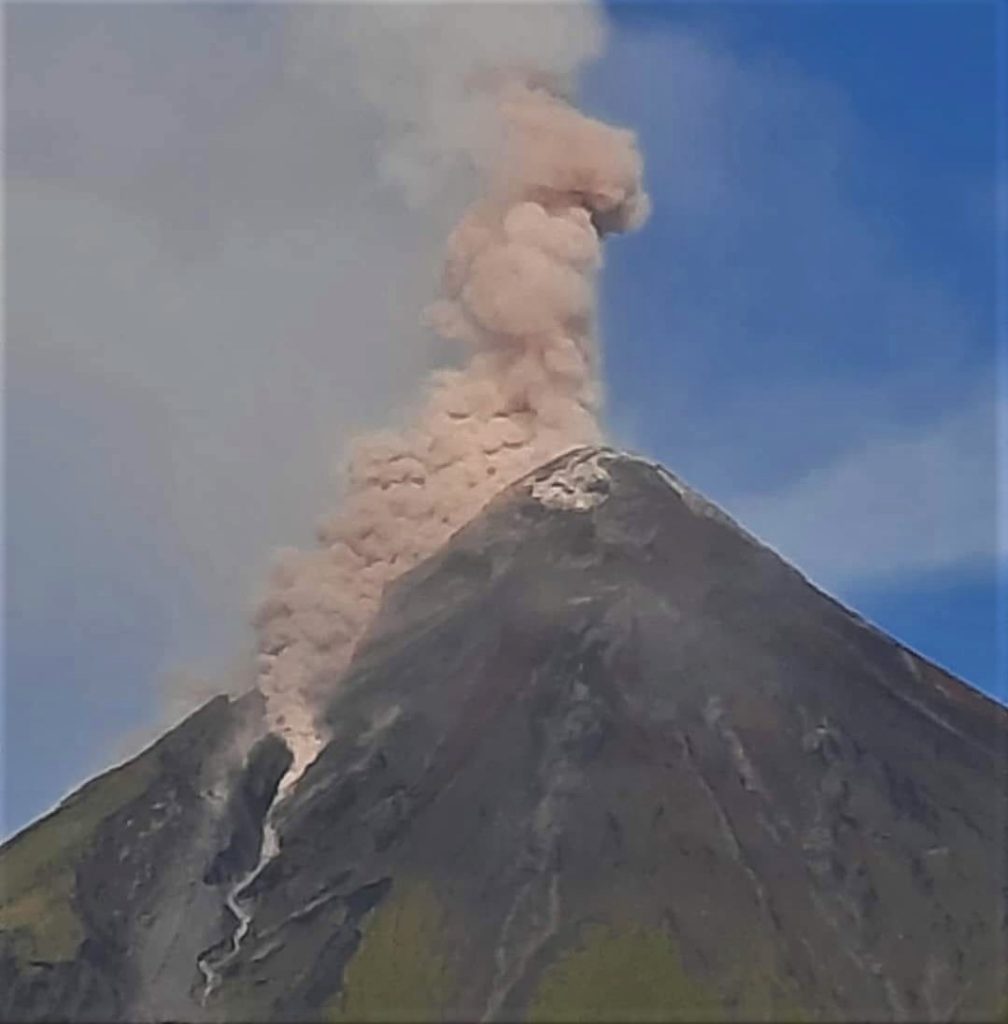 Volcanic sulfur dioxide (SO2) emission averaged 1,074 tonnes/day on 24 September 2023. Short-term observations from electronic tilt and GPS monitoring indicate continued inflation of the northwestern middle and upper slopes since the fourth week of July 2023. Longer-term ground deformation parameters from EDM, precise leveling, continuous GPS, and electronic tilt monitoring indicate that Mayon is still generally inflated relative to baseline levels.
Alert Level 3 is maintained over Mayon Volcano, which means that it is currently in a relatively high level of unrest, and hazardous eruption within weeks or even days could still be possible.
Source : Phivolcs
Photo : Ken Berania
Indonesia , Semeru :
PRESS RELEASE: Volcanic activity of the Semeru volcano.
The current activity level of the Semeru volcano has been level III (SIAGA) since December 16, 2021.
The volcanic activity of Semeru Volcano after the warm clouds of September 10 and 11, 2023 is still high. This indicates that the average number of eruption events is 52 times per day between September 11 and 23, 2023. The latest developments in Semeru Volcano activity until September 23, 2023 at 3:00 p.m. WIB are as follows:
Deformation monitoring using seven GPS stations shows that there is inflation (increasing pressure) on the Semeru volcano body with the pressure source coming from a depth of 8 km. Meanwhile, tracking strains using an inclinometer shows the same thing. A fairly significant increase in inflation was detected by remote sensing during September 16, 2023.
Seismic monitoring shows an increase in the number of seismic events from September 15, 2023, which is also accompanied by an increase in tremors and harmonic tremors, which indicates an increasingly intense pressure accumulation process and movement of magma toward the surface that may affect the stability of deposits of erupting material in the summit area.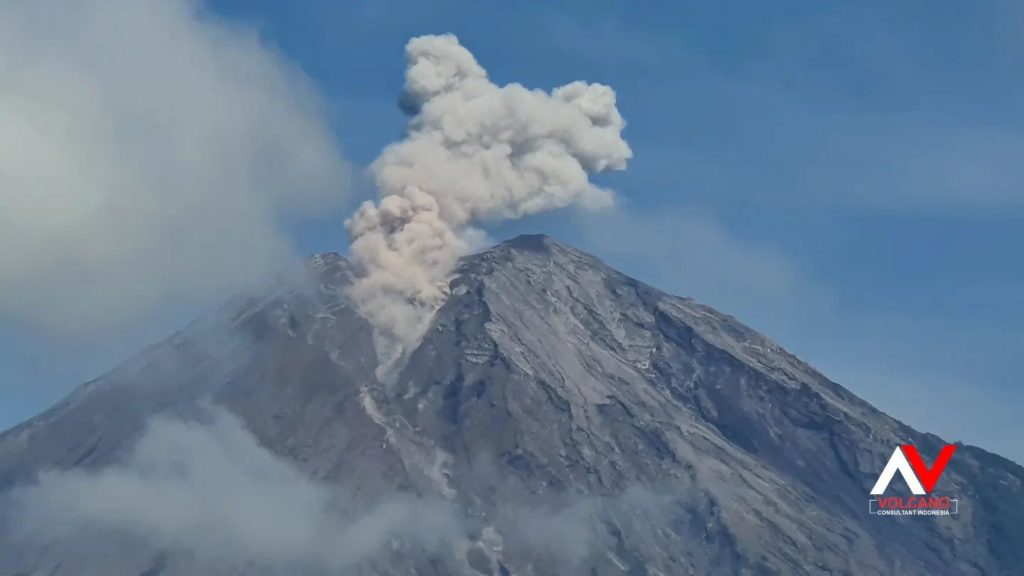 Visual monitoring shows an increase in the height of the eruptive column, reaching 1,000 meters above the summit on September 21, 2023.
The potential danger from Mount Semeru's current volcanic activity is an increase in seismic eruptions and avalanches that can trigger hot clouds.
Considering that Semeru Volcano activity is still high and there is still the potential for hot clouds and lava flows, the community around Semeru Volcano should continue to be educated about the dangers of Semeru Volcano eruptions and hot clouds. . .
Based on visual and instrumental monitoring until September 23, 2023 at 3:00 p.m. WIB, the Geological Agency stated that the activity level of Semeru Volcano is still at Level III (SIAGA).
Regarding the level of activity of the Semeru volcano which is currently still at level III (SIAGA), the public/visitors/tourists are advised to:
Comply with the recommendations issued by the Geological Agency through the Center for Volcanology and Geological Disaster Mitigation,
Do not carry out any activities in the South-East sector along Besuk Kobokan, 13 km from the summit (center of the eruption). Beyond this distance, people do not carry out activities within 500 meters of the river bank (river banks) along the Besuk Kobokan as they may be affected by the expansion of warm clouds and lahar flows up to a distance of 17 km from the summit.
Source : PVMBG.
Photo : Andi volcanist
Chile , Villarica :
Chilean authorities declared an orange alert on Sunday for the activity of the Villarrica Volcano, located in the region of La Araucanía and on the edge of the southern part of the province of Neuquén.
The Argentine Mining Geological Service (SEGEMAR), through its Argentine Volcanic Monitoring Observatory (OAVV) and in collaboration with the Southern Andes Volcanological Observatory (OVDAS) of Chile, reports that from today the level technical alert for the Villarrica volcano is orange.
It is worth noting that the Villarrica volcano was on yellow alert since November 8, 2022, which indicated that the volcano was above its basic activity level.
The new increase in the technical alert level is due to an increase in the seismic activity parameters of the volcano recorded since yesterday, September 23, 2023, where a progressive and sustained increase in energy and occurrence was recorded in the Tremor type signals (TR) associated with the movement of fluids inside the volcano, reaching maximum values of 64.7 cm² of reduced displacement (DR), with an associated acoustic signal of 21.8 Pascals (Pa) and high thermal anomaly values, with a maximum value of 107 MW.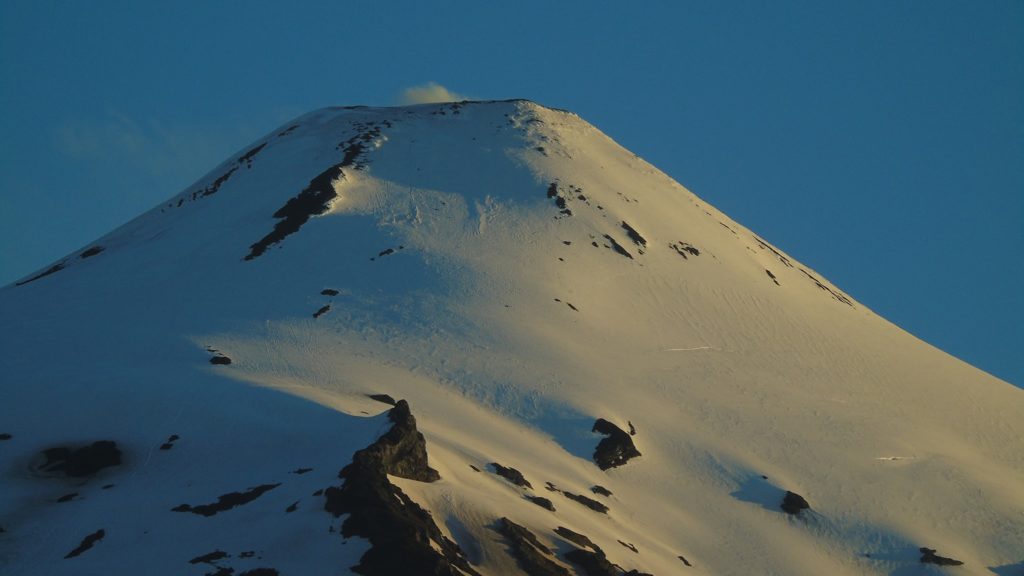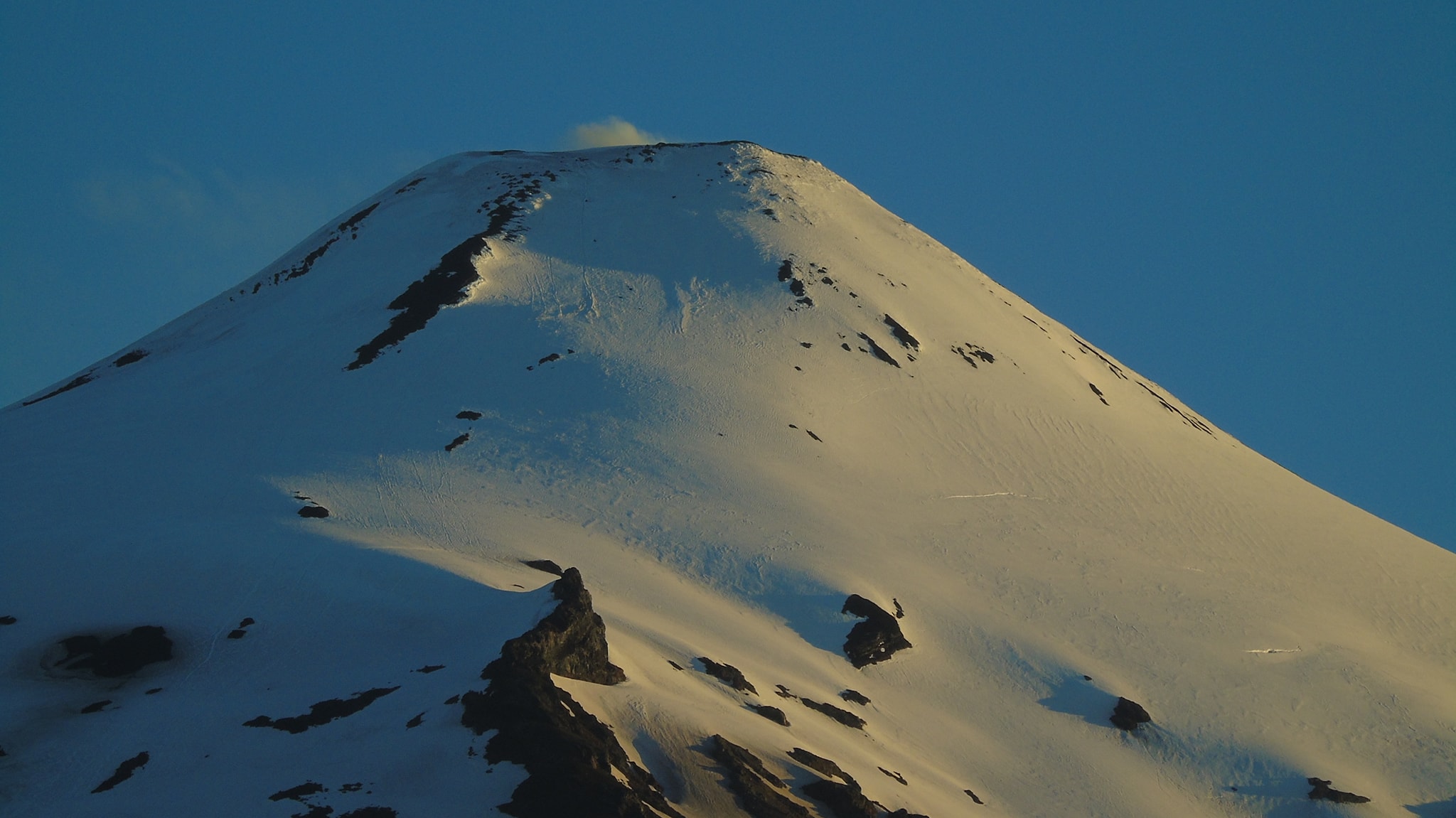 The variation of the mentioned parameters was in turn accompanied by an increase in the continuous seismic signal recorded from the value of RSAM (measurement of the average seismic amplitude), reaching until now maximum values of 5.82 um/s, values considered high for this volcano.
It is emphasized that this increase in the seismic activity of the volcano is completely imperceptible for the population located on Argentine territory. Likewise, following information published by the Volcanic Ash Advisory Center (VAAC) of Buenos Aires, no impact on Argentine territory has been recorded due to the emission of particles.
In this context, and for the moment, any level of impact resulting from the increased activity of the volcano is limited to the territory of Chile, in the sectors close to the active crater of the volcano, and to areas close to the volcanic zone .
With the current scenario, any type of impact on Argentine territory, in the province of Neuquén or near the Lanín National Park is excluded.
Joint monitoring and cooperation tasks will continue with Chile's Southern Andean Volcano Observatory (OVDAS), as well as local and provincial authorities, and any changes will be reported.
Source : SEGEMAR
Photo : Franco Vera
Ecuador , Sangay :
DAILY REPORT ON THE STATE OF THE SANGAY VOLCANO, Sunday September 24, 2023.
Information Geophysical Institute – EPN.
Surface activity level: High, Surface trend: No changes
Internal activity level: High, Internal trend: No changes
Seismicity: From September 23, 2023, 11:00 a.m. to September 2, 2023, 11:00 a.m.:
The number of seismic events recorded at the reference station over the past 24 hours is shown below. The level of seismic activity of the volcano remains high.
Explosion Event (EXP): 311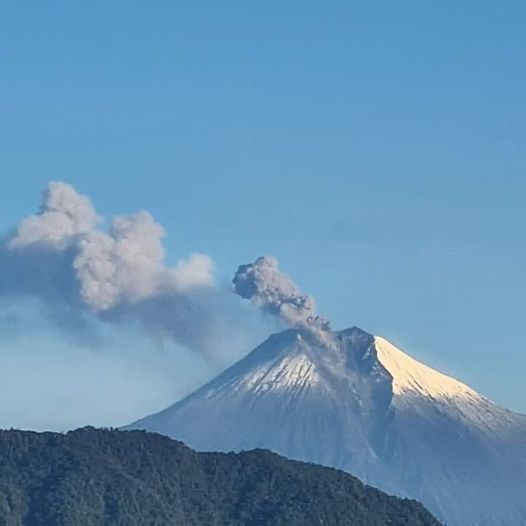 Precipitation/Lahars:
Rains were recorded in the volcano area without generating mudslides or debris. *In the event of heavy rains, these could remobilize the accumulated materials, generating mud and debris flows which would descend the sides of the volcano and flow into adjacent rivers.
Emissions/ash column:
Yesterday afternoon, thanks to the camera system, an emission of gas and ash was recorded, with a column height greater than 1,200 meters above the level of the crater, in the southwest direction.
Other monitoring parameters:
The MIROVA-MODIS satellite system has detected a moderate thermal anomaly over the past 24 hours.
Observation:
Yesterday afternoon, the volcano remained cloudy. At night and early in the morning, thanks to the camera system, periods of incandescence accompanied by descents of material on the South-East flank were recorded. Since this morning the volcano remains cloudy.
Alert level: Orange.
Source : IGEPN.
Photo :  Juan Guapa