September 23 , 2023.
Indonesia , Merapi :
Report on the activity of Mount Merapi from September 15, 2023 to September 21, Published on September 22, 2023.
OBSERVATION RESULTS
Visual
The weather around Mount Merapi is generally sunny in the morning and afternoon, while the evening is foggy. White smoke, fine to thick, low to medium pressure and 250 m high was observed from the observation post of Mount Merapi de Selo on September 16, 2023 at 11:20 a.m.
This week, lava avalanches were observed 148 times towards the South and South-West, including 2 times upstream of the Boyong River up to a maximum of 1,300 m, 145 times upstream of the Bebeng River up to at 2000 m and once upstream of the Sat/Putih river up to a maximum of 1400 m. The sound of avalanches was heard 31 times from the Babadan post with low to moderate intensity.
The morphology of the southwest dome underwent changes due to growth activity and lava avalanches, while no significant changes were observed for the central dome. Based on aerial photo analysis on August 30, 2023, the measured volume of the southwest dome was 2,858,600 m3 and the central dome was 2,355,100 m3.
Seismicity
This week, the seismicity of Mount Merapi showed:
12 shallow volcanic earthquakes (VTB),
2616 multi-phase (MP) earthquakes,
10 low frequency (LF) earthquakes,
983 avalanche earthquakes (RF)
5 tectonic earthquakes (TT).
The intensity of seismicity this week is lower than last week, but the number of earthquakes is still quite high.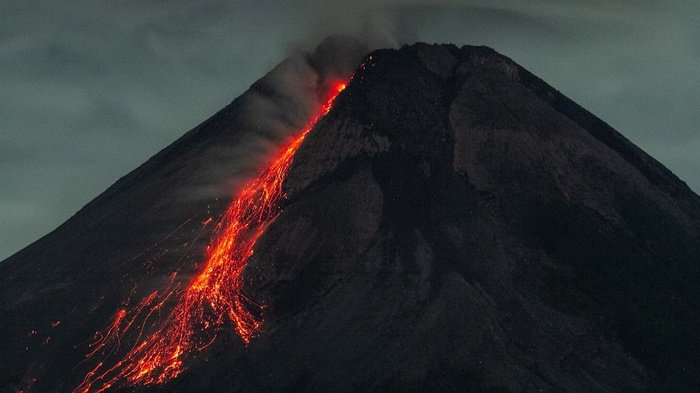 Deformation
The deformation of Mount Merapi that was monitored using EDM this week showed a shortening of steepening distance by 0.4 cm/day.
Rain and lahars:
There was no rain this week at Pengamatan's Mount Merapi lookout post. There have been no reports of additional flows or lahars from rivers flowing down from Mount Merapi.
Conclusion
Based on the results of visual and instrumental observations, it is concluded that:
-Mount Merapi's volcanic activity is still quite high in the form of effusive eruption activity. The activity status is defined at the "SIAGA" level.
The current danger potential is in the form of lava avalanches and hot clouds in the South-South-West sector including the Boyong river for a maximum of 5 km, the Bedog, Krasak, Bebeng rivers for a maximum of 7 km. In the South-East sector, it includes the Woro river for a maximum of 3 km and the Gendol river for 5 km. While the ejection of volcanic material in the event of an explosive eruption can reach a radius of 3 km from the summit.
Source : BPPTKG
Photo  :  ANTARA FOTO/Hendra Nurdiyansyah
Alaska , Trident :
58°14'3″ N 155°6'9″ W,
Summit Elevation 3599 ft (1097 m)
Current Volcano Alert Level: ADVISORY
Current Aviation Color Code: YELLOW
Earthquake activity beneath Trident Volcano continued over the past week, with volcanic-tectonic earthquakes noted most days and a few deep, low-frequency earthquakes observed throughout the week. Minor ground deformation is possibly ongoing but difficult to resolve in current data. Views of the volcano in satellite and web camera data were mostly partly cloudy and showed nothing indicative of volcanic unrest.
The current period of unrest began with a swarm of earthquakes on August 24, 2022. Earthquake depths at the beginning of the swarm were mainly deep, around 16 miles (25 km) below sea level and became progressively shallower to around 3 miles (5 km) over the following four days. Since late August 2022, most earthquakes have occurred within the shallow crust, with depths less than 4 miles (6 km) below sea level; however, an increasing number of earthquakes have been occurring deeper (greater than 9 miles or 15 km depth).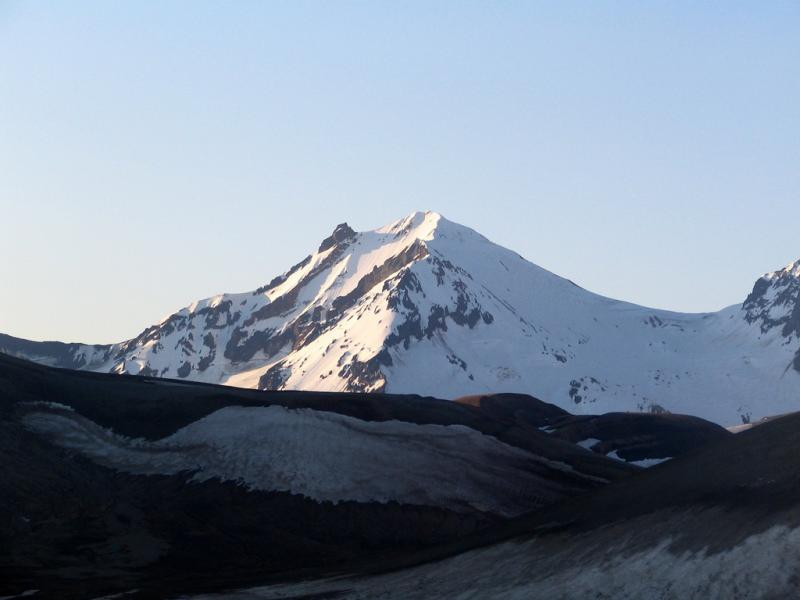 Starting in May 2023 an increase in low-frequency earthquakes and tremor has been observed—in addition to the regular earthquakes—near Trident Volcano. Such low-frequency events are often associated with the movement of magma or volcano-related fluids within the ground.
Ground uplift at Trident Volcano has also been detected in satellite radar data. Snow cover prohibits winter observations, which limits our ability to provide precise timing, but data from June 3, 2023, indicates that about 2 in (5 cm) of ground uplift has occurred since October 6, 2022. Uplift is most significant on the volcano's south flank.
Increases in seismic activity have been detected previously at Trident Volcano and other similar volcanoes and did not result in eruptions. We expect additional shallow seismicity and other signs of unrest, such as gas emissions, elevated surface temperatures, and ground movement, to precede any future eruption if one were to occur.
Trident Volcano is monitored by local seismic sensors, web cameras, regional infrasound and lightning networks, and satellite data.
Source : AVO
Photo : Tilman, M. R. / AVO / University of Alaska Fairbanks, Geophysical Institute .
Italy , Vulcano :
WEEKLY BULLETIN, from September 11, 2023 to September 17, 2023. (issue date September 19, 2023)
SUMMARY STATEMENT OF ACTIVITY
In light of the monitoring data, it appears:
1) Temperature of the crater fumaroles: The temperatures recorded on the edge of the crater remain stable. The maximum temperature range recorded during the week is between 334 and 344°C.
2) CO2 flux in the crater area: The CO2 flux in the crater area increases slightly. The weekly average is at average degassing values (3800 g/m2/day).
3) SO2 flow in the crater area: at an average level
4) Geochemistry of fumarolic gases: There are no updates.
5) CO2 fluxes at the base of the La Fossa cone and in the Vulcano Porto area: The CO2 fluxes recorded continuously at the base of the cone show stable values, on the respective background levels or, in any case, without significant variations.
6) Geochemistry of thermal aquifers: Pozzo Camping Sicilia: temperature values at high levels and stable conductivity at average values; Bambara well: stable level and conductivity values.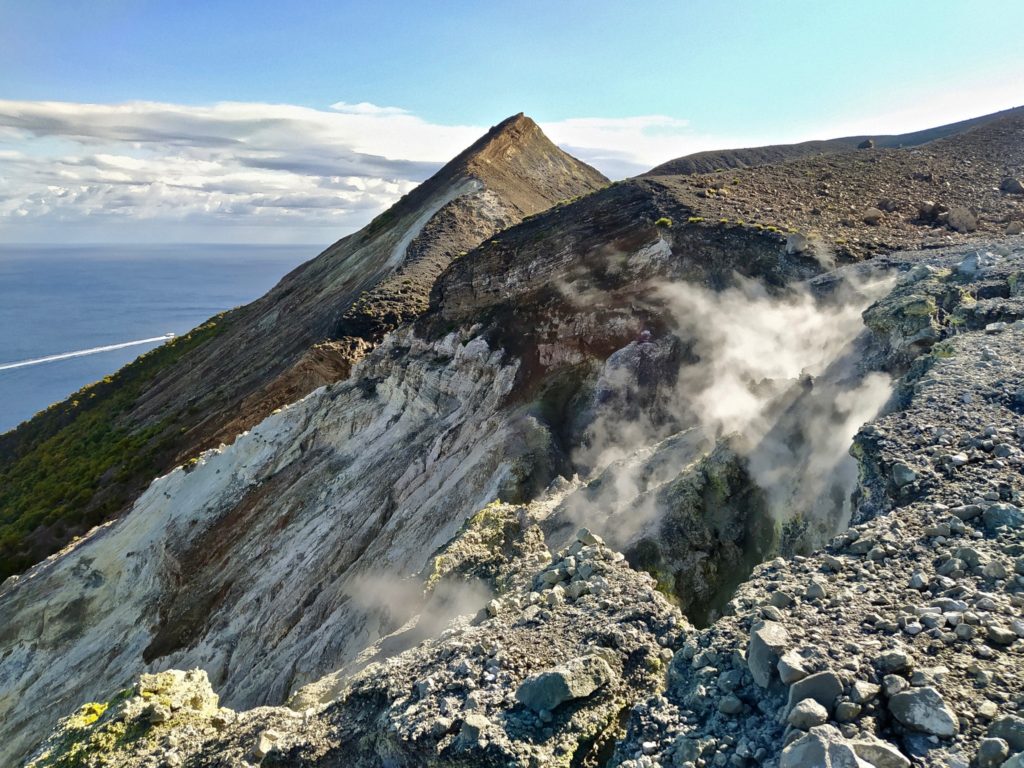 7) Local seismicity: Low rate of occurrence of local micro-seismicity.
8) Regional Seismicity: Seismic activity from shallow fracturing.
9) Deformations – GNSS: The network of permanent GNSS stations did not record significant variations.
10) Deformations – Inclinometry: The inclinometer network did not record any significant variations.
REGIONAL SEMICITY
During the week in question, seismicity due to fracturing in the Vulcano area was low and only one event exceeded the local magnitude value of 1.0. The seismic event, recorded on September 17, of Ml equal to 1.5, was located approximately 7 km in the southwest direction of Porto di Ponente di Vulcano, at a hypocentral depth of 10 km.
Source : INGV
Photo : G. De Astis, 2020
Indonesia , Ili Lewotolok : 
An eruption of Mount Ili Lewotolok occurred on Saturday, September 23, 2023 at 10:04 WITA with an ash column height observed at ±500 m above the summit (±1923 m above sea level). The ash column was observed to be white to gray in color with moderate intensity, oriented southwest. This eruption was recorded on a seismograph with a maximum amplitude of 35.4 mm and a duration of 55 seconds.
VOLCANO OBSERVATORY NOTICE FOR AVIATION – VONA
Issued : September 23 , 2023
Volcano : Ili Lewotolok (264230)
Current Aviation Colour Code : ORANGE
Previous Aviation Colour Code : orange
Source : Ili Lewotolok Volcano Observatory
Notice Number : 2023LEW058
Volcano Location : S 08 deg 16 min 19 sec E 123 deg 30 min 18 sec
Area : East Nusa Tenggara, Indonesia
Summit Elevation : 4554 FT (1423 M)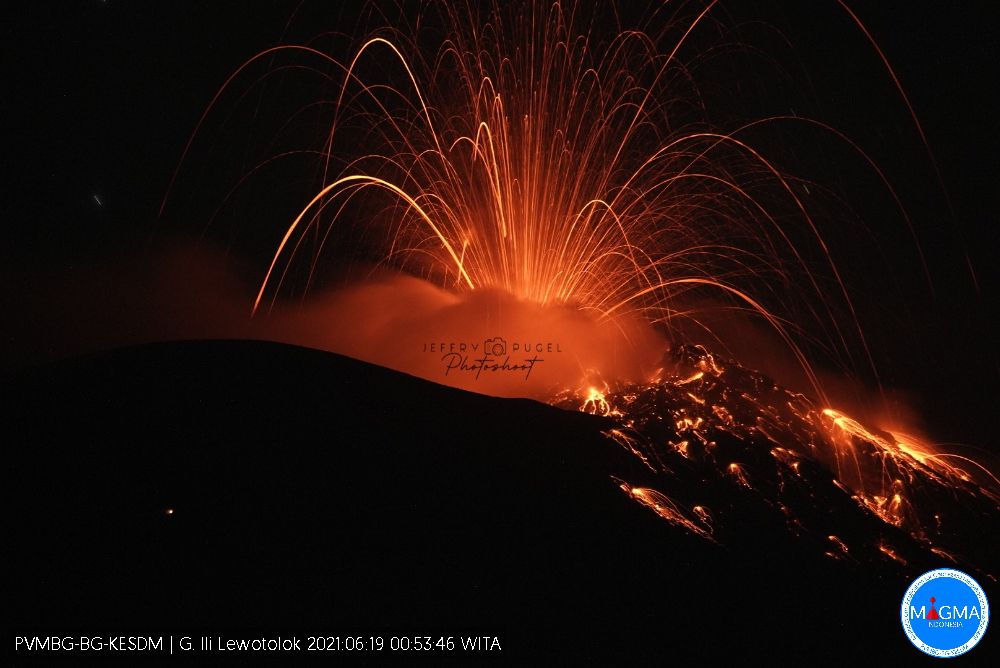 Volcanic Activity Summary :
Eruption with volcanic ash cloud at 02h04 UTC (10h04 local).
Volcanic Cloud Height :
Best estimate of ash-cloud top is around 6154 FT (1923 M) above sea level or 1600 FT (500 M) above summit. May be higher than what can be observed clearly. Source of height data: ground observer.
Other Volcanic Cloud Information :
Ash cloud moving to southwest. Volcanic ash is observed to be white to gray. The intensity of volcanic ash is observed to be medium.
Remarks :
Eruption recorded on seismogram with maximum amplitude 35.4 mm and maximum duration 55 second.
Source : Magma Indonésie
Photo : Jeffry Pugel /PVMBG – Magma Indonesia ( archive.)
Chile , Laguna del Maule :
Special Report on Volcanic Activity (REAV), Maule region, Laguna del Maule volcanic complex, September 23, 2023, 04:10 a.m. local time (mainland Chile)
The National Geology and Mining Service of Chile (Sernageomin) announces the following PRELIMINARY information, obtained through the monitoring equipment of the National Volcanic Monitoring Network (RNVV), processed and analyzed at the Andes del Sud Volcanological Observatory ( Ovdas):
On Saturday September 23, 2023 at 3:06 a.m. local time (6:06 a.m. UTC), monitoring stations installed near the Laguna del Maule volcanic complex recorded a swarm of earthquakes, associated with fracturing of rocks (volcano-tectonic type, VT) . At the time of issuing this report, more than 100 events were recorded, including the highest energy event located 6.8 km south-southwest of the center of the lagoon.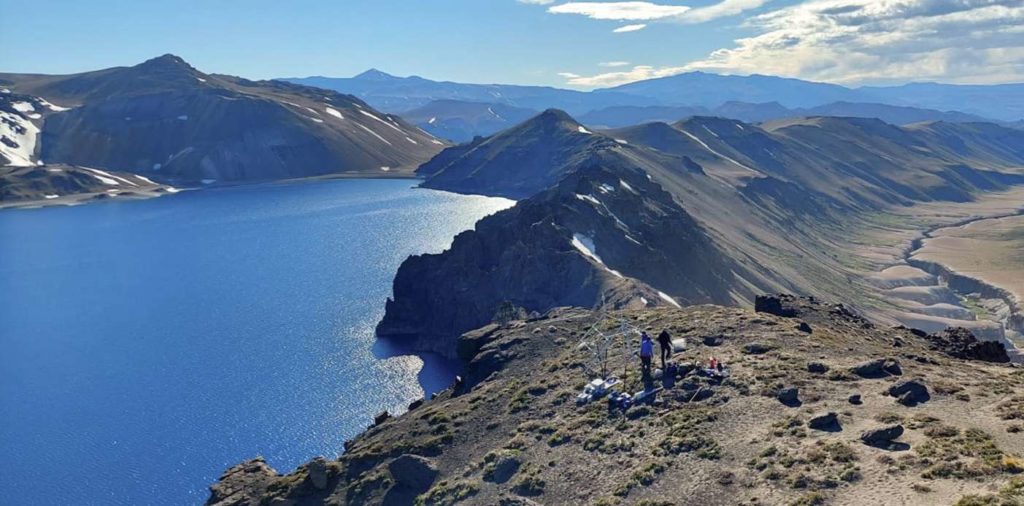 The characteristics of the largest magnitude earthquake recorded so far after its analysis are as follows:
ORIGINAL TIME: 03:06 local time (06:06 UTC)
LATITUDE: 36.114°S
LONGITUDE: 70.545°W
DEPTH: 6.7 km
LOCAL MAGNITUDE: 2.1 (ML)
Comments:
Following the main event, volcano-tectonic seismicity continues to be recorded with low energy events (ML< 1.0).
The technical volcanic alert remains at the Yellow level.
Source : Sernageomin.
Photo :neuqueninforma.gob.ar