April 01 , 2023. EN. Colombia : Nevado del Ruiz , Alaska : Tanaga , Indonesia : Ili Lewotolok , Kamchatka : Sheveluch , Chile : Lascar .
April 01 , 2023.
Colombia , Nevado del Ruiz :
Manizales, March 31, 2023 3:15 p.m.
Regarding the monitoring of the activity of the NEVADO DEL RUIZ VOLCANO, the MINISTRY OF MINES AND ENERGY through the COLOMBIAN GEOLOGICAL SERVICE (SGC) informs that:
Seismicity recording of fractured rocks within the volcanic edifice continues. Yesterday March 30, 11,600 events were recorded, reaching a maximum magnitude of 3.1, corresponding to the 3:46 p.m. earthquake. It should be noted that, since the beginning of the increase until the time of the issuance of this bulletin, the seismicity has migrated in the direction of the Arenas crater, however, the depth of the events has not varied, it remains in a range of between 2 and 4 km.
In addition, seismic signals related to the movement of fluids continue to be presented, some of them associated with ash emissions, which have been confirmed by the cameras installed in the volcano area. The maximum height observed yesterday was 1800 m measured from the summit of the volcano and the direction of the column oscillated between the North-West and the South-West.
The community is recommended to remain calm, but to be attentive to the information provided by the Colombian Geological Service on the evolution of the state of the volcano.
The level of activity of the volcano remains at LEVEL ORANGE or (II): PROBABLE ERUPTION IN TERM OF DAYS OR WEEKS
Source et photo : SGC
Alaska , Tanaga :
51°53'2″ N 178°8'35 » W,
Summit Elevation 5925 ft (1806 m)
Current Volcano Alert Level: ADVISORY
Current Aviation Color Code: YELLOW
Earthquake activity beneath Tanaga Volcano, which began on March 4, peaked on March 9–11 and has declined since. Over the past week, frequent earthquakes continued at a steady rate, with around 40 earthquakes located each day beneath Tanaga Island at less than 4 miles (6 km) below sea level. Most of the recent earthquakes locate between Tanaga Volcano and nearby Takawangha volcano, which is about 5 miles (8 km) east of Tanaga Volcano on Tanaga Island. Multiple magnitude 2 and two magnitude 3 events were recorded in the last week. Radar satellite data through March 20 shows recent surface deformation near Sajaka volcano (a subfeature of Tanaga Volcano) suggestive of magma intrusion and consistent with earthquake activity.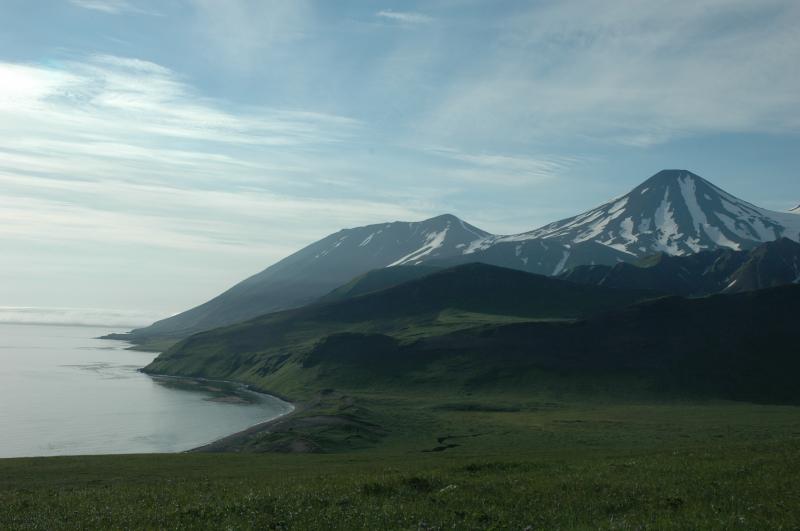 Because seismic activity is also elevated at nearby Takawangha volcano, if an eruption were to occur, it is unclear at this stage whether it would come from Tanaga Volcano or Takawangha volcano. No eruptive signals or other signs of unrest have been detected in other data streams or in satellite data.
AVO continues to monitor the activity closely. We expect an increase in shallow seismicity and possibly other signs of unrest, such as gas emissions, elevated surface temperatures, and additional changes in surface deformation to precede any eruption.
Tanaga is monitored with a local seismic network, a single local infrasound sensor, regional infrasound and lightning sensors, and satellite imagery.
Tanaga Island lies in the Andreanof Islands approximately 62 miles (100 km) west of the community of Adak and 1260 miles (2025 km) SW of Anchorage. The northern half of the island is home to the Tanaga volcanic complex, comprising three main volcanic edifices. Tanaga Volcano is the tallest of these (5,925 ft or 1,806 m) and lies in the center of the complex. The last reported eruption of Tanaga occurred in 1914 and earlier eruptions were reported in 1763-1770, 1791, and 1829. Reports of these eruptions are vague, but deposits on the flanks of the volcano show that typical eruptions produce blocky lava flows and occasional ash clouds.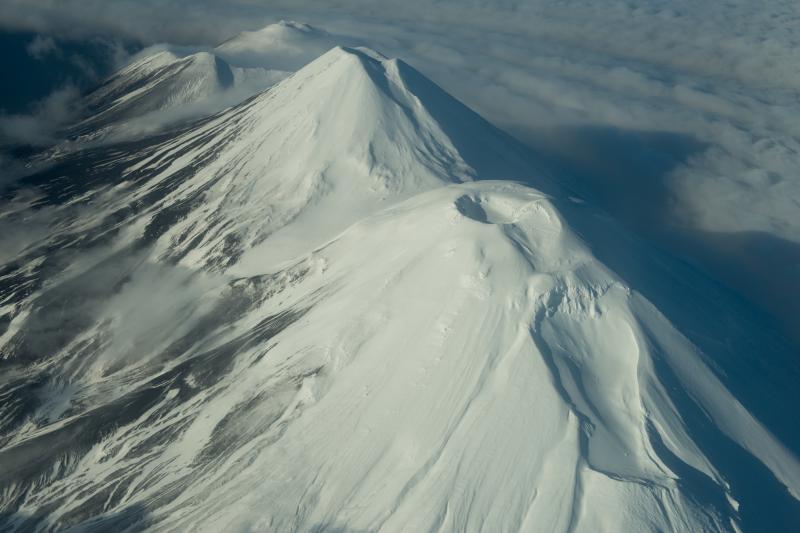 Eruptions have occurred both from the summit vent and a 5,197 ft (1,584 m)-high satellite vent on the volcano's northeast flank. Immediately west of Tanaga volcano lies Sajaka, a 4,443 ft (1,354 m)-high compound edifice with an older cone to the east that collapsed into the sea within the last few thousand years, and a new cone that has grown in the breach. The new cone is 4,305 ft (1,312 m) high and consists of steeply dipping, interbedded cinders and thin, spatter-fed lava flows. To the east of Tanaga lies Takawangha, which is separated from the other active volcanic vents by a ridge of older rock. No historical eruptions are known from Sajaka or Takawangha; however, field work shows that recent eruptions have occurred, and it is possible that historic eruptions attributed only to Tanaga may instead have come from these other vents.
Source : AVO.
Photos : Brad Singer , Clifford, Roger .
Indonesia , Ili Lewotolok :
An eruption of G. Ili Lewotolok occurred on Friday March 31, 2023 at 06:54 WITA. The height of the eruptive column was observed at ± 700 m above the summit (± 2123 m above sea level). The ash column was observed to be gray with a thick intensity, oriented northwest. The eruption was recorded on a seismograph with a maximum amplitude of 37.7 mm and a duration of 55 seconds.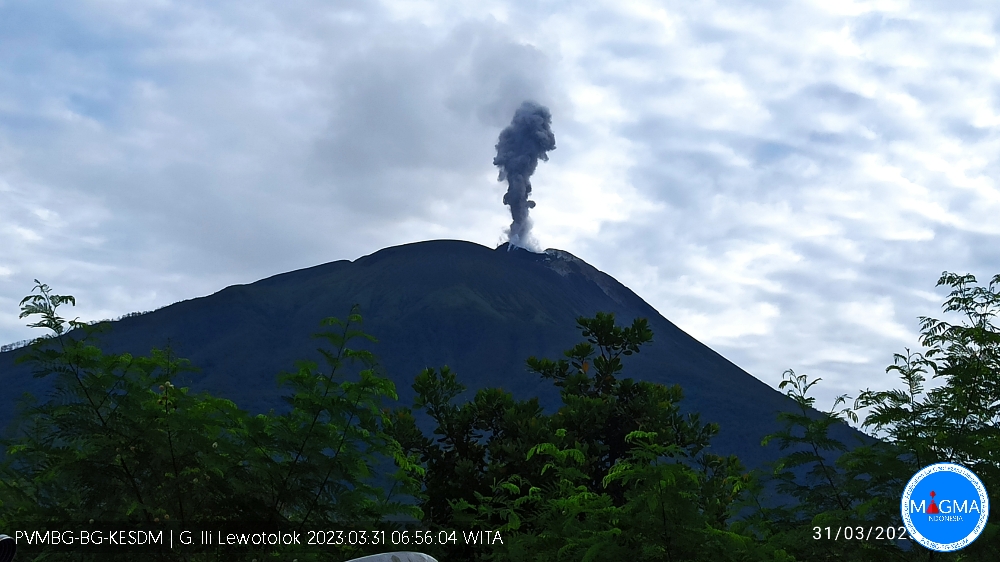 VOLCANO OBSERVATORY NOTICE FOR AVIATION – VONA
Issued : March 31 , 2023.
Volcano : Ili Lewotolok (264230)
Current Aviation Colour Code : ORANGE
Previous Aviation Colour Code : orange
Source : Ili Lewotolok Volcano Observatory
Notice Number : 2023LEW015
Volcano Location : S 08 deg 16 min 19 sec E 123 deg 30 min 18 sec
Area : East Nusa Tenggara, Indonesia
Summit Elevation : 4554 FT (1423 M)
Volcanic Activity Summary :
Eruption with volcanic ash cloud at 22h54 UTC (06h54 local).
Volcanic Cloud Height :
Best estimate of ash-cloud top is around 6794 FT (2123 M) above sea level or 2240 FT (700 M) above summit. May be higher than what can be observed clearly. Source of height data: ground observer.
Other Volcanic Cloud Information :
Ash cloud moving to northwest. Volcanic ash is observed to be gray. The intensity of volcanic ash is observed to be thick.
Remarks :
Eruption recorded on seismogram with maximum amplitude 37.7 mm and maximum duration 55 second.
Source et photo : Magma Indonésie.
Kamchatka , Sheveluch :
VOLCANO OBSERVATORY NOTICE FOR AVIATION (VONA)
Issued: April 01 , 2023
Volcano: Sheveluch (CAVW #300270)
Current aviation colour code: ORANGE
Previous aviation colour code: orange
Source: KVERT
Notice Number: 2023-39
Volcano Location: N 56 deg 38 min E 161 deg 18 min
Area: Kamchatka, Russia
Summit Elevation: 3283 m (10768.24 ft), the dome elevation ~2500 m (8200 ft)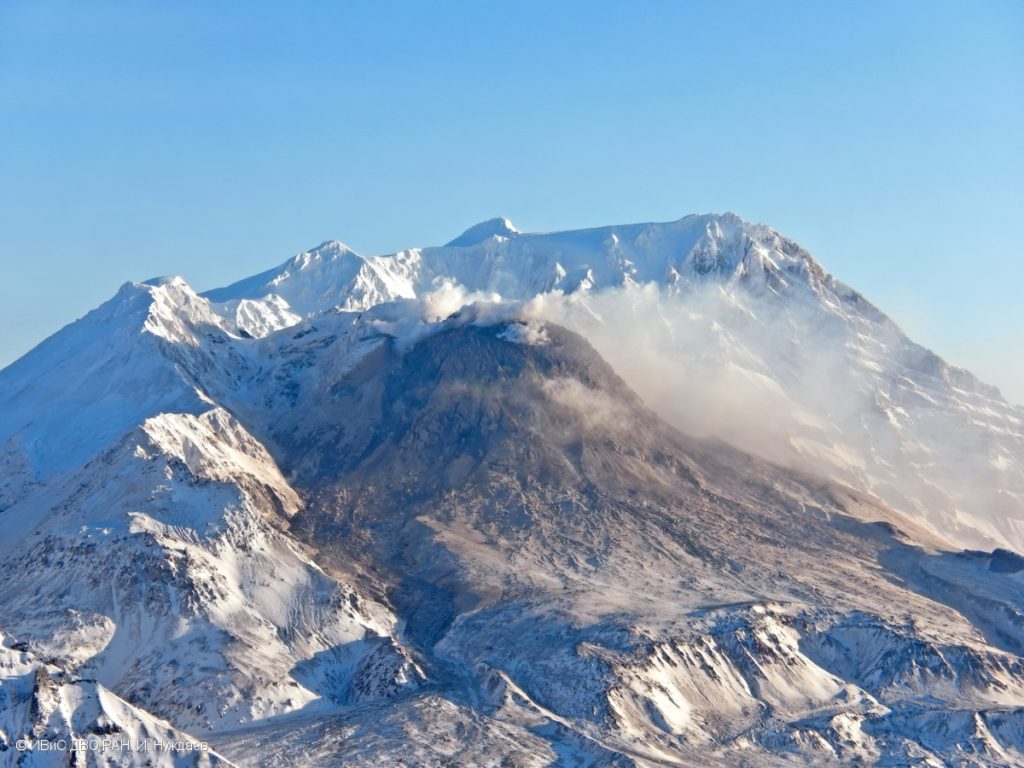 Volcanic Activity Summary:
The growth of the lava dome continues, a strong fumarole activity, an incandescence of the lava dome, sometimes explosions, and hot avalanches accompanies this process. Satellite data by KVERT showed a weak ash plume extended about 30 km to the south-east from the volcano.
An extrusive eruption of the volcano continues. Ash explosions up to 10-15 km (32,800-49,200 ft) a.s.l. could occur at any time. Ongoing activity could affect international and low-flying aircraft.
Volcanic cloud height:
2500-3000 m (8200-9840 ft) AMSL Time and method of ash plume/cloud height determination: 20230401/0208Z – JPSS-1 15m16
Other volcanic cloud information:
Distance of ash plume/cloud of the volcano: 30 km (19 mi)
Direction of drift of ash plume/cloud of the volcano: SE / azimuth 126 deg
Time and method of ash plume/cloud determination: 20230401/0208Z – JPSS-1 15m16
Source : Kvert.
Photo : I. Nuzhdaev, IVS FEB RAS
Chile , Lascar :
Seismic activity:
Seismicity over the past 24 hours has been characterized by volcano-tectonic (VT) events, related to rupture processes of isolated rock materials and earthquakes associated with fluid dynamics inside conduits and volcanic fractures (LP, long period).
Observations:
The most energetic rupture earthquake corresponded to a VT type event with a Local Magnitude (ML) of 1.3, located 2.3 km in an East-South-East direction, with a depth of 5.4 km in reference to the active crater.
The earthquake associated with the fluid dynamics of the higher energy volcanic system corresponded to an LP-type event with a reduced displacement value of 4.6 cm2.
Degassing is observed from the active crater, without the presence of pyroclasts.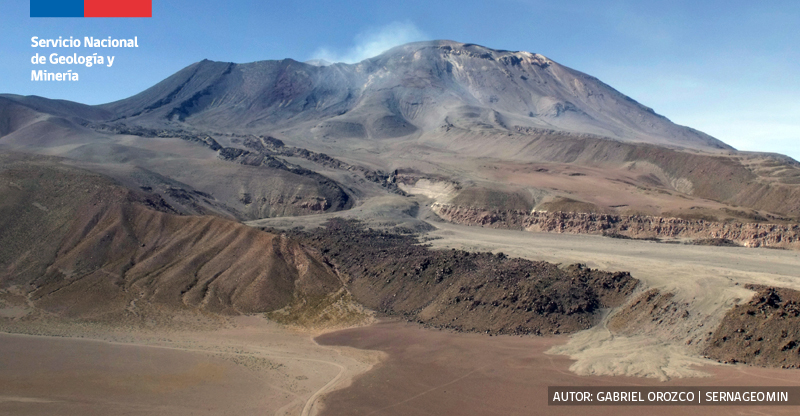 Other Notes:
Position variations continue to be recorded at GNSS stations, both in the length of the survey line and in the vertical components. The QUEB-PUNA line maintains a shortening trend with an average of 0.86 cm/month, caused mainly by the displacement of the PUNA station, which records a variation rate of 0.81 cm/month towards the North-West in a horizontal direction and 0.16 cm/month of vertical variation. The use of the satellite analysis technique (InSAR) representative indices of the deformation are detected, showing only areas of weak coherence in the upper zone of the volcanic edifice, allowing to deduce that the activity associated with the deformation would focus on very superficial changes and / or limited to areas of instrumental monitoring and do not represent changes in the internal dynamics of the volcano.
No new satellite thermal anomaly was detected (date of last image: March 31).
No new satellite anomaly of SO2 emissions has been detected (latest image: March 30).
The average SO2 flux was 59 t/d on March 30 (latest data available). This value was measured with a device based on Sernageomin differential optical absorption spectrometry (DOAS).
Source : Sernageomin .
Photo : Sernageomin / Gabriel Orozco.