January 31, 2023. EN . Italy : Stromboli , Indonesia : Dieng Plateau , Peru : Sabancaya , Chile : Lascar , Hawaii : Kilauea .
January 31 , 2023.
Italy , Stromboli :
Statement on Stromboli activity, January 30, 2023, 10:09 (09:09 UTC).
The National Institute of Geophysics and Volcanology, Osservatorio Etneo, reports that monitoring networks recorded a strong explosion at 10:08 a.m. (09:08 UTC).
Further updates will be communicated soon.
Statement on Stromboli activity, January 30, 2023, 10:42 (09:42 UTC).
The National Institute of Geophysics and Volcanology, Osservatorio Etneo, communicates that at 09:08 UTC, there was an explosive sequence of higher than normal intensity originating from the Center-South crater area. In particular, the explosive sequence resulted in the launch of coarse pyroclastic materials several hundred meters high, the fallout of which affected the crater terrace and the upper part of the Sciara del Fuoco.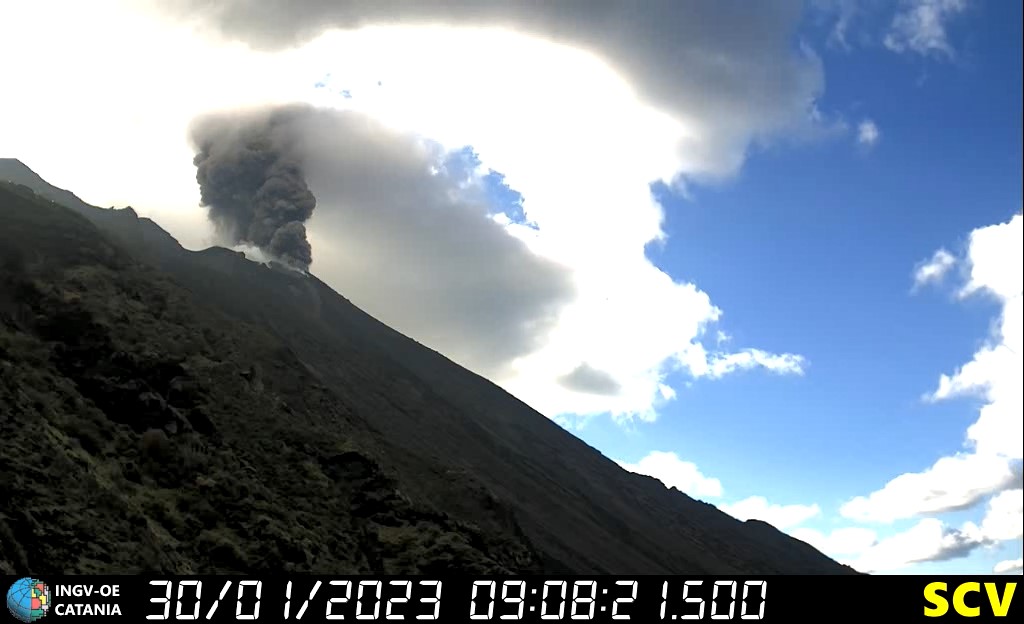 The explosion also produced a cloud of ash which the upper winds quickly dispersed in a southerly direction.
At 09:07 UTC there was a seismic signal linked to an explosion of greater intensity lasting about 3 minutes. From the seismic point of view, the average amplitude of the volcanic tremor, in conjunction with this phenomenology, has undergone an increase up to high values. There are no significant variations in the occurrence rate and amplitude of explosive earthquakes.
The GNSS and inclinometer monitoring networks do not record any significant variations.
Further updates will be communicated soon.
Source : INGV.
Indonesia , Dieng Plateau :
The Center for Volcanology and Geological Hazard Mitigation (PVMBG) stated that Timbang Crater and Sileri Crater in the Dieng Plateau (Plato), Banjarnegara Regency, Central Java, remain on Caution alert status until today.
« No evaluation of the status of the two craters has been made until now, » said the agency's Dieng Volcano Observation Post (PGA) officer Aziz Yuliawan on Monday, January 30, 2023.
Aziz explained that in the last few days, the concentration of toxic gas released by Timbang Crater has tended to decrease compared to when the alert status was elevated on Friday, January 13, 2023, at 23:00 western Indonesian time (WIB).
However, the seismic activity continues to fluctuate because in Saturday, January 28, 37 local tectonic earthquakes were recorded with an amplitude between 6.7 to 42.7 millimeters, a duration of 6 to 17.8 seconds. On Sunday, January 29, there were also 23 local tectonic quakes with an amplitude between 10.7 to 42.7 millimeters, and a duration of 4.6 to 27.3 seconds.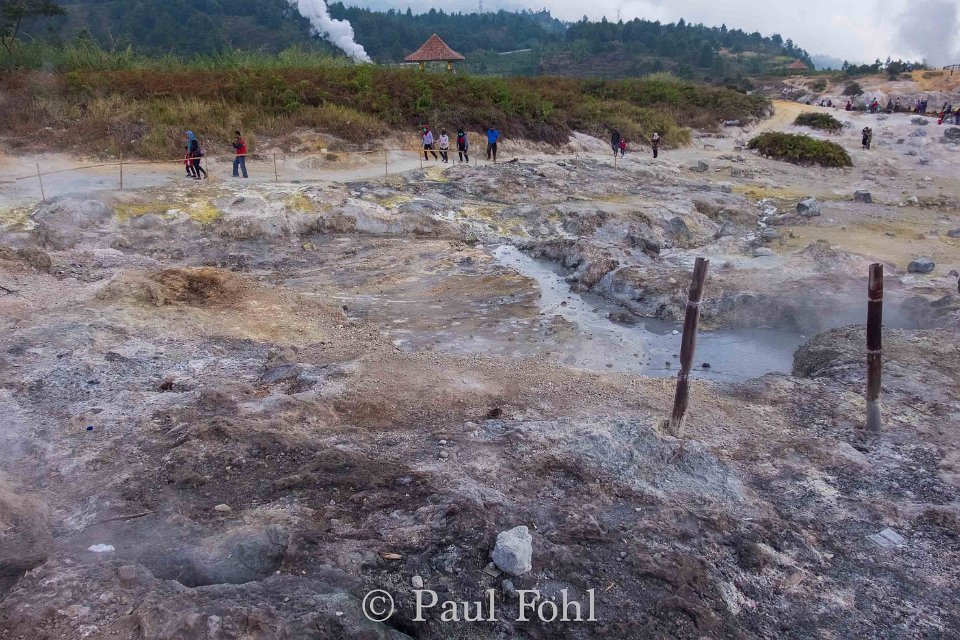 Following the series of tectonic quakes, Aziz claimed that there has been no increase in the activity of the Dieng Plateau, especially Timbang Crater and Sileri Crater.
Therefore, Timbang Crater and Sileri Crater were still on Caution alert status. Aziz called on the public to pay attention to the recommendations issued by PVMBG, such as not approaching the Sileri Crater within a distance of one kilometer from the crater rim.
People are also recommended not to approach the southwestern, southern, and southeastern sectors of Timbang Crater within a distance of 500 meters, and to be vigilant when digging the soil around the area to avoid CO2 gas.
Additionally, the public and tourists are advised not to enter the craters in the Dieng Complex which could potentially experience phreatic eruptions in the form of mudflows or material ejection, as well as craters with high concentrations of volcanic gas.
Sources : Tempo.co , PVMBG.
Photo : Paul Fohl.
Peru , Sabancaya :
Analysis period: from January 23, 2023 to January 29, 2023, Arequipa, January 30, 2023.
Alert level: ORANGE
The Geophysical Institute of Peru (IGP) reports that the eruptive activity of the Sabancaya volcano remains at moderate levels, that is to say with the recording of an average of 59 daily explosions, with columns of ash and of gas up to 2.1 km altitude above the summit of the volcano and their subsequent dispersion. Therefore, for the following days, no significant change is expected in eruptive activity.
The IGP recorded and analyzed the occurrence of 414 earthquakes of volcanic origin, associated with the circulation of magmatic fluids inside the Sabancaya volcano. An average of 59 explosions was recorded daily, in addition to recording Volcano-Tectonic (VT) type events associated with rock fracturing inside the Sabancaya volcano.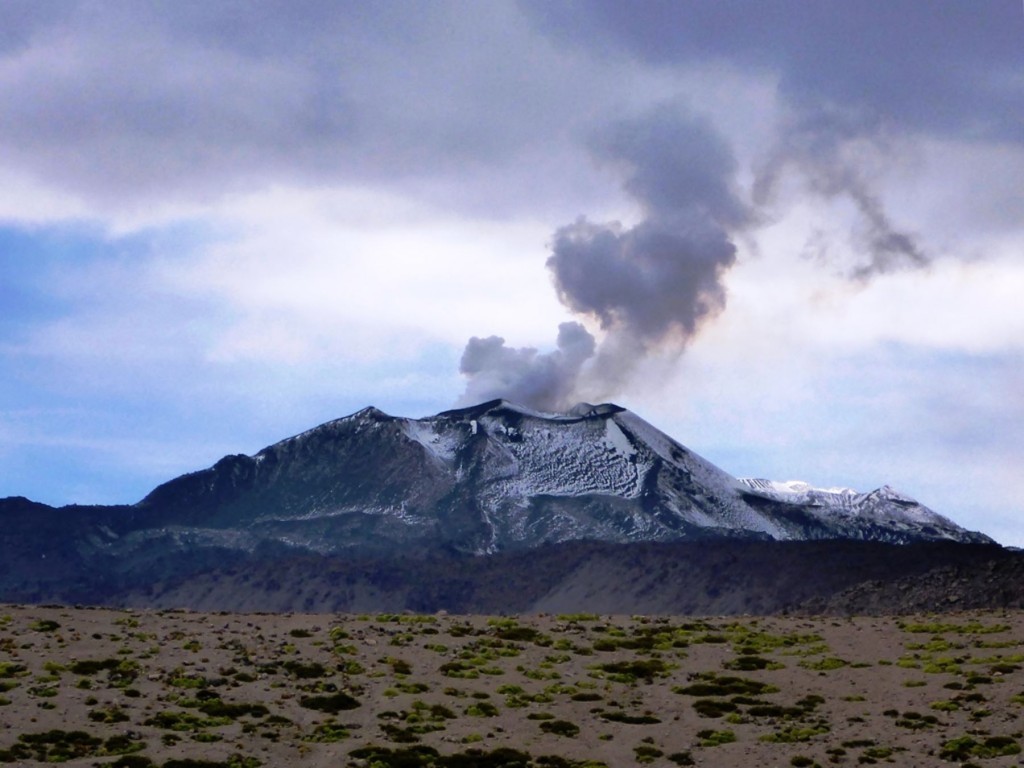 Monitoring the deformation of the volcanic structure using GNSS techniques (processed with fast orbits) does not show any significant anomalies. However, in general, an inflation process was observed in the northern sector (surroundings of the Hualca Hualca volcano). Visual surveillance identified columns of gas and ash up to 2.1 km above the summit of the volcano, which were scattered towards the southwest and west sectors of Sabancaya. Satellite recordings have identified the presence of 4 thermal anomalies, with a maximum value of 12 MW, associated with the presence of a lava body on the surface of the volcano's crater.
RECOMMENDATIONS
• Keep the volcanic alert level orange.
• Do not approach within a radius of less than 12 km from the crater.
Source : Cenvul
Photo : Auteur inconnu.
Chile , Lascar :
Volcanic Activity Report (RAV), Volcanological Observatory of the Southern Andes – Ovdas.
Seismic activity:
During the past 24 hours, the instrumental monitoring network of the Láscar volcano has continued to record seismicity, mainly of the long period type (LP) and to a lesser extent volcano-tectonic (VT). « Tornillos » (TO) type events were recorded, also associated with fluid dynamics and interaction with a plug inside the system.
The VT-type seismicity exhibited low energy and could not be located.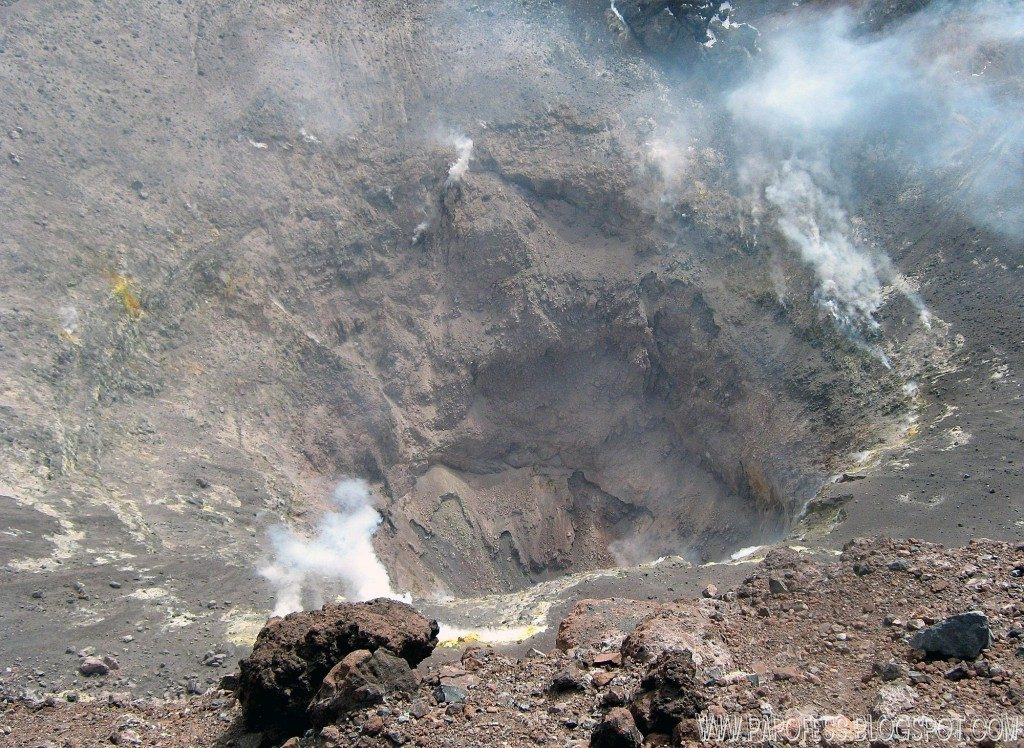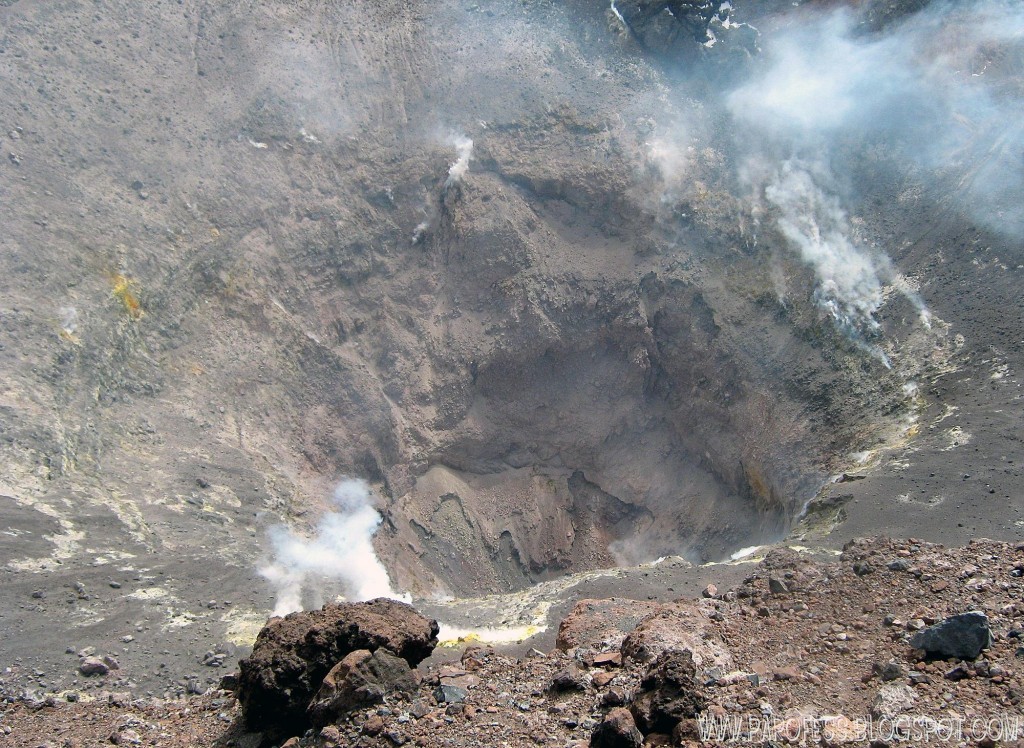 Observations:
Passive degassing of whitish color and low height was identified.
Occasionally, low intensity incandescence was observed in the crater area.
Other observations
The network of GNSS stations installed on the Láscar volcano does not indicate any deformation within the system.
No thermal anomaly was reported (Source MIROVA group).
According to the DOAS team, the SO2 flux on January 28 was 78 t/d.
No SO2 satellite anomaly detected.
Source : Sernageomin.
Photo :Papofessblogspot.com
Hawaii , Kilauea :
Monday, January 30, 2023, 8:56 AM HST (Monday, January 30, 2023, 18:56 UTC)
19°25'16 » N 155°17'13 » W,
Summit Elevation 4091 ft (1247 m)
Current Volcano Alert Level: WATCH
Current Aviation Color Code: ORANGE
Activity Summary:
The summit eruption of Kīlauea Volcano, within Halemaʻumaʻu crater, continued over the past 24 hours. All recent eruptive activity has been confined to the crater. No significant changes have been observed at the summit or in either rift zone.
Halemaʻumaʻu crater Lava Lake Observations:
Eruption of lava in the eastern portion of Halemaʻumaʻu crater floor continued over the past 24 hours. Activity is concentrated in a large lava lake in the eastern half of the crater, as well as a smaller lake to the west, in the basin of the 2021–2022 lava lake. The eastern lava lake has one dominant fountain and an area of approximately 25 acres as of January 17. The lake is currently well-defined by its levee boundaries, though there are periods of frequent overflows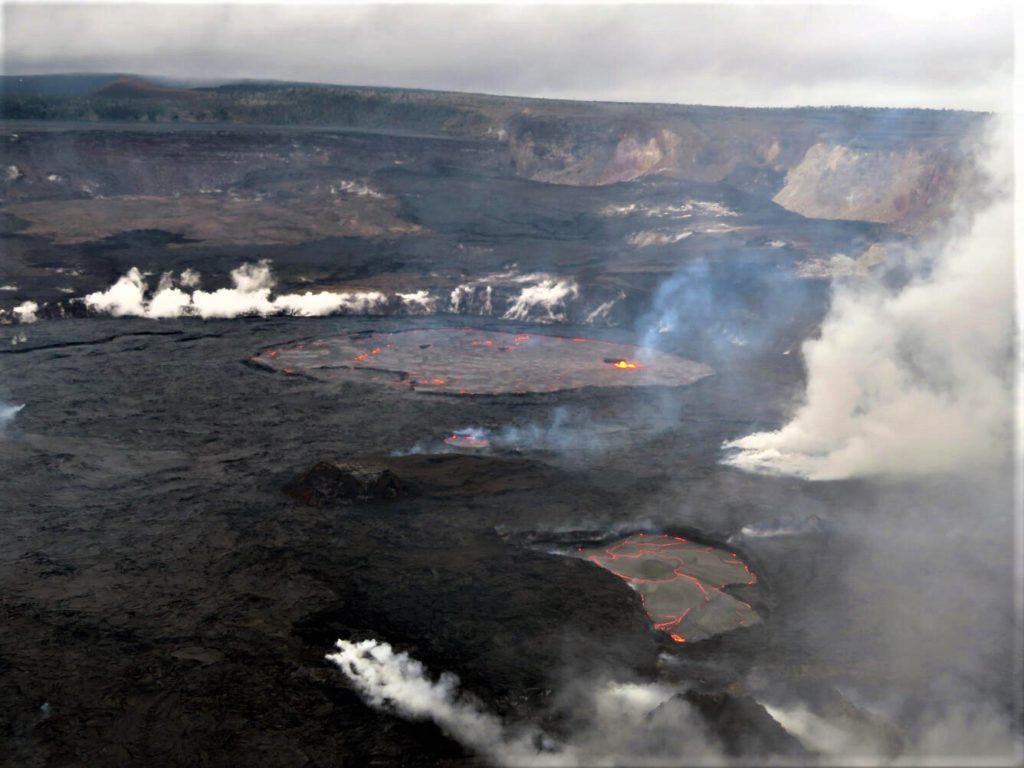 This view from the west caldera rim shows several lava lakes active within Halema'uma'u, at the summit of Kīlauea. The eastern lake is the farthest from this vantage point.
Summit Observations:
Summit tiltmeters continue to show a deflationary trend. Volcanic tremor remains above background levels. A sulfur dioxide (SO2) emission rate of approximately 3,000 tonnes per day (t/d) was measured on January 20, 2023.
Rift Zone Observations:
No unusual activity has been noted along the East Rift Zone or Southwest Rift Zone; steady rates of ground deformation and seismicity continue along both. Measurements from continuous gas monitoring stations downwind of Puʻuʻōʻō in the middle East Rift Zone have been below detection limits for SO2, indicating that SO2 emissions from Puʻuʻōʻō are negligible.
Source : HVO
Photo : USGS / M. Patrick.