January 29, 2023. EN. Chile : Lascar , Russia / Kuril Islands : Chikurachki , Mexico : Popocatepetl , Ecuador : Sangay , Hawaii : Kilauea .
January 29 , 2023.
Chile , Lascar :
Seismic activity:
During the past 24 hours, the instrumental monitoring network of the Láscar volcano has continued to record mainly long-period (LP) seismicity and, to a lesser extent, Tremor (TR) and volcano-tectonic type seismicity ( VT). An important characteristic of LP events is related to their energy, being abnormal for this volcano.
Observations:
When weather conditions permitted, degassing of moderate height was observed, and a few episodes with probably moderate particle content.
Incandescence is observed intermittently in the crater, with moderate to low intensity.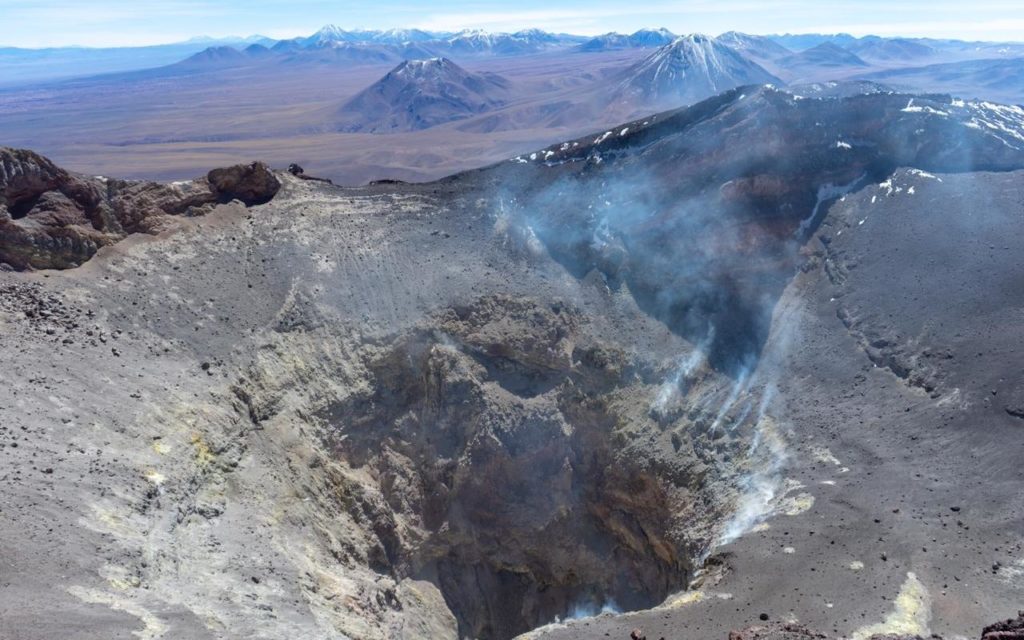 Conclusion
After the appearance of eruptive pulses of lower energy (December 10, 2022 and January 26, 2023), since January 27, the Láscar volcano began to show seismic signals of greater magnitude and different from those usually observed during these 10 years of instrumental recording. The sizes and generation of this seismicity, mainly related to fluid dynamics inside the conduits, could be consistent with the destabilization of a remanent magmatic body, possibly housed in superficial levels of the volcanic system.
This new stage is also characterized by the absence of significant changes in activity and surface deformation. Based on the above and the characteristics of the recorded seismicity, the presence of a shallow magmatic body is deduced.
In the event of an eruption, the most expected projected scenario would correspond to the generation of eruptive impulses with minor characteristics. However, the evolution towards larger explosive events, triggered by stagnation at surface level, is not excluded. Initially, the potential impact area of this activity could reach a radius of 10 km centered on the active crater.
In its development, this process could generate a major eruptive event without showing clear precursor signs, whose most destructive products (pyroclastic flows) could move at high speeds, requiring a rapid response from people in exposed areas towards less dangerous sites.
Source : Sernageomin
Photo : Vulcanopro.
Russia / Kuril Islands , Chikurachki :
VOLCANO OBSERVATORY NOTICE FOR AVIATION (VONA)
Issued: January 29, 2023
Volcano: Chikurachki (CAVW #290360)
Current aviation colour code: ORANGE
Previous aviation colour code: orange
Source: KVERT
Notice Number: 2023-16
Volcano Location: N 50 deg 19 min E 155 deg 27 min
Area: Northern Kuriles, Russia
Summit Elevation: 1816 m (5956.48 ft)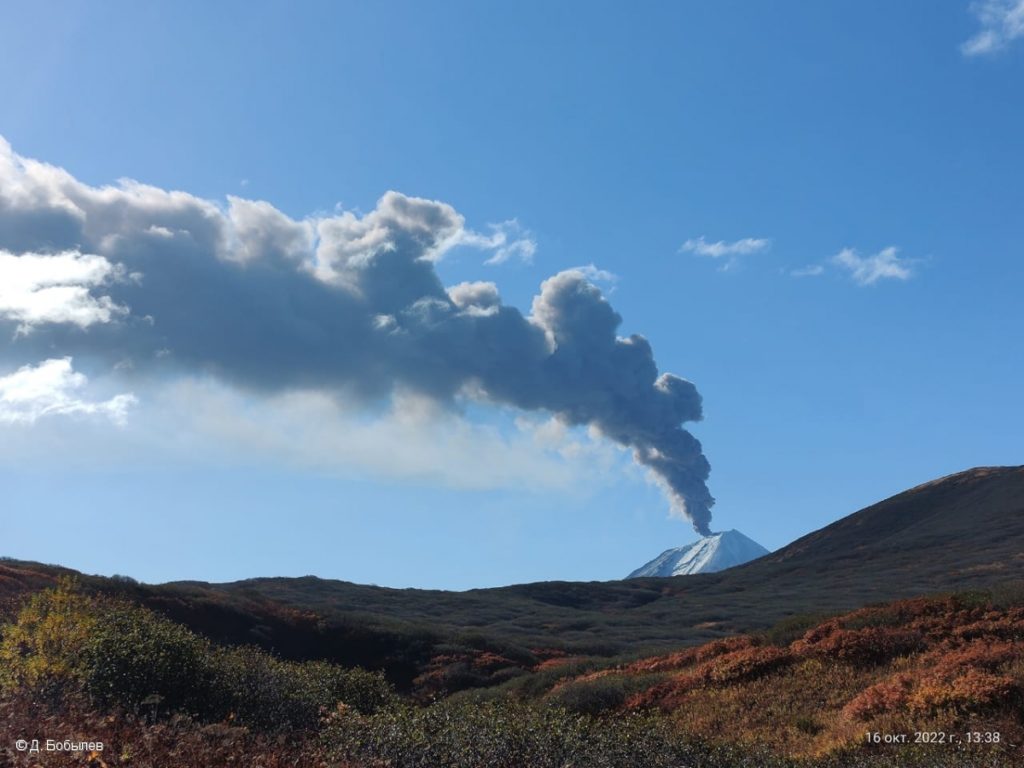 Volcanic Activity Summary:
An eruptive activity of the volcano continues. Satellite data by KVERT showed an ash plume extended about 70 km to the east of the volcano.
An activity of the volcano continues. Ash explosions up to 6 km (19,700 ft) a.s.l. could occur at any time. Ongoing activity could affect low-flying aircraft.
Volcanic cloud height:
4000 m (13120 ft) AMSL Time and method of ash plume/cloud height determination: 20230129/0206Z – MODIS AQUA 31m32
Other volcanic cloud information:
Distance of ash plume/cloud of the volcano: 70 km (43 mi)
Direction of drift of ash plume/cloud of the volcano: E / azimuth 98 deg
Time and method of ash plume/cloud determination: 20230129/0206Z – MODIS AQUA 31m32
Source : Kvert
Photo : D. Bobylev.
Mexico , Popocatepetl :
January 28, 11:00 (January 28, 17:00 GMT)
During the last 24 hours, according to the monitoring systems of the Popocatépetl volcano, 165 exhalations accompanied by water vapor, other volcanic gases and ash have been detected. Additionally, 139 minutes of tremors and 3 minor explosions were recorded yesterday at 10:14 p.m. and today at 4:51 a.m. and 5:21 a.m.
This morning a slight emission of water vapor and volcanic gases was observed in a North-North-East (NNE) direction.
The scientific and technical staff of Cenapred carried out an overflight on January 27, to observe the morphological conditions of the volcano. Specialized personnel from the Institute of Geophysics of the National Autonomous University of Mexico (UNAM) also participated with the support of the National Guard, in order to safeguard the lives of the population surrounding the volcano.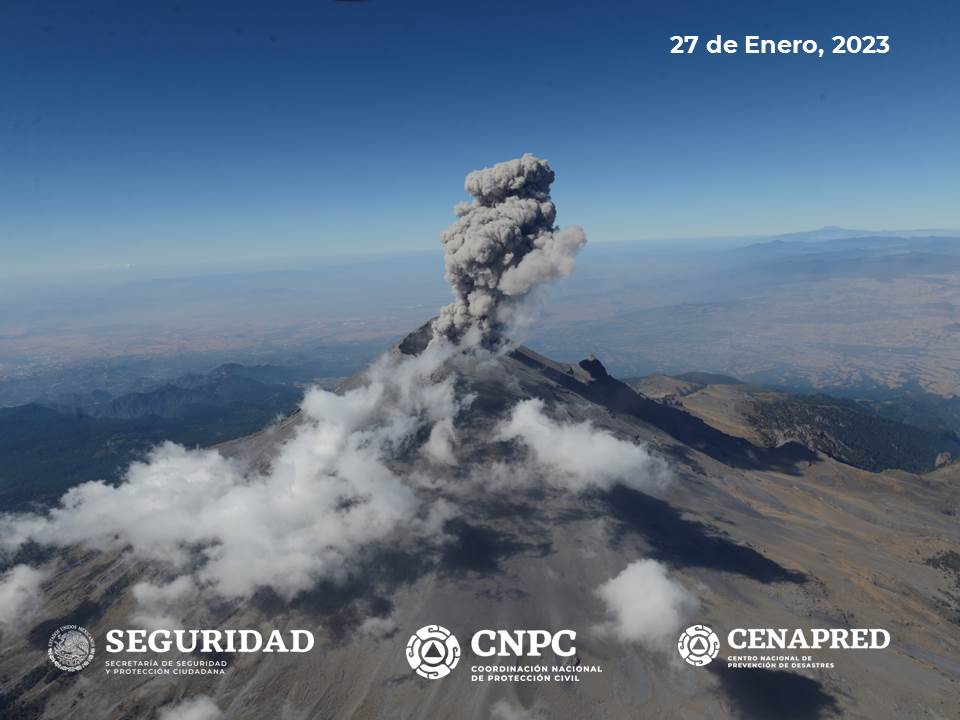 It was possible to determine that the dimensions of the inner rim of the crater have an approximate diameter of 390 to 410 meters, which indicates that there are no significant changes compared to what was observed during the overflight of February 2022. However, the bottom can be seen to be silted up with remnants of previous domes and fine material, which contributes to the depth being slightly lower at 160 to 180 meters. It was possible to distinguish the presence of a small dome with an approximate diameter of 30 to 40 meters and a height of between 5 and 10 meters, which is consistent with what has been observed in the satellite images of 'yesterday.
Similarly, two gas emission zones have been identified on the bottom of the inner crater.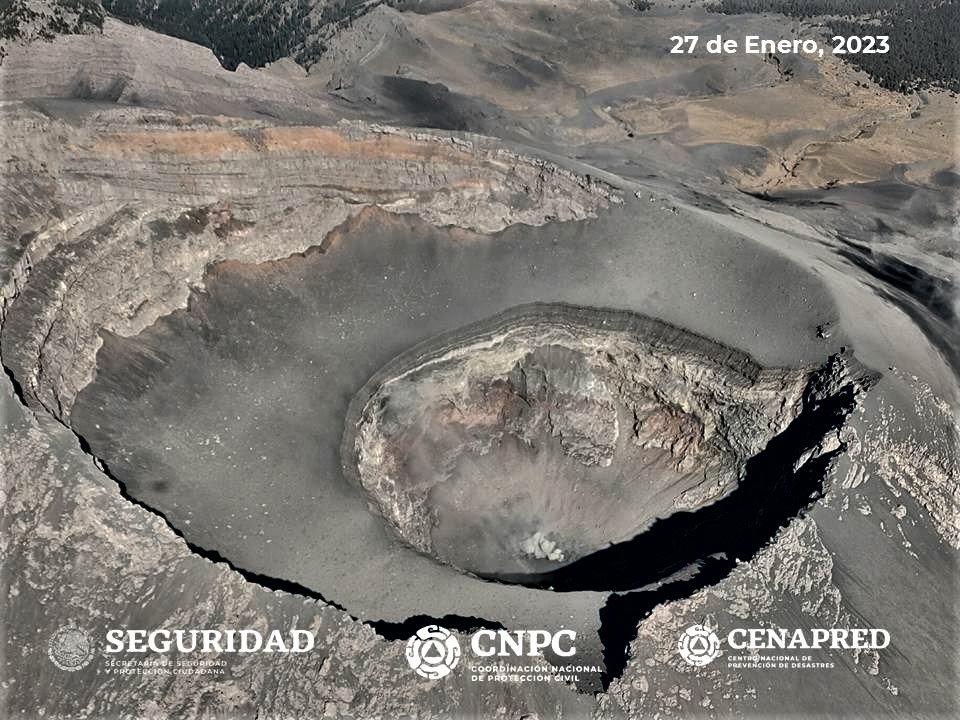 Based on the various parameters monitored and the information obtained during the overflight, ash emissions and explosions similar to those observed in recent weeks should continue. These scenarios are considered in the yellow level of phase 2 of the volcanic alert traffic light.
Cenapred insistently reiterates the recommendation not to climb to the crater of the volcano in case of risk of explosion, as we have seen on several occasions in the past, involving the emission of incandescent fragments and in the event of heavy rains, move away from the bottom of the ravines due to the danger of mudslides and debris.
The Popocatépetl volcano volcanic alert traffic light is in YELLOW PHASE 2.
Source et photos : Cenapred.
Ecuador , Sangay :
DAILY REPORT OF THE STATE OF SANGAY VOLCANO, Saturday January 28, 2023.
Information Geophysical Institute – EPN.
Surface Activity Level: High, Surface Trend: No change
Internal activity level: High, Internal trend: No change.
Seismicity: From January 27, 2023, 11:00 a.m. to January 28, 2023, 11:00 a.m.:
Explosion (EXP) 66
Emission Tremors (TREMI ) 65
Rains / Lahars:
There are no reports of rain.
Emission / Ash Column:
This morning a mainly gas emission was recorded, with a height of 1500 meters above the level of the crater and heading south. The Washington VAAC reported 4 ash emissions in the past 24 hours, these reached up to 870 meters above crater level, the direction remained southwest.
Gas:
The MOUNTS system detected 1,610.2 tons of sulfur dioxide (SO2) emitted by the volcano, measured on 01/27/2023 at 1:08 p.m. TL
Other monitoring parameters:
The FIRMS system reported 40 thermal alerts, the MIROVA-MODIS system reported 3 high thermal alerts (150, 168 and 105 MW) and the MIROVA-VIIRS system reported 4 high thermal alerts (205, 43, 156 and 350 MW) on the Sangay in the last 24 hours.
Observation:
During the night, an incandescence was observed in the crater.
Alert level: Orange.
Source : IGEPN.
Photo : Diego Cardenas.
Hawaii , Kilauea :
Saturday, January 28, 2023, 8:49 AM HST (Saturday, January 28, 2023, 18:49 UTC)
19°25'16 » N 155°17'13 » W,
Summit Elevation 4091 ft (1247 m)
Current Volcano Alert Level: WATCH
Current Aviation Color Code: ORANGE
Activity Summary:
The summit eruption of Kīlauea Volcano, within Halemaʻumaʻu crater, continued over the past 24 hours. All recent eruptive activity has been confined to the crater. No significant changes have been observed at the summit or in either rift zone.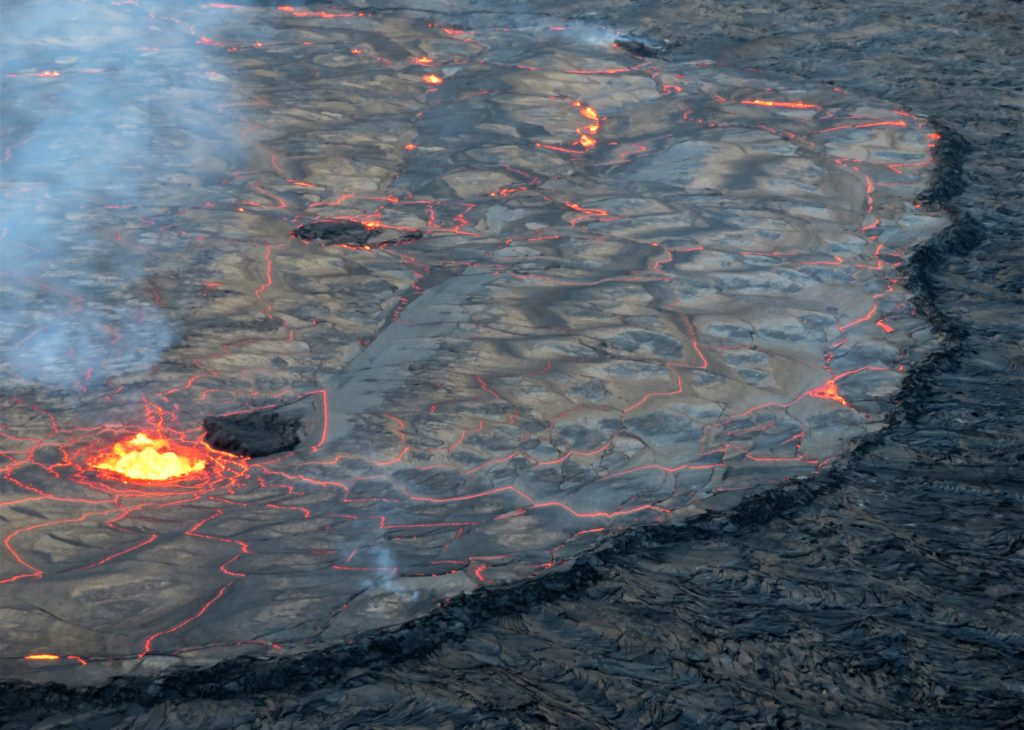 Dusk lighting on January 20, 2023, permitted better views of the morphology of the eastern lava lake in Halema'uma'u crater, at the summit of Kīlauea. The low sun angle highlighted the perched levees impounding the lake.
Halemaʻumaʻu crater Lava Lake Observations:
Eruption of lava in the eastern portion of Halemaʻumaʻu crater floor continued over the past 24 hours. Activity is concentrated in a large lava lake in the eastern half of the crater, as well as a smaller lake to the west, in the basin of the 2021–2022 lava lake. The eastern lava lake has one dominant fountain and an area of approximately 25 acres as of January 17. The lake is currently well-defined by its levee boundaries, though there are periods of frequent overflows.
Summit Observations:
Summit tiltmeters continue to show a weak deflationary trend. Volcanic tremor remains above background levels. A sulfur dioxide (SO2) emission rate of approximately 3,000 tonnes per day (t/d) was measured on January 20, 2023.
Source : HVO
Photo : USGS / M. Patrick.