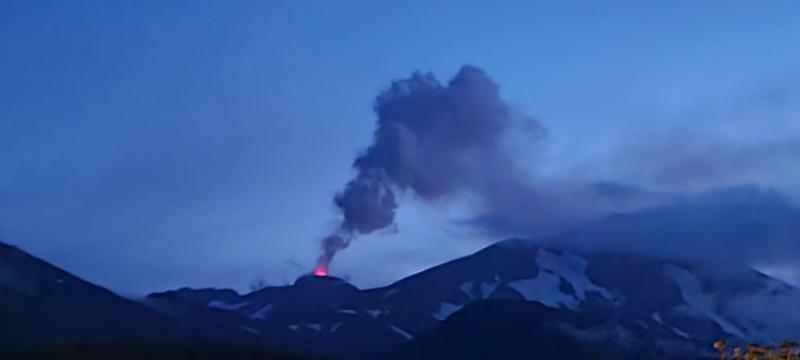 August 09 , 2021.
Back after a (too) short vacation.
Alaska , Great Sitkin :
52°4'35 » N 176°6'39 » W,
Summit Elevation 5709 ft (1740 m)
Current Volcano Alert Level: WATCH
Current Aviation Color Code: ORANGE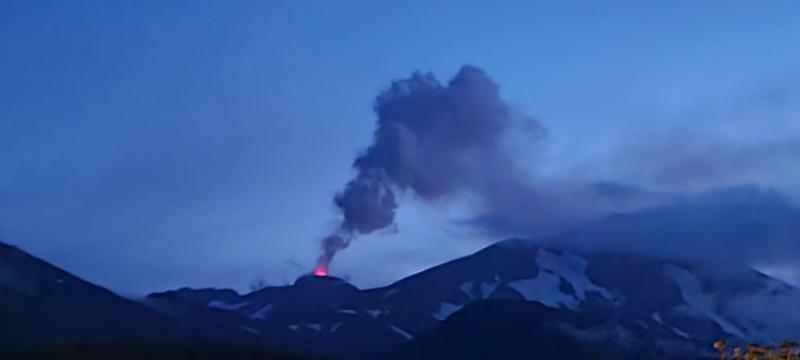 Great Sitkin steaming and incandescence above lava dome, captured by Peggy Kruse, August 5, 2021
Elevated seismic activity continues at Great Sitkin volcano but there were no clear signs of explosive activity recorded on local stations or on regional infrasound instruments over the past day. Elevated surface temperatures were observed in one satellite image but all other satellite and web camera views of the volcano over the past day have been obscured by clouds. The elevated surface temperatures are a result of lava effusion within the summit crater that has been ongoing for nearly two weeks.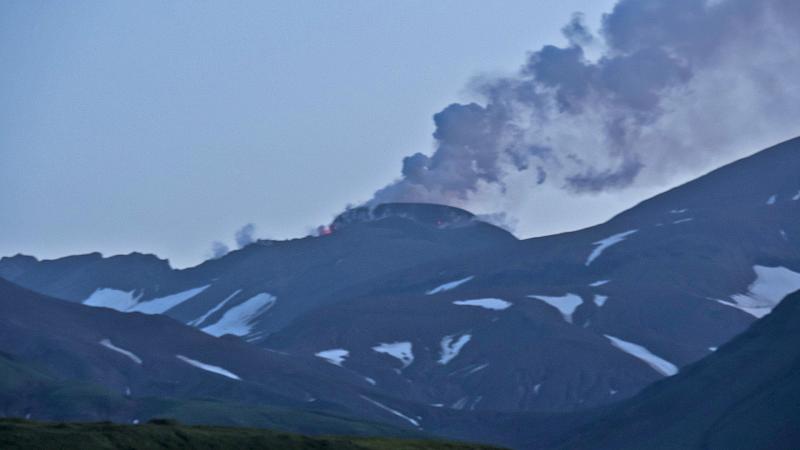 Active lava dome at Great Sitkin volcano, 06:52 AM HDT (7:52 AM AKDT), August 5, 2021. View is toward the north. Photo by Dave Ward.
Occasional explosive activity, continued lava effusion, or both remain possible outcomes of the current period of unrest. The duration of unrest is uncertain. Great Sitkin volcano is monitored by local seismic and infrasound sensors, satellite data, web cameras, and remote infrasound and lightning networks.
Source : AVO
Photo : Kruse, Peggy , Dave Ward.
Alaska , Semisopochnoi :
51°55'44 » N 179°35'52 » E,
Summit Elevation 2625 ft (800 m)
Current Volcano Alert Level: WATCH
Current Aviation Color Code: ORANGE
Unrest continues at Semisopochnoi volcano. Explosive activity and seismo-acoustic tremor are ongoing and there have been multiple energetic explosions recorded in the past 24 hours. Wind noise has increased today which has obscured geophysical signals from the local network somewhat. No activity was detected on regional arrays. Last night another small ash cloud was generated and was first evident in a web camera image at 21:03 AKDT (5:03 UTC, 8/7/2021) August 6, 2021. Roughly 30 minutes later, the CEPE web camera (located about 5 km northeast of the active vent) was partly dusted with ash fall obscuring the view of north crater indicating again that ash fall was occurring over parts of Semisopochnoi Island. Ash and steam emissions at north crater were evident in ash-obscured web camera images until 23:33 AKDT (7:33 UTC, 8/7/2021). A small ash cloud was observed in GOES-17 data at 4:40:31 UTC, 8/7/2021 but it quickly dissipated and extended less than 50 km beyond the North Crater vent. The height of the ash cloud was uncertain but likely less than 10,000 feet above sea level. Sulfur dioxide emissions from the volcano also were evident in satellite data over the past day.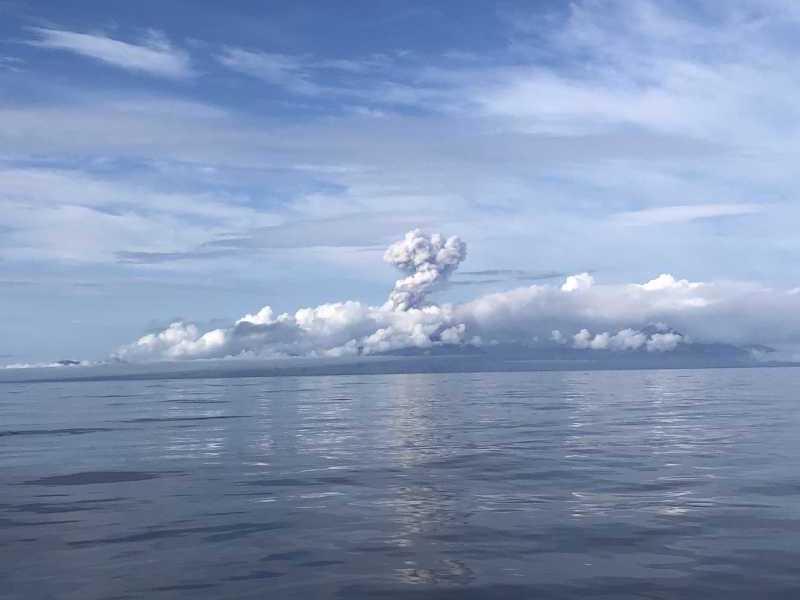 Eruption plume from Semisopochnoi, courtesy of Nora Rojek, R/V Tiglax, August 3, 2021.
Small eruptions producing minor ash deposits within the vicinity of the active north crater of Mount Cerberus and ash clouds under 10,000 feet above sea level have characterized the recent activity and show no signs of abating. Small explosions may continue and could be difficult to detect in seismic, infrasound, satellite, and web camera data, especially in poor weather conditions.
Semisopochnoi is monitored by local seismic and infrasound sensors, satellite data, regional infrasound, and lightning detection instruments.
Source : AVO
Photo : Nora Rojek, R/V Tiglax, 3 août 2021.
Indonesia , Dieng Plateau :
Press release on the activity of the Siglagah crater, G. Dieng Complex – Central Java, July 31, 2021
Mount Dieng is a volcanic complex whose activity spans 16 craters. Currently, monitoring is carried out on 2 (two) main craters which are the most active, namely Sileri Crater and Timbang Crater. The volcanic activity of the Mount Dieng complex was observed visually and instrumentally from the Volcanoes Observation Post (PGA) located in Karangtengah Village, Batur District, Banjarnegara Regency, Central Java Province. The last phreatic eruption occurred on April 29, 2021.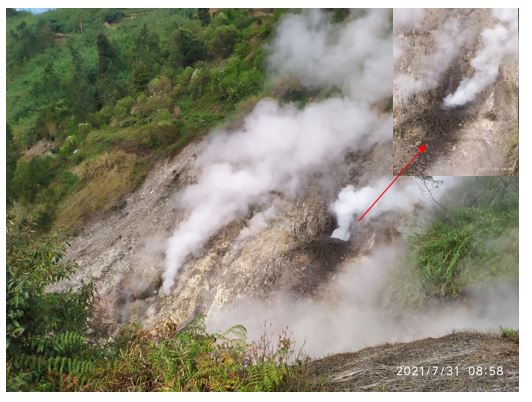 Mud flow at Siglagah crater on July 31, 2021.
The activity level of Mount Dieng has been level I (normal) since October 2, 2017.
On July 30, 2021, a mudslide occurred in the Siglagah crater, in the Dieng volcanic complex. Siglagah Crater (7o11'29.9 « S Latitude 109o54'03.6 » E Longitude) is located in Rejosari Hamlet, Pranten Village, Bawang District, Batang Regency, Central Java.
The center of the eruption is in one of the fractures in the Siglagah crater region which is on the side of a hill. Mudslides occurred around the crater with a radius of less than 10 meters from the source of the eruption. The dominant material emitted by the eruption is mud. A burst sound similar to a thud was sometimes heard up to 100 meters from the emission source.
Surveillance data:
Visual: Observation and inspection of the Siglagah crater directly on the ground in July 2021, observation of weak to thick white gas emissions, weak to strong gas pressure, gas emission column 10 to 30 meters high. The noise from the gas emissions was moderate to loud. On July 31, 2021, a weak to moderate bang was heard and a mudslide of about 10 meters to the north and a height of about 1 to 3 meters was observed.
Seismicity: Seismic records from July 1 to July 30, 2021 consist of 12 distant tectonic earthquakes, 34 local tectonic earthquakes, and 12 deep volcanic earthquakes (VA).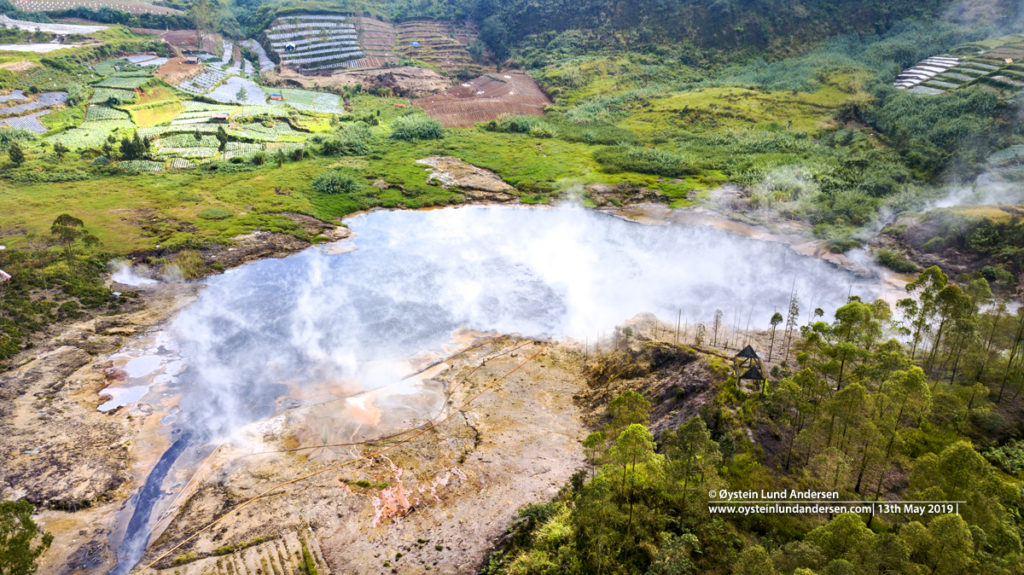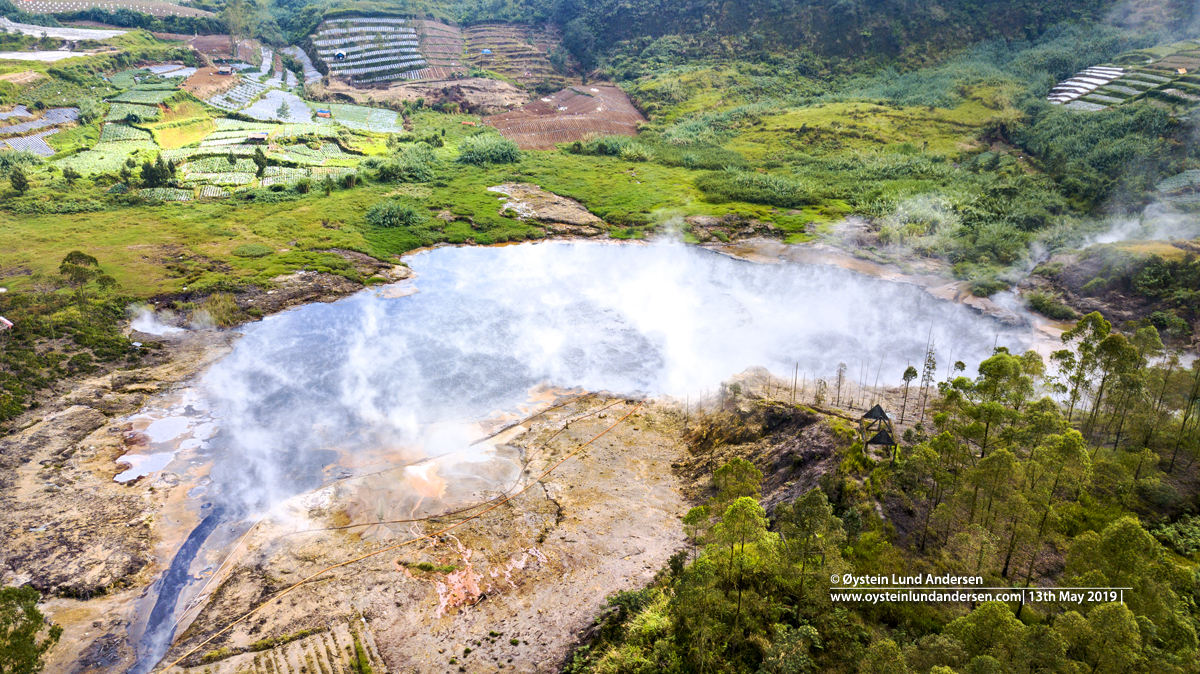 Analyse:
The eruption that occurred on July 30, 2021 in the Siglagah crater was not preceded by a significant increase in volcanic earthquakes, indicating that there was no input of magma to the surface. . The gusts that do occur are more caused by overpressure and surface activity.
Potential danger:
Given the nature and characteristics of the craters of the G. Dieng complex, the potential for a phreatic eruption from the Siglagah crater may still occur without being preceded by an increase in visual and seismic activity. The potential threat of danger comes in the form of mud shards around the crater.
The Siglagah Crater after the mudslide, visually and instrumentally showed no symptoms indicating a change in the nature of the eruption or an increase in the potential threat of danger. Mount Dieng's activity level is set at level I (normal).
Source : PVMBG.
Photos : cratère Siglagah / PVMBG , cratère Sileri , Dieng-Plateau, Øystein Lund Andersen.
Iceland , Geldingadalur / Fagradalsfjall :
POSTED ONAUGUST 7, 2021
Short update on the eruption in Fagradalsfjall on 7-August-2021
Over the last few weeks there has not been a lot to report about the eruption in Fagradalsfjall mountain. That changed tonight. The eruption seems to have entered a new stable phase. With constant eruption, rather than erupting every few hours and nothing happening for several hours after that.
Red glow from the crater lights up the nearby lava field that has three gas funnels rising up from it. Lava is flowing from the crater down into nearby Meradalir and some of the lava is flowing underground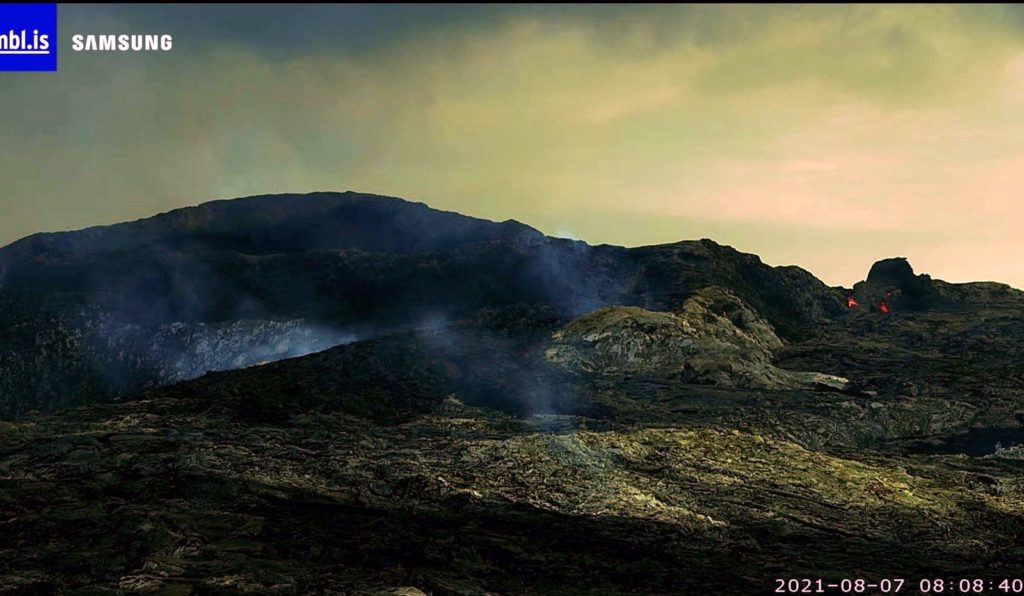 Most of the lava flow is going into Meradalir at the writing of this article. Some of the lava flow is happening underground and that lava flow is going into south-Meradalir that is just above Nátthagi valley. That can be seen as gas is now coming from that lava field and increase in gas emission shows that fresh lava is flowing under the crust of the lava. Surface lava paths can change without warning at any time.
Update on 7-August-2021 at 13:48 UTC
Today (7-August-2021) at 08:00 UTC the eruption stopped. The harmonic tremor dropped quickly as the stop in the eruption was quick after going on for two and half day. Why this happens remains unclear. At the writing of this update at 13:49 UTC the eruption remains inactive.
Source : icelandgeology.net
Photo : webcam mbls
New Zealand , White Island :
Ongoing high heat flow from Whakaari/White Island. Volcanic Alert Level remains at 2.
Published: Mon Aug 9 2021 4:00 PM
Volcanic Alert Level remains at 2
Aviation Colour Code remains at Yellow
A gas measuring flight, and thermal and visual observations from helicopter were made at Whakaari/White Island last week to bolster our currently degraded automated monitoring systems.
These measurements and observations show that the maximum active vent temperatures remain high at around 520°C. We continue to observe night glow in webcam images.
Moderate levels of Carbon dioxide (CO2) and Sulphur dioxide (SO2) gas were measured in the air downwind of the volcano, similar to those measured on 20th July.
Satellite radar data shows low levels of ground deformation around the active vent and lake area.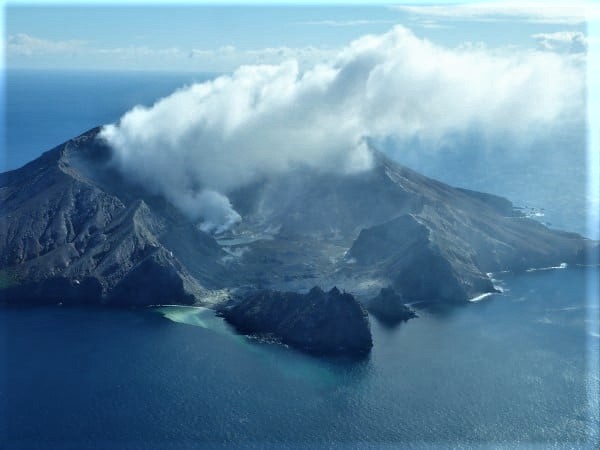 The combined interpretation of this information consolidates evidence for a fresh magma intrusion to shallow levels since June 2021. Due to the very steamy conditions at the vent we don't have any visual observations of fresh lava at the surface. However, our monitoring indicators suggest magma is likely present at very shallow levels.
The current level of activity is consistent with moderate levels of unrest. As such the Volcano Alert Level remains at 2 and the Aviation Colour Code remains at Yellow.
Equipment that provides real-time monitoring on the island is currently degraded and we are continuing to work on restoration options.
Our current monitoring consists of two on-island webcams and one from Whakatane. These cameras provide images every 10 minutes. Realtime seismic monitoring of the island is currently degraded and only provides intermittent data from one out of two stations. On island GNSS ground movement stations continue to operate. We complement these on island measurements with satellite techniques measuring ground movement and large-scale Sulphur dioxide (SO2) gas emissions, along with undertaking regular airborne gas measurements and observation flights.
Source : Geonet / Craig Miller /Duty Volcanologist.
Photo : Geonet
Chile , Nevados de Chillan :
The seismicity parameters associated with the fracturing processes of rigid materials (type VT) and fluid dynamics (types LP, VLP, TR and EX) have remained at similar values, although with some alternation in the levels of energy released.
The highest energy VT event, with a local magnitude (ML) of 2.3, was located 4.7 km east-southeast (ESE) of the active crater and at a depth of 3.6 km.
From the analysis of the images provided by the surveillance cameras belonging to the OVDAS as well as the satellite images, we observe that the emission of the L5 and L6 flows has been maintained, whose fronts reach 1101 m and 894 m from the edge of the crater. The maximum velocity of the L5 lava flow for this period is 0.1 m / h, while the L6 flow only showed an advance at the end of July when a new impulse was detected advancing 100 m in 4 days. . During this fortnight, a new emission center associated with an explosive activity located to the south-east of the L5 emission center was identified, suggesting a concentrated surface heading towards L5. Both lava flows exhibit a high degree of instability, with collapses in the middle and distal part being common.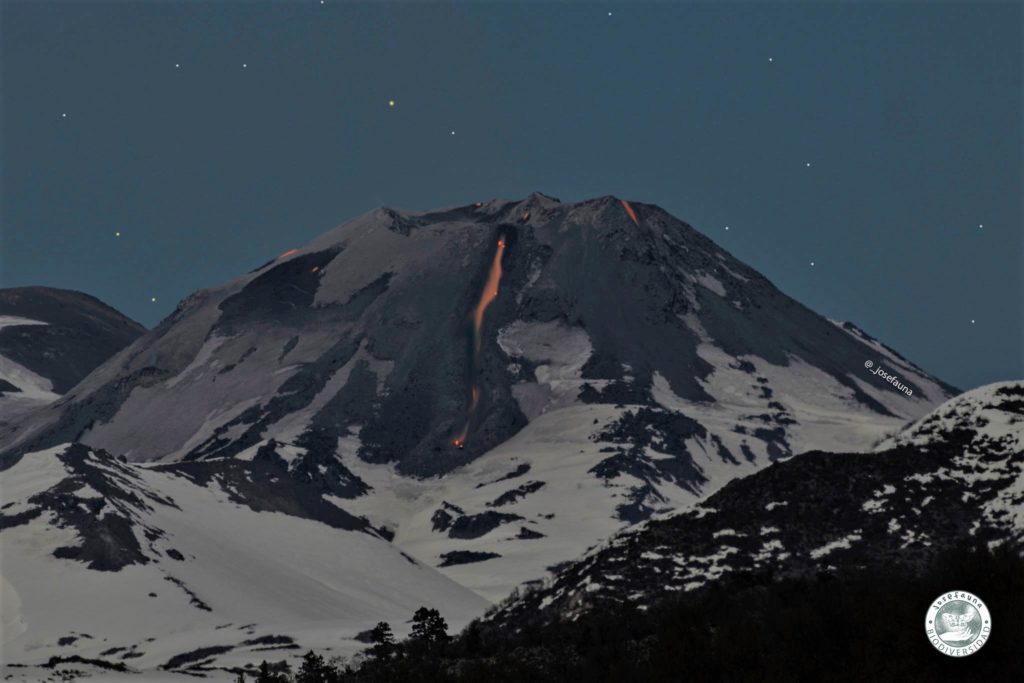 The explosive activity exhibited maximum column heights of 1900 m, with recurrent high pyroclastic explosions. An increase is also observed in the recurrence of proximal pyroclastic flows with a preferential distribution towards the North-East and North-North-East slopes, with a maximum range of 555 m from the edge of the crater. In turn, the high level of intensity, distribution and frequency of incandescent events associated with explosions with falling incandescent blocks that affect the North, East, West and South slopes, with a maximum range of 500 m, has grown. maintained.
According to data obtained by the network of GNSS stations installed on the volcano, a slight modification of the recorded deformation was observed. The vertical components of the stations showed deflation with a maximum of -0.3 cm / month. Monitoring baselines between stations, horizontal components and inclinometer stations maintained their trends with amplitudes lower than in the previous period but consistent with the release of particulate matter. From what has been said, the deflationary process associated with the emission of surface lava continues.
Forty-seven (47) thermal alerts were recorded in the area with a maximum value of 93 MW on July 30, considered moderate for this volcano. In turn, radiance anomalies were detected on July 17, 19, 22, 24 and 29 from Sentinel 2-L2A image analysis.
The thermal imaging made it possible to observe temperatures which exceeded 360 ° C in the emission zone during the explosions, 308 ° C for the L5 flow and 337 ° C for L6. We note an increase in the average temperature of the L5 flow, which was maintained throughout the fortnight, while in the L6 flow the temperatures increased associated with the new lava impulse towards the end of the month.
Source : Segemar Argentine.
Photo : Joséfauna.