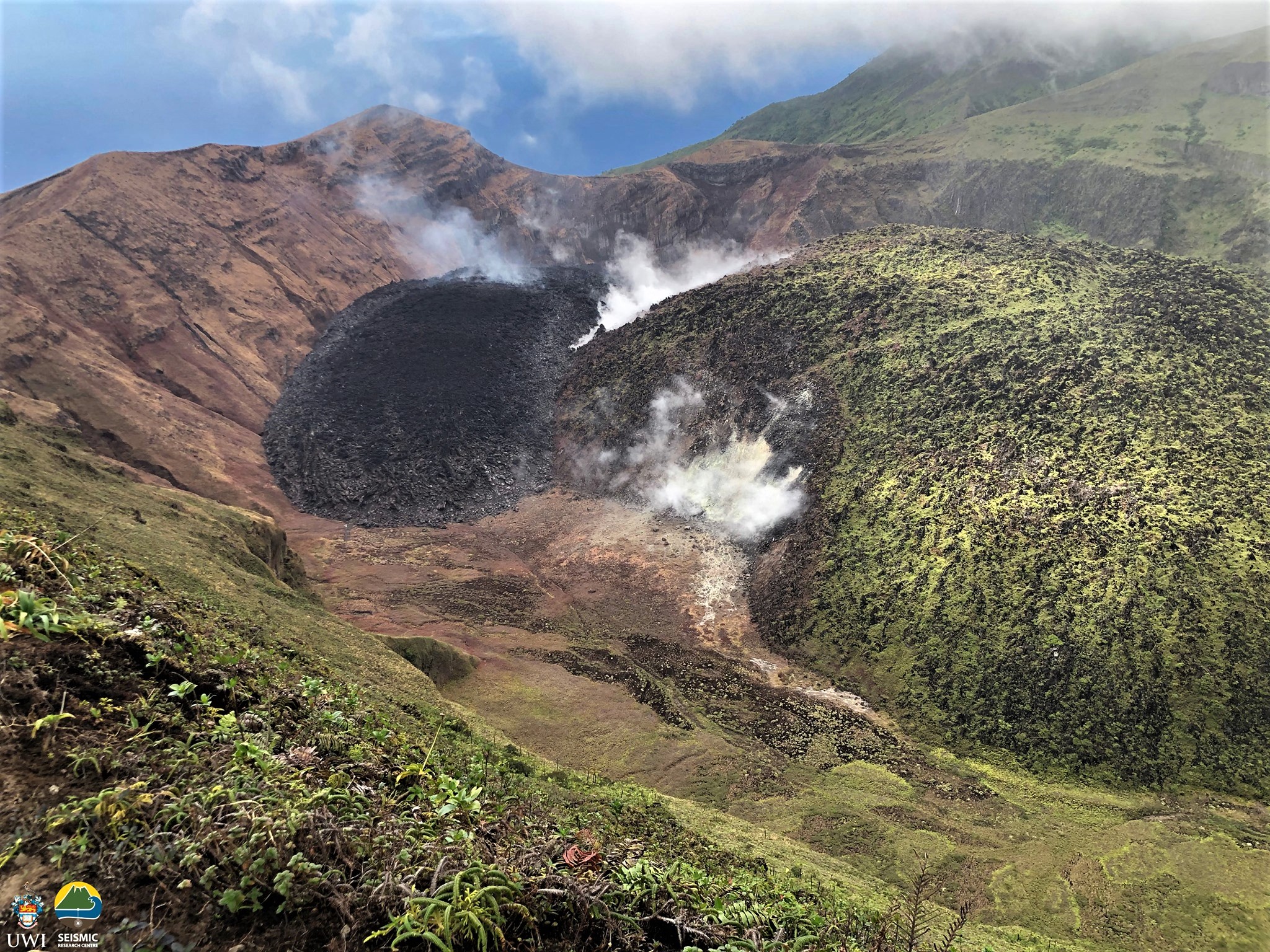 February 14, 2021. EN . Philippines : Taal , Indonesia : Raung , Saint Vincent : Soufrière Saint Vincent , Guatemala : Pacaya .
February 14 , 2021 .
Philippines , Taal :
TAAL VOLCANO BULLETIN: 14 February 2021 08:00 A.M.
In the past 24-hour period, the Taal Volcano Network recorded twelve (12) tremor episodes having durations of three (3) to six (6) minutes. Emission of white steam-laden plumes from fumarolic activity at the vents of the Main Crater was weak. Ground deformation parameters based on continuous GPS monitoring from 29 March 2020 to present indicated a slow and slight inflation of the northwestern sector of Taal Caldera, which was also recorded by electronic tilt on northwest Volcano Island starting the second week of July 2020. In contrast, GPS data from the southwestern sector of Taal Caldera and Volcano Island yielded no significant change after the huge post-eruption subsidence.
Alert Level 1 (Abnormal) is maintained over Taal Volcano. DOST-PHIVOLCS reminds the public that at Alert Level 1, sudden steam-driven or phreatic explosions, volcanic earthquakes, minor ashfall, and lethal accumulations or expulsions of volcanic gas can occur and threaten areas within the Taal Volcano Island (TVI). DOST-PHIVOLCS strongly recommends that entry into TVI, Taal's Permanent Danger Zone or PDZ, especially the vicinities of the Main Crater and the Daang Kastila fissure, must remain strictly prohibited. Local government units are advised to continuously assess previously evacuated barangays around Taal Lake for damages and road accessibilities and to strengthen preparedness, contingency, and communication measures in case of renewed unrest. People are also advised to observe precautions due to ground displacement across fissures, possible ashfall, and minor earthquakes. Civil aviation authorities must advise pilots to avoid flying close to the volcano as airborne ash and ballistic fragments from sudden explosions and wind-remobilized ash may pose hazards to aircraft.
DOST-PHIVOLCS is closely monitoring Taal Volcano's activity and any new significant development will be immediately communicated to all stakeholders.
Source : Phivolcs.
Photo : Grig C. Montegrande/Philippine Daily Inquirer
Indonesia , Raung :
VOLCANO OBSERVATORY NOTICE FOR AVIATION – VONA.
Issued : February 13 , 2021
Volcano : Raung (263340)
Current Aviation Colour Code : ORANGE
Previous Aviation Colour Code : orange
Source : Raung Volcano Observatory
Notice Number : 2021RAU24
Volcano Location : S 08 deg 07 min 30 sec E 114 deg 02 min 31 sec
Area : East java, Indonesia
Summit Elevation : 10662 FT (3332 M)
Volcanic Activity Summary :
Eruption with volcanic ash cloud 11h04 UTC (18h04 Local Time )
Volcanic Cloud Height :
Best estimate of ash-cloud top is around 13862 FT (4332 M) above sea level, may be higher than what can be observed clearly. Source of height data: ground observer.
Other Volcanic Cloud Information :
Ash-cloud moving to east-northeast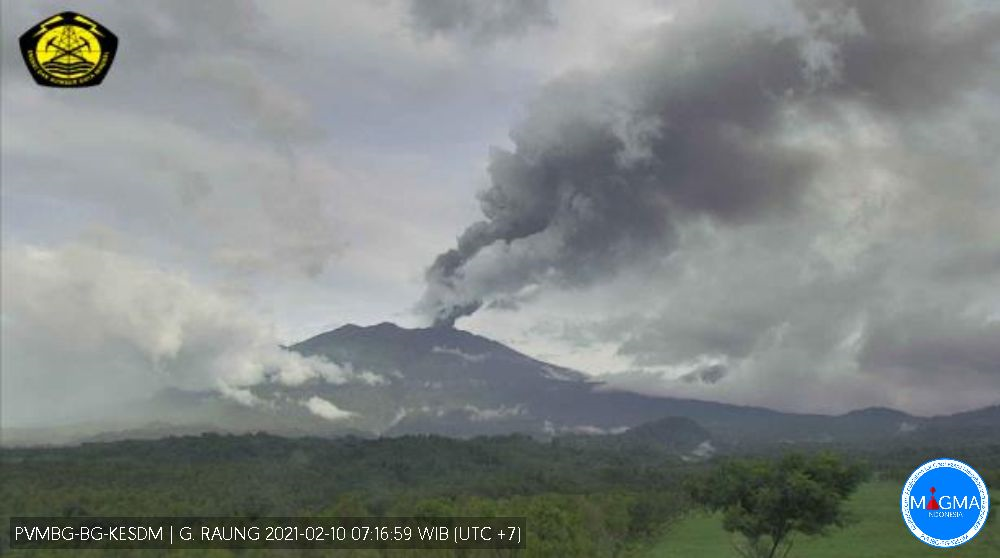 Remarks :
Seismic activity is characterized by continuous volcanic tremor.
Since January 20, 2021, non-harmonic tremors have been recorded, followed by deep volcanic earthquakes, accompanied by changes in height and color of the emission gas / ash column. Thus, since January 21, 2021, the activity level of G. Raung has been raised to level II (Waspada).
The volcano is clearly visible until it is covered in fog. The crater was observed to emit gray smoke with moderate height, thick about 500-1000 meters above the summit. The weather is sunny to cloudy, with light to moderate winds in the northeast, east and south. The air temperature is around 19-37 ° C.
According to the seismographs of February 13, 2021, it was recorded:
6 distant tectonic earthquakes
Continuous tremor, amplitude 1 to 8 mm (dominant value 1 mm).
Source et photo : Magma Indonésie , PVMBG.
Saint Vincent , Soufrière Saint Vincent :
Satellite images captured on February 5, 202l allowed for a completely clear view of the crater. The new dome continues to grow with lateral spreading of ~15 m towards the north-west and south-east.
The most active gas emissions are at the contact areas between the pre-existing 1979 dome and the 2020-21 dome, as well as the top of the new dome.
Damage to vegetation, from acidic gases emitted from the growing dome, downslope of the summit continues to be observed.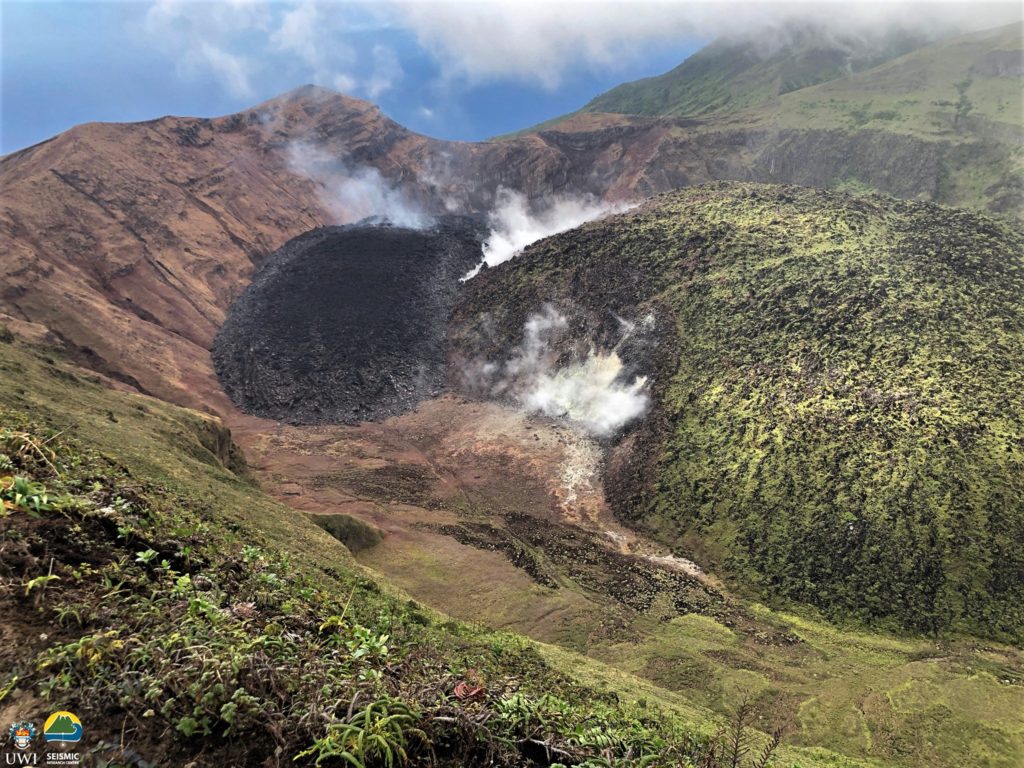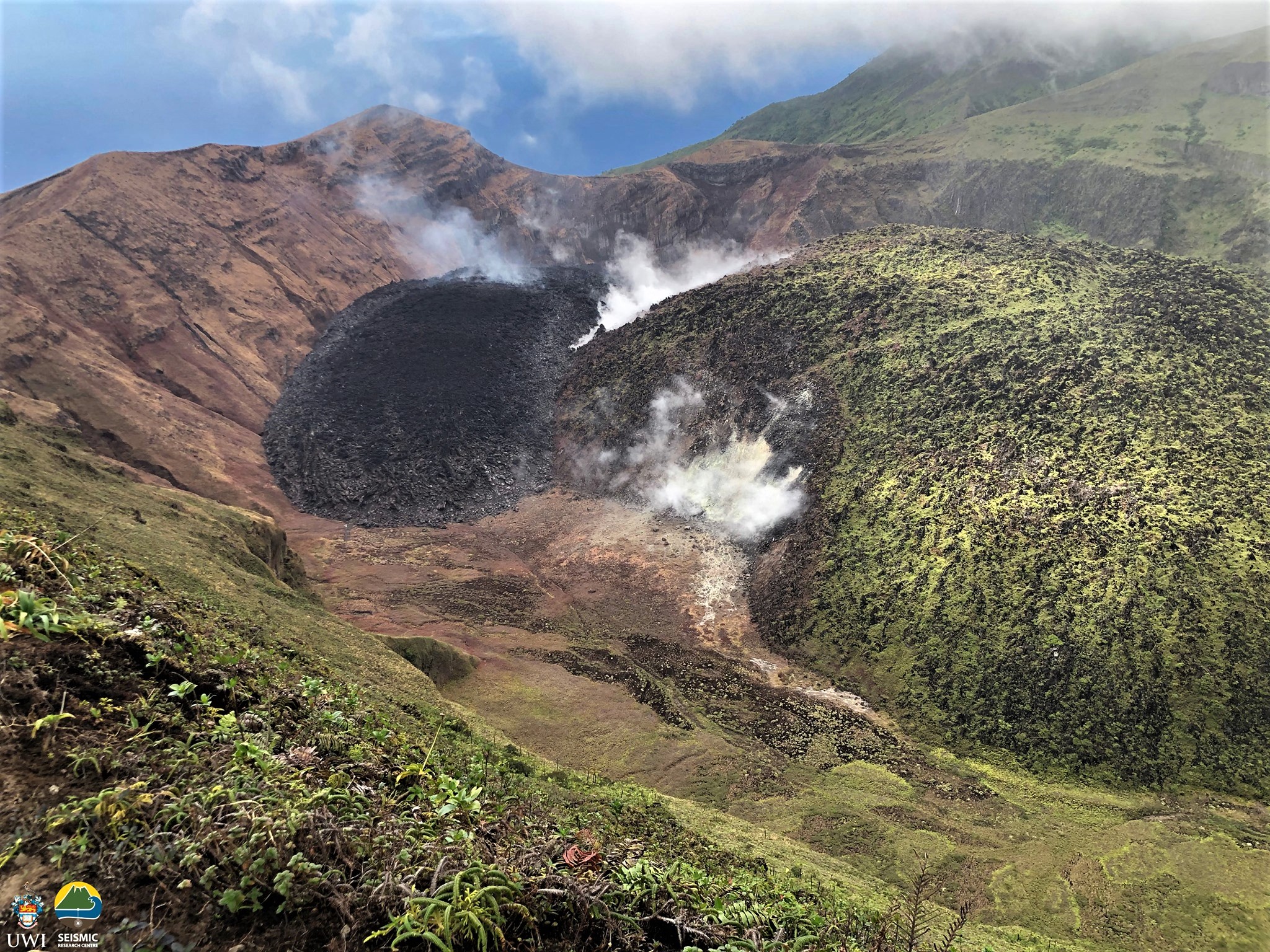 The United States Geological Survey (USGS) through its Volcano Disaster Assistance Programme (VDAP) recently donated equipment to build four seismic stations and radios to enhance communications. Three of the stations are solar powered installations with posthole seismometers. The fourth is a spider seismometer, a device designed for rapid deployment in high risk locations where human exposure to hazards (e.g. volcanic craters) would be minimized.
This equipment allows for the strengthening of the seismic network placed in locations where there are significant gaps. The spider seismometer will support near crater monitoring. In the event of escalated volcanic activity at La Soufriere, enhanced monitoring would allow scientists to alert NEMO with sufficient time to activate appropriate emergency responses.
NEMO staff will be conducting a drive through in the Gorse and Colonaire communities on Friday 12th February, 2021. The purpose of this drive through is to update residents on the state of the La Soufrière Volcano, and to provide information on evacuation procedures and individual preparedness.
The National Emergency Management Organisation is reminding the public that no evacuation order or notice has been issued.
NEMO continues to appeal to the public to desist from visiting the La Soufrière Volcano, especially going into the crater, since doing so is extremely dangerous.
Source et photo : Nemo .
Guatemala , Pacaya :
VOLCANIC ACTIVITY UPDATE
As an extension of the special bulletin BEPAC 011-2021 and BEPAC 014-2021, the seismic monitoring parameters reflect a new boost from 2:00 p.m. (local time) today (02/13), which confirms that the volcanic activity continues at the highest levels.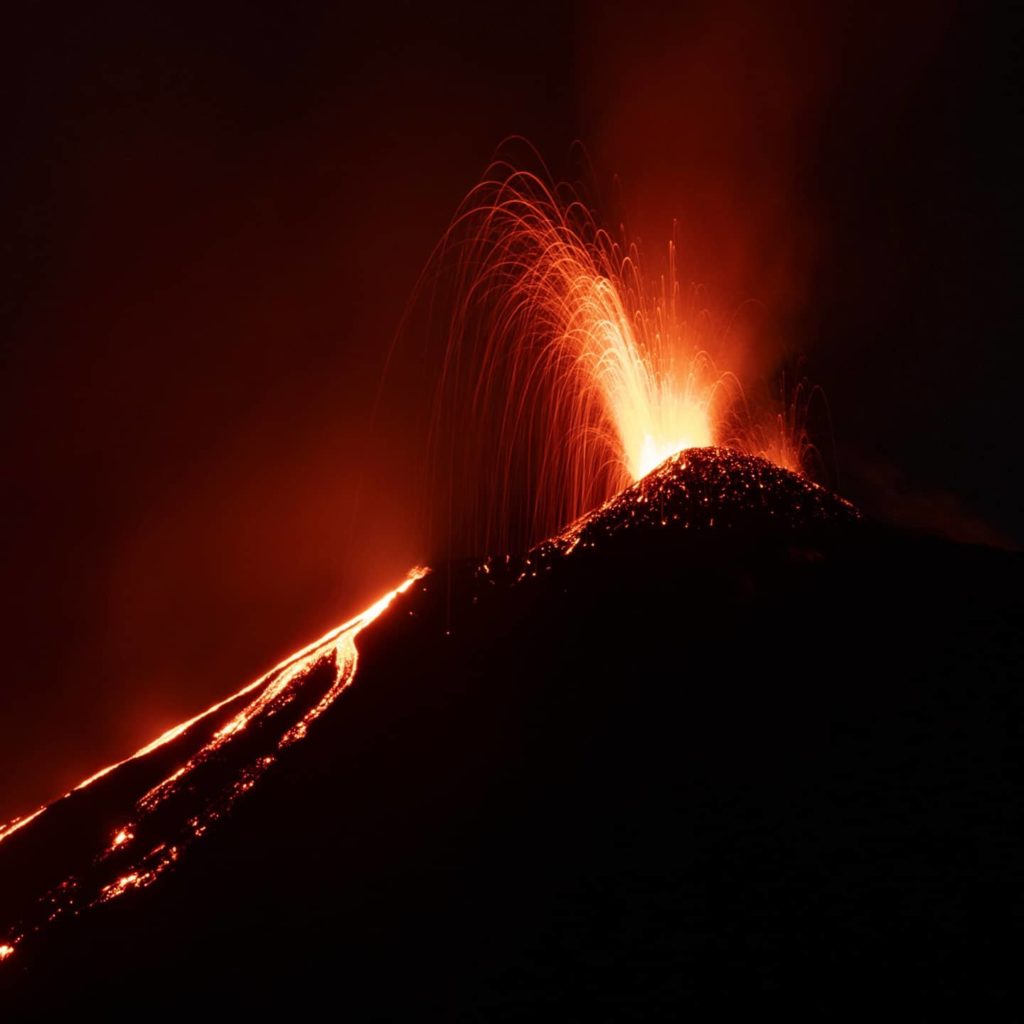 In the Mackenney crater, incandescent materials continue to be generated and expelled at an altitude of 300 to 400 meters and with explosions of low to moderate characteristics. Columns of ash and gas 3,000 meters (9,843 feet) high move west, north and northeast over a distance of 6 km.

Fig. No. 1: RSAM (Average Seismic Amplitude) of the PCG5 station in UTC time.
It is not excluded that the volcanic activity generates new impulses of increase in the coming hours or days. Due to the direction of the wind, ash falls are reported in Santa Elena Barillas, Mesillas Bajas and Mesillas Altas. It is important to remember that the wind direction can change at different heights and therefore scatter the ash in several directions, and thus affect the communities located around the volcanic building, as well as the flight lines of La Aurora International Airport.
INSIVUMEH provides permanent visual and instrumental surveillance, through seismic stations and OVPAC observers.
Source : Insivumeh
Photo : @diegorizzophoto