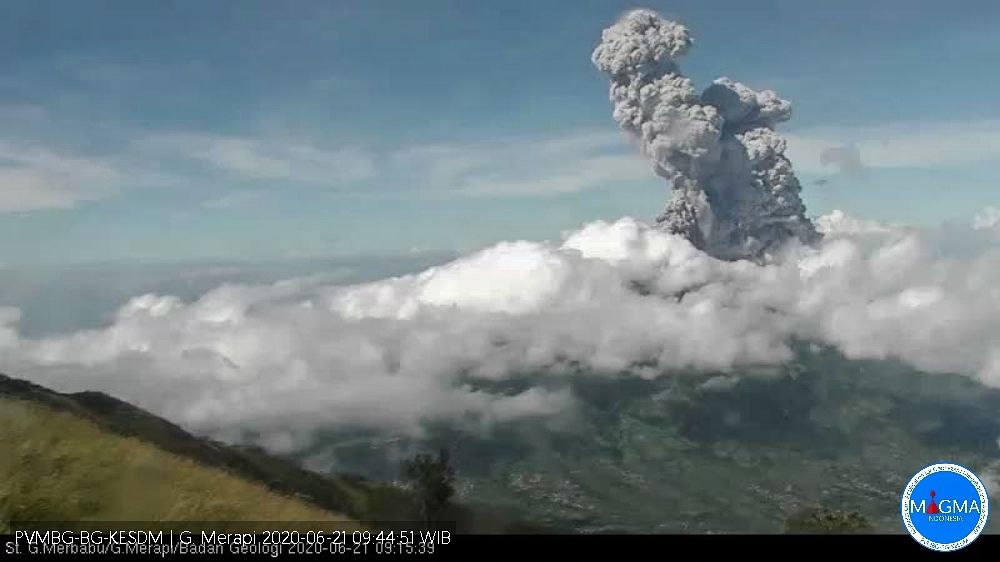 Monday June 22, 2020. EN. Indonesia : Merapi , Alaska : Veniaminof , Russia / Kuril Islands : Ebeko , La Reunion : Piton de la Fournaise , Philippines : Kanlaon , New Zealand : White Island .
Monday June 22, 2020.
Indonesia , Merapi :
Press release on the chronology of the Merapi volcano eruption of June 21, 2020.
An eruption took place in the form of an explosive eruption on June 21, 2020 at 09:13 hours Western Indonesia time and 09:27 hours Western Indonesia time. The two eruptions were recorded on a seismogram with an amplitude of 75 mm and a duration of 328 seconds and 100 seconds. From CCTV Sta. Merbabu, it was observed that the height of the eruption column reached ± 6000 meters above the summit. The direction of the wind during the eruption, oriented to the West caused ash rains in the districts of Magelang and Kulonprogo. The lightest ash rain was reported in the Girimulyo district area, Kulon Progo, which is approximately 45 km from the summit of Mount Merapi at 12:00 WIB.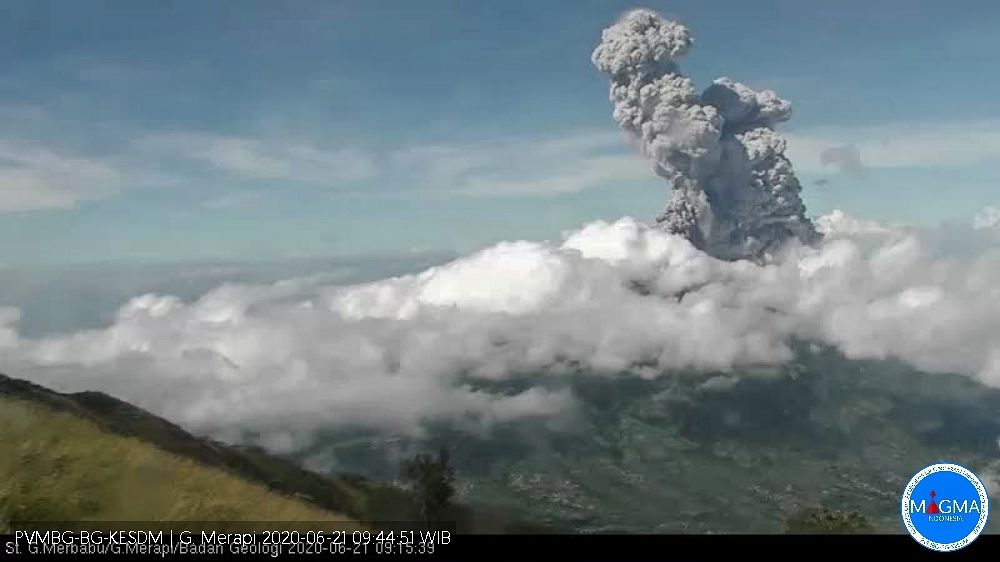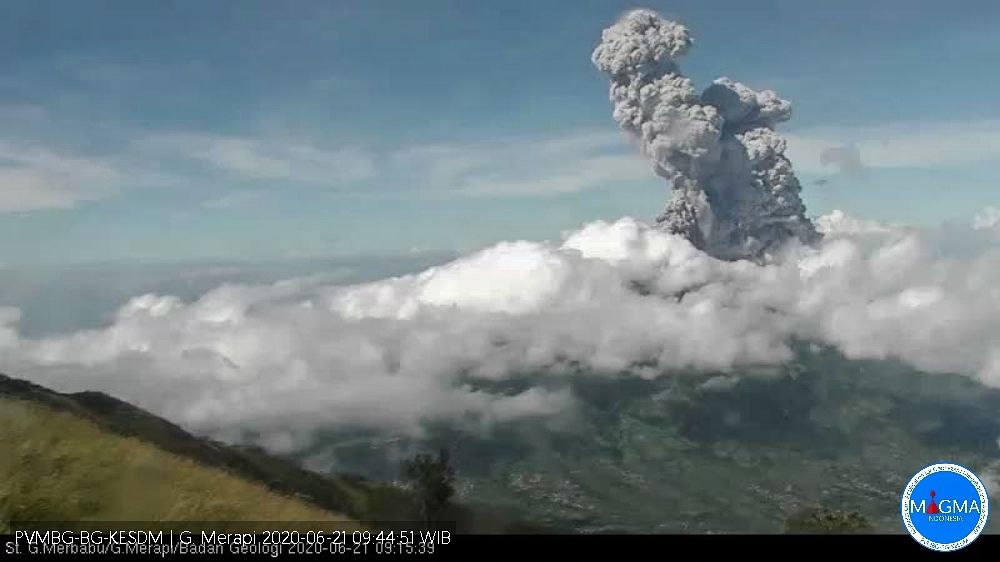 Explosive eruptions have often occurred at Mount Merapi. In 2019, so far, there have been 15 eruptions. Based on records of eruption events to date, it is known that explosive eruptions can occur suddenly or can be preceded by increased volcanic activity. If volcanic activity increases before the eruption, the form is diverse and inconsistent and therefore cannot be used as an indicator of an explosive eruption. However, it is understood that an increase in volcanic activity increases the chances of an explosive eruption. This information is generally sent to stakeholders for vigilance.
Prior to this explosive eruption, there had been an increase in seismicity since June 8, 2020 which was dominated by an increase in the number of deep volcano-tectonic earthquakes (VTA). On June 20, 2020, the number of VTA earthquakes reached the number of 18. During the period from June 8 to 20, 80 VTA-type earthquakes occurred. The previous increase in the number of VTA-type earthquakes occurred in October 2019-January 2020 with greater energy but was not accompanied by an eruption.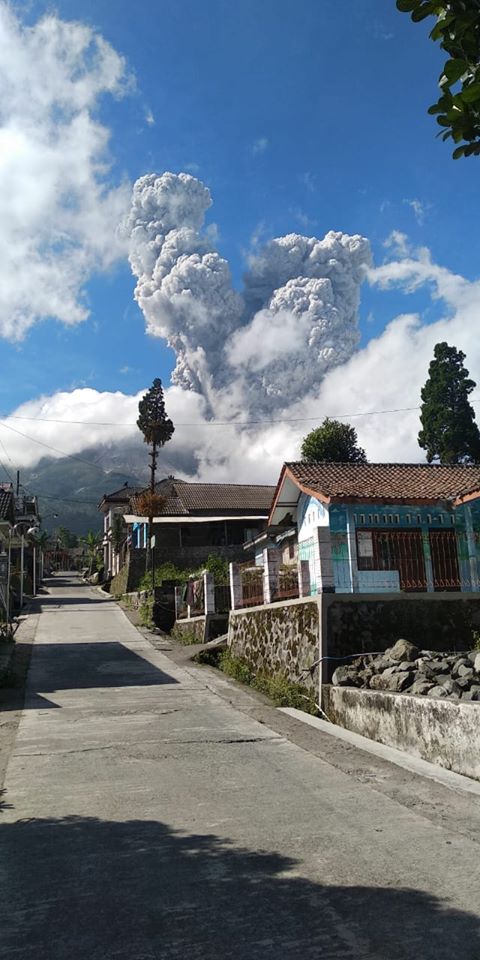 This type of eruption can still occur. With the emergence of VTA earthquakes since October 2019, these explosive eruptions indicate that the supply of magma to the magma chamber is still in progress. The threat of danger to this day is still the same in the form of hot clouds and projections of volcanic materials with a range <3 km based on a dome volume of 200,000 m3 based on the drone data of June 13, 2020 .
The communities must remain calm and do their activities as usual outside the 3 km radius around the summit of Mount Merapi.
Source : BPPTKG.
Photos : BPPTKG , Andy Volcanist.
Alaska , Veniaminof :
56°11'52 » N 159°23'35 » W,
Summit Elevation 8225 ft (2507 m)
Current Volcano Alert Level: ADVISORY
Current Aviation Color Code: YELLOW
Unrest continues at Veniaminof at a decreased level. No observations of seismic tremor over the past day. Satellite and web camera images were obscured by clouds. There have been no signs of eruptive activity during this current period of unrest.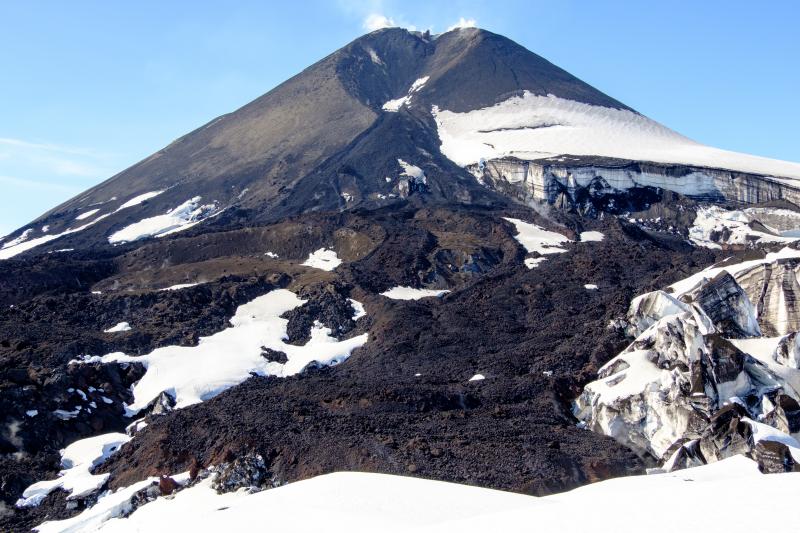 Veniaminof summit cone and 2018 lava flows during summer 2019 field visit.
This seismic activity that was observed earlier in the week typically precedes eruptive activity at Veniaminof but does not mean that an eruption will occur. Eruptive activity usually consists of minor ash emissions, lava fountaining and lava flows from the small cone in the summit caldera. Ash emissions are typically confined to the summit crater, but larger events can result in ash fall in nearby communities and drifting airborne ash.
Veniaminof volcano is monitored with a local real-time seismic network, which will typically allow AVO to detect changes in unrest that may lead to a more significant explosive eruption. AVO combines seismic, infrasound, lightning, and satellite data for rapid detection of such events.
Source : AVO.
Photo : Loewen, Matt.
Russia / Kuril Islands , Ebeko :
VOLCANO OBSERVATORY NOTICE FOR AVIATION (VONA)
Issued: June 22 , 2020 .
Volcano: Ebeko (CAVW #290380)
Current aviation colour code: ORANGE
Previous aviation colour code: orange
Source: KVERT
Notice Number: 2020-123
Volcano Location: N 50 deg 41 min E 156 deg 0 min
Area: Northern Kuriles, Russia
Summit Elevation: 3791.68 ft (1156 m)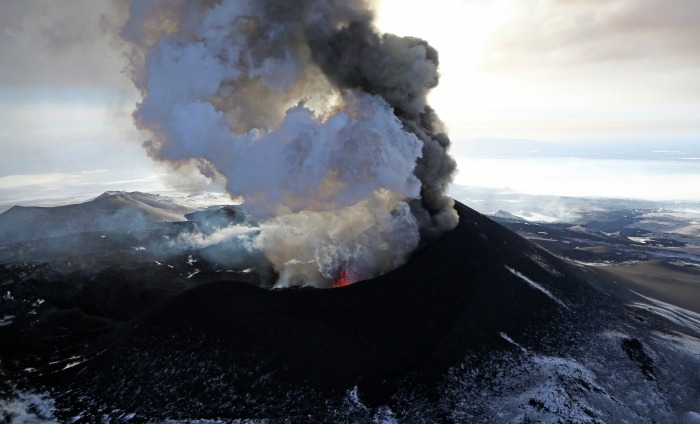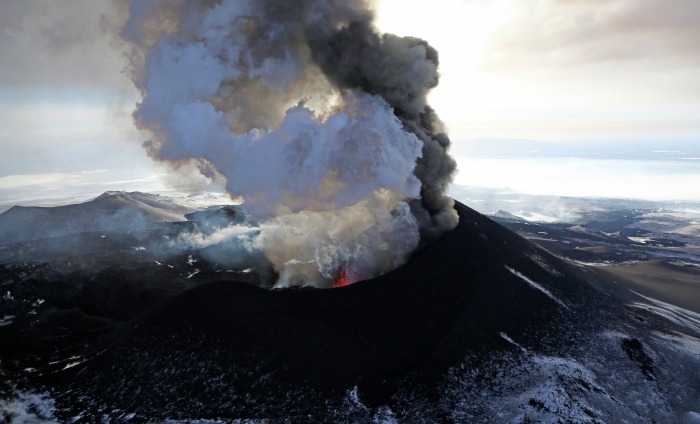 Volcanic Activity Summary:
A moderate eruptive activity of the volcano continues. According to visual data by volcanologists from Severo-Kurilsk, explosion sent ash up to 2.2 km a.s.l., an ash cloud is drifting to the south of the volcano.
A moderate eruptive activity of the volcano continues. Ash explosions up to 19,700 ft (6 km) a.s.l. could occur at any time. Ongoing activity could affect low-flying aircraft and airport of Severo-Kurilsk.
Volcanic cloud height:
6560-7216 ft (2000-2200 m) AMSL Time and method of ash plume/cloud height determination: 20200622/0315Z – Visual data
Other volcanic cloud information:
Distance of ash plume/cloud of the volcano: 3 mi (5 km)
Direction of drift of ash plume/cloud of the volcano: S
Time and method of ash plume/cloud determination: 20200622/0315Z – Visual data
Source : Kvert .
Photo : Yuri Demyanchuk .
La Réunion , Piton de la Fournaise :
Activity bulletin of June 22, 2020 at 8:50 am (local time)
Alert level: Vigilance
Since June 16, a resumption of seismicity has been observed under the Piton de la Fournaise. Thus 18 superficial volcano-tectonic earthquakes (<2 km below the summit) were recorded under the summit zone between June 16 and 22 (Figure 1).


Figure 1: Histogram representing the number of surface volcano-tectonic earthquakes recorded between June 1 and June 21, 2020 (© OVPF-IPGP).
This seismicity is accompanied by a resumption of inflation (swelling) at the base and at the top of the Piton de la Fournaise building (Figures 2 and 3). This building inflation is synonymous with pressurization of the surface magmatic reservoir located around 1.5-2.5 km below the summit.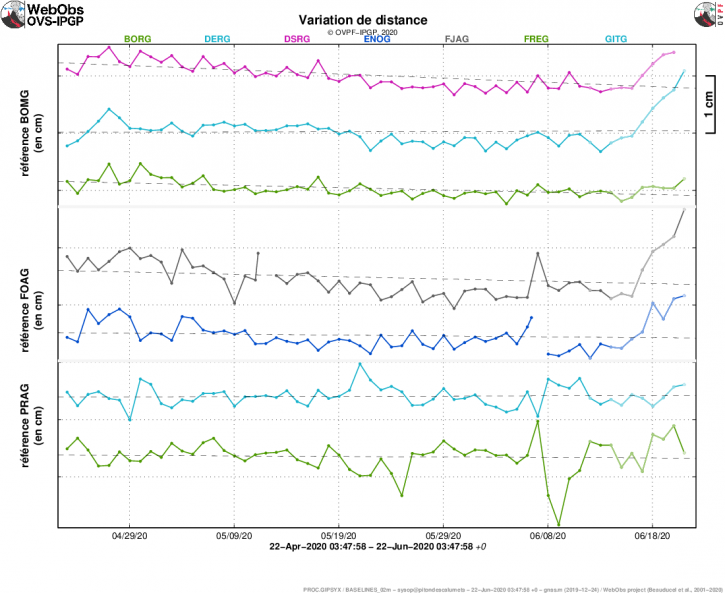 Figure 2: Illustration of the deformation over the past two months. Here are shown baselines (variation in distance between two GPS receivers) crossing the Piton de la Fournaise building, at the top (top), at the base of the terminal cone (in the middle) and in the far field (bottom ). An increase is synonymous with elongation and therefore swelling of the volcano; conversely, a decrease is synonymous with contraction and therefore deflation of the volcano. (© OVPF-IPGP).

Figure 3: Map of soil movements (represented by speed) recorded over the last 15 days at Piton de la Fournaise (© OVPF-IPGP).
In parallel, the CO2 fluxes in the far field soil (Plaine des Cafres and Plaine des Palmistes sectors) which had reached maximum values at the end of the eruption of 2-6 April 2020, continue to decrease, in agreement with deep ascent of magma to more superficial areas of the feeding system. Even if the trend is downward, the absolute values of the CO2 flux through the soil remain very high.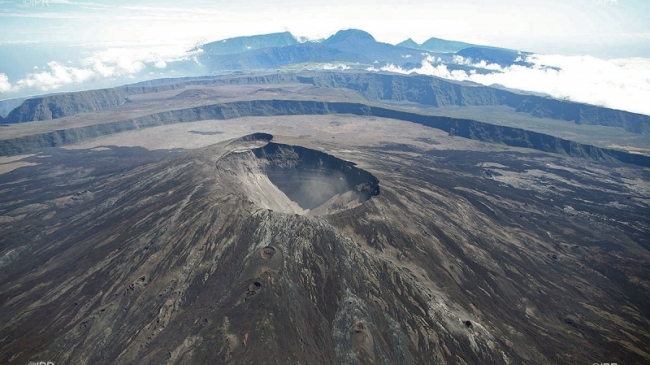 Note that this process of recharging the surface reservoir can take several days to several weeks before the reservoir roof becomes brittle and breaks, thus giving rise to an injection of magma towards the surface and a rash, but can also stop without giving rise to an eruption in the short term.
Source : OVPF.
Read the article : http://www.ipgp.fr/fr/ovpf/bulletin-dactivite-22-juin-2020-a-8h50-heure-locale
Photo : IPR.
Philippines , Kanlaon :
KANLAON VOLCANO BULLETIN 22 June 2020 08:00 A.M.
Kanlaon Volcano's seismic monitoring network recorded one hundred thirty-six (136) volcano-tectonic earthquakes on the western flanks during the 24-hour observation period. Four (4) of these earthquakes at 1:01 AM, 1:04 AM, 1:34 AM, and 2:06 AM were recorded at M3.2-4.7 by the Philippine Seismic Network and were felt at Intensities II to V in La Carlota and Bago City, Negros Occidental and Canlaon City, Negros Oriental. Activity at the vent consisted of moderate emission of white steam-laden plumes that rose 200 meters before drifting southwest. Sulfur dioxide (SO2) emission was measured at an average of 438 tonnes/day on 13 June 2020. Ground deformation data from continuous GPS measurements indicate a slight deflation of the lower and mid slopes since January 2020. Short-term electronic tilt monitoring on the southeastern flanks recorded continuing deflation on the lower slopes but inflation on the mid slopes since April 2020. These parameters indicate that hydrothermal or magmatic activity is occurring beneath the edifice.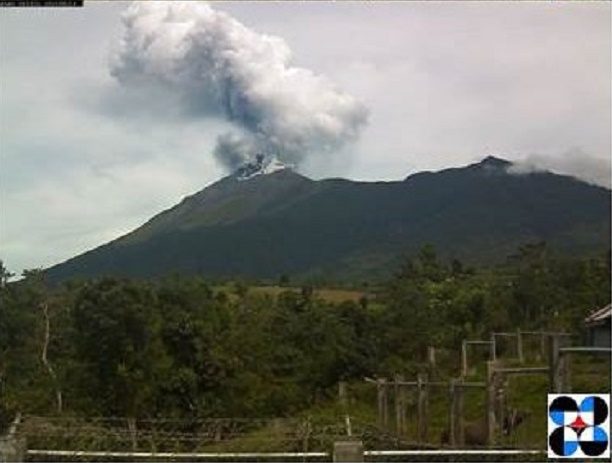 DOST-PHIVOLCS would like to remind the public that Kanlaon Volcano is at Alert Level 1 which means that it is at an abnormal condition and has entered a period of unrest. The local government units and the public are strongly reminded that entry into the 4-kilometer radius Permanent Danger Zone (PDZ) must be strictly prohibited due to the further possibilities of sudden and hazardous steam-driven or phreatic eruptions. Civil aviation authorities must also advise pilots to avoid flying close to the volcano's summit as ejecta from any sudden phreatic eruption can be hazardous to aircraft. DOST-PHIVOLCS is closely monitoring Kanlaon Volcano's activity and any new development will be relayed to all concerned.
Source et photo : Phivolcs.
New Zealand , White Island :
Whakaari/White Island: Minor volcanic unrest continues. Aviation Colour code changed to Green, Volcanic Alert Level remains Level 1.
Published: Mon Jun 22 2020 2:25 PM
Based on the continuously decreasing level of volcanic activity and following the drop in Volcanic Alert Level to 1 a week ago on Tuesday 16 June 2020, the Aviation Colour Code is now changed to Green. The Volcanic Alert Level for Whakaari/White Island remains at Level 1.
Unlike the Volcanic Alert Level system that describes the level of activity of New Zealand's active volcanoes and potential hazards on the ground in their vicinity, the Aviation Colour Code is only used by the aviation industry. Observations and monitoring data over the last few months indicate that Whakaari/White Island continues to progress on a gradual trend back to lower levels of volcanic unrest. Based on the interpretation of all the monitoring data and of their trends over the past few months the Aviation Colour Code is now changed to Green.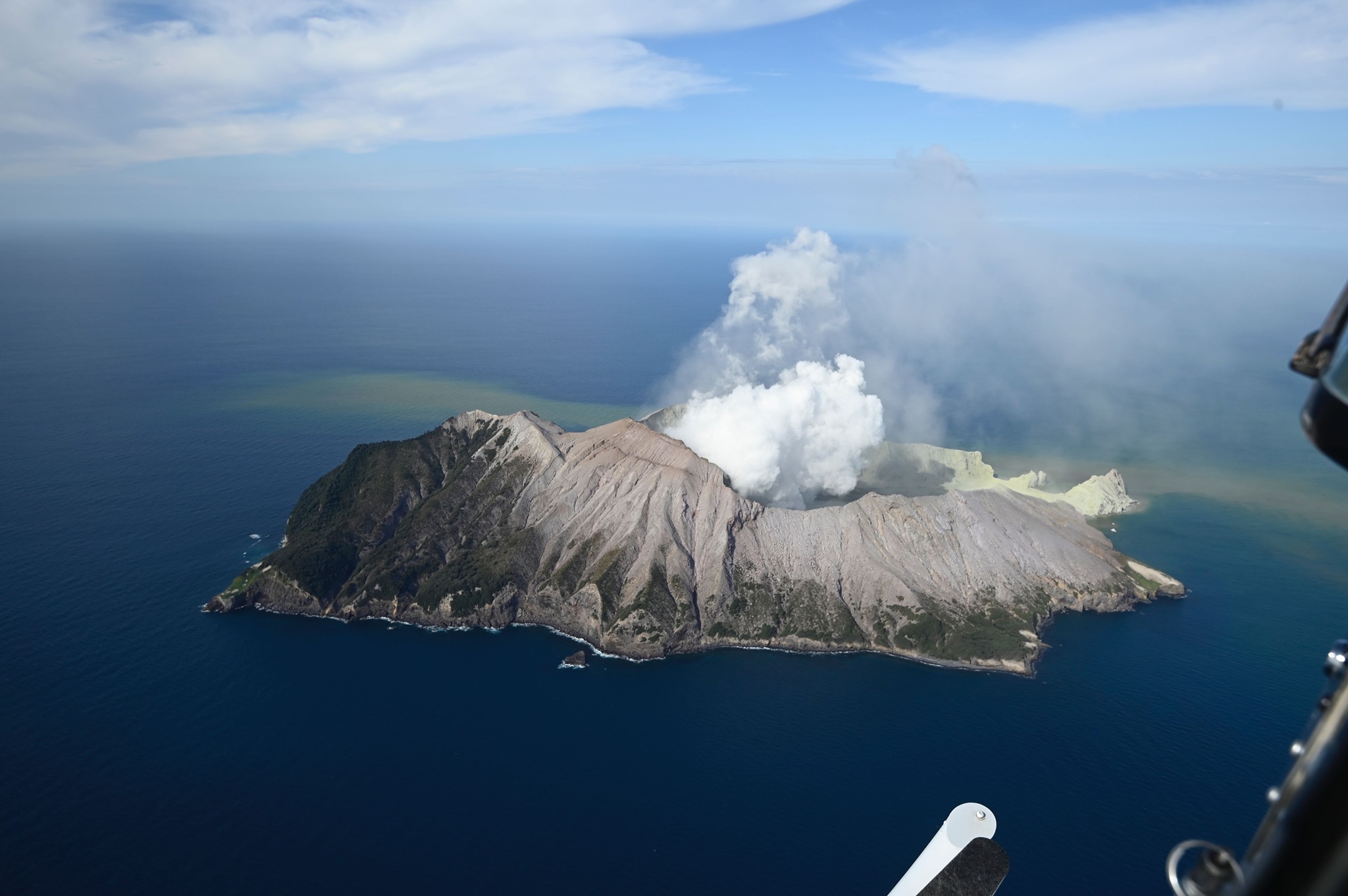 The decision to lower the Aviation Colour Code to Green is not as a result of recent changes in a single data set. Instead, it is based on the GNS Science volcano monitoring team's collective interpretation of all the monitoring data.
The Volcanic Alert Level remains at Level 1. This indicates the most likely hazards are those expected during lower levels of volcanic unrest; steam discharge, volcanic gases, earthquakes, landslides and hydrothermal activity. While Volcano Alert Level 1 is associated with these environmental hazards, it doesn't rule out the possibility of eruptions occurring with little or no warning.
The Volcanic Alert Level reflects the current level of volcanic unrest or activity and is not a forecast of future activity. Also, the Volcanic Alert Level does not indicate the level of risk, it communicates that the volcano is no longer exhibiting moderate-heightened signs of unrest.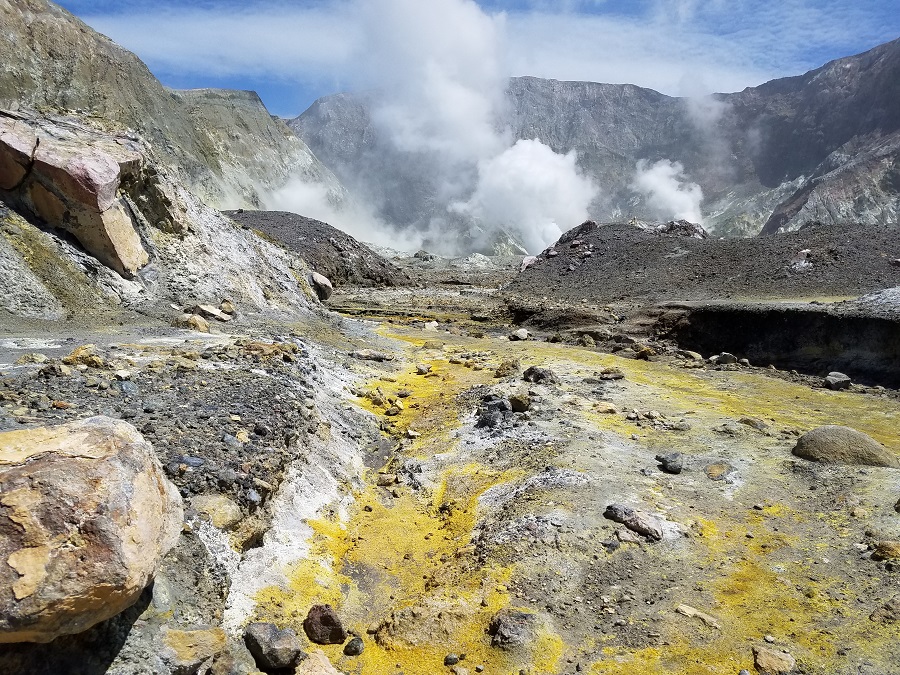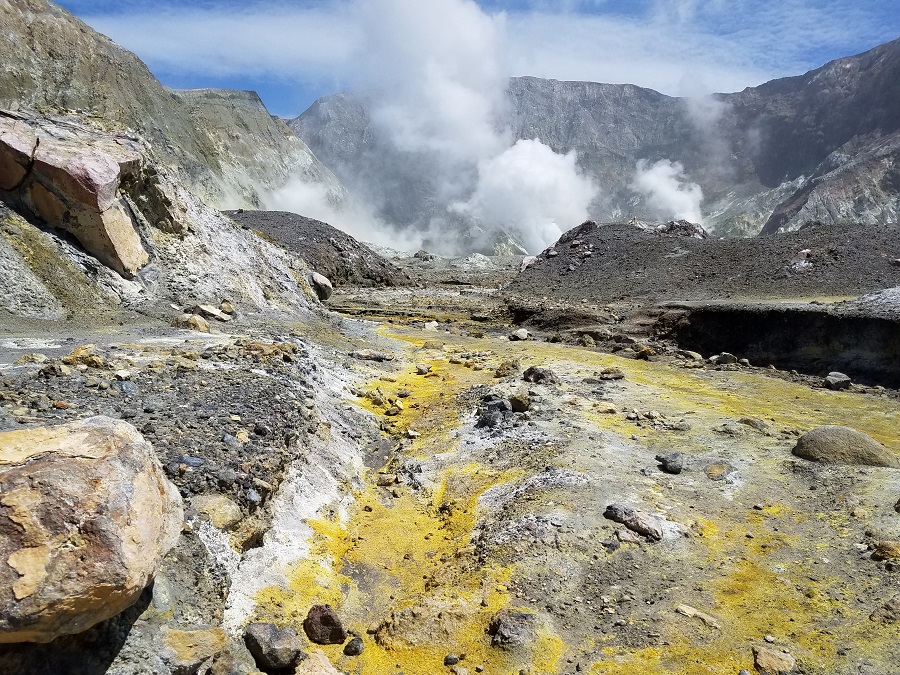 Despite GNS Science's volcanology monitoring team's decision to lower the Aviation Colour Code, based on careful consideration of recent observations, an eruption could still occur with little or no advanced warning. Plausible triggers for an eruption remain the collapse of unstable material from the crater walls onto the vents, increased release of gas from the shallow magma, and the ingress of water onto the shallow magma body.
Should any explosive activity produce an ash cloud, the likelihood of ash affecting the mainland remains very low. Under suitable weather conditions, the gas and steam plume may be noticed on the mainland as weak acid rain.
GNS Science and our National Geohazards Monitoring Centre continue to closely monitor Whakaari/White Island for further signs of activity. Further updates will be provided as needed.
Source : Geonet / Brad Scott / Duty Volcanologist .
Photos : The Next California Earthquake , Weatherboy .