June 14 , 2020.
Alaska , Semisopochnoi :
51°55'44 » N 179°35'52 » E,
Summit Elevation 2625 ft (800 m)
Current Volcano Alert Level: ADVISORY
Current Aviation Color Code: YELLOW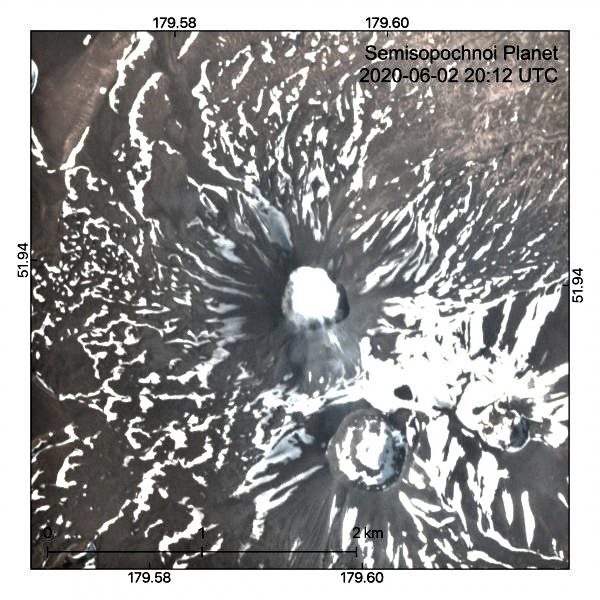 A small steam plume is visible within from the North Crater of Cerberus at Semisopochnoi Volcano in this Planet image, June 2, 2020. No tephra deposits are visible.
Unrest continues at Semisopochnoi. Seismic tremor increased in the past day, with activity over the last 12 hours intermittently reaching levels that have in the recent past been associated with low-level emissions. However, no explosive activity was detected by regional infrasound sensors and no activity was observed in satellite views. At the time of the strongest tremor, clouds covered the island to around 10,000′ asl.
Semisopochnoi is monitored by local seismic sensors, satellite data, and lightning detection networks. An infrasound array on Adak Island may detect explosive emissions from Semisopochnoi with a slight delay (approximately 13 minutes) if atmospheric conditions permit.
Source : AVO .
Photo : Dietterich, Hannah.
Kamchatka , Sheveluch :
VOLCANO OBSERVATORY NOTICE FOR AVIATION (VONA).
Issued: June 13 , 2020
Volcano: Sheveluch (CAVW #300270)
Current aviation colour code: ORANGE
Previous aviation colour code: orange
Source: KVERT
Notice Number: 2020-118
Volcano Location: N 56 deg 38 min E 161 deg 18 min
Area: Kamchatka, Russia
Summit Elevation: 10768.24 ft (3283 m), the dome elevation ~8200 ft (2500 m)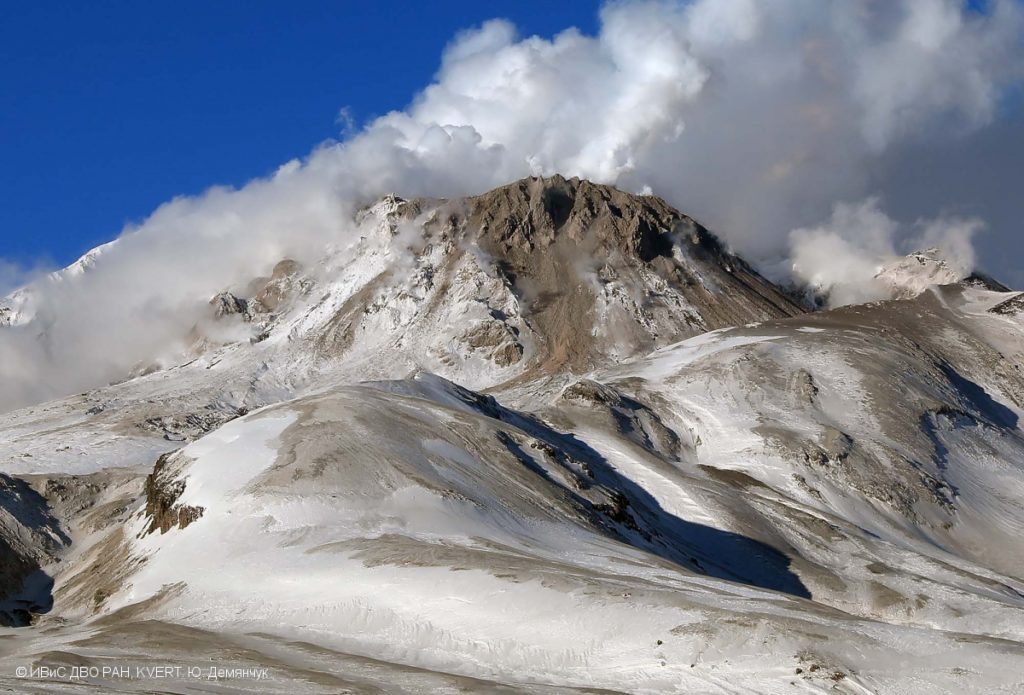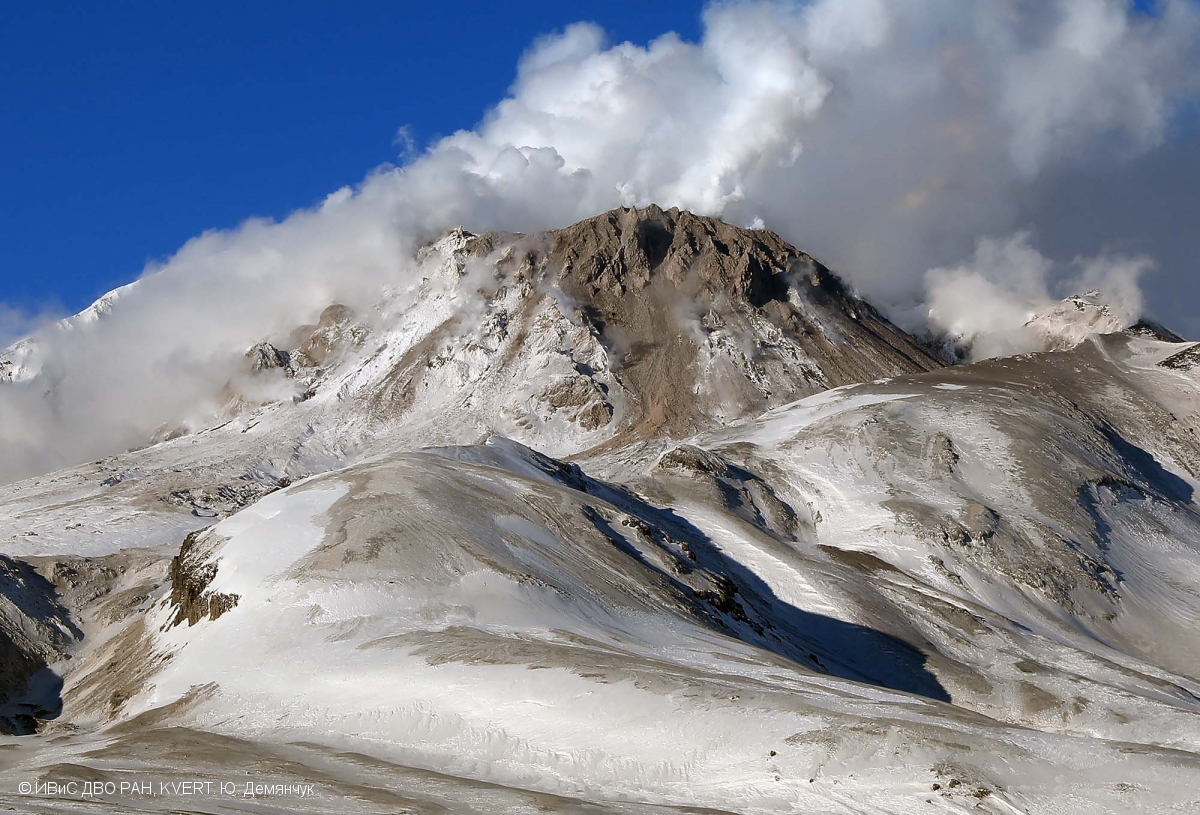 The fumarole activity of the lava dome of Molodoy Sheveluch volcano on 24 January, 2020.
Volcanic Activity Summary:
A growth of the lava dome continues, a strong fumarolic activity sometimes with some amount of ash, and an incandescence of the dome blocks and hot avalanches accompanie this process. Explosions sent ash up to 5 km a.s.l., and ash plume continues to move to the northeast of the volcano.
This eruption of the volcano continues. Ash explosions up to 32,800-49,200 ft (10-15 km) a.s.l. could occur at any time. Ongoing activity could affect international and low-flying aircraft.
Volcanic cloud height:
16400 ft (5000 m) AMSL Time and method of ash plume/cloud height determination: 20200613/1622Z – Video data
Other volcanic cloud information:
Distance of ash plume/cloud of the volcano: 46 mi (74 km)
Direction of drift of ash plume/cloud of the volcano: NE / azimuth 56 deg
Time and method of ash plume/cloud determination: 20200613/2050Z – Himawari-8
Source : Kvert .
Photo : Yu. Demyanchuk, IVS FEB RAS, KVERT.
Ecuador , Sangay :
DAILY REPORT OF THE STATE OF SANGAY VOLCANO, Saturday June 13, 2020.
Surface activity level: High, Surface trend: No change.
Internal activity level: High, Internal trend: No change.
Seismicity: From June 12, 2020, 11:00 a.m. to June 13, 2020, 11:00 a.m .:
No seismic data.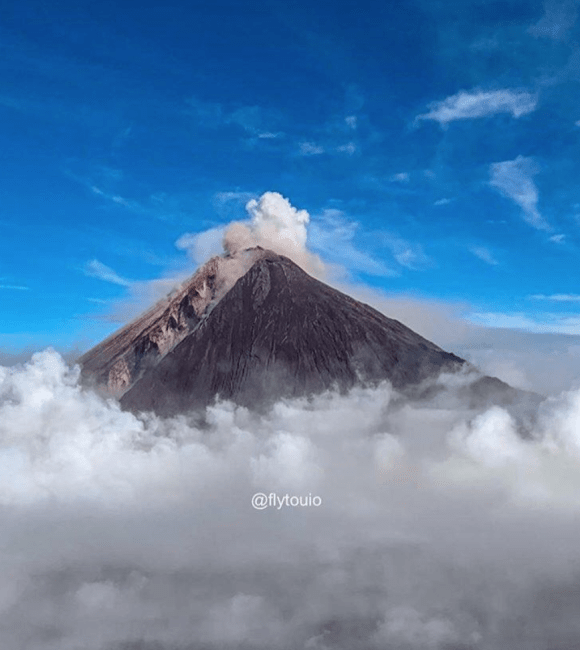 Rains / lahars: No rain was reported. The eruptive activity accumulates significant quantities of pyroclastic materials on the flanks of the Sangay volcano, which can trigger the descent of mudslides and debris (lahars). It is recommended not to approach rivers in the area.
Emission / ash column: Thanks to the ECU911 cameras, gas and ash emissions were observed in a south-west direction. Washington VAAC reported that these emissions have reached a maximum height of 1,770 meters above the summit. SNGRE reported falling ash in the provinces of Chimborazo, Cotopaxi, Tungurahua and Bolívar.
Other monitoring parameters: No changes.
Observations: The sector of the volcano remained clear from dawn until the early hours of today, the rest of the weather was cloudy. At dawn, the descent of incandescent materials was observed on the southeast flank. Due to technical problems at the reference station, there is no data for recording seismic events. For the moment, the volcano is still cloudy.
Alert level: yellow.
Source : IGEPN.
Photo : Flytouio.
Costa Rica , Turrialba / Poas / Rincon de la Vieja :
Turrialba volcano:
No eruption is reported.
Seismic activity is lower compared to yesterday.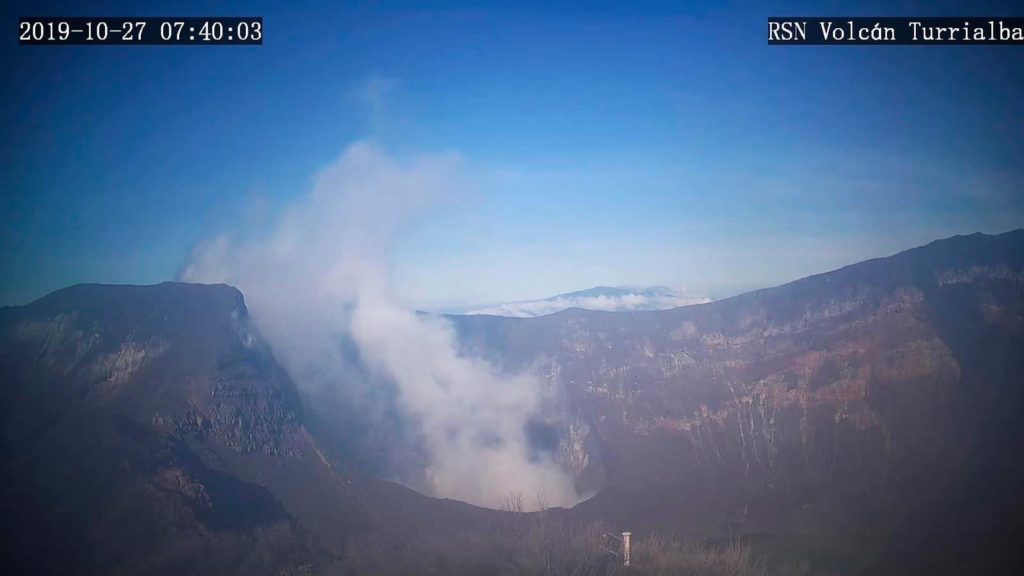 At the time of this report, the winds were blowing southwest.
There are no volcanic eruptions or tremors. Seismic activity is maintained dominated by frequent volcanic earthquakes of low frequency and moderate amplitude. The concentrations of magmatic gases measured are kept low with large fluctuations.
Poas Volcano:
No eruption is reported.
Seismic activity is lower compared to yesterday.
At the time of this report, the winds were blowing southwest.
Activity remains weak. Seismicity shows prolonged tremors in very low amplitude and high frequency bands, in addition to frequent low frequency volcanic earthquakes of very low amplitude. The measured magmatic gas concentrations are kept at low levels. The concentration of gas at the park point of view reached values close to 5 parts per million for a few minutes around 10 am this morning. The volcanic building has shown slight deflation since mid-May.
Rincon de la Vieja volcano:
Sporadically, small exhalations of gas and water vapor are recorded with columns that do not exceed 1000 meters above the level of the crater. Seismicity continues to show tremors in bands of moderate amplitude and low frequency.
At 04:45:00 local time on June 11, 2020, an eruption was recorded on the Rincon de la Vieja volcano, with a column that rose 100 meters above the crater height and 2016 meters to the – above sea level. (6612.48 ft).
Duration of activity: 1 minute.
Seismic activity is similar to that of yesterday.
At the time of this report, the winds were blowing southwest.
Several eruptions or exhalations were recorded, the most important today at 4:45 am whose plume rose 1000 m. The SO2 flow could be measured yesterday, the values of which are stable between 150 t / d during a normal degassing period and 400 t / d during a gas pulse.
Source : Ovsicori .
Photos : RSN , Ovsicori.