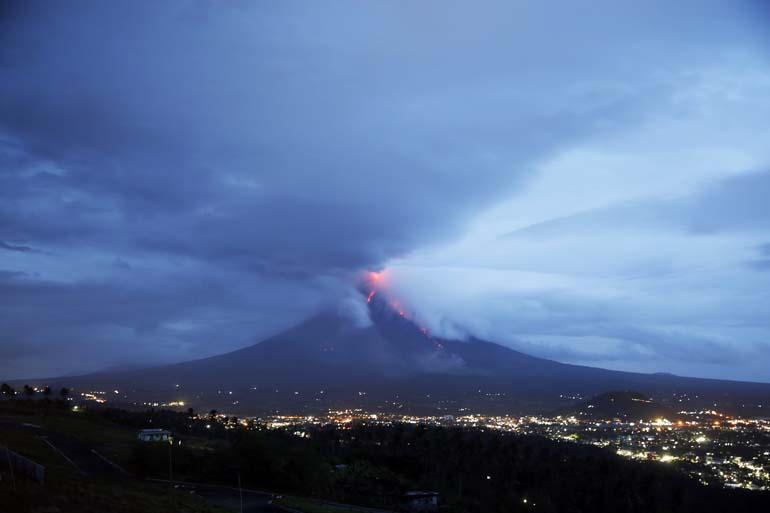 February 06 , 2018. EN. Mayon , Kadovar , Sabancaya , Dukono .
February 06 , 2018.
Mayon , Philippines :
MAYON VOLCANO BULLETIN 06 February 2018 08:00 A.M.
Mayon's activity in the past 24 hours was characterized by sporadic to near continuous lava fountaining, lava flow and degassing from the summit crater. Repeated lava fountaining from 5:57 AM to 1:46 PM and near continuous lava fountaining from 3:59 PM to present were recorded by the volcano seismic network. These were associated with generation of steam-laden ash plumes up to four hundred (400) meters high. The lava fountaining episodes were accompanied by rumbling sounds audible within 10 kilometers of the summit crater. Throughout the night, lava flows and consequent incandescent rockfalls were observed in the Miisi and Bonga-Buyuan channels. Effused high volumes of incandescent lava flows have advanced to 3.2, 4.5 and approximately 3.0 kilometers down the Miisi, Bonga-Buyuan and Basud channels, respectively, from the summit crater.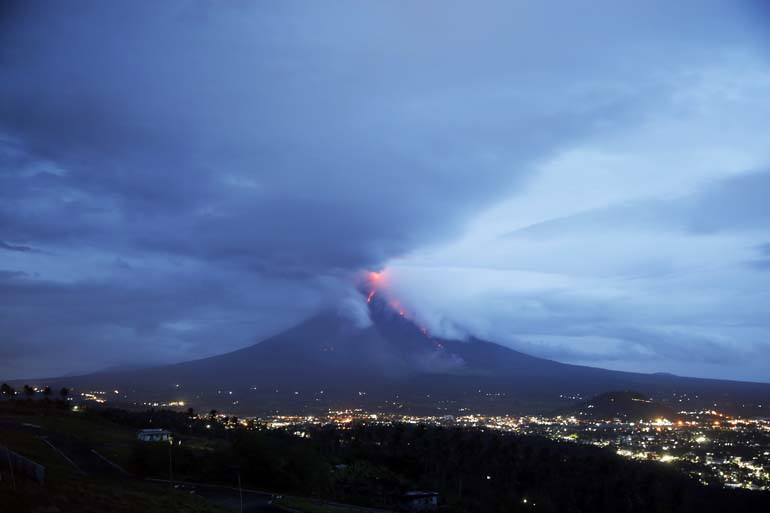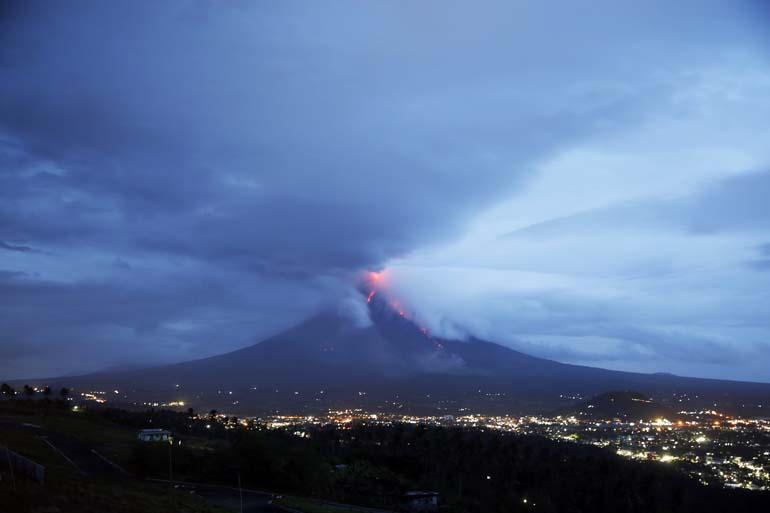 A total of one hundred sixteen (116) volcanic earthquakes, most of which corresponded to lava fountaining events were recorded by Mayon's seismic monitoring network. Sulfur dioxide gas emission was measured at an average of 1,583 tonnes/day on 02 February 2018. Electronic tilt and continuous GPS measurements indicate a sustained swelling or inflation of the edifice since November and October 2017, consistent with pressurization by magmatic intrusion.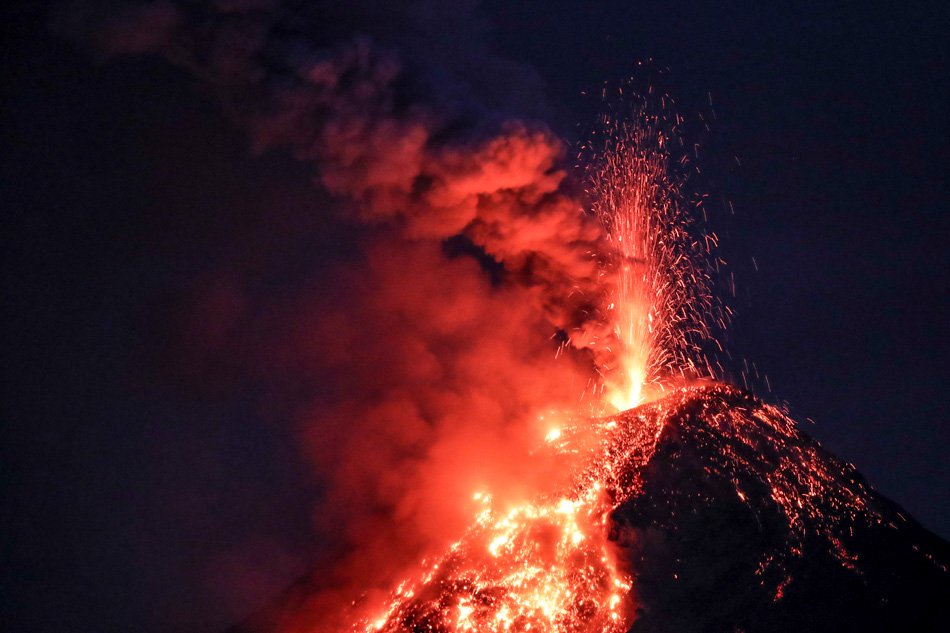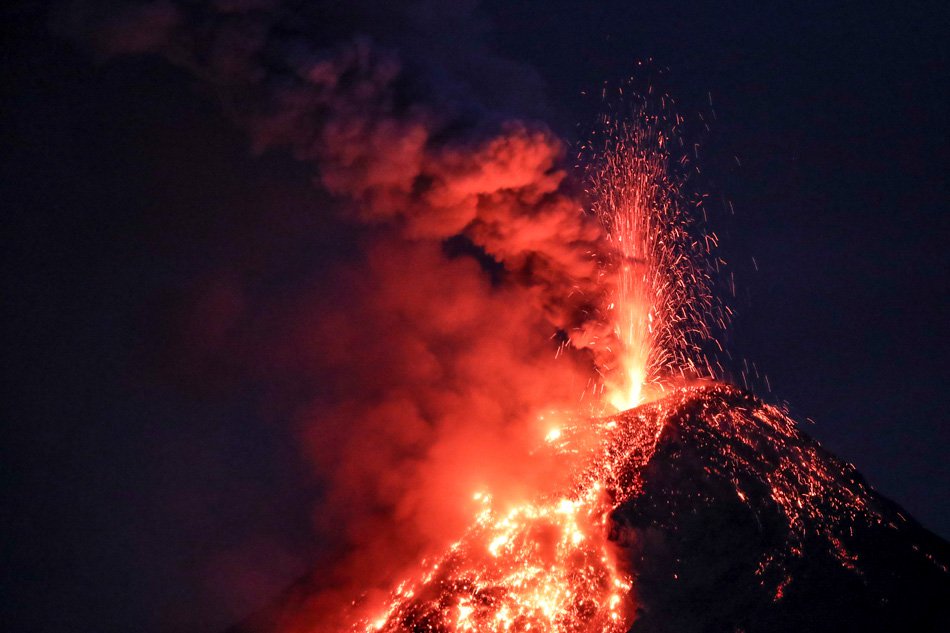 Alert Level 4 remains in effect over Mayon Volcano. The public is strongly advised to be vigilant and desist from entering the eight (8) kilometer-radius danger zone, and to be additionally vigilant against pyroclastic density currents, lahars and sediment-laden stream flows along channels draining the edifice. Civil aviation authorities must also advise pilots to avoid flying close to the volcano's summit as ash from any sudden eruption can be hazardous to aircraft.
DOST-PHIVOLCS maintains close monitoring of Mayon Volcano and any new development will be communicated to all concerned stakeholders.
Source : Phivolcs .
Photo : Czar Dancel/Manila Bulletin , Jonathan Cellona, ABS-CBN News
Kadovar , Papua New Guinea :
Volcanic Activities on Kadovar Island Subsiding , 04/02/2018
Reports from the Rabaul Volcano Observatory indicate that volcanic activity on Kadovar Island is slowing down despite continuous eruptions.
In a 24-hour report released on Friday, the RVO explained there is now a significant drop in Sulphur Dioxide emissions, which indicates no new lava displacement.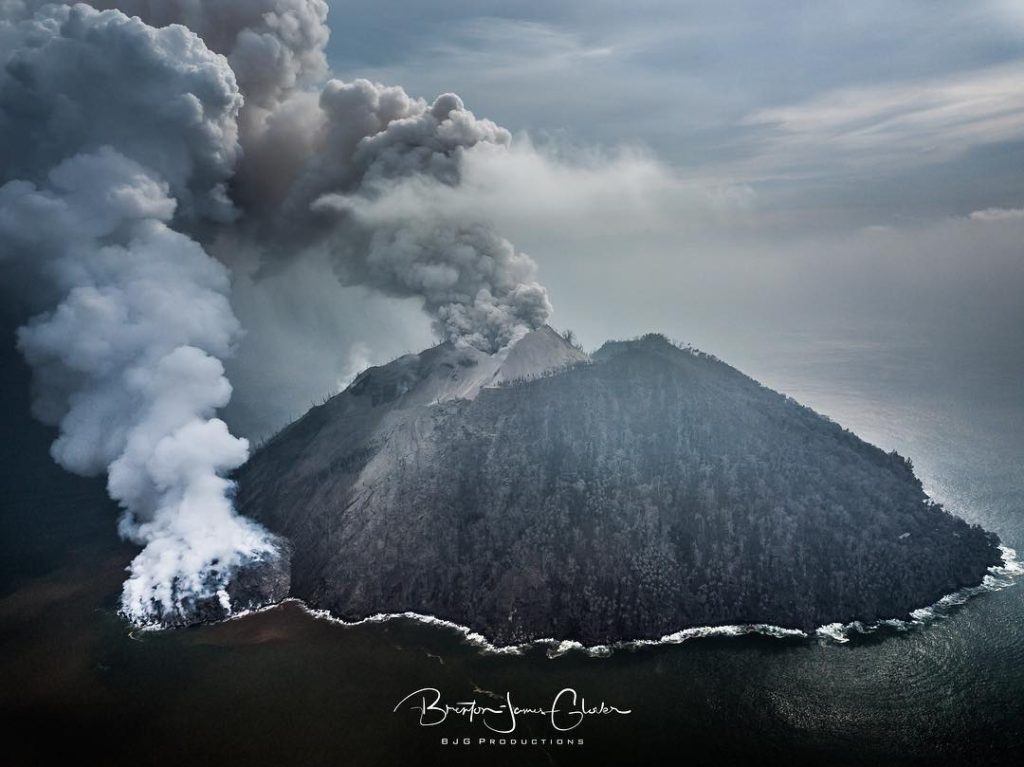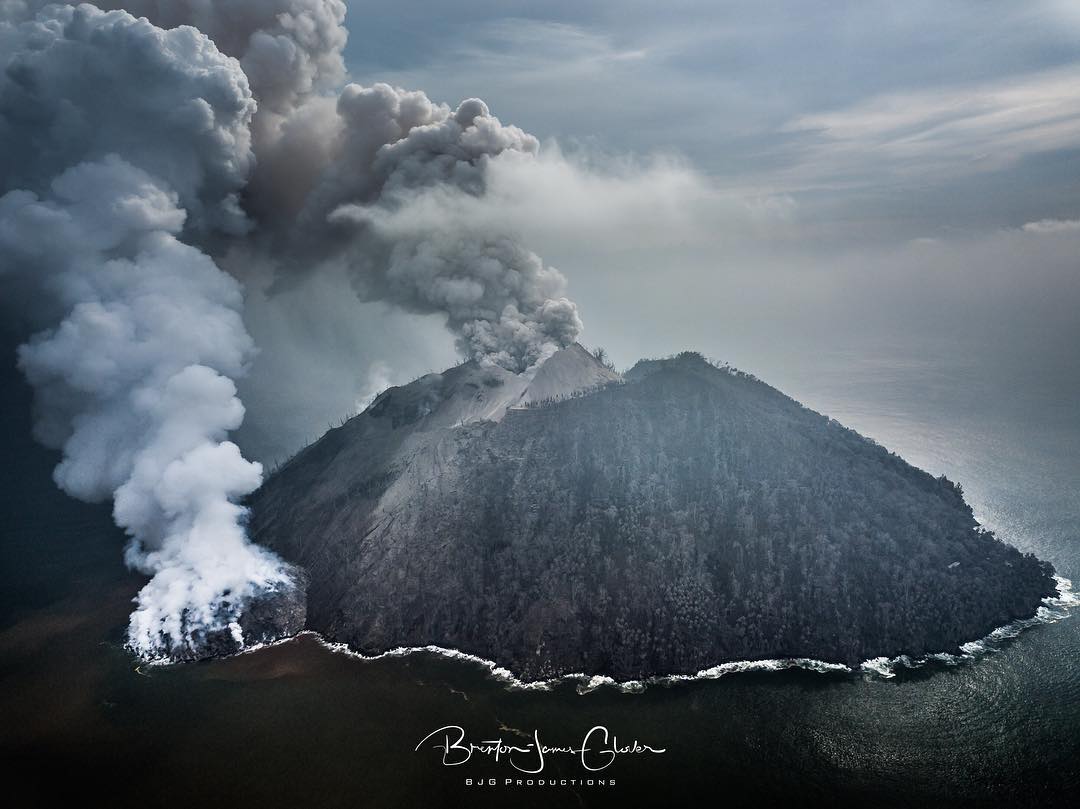 The report also revealed the volcano vents are emitting weak to moderate steam to over 100 meters above the island.
Meanwhile, the RVO has also confirmed the Karkar Island in Madang has emitted steam from its southern crater with no eruptions.
Experts from the RVO say Karkar is an active volcano, which is currently dormant and vigilance should be maintained at all times.
They have also called on authorities in Madang to review their disaster management contingencies if a disaster strikes.
Source : EMTV.com
Photo : BJG Productions
Sabancaya , Peru :
Second consecutive week, averaging 22 explosions per day. Events associated with fluid movements (Long Period type) and ash emissions (Type tremor) continue to predominate. The earthquakes associated with the rise of the magma (type Hybrids) remained low in number and energy. 
The eruptive columns of gas and ash remained similar to the previous week, reaching a maximum height of 3500 m above the crater. The dispersion of these materials occurred within a radius of about 50 km, mainly to the south, southwest and northwest.

Deformation monitoring at the GNSS station indicates that the deformation curves continue to show a deflationary process, probably associated with the emission of gases and ash. 
The volcanic gas flow (SO2) recorded on 31 January a maximum value of 3388 tons / day, a value considered large. 
Two thermal anomalies were recorded according to the MIROVA system, with values between 1 MW and 2 MW VRP (Irradiated Volcano Power).
In general, eruptive activity maintains moderate levels. No major changes are expected in the following days.
Source : IGP
Dukono , Indonesia :
Activity Level of Level II (WASPADA). The Dukono (1229 m above sea level) has a continuous eruption.
Since yesterday until this morning visually the summit of the volcano could be observed covered with fog. Smoke emissions in the main crater have not been observed. The wind is oriented towards the East.
According to the seismographs, dated February 05, 2018, it was recorded:
Ash emissions associated with continuous tremors with an amplitude of 0.5 to 22 mm (with a dominant value of 2 mm).
5 Eruption earthquakes.
There was no rumbling heard from the Dukono Post, 10 km north of the summit.
Recommendations: The communities around G. Dukono and visitors / tourists should not move, climb or approach the Malupang Warirang crater within 2 km.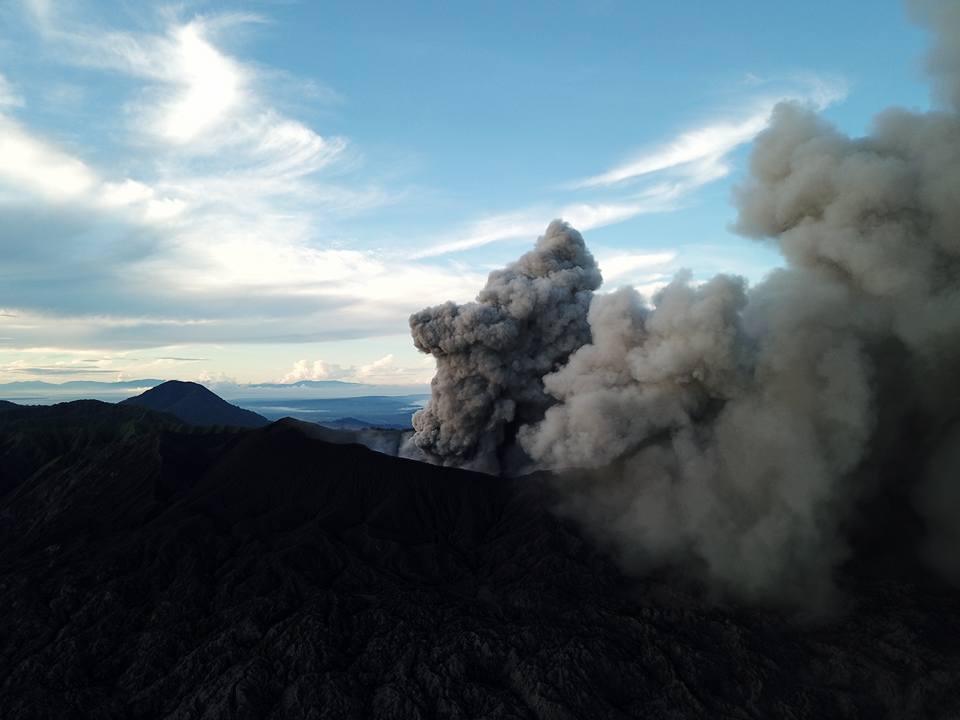 VOLCANO OBSERVATORY NOTICE FOR AVIATION – VONA.
Issued: February 02 , 2018.
Volcano: Dukono (268010)
Current Aviation Colour Code: ORANGE
Previous Aviation Colour Code: orange
Source: Dukono Volcano Observatory
Notice Number: 2018DUK18
Volcano Location: N 01 deg 41 min 35 sec E 127 deg 53 min 38 sec
Area: North Maluku, Indonesia
Summit Elevation: 3933 FT (1229 M)
Volcanic Activity Summary:
Eruption with volcanic ash cloud at 23h07 UTC (08h07 local) , February 02 , 2018.
Volcanic Cloud Height:
Best estimate of ash-cloud top is around 5213 FT (1629 M) above sea level, may be higher than what can be observed clearly. Source of height data: ground observer.
Other Volcanic Cloud Information:
Ash cloud moving to East.
Remarks:
Eruption and ash emission is continuing.
Source : VSI , Magma .