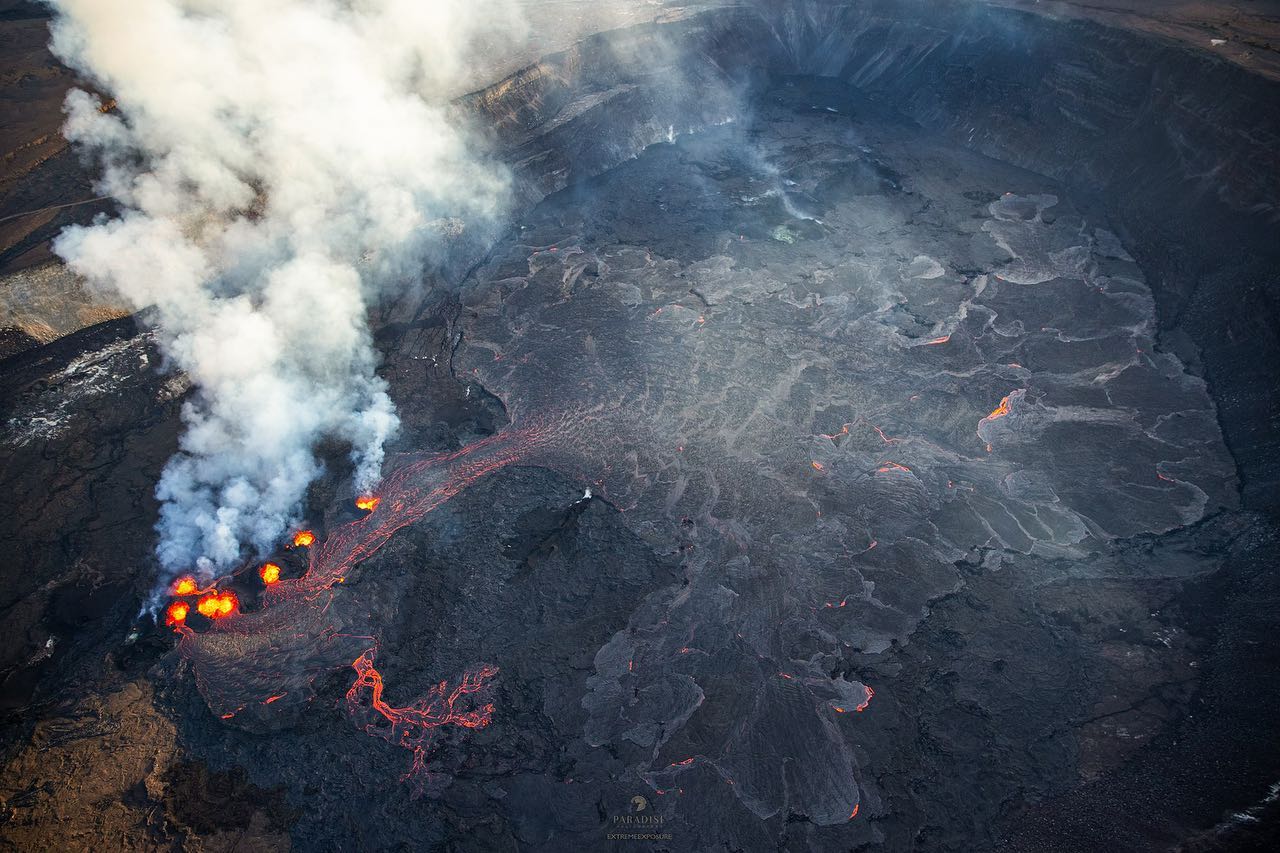 September 15 , 2023
Alaska , Shishaldin :
AVO/USGS Volcanic Activity Notice
Current Volcano Alert Level: WATCH
Current Aviation Color Code: ORANGE
Issued: Thursday, September 14, 2023, 1:58 AM AKDT
Source: Alaska Volcano Observatory
Notice Number: 2023/A1382
Location: N 54 deg 45 min W 163 deg 58 min
Elevation: 9373 ft (2857 m)
Area: Aleutians
Volcanic Activity Summary:
The level of unrest has slowly increased at Shishaldin Volcano. A steady increase in seismic tremor over the past 7 hours suggests that explosive activity is likely. Cloud cover is currently obscuring satellite views of the volcano. Web camera views show incandescent lava at the summit. Based on previous eruption cycles, ash emissions are likely to occur over the next several hours.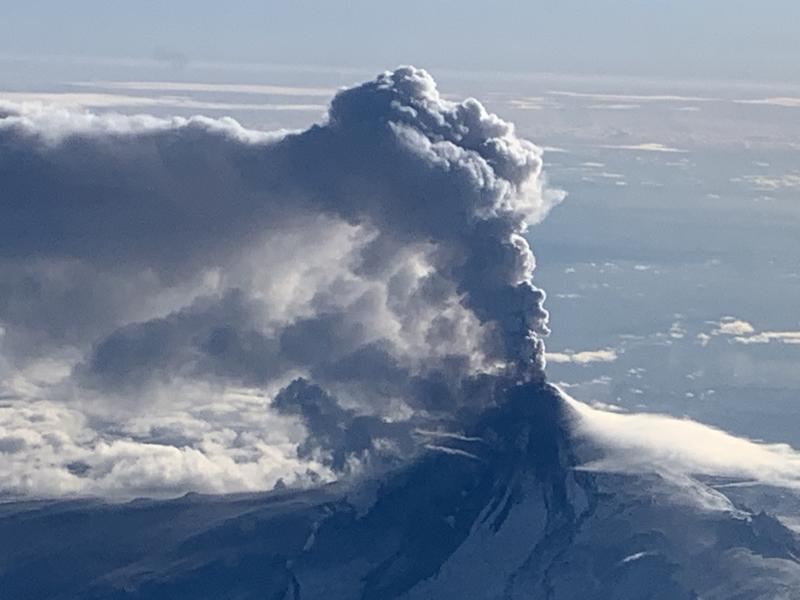 Recent significant ash events during the current eruption resulted in ash clouds with heights up to 40,000 ft (12 km) above sea level. These events can occur with little warning. It is also possible that ash emissions may occur at a lower-level, steady state and be sustained for many hours. AVO is monitoring the volcano closely and will issue additional Volcanic Activity Notice's to provide notice of significant changes in activity as they occur.
Shishaldin Volcano is monitored by local seismic and infrasound sensors, web cameras, and a telemetered geodetic network. In addition to the local monitoring network, AVO uses nearby geophysical networks, regional infrasound and lighting data, and satellite images to detect eruptions.
Thursday, September 14, 2023, 11:46 AM AKDT (Thursday, September 14, 2023, 19:46 UTC)
There was in increase in eruptive activity at Shishaldin Volcano over the past day. Seismic tremor amplitudes began to increase around 18:00 AKDT last night (02:00 UTC September 14) and small explosions were detected in seismic and infrasound data. Elevated surface temperatures were observed in satellite views since yesterday afternoon with an increase in temperatures beginning last night into this morning. Incandescence was seen in one web camera image early this morning at 01:34 AKDT (09:34 UTC) during the period of elevated tremor. No ash emissions were observed during the period of elevated seismicity but high clouds were present and could have obscured low-level ash emissions. Seismicity declined significantly starting about 7:30 AKDT (15:30 UTC) and remains at low levels.
Source : AVO
Photo : Woodsen Saunders , AVO
Hawaii , Kilauea :
Thursday, September 14, 2023, 8:45 AM HST (Thursday, September 14, 2023, 18:45 UTC)
19°25'16 » N 155°17'13 » W,
Summit Elevation 4091 ft (1247 m)
Current Volcano Alert Level: WATCH
Current Aviation Color Code: ORANGE
Activity Summary:
The Kīlauea summit eruption that began on September 10th continues this morning. Eruptive activity is confined to the downdropped block and Halemaʻumaʻu crater within Kīlauea's summit caldera. No unusual activity has been noted along Kīlauea's East Rift Zone or Southwest Rift Zone.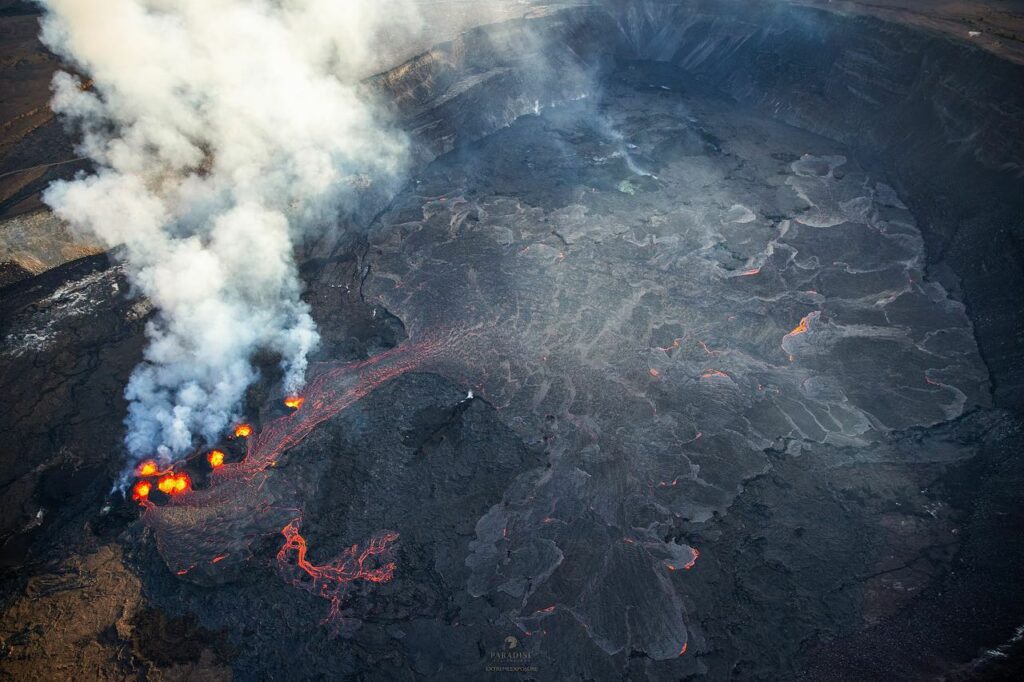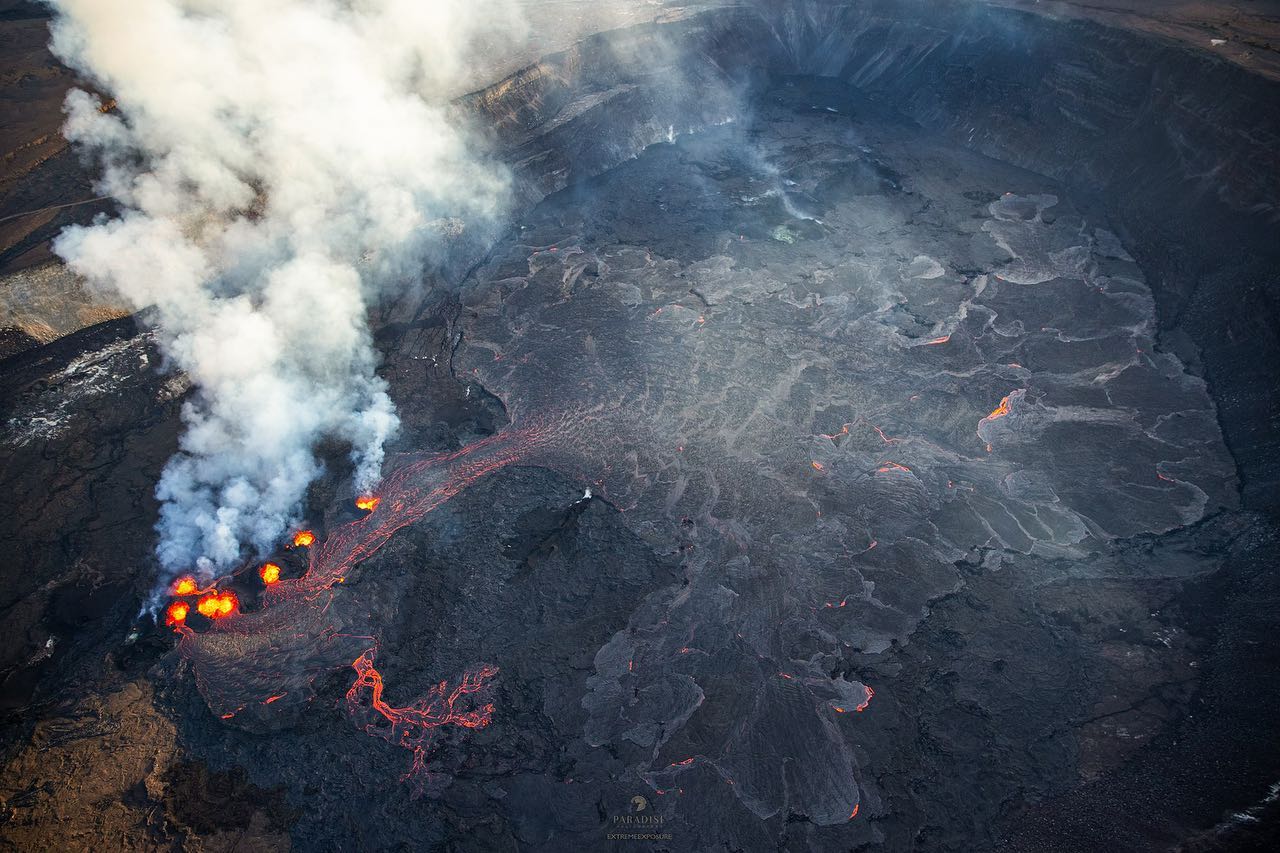 Halemaʻumaʻu Lava Lake Observations:
Several roughly east-west oriented vents continue to erupt on the western side of the downdropped block within Kīlauea's summit caldera and are generating lava flows onto Halema'uma'u crater floor. From the erupting vents, pāhoehoe lava flows continue to travel in north and west directions onto Halema'uma'u crater floor; however, the area of active lava has retreated even further towards the vents compared to days prior. This morning, active lava appears to be flowing only on the western part of the downdropped block and the northeastern parts of Halema'uma'u, the eastern boundary of which has been mostly covered by lava flows. Lava fountain heights at the vents continue to reach up to about 10 meters (32 feet), and the spatter ramparts that have accumulated on the south/downwind side of the vents approach 20 meters (66 feet) in height. Effusion rates appear down from initial eruptive rates, but remain high. The laser rangefinder is aimed at a western portion of Halema'uma'u, not near the new eruptive activity, and recorded nearly 9 meters (30 feet) of uplift to this locality since the eruption started. This demonstrates that a significant amount of lava has intruded beneath the pre-existing crust within Halema'uma'u.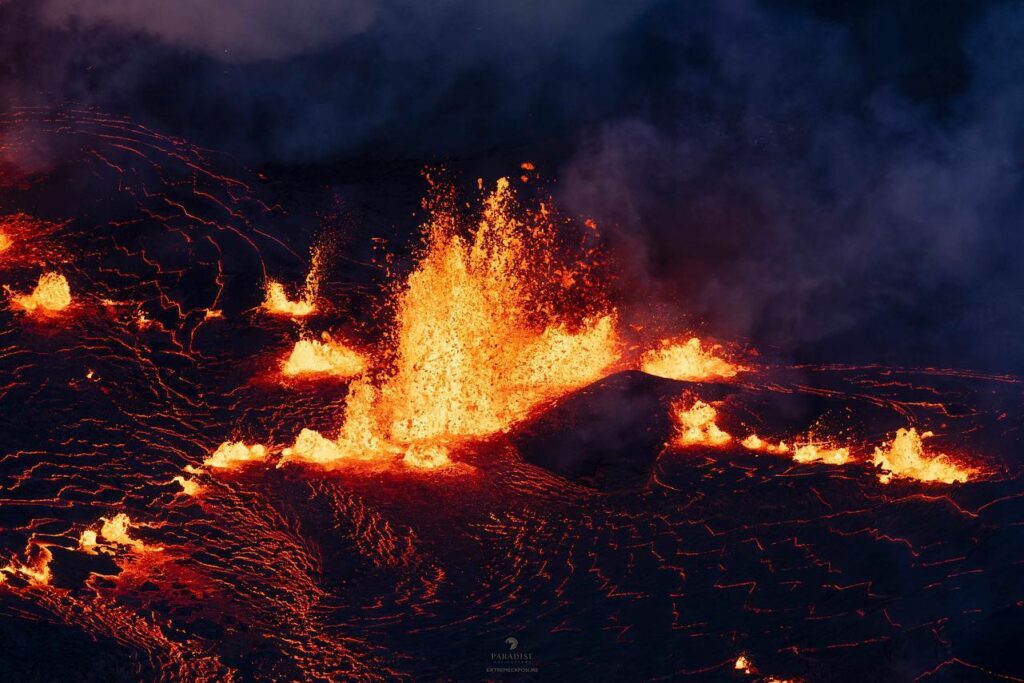 .
Summit Observations:
Summit tilt has remained deflationary, but the rate has decreased over the past 24 hours. Summit seismic activity is dominated by eruptive tremor (a signal associated with fluid movement) with very few volcano tectonic earthquakes. Volcanic gas emissions in the eruption area are elevated; a sulfur dioxide (SO2) emission rate of 20,000 tonnes per day was measured yesterday afternoon, September 13. This is down significantly from the 190,000 tonnes per day measured just after the onset of the eruption on Sunday, September 10th.
Source : HVO
Photos : Bruce Omori / Paradise Helicopters
Colombia , Nevado del Ruiz :
Weekly activity bulletin of the Nevado del Ruiz volcano
From the monitoring of the activity of the NEVADO DEL RUIZ VOLCANO, the MINISTRY OF MINES AND ENERGY through the COLOMBIAN GEOLOGICAL SERVICE (SGC) reports that:
Seismic activity related to fluid dynamics inside volcanic conduits increased in number of earthquakes and seismic energy released, compared to the previous week. This seismicity was characterized by seismic signals mainly associated with the continuous emission of gases and ash into the atmosphere. These phenomena were confirmed thanks to the cameras used to monitor the volcano and by the testimonies of residents in the volcano's zone of influence. It is important to emphasize that the continuous emission of ashes recorded since September 7 at 7:53 p.m., reported on our social networks, lasted until September 9 at 10:10 p.m.
Seismicity associated with the fracturing of rocks inside the volcanic edifice decreased in the number of recorded earthquakes and increased in the seismic energy released, compared to the previous week. The earthquakes were located mainly in the southwest sector of the volcano and, to a lesser extent, in the northeast, east, southeast sectors and in the Arenas crater of the volcano.
Most of these events occurred up to a distance of 4 km measured from the crater and at depths between less than 1 and 7 km from the summit of the volcano. The maximum magnitude recorded was 2.5, corresponding to the earthquake recorded on September 10 at 5:51 p.m., located approximately 2 km southwest of the Arenas crater and 4 km deep.
Concerning surface activity, the degassing of the sulfur dioxide flow has increased significantly in recent days. The maximum height of the column of gas and ash was 1,000 m vertically, on September 8, and 1,400 m dispersed, on September 7 and 11, values estimated at the summit of the volcano.
The material emitted by the activity of the volcano and produced by remobilization processes was dispersed towards the populations located in this direction. The impact of ash falls was confirmed in some localities in the departments of Caldas and Risaralda, such as Manizales, Villamaría, Chinchiná, Palestine, Santa Rosa de Cabal, Dosquebradas and Pereira. Furthermore, from satellite monitoring platforms, the increase in degassing was confirmed and several reports of thermal anomalies detected at the bottom of the crater were obtained, including one with a moderate energy level on September 7, which corresponds to the highest value detected since the activity level changed from Orange to Yellow.
Source et photo : SGC
Costa Rica , Rincon de la Vieja :
Latitude: 10.83
Longitude:-85.324
Altitude: 1,916 meters above sea level
Activity observed:
Over the last 24 hours, 2 small phreatic eruptions have been recorded, including one on September 13 at 11:14 a.m. with a plume rich in water vapor and magmatic gases which rose approximately 1000 meters above the summit of the volcano and the other on September 14 at 5:39 a.m. with a plume of approximately 700 m altitude. The background volcanic tremor seismic signal shows variability in seismic energy content in a frequency range between 0.8 and 8 Hz.
Environmental conditions:
The wind blows towards the South-West and the summit remains cloudy.
Activity Level: Caution (3)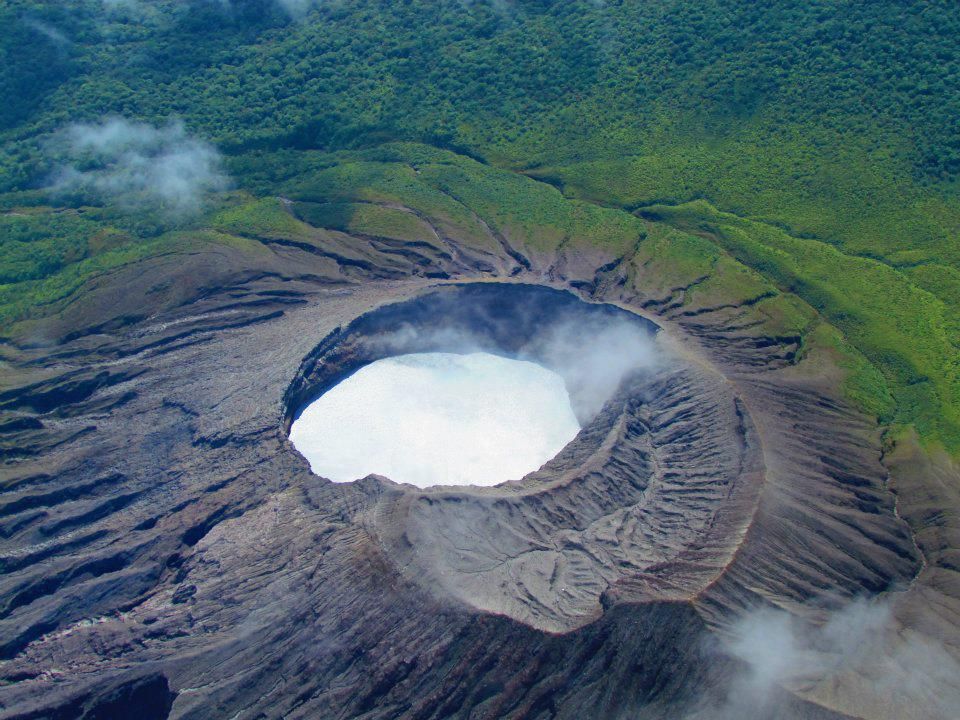 ERUPTION REPORT – OVSICORI-UNA
Altitude of the Massif: 1916m. (6284 feet)
Date: September 14, 2023, Time: 1:58 p.m.
Height of the plume (above the crater):
1640 feet. (500 meters)
Plume observation source:
Observation by seismogram, infrasound and webcam
Activity observed:
Small hydrothermal eruption of the Rincón de la Vieja volcano, with a plume of gas and water vapor rising to about 500 meters above the level of the active crater.
The winds blow towards the West and carry the plume in that direction. No ash is observed or reported.
Activity Level: ATTENTION
Source : Ovsicori
Photo : , Raul Mora / RSN / UCR
Kamchatka , Bezymianny :
55.97 N, 160.6 E;
Elevation 2882 m (9453 ft)
Aviation Colour Code is YELLOW
An extrusive eruption of the volcano continues. Aerosol plumes with some amount of ash could occur at any time. Ongoing activity could affect low-flying aircraft.
An extrusive eruption of the volcano continues. An eruption is accompanied by a gas-steam activity of the volcano, and sometimes by an incandescence of the lava dome. Satellite data by KVERT showed a thermal anomaly over the lava dome all week, excluding September 14 (dense cloudiness).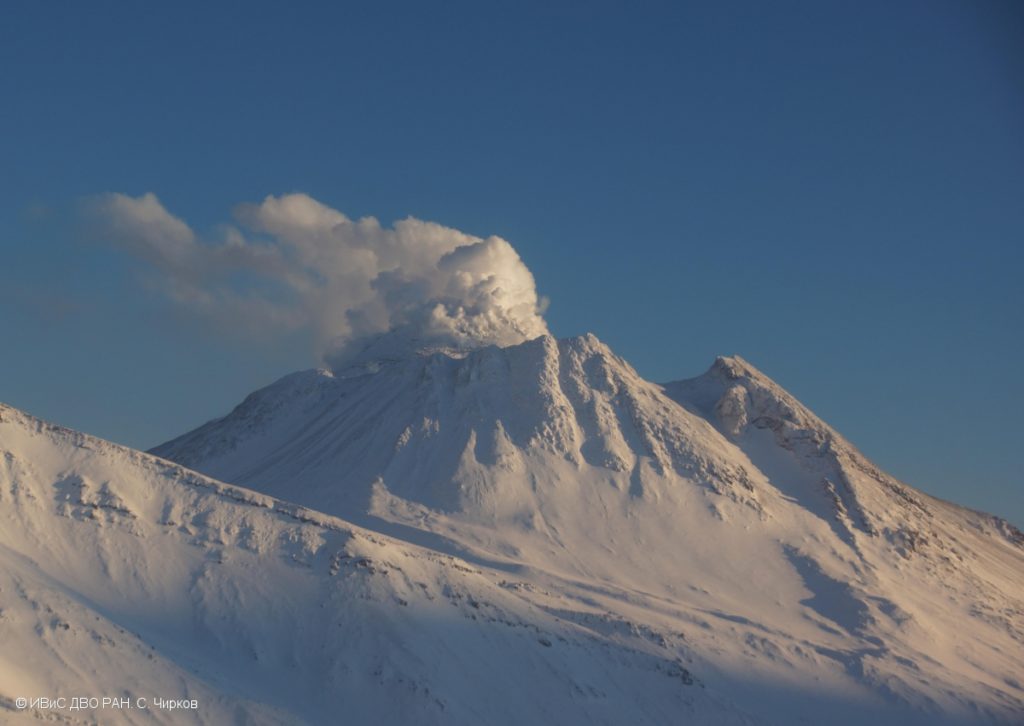 The modern Bezymianny, much smaller than its massive neighbors Kamen and Kliuchevskoi on the Kamchatka Peninsula, was formed about 4,700 years ago over a late-Pleistocene lava-dome complex and an ancestral edifice built about 11,000-7,000 years ago. Three periods of intensified activity have occurred during the past 3,000 years. The latest period, which was preceded by a 1,000-year quiescence, began with the dramatic 1955-56 eruption. This eruption, similar to that of St. Helens in 1980, produced a large open crater that was formed by collapse of the summit and an associated lateral blast. Subsequent episodic but ongoing lava-dome growth, accompanied by intermittent explosive activity and pyroclastic flows, has largely filled the 1956 crater.
Source : Kvert , GVP
Photo : S. Chirkov, IVS FEB RAS