February 27, 2022. EN. Philippines : Taal , Vanuatu Archipelago : Yasur , Hawaii : Mauna Loa , Iceland : Reykjanes Peninsula , Costa Rica : Rincon de la Vieja / Turrialba / Poas / Irazu .
February 27 , 2022.
Philippines , Taal :
TAAL VOLCANO BULLETIN 27 February 2022 8:00 AM
In the past 24-hour period, the Taal Volcano Network recorded eight (8) volcanic earthquakes, including six (6) volcanic tremor events having durations of two (2) to eight (8) minutes, and two (2) low-frequency volcanic earthquakes. Activity at the Main Crater was dominated by upwelling of hot volcanic fluids in its lake which generated plumes 900 meters tall that drifted southwest. Sulfur dioxide (SO2) emission averaged 2,612 tonnes/day on 25 February 2022. Temperature highs of 63.7°C were last measured from the Main Crater Lake on 25 February 2022. Based on ground deformation parameters from electronic tilt, continuous GPS and InSAR monitoring, Taal Volcano Island and the Taal region has begun deflating in October 2021.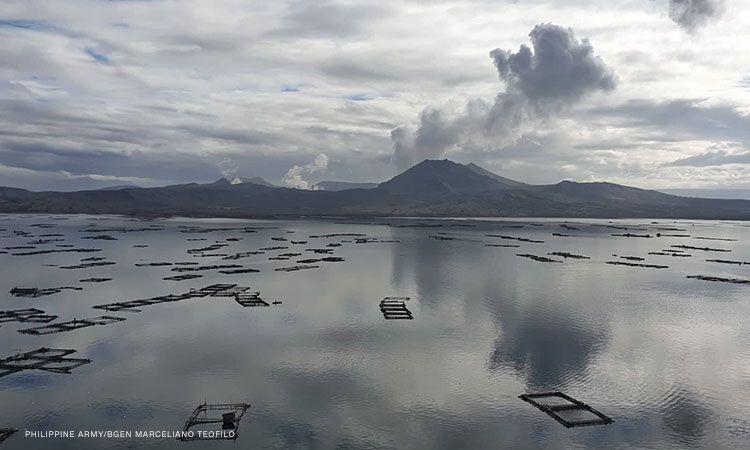 Alert Level 2 (Increased Unrest) prevails over Taal Volcano. DOST-PHIVOLCS reminds the public that at Alert Level 2, sudden steam- or gas-driven explosions, volcanic earthquakes, minor ashfall, and lethal accumulations or expulsions of volcanic gas can occur and threaten areas within and around TVI. DOST-PHIVOLCS strongly recommends that entry into Taal Volcano Island, Taal's Permanent Danger Zone or PDZ must be strictly prohibited, especially the vicinities of the Main Crater and the Daang Kastila fissure, and extended stays on Taal Lake.
Source : Phivolcs.
Photo : CNNPH , marcello Teofilo.
Vanuatu Archipelago , Yasur :
YASUR VOLCANO INFORMATION BULLETIN, February 24, 2022, 12:23 p.m.:
This is a reminder that the volcanic activity of Yasur continues in the high level of major unrest. The Volcanic Alert Level remains at Level 2.
The activity of the Yasur volcano in the state of major unrest continues with loud explosions with emissions of volcanic ash and gases as well as volcanic projectiles or bombs from its active vents. With volcanic gases and/or ash associated with volcanic projectiles around the crater, the danger zone remains at Danger Zone A which is approximately 600m around the volcanic cone.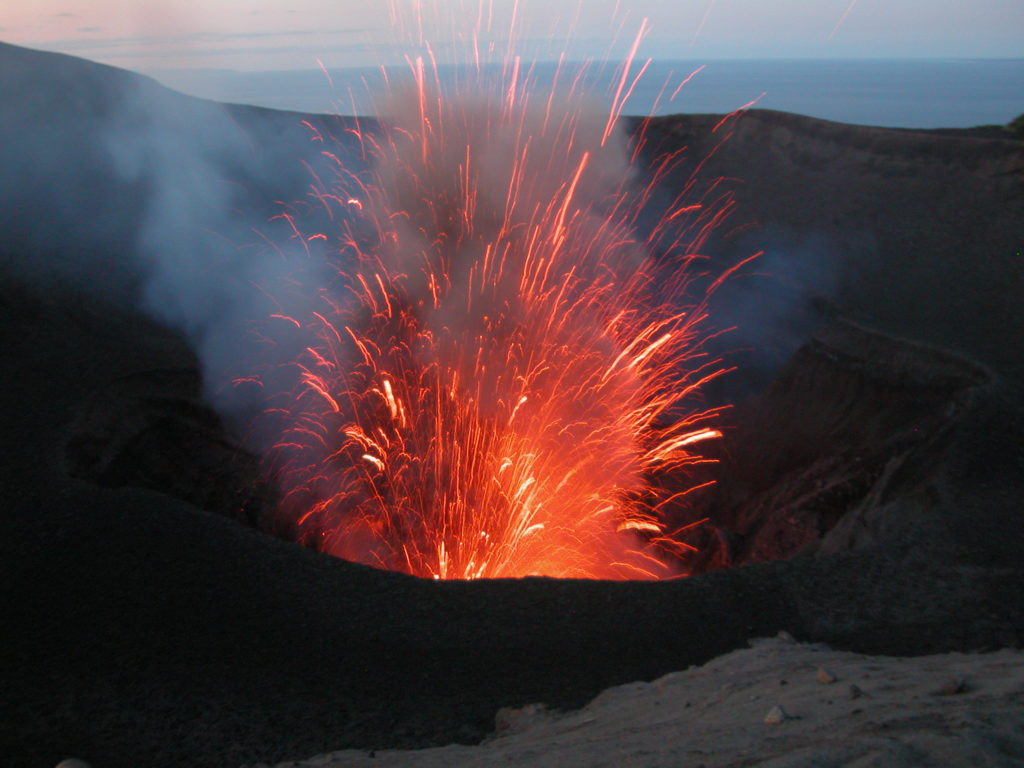 The level of risk to visitors accessing the parking areas and the crater rim (Danger Zone A) remains high. With this current level of activity, villages and areas near the volcano can continue to expect effects from volcanic gases and/or ashfall, especially those exposed to wind direction. With this current volcanic activity, it's a helpful reminder that eruptions can occur at any level of unrest without warning.
Source : Geohazard.
Photo : Michel Massat
Hawaii , Mauna Loa :
19°28'30 » N 155°36'29 » W,
Summit Elevation 13681 ft (4170 m)
Current Volcano Alert Level: ADVISORY
Current Aviation Color Code: YELLOW
Activity Summary:
Mauna Loa volcano is not erupting. Rates of seismicity remain slightly elevated above long-term background levels, but have not changed significantly over the past week. Other Mauna Loa monitoring data streams—ground deformation, gas concentrations, visual appearance in webcams—show no significant changes.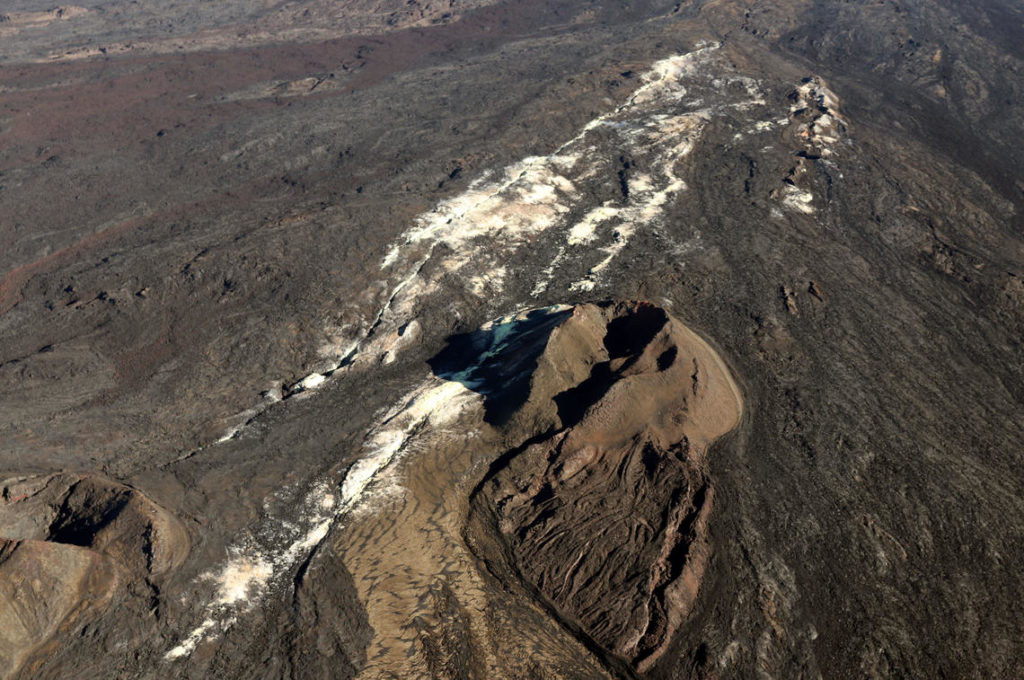 Observations:
During the past week, HVO seismometers recorded approximately 60 small-magnitude (below M2.5) earthquakes below the summit and upper-elevation flanks of Mauna Loa. The majority of these earthquakes occurred at shallow depths less than 10 kilometers (6 miles) below sea level.
Global Positioning System (GPS) measurements show very low rates of deformation in the summit region continuing through the past week.
Gas concentrations and fumarole temperatures at the summit and at Sulphur Cone on the Southwest Rift Zone remain stable.
Webcam views have shown no changes to the volcanic landscape on Mauna Loa over the past week.
Source : HVO.
Photo : Sulfur Cone , USGS.
Iceland , Reykjanes Peninsula :
Around 560 earthquakes were located by IMO's SIL seismic network last week, fewer than the previous week when they were around 870 in total. Last week's largest earthquake was a magnitude 3.3 located about 4 km northwest of Grindavík on February 19 at 4:29 a.m. and another M3.0-sized earthquake located near Mount Þorbjörn February 14th. They were both felt in Grindavík. About half of last week's earthquakes occurred on the Reykjanes peninsula.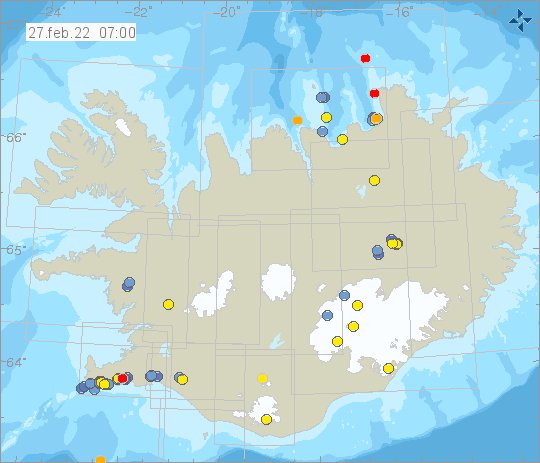 Activity west of the old Ok Glacier has drastically decreased compared to previous weeks. Seven earthquakes were located in Fjörður, south-southwest of Flatey in Skjálfanda on February 15, the largest a M2.9 which was felt in Akureyri. Eight earthquakes were located about 150 km southwest of Jan Mayen during the week, the largest a M4.3 on Valentine's Day.
Source et photo : Vedur is.
Costa Rica , Rincon de la Vieja / Turrialba / Poas / Irazu :
Weekly Bulletin, February 25, 2022.
Rincon de la Vieja Volcano
latitude: 10.83°N;
Longitude: 85.324°W;
Altitude: 1895m
Current activity level: 3 (volcanic eruption)
Potentially associated dangers: Lahars, gas, phreatic and phreato-magmatic eruptions, proximal ballistic projections, acid rain, ashes.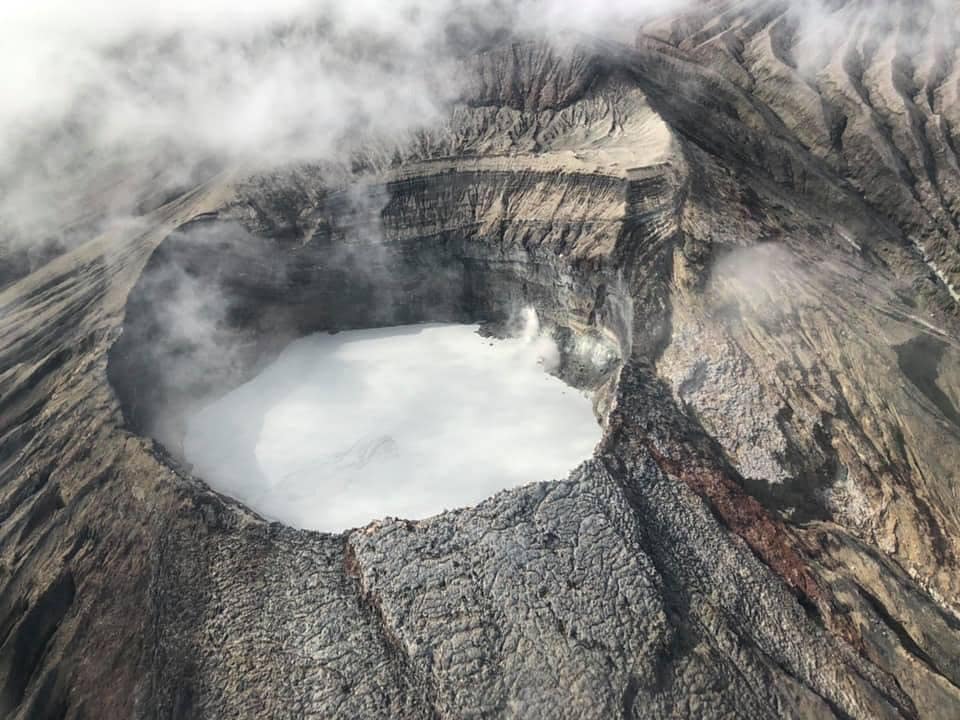 A small eruption was recorded on February 20 at 4:49 p.m. Since this eruption, a continuous tremor of low amplitude has been recorded with a frequency of 2 and 4 Hz. The frequency of « tornillos » type events is stable. The extension in the volcanic edifice recorded by geodetic monitoring is no longer significant in the period of the last 3 months.
Turrialba Volcano
latitude: 10.025°N;
Longitude: 83.767°W;
Altitude: 3340m
Current activity level: 3 (volcanic eruption)
Potentially associated hazards: gas, ash emission, proximal ballistic projections, acid rain.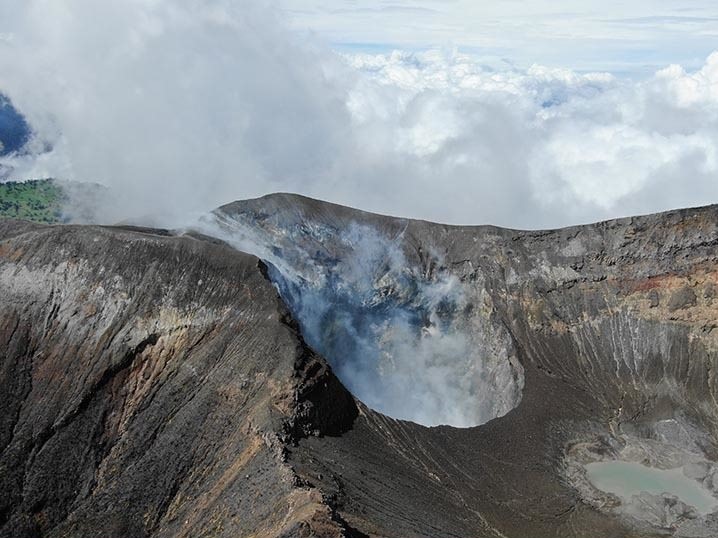 Several eruptions and rumblings with little ash emission were recorded, especially on February 19. The most energetic occurred at 4:12. Seismic activity remains at a low level, with some distal VT-type events, but no proximal VT-type events. Over the past 3 months, geodetic monitoring shows a more marked contraction of the Turrialba-Irazú massif around the active crater of Turrialba. The weekly average for the CO2/SO2 ratio is 20.4 +/- 4.3, down from the previous week due to the absence of high value peaks, and for the H2S/SO2 ratio it is of 0.20 +/- 0.07. The SO2 flux is estimated at 243 +/- 111 t/d, a value similar to that of the previous week.
Poas Volcano
latitude: 10.2°N;
Longitude: 84.233°W;
Altitude: 2780m
Current activity level: 2 (active volcano at rest)
Potentially associated dangers: gas, phreatic eruptions, proximal ballistic projections, acid rain, lahars.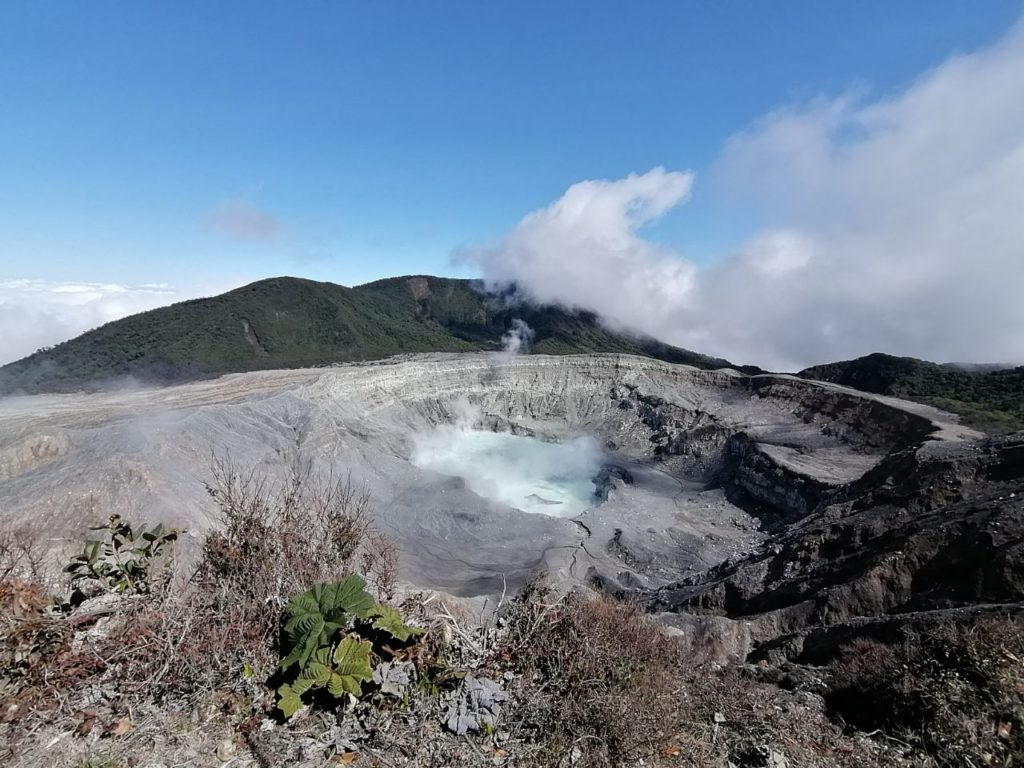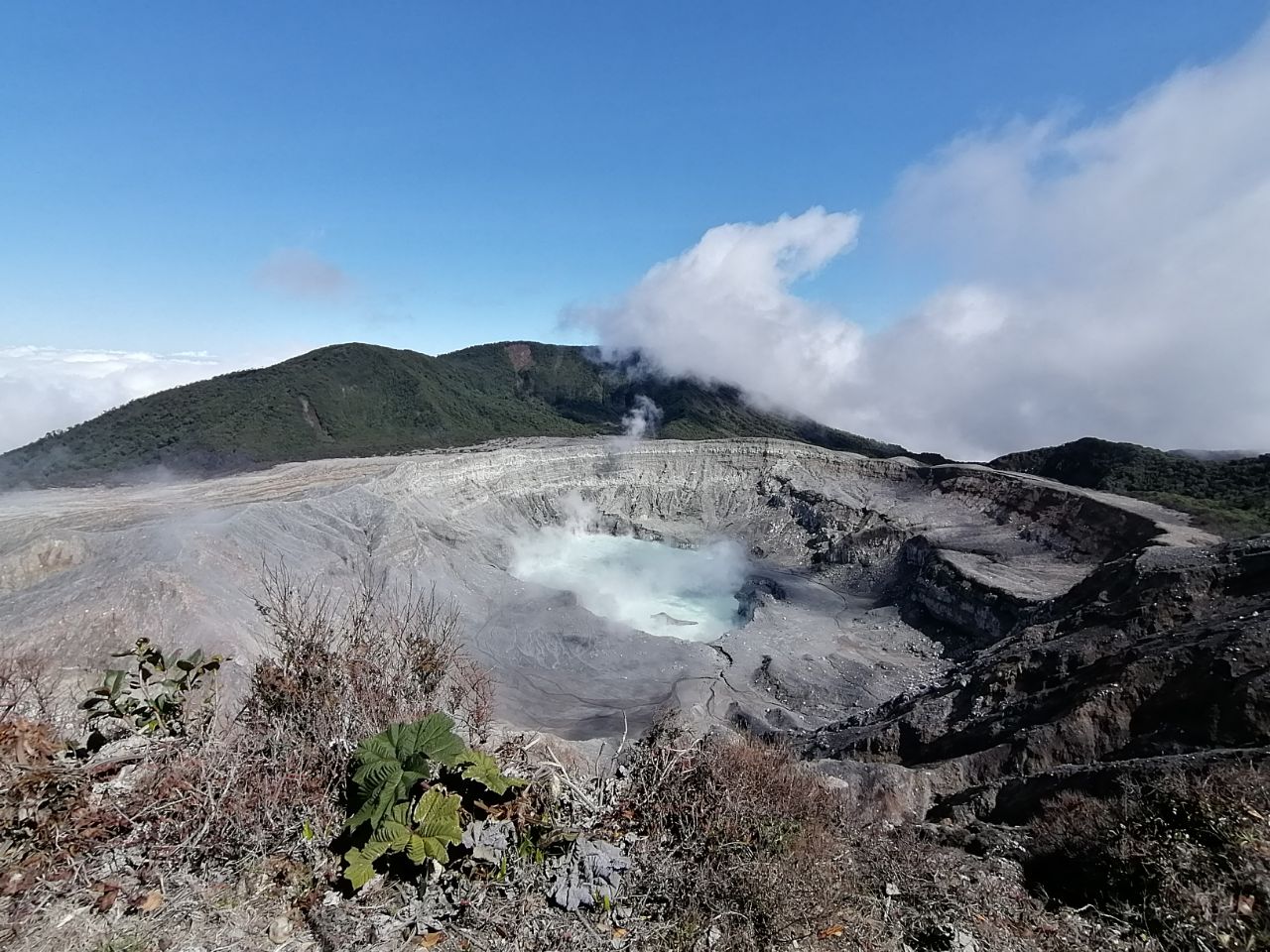 No eruption has been detected to date in 2022. Seismicity remains low with a decrease in the amplitude of LPs type earthquakes. The geodetic network shows the stability of the volcanic edifice over the past 4 months. Due to the low degassing, few SO2/CO2 measurements were made, which produced a value of 0.40 and the H2S/SO2 ratio remains at values ​​below 0.01. The SO2 concentration around the crater was low during the week (<0.7 ppm SO2 at the lookout). The flow of SO2 increased a little (115 +/- 33 t/d). The level of the hyperacidic lake remained stable.
Irazu Volcano
latitude: 9.979°N;
Longitude: 83.852°W;
Altitude: 3432m
Current activity level: 1 (active volcano at rest)
Potentially associated hazards: landslides, lahars, proximal ballistic projections, gas, acid rain, ash fall, debris avalanches.
In February, VT-type events were recorded north of the volcano, and others around Cartago to the southwest of the edifice, especially on February 24, in a fault zone of the volcano. The continuous GPS measuring station shows a vertical acceleration of the main landslide in the Las Torres sector. Remember that the part near the edge of the cliffs remains very unstable and can collapse without warning. Geochemical gas monitoring in the fumarolic field in the northern sector of the volcano indicates that degassing remains light with concentrations <502 ppm CO2 and CO2/H2S ratios of ~142 +/- 83.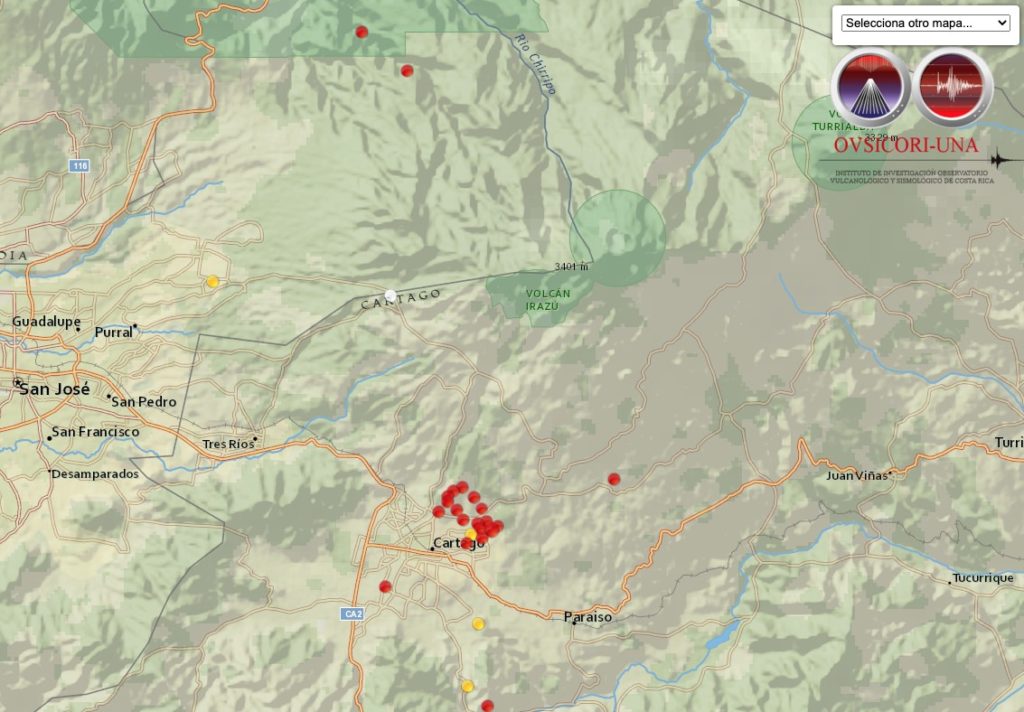 February 25, 2022.
The seismic sequence that is currently happening in the city of Cartago currently records 18 sequences, this sequence began on February 21 with an earthquake at 06:42 am with a magnitude 2, 4 km deep under the city of Cartago, an hour later, a M 0.5 occurred, these events being the beginnings of the earthquakes of February 24, the first at 5:57 p.m. local time, with a magnitude of 3.4.
This sequence is of the cascade type, with beginnings and aftershocks, of which so far 16 events have been located, the aftershocks have magnitudes ranging from 0.5 to 3.0 in magnitude.
Source : Ovsicori.
Photos : Chris Allen. G. Avard / Ovsicori , RSN ( archive) , Ovsicori .